An office reception area is a requisite part of your office space since it makes a distinctive impression on the visitors. As such, an office reception design must be a unique and experiential to ensure the waiting area is attractive and welcoming. A well-designed office reception area can create the right impression of your brand while also making your customers feel comfortable and curious.
The office reception design is one of the best spaces for the visitor and the staff to learn about the ethos of a company. Everything from the colours, furniture, lighting and signage speaks about the true essence of the brand and its vision.
So, if you want to capitalise on your office reception area design, here are some tips and design ideas to help you.
#1: Design of the Office Reception Table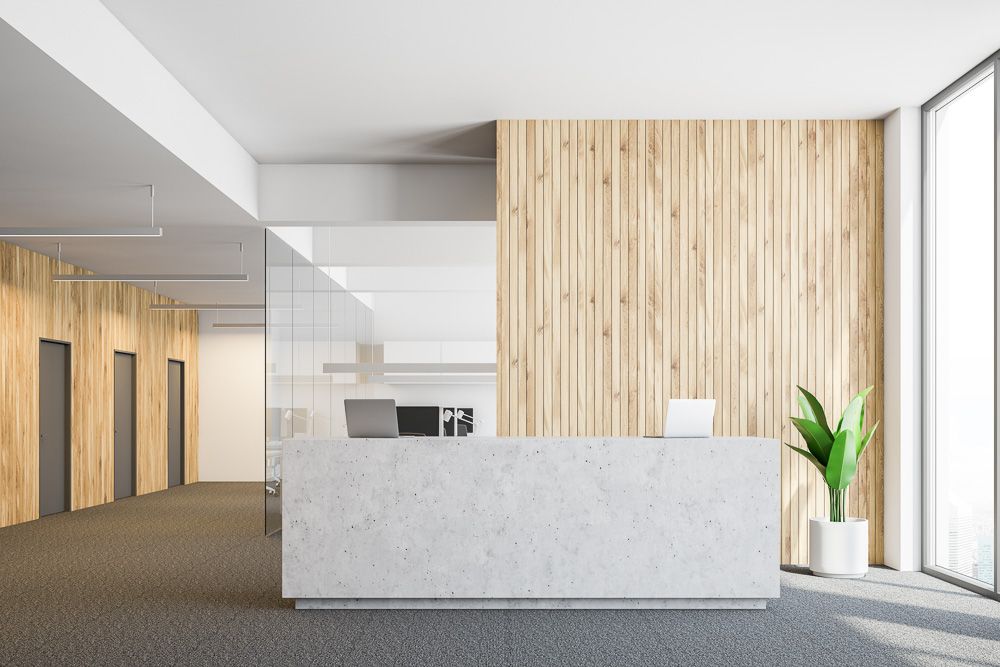 Since the reception desk design articulates many things about the company, it should be represented innovatively. A creative office reception table is the core element of the entire office reception design. Hence, it is essential that you use the office reception desk to create the right impression about your brand.
Apply subtle brand colours and object prompts about your company culture. For a striking backdrop, go for a stone finish or fluted panelling. Additionally, you must also ensure that the reception desk design is large enough to accommodate multiple people. The design of your office reception table should anchor the entire space and create a sense of arrival.
#2: Add Some Greenery to Your Office Reception Design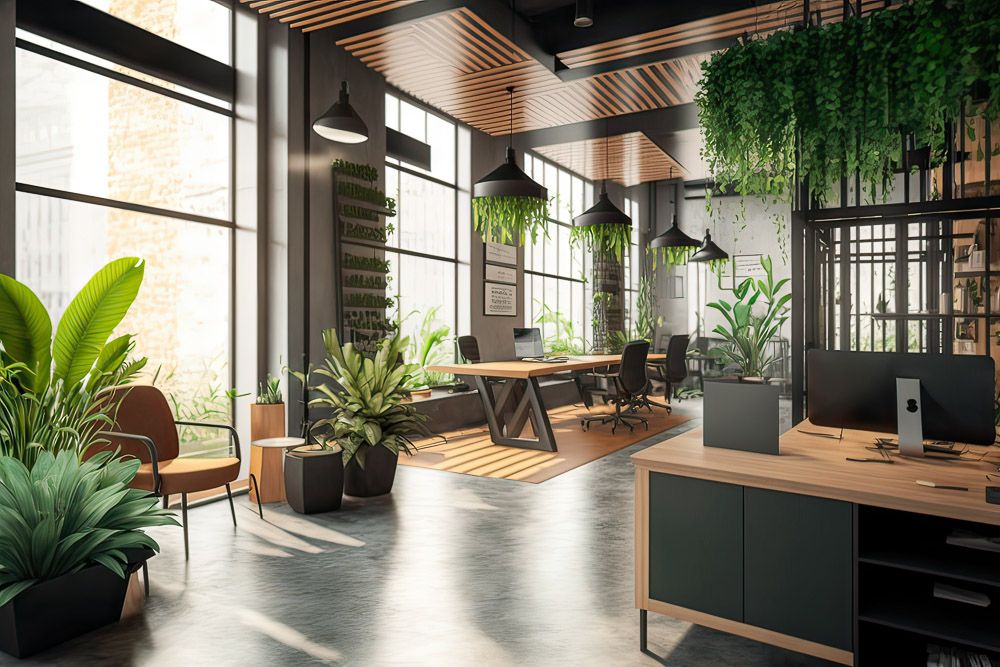 Adding plants to your office reception area can help to create a calming and relaxing atmosphere. However, it's always best to choose plants that require minimal maintenance.
Some great options to create a sense of nature and homeliness include the peace lily, bonsai, ZZ plants, and snake plants. Moreover, let natural lighting in whenever possible, and use ambient lighting for the darker days.
#3: Ambient Lighting for Your Office Reception Area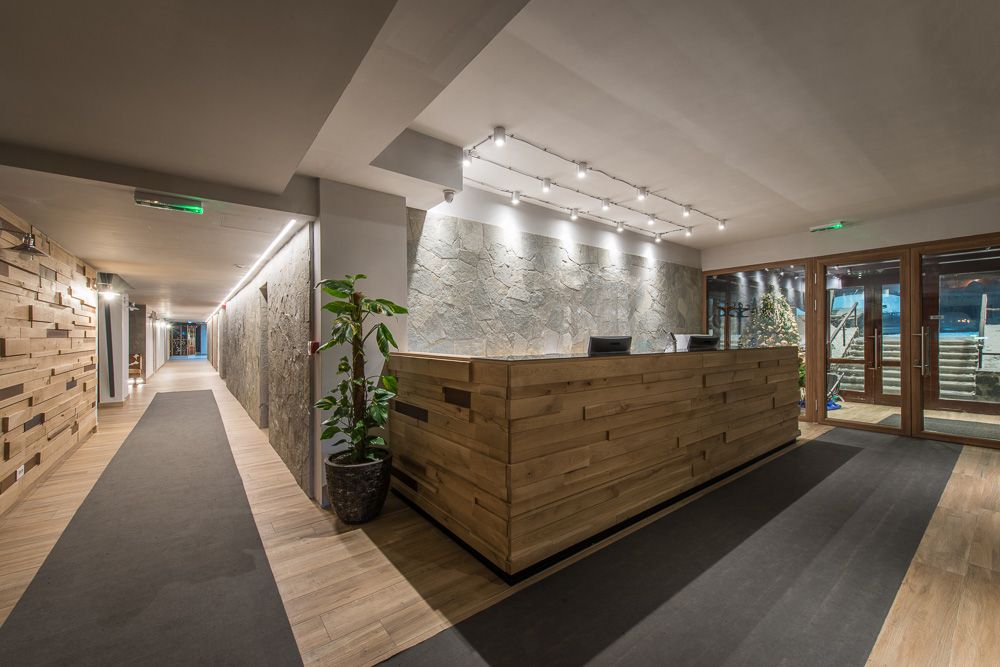 Proper lighting is essential for creating a welcoming atmosphere in your office reception area. Use soft, warm lighting that makes the space bright and inviting and incorporate ceiling lamps to add a quirky touch to your office reception design.
Additionally, try to maximise the natural light entering the office space to ensure the well-being of your employees and visitors. Since lighting differs from the intent and ideology of the design, it has to be purpose-driven.
For example, adding an accent light is a great way to attract attention towards the company logo, which would help you stand out. Similarly, ambient lighting is the perfect solution for decreasing the glare with soft lighting effects.
#4: A Creative Office Reception Design Requires Artwork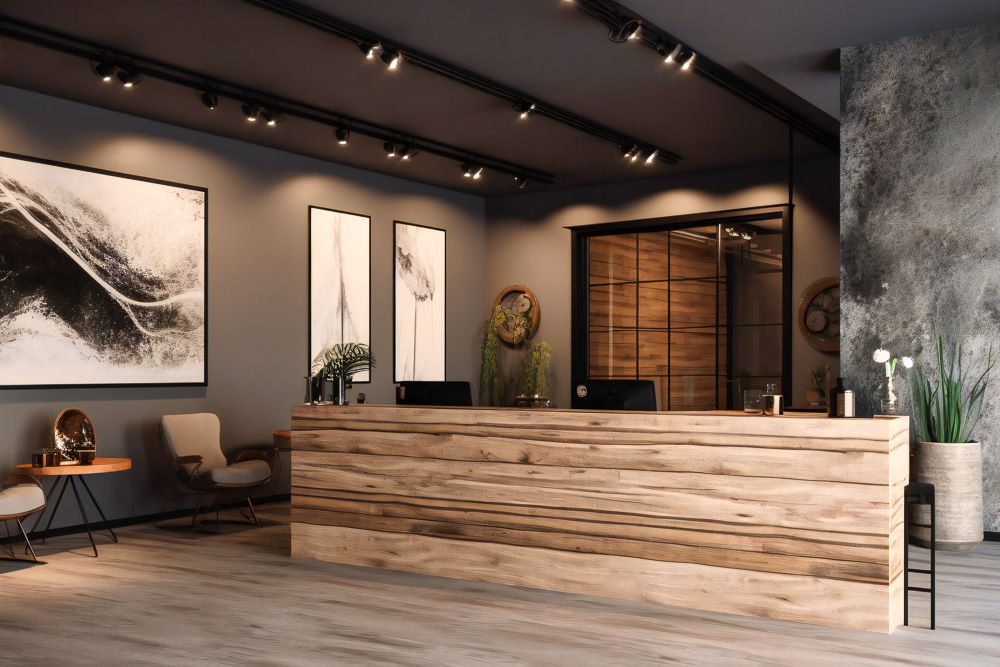 One of the easiest ways to create a stunning office reception area is with the help of artwork. Choose modern and stylish art that reflects your company's values and culture.
Selecting the right type of art can make your employees feel motivated to work and create a sophisticated aura for your brand.
#5: The Perfect Colour Scheme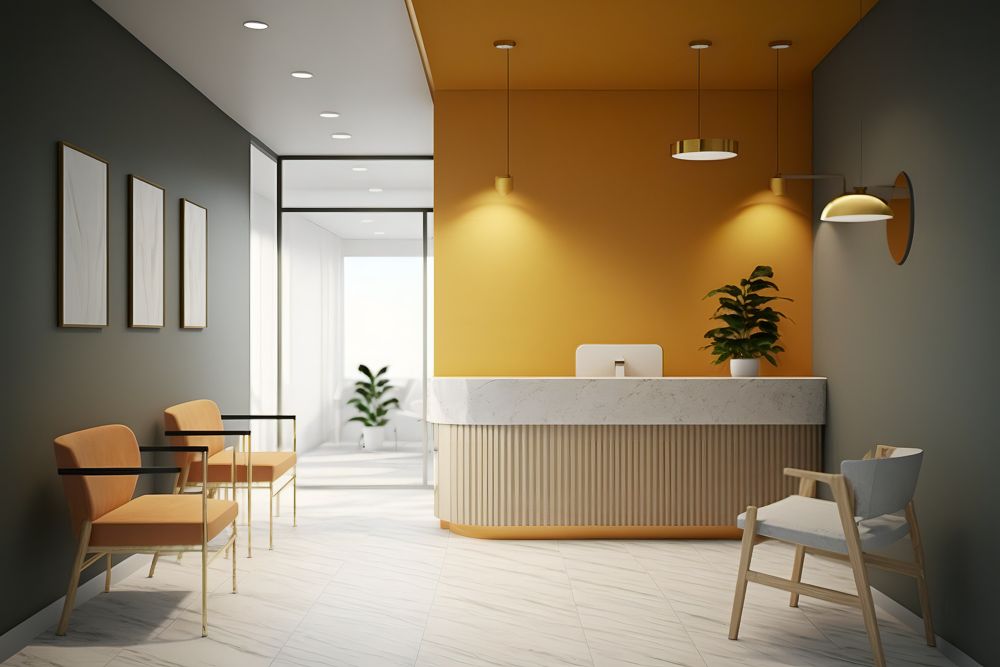 Choose a colour scheme for your office reception design that is both warm and appealing. Add neutral colours such as beige, grey or white that can be paired with pops of colour, resulting in a creative office reception design.
Additionally, you can also use earthy toned materials along with these colours to maintain harmony within the office reception area.
#6: Your Company Branding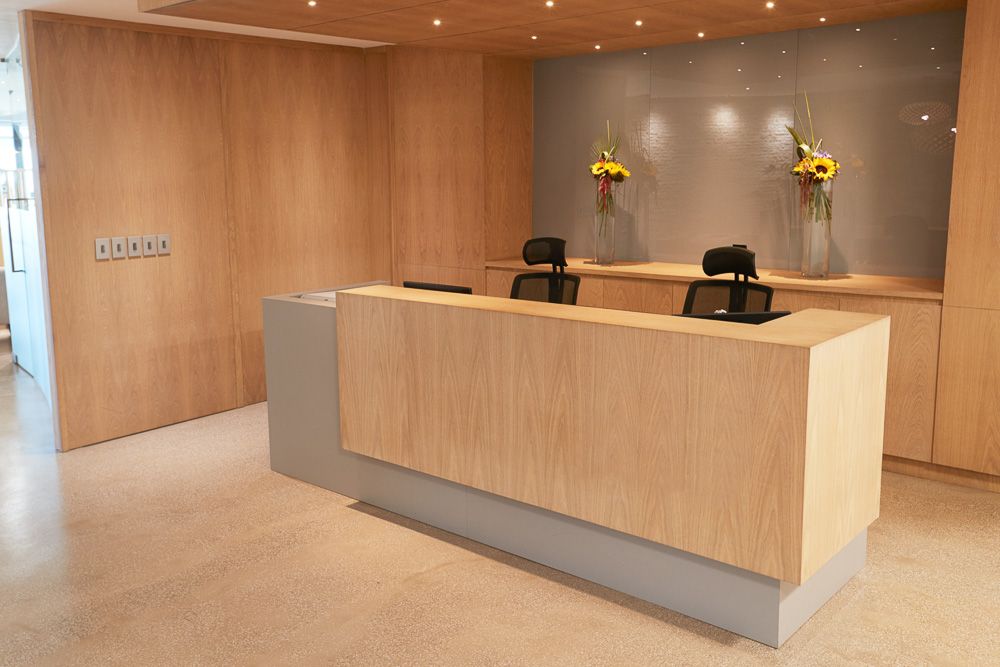 It's a good idea to incorporate your company's branding into the office reception area.
Display your company's logo prominently and use the company's colours throughout the space. The branding is a subtle yet impactful approach to creating a distinctive appearance for your office space.
#7: Use Technology in Your Reception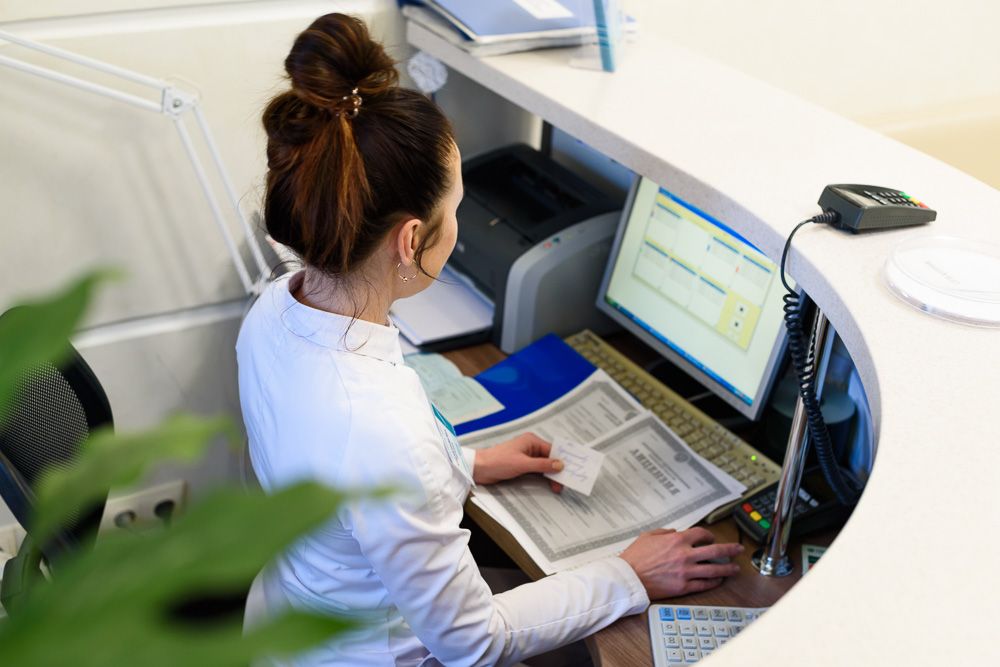 Install a TV or digital display to endorse and showcase the company's content in the office reception area with appealing graphics. In addition to this, you can also place hard copies of all company-related information that customers should know.
#8: Comfortable Furniture for a Creative Office Reception Design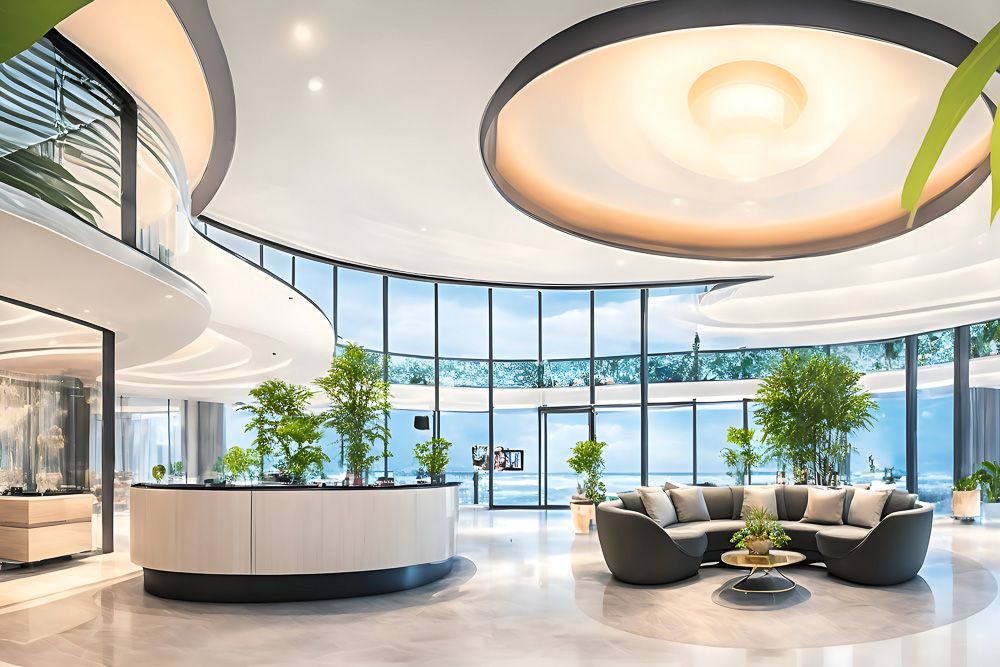 Ensure that the reception has a great visual and physical ambience. Incorporate a series of comfortable furniture in the office reception area that allows the user to sit comfortably. Whether they are your potential clients, staff or visitors, an efficient reception can help to portray a vibrant work culture.
#9: Cleanliness in Your Office Reception Area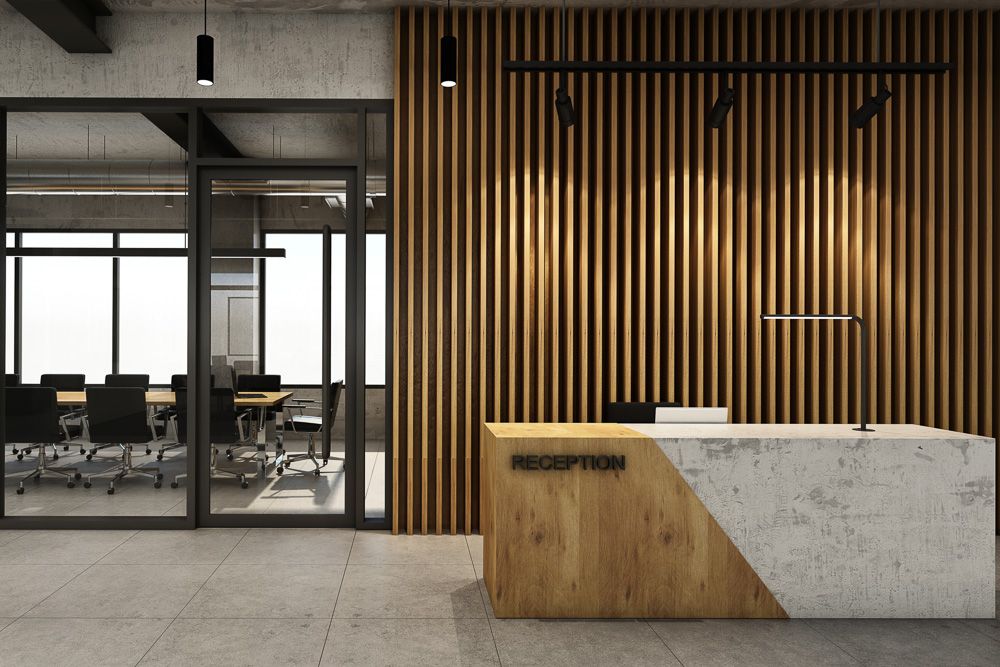 A good reception should be clean and tidy at all times. Therefore, ensure that there is no clutter in your reception and everything is properly organised. It will help create a positive impression on visitors and clients and show that you value their business.
By incorporating these tips and design ideas, you can create a welcoming reception that makes a positive impression on visitors and clients. Get your space organised with more insights on design with us. Check out our website to learn more.