The landscape of the typical office framework continues to transform with changing dynamics, and office interior design trends for 2023 reflect this shift. Understandably, a workplace is often governed by the ease with which its employees feel in their surroundings, and they are more likely to be creative, collaborative, and productive. As a result, present-day workplace design celebrates people and honours their requirements with efficient solutions through design and innovation.
Workplace design is all about connecting the dots and creating functional solutions that boost employee productivity by providing a balanced approach to all tasks, which is achievable through user-centric design. Moreover, it is a space where they spend two-thirds of their day. Hence, the workforce must relate and effortlessly exist within the ecosystem.
1. Flexible Workspaces: Free-Flowing Spaces and Furniture
Flexible office spaces will be popular in 2023. As a result, employees are free to wander around and efficiently utilise the workplace. In addition, they can select a particular working area that adapts to their changing requirements throughout the day. An array of tables and chairs only sometimes make a room welcoming. The flexible workspaces often facilitate both socialising and working. Moreover, spatial planning can ensure a fluid transition of spaces by employing sliding doors and establishing transitions between public and private spaces.
Formulating a framework — efficient usage of the floor plate hosting an open plan setting with flexible interior planning will go a long way — additionally, movable furniture, which can be repurposed or moved around as per requirement or use of space. The evolution of new interactive zones, such as collaborative spaces, quiet workplaces, brainstorming spaces, and even facilities for personnel to socialise, such as a cafeteria area, chill-out zone, and gaming rooms, may be included in this.
Additionally, embracing diversity in the inclusive design and using adjustable furniture catering to people of all shapes and sizes will improve the employee experience and enable better collaboration. Furthermore, employing ergonomically comfortable furniture is essential. Employees spend considerable time at their workplace, so providing comfortable furniture to prevent health concerns remains vital. The possibilities are numerous, but what matters is that companies designate spaces that give workers a feeling of belonging to a community, since this will boost morale and productivity.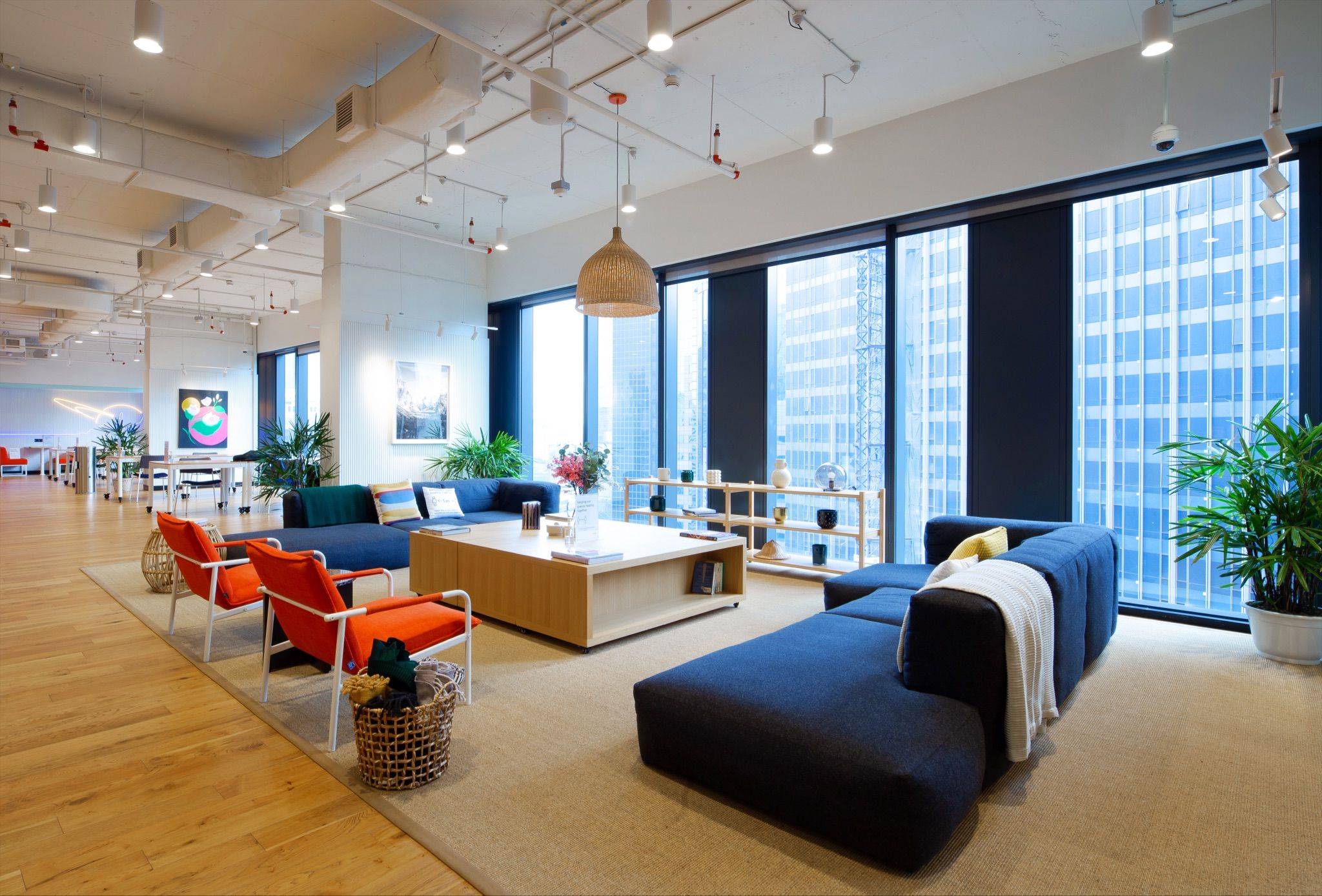 2. Enhancing the Look and Feel
The aesthetic appeal a modern workspace generates, walls can use bold colours — balancing schemes with rustic materials and patterns. Colour influences both emotion and conduct. A company's branding most likely considers this, and a cautious inclusion in your office interior design is essential. Colour can impact appetite, inspire trust, and instil peace (or the reverse).
The addition of a pattern can alter the impact of colour. The two design elements, when used right, may provide the advocacy of what the brand stands for, its culture and conduct. Aiding the feel of decluttered spatial design, a neutral tone wall cover with paints, wallpapers, etc. In addition, selecting exposed brick with a combination of concrete and wood assists in a play of visual and felt textures.
Advocating a more responsible design — exploring bamboo as light movable furniture enriches a sustainable palette. In addition, employing energy-efficient lighting with custom-designed fixtures for workplaces can further reduce the operational carbon footprint.
3. Incorporating Tech to Enrich Personal Space Experience
Enabling innovative technology is a growing workplace design trend, especially with the development of remote working. A digital revolution has made decluttered workplaces a tangible possibility, with cloud-based data management and applications ruling our gadgets today. Gone are the days of bulky computers — smartphones have even limited the usage of laptops.
Office spaces use smart building systems and technologies to enhance their functionality and aesthetics. It involves using sensors and data to maximise space utilisation and automate the management of lighting, temperature, and other systems. Moreover, sensory taps and hand sanitizers are post-pandemic must-haves that have become a mandate in workspaces. To improve the workplace experience, an increasing trend of introducing interactive and digital displays, such as digital walls, screens, and touch tables.
In the era of promoting smart work, delivering an elevated workplace experience in cabins and pods is necessary. Curating an engaging and effective environment in a conference room that has been thoughtfully arranged is a requisite. Visual conferencing with remote workers may be more effective with simple audio and video enhancements. One may use LED video walls and interactive whiteboards for zoom conversations and other collaborations. To further organise the workflow, desk booking improves efficiency and saves time.
4. Industrial Style Interiors Complimenting the Open Plan Setting
Open-plan workplaces will remain popular since they provide opportunities for cooperation and communication among employees, regardless of their work departments.
Industrial-style interiors seamlessly merge with an open-plan idea to create an eye-catching environment where employees will like working and eventually thrive. Exposed brickwork and pipes, expansive windows, wood, metal, and larger industrial ceiling pendant lights are some commonly used design elements. Finding the proper balance between health, function, and style is critical.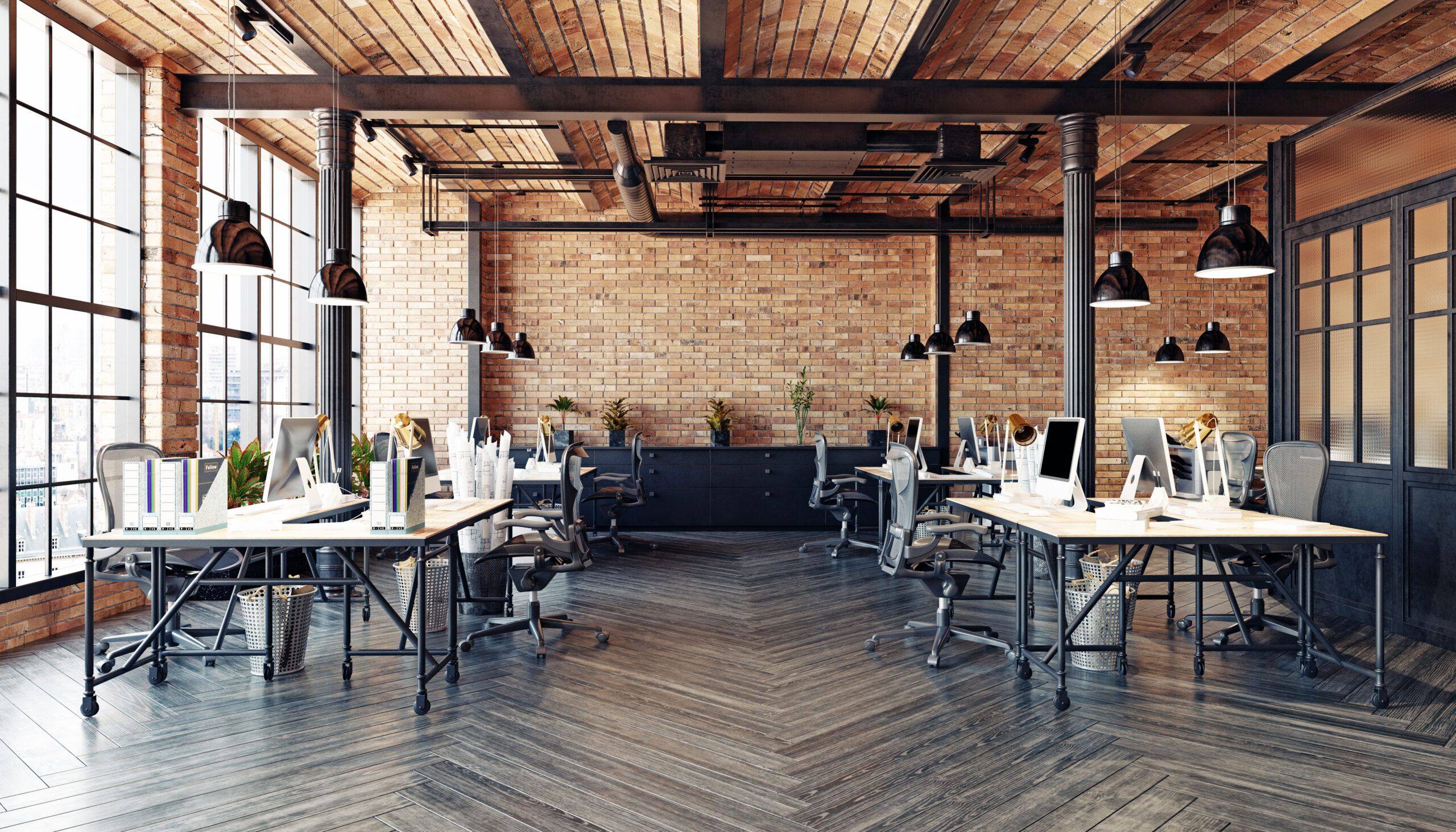 Not merely a trend but a necessity — sustainability has become a crucial concern for organisations, so when it comes to building or renovating workplaces, where the materials sourced from is critical. Sustainable office design is the interior trend to know about in 2023, whether it's acquired locally (thus minimising the carbon footprint made while shipping the materials) or recycled materials that have been repurposed.
5. Incorporating Plants — The Era of Biophilic Walls
Plants purify the air and improve your mood and productivity. They are far more appealing to the eye when used as wall coverings. Bringing living biophilic walls into the office merges art and nature, producing a pleasant and relaxing environment. More than merely a trend, biophilia is a scientific concept based on our fundamental connection with nature and natural elements. The average human today spends around 90% of their time indoors, resulting in a call for a stronger relationship with nature.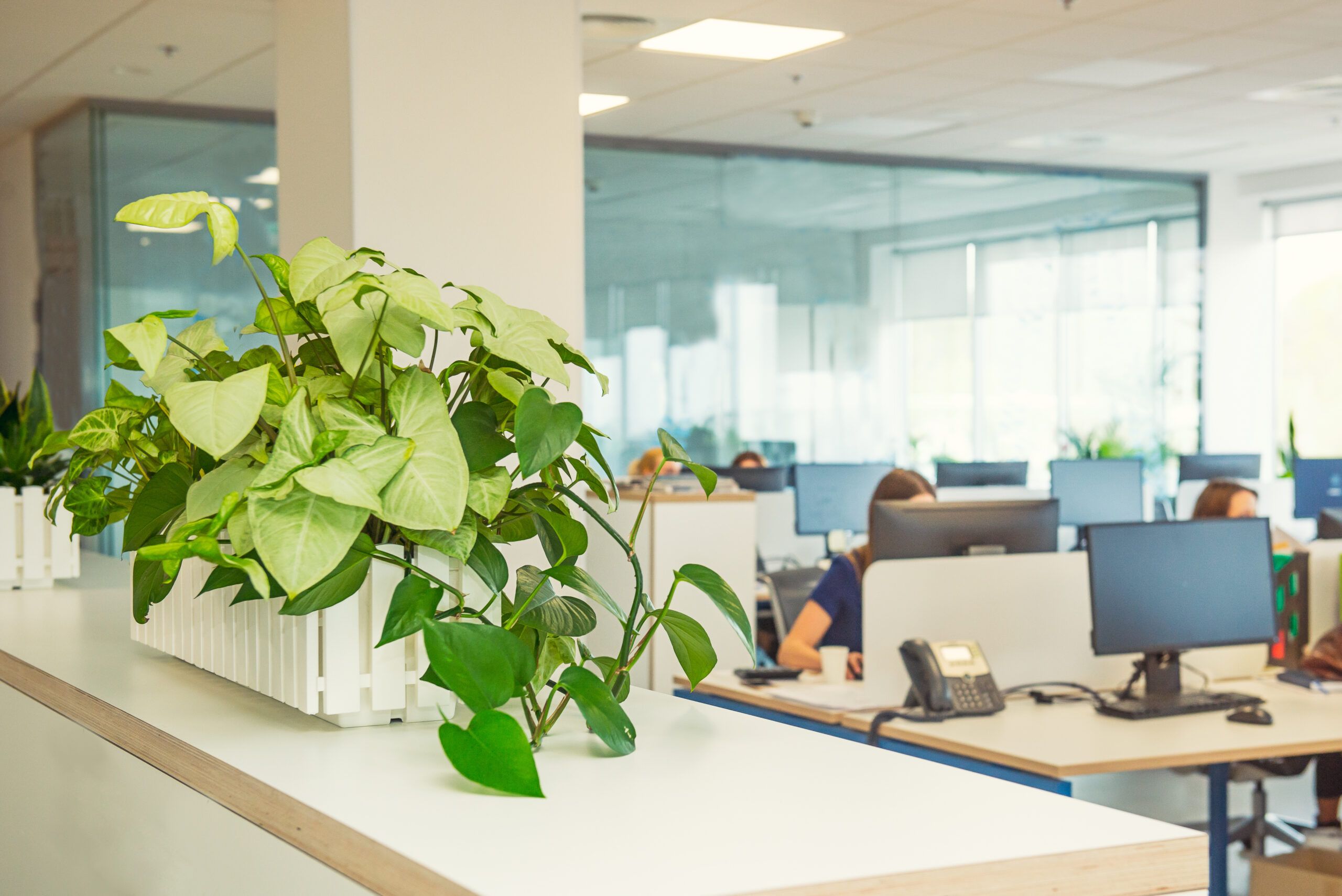 In Conclusion—The Office, Reimagined
Modern reality has evolved in recent years, as have our working environments. The new office interior design trends 2023 will host, and will continue to raise eyebrows. Creating community spaces and facilitating employee interaction is essential, as the pandemic has reduced social interactions. Moreover, the overwhelming shift to hybrid work endures, and as more companies adapt to the new model, more offices will be reimagined.
Moreover, employers are willing to offer luring additives to improve the employee experience they cannot access at home. As a result, we expect to see an increase in agile workspaces such as booths, collaborative areas, work benches and intimate working zones. Employing these design trends ensure offices are more welcoming and that staff remain engaged and productive throughout the workday.
At Livspace For Business, we can help you reimagine your workplace as per the latest office interior design trends of 2023. Want to know more about us, check out our website.