As working professionals start trickling back to their offices, it is imperative to employ the right office design concepts to get them back in the groove. A thriving workplace needs functionality, usability, and infrastructure. But it's also important to focus on intangible aspects that bring life to the space.
The workplace design should be visually cohesive, inviting, and have a unique character. This helps employees enjoy being there for most of their day.
You can customize workplace design ideas based on your organization's preferences. Mixing different styles is also encouraged, as long as it's done tastefully. Here's a guide to different office design concepts that can help you add some energy and excitement to your workspace.
1. Modern Office Designs
Clean lines, soothing colours, and a combination of the latest styles and elements comprise modern office design concepts. They exude elegant simplicity and a timeless aesthetic and they remain highly popular in corporate office interiors. Not only are these sleek and tidy offices visually appealing, but they are also simple to maintain, even with daily use.
2. Industrial Office Designs
Exposed materials, modern and organic silhouettes in interiors define the "industrial aesthetic". This design style tends to be more robust and raw, with "unfinished edges" that give the space a rugged feel. The essence can be drawn from exposed wood, brick, and structural framework. The interior design of the workplace is characterized by authenticity and aesthetic appeal.
TIP: Save on costs by leaving the ceiling exposed with service vents and simply painting them to match the interiors.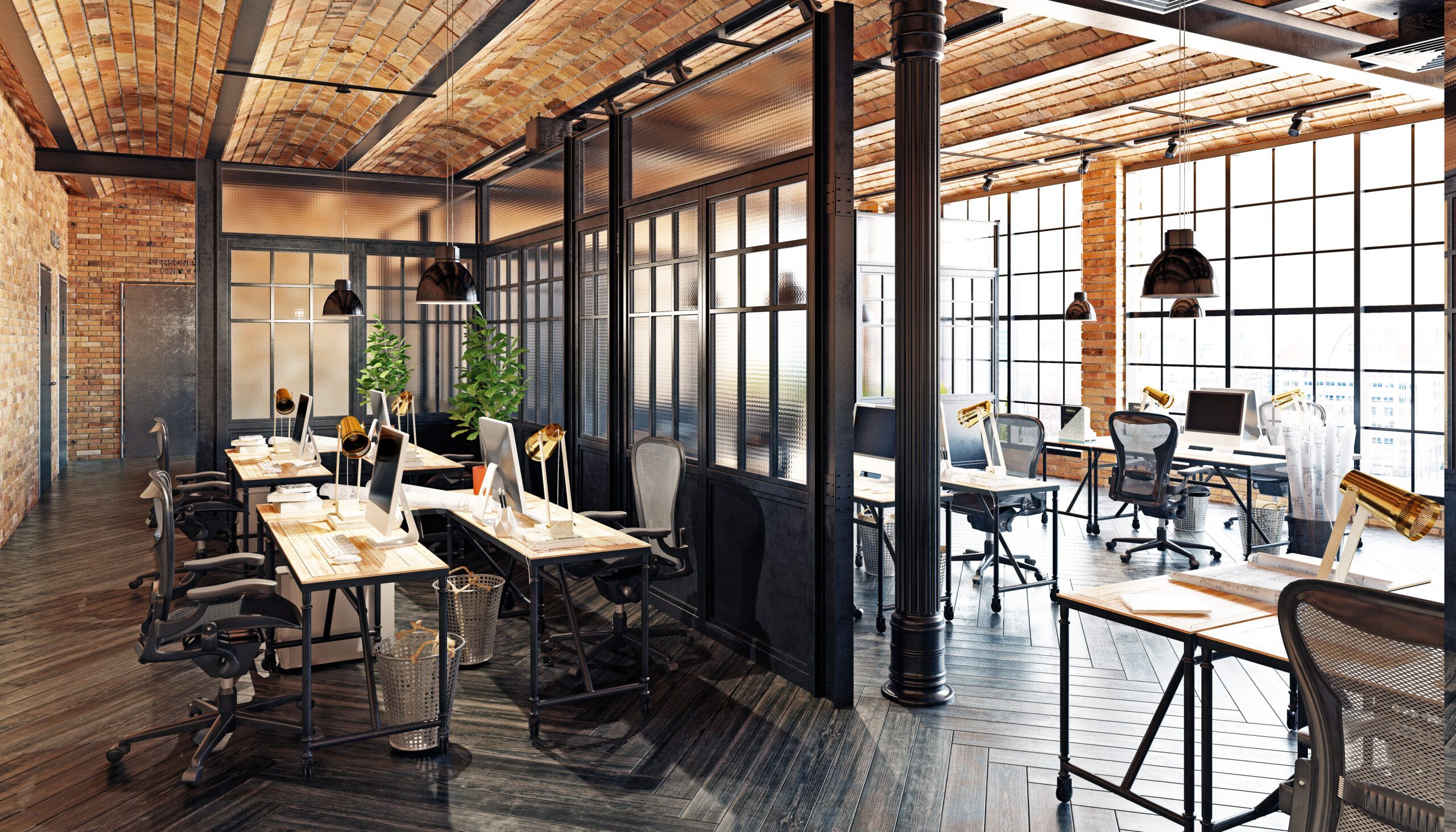 3. Minimal Offices
The minimal style is characterized by simplicity, clean lines, and a sophisticated palette. It also uses color as an accent and reduces clutter. It combines an open floor plan with lots of light and functional furniture, emphasising the nature of only the essential elements. "Less is more" is a principle that perfectly encapsulates this style.
TIP: It is easy to customise your office interior design by incorporating your brand colours within the interiors as accents. The fun pops of colour in a monochromatic palette disrupt the minimalism just enough for it not to be foreboding.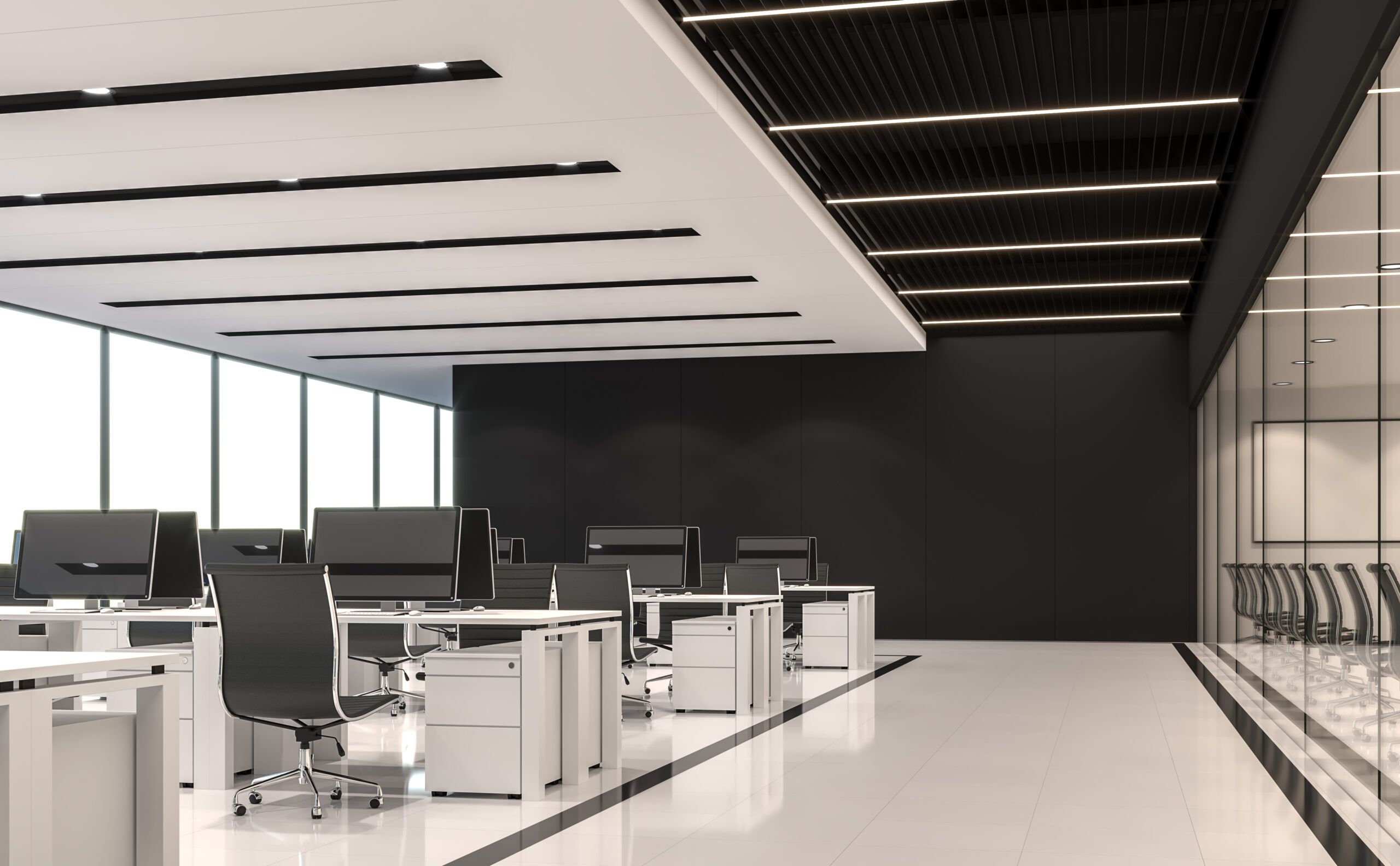 The Scandinavian decor style evolved around the mid-20th century in the northern countries of Denmark, Sweden and Norway and has become very popular worldwide. As Indians, we relate to its welcoming, practical and sensible aesthetic, which leaves room for personalisation. The modern office interiors are sleeker and more minimalistic, with spindly structures offering minimal cushioning. Clearing out spaces creates a more orderly and visually appealing environment. Scandinavian style shows traces of industrial influence, mid-century modernism, and the contemporary sensibilities of Germany's Bauhaus movement.
5. Japanese/ Ikigai / Japandi Office Design
A mix of design styles is done well in the 'Japandi' movement that has taken the world by storm. Japandi combines Japanese and Scandinavian design principles. It merges the simplicity and minimalism of Japanese Zen with the cozy warmth of Scandinavian Hygge, using clean lines, bright spaces, and neutral colors to achieve balance in design.
6. Futuristic Offices
The futuristic office design concept incorporates technology, flexible workspaces, and biophilic elements for a productive and collaborative workplace. It features digital displays, augmented reality workstations, and living walls with natural light. Climate control and air purification ensure a healthy indoor environment. Sustainability is emphasized through renewable energy and eco-friendly materials. The design reimagines the office as an adaptive space for creativity, innovation, and employee satisfaction. The integration of functionality into the interior design is seamless, making the office both future-proof and incredibly appealing.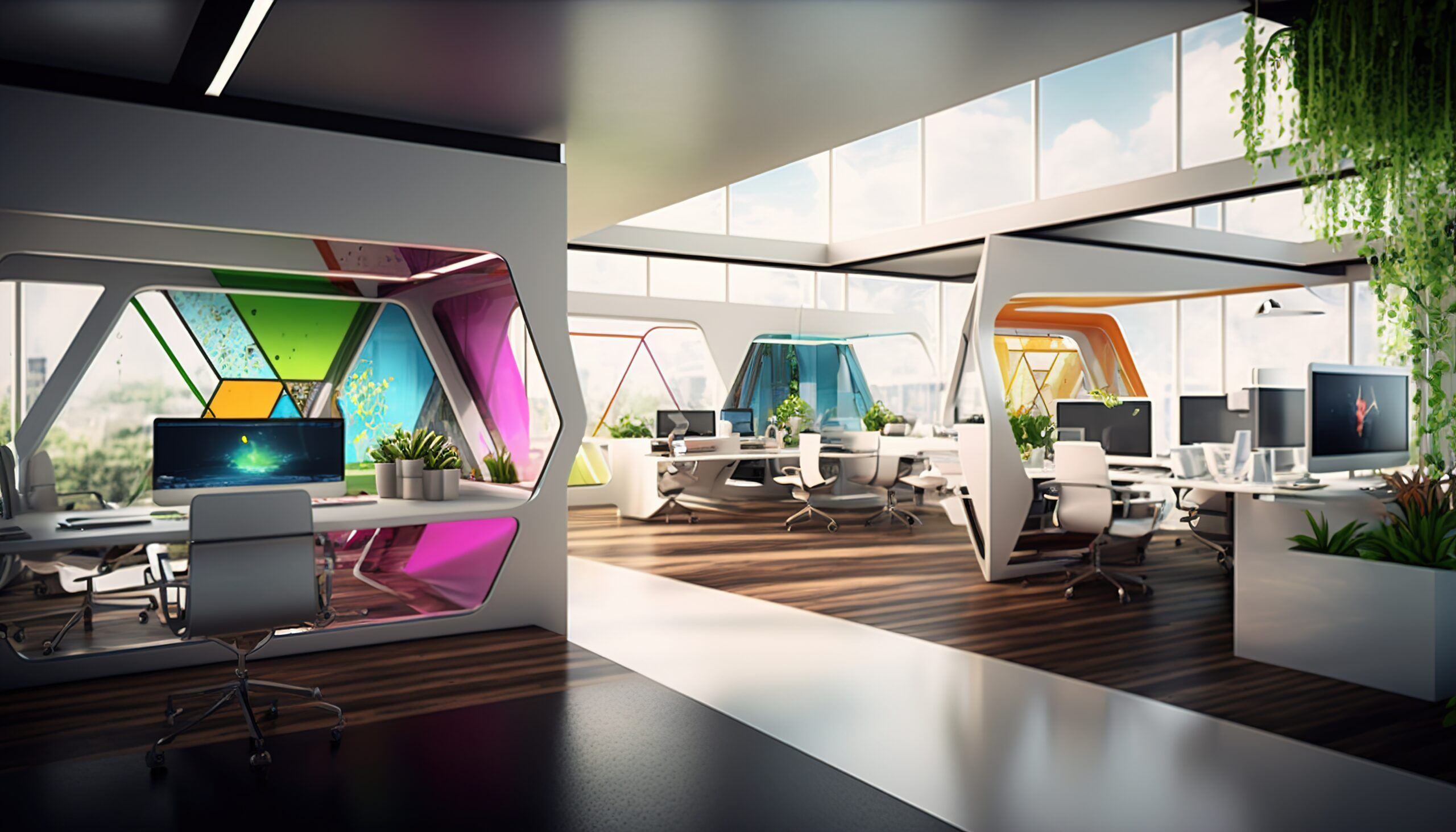 With a slew of corporate interior design options, you can decide which aesthetic you relate to the most. Here are some unifying factors across the board:
A common point across all styles is to assess whether your workspace layout is safe and conducive to productivity. Open-plan offices are a favourite as they increase the probability of chance encounters and encourage conversation. In addition, the natural movement of employees from their seats helps to promote their health and well-being, as well as their overall happiness.
Colour theory subconsciously affects people's moods and it is crucial to have themes that make your office feel comforting.
Multifunctional furniture is engaging, affordable and chic. They encourage employees to move from their designated seats and work elsewhere in the office. A mere change of space can do wonders for your creative block!
High-quality materials are essential for the longevity of a design style. Sustainability and usability are the need of the hour.
Giving "life" to spaces is imperative as we spend the majority of our time working indoors. At Livspace for Business, we factor in landscaping, exteriors and interiors in tandem to bring out the best concepts for office design. Check out our website to learn more.