Take cues from the best modern house design!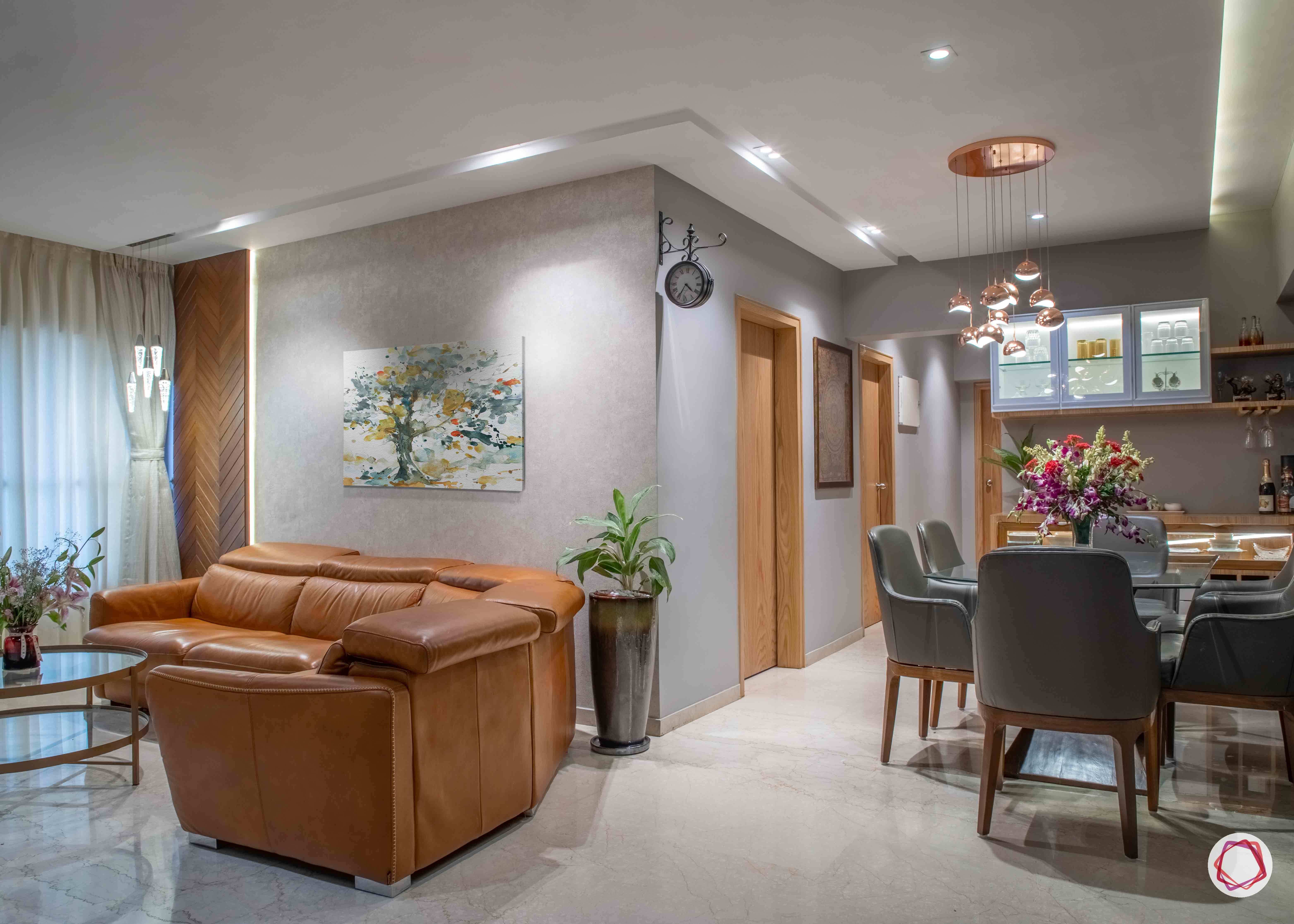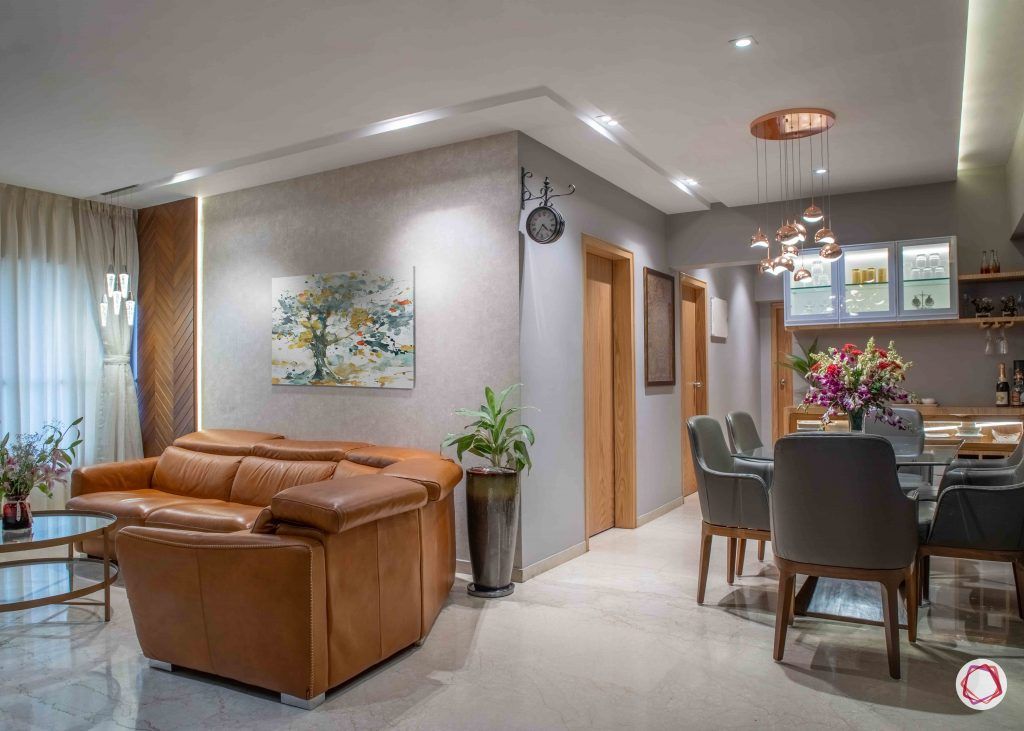 ---
Who livs here: Lata More, her husband, their son and daughter
Location: Godrej Platinum, Vikhroli East, Mumbai
Size of home: 3BHK spanning 1,200 sq ft
Design team: Interior designer Foram Dedhia and Project Manager Bharat Suthar
Livspace service: Full home design
Budget: ₹₹₹₹₹
---
When it comes to neutrals, nothing really beats grey. With its cool undertone and contemporary vibe, it pairs well with the hottest design trend now – minimalistic design. When Livspace designer Foram Dedhia was approached by Lata More and her family to design a contemporary, minimal home for their Godrej Platinum flat on the 26th floor, she was more than delighted. But there was a caveat in place.
The full home design had to be completed in 50 days so they could have a housewarming on a predetermined date. Foram Dedhia got to the task at hand immediately and the result is a modern chic abode. Let's pop right in!
A blissful living room
The living room is proof that grey, while being understated, can be striking . With a subtle sparkling grey wallpaper and Italian marble flooring, the space looks contemporary and chic. In conversation with us, Foram revealed she only used three shades for the living and dining areas: grey, white and for some contrast, a warm oak shade. An L-shaped leather sofa makes for comfy seating, while the wide TV unit doubles as a display cabinet. The latter has been crafted with open shelves for artefacts and drawers underneath for ample storage.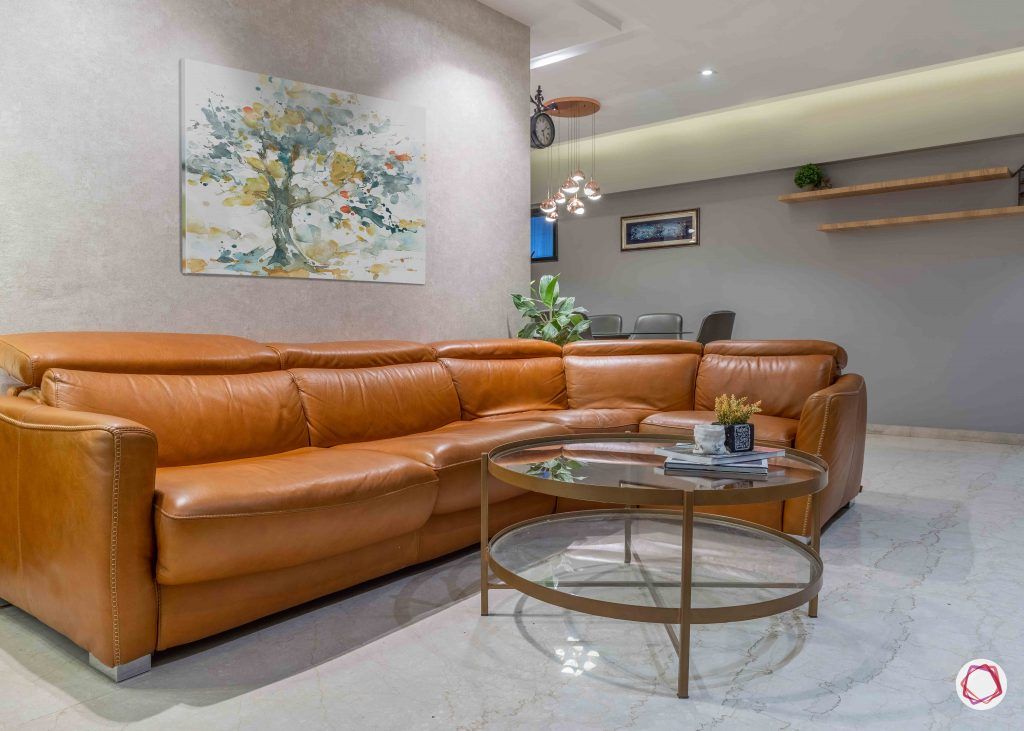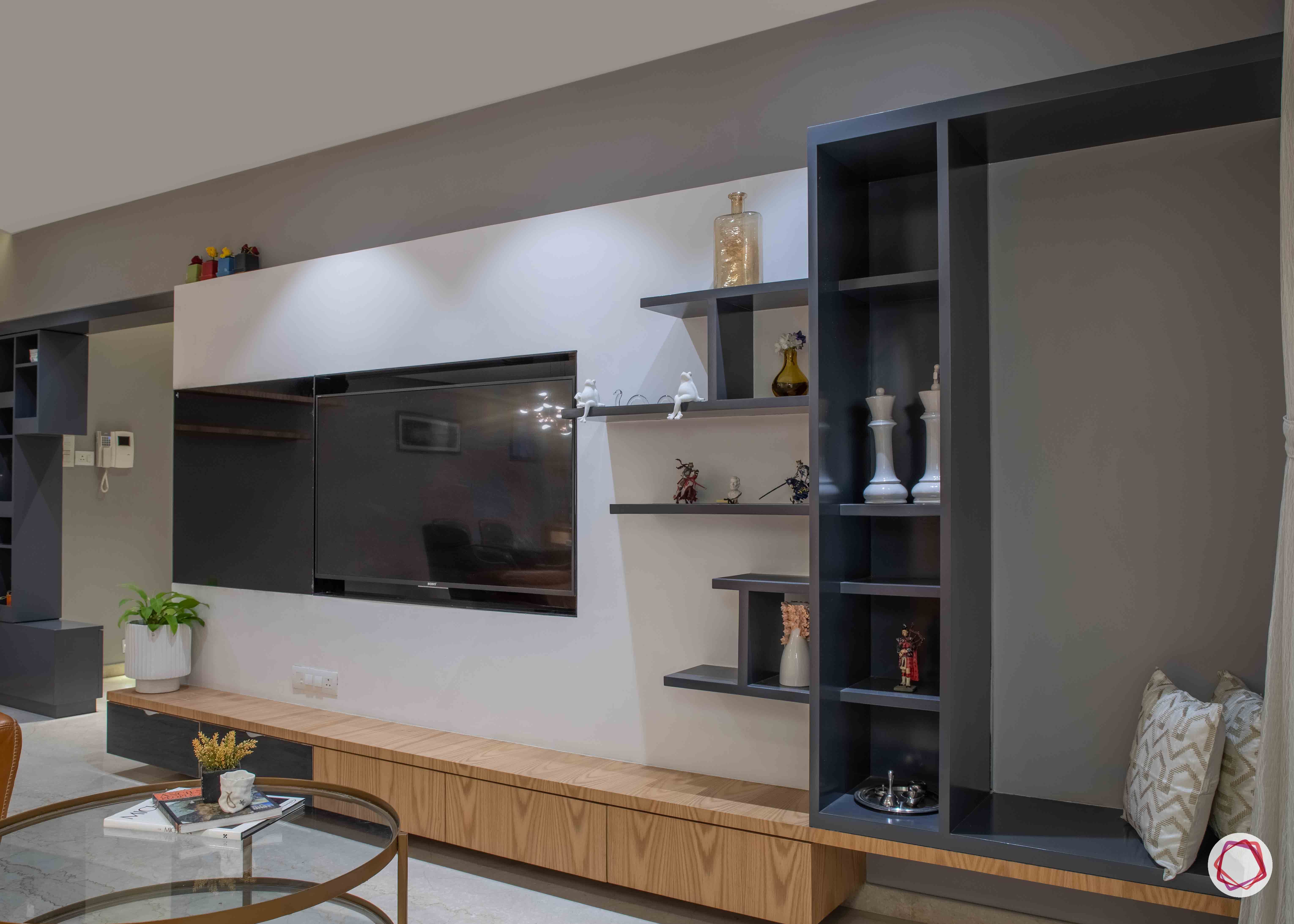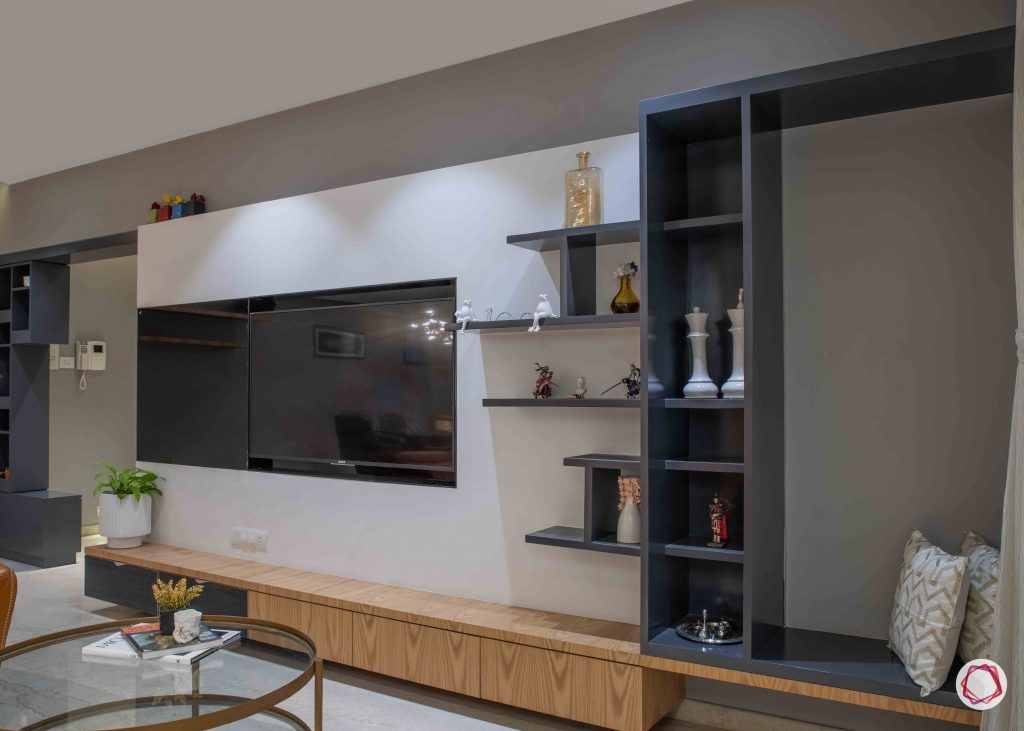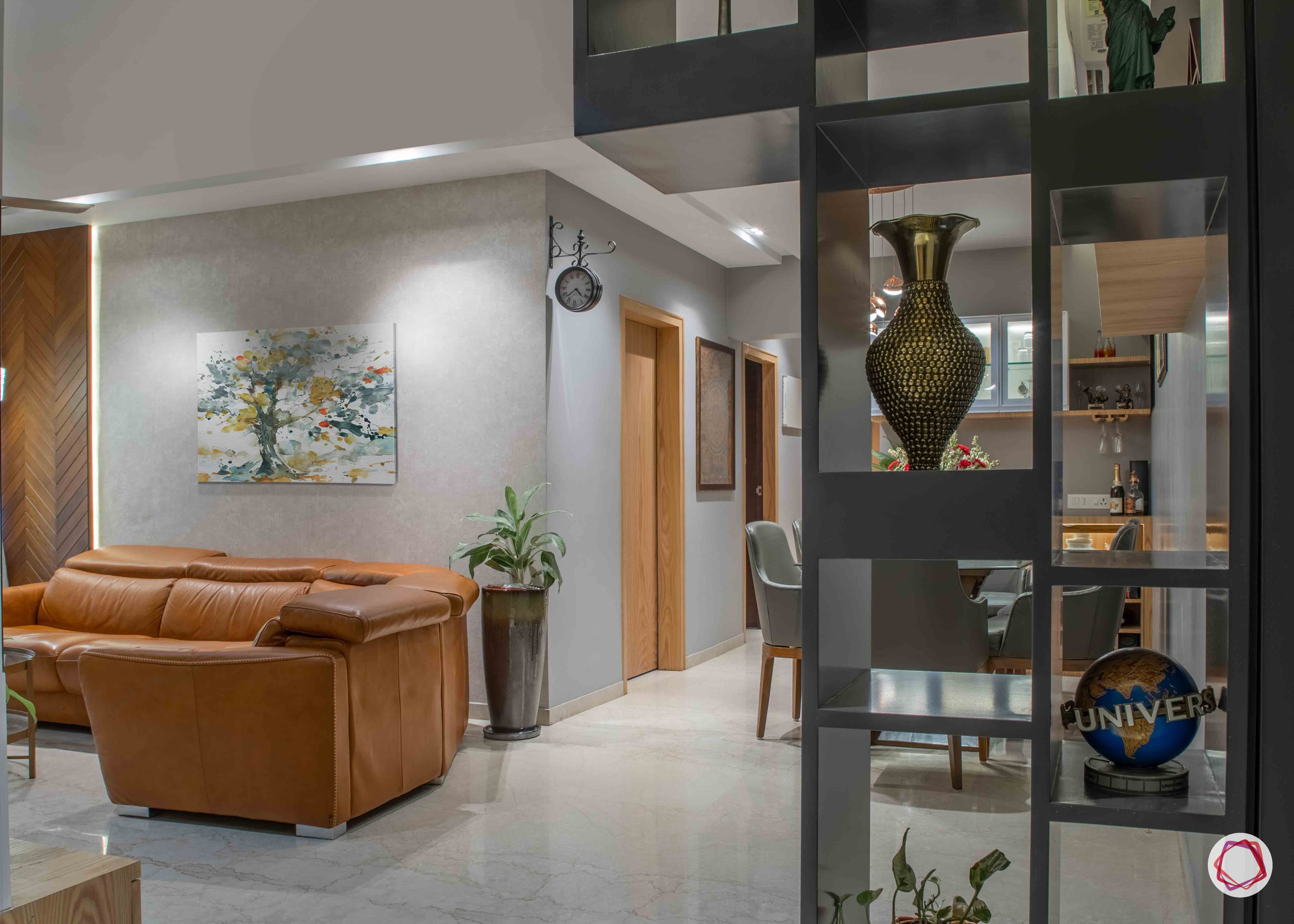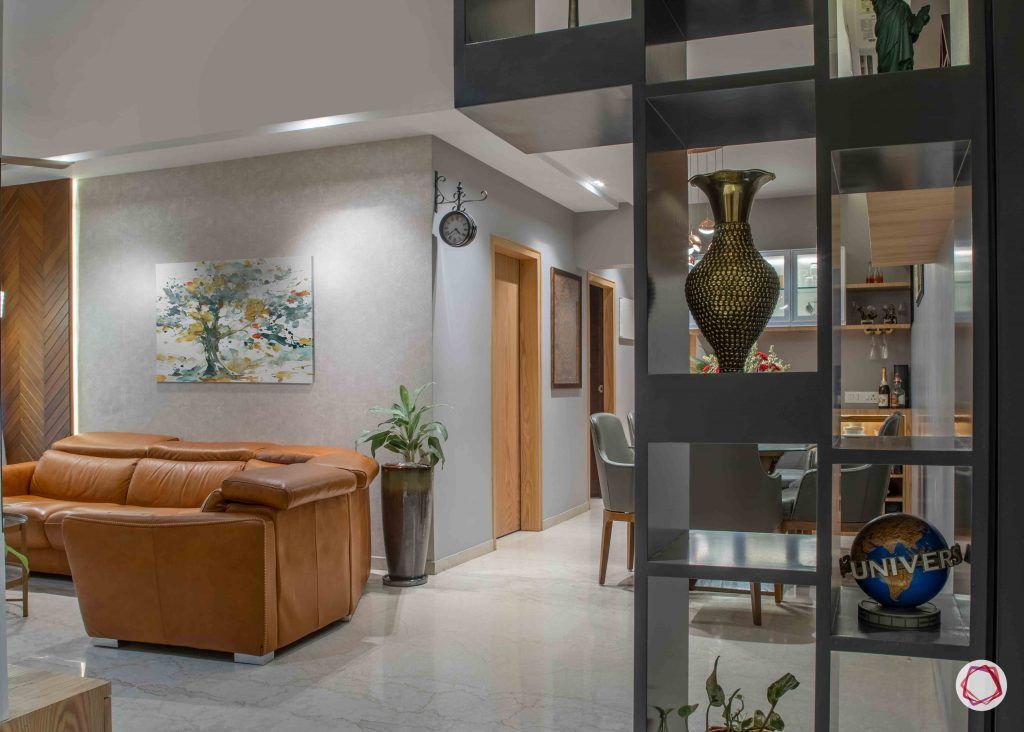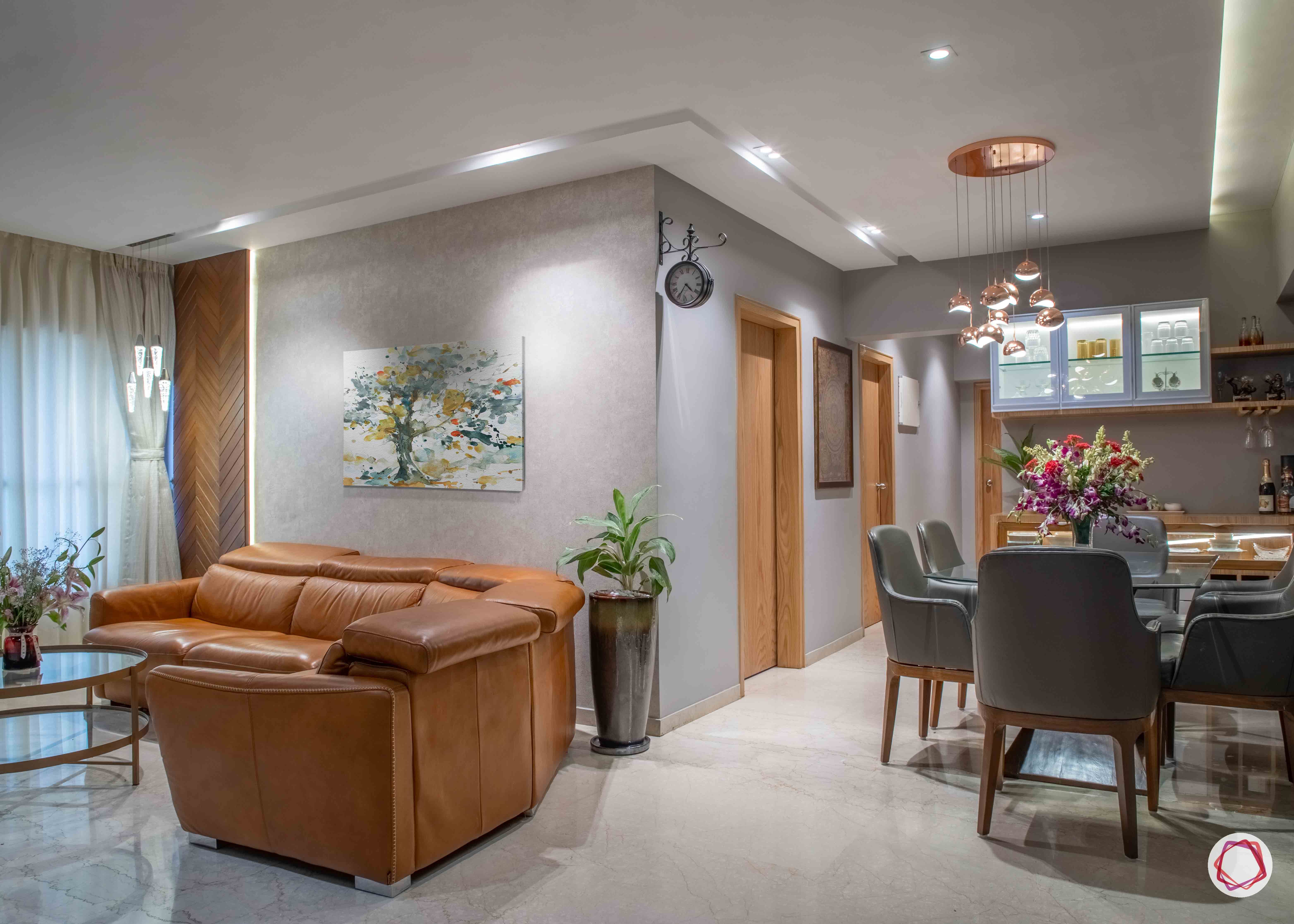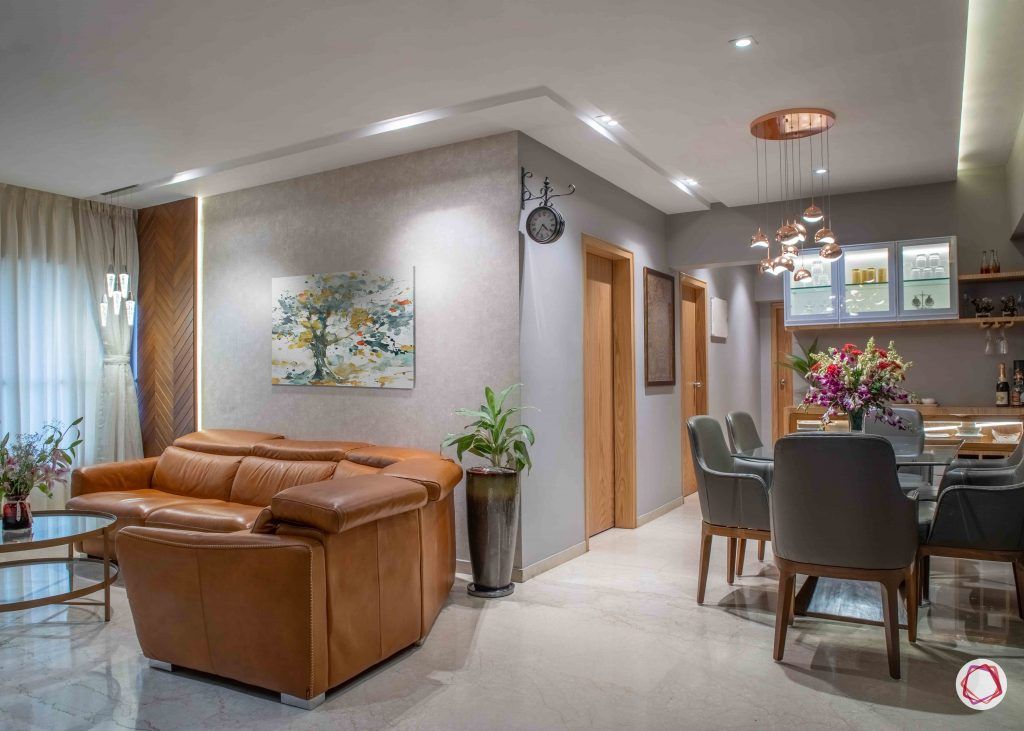 Take a look at the end of the unit. Since the dark grey element has been fitted next to a window, Foram thought she had to take advantage of the nook. Being on the 26th floor does have it advantages! So she put in a seating option within the unit with pillows. So, you could prop yourself up on the seat with a book or simply enjoy the view from the window.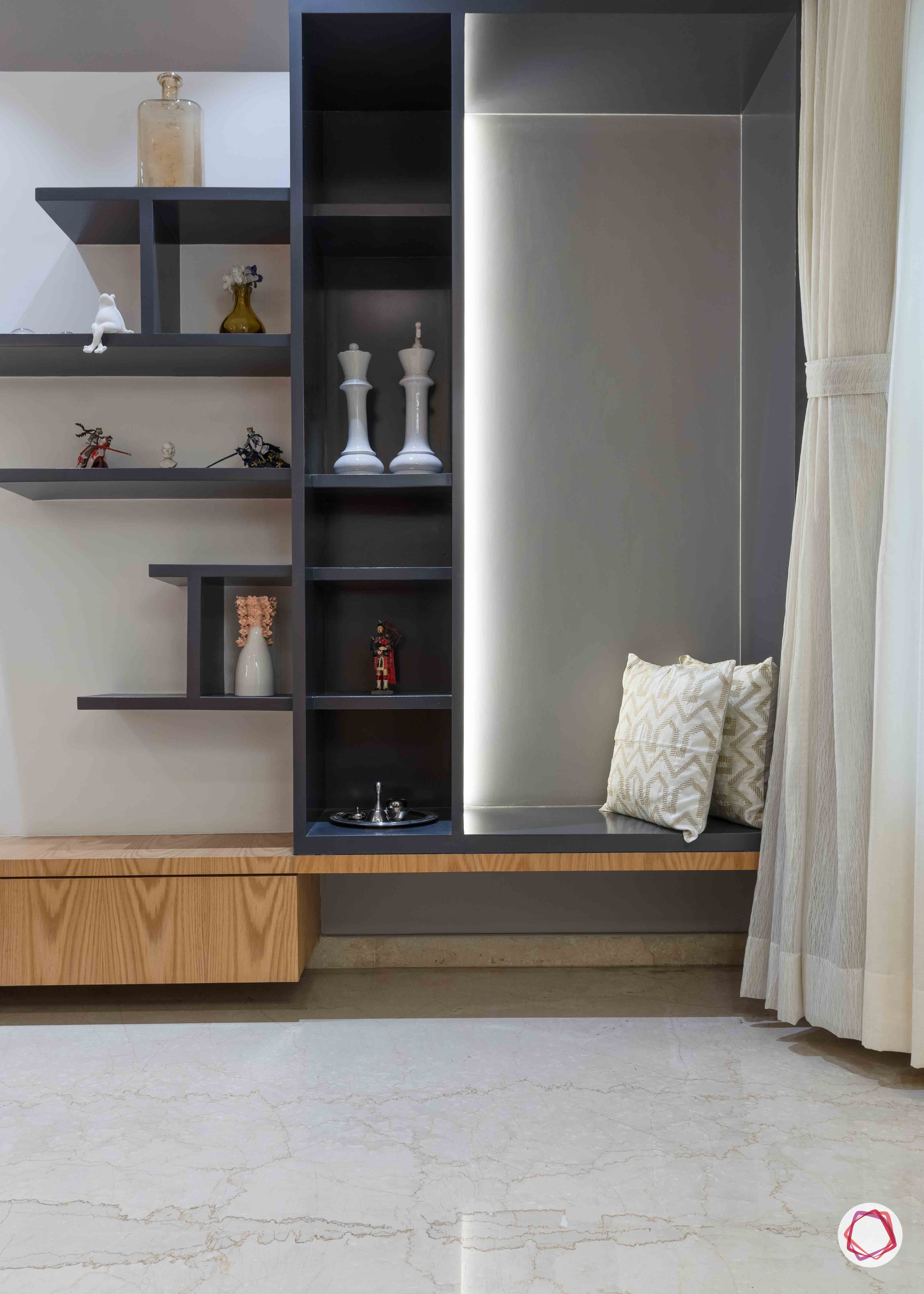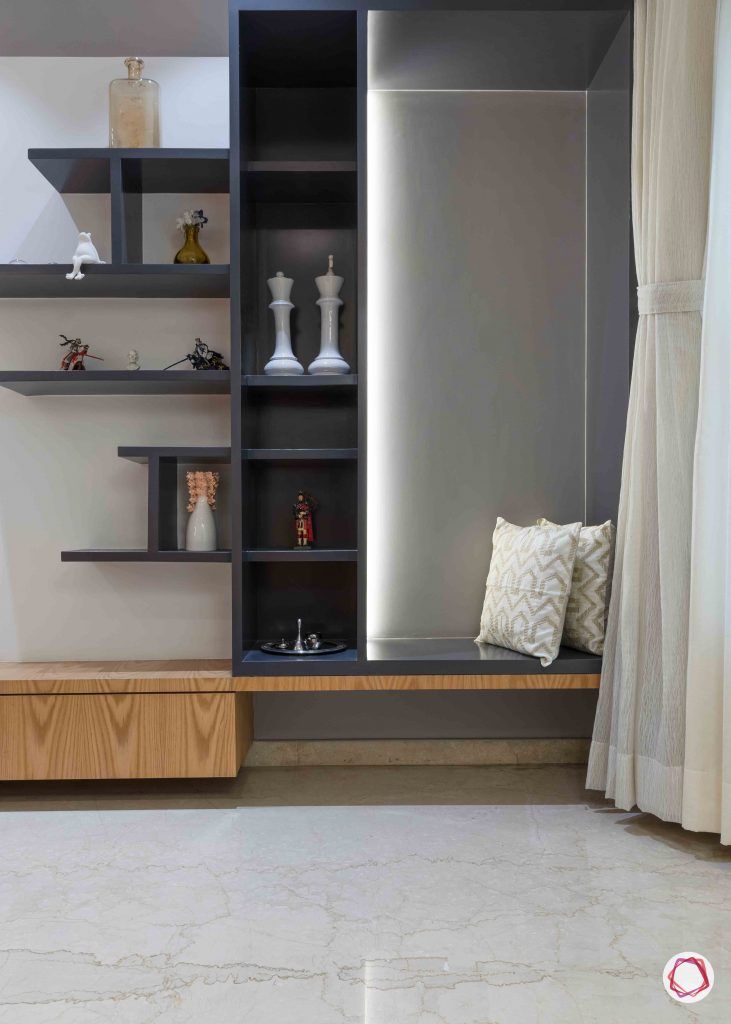 A glitzy affair
Despite being compact in size, the dining space is every bit glamourous as it gets. Chic leather chairs and a minimal glass table make up for the dining set. The industrial-inspired hanging lights, adds a touch of bling, elevates the space into a stylish and cozy nook for the family.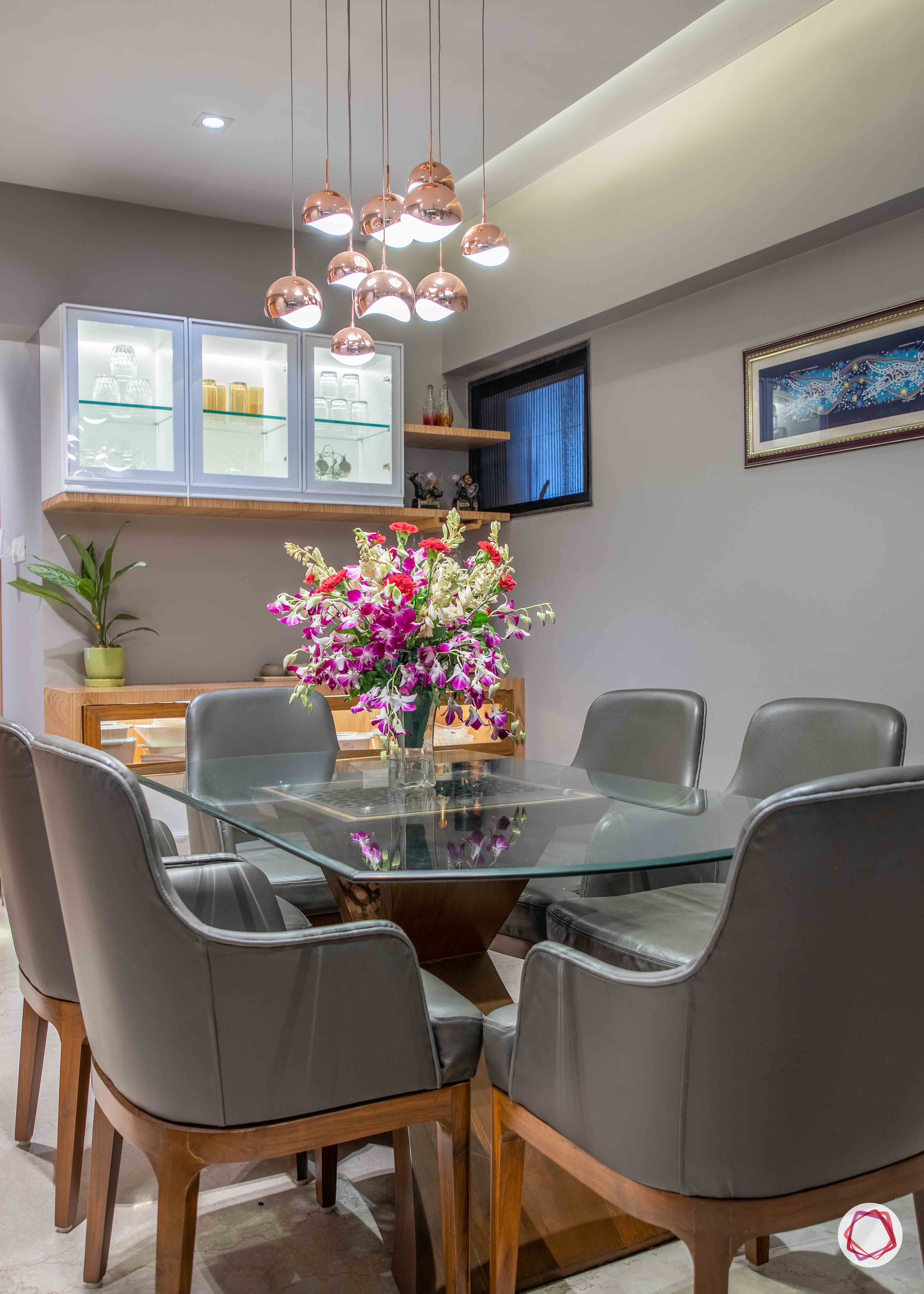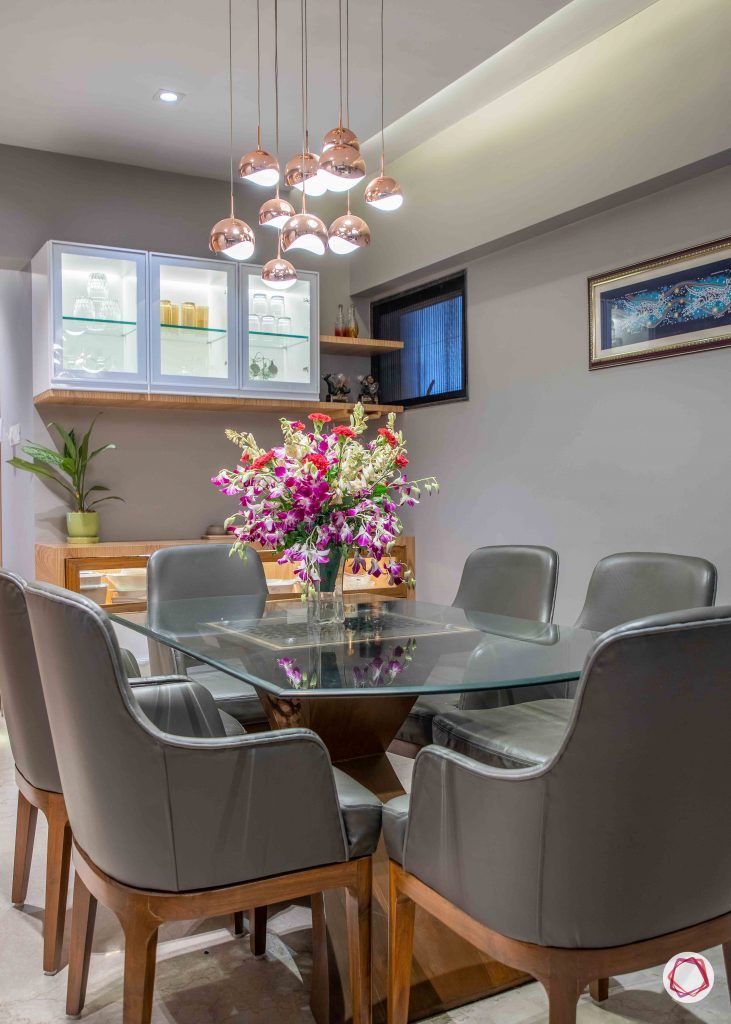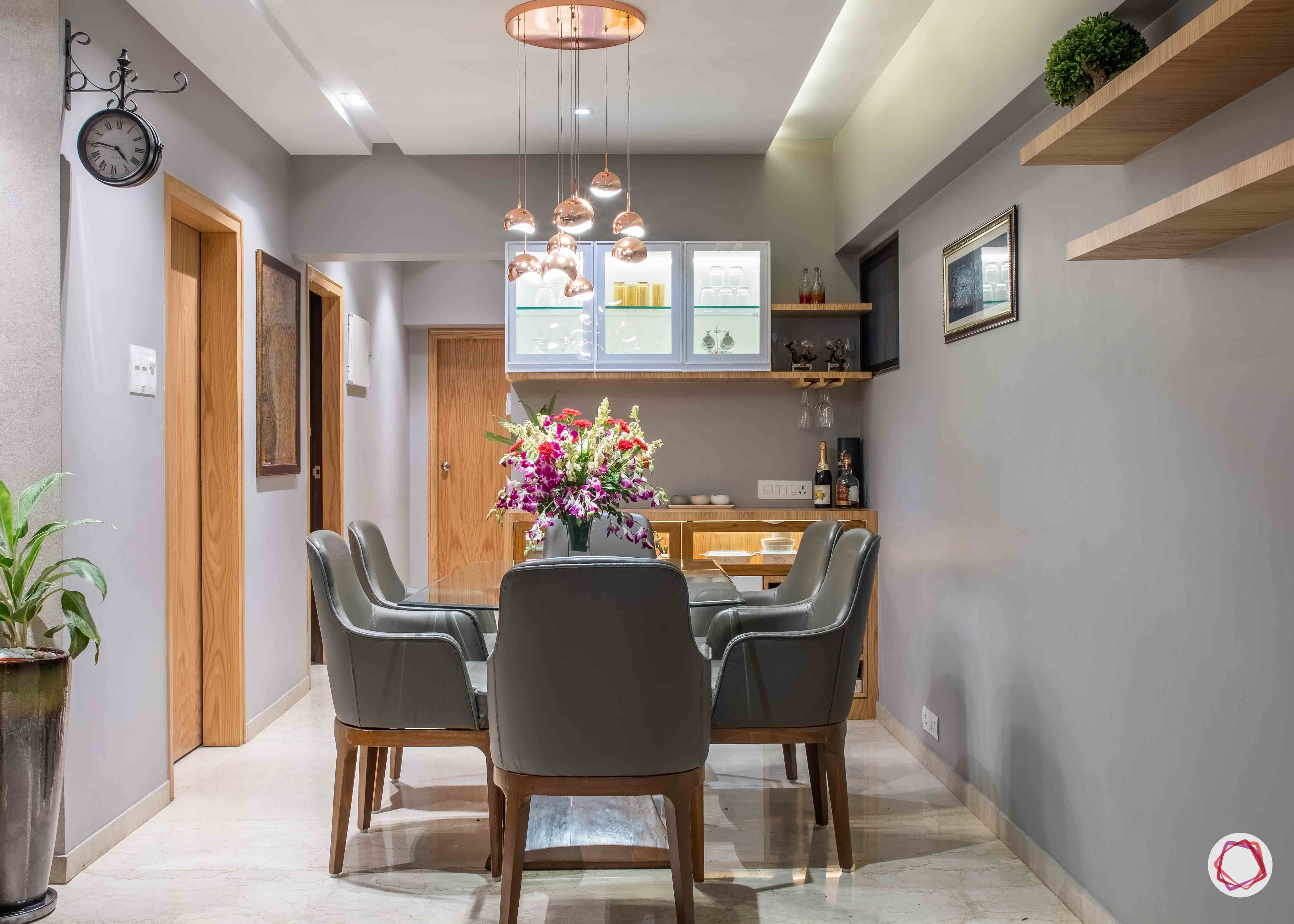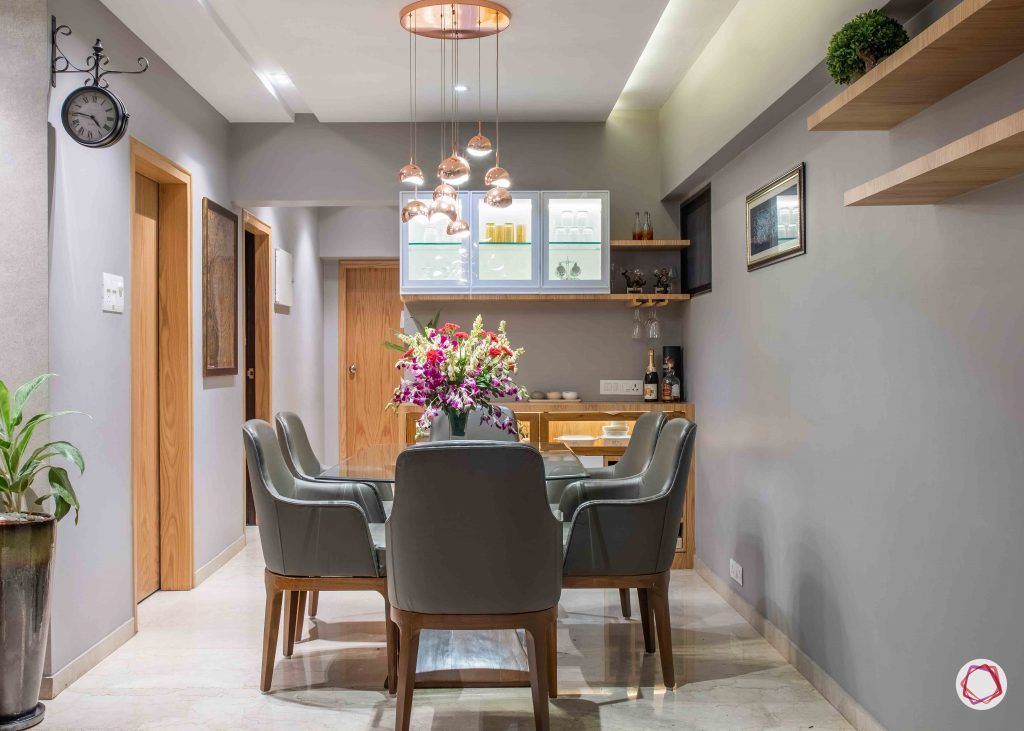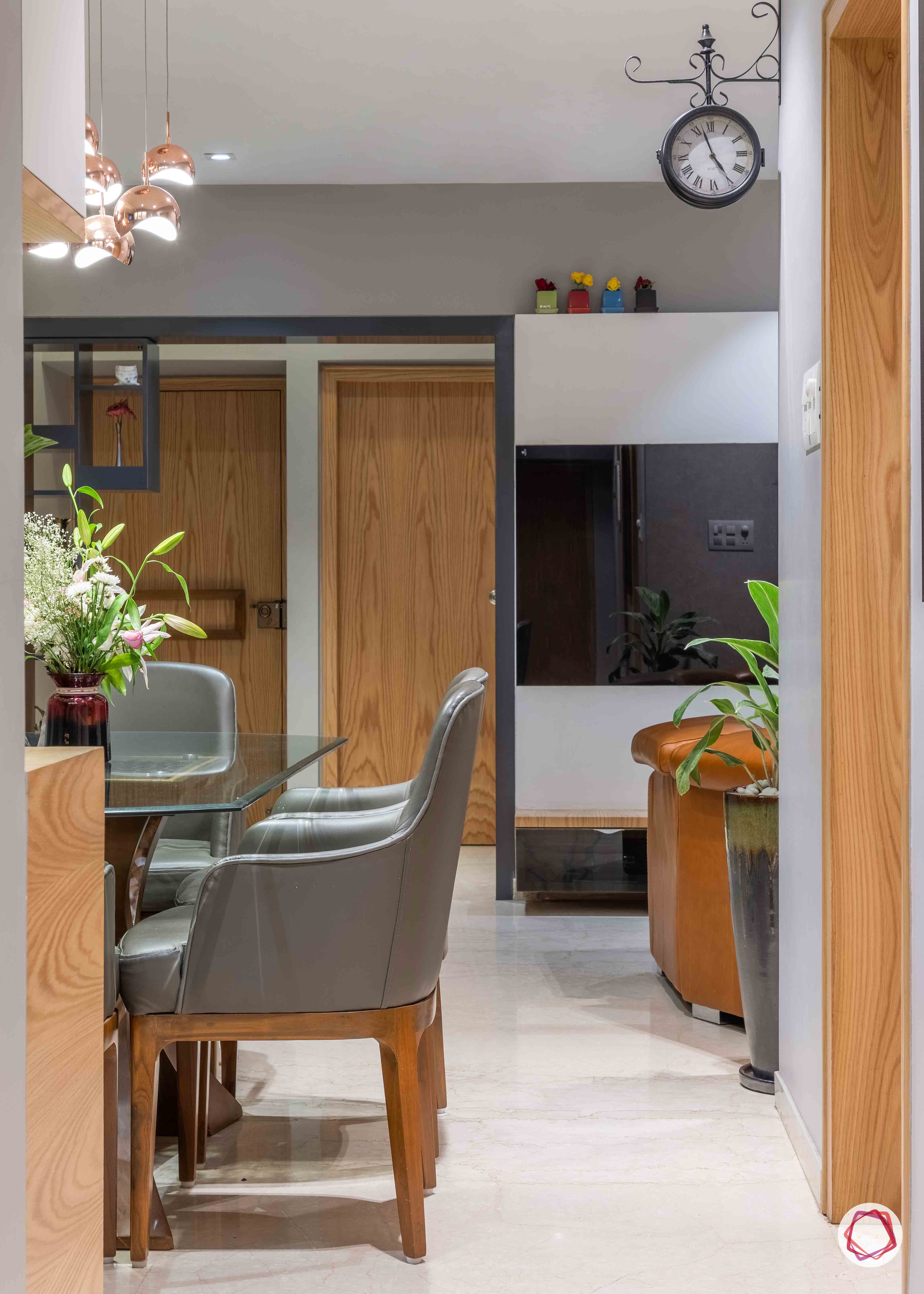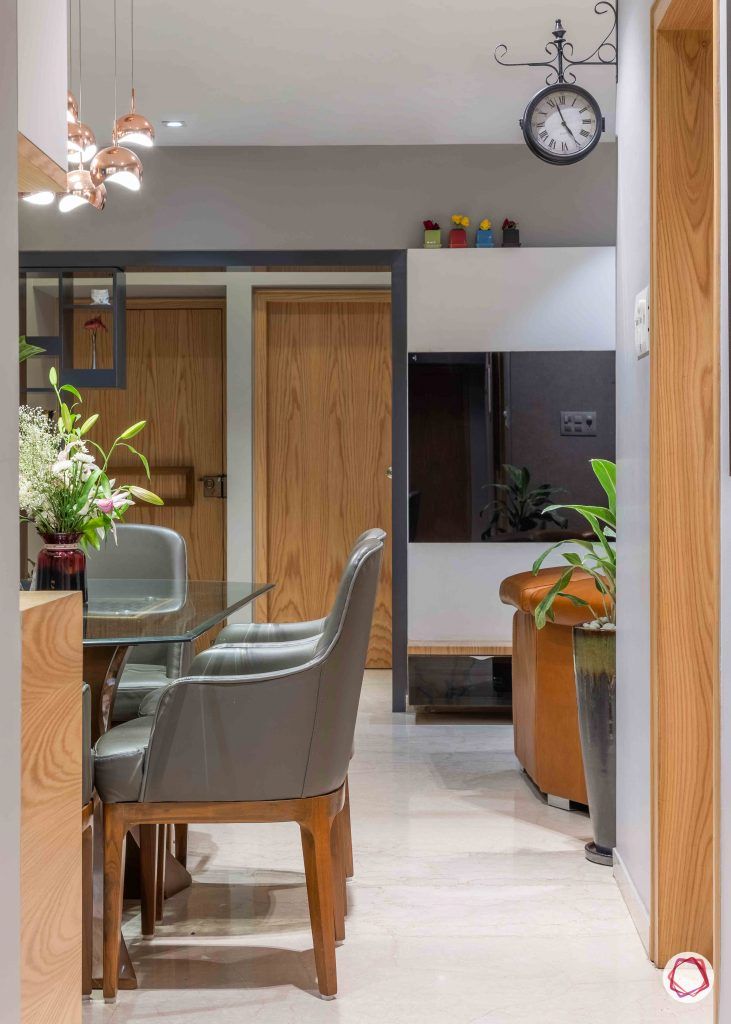 Notice the cabinet behind the dining space? While the wall units serve as a crockery cabinet, the base units act as a bar nook. These sleek elements are done up in glass shutters, wooden finishes and have been fitted with spot lights for a touch of softness.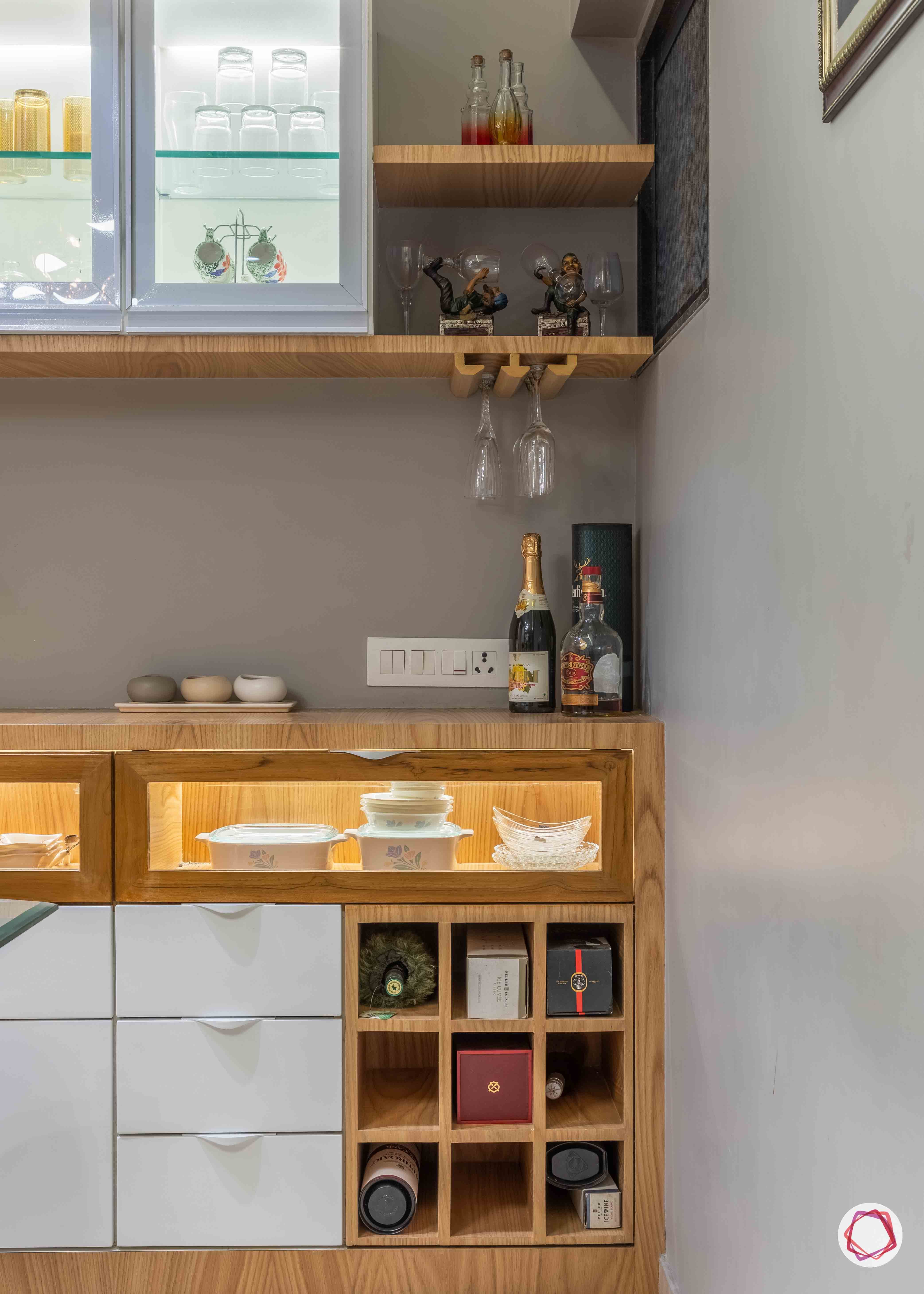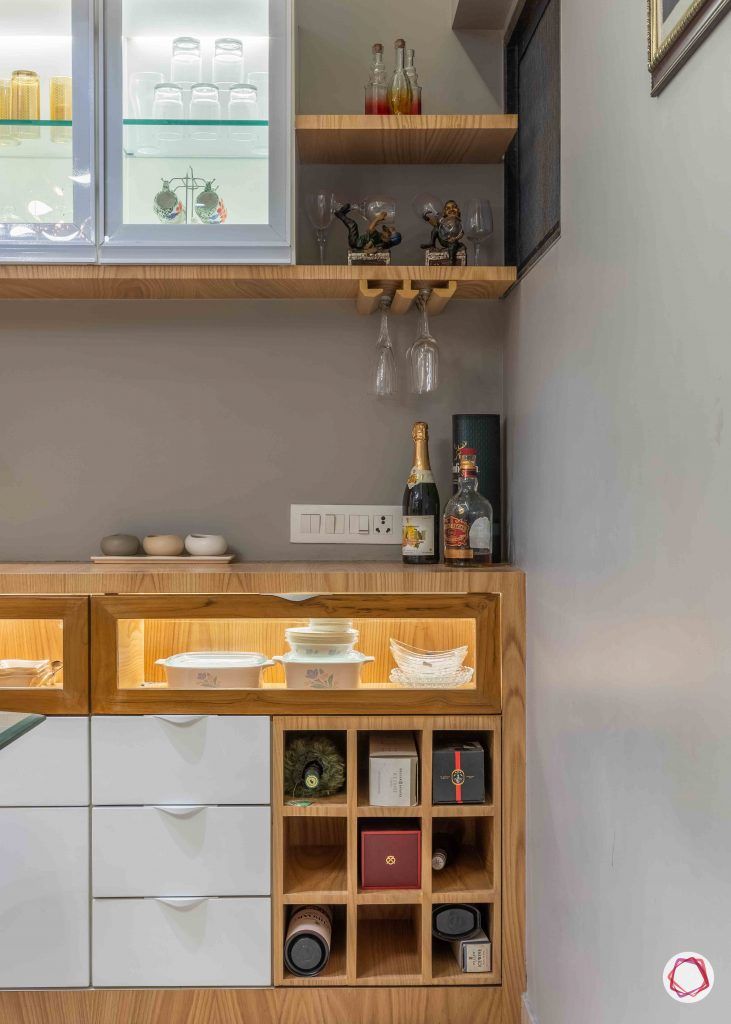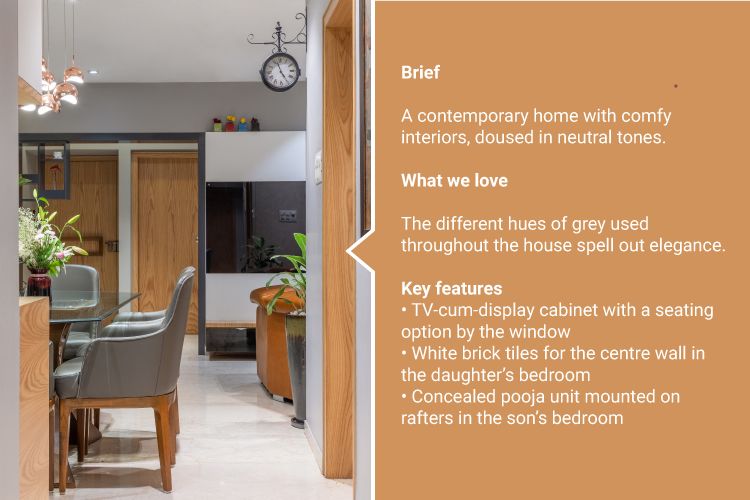 Slate Grey Beauty
Who said compact kitchens won't be able to fit in everything that you need? Take a cue from this modular kitchen. Decked in an efficient parallel layout, the kitchen follows a chic seamless design in dark grey on one side and white on the other.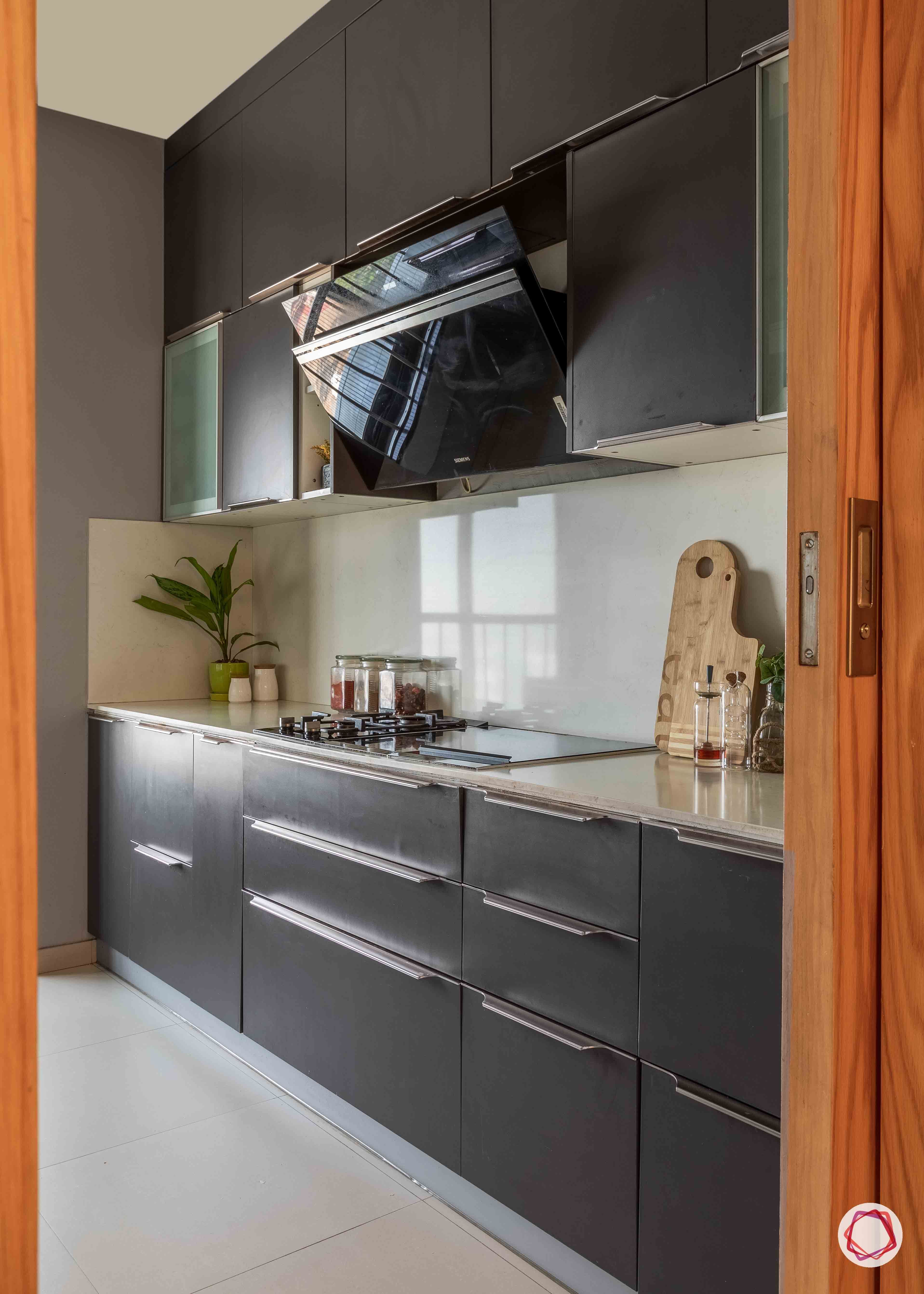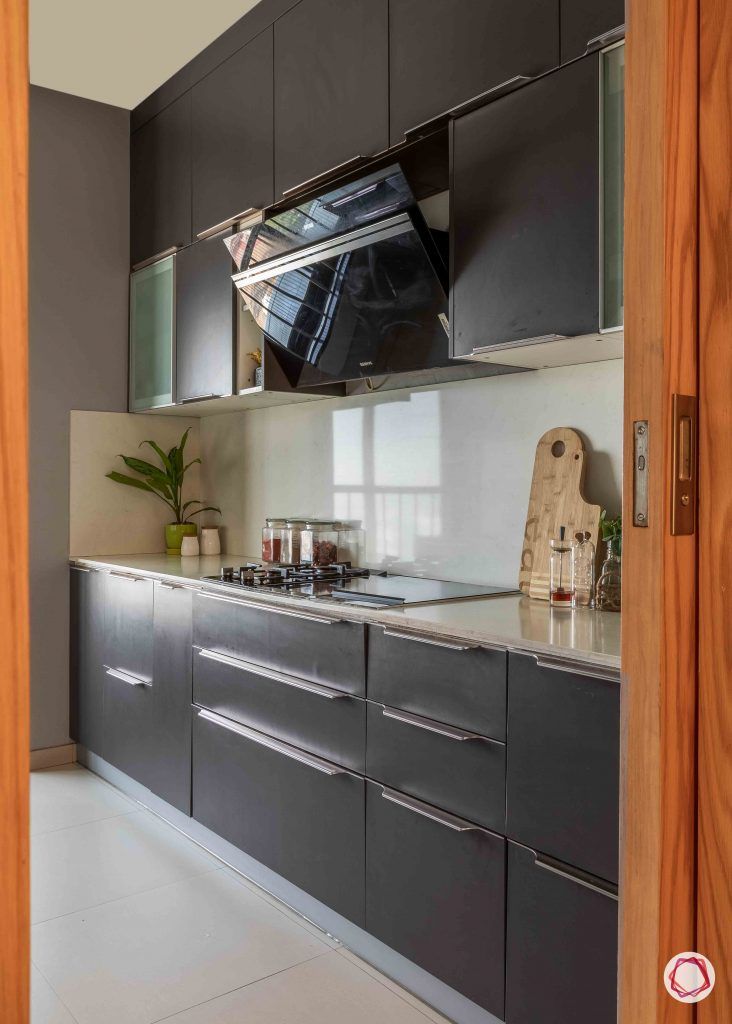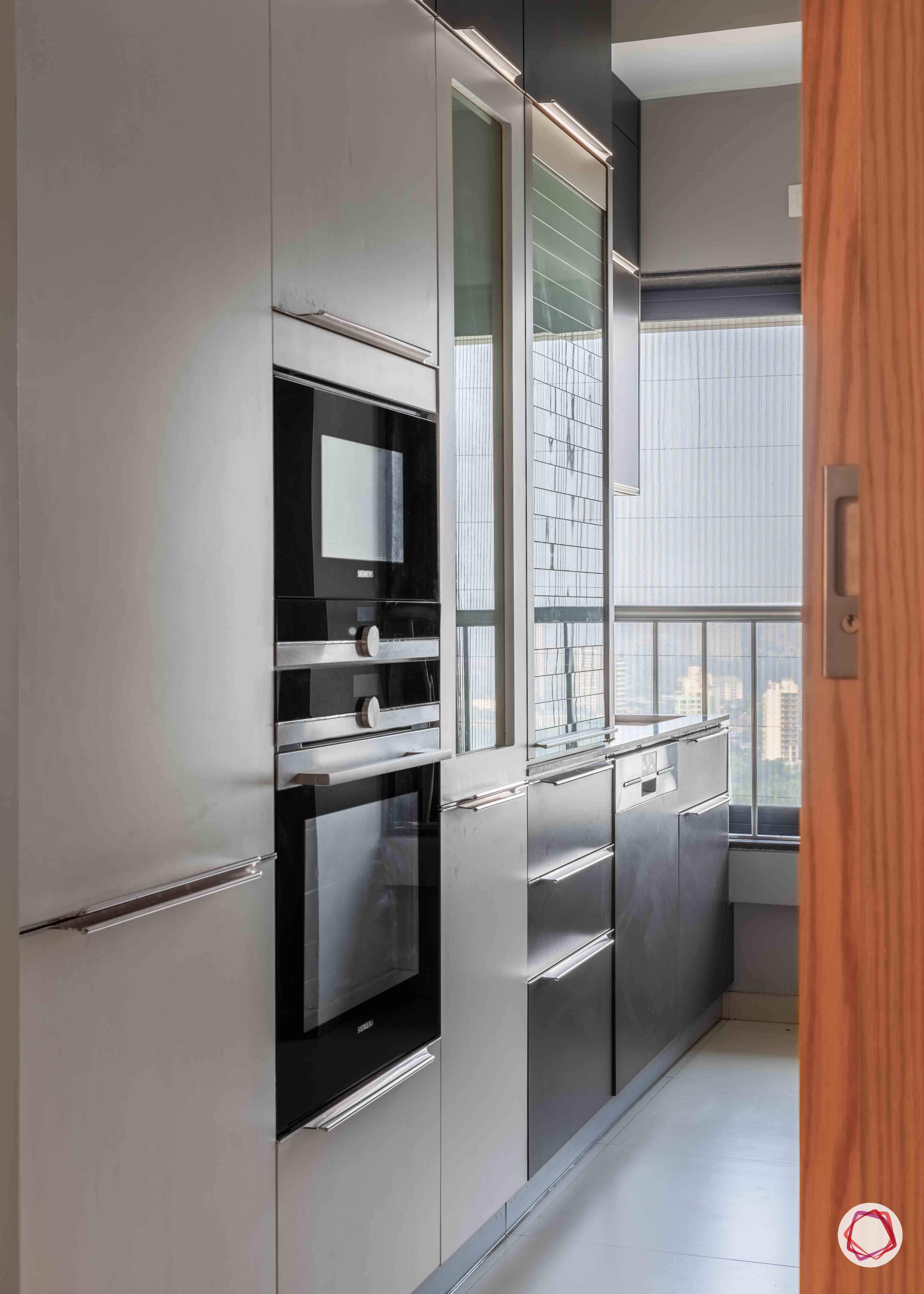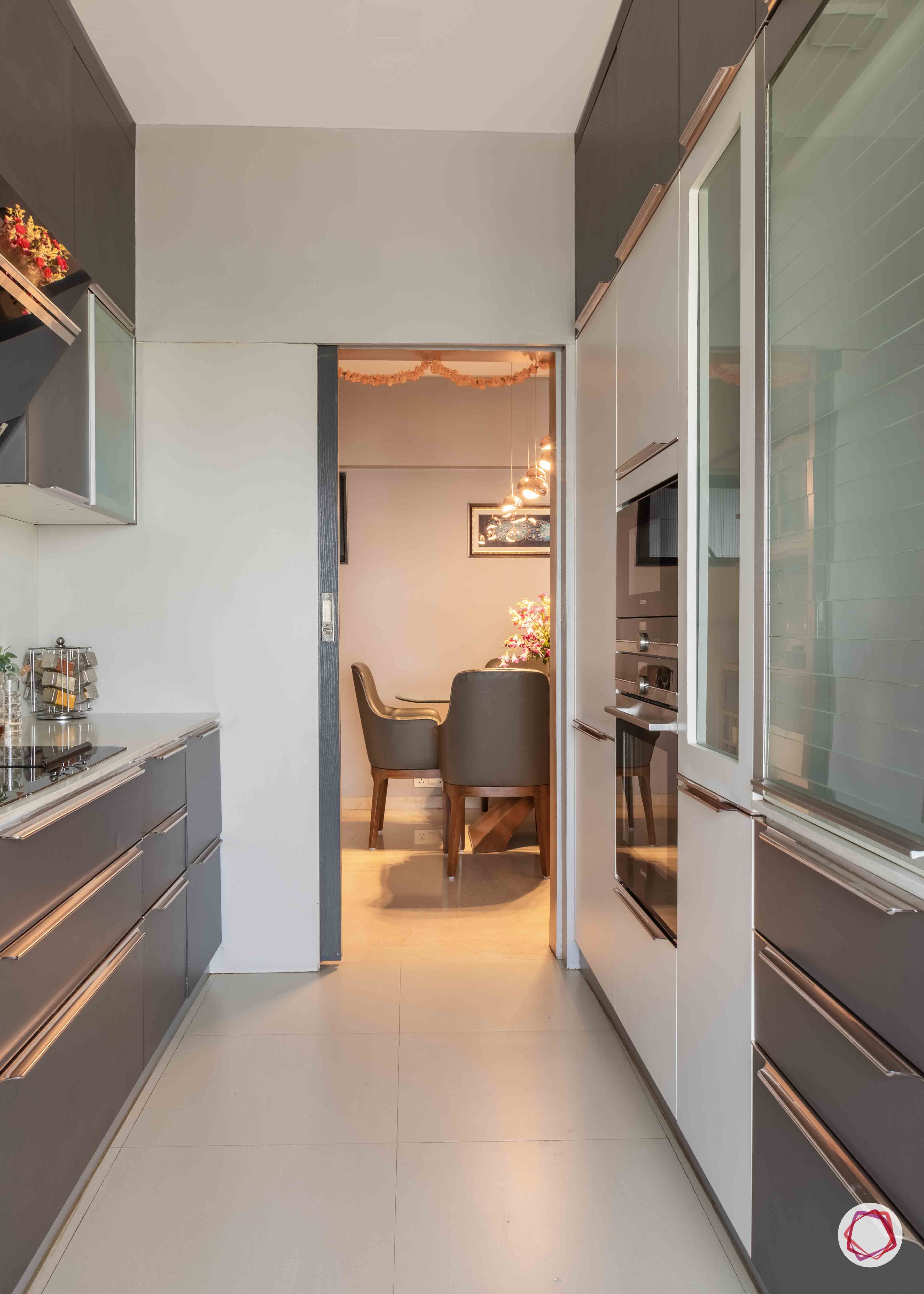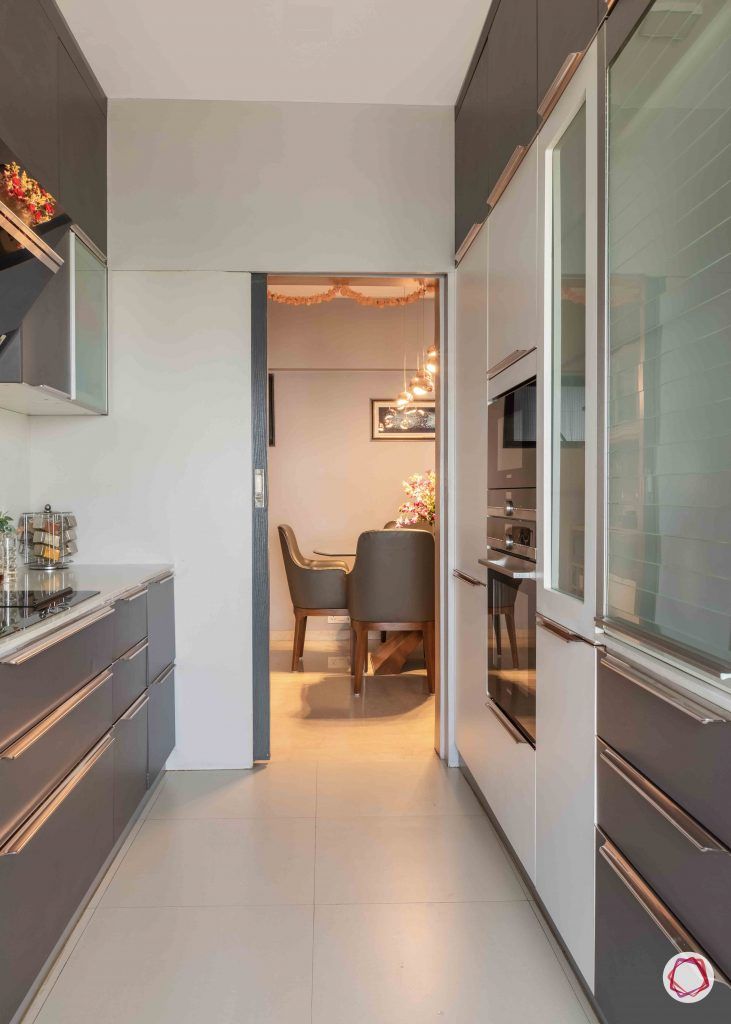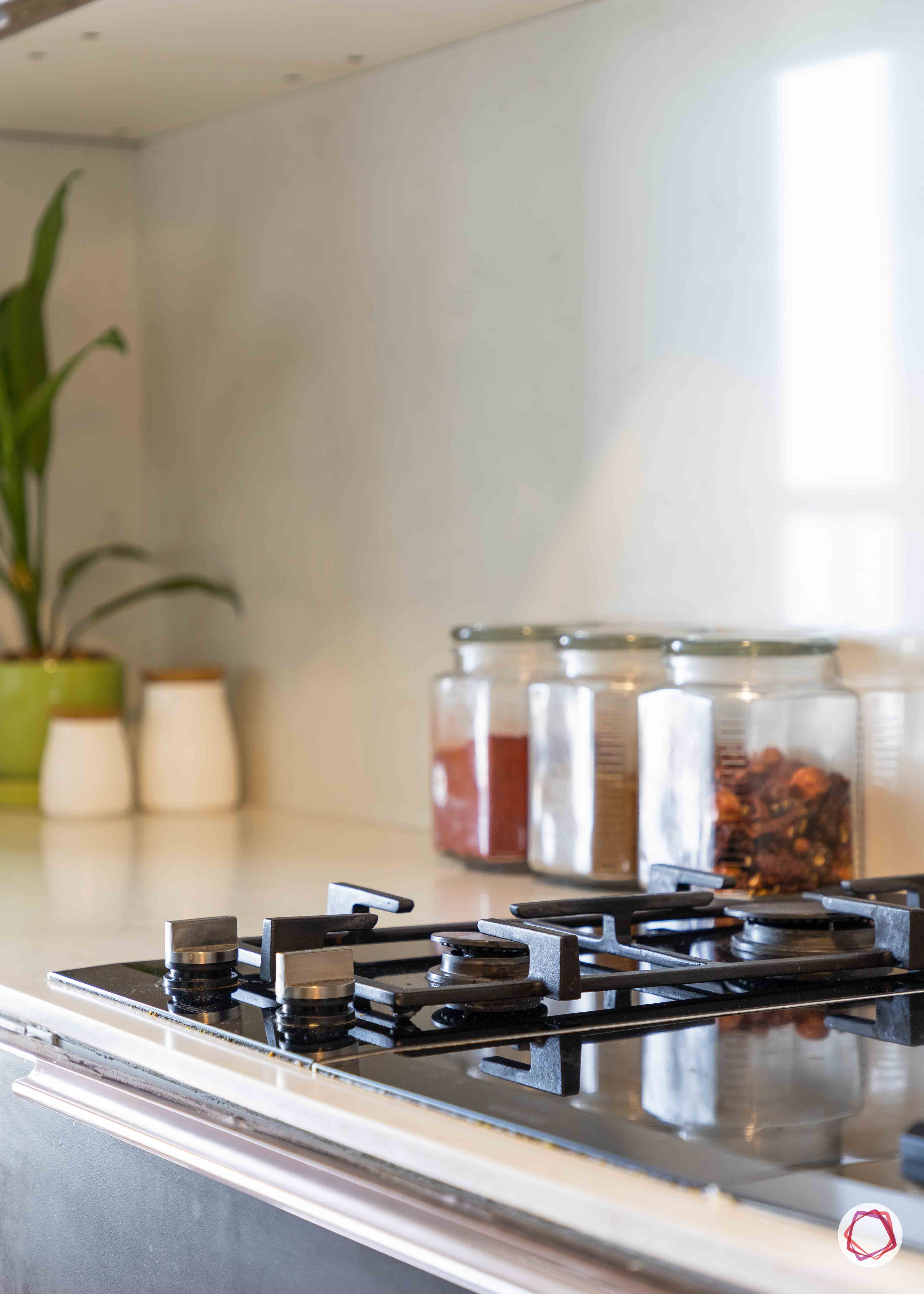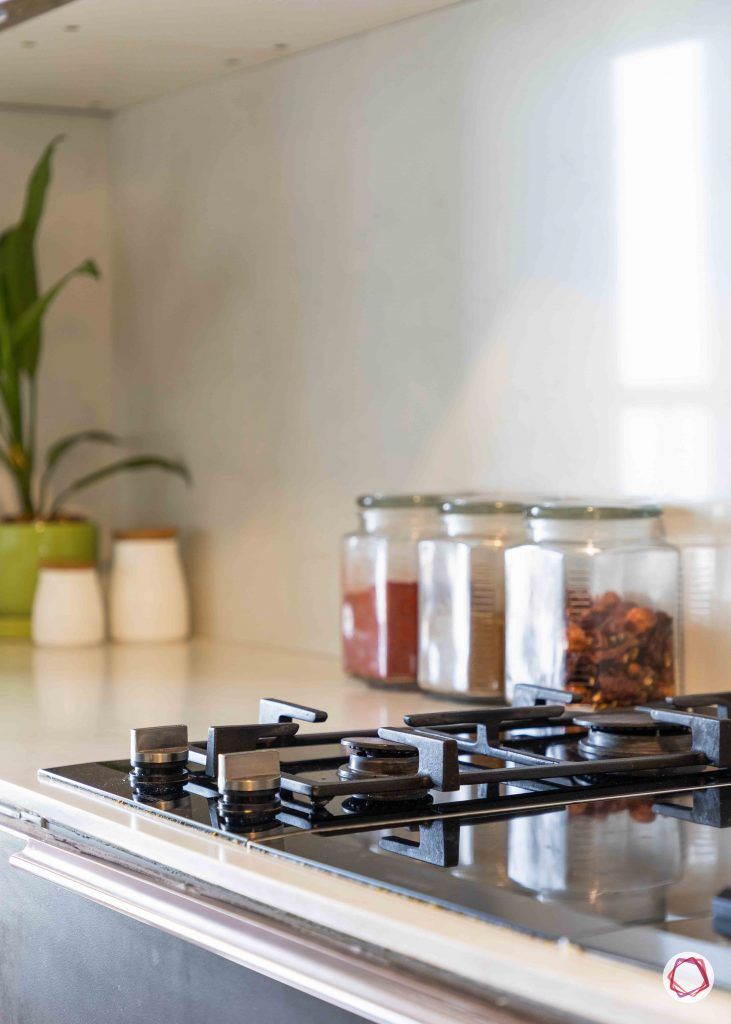 With both the overhead and base units in a laminate finish, the kitchen features an elegant glass roller shutter to tuck away electrical appliances and a tall unit. The look is complete with a premium countertop made out of white quartz Caesarstone.
Subtle & Stylish
Doused in white and neutral tones, the daughter's bedroom is the definition of elegance. The choice of no headboard for the bed proved to be a good decision since the focus will remain on the white brick tiles. Added as touch of rustic elegance, the centre wall elevates the sense of style in this bedroom.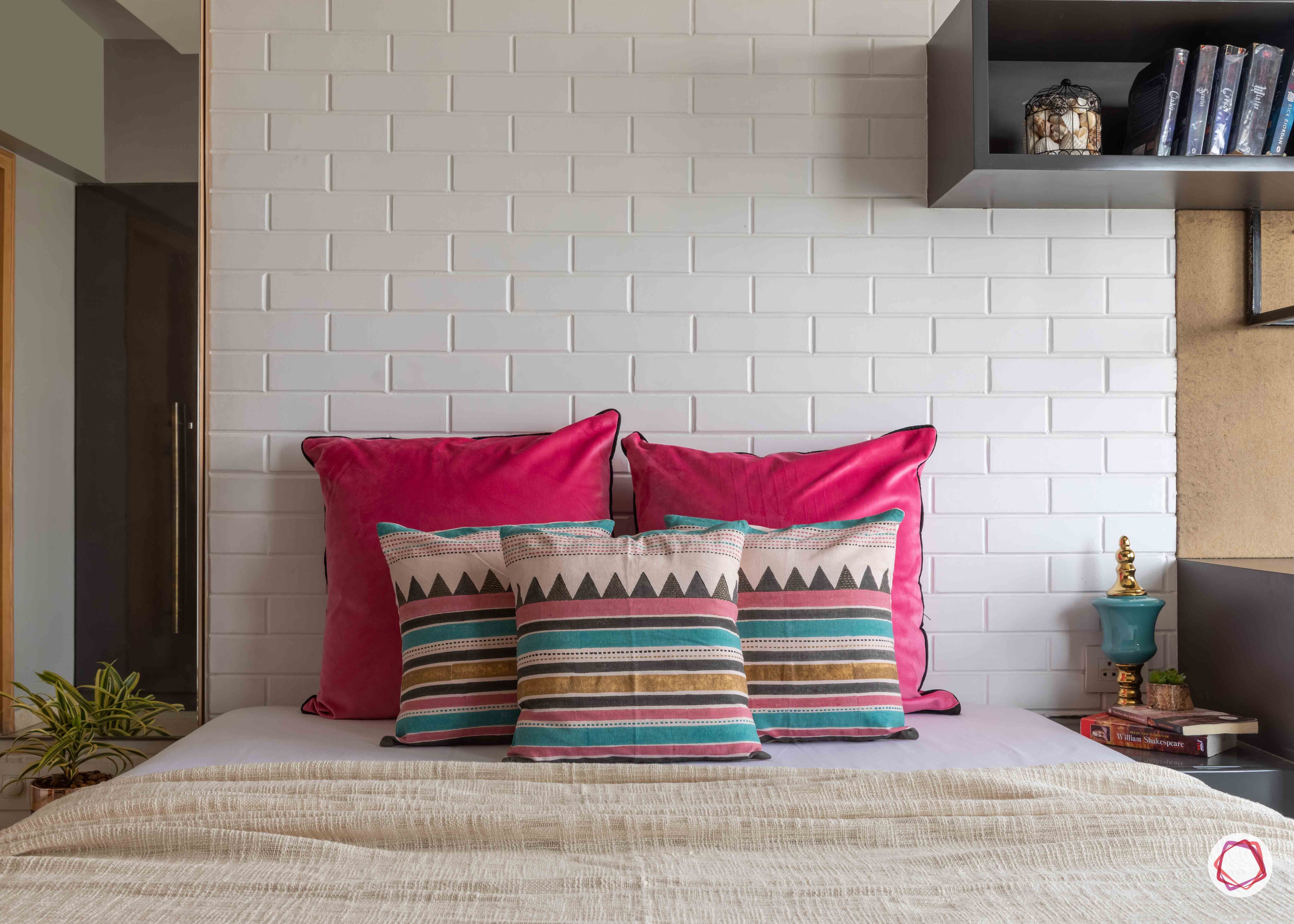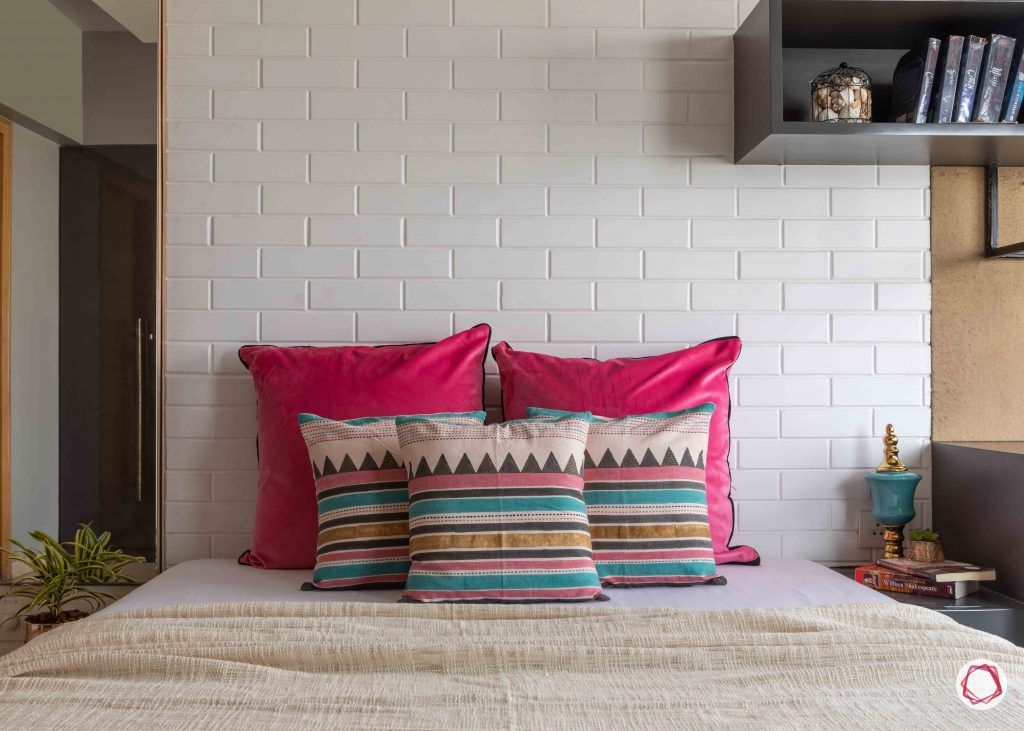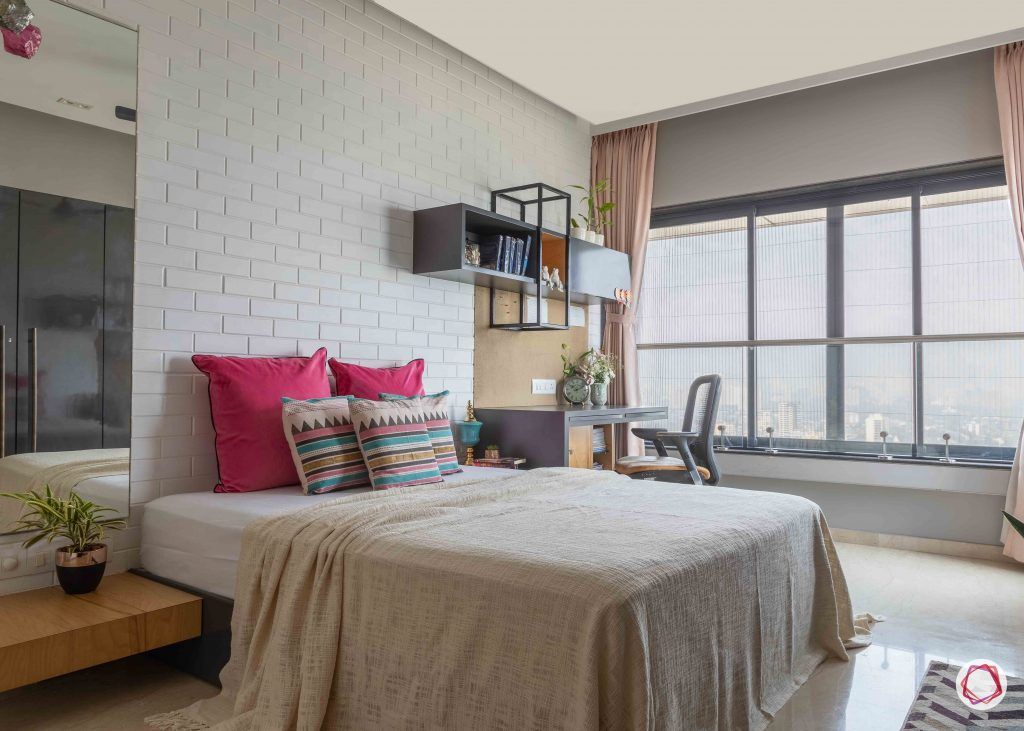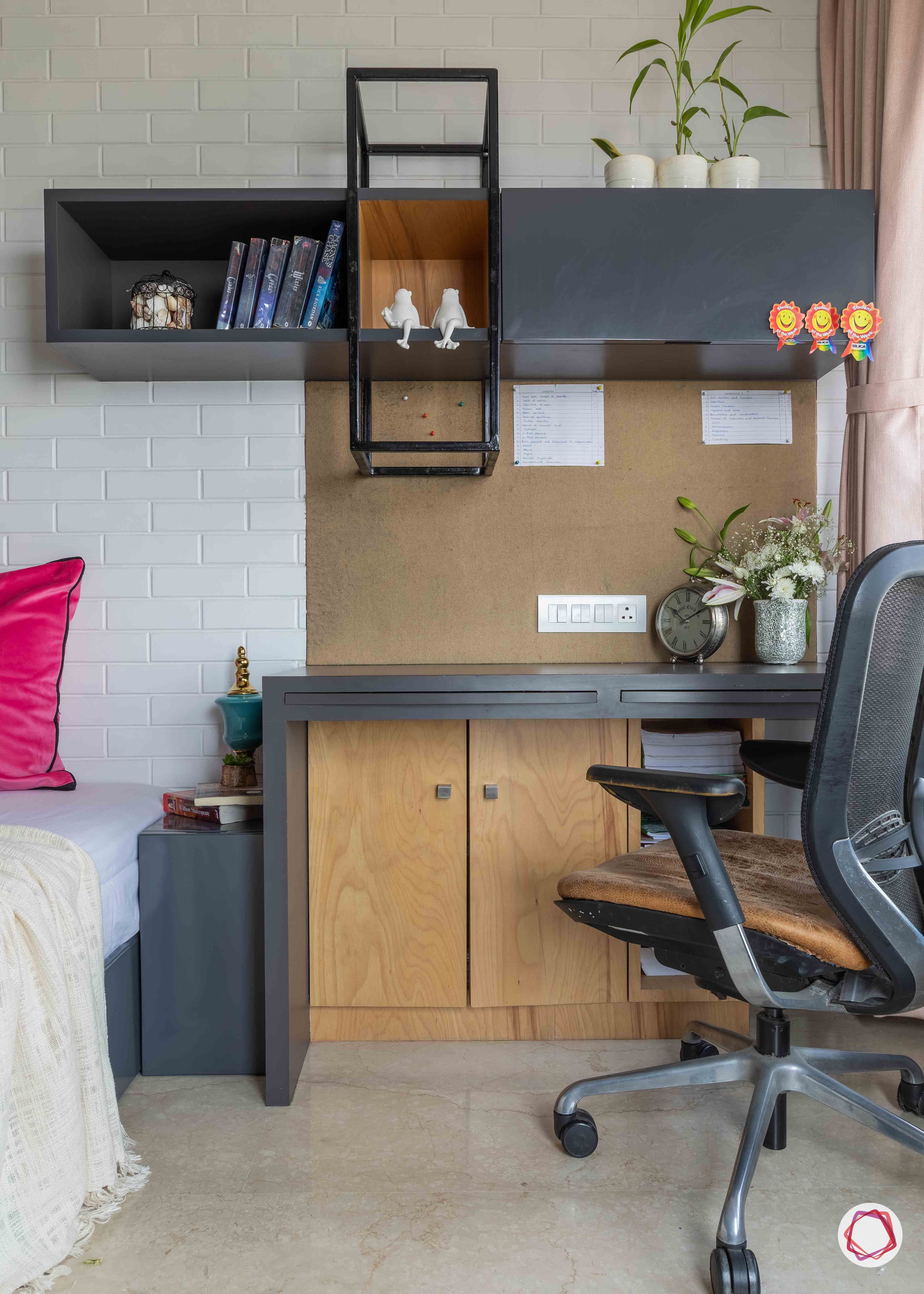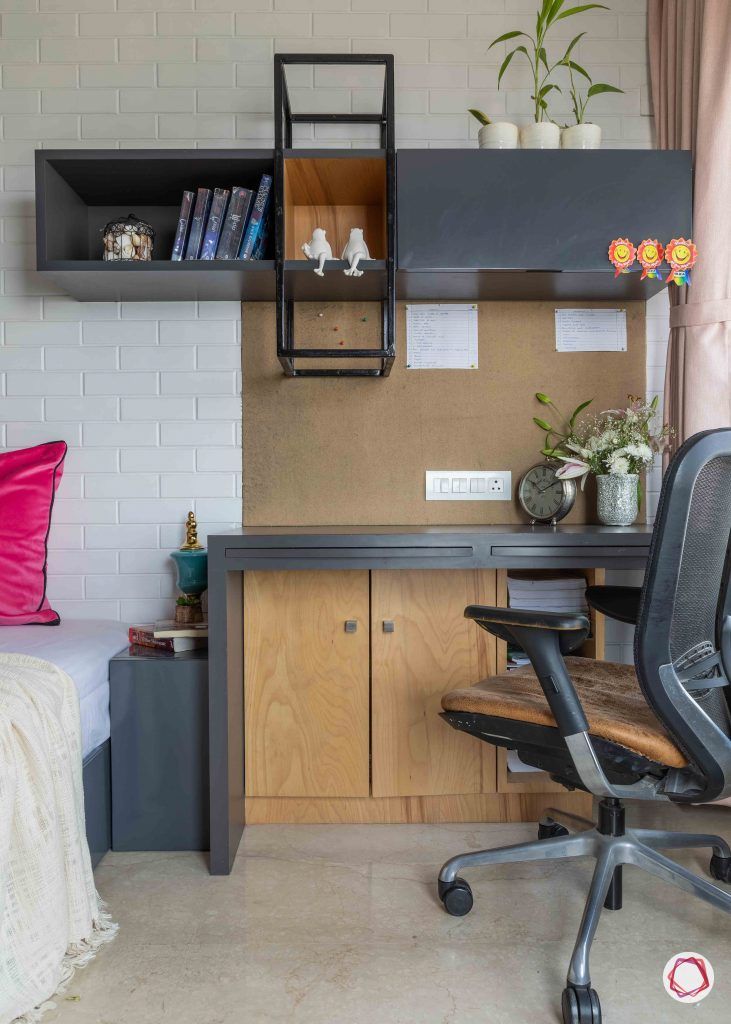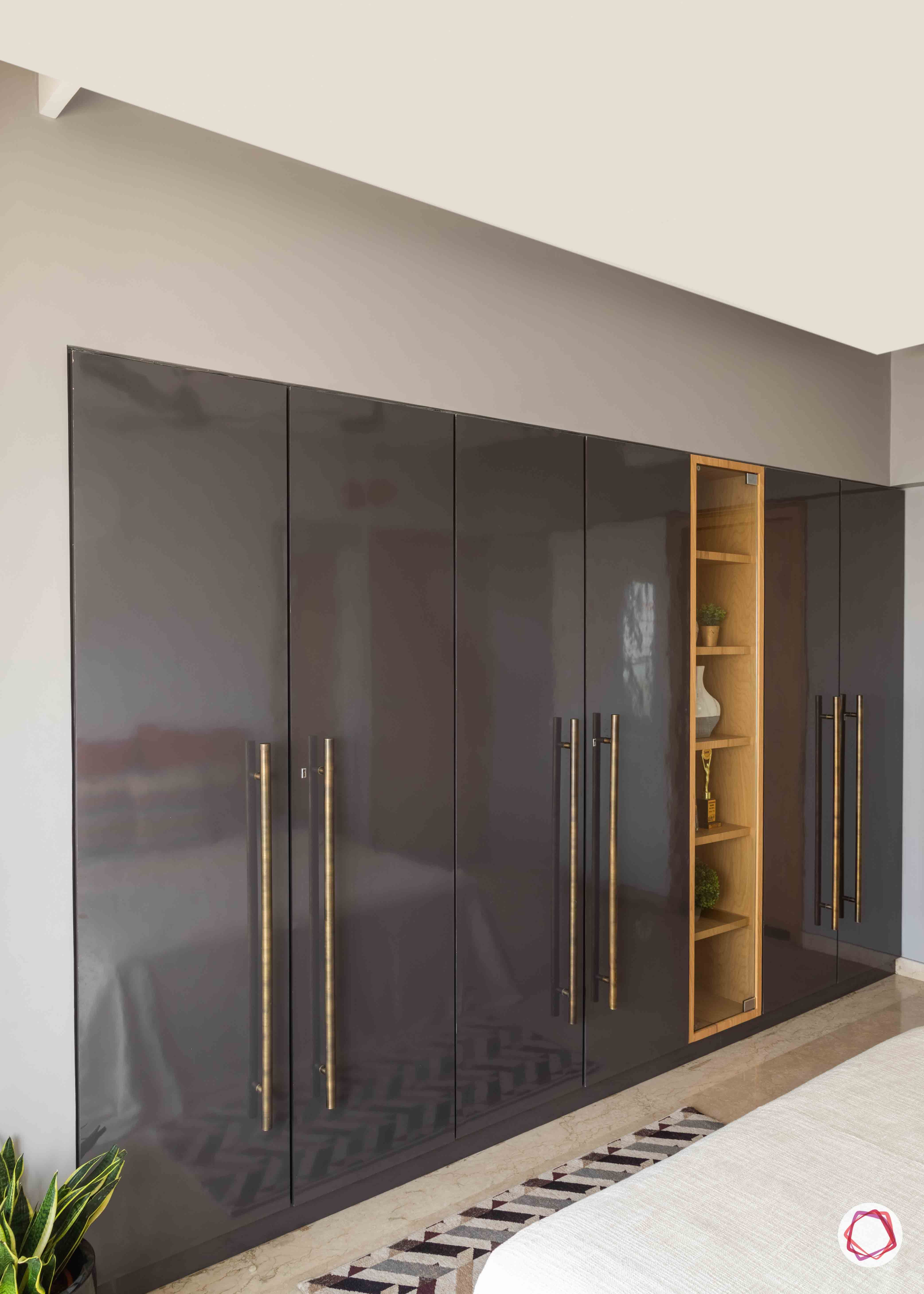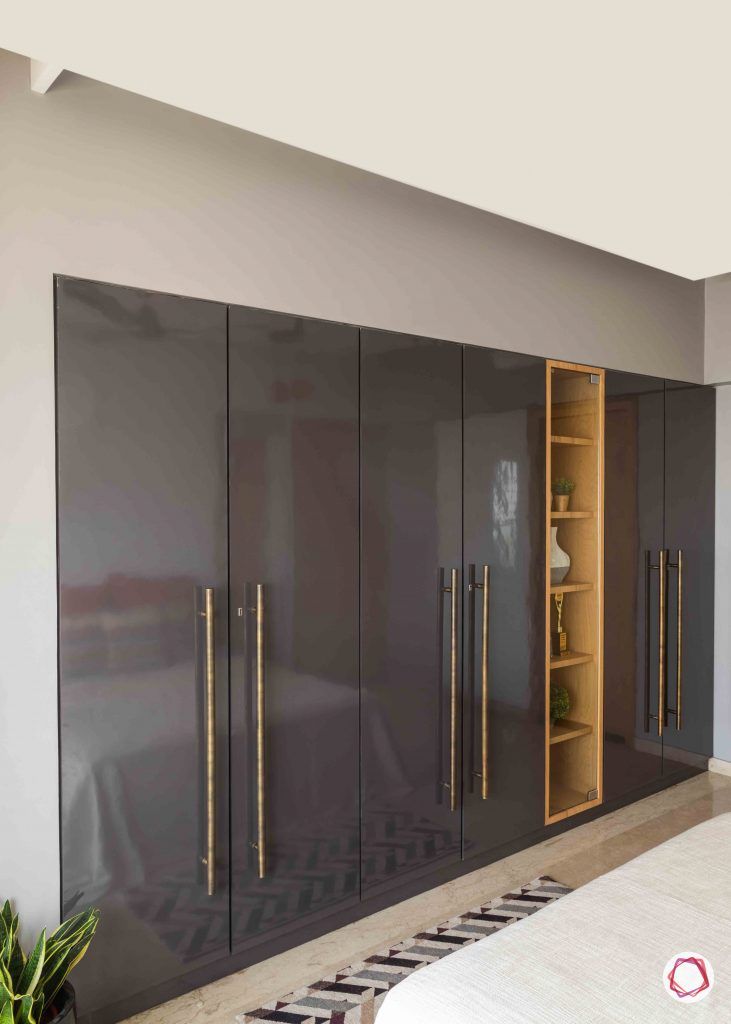 The study table stands in familiar shades of oak and dark grey. While the wall units feature enough storage for books, it's got a display shelf for showpieces. On the opposite, stands a fitted wardrobe in a sleek laminate finish. Since the daughter wanted an extra display unit, Foram crafted an open shelf in the wardrobe. Isn't the pop of wood a gorgeous addition to the unit?
A warm and welcoming bedroom
Something about wooden interiors always keeps you calm and warm inside. Just like this master bedroom. With the bed, dressing tables, open shelves and study unit all in wood, the room is perfect to unwind in. Symmetry is a big win for this room as well. Notice how the long dressing mirrors and cushioned headboard are perfectly aligned and insync with each other?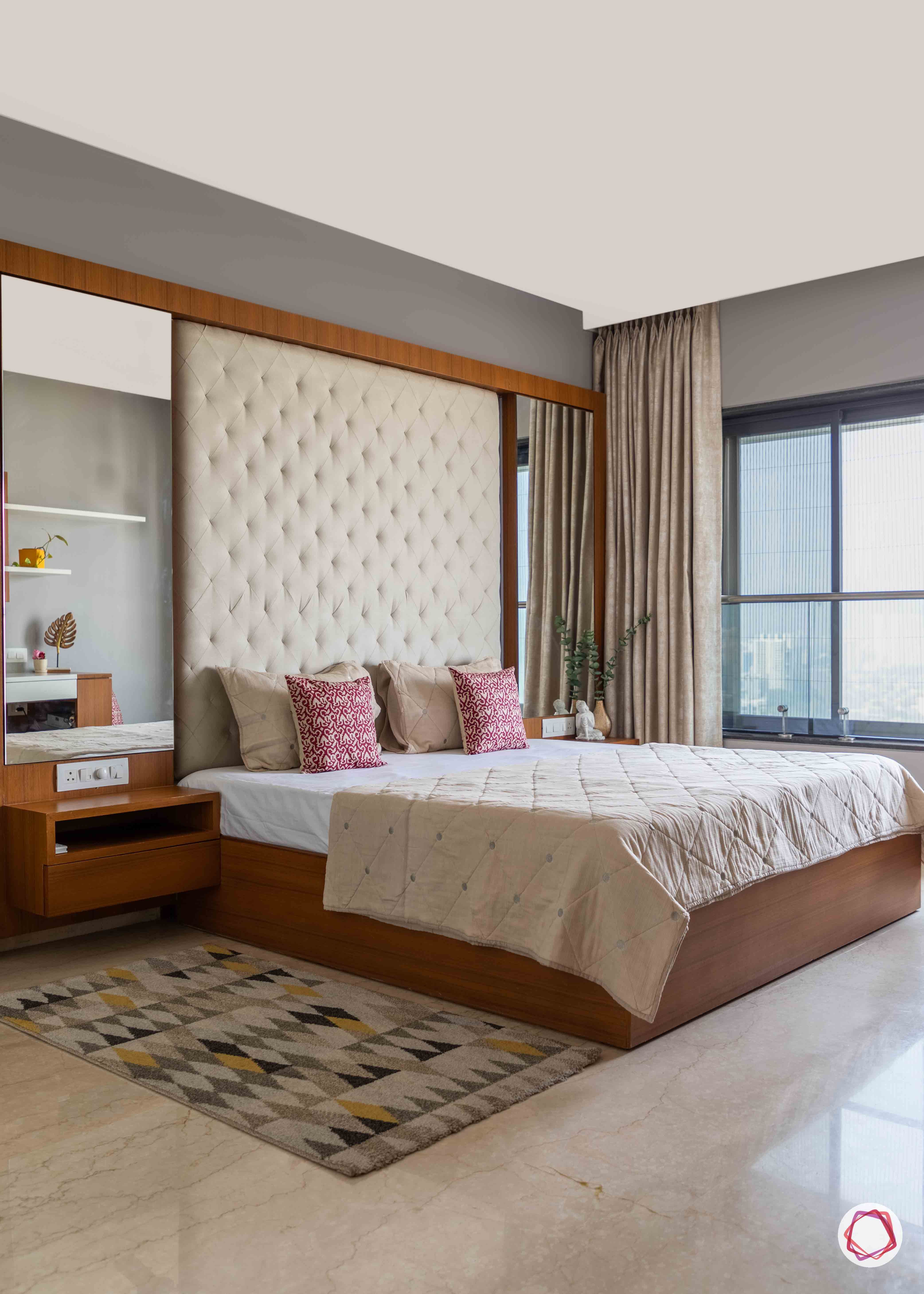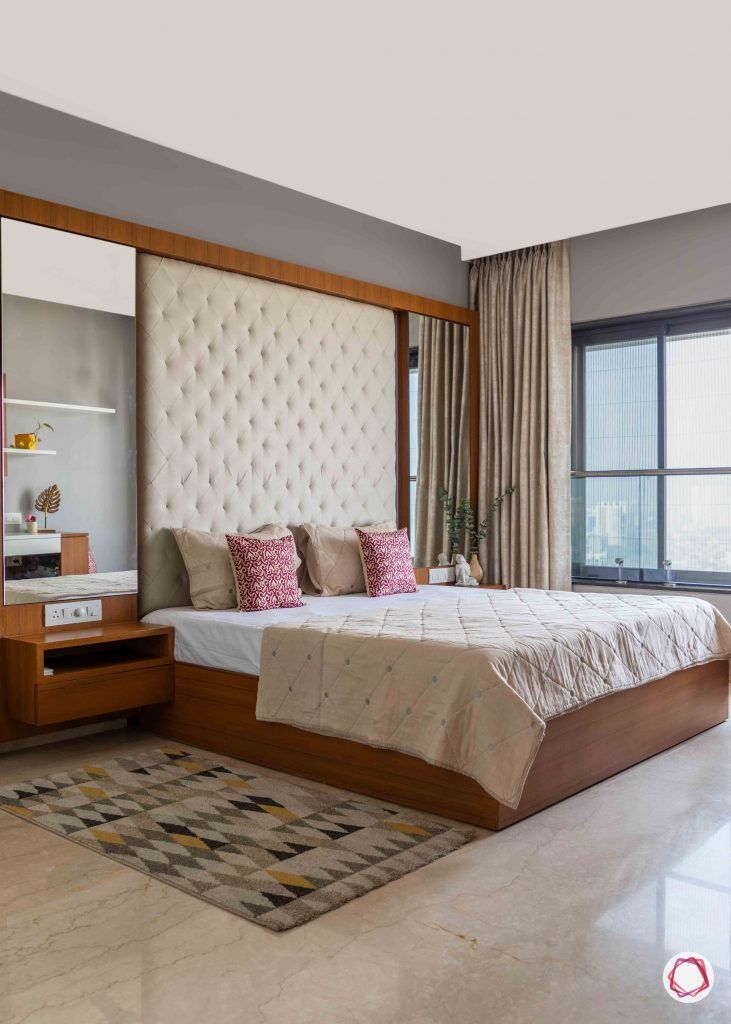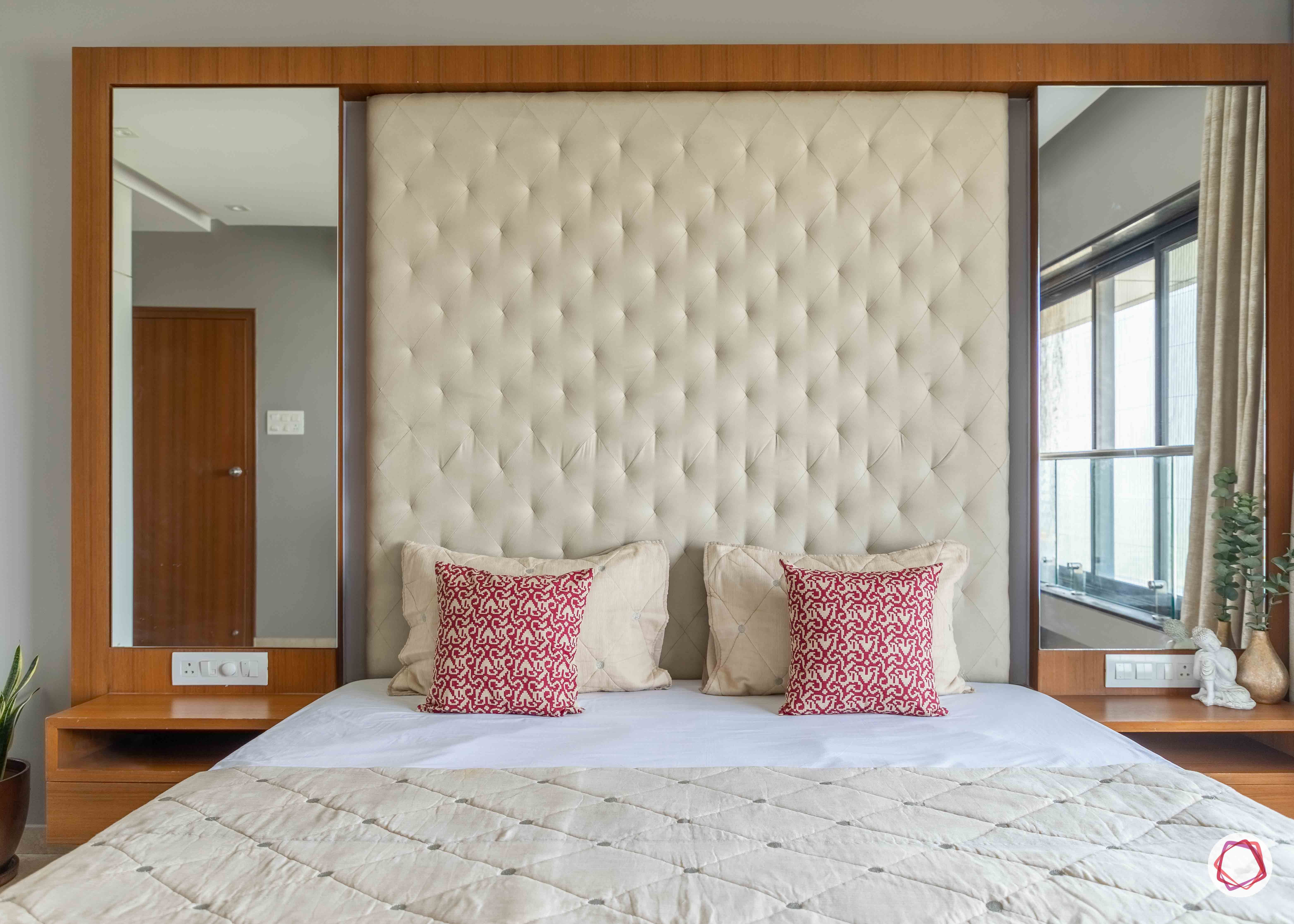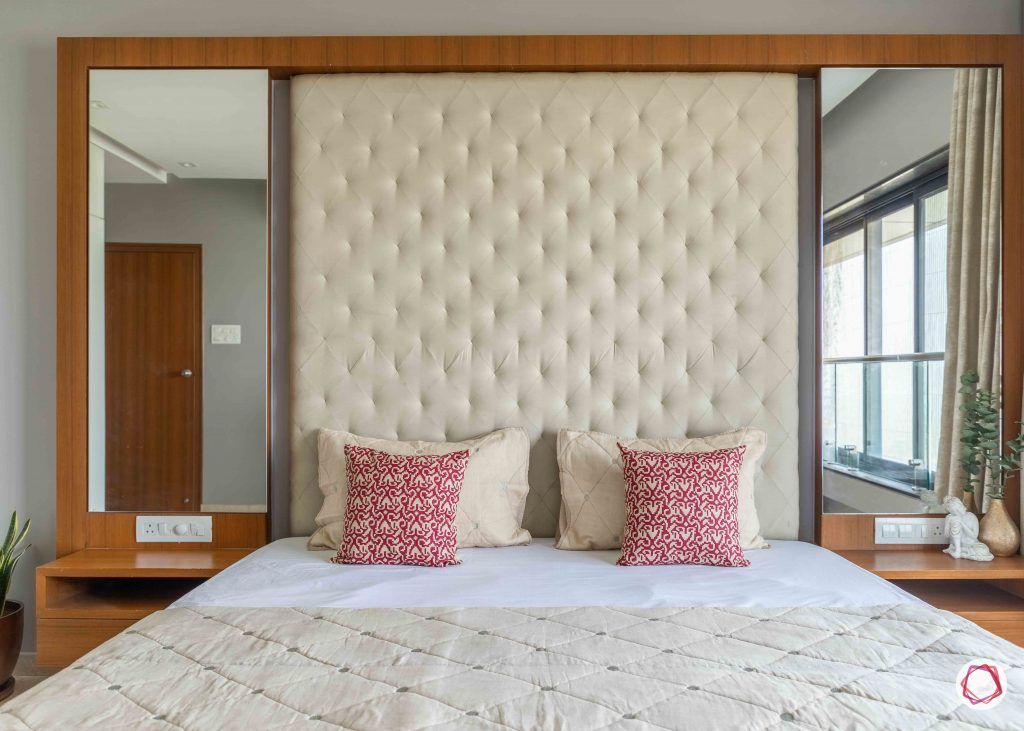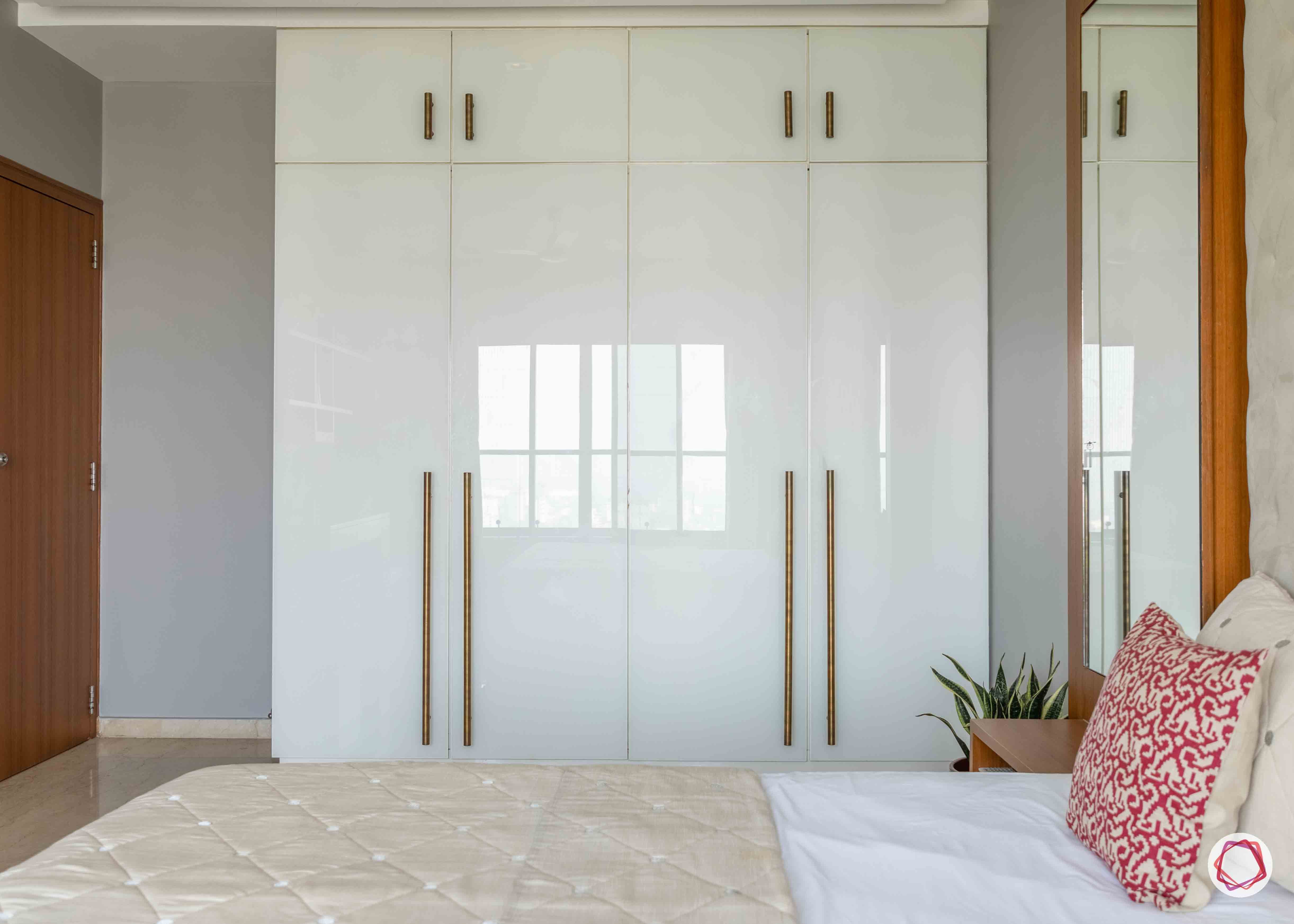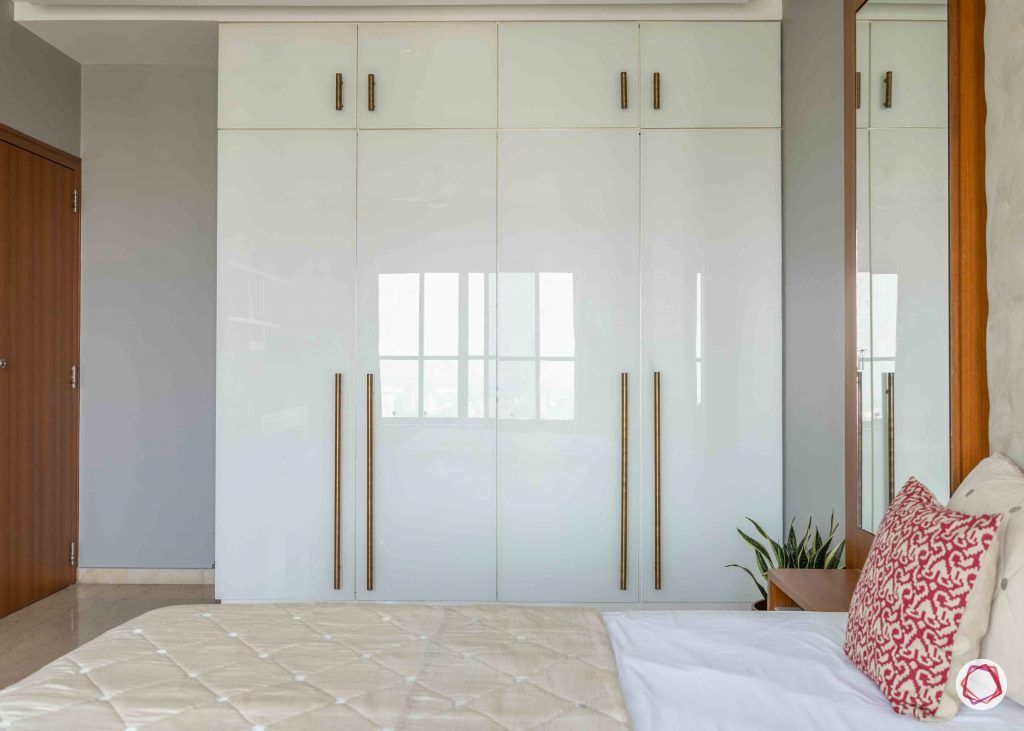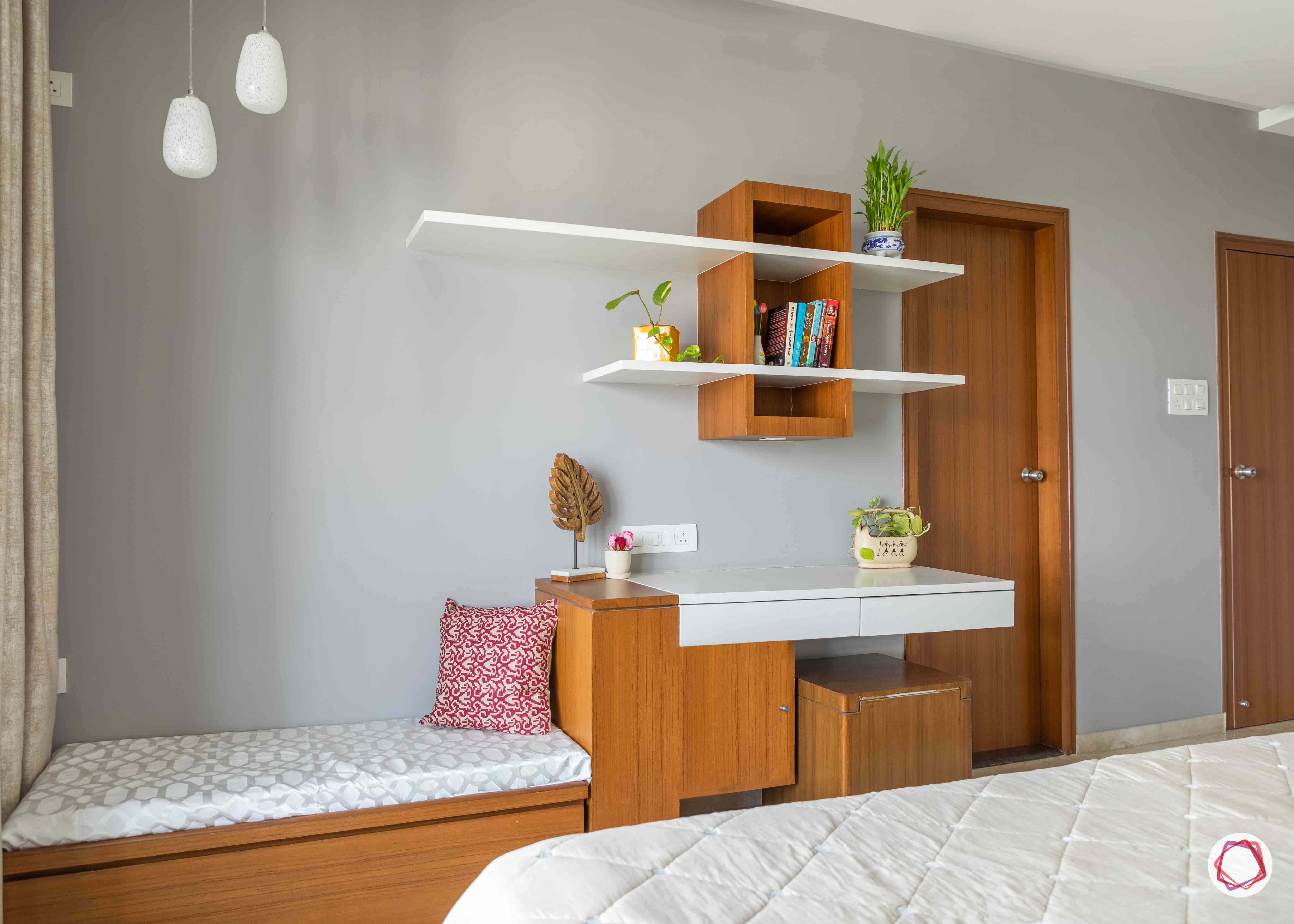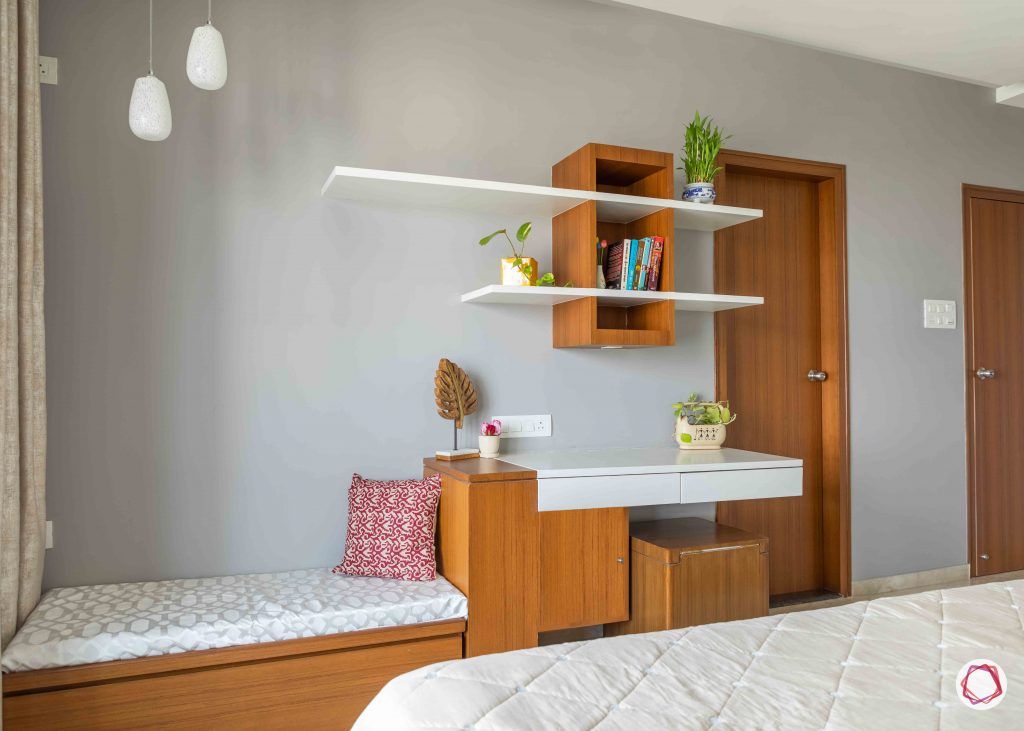 The pearl white wardrobes with back painted glass and antique handles add a softness to the space. Also, take a moment to admire the wide comfy seating by the window.
A monochrome delight
Much like the rest of the home, the son's bedroom is an ode to gorgeous grey hues. The monochrome theme also feature pops of mint green to keep things interesting.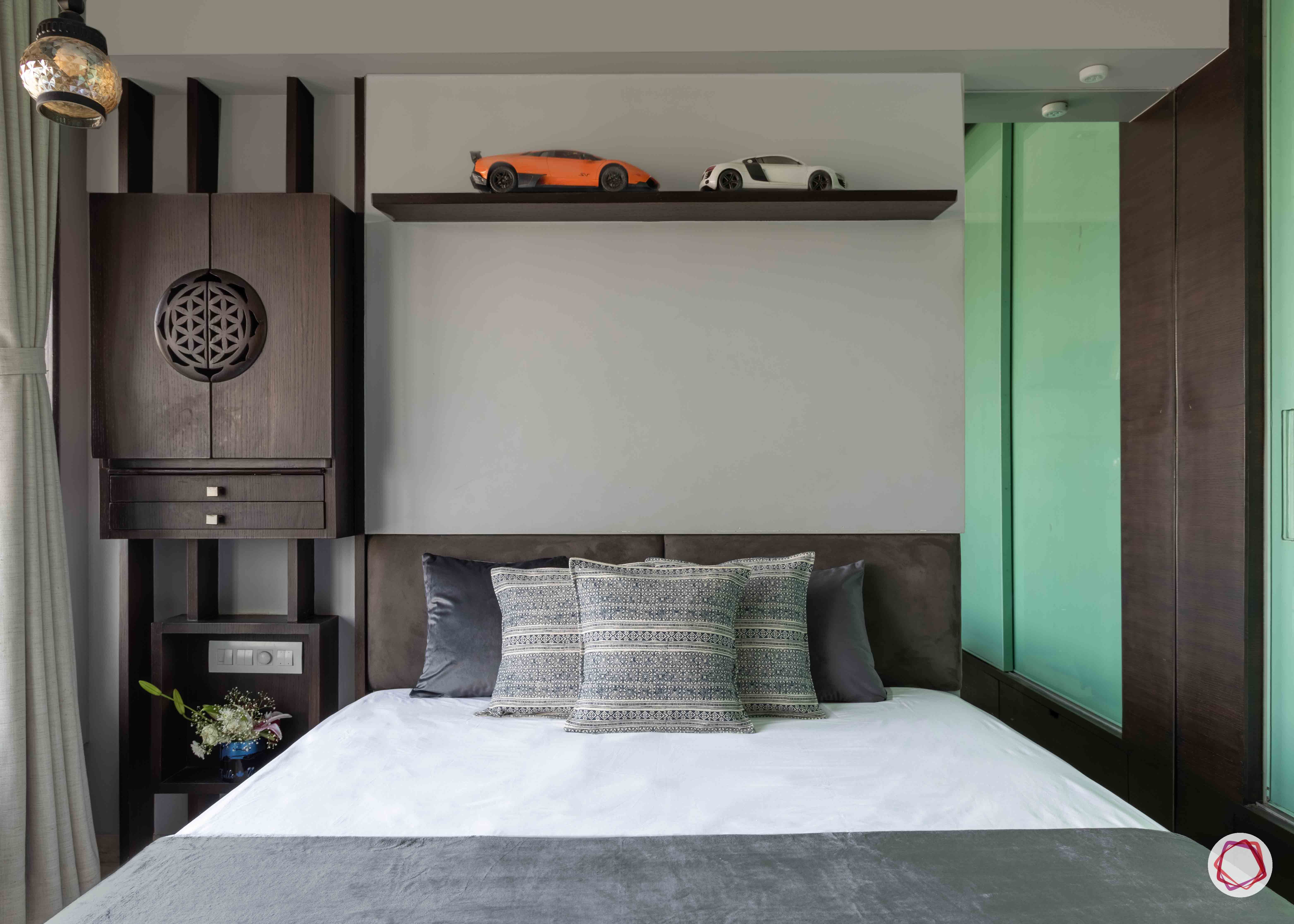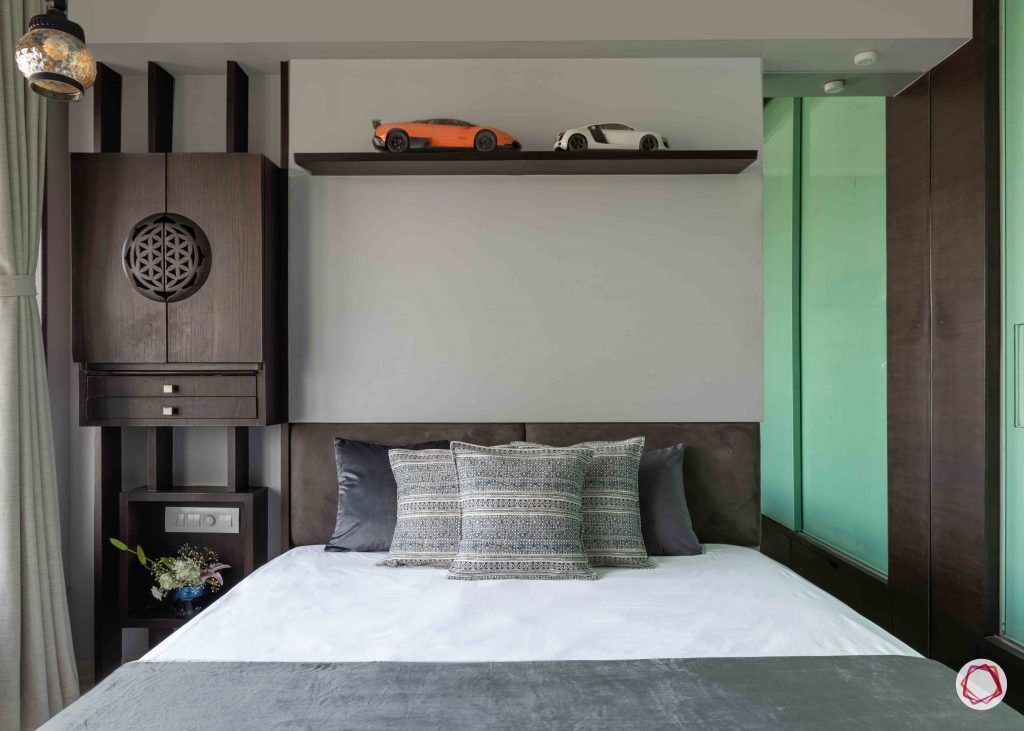 As per Vastu, Foram was instructed to craft a pooja nook into this room. As a result, she put in a concealed compact pooja unit on painted wooden rafters. A single ledge is mounted on the centre wall for him to display toys and other favourites.
While the no-fuss study table has plenty of open and closed shelves, most of the creativity happens on the doors of the wardrobe, thanks to Foram. Since he didn't want a typical soft board to pin up notes, Foram put in wardrobes with special glass doors where he could draw or scribble down notes.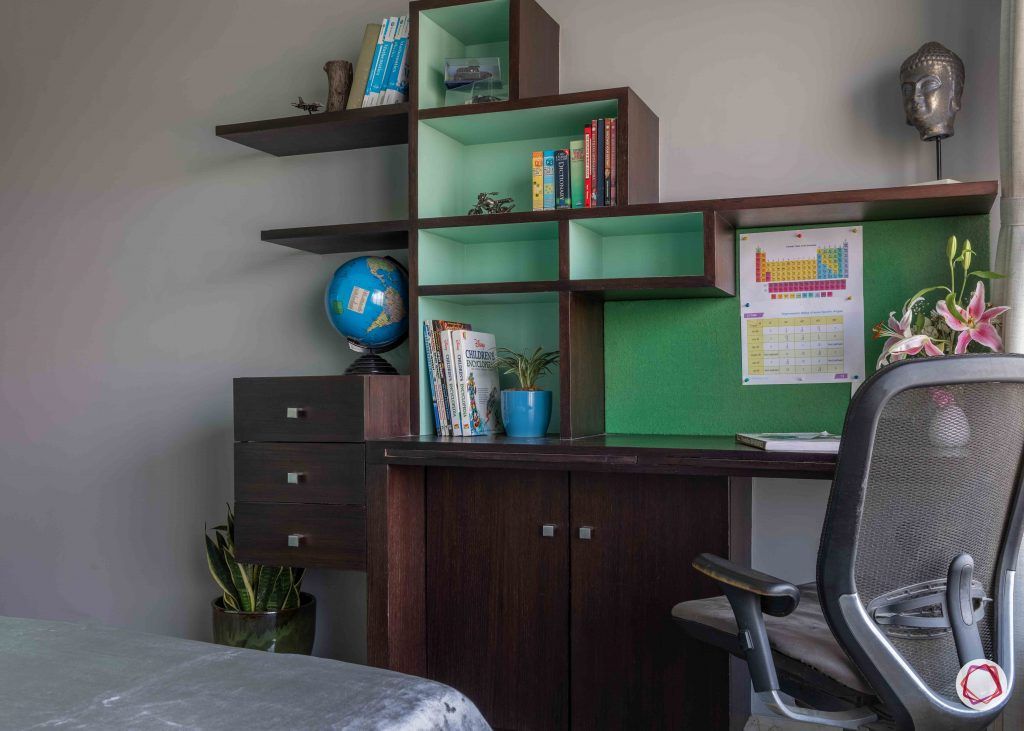 "Lata and her family gave me full freedom to design their home. It was a combination of My design with their requirements. I am glad they are happy with the outcome."

-Foram Dedhia, Interior Designer, Livspace
You could also take a walk-through tour of the home here.
If you liked the tour of this home, take a look at A Simple and Pretty Home For this NRI Couple for more inspiration.
Send in your comments and suggestions.