Take inspiration for simple house plans from this 3BHK!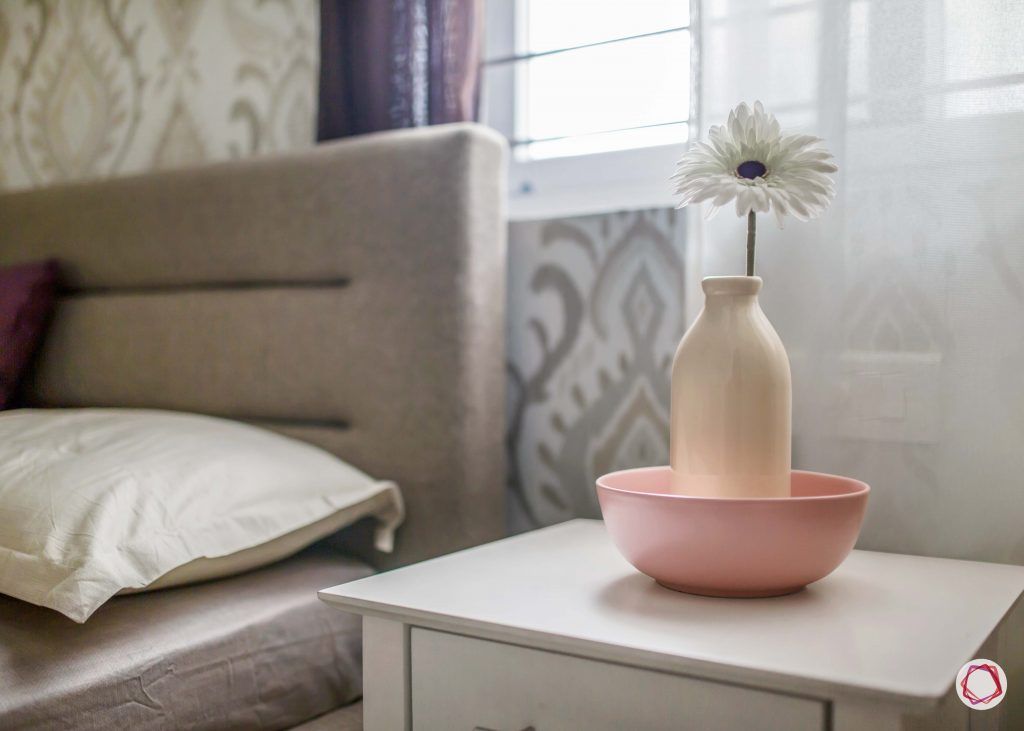 ---
Who livs here: Sai Gopal with his wife Vidya Gopal
Location: Vasavi Shantiniketan, Whitefield, Shaikpet
Size of home: A 3BHK spanning 1,600 sq ft approx.
Design team: Interior Designer Kalyaani A and Quality Manager Murali Yarragadda
Livspace service: Full home design
Budget: ₹₹₹₹₹
---
For Sai Gopal and his wife Vidya, it was a conscious decision to move out of their sprawling villa at Jubilee Hills. With children staying abroad, it only made more sense to move into an apartment and surround themselves with more people. This lively and vibrant couple chose to build their dream home in a 3BHK at Vasavi Shantiniketan. They wanted to live in a cosier locale and own a more compact space that they could live in.
With a very refined taste in interiors, they approached Livspace and Kalyaani A was assigned as their designer. The primary requirement was to utilise most of their existing furniture and make space for all the things that they had in the previous home. So, to make things easy, Kalyaani visited their home a couple of times to figure out what can be reused and how. You will be surprised at the final outcome that was born as a result of the combined efforts of everyone working on this. Read on.
Pretty Pops of Colour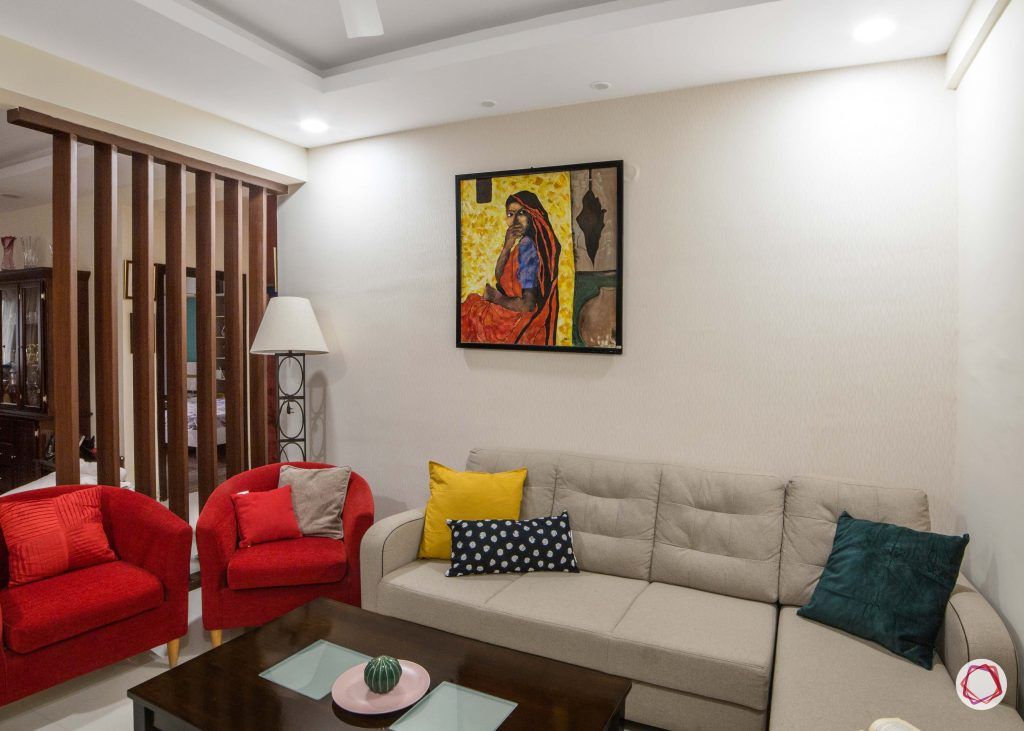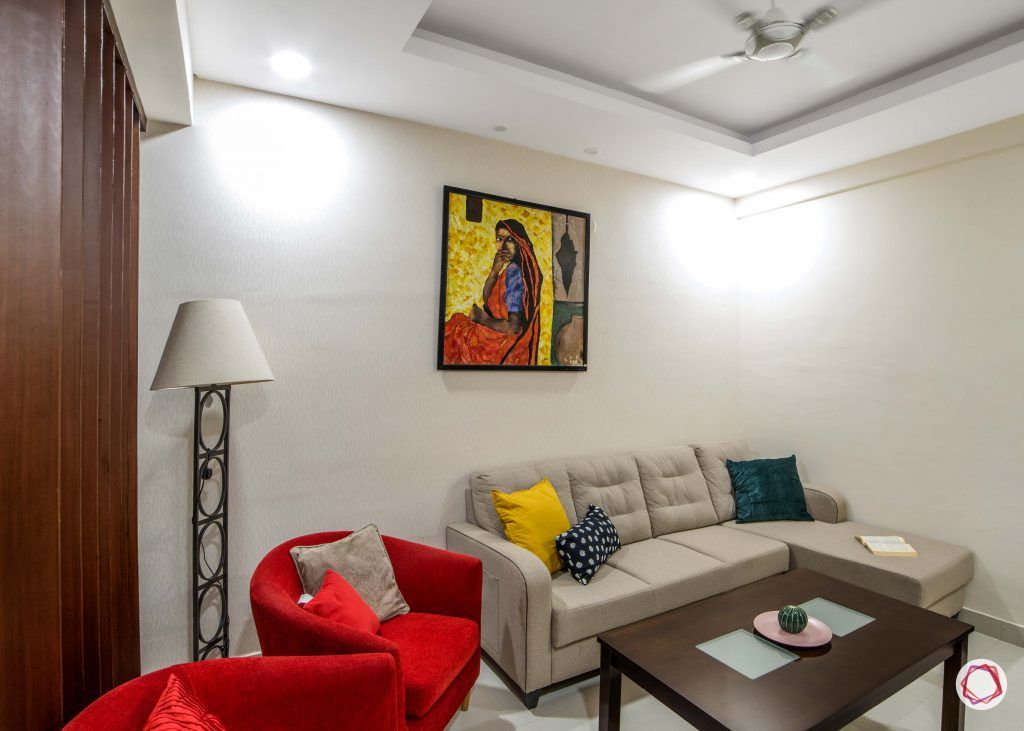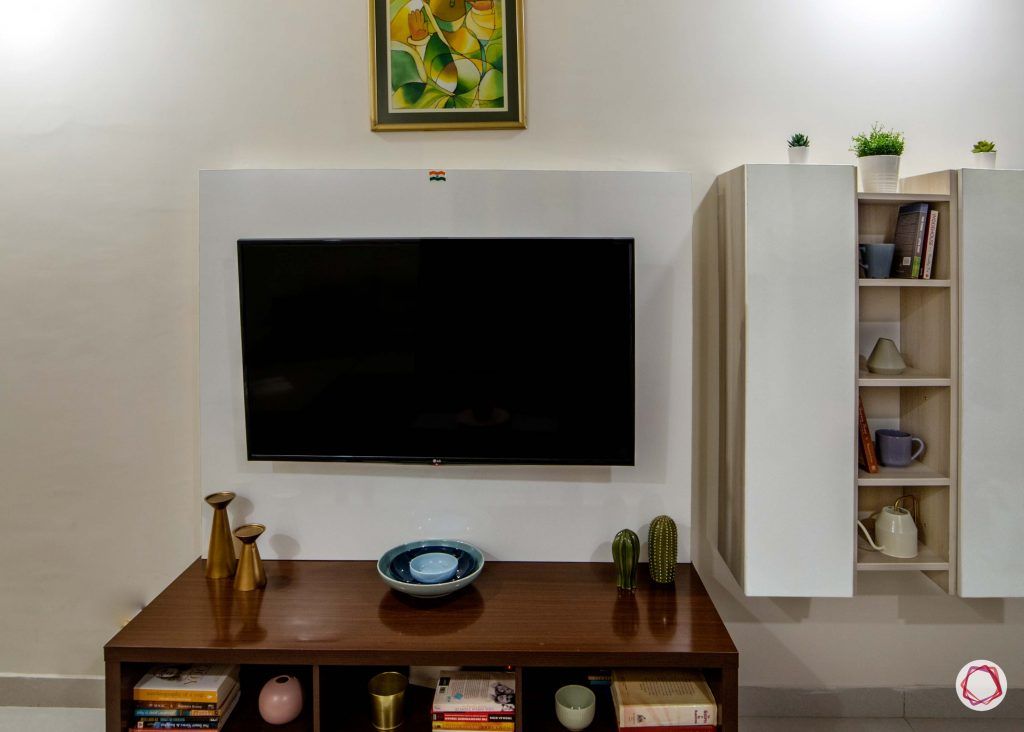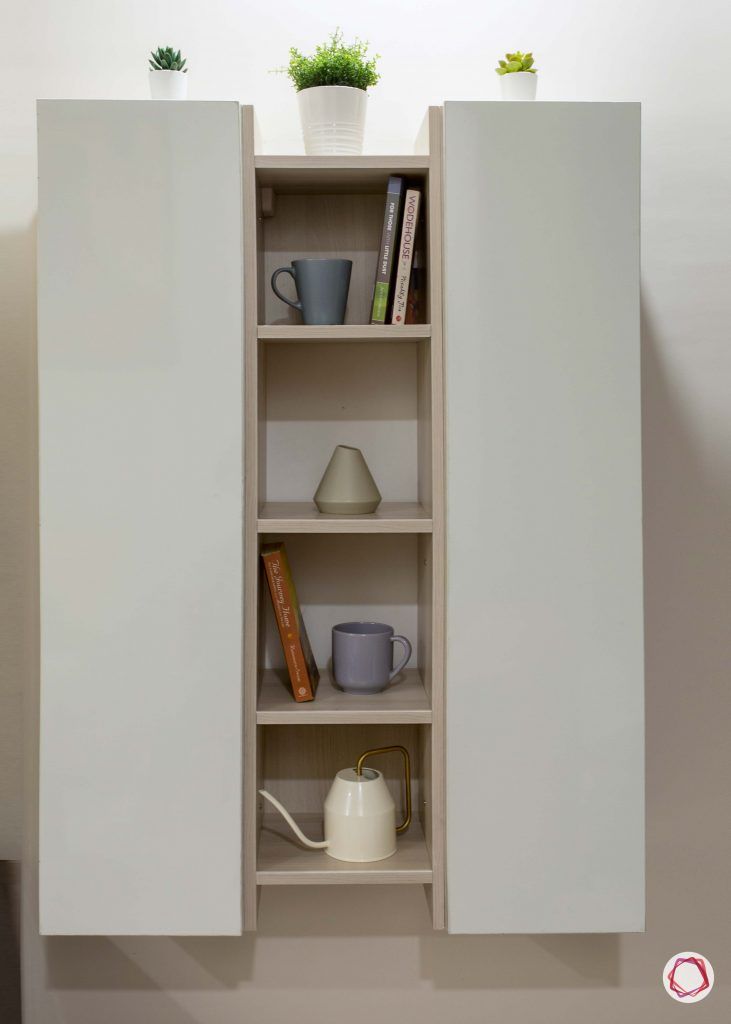 Awash in pleasing neutral colours with bright specks of ravishing red, this living room is perfect for a family that loves socialising once in a while. An L-shaped sofa finds its place next to two single seaters that the couple brought along with them. Kalyaani re-upholstered them with a bright red fabric that borrows from the lovely painting on the wall, which was gifted to them by a dear family member. Slanting wooden rafters act as a minimal divider and matches with the base of the TV unit. A ladder-style display shelf with cabinets on either side take care of storage in this room.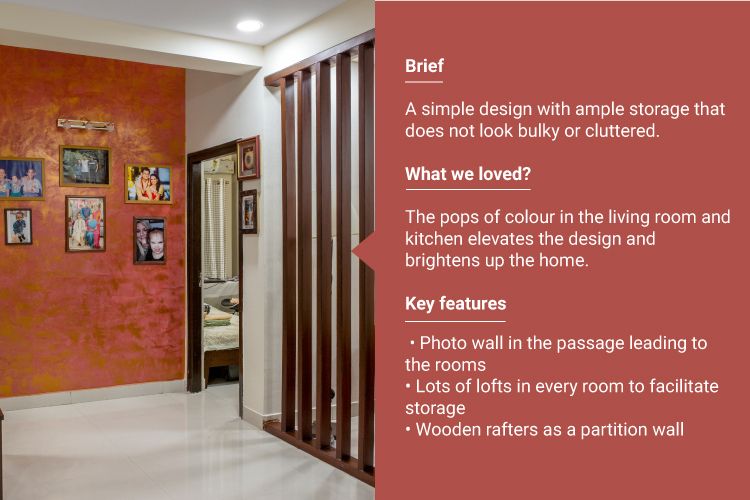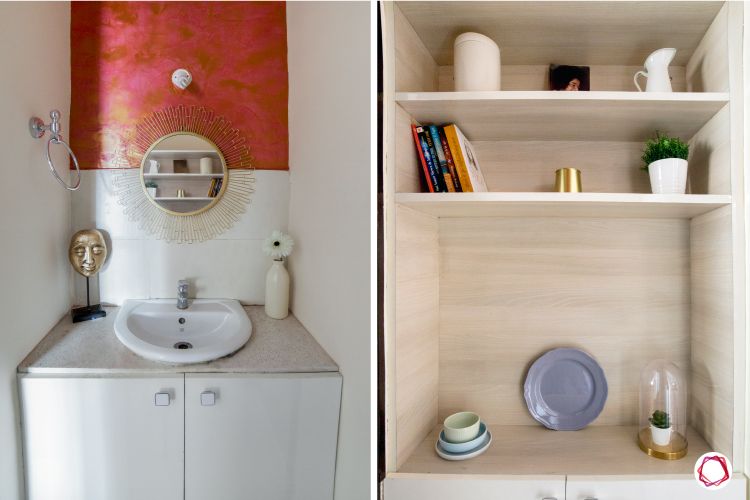 The bright red textured wallpaper is a spillover of the photo gallery wall in the passage. This wash area sits right next to the dining table and the couple picked up this lovely accent mirror from Livspace to highlight it. A compact vanity unit featuring shelves and cabinets finished in acacia laminate takes care of sanitary needs.
U-Shaped Wonder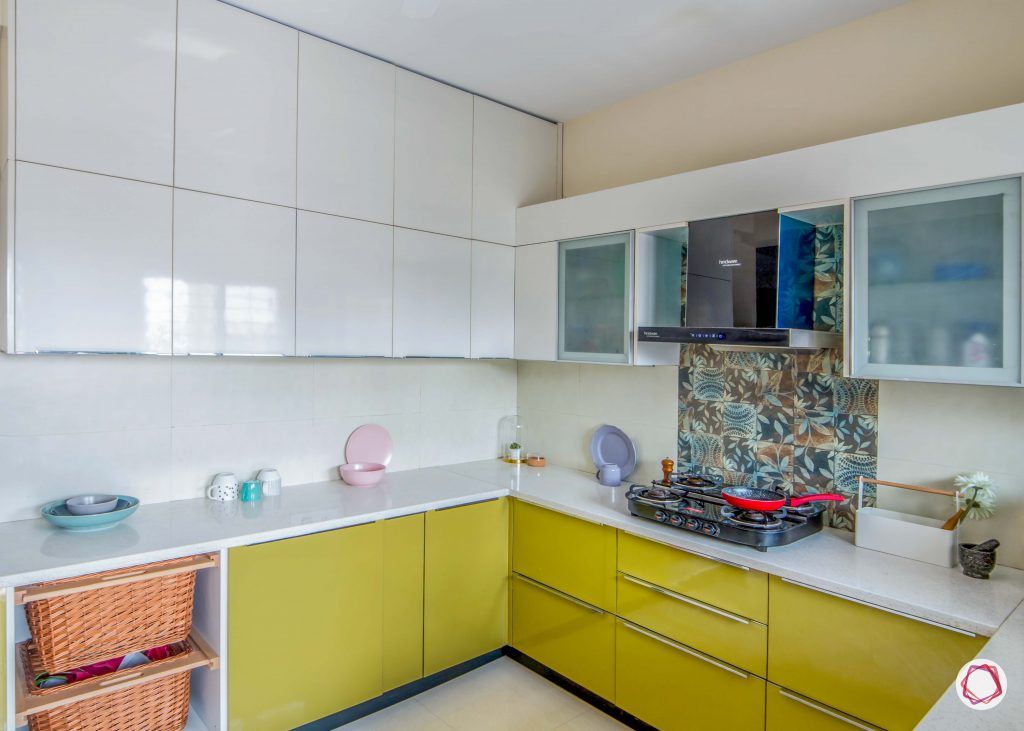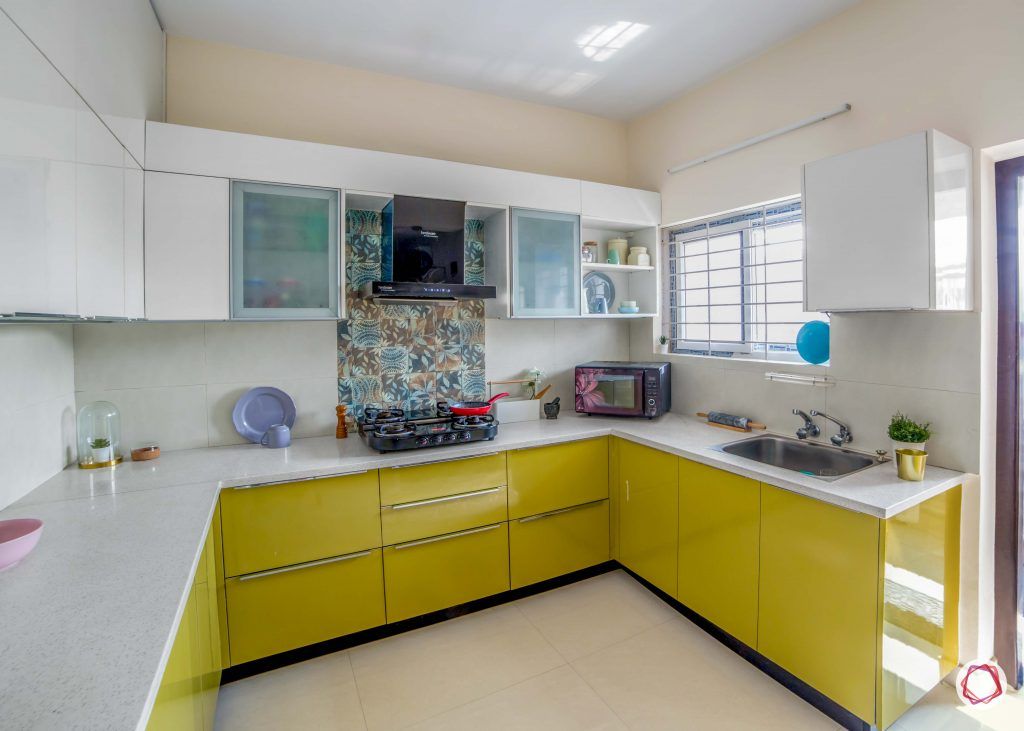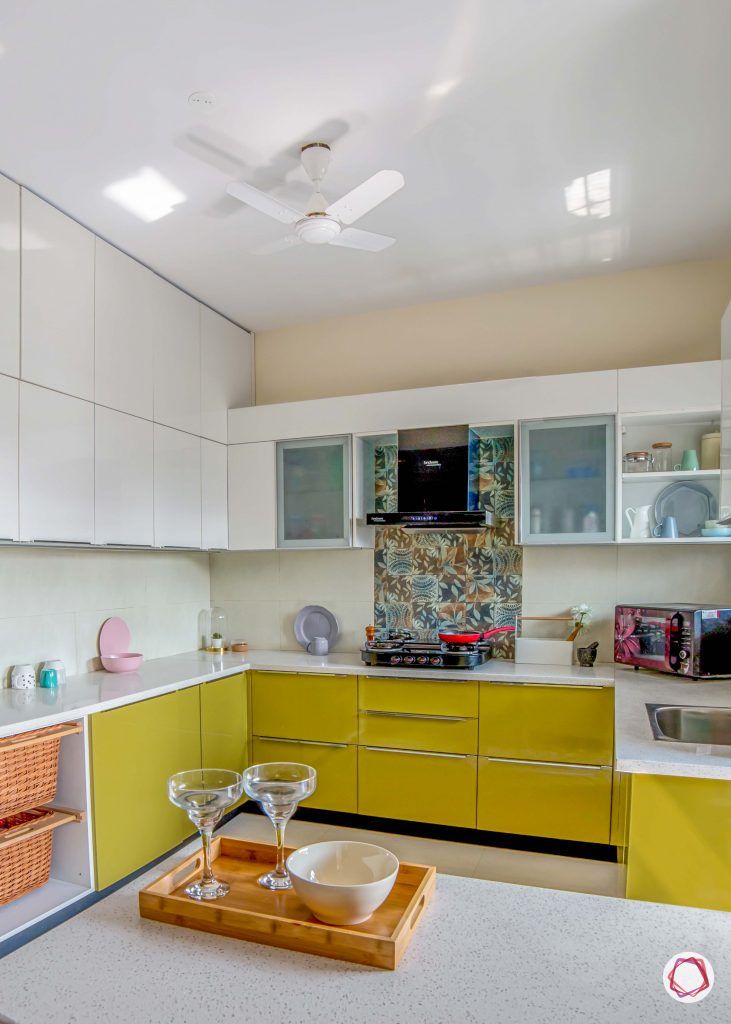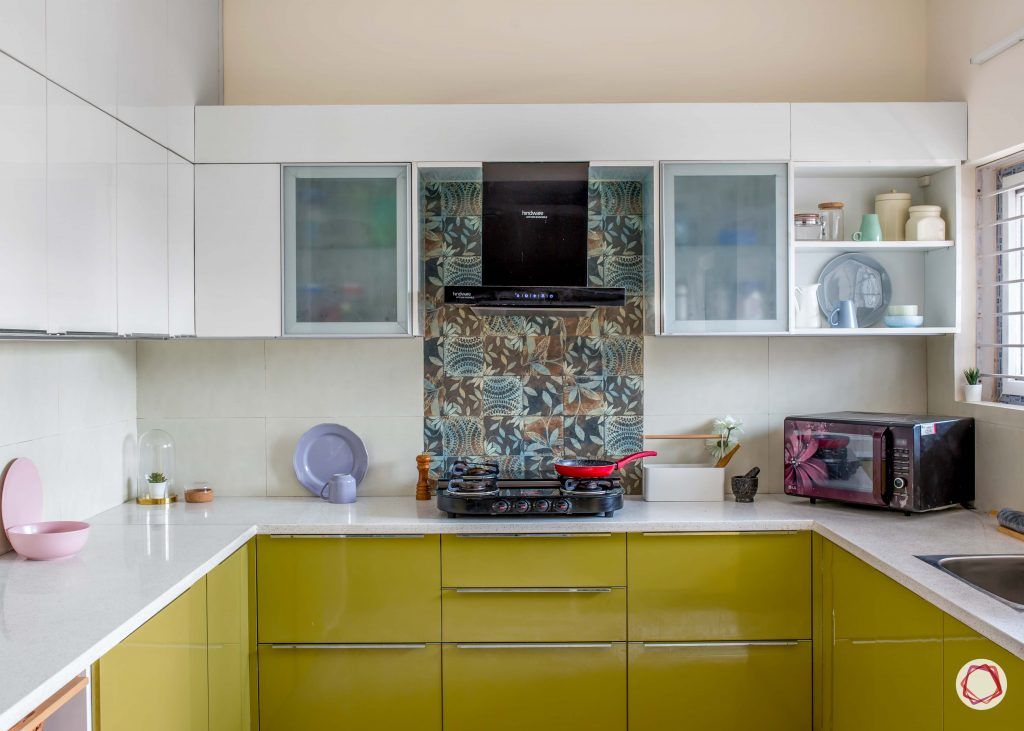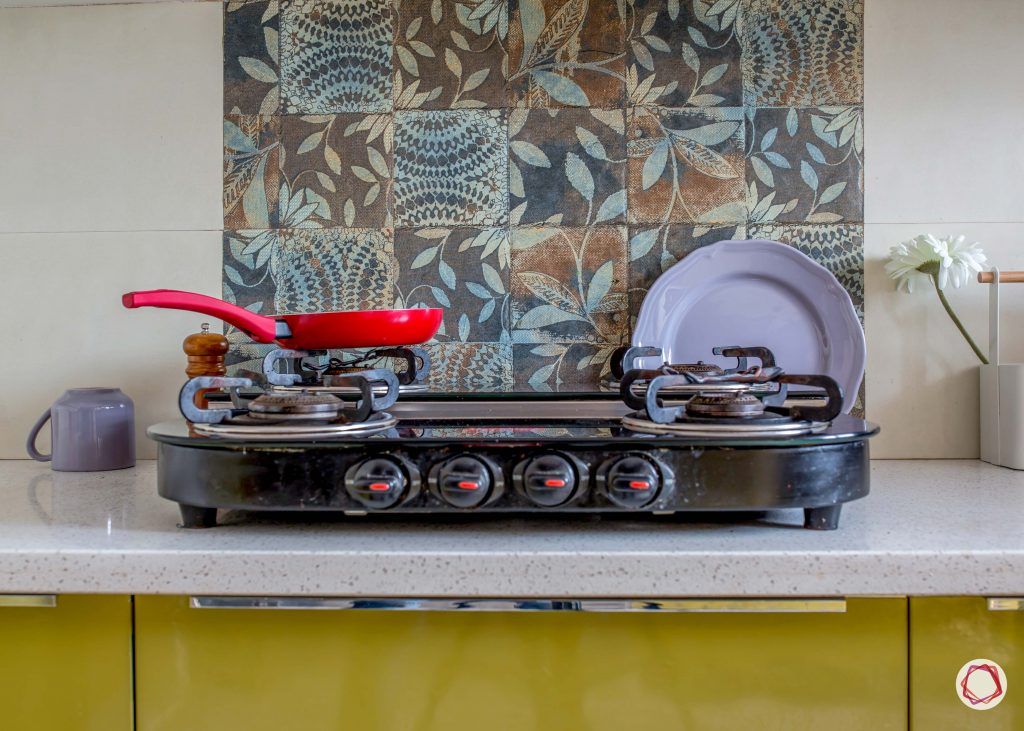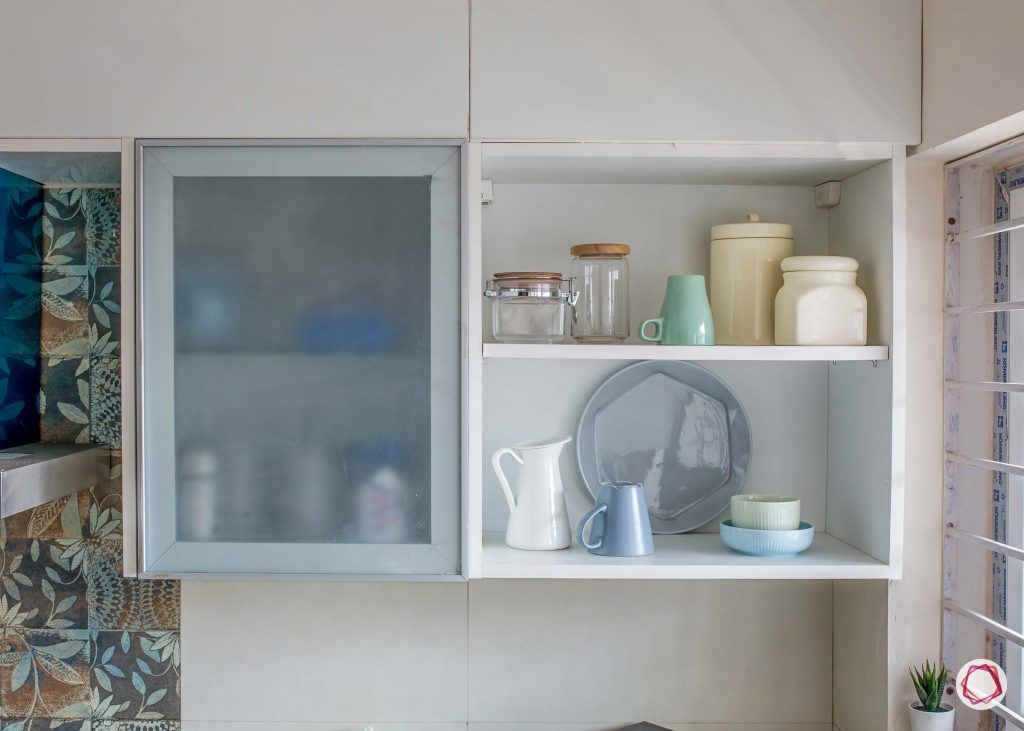 For Kalyaani and the couple, this kitchen design was an easy-breezy task. The base cabinets are in refreshing dark citrus since Sai and Vidya wanted something bright for the kitchen. Kalyaani put in frosty white wall units and lofts for extra storage to complement the gorgeous yellow hue. SThe countertop features a durable Kalinga stone that is very easy to maintain and the backsplash sports simple white tiles. Notice the pretty leafy tiles behind the hob? Vidya who loves such patterns, selected these personally.
A Room for Devotion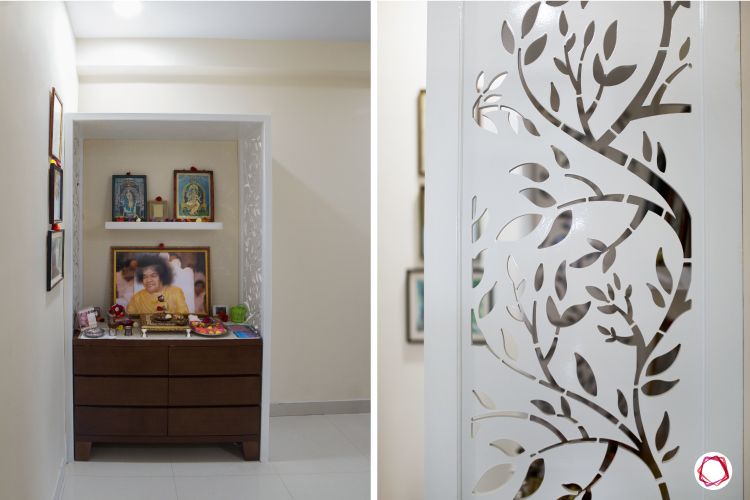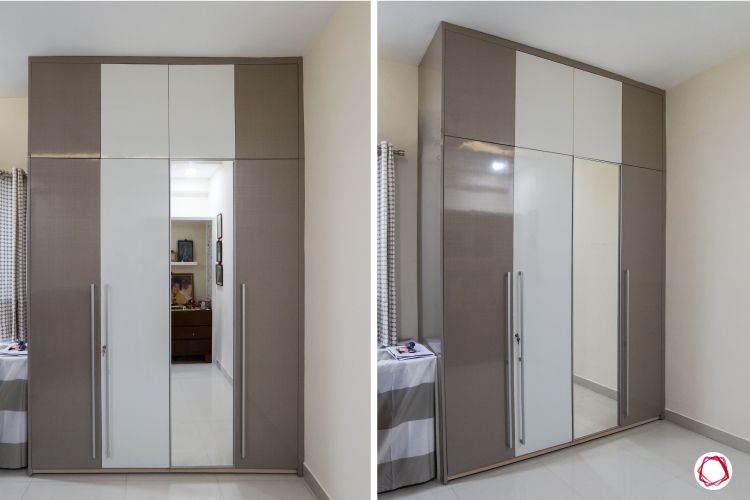 One of the three bedrooms that acts as the guest bedroom is also home for the pooja corner. Do you know what's interesting about this unit? The base unit of the pooja corner was actually a dresser in their previous home. Kalyaani cleverly decked it up to be reused as a pooja unit here. She highlighted the unit with a beautiful jaali that also has intricate leaves carved into it. The swing door wardrobes are in a grey and white combination, with lofts that can hold quite a lot of stuff in it.
A Masterpiece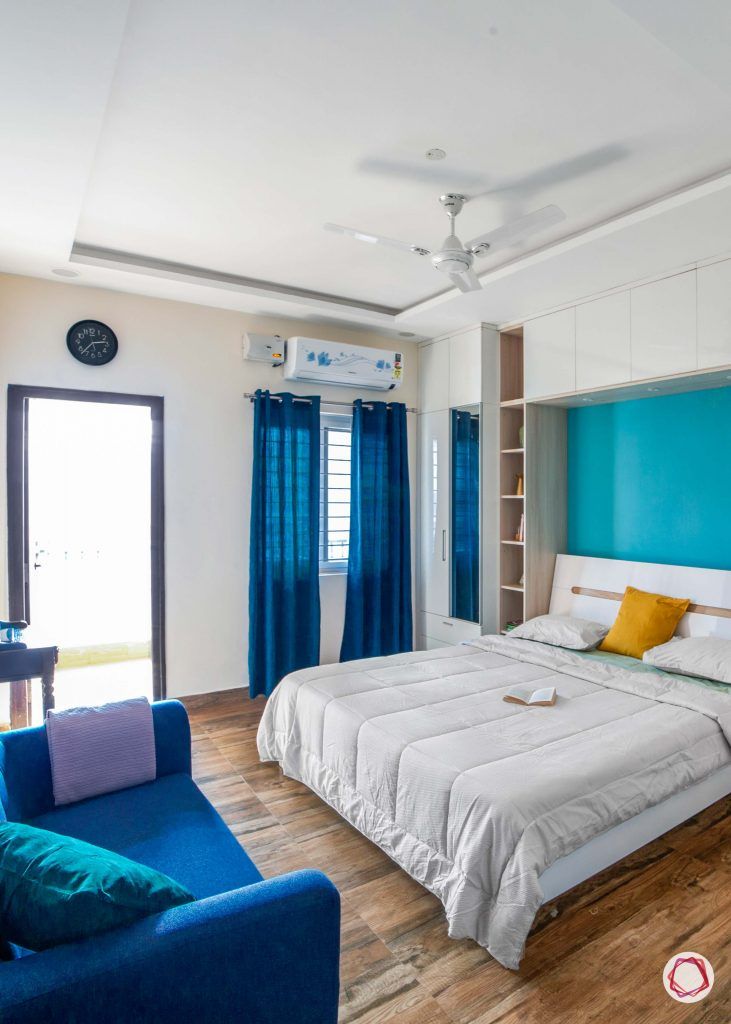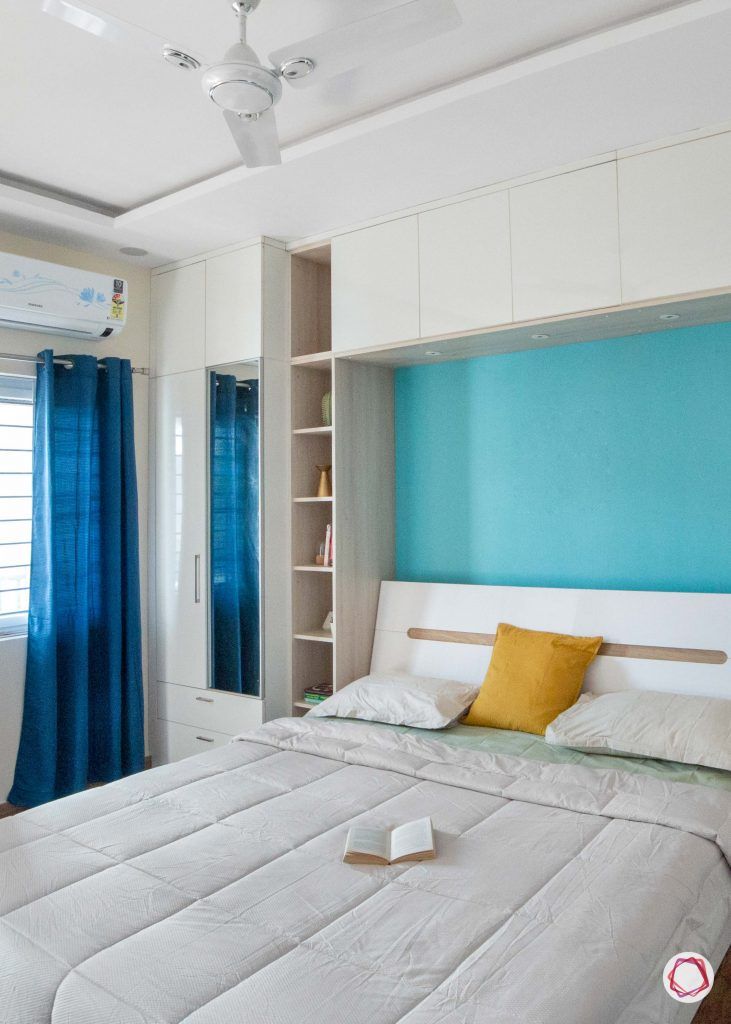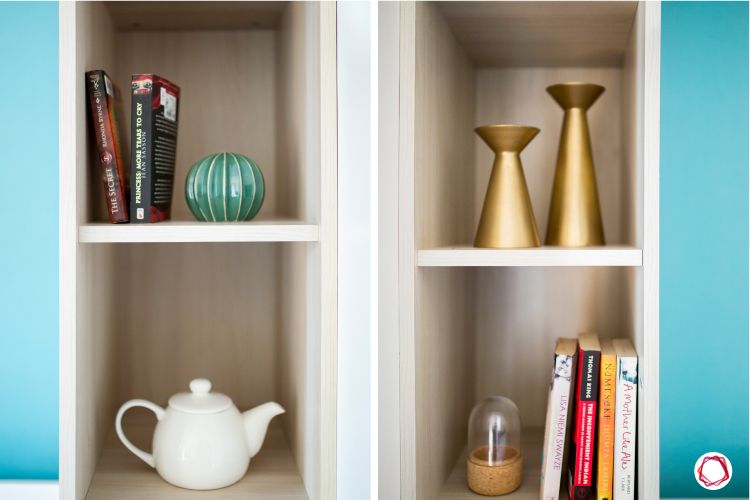 The master bedroom is nothing short of a power-packed wonder. Kalyaani has really worked on the functionality of this room and given solutions that are practical and useful. The wall on the bedside has everything that the couple needs. Wardrobes, shelves, lofts — you name it. The bed is an existing piece that fits right in the space available and Kalyaani has given them open shelves on either side. These shelves are especially useful when they read so they can keep their books handy. Spotlights above the bed are perfect for nighttime reading. The flooring sports wooden tiles that are easy to install and maintain. The other side of the room is simple, so that they have enough space to walk around.
Pretty in Purple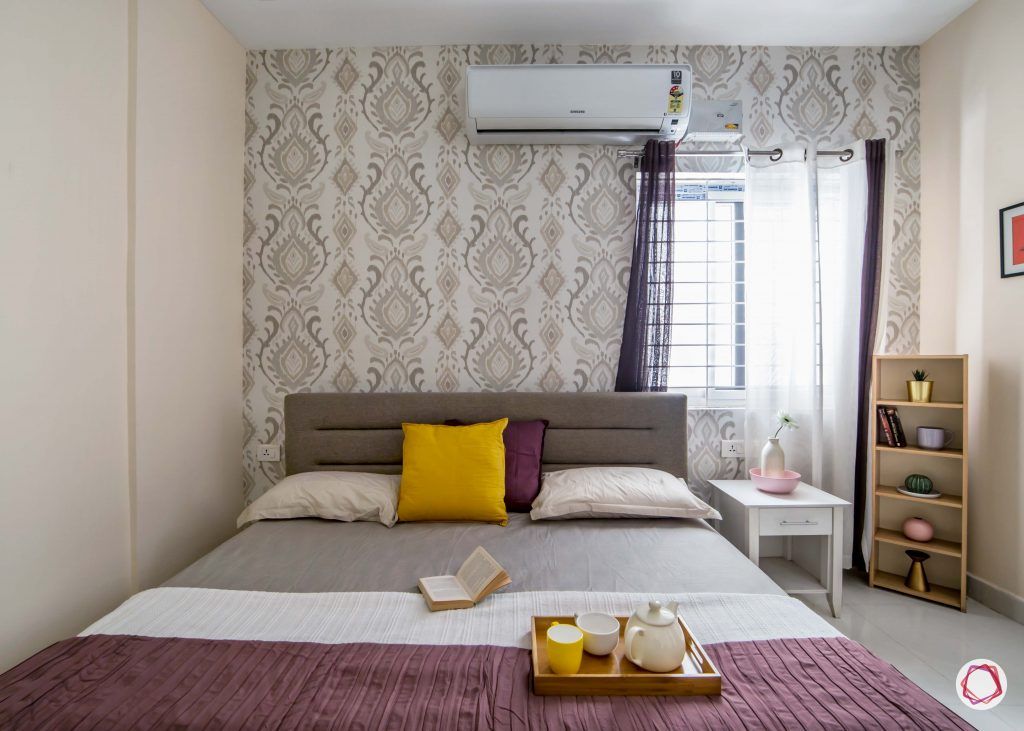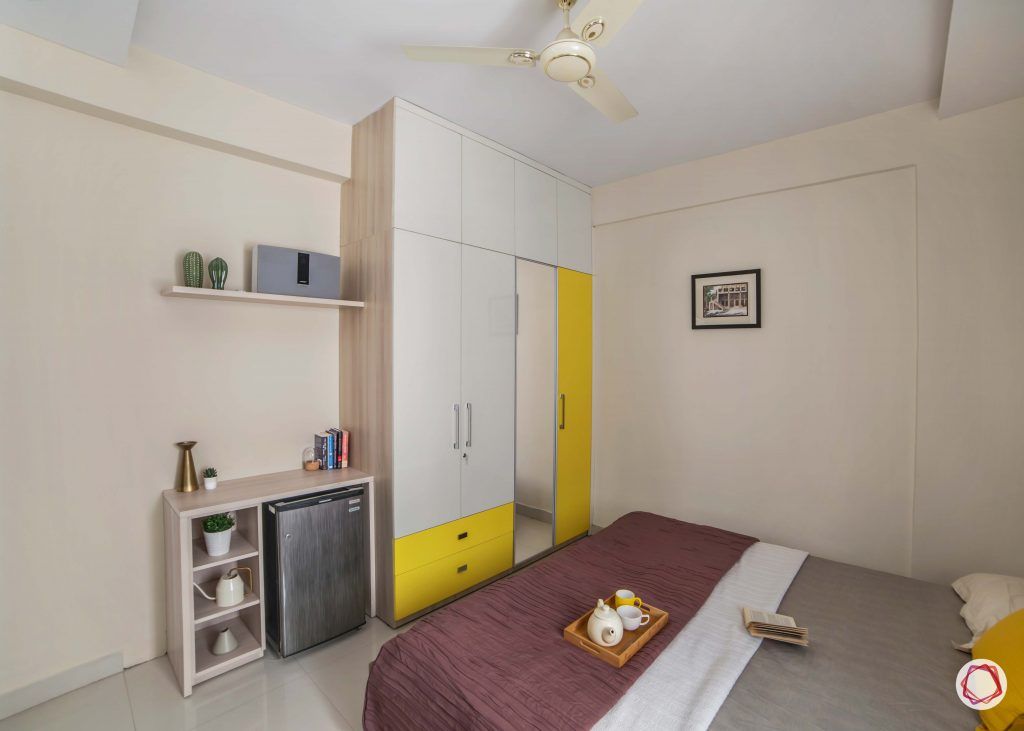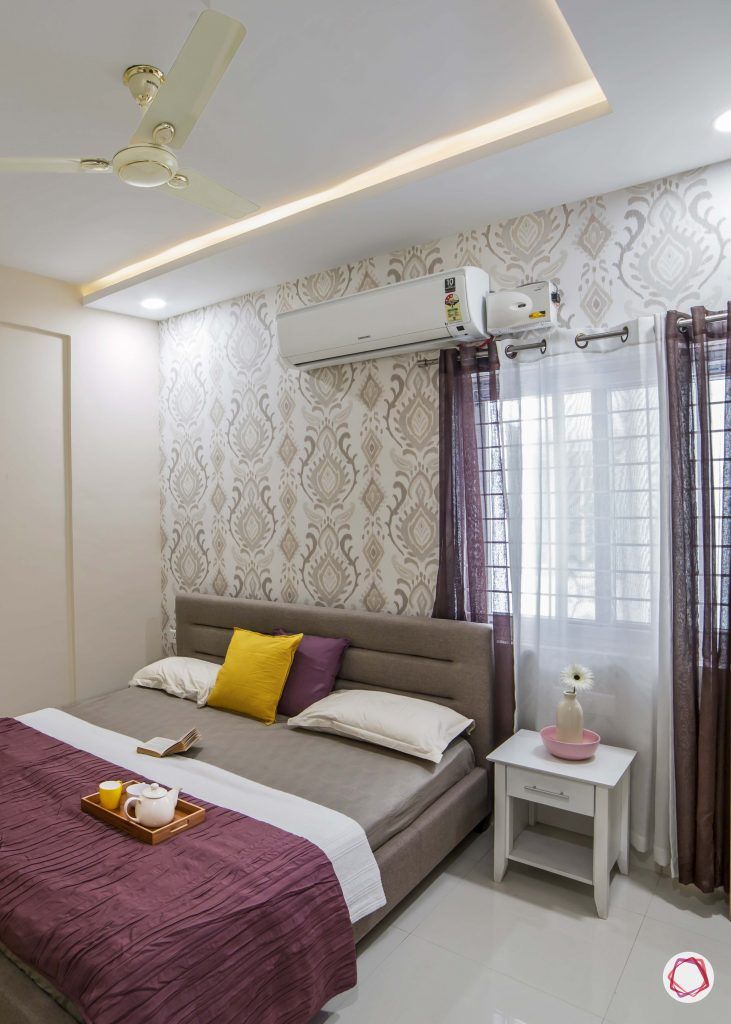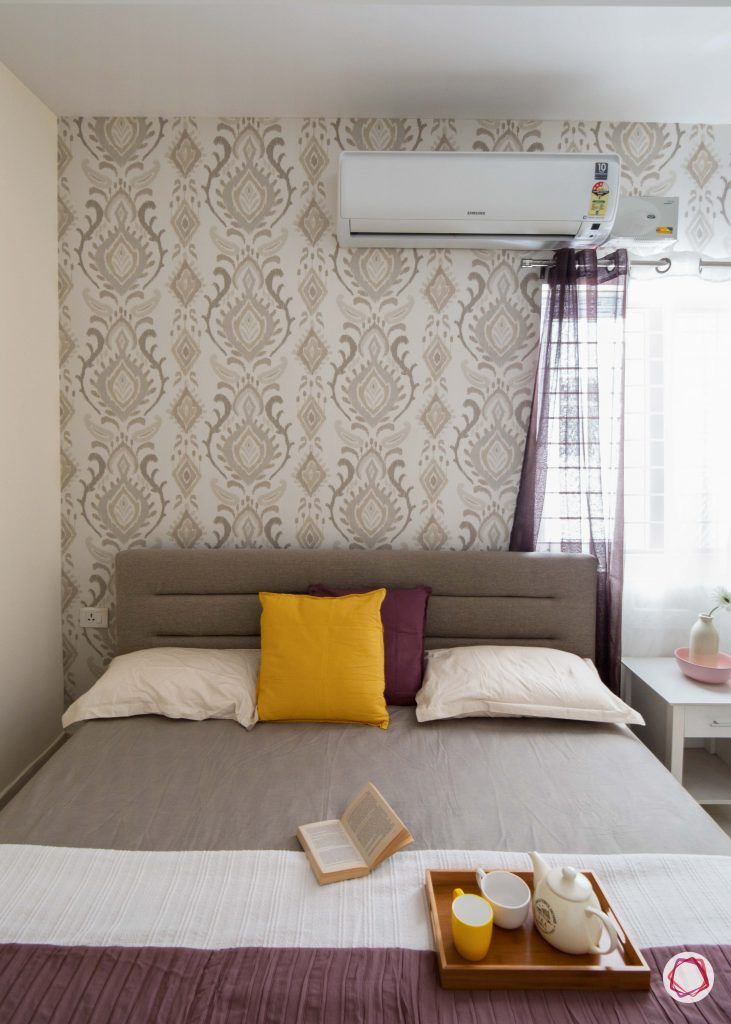 The third bedroom in this plush home is occupied by the couple's kids whenever they are visiting them. This room features pops of colour and the Gopals wanted to experiment with this one. Therefore they selected a bright yellow colour for the wardrobes and a motif print wallpaper to create an accent wall. The rest of the room wears a neutral look with minimal furniture and lot of open space.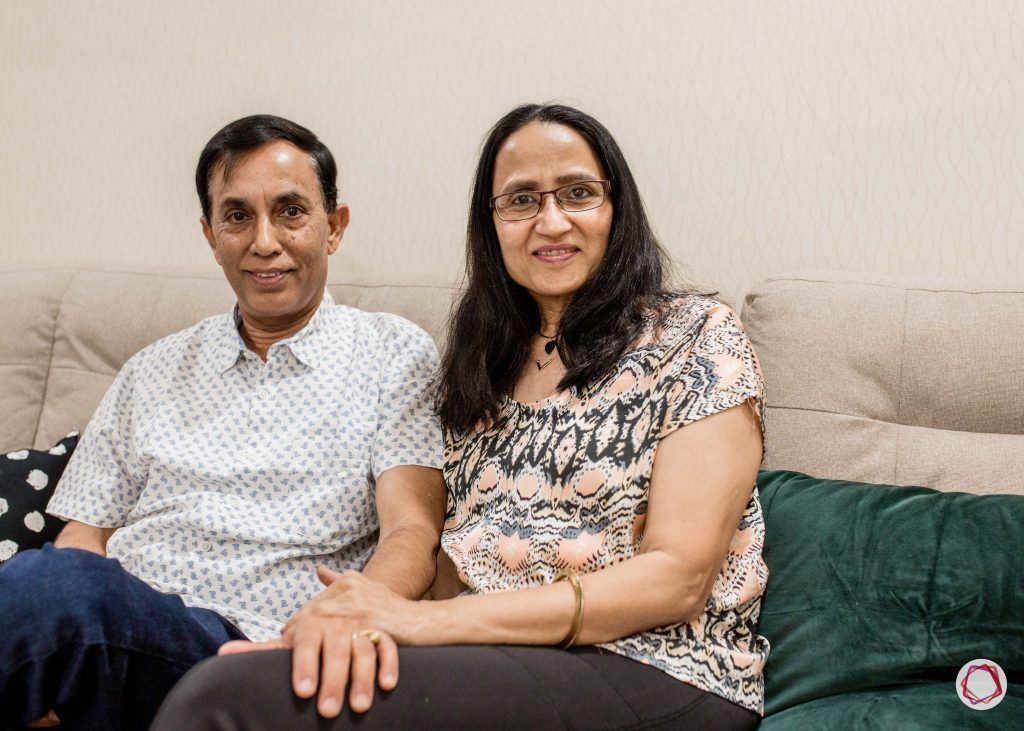 "The clients were very accommodating and patient throughout the process. Since their taste was so refined, it was very easy to zero in on the designs for their home. This is my third project with Livspace and like every home that I design, I learn something new. This project taught me how to incorporate existing furniture into a new design and still manage to give a fresh look to the interiors. I enjoy a great rapport with them and I loved every bit of this."

-Kalyaani A, Interior Designer, Livspace
If you loved this home, then you would love to find out why We Love the Simplicity of This Spacious 3BHK at Aparna Cyber Life, too.
Send in your comments and suggestions.