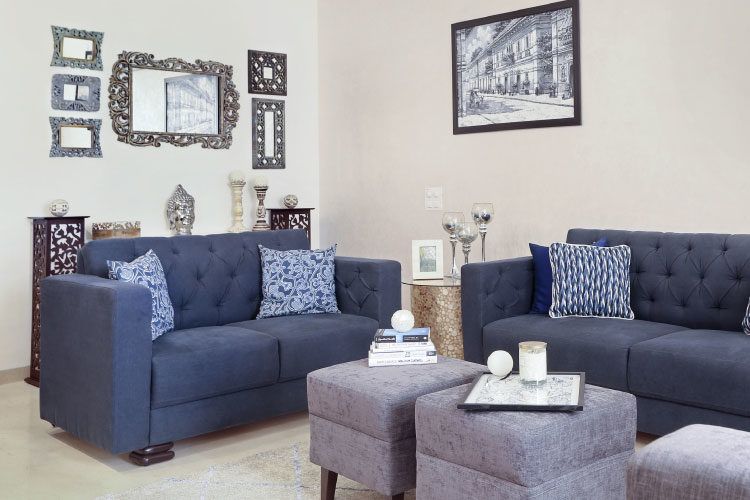 ---
Who livs here: Rahul and Ashoo Malhotra with their 13-year-old son Manyae Malhotra
Location: Bestech Park View Spa Next, Sector 67A, Gurgaon
Size: A 3BHK spanning 1,200 sq ft
Design team: Interior designer Aditya Bhardwaj with project manager Ankit Kumar
Livspace service: Full home design
Budget: ₹₹₹₹₹
---
For a couple who has always relied on personal aesthetics and their innate sense of style to decorate their earlier residences, engaging with a professional interior designer was met with a lot of excitement and anxiousness.
Rahul and Ashoo Malhotra had just moved back to Delhi from the Philippines a while ago. The couple took a long hard look at the apartment they had bought two years ago in Gurgaon and decided it was time to move in. But this time around they were hoping a designer would interpret their ideas and convert the empty canvas into a gorgeous, functional cosmopolitan home because Rahul was busy with work and Ashoo was an even busier stay-at-home mom to a pre-teen son.
After a tad bit of scavenging on the internet for ideas and designers, the couple decided they should explore Livspace.com.
When they met Livspace designer Aditya Bhardwaj for the first time, Rahul and Ashoo were thrilled to realise that Aditya was perceptive and was able to translate their ideas into a functional, breathing home design immediately.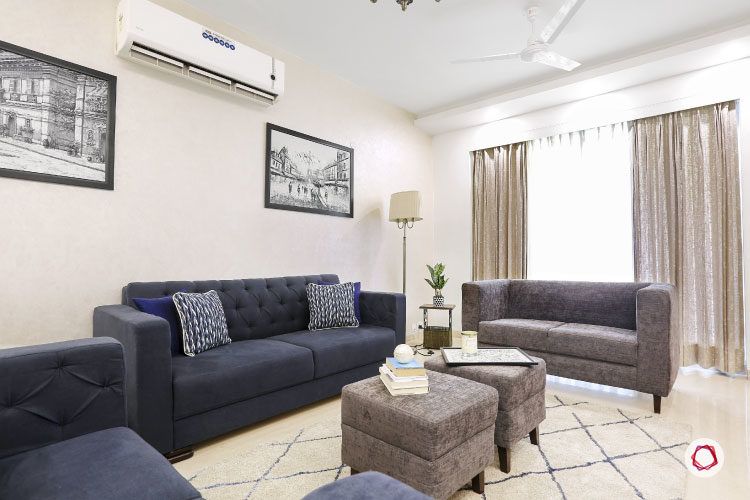 ---
The living room is doused in oceanic hues with shades of navy grey, smokey silver grey and champagne that lend it a relaxed and toned down aesthetic.
---
When they began fleshing out the specifics, Aditya realised calming hues and statement corners were a priority. Ashoo was clear that their living room was meant only for fancy sit-downs and not for the family to lounge around. That she said, was what the entertainment room was meant for. She wanted the living room, where she imagined family and friends with tinkling glasses and hors dóeuvres to be washed in muted colors and rich textures.
Statement couches in a luxurious navy grey with button tufts were paired with a smokey silver grey two-seater and ottoman set. Aditya has allowed the rich upholstery to do all the talking by offsetting it with an ivory carpet and champagne drapes.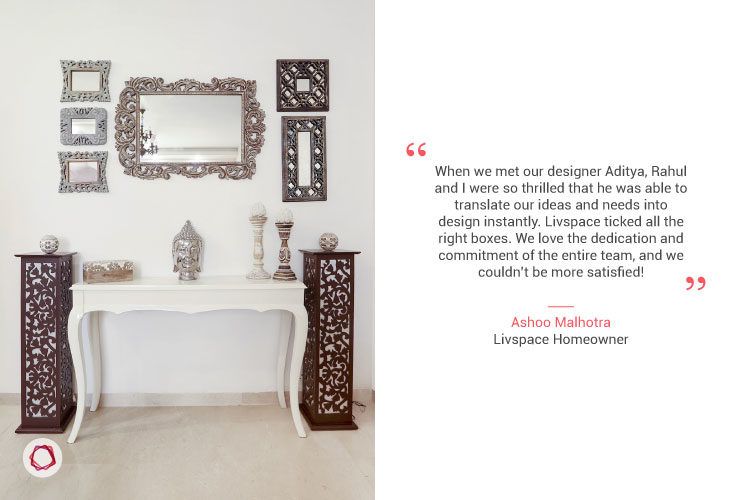 ---
The home has a cosmopolitan flare thanks to Ashoo's startling antique collection. The ornate mirrors bounce around a lot of light and make for a unique conversation starter about the couple's travels.
---
Ashoo, over the years, has been building a collection of antiques – ornate mirrors from her trips, bone china plates from London, vintage finds from flea markets and lots of art. The art found residence on the living room walls while the mirrors sit pretty atop a charming french-provincial console.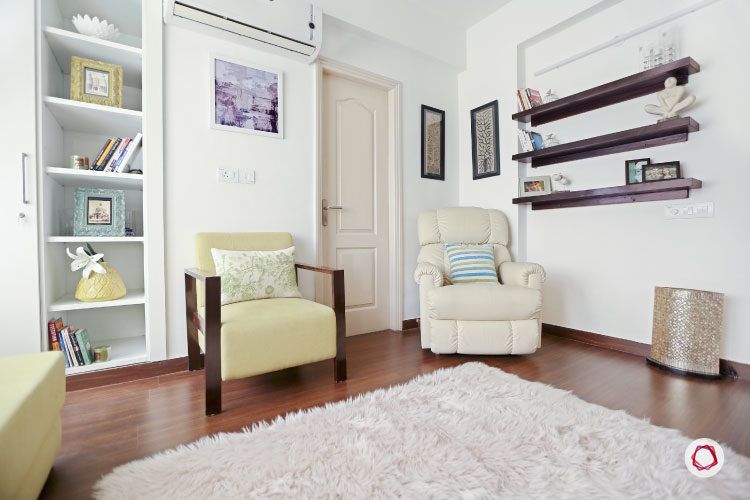 ---
The Malhotras' have always had a dedicated room for their me-time. The entertainment lounge wouldn't be complete without a lazy boy for relaxed evenings and movie nights.
---
Rahul typically unwinds in the entertainment lounge, while Ashoo says she has hardly any time to sit in that room let alone be entertained. But the couple has always been principled about keeping the living and TV separate. With warm wooden flooring, pristine white hues on the walls and a plush fur rug, the room feels snug.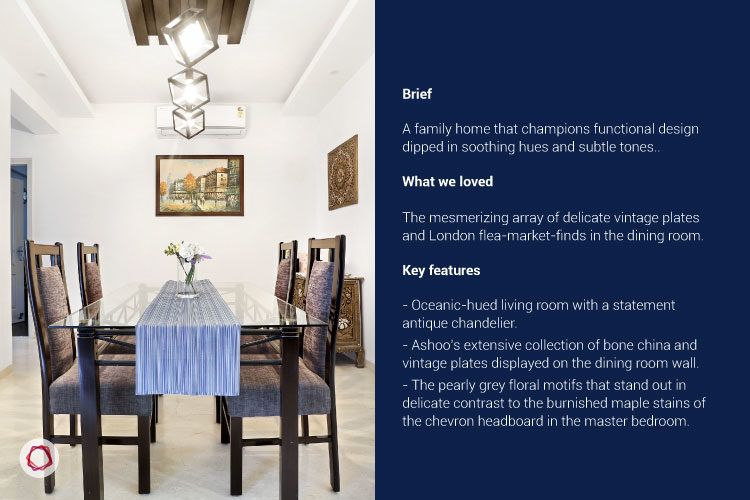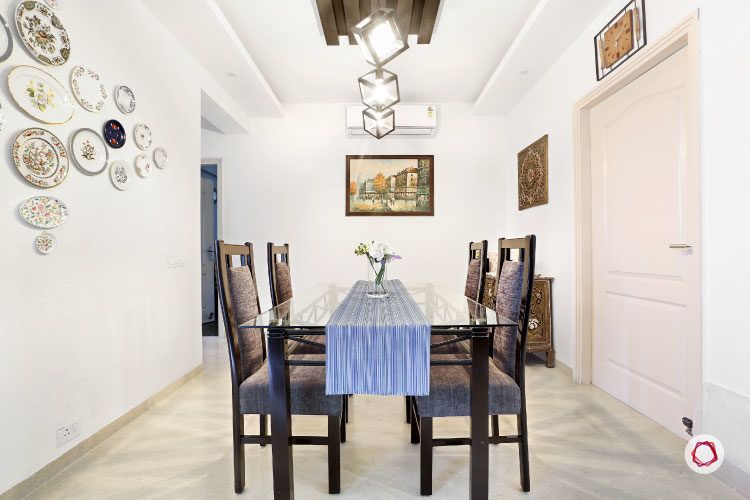 ---
This dining room is so snug and compact that it reminds us of cozy family meals. The cubed glass lights make for clever textural contrast with the mahogany wood slats on the ceiling.
---
The wall that adorns the vintage plates picked up from London is easily the stand out feature of the dining room. Ashoo had been wrestling with the idea of displaying her prized collection ever since she bought the home. These plates, she says, are pre-owned from the 18th century, while some are also picked up from flea markets.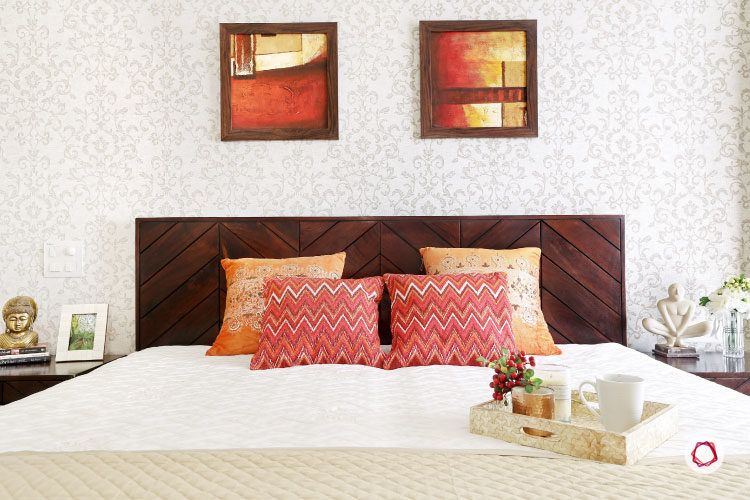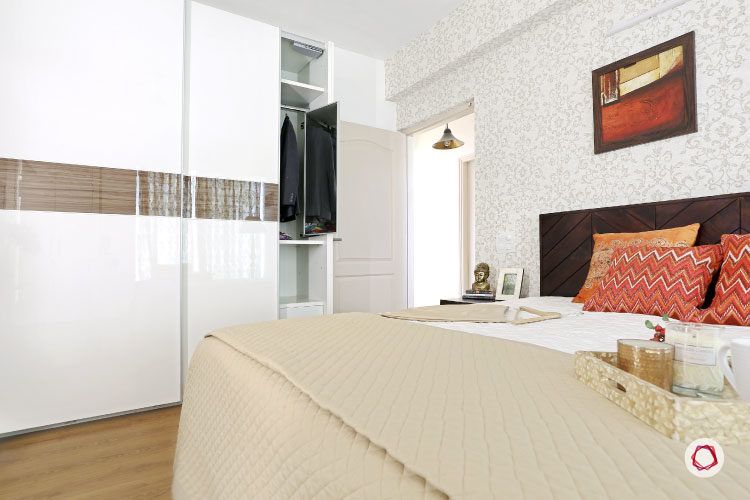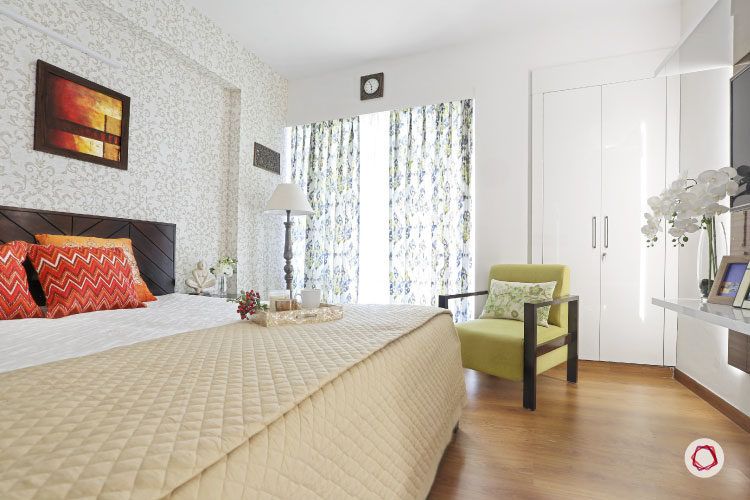 ---
A chevron patterned headboard pops against the pearly grey floral wallpaper.
---
Ashoo has a soft corner for her bedroom because when she's done with her never-ending list of errands, she finally retires to her bedroom to recharge. Aditya consciously gave the couple a cozy spot to sit back and relax at the end of each day. Shimmering white shutters keep the palette clean, while contrasting paintings and maple and oak tones infuse the space with warmth.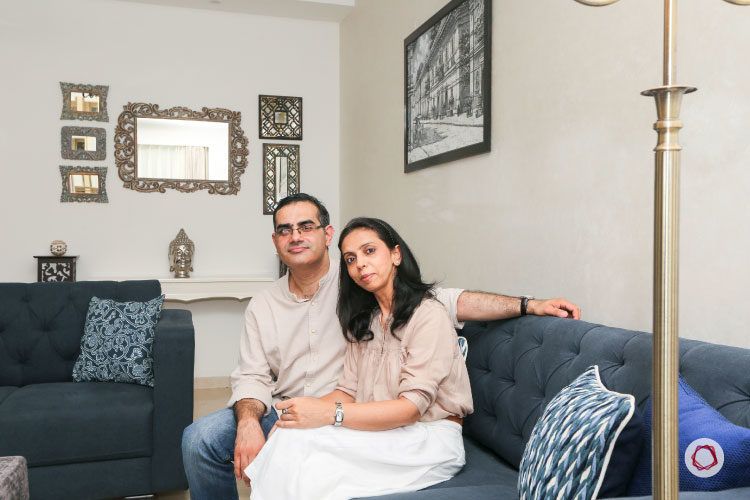 Rahul and Ashoo are ecstatic with their cosmopolitan den that combines their aesthetics with Adithya's design finesse. She says she couldn't be happier and would recommend Livspace to anyone who's looking for a makeover.
---
It was an absolute joy to work with the Malhotras' especially because they knew exactly what they wanted. They were straightforward and forthcoming when it came to design discussions.


– Aditya Bhardwaj, Livspace interior designer