Modern interiors at its best!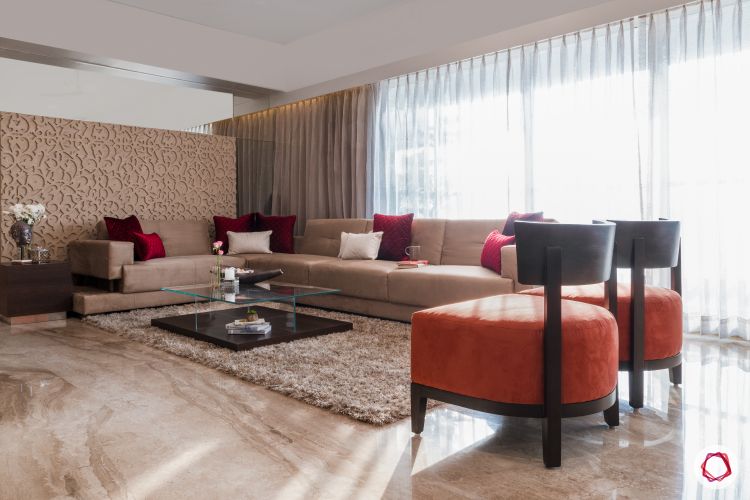 ---
Who livs here: Sanjay Singh, his wife Neeta and their two daughters
Location: Ajmera Zeon, Wadala East
Size of home: 3BHK spanning 1,050 sq ft
Design team: Interior designer Heny Savla with Design Manager Chandan Parimal Jha
Livspace service: Full home design (kitchen not included)
Budget: ₹₹₹₹₹
---
Mastering the art of minimalism can be difficult for a rookie. But our designer Heny Savla certainly had no issues turning this 3BHK in Wadala East into a modern and minimalist dream home for Sanjay Singh and his wife Neeta. With open spaces, a straight line design and play on mirrors, this home is sure to capture your attention right at the entrance. Let's get right in!
Mirror, mirror on the wall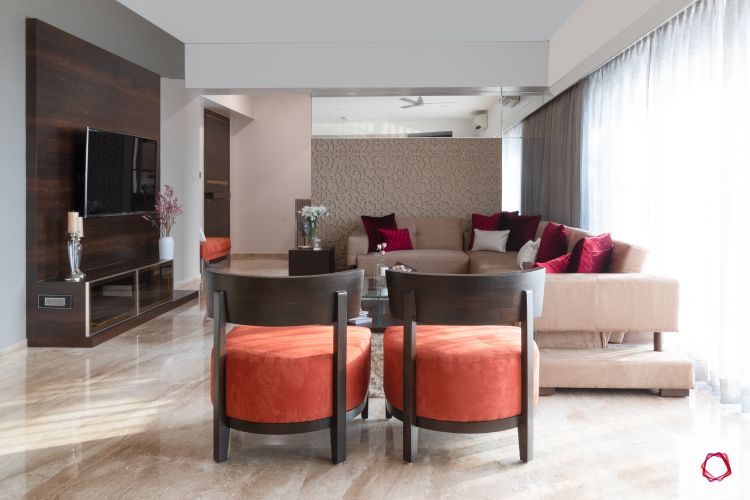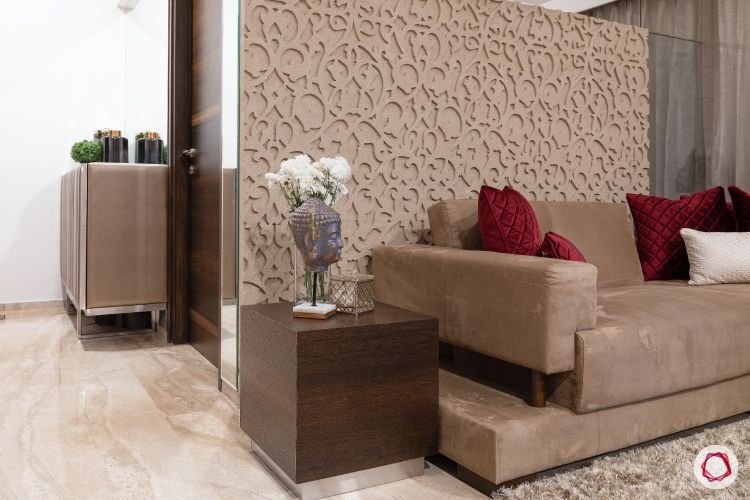 Stepping into their home, you will be greeted by a large mirror, a delicate brown console table and a tangerine cushioned bench. "When you are entering into a house, you shouldn't see a dead block," recommends Heny. Once that sinks in, your eyes are immediately drawn to the elaborate and exquisite work in different corners of the living room. On one end, an L-shaped sectional sofa and two tangerine cushion chairs offer comfy seating space. And on the other end, sits the cozy dining area.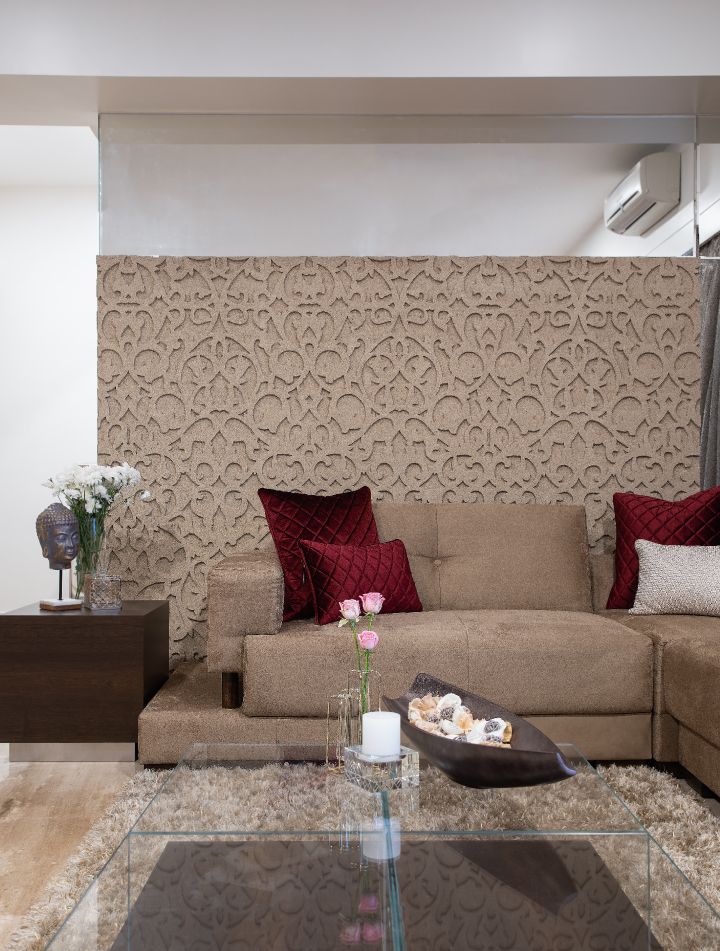 You cannot miss the gorgeous handcrafted artwork that stands behind the sofa. And if you look closely, you would notice the periphery of the artwork with mirrors to create an intriguing illusion of continuity. In addition, the coffee table is a minimalist's favourite with a simple transparent glass and a open rack at the bottom to stash magazines and books.

Cozy Dining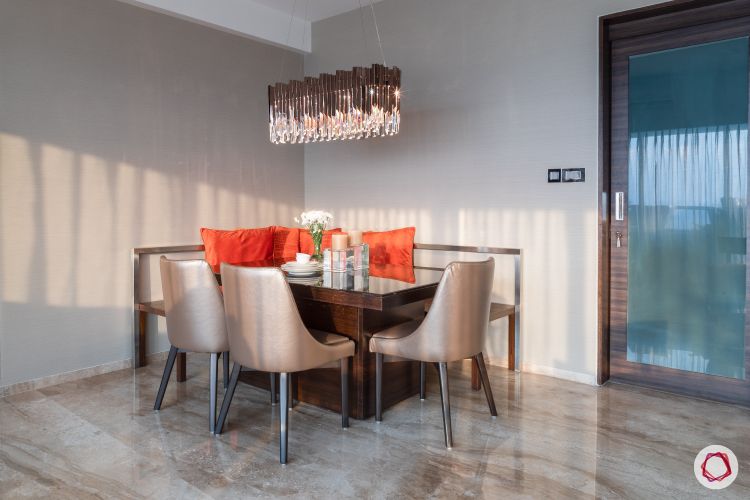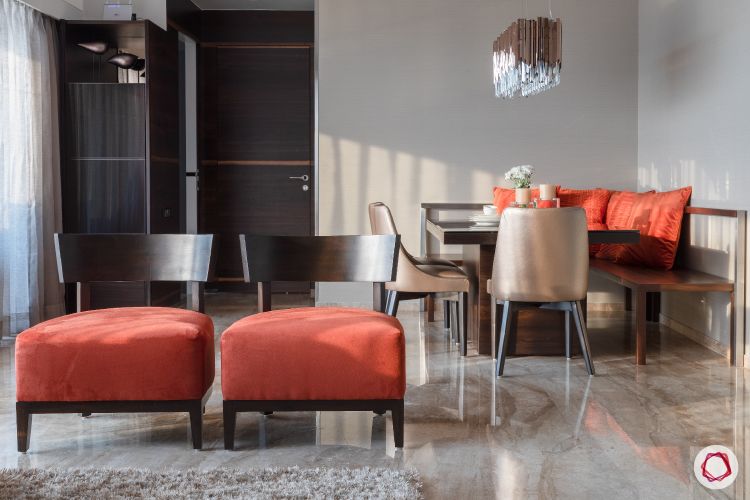 The dining experience is an interesting blend of cozy and smart elements. With three chairs, a bespoke corner bench and tangerine throw pillows, it's perfect for casual meals and conversations. All this sits under a crystal chandelier against a raw silk wallpaper. Again, keeping up with the flow of careful second glances, Heny added storage space under the dining table to keep extra mats and knick-knacks.
A Hidden Bar Nook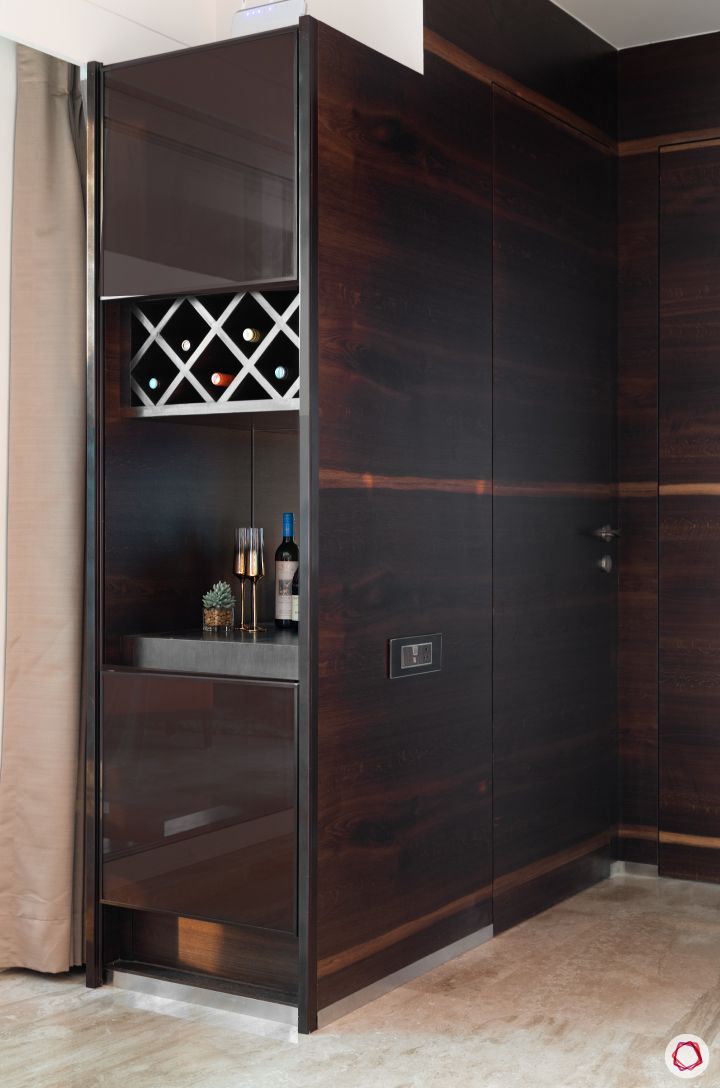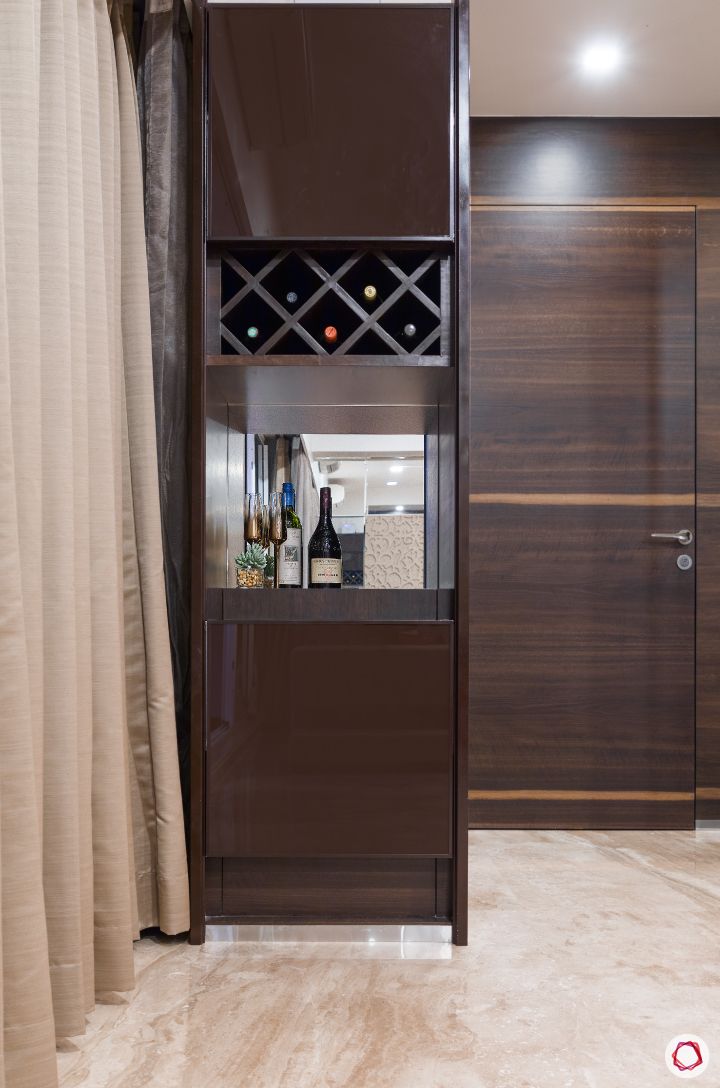 Here's a bar nook that can be the envy of your friends! To the ordinary eye, this vertical unit might seem like a dark brown storage cabinet that stands opposite to the dining table. However, the back painted glass side of the cabinet can be slid open, revealing the hidden bar space. It's got a wine rack on top as well! Are you hooked yet?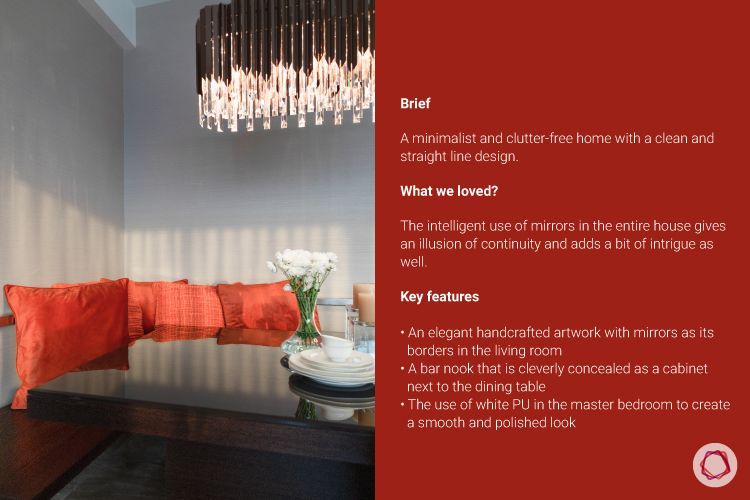 Soft Serenity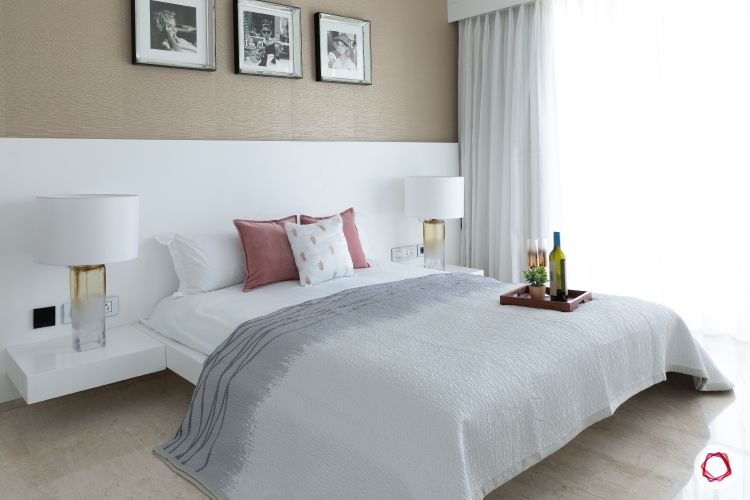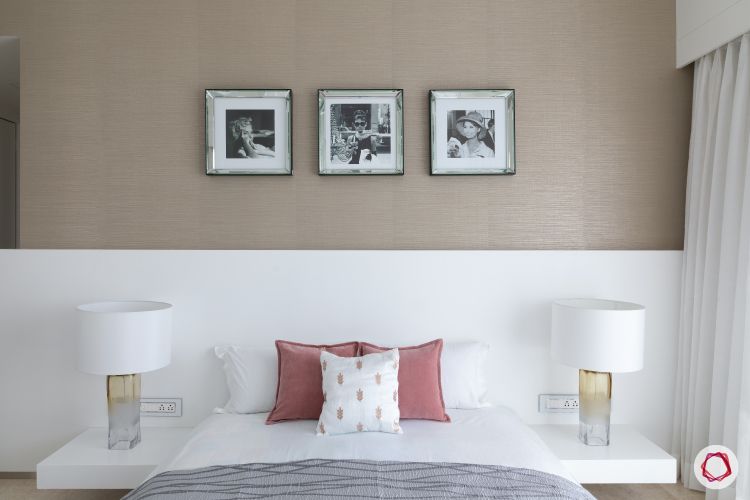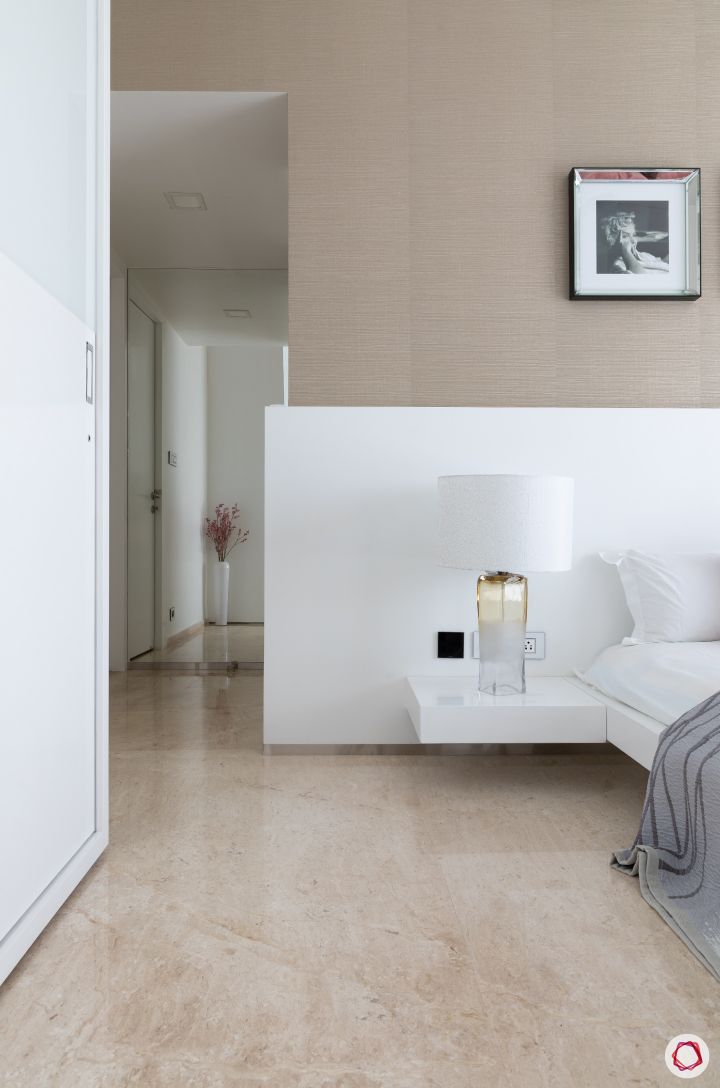 Emitting lots of natural light and with open spaces, the master bedroom defines soft elegance. Add to it, a subtle fabric base wallpaper behind the bed and only essential furniture, this makes for a perfect minimalist bedroom.
The focal point of the room is the floating bed – a bed with no visible support. "Putting in a box bed would eat up a lot of floor space," suggests Heny. "A floating bed gives the room a feeling of openness." Now, isn't that a smart solution?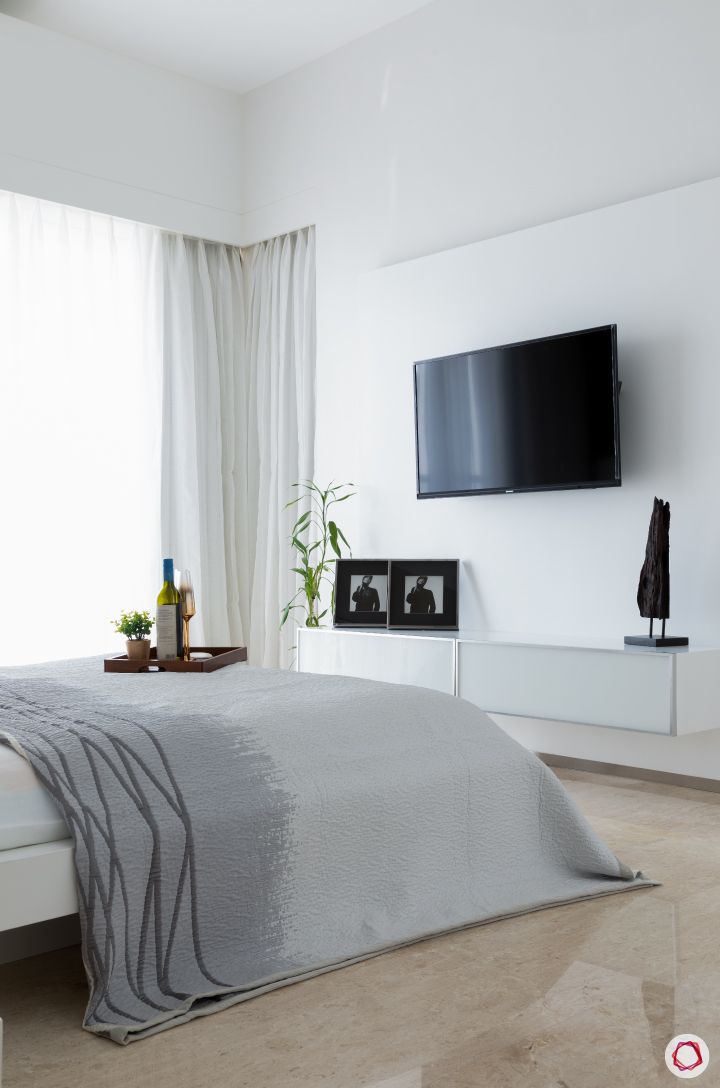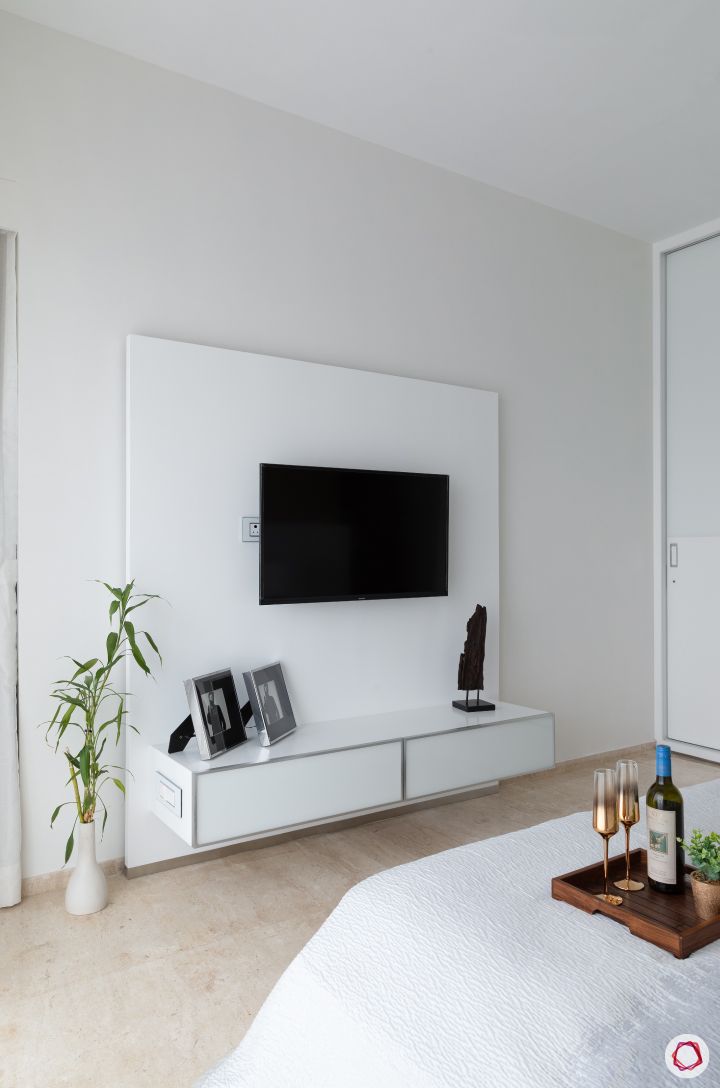 The bedside ledges are attached to the bed and the white PU board behind. The choice of white PU was done to give the room a smooth and joint-free illusion. Also, the wardrobes and TV unit are done up in the same polished way.
Under warm browns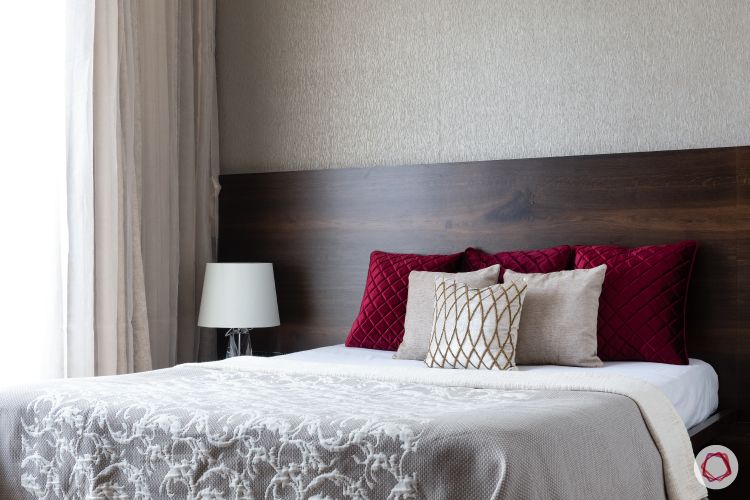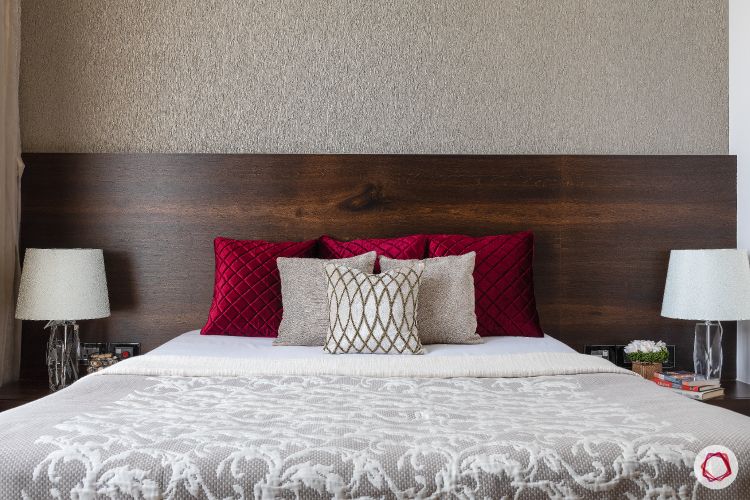 Keeping up with the flow of the master bedroom, the daughters' room feature only essential furniture as well. A glass bead wallpaper for the centre wall adds a bit of texture for the room while the wooden tones add a touch of warmth.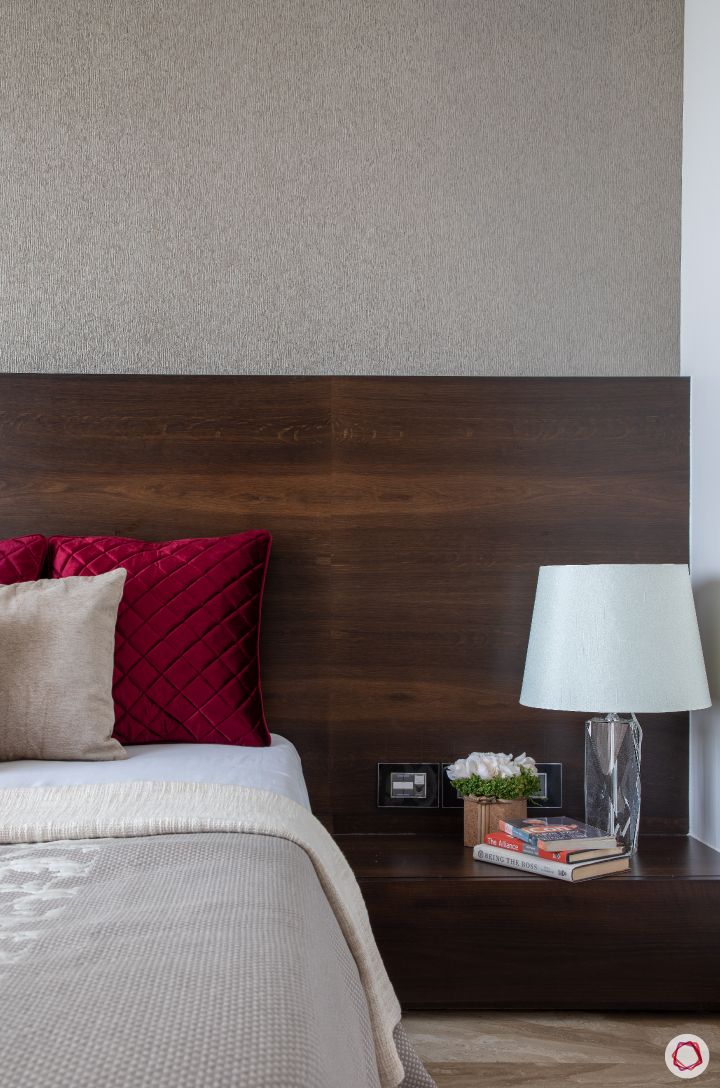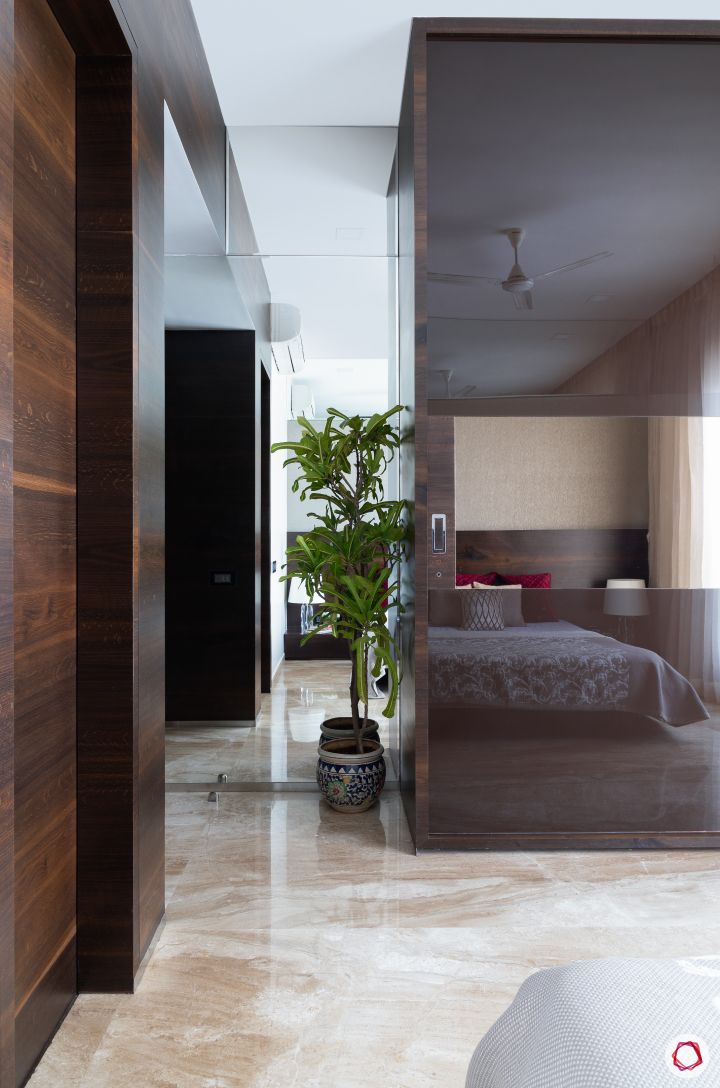 Additionally, the low bedside tables branch out from the bed and these have been fitted with footlights. This certainly gives the room a subtle glow in the night. The mirror in this room would garner a second look! The 10 foot long mirror beside the wardrobe adds intrigue and continuity to the room. The wardrobe is also finished in back painted glass and brown mirror. To wrap up the look, veneer paneling was done from the bathroom door to the bedroom door.
Off the shelf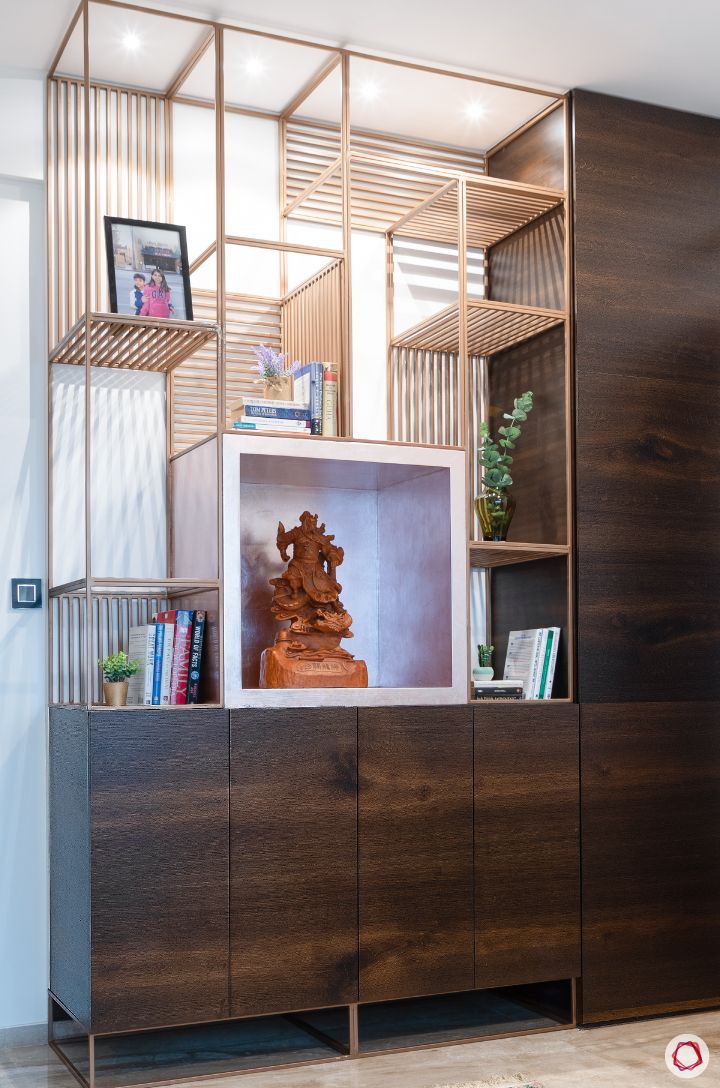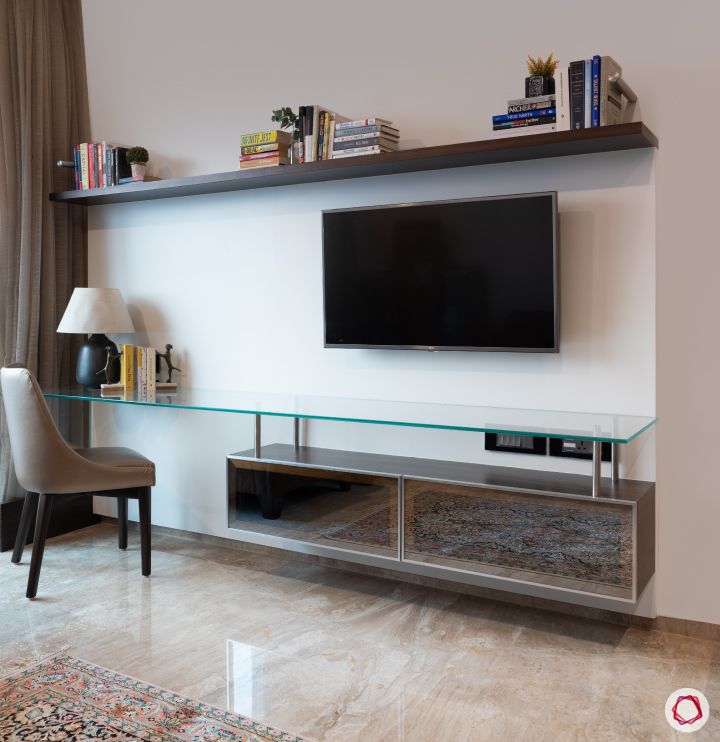 Being ardent readers, Sanjay and Neeta wanted a special place for their books. So, Heny put in a veneer shelf with plenty of storage space. She topped it off with metal work and spotlights at the top. She also put in a prayer space in the shelf with its borders in leafing.
For the study table, she used a bent glass so that the space looks open and light. And above that, a wooden ledge for essentials.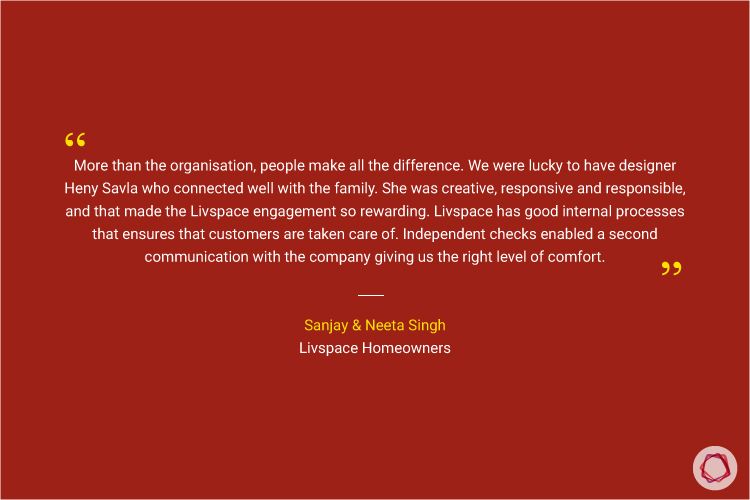 ---
"It was amazing working with Sanjay and Neeta. They gave me a free hand over design and I was able to make the best use of the space."

– Heny Savla, Interior Designer, Livspace

---
Take a peek here
What our designer says
If you loved the tour, take a look at Design Tour | Luxury Comes Calling as well. You could also take a look at other Mumbai homes we have designed as well.
Send in your comments & suggestions!