Have you been using the words 'drawing room' and 'living room' interchangeably? Well, most people do. But, there is a fine line of difference between the two. While a living room is a space where the family spends time together, a drawing room is the outermost room in your house meant for hosting guests.
Sometimes, your living room can be your drawing room due to the lack of space. And this is the case in most average Indian homes. However, drawing rooms can never be living rooms, primarily because they are designed with a crisp formality that would miss the familiar cosiness of living rooms.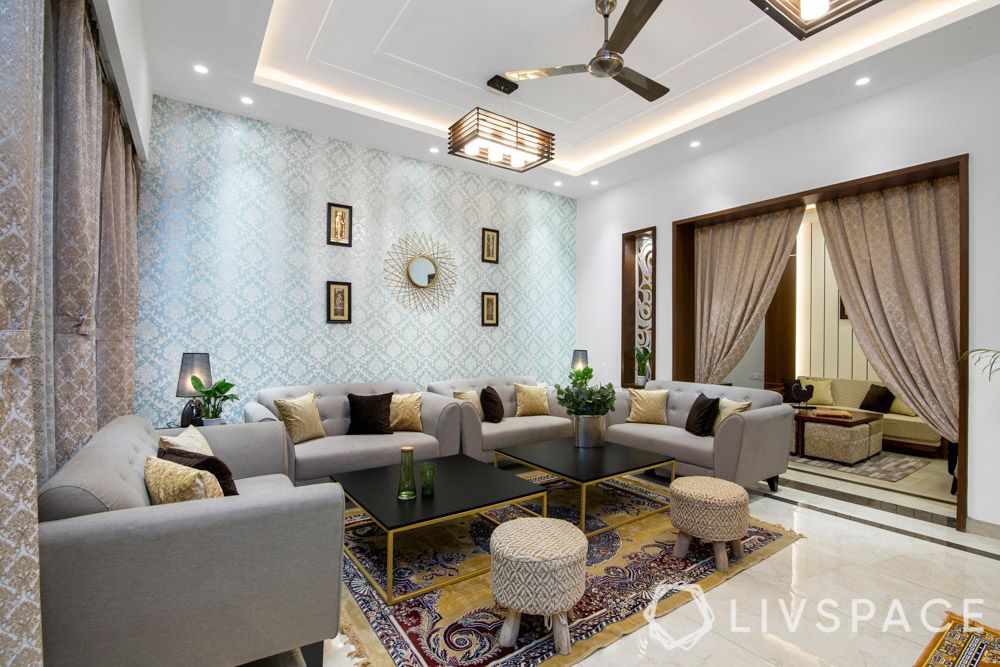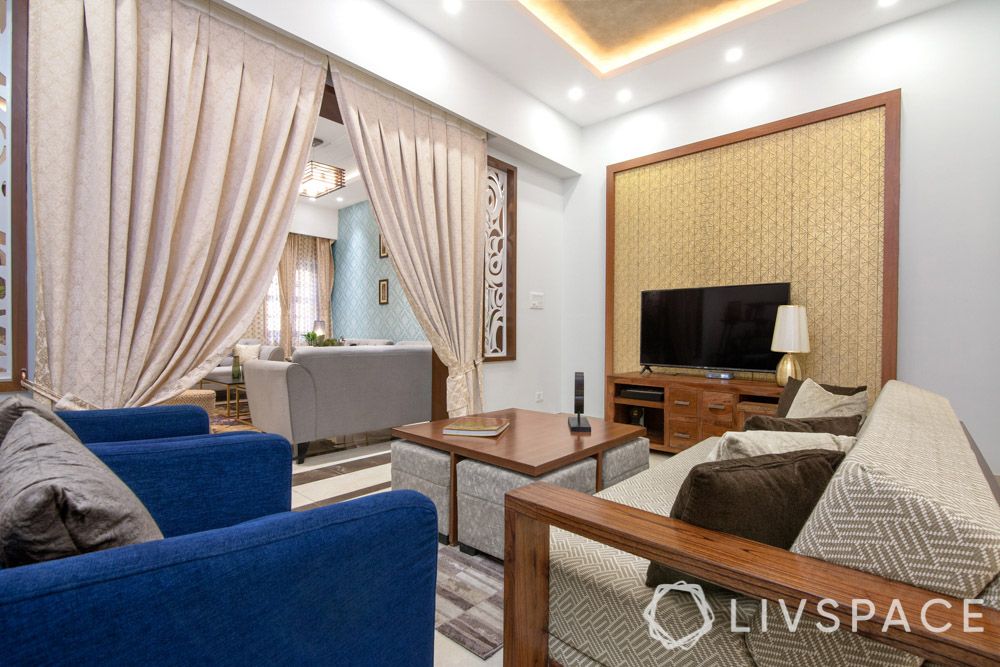 This Gurgaon home with two living rooms in two styles illustrates the difference effortlessly. The first image is of the drawing room where guests are hosted. It's formal to the T and has a more elaborate decor. The second is a connected but private space for the family to gather.
Need some inspiration for your own drawing room design? We got you covered!
Top 5 Drawing Rooms Designed by Livspace
#1: The Modern and the Mughal-esque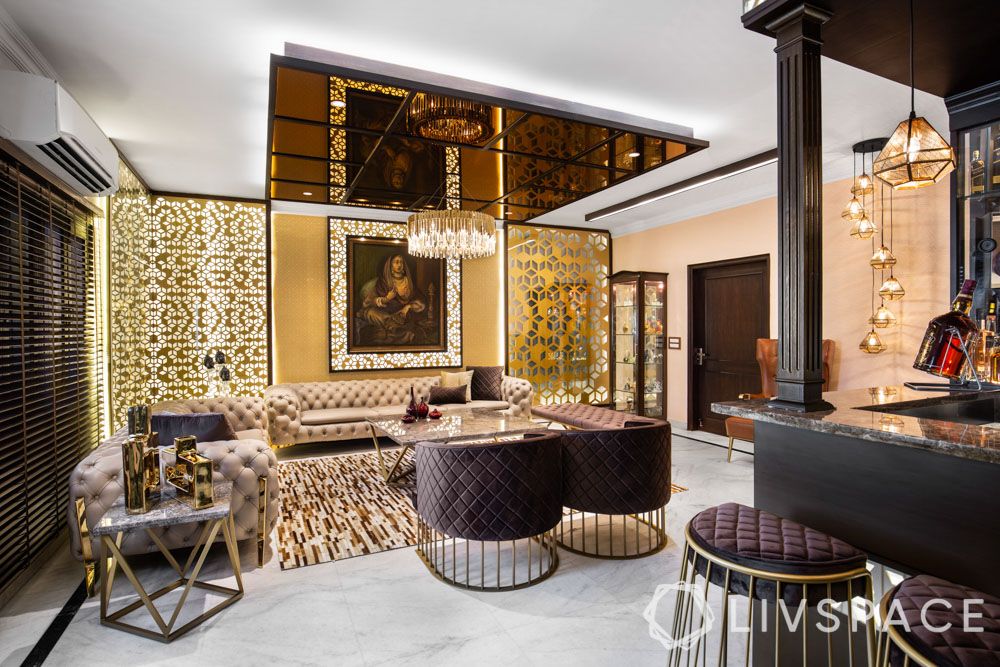 Location: Gurgaon
Style: Art deco
If the Mughals got their interiors done in this decade, this is how a durbar would look like! Inspired by the elegant Mughal painting that is at the centre, this drawing room in Gurgaon uses an elaborate and glitzy design style.
The furniture, with its plush upholstery and metallic finishes, is certainly art deco in style. And the patterned and backlit glass facade adds an element of glamour. Notice how there is no TV unit here, but a bar counter instead? That's because the space is exclusively used for hosting guests!
#2: A Contemporary Drawing Room Design for Big Parties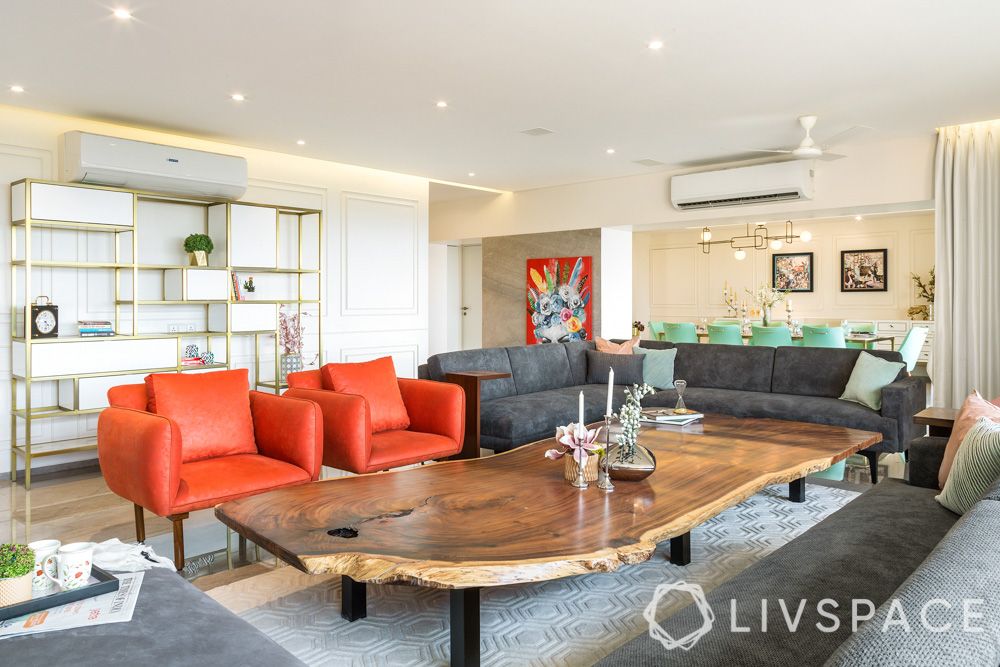 Location: Mumbai
Style: Contemporary
Can you believe if we say that this room can seat up to 50 people at once? It's the perfect drawing room for hosting big parties and has been decorated while keeping in mind the course of a party. See the centre table here? Its fluid shape allows it to be accessible to the entire seating area without making it look cramped. The two grey sectional sofas are ideal for smaller groups to socialise. And the orange accent chairs provide a much-needed pop of colour!
Don't miss the dining space behind, which, like everything else in this room, has a crisp air of formality!
Also Read: 20 Gorgeous Living Room Designs From Livspace Homes to Inspire You
#3: A Sectioned Drawing Room Design That's Basic But Beautiful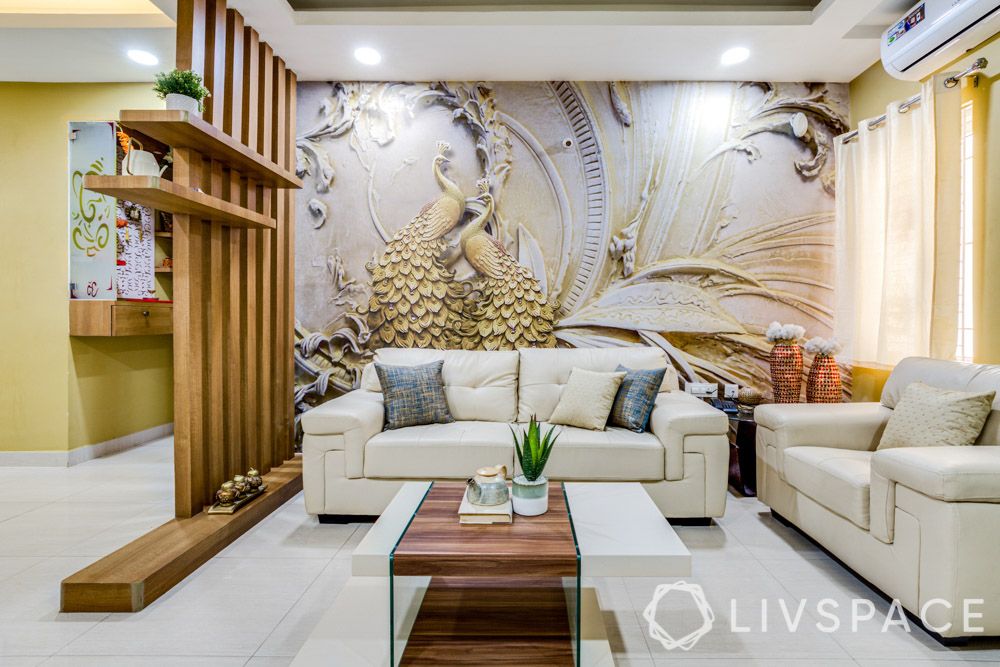 Location: Hyderabad
Style: Indian Minimal
Ever heard of the saying that basic is the best kind of beautiful? This is one of those drawing rooms that proves it. The predominantly white furniture allows the wallpaper to shine and that becomes the single point of focus in this room. All the wooden elements here give it the required warmth. It would be fair to say that it has all the elements of the Indian minimal style.
Interestingly, this drawing room is a part of a larger living room. This section adjoins the dining area, and the family's private living area is at the end.
#4: A Modern Drawing Room Design With a View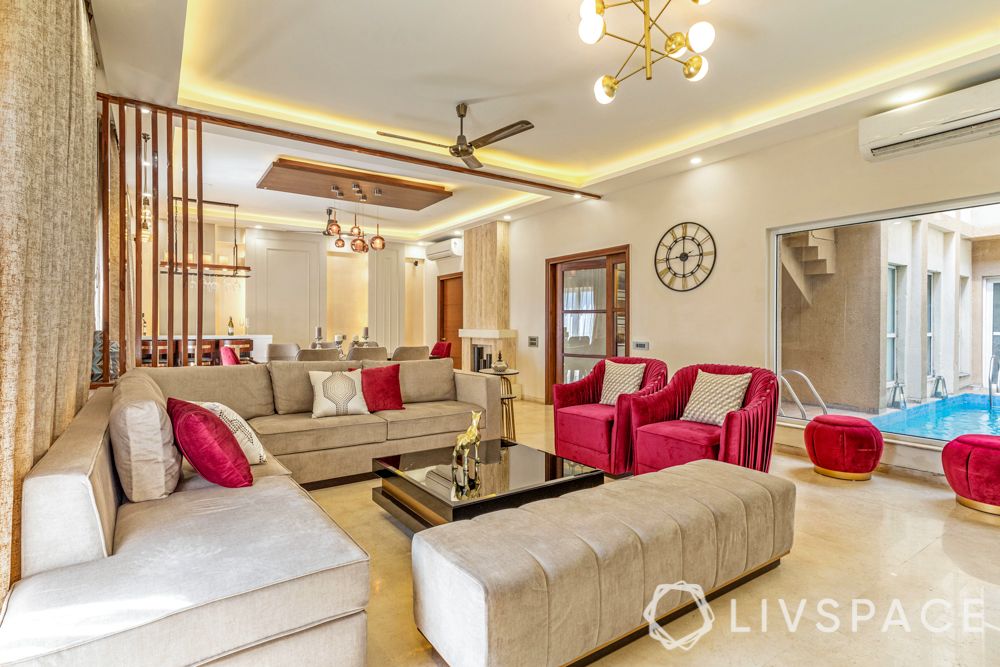 Location: Noida
Style: Minimal Glam
The instantly noticeable fact about this drawing room is that it has a clear view of the swimming pool. What's more? The colour scheme is a rich cream and white with a dollop of crimson that pops brilliantly. In short, this is the best example of a drawing room that follows the minimal glam style. The design is straightforward and contemporary, with whites and an open layout. But the upholstery and the soft furnishings are plush velvet and silk, with hints of metal for glamour. Also, the variety of seating ensures that the family can host parties comfortably.
Also Read: Want a Gorgeous Living Room? Pick from these 12 Iconic Styles!
#5: The Haveli and its Baithak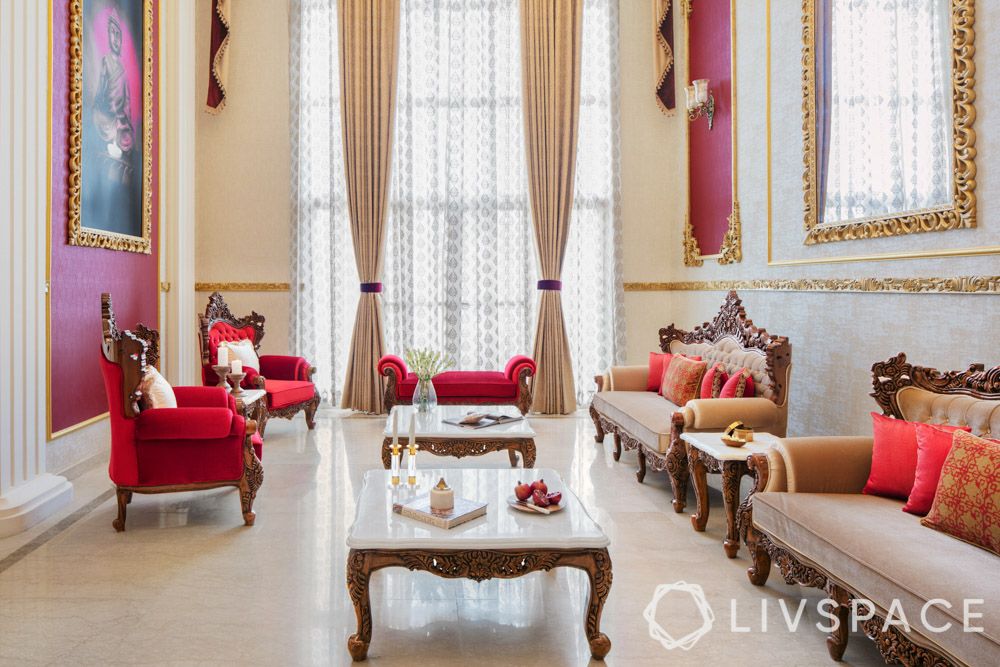 Location: Delhi
Style: Indian Traditional
The carved wood, the marble tabletops and the candelabra chandelier should leave no doubt as to the style of this drawing room. It's a perfect rendition of a traditional Indian haveli where guests are received in a formal sitting area or baithak. The reds and gold blend with the polished wood to create a royal vibe. If you want to try this style, ensure you have enough space for it and also a decent ceiling height.
Don't miss the draped and pinned style of the curtains! It totally goes with the flow.
How to Get Your Drawing Room Interior Design Right?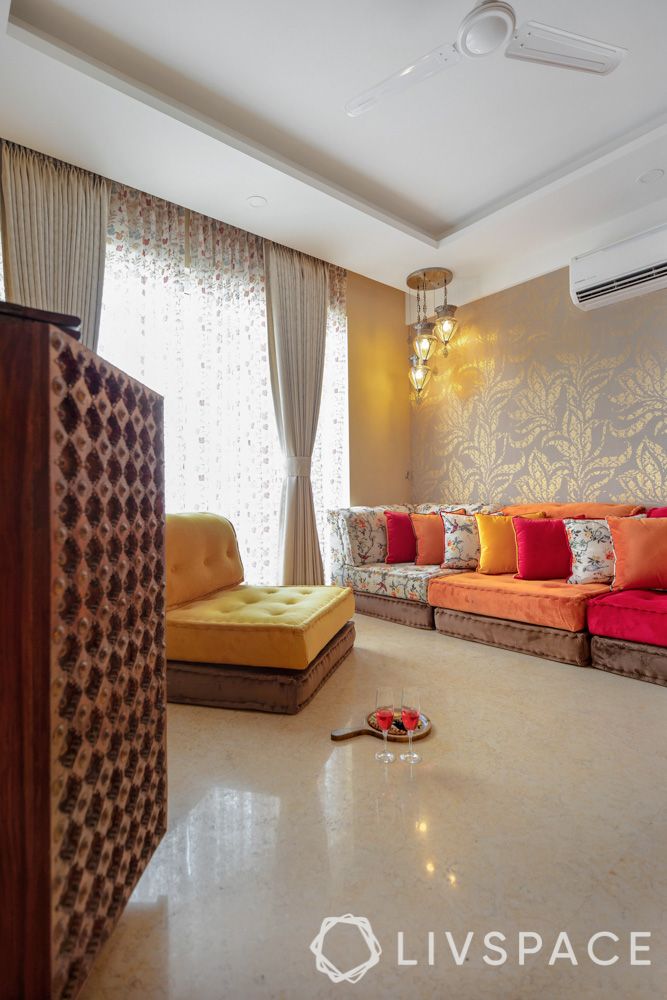 Now that we have seen what real drawing rooms look like, let's get a gist of how you can get the interior design of a drawing room right by yourself. Here are some must-haves and good-to-haves for your drawing room interior design:
Keep the seating formal: A comfortable sofa and chairs that people can sit on for long periods of time
Have a centre table and lots of side tables: For serving food and beverages
Skip the TV unit: Keep a good music system instead
Leave personal elements out of the decoration: No family photos, mementoes or plants
Make a statement: Accent chairs, accent walls and statement lighting or flooring can help you do that
Drawing Room Ideas to Upgrade Your Decor
If you're looking for the best drawing room design ideas, you can take a few notes from the ones below
1. Add a Sofa That Drives Conversations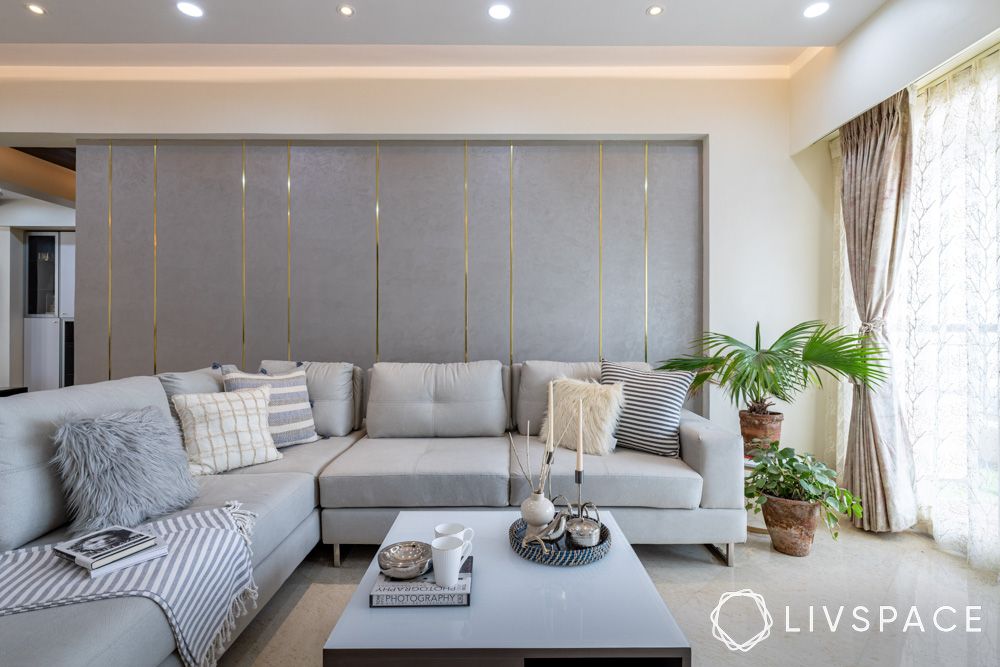 A drawing room or the process of hosting guests is all about sparking conversations. The right sofa can help you create a cosy atmosphere that's perfect for parties, formal get-togethers and even executive meetings.
2. Try Couch Alternatives to Add More Seating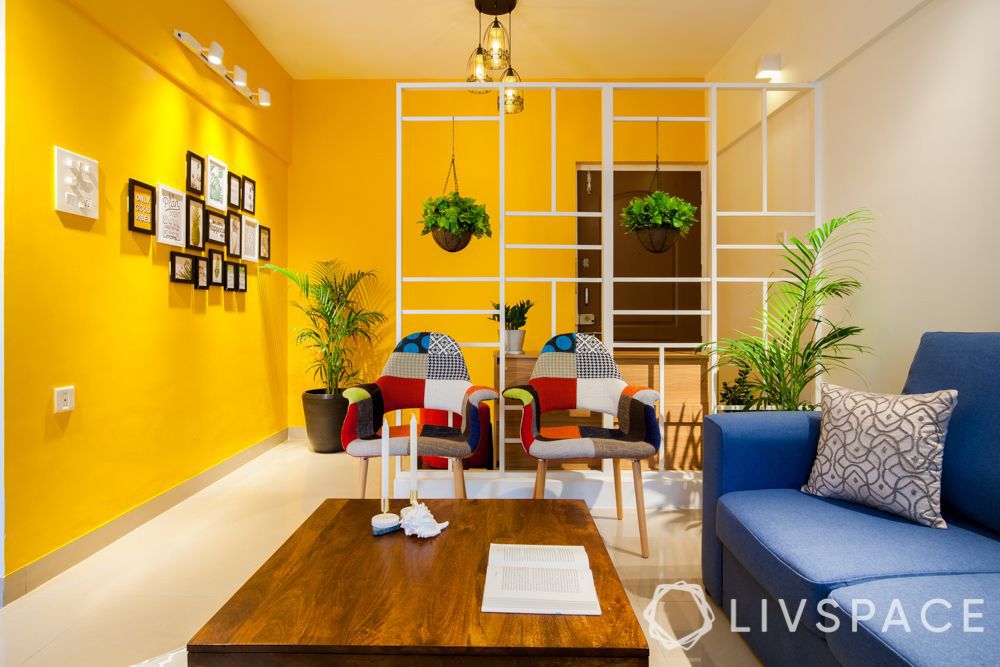 If you don't like the idea of a sofa, you can always opt for eclectic chairs, zesty diwans and aesthetic ottomans. However, if you're looking to host more guests, and you would rather not clutter your living room with two sofa sets, you can always add a few futons, chaise lounges or even opt for day beds.
3. Go for a TV Unit That Helps You Level Up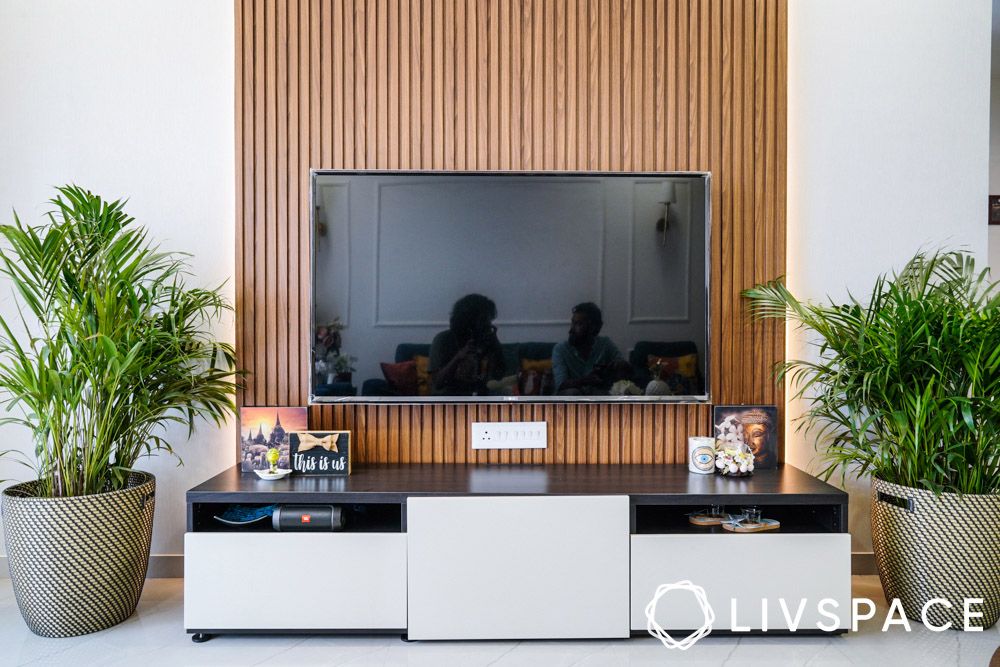 Historically, we've come to believe that a living room must have a sofa set and an entertainment unit. Drawing rooms are usually more suited for having a bar unit, while living rooms are more attuned to having a TV unit for family happy hours. However, most modern drawing rooms have evolved to feature a TV unit that also packs in a good amount of storage.
4. Raise the Bar With a Bar Unit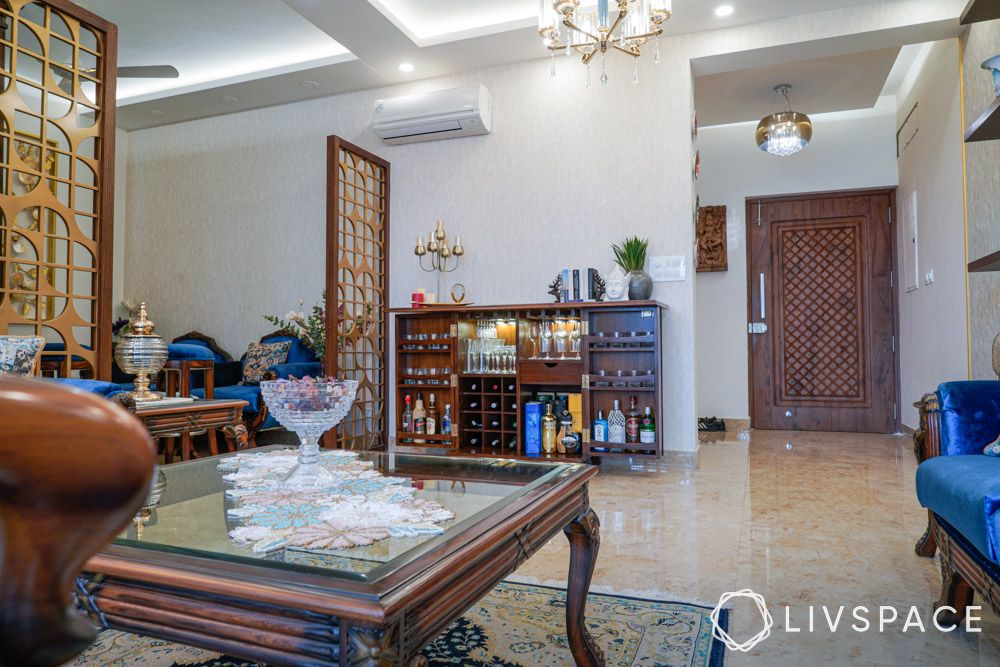 One of the smartest drawing room ideas would be to incorporate a bar unit. An elegant bar unit can help you entertain your guests better and earn those compliments. It's also perfect for those executive meetings you might be having in your drawing room.
5. Have an Accent Wall to Amp Up Your Decor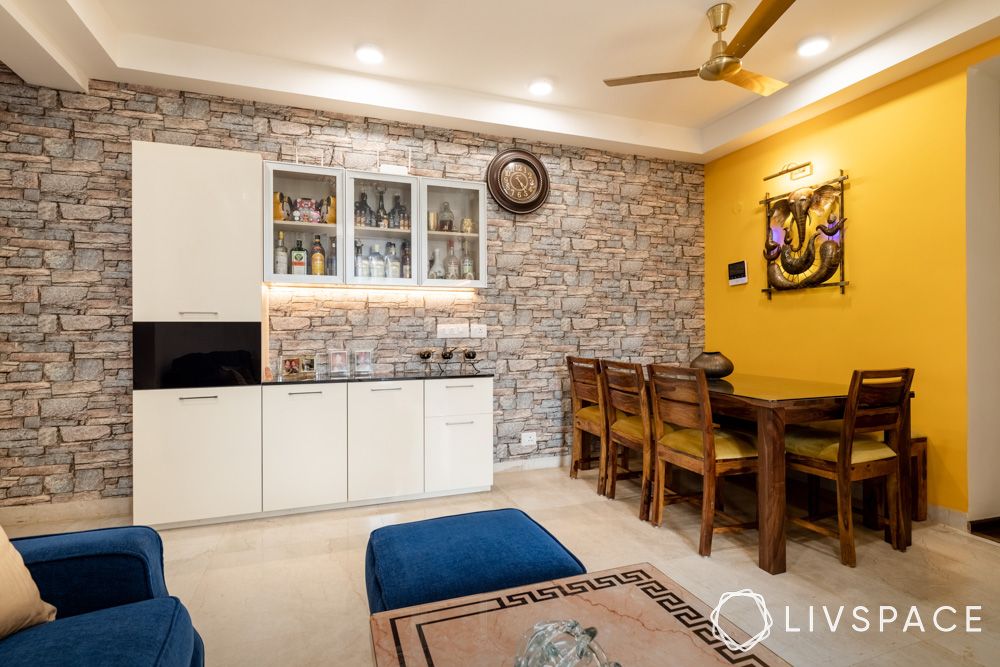 If you'd like to amp up your drawing room interior design, you might want to add a focal point to create visual interest and depth. This can be done easily by setting up an accent wall or a 3D feature wall. You can do the same by opting for wallpaper like the home above does, or you can go for fluted wall panels, 3D structures and textured wall designs. Either way, you'll have a wall that stands out beautifully to your guests.
Check out living room designs here:
How Can Livspace Help You?
We hope you found our ideas useful! If you want beautiful interiors for your home, then look no further. Book an online consultation with Livspace today. Have any thoughts or suggestions you'd like to share with us? We're all ears! Drop us a line at editor@livspace.com.