From the maximum city, Mumbai to the IT hub, Bengaluru, we have designed homes across the country. While every home is unique, houses in the same city usually share some common characteristics. For instance, you will find that most Mumbai flats have a space and storage-efficient design. This is due to the lack of space. Moving onto Chennai, the cultural capital of India, most homes here are rooted in Indian tradition. So, to give you a taste of Indian interior design, here are four traditional home interior designs of Chennai.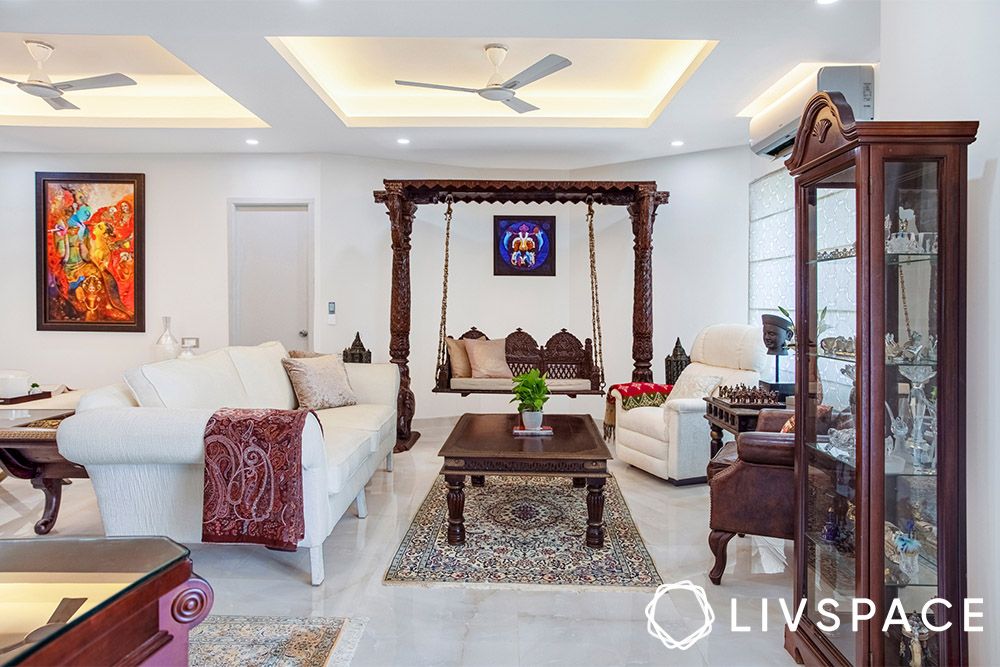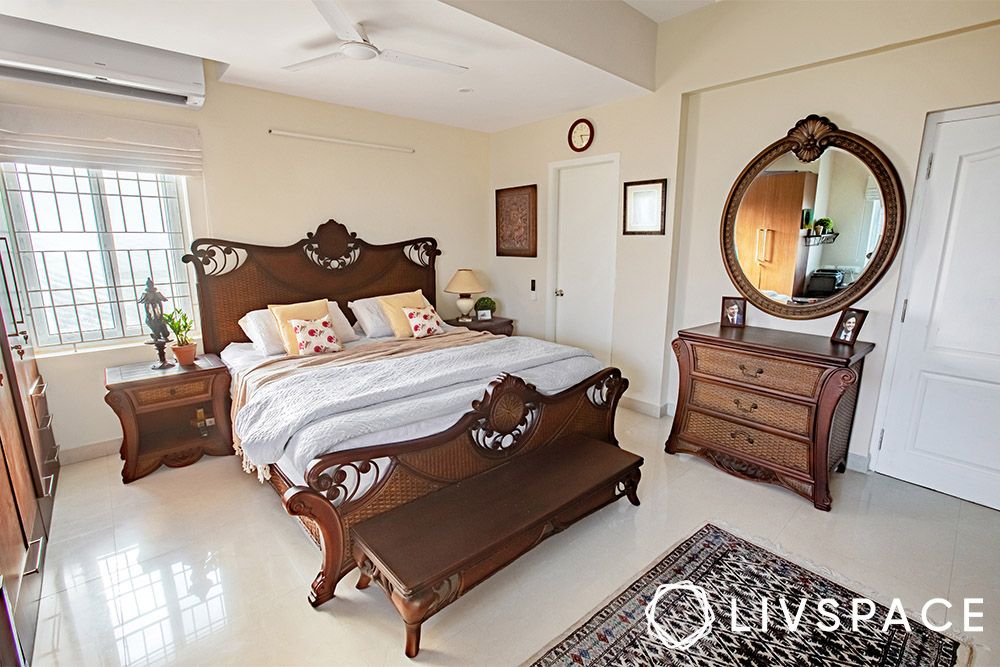 Size of home: A 4BHK spanning 2,250 sq. ft. approx.
Budget: ₹₹₹₹₹
Brief: A complete renovation that displays a mix of contemporary and classic Indian styles.
At first glance, you would think this charming Chennai home is quite old, due to the design style. While the home itself is not more than 15 years old, the homeowner Kamal Ram Mohan wanted to give it a makeover that preserved its vintage charm. The main design style that stands out is classic Indian. From desi jhoolas to furniture with intricate carvings, this is among our favourite traditional home interior designs of Chennai.
What we loved: A vast collection of timeless vintage furniture and traditional artefacts.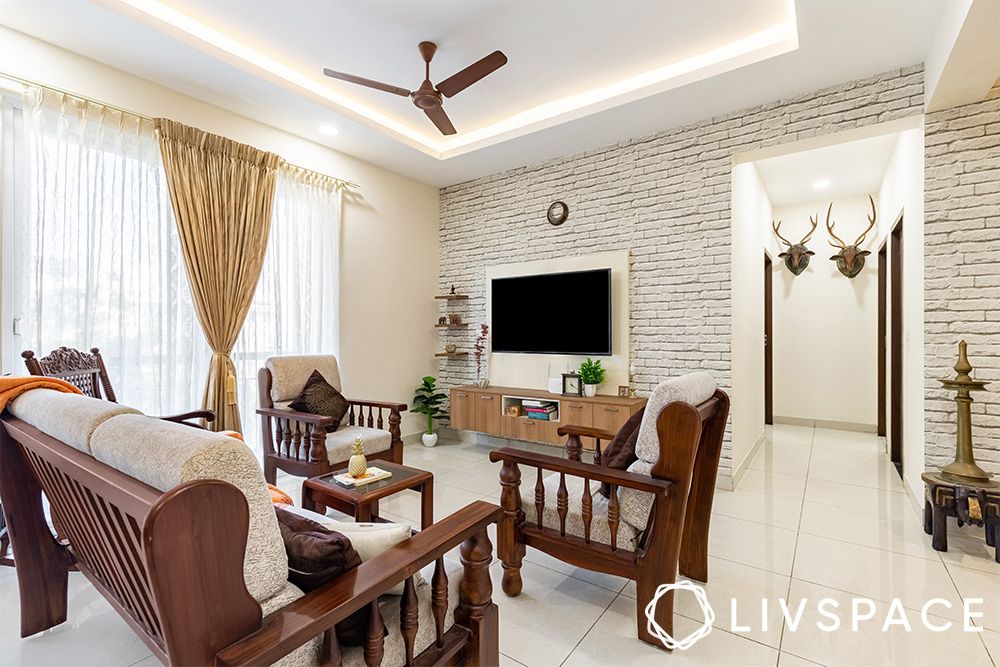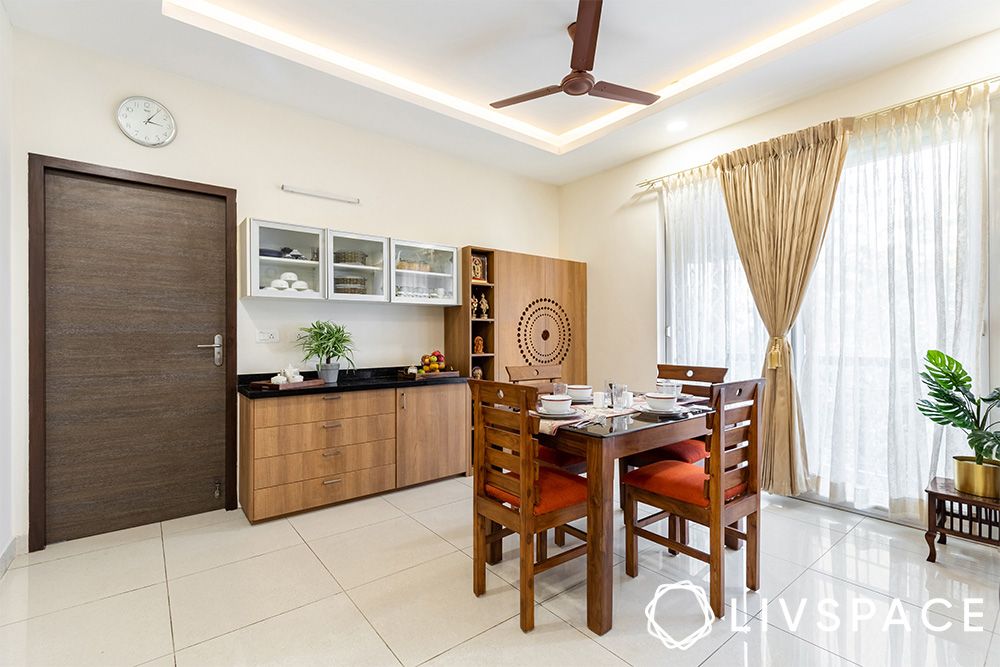 Size of home: A 3BHK spanning 1,300 sq. ft. approx.
Budget: ₹₹₹₹₹
Brief: To design a welcoming home with light and earthy colours that blends with the existing furniture.
Incorporating four-generations-old decor pieces with a modern home designs sounds like a big challenge! Hariharakrishnan, the owner of this 3BHK, wanted a traditional home design of Chennai that revolved around the vintage items passed down by his ancestors. At the same time, these pieces had to look natural in a modern flat. Additionally, this Chennai home makes use of wooden elements and light colours to create an elegant Indian interior design.
What we loved: The light colour scheme that supplements the wooden finishes.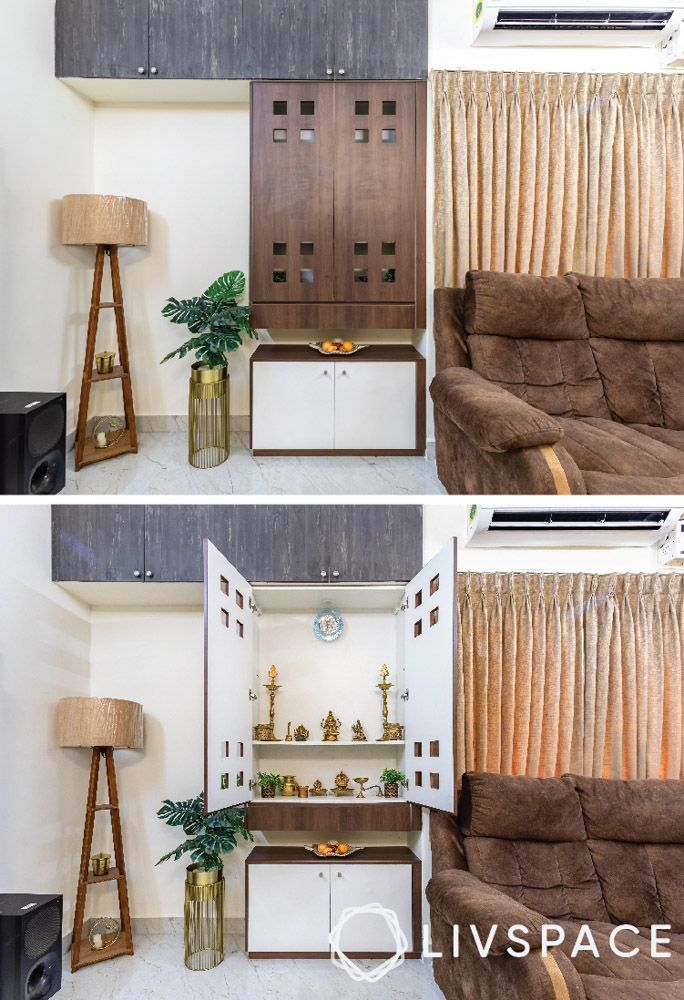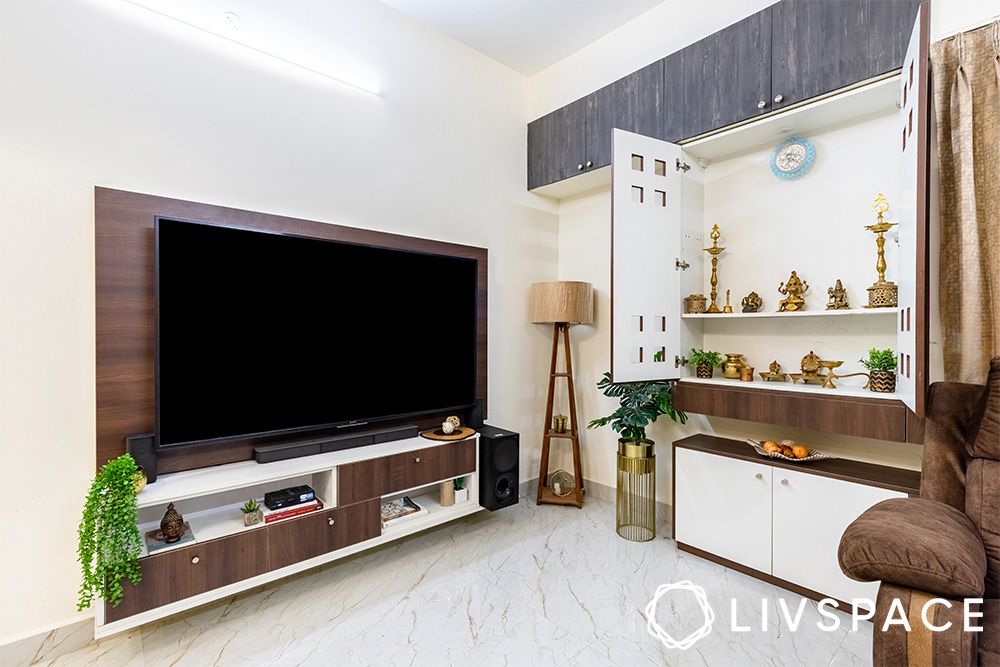 Size of home: A 3BHK
Budget: ₹₹₹₹₹
Brief: To add budget storage solutions to the living and dining areas that complement the rest of the interiors.
Budget is always a crucial criterion while doing up your home interiors. This 3BHK will give you traditional decor ideas for Chennai homes within a budget of only ₹2.5 lakh! The homeowner, Aruna, wanted storage solutions that were cost-effective and would match her existing home interiors. From a sleek TV unit to a wall-mounted pooja unit, we ensured everything fit her budget. We also followed a wooden theme to ensure she got among the best traditional home interior designs of Chennai.
What we loved: The interplay of brown and white colour palettes highlighted by gold accents in decor.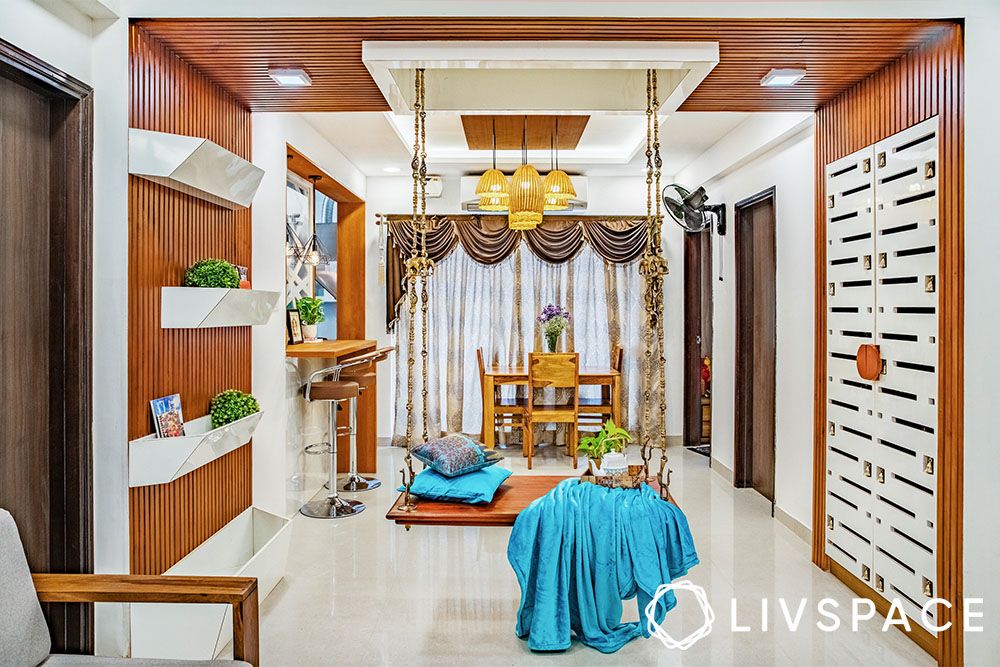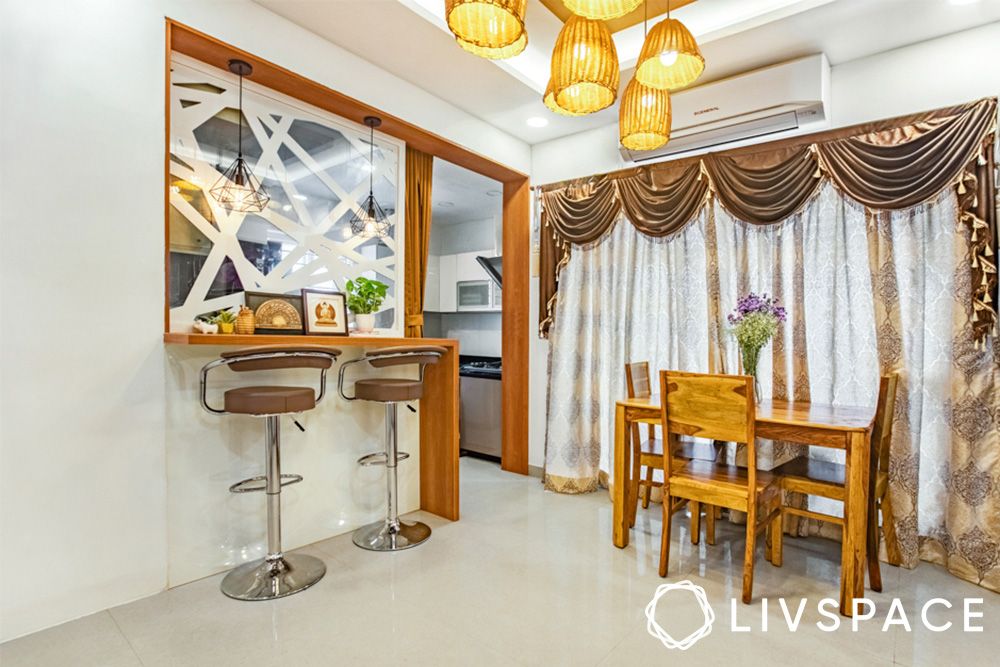 Size of home: A 3BHK spanning 1,420 sq. ft. approx.
Budget: ₹₹₹₹₹
Brief: A warm home with wooden and fuss-free interiors. Additionally, the interiors should be set against a background of stark, white walls.
Vivid colours, wooden finishes and intricate designs – these are some of the key factors that define the Indian interior design style. Mohan Kumar's Chennai home is a prime example of Indian interiors. Among the best Indian traditional home designs in Chennai, this 3BHK features wooden furniture, a jhoola and a vastu-approved pooja room. Additionally, a classic arch separates the dining room and pooja unit.
What we loved: Warm, wooden interiors and the extensive use of plants.
If you liked these traditional home interior designs of Chennai, also check out the top design trends of Hyderabad.
How Can Livspace Help You?
We hope you found our ideas useful! If you want your home to be just as beautiful, then look no further. Book an online consultation with Livspace today.
Wondering how our customers feel about working with Livspace? You can check out the Livspace reviews here! Additionally, if you have any thoughts and suggestions you'd like to share with us, we're all ears! Drop us a line at editor@livspace.com.