This small modular kitchen is a BIG package!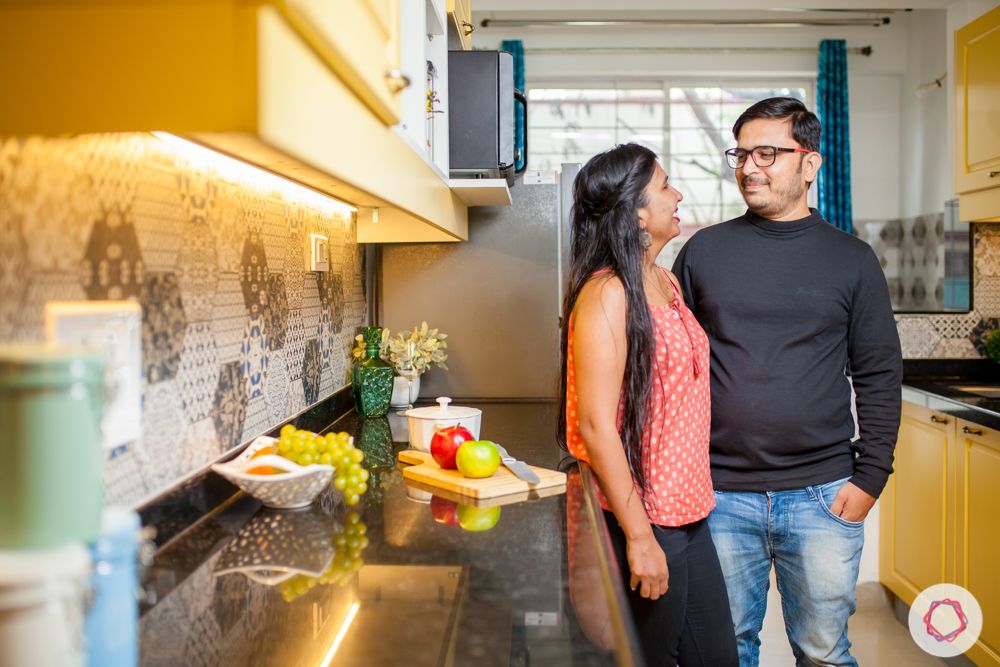 ---
Who livs here: Sneha Gadawe with her husband Bhagwat Wankhade
Location: Sharda Colony, Pune
Size of kitchen: 100 sq ft approx.
Design team: Interior Designer Parul Nilakhe and Project Manager Vishal D
Livspace service: Modular kitchen design
Budget: ₹₹₹₹₹
---
In the words of Sneha Gadawe, our client, "Since we are both passionate cooks, we wanted a space that would lift up our spirits and make us want to spend more time here." And we couldn't agree more. When a space feels welcoming, you automatically feel like doing more in there. Working in IT firms, Sneha and Bhagwat are a young, energetic couple whose kitchen resonates with their personality. For Sneha who loves painting, a classic mustard palette like this is a visual treat.
When Parul Nilakhe, their designer met with the couple to understand their requirement, she knew that she had a tough task ahead. She had to make this kitchen look classy while opening it up to maximise the utilisation of space. Why, you ask? Well, they are a social couple who love entertaining friends and family, and when they are over, this becomes the hot-spot at home!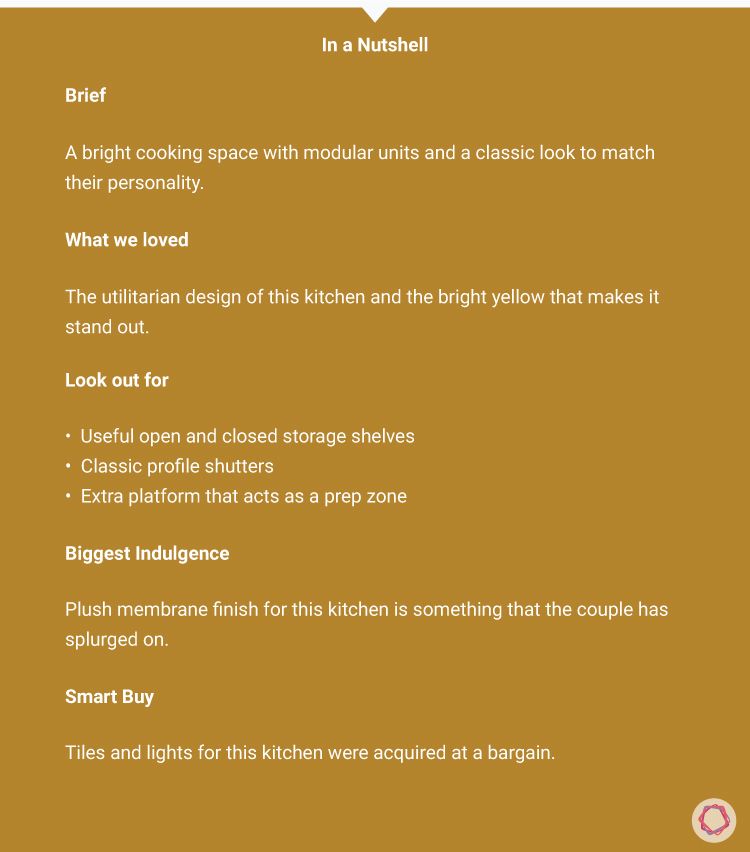 A spacious layout for this small modular kitchen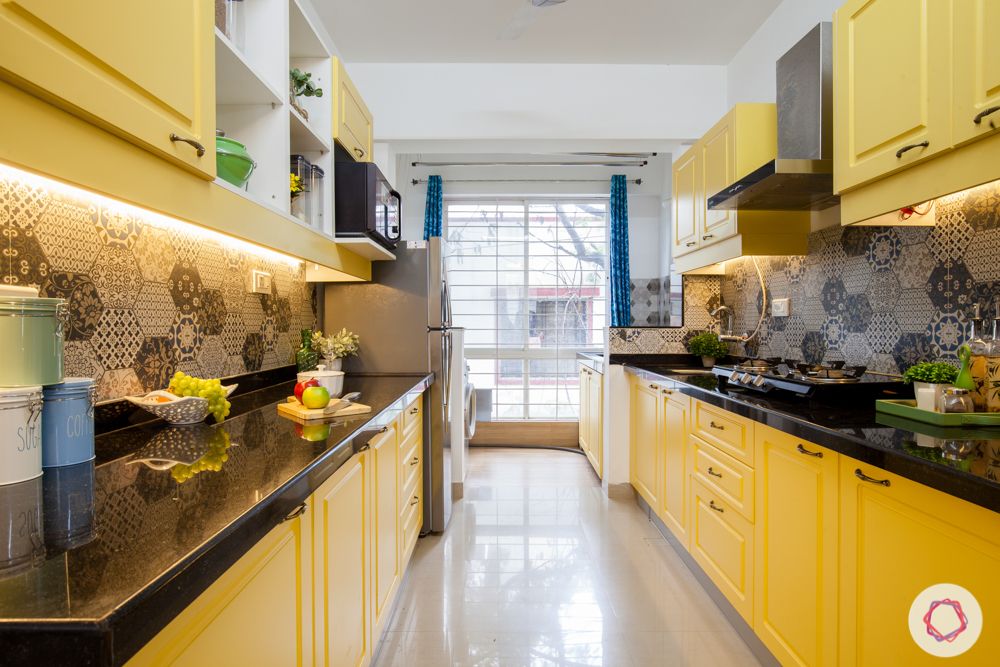 Initially, this kitchen had a sort of cramped layout which made it look small. But when Parul stepped in, her first task was to open up this space. She ended up adding an extra utility area here which gives visual length to this kitchen and makes it more functional as well. She also created just the right space for placing the fridge so that it does not hinder movement. A tall unit was also avoided by giving a cavity for placing the microwave. So, while one might think that this kitchen is small, there's actually quite a lot going on in there!
---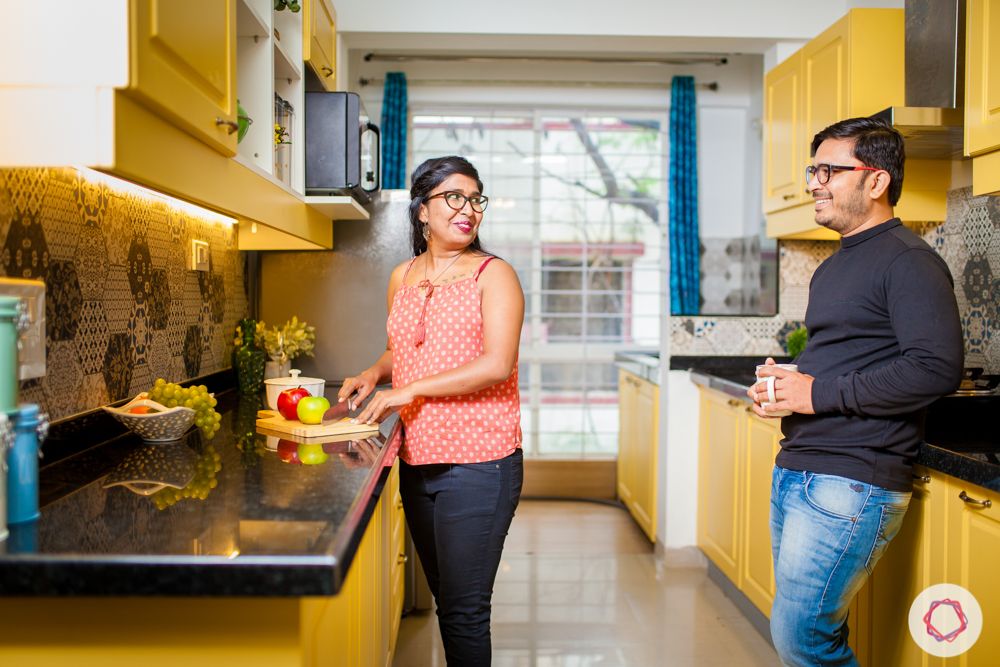 "We wanted to give our kitchen a completely new look and Livspace looked like the right place to go to. A classic yet modern feel is what we were looking for in our kitchen. We enjoy cooking and this space had to look bright and welcoming. Parul, our designer has been really instrumental in making this kitchen exactly how we wanted it to. She gave us excellent ideas and we love it when our friends and family come over and complement our kitchen!"

– Sneha Gadawe, Livspace Homeowner
---

Small modular kitchen comes with ample storage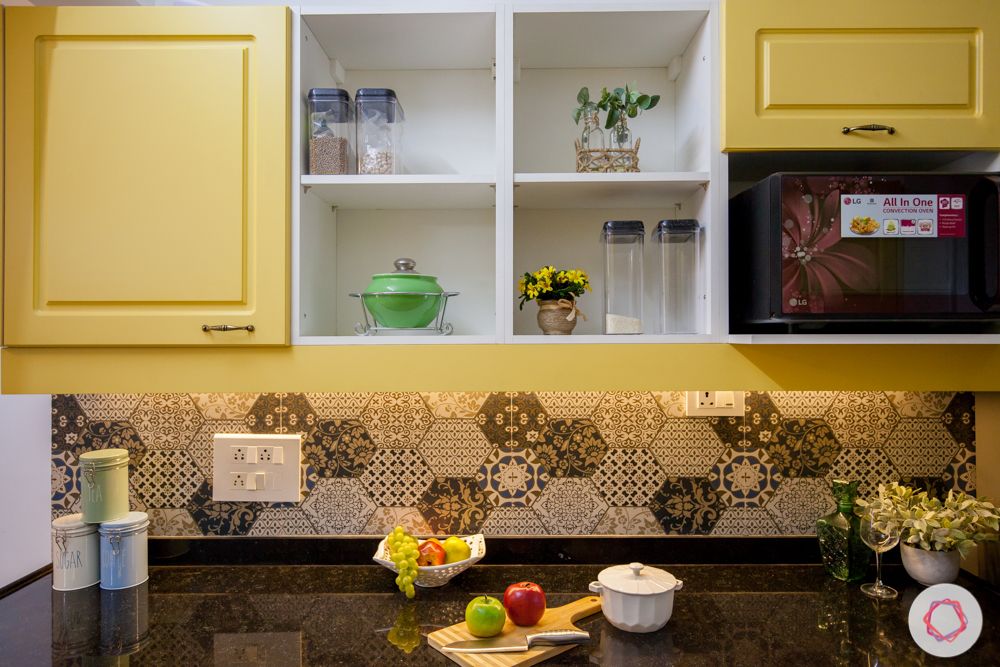 Sneha and Bhagwat had one huge concern and that was storage. They have a lot of stuff for their kitchen and they wanted to store it all inside. During our conversation, Sneha expressed that she and her husband do not like things lying around on the countertop. So Parul decided to give them a lot of cabinets and shelves where they could keep everything organised.
Lovely highlights dictate this small modular kitchen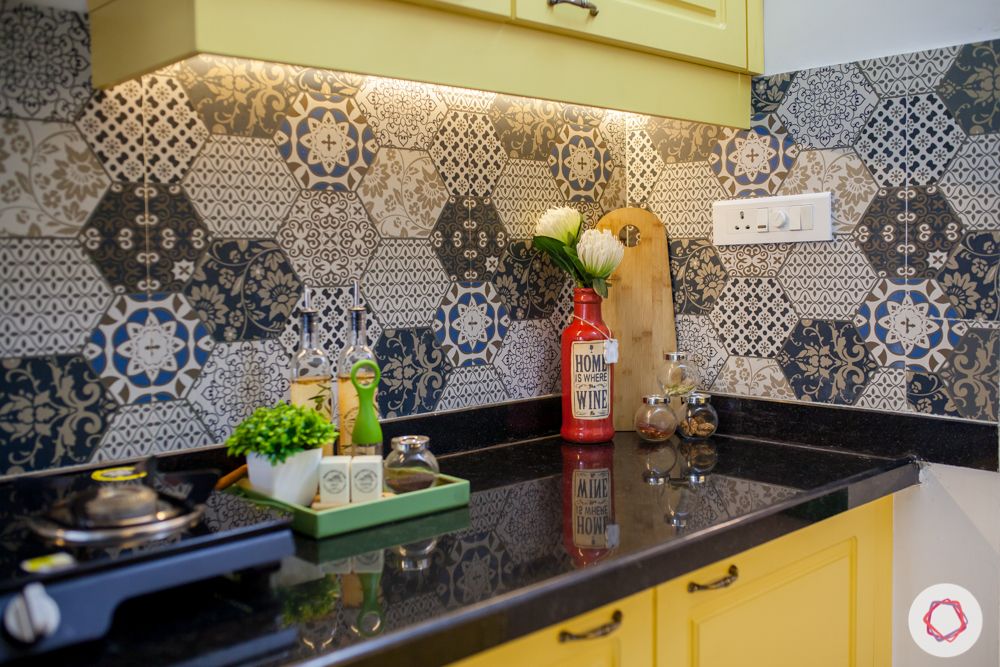 As they say, it is all in the little details. And this kitchen has so many of them! Starting from the Persian-style tiles on the backsplash to the classic metal handles on the cabinets, everything is carefully curated here. Parul has also given them a jet black granite countertop which looks amazing with the yellow colour theme of this kitchen. Do not miss the profile lights under the cabinets that make cooking a breeze!
---
"It is always a pleasure to work for clients who know what they want. Sneha and Bhagwat were convinced about getting yellow for their kitchen and my task was to make it look as classy as possible. They accepted my ideas with an open mind and I was given a lot of freedom to work on the design. As a designer it is a great experience for me to have designed this kitchen for them!"

-Parul Nilakhe, Interior Designer, Livspace
---
Do you want to see another amazing home we designed for Punekars? Check this out: Budgeted & Cheerful 2BHK at Kunal Aspiree.
Send in your comments and suggestions.