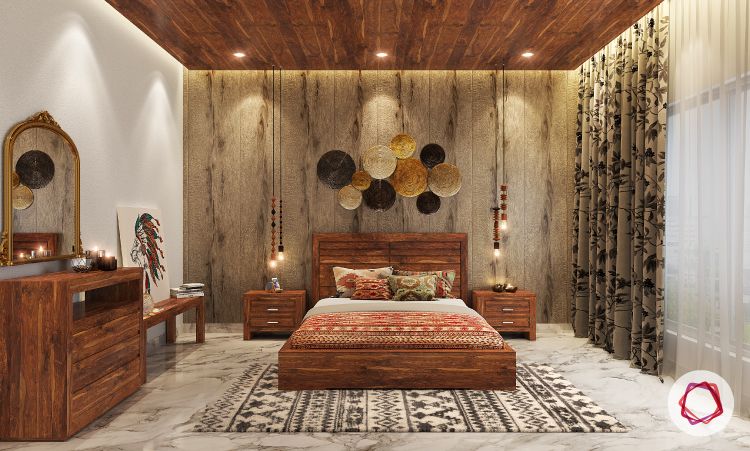 Replete with rich wood finishes and vivid hues, the interior design for this Sobha Marvella home is as welcoming as ever. The overall aesthetics hits a sweet spot by mixing old and new pieces, so it feels homely and grand at the same time.
The furniture adds unmistakable flair to every room while catering to practical needs. But what truly sets the interiors apart are the carefully curated accent pieces — rattan pendant lights, printed rugs and pillows, artwork and more — that lend to this home's ethnic spirit.
Accent walls set the mood at every turn while soft, mood lights further highlight their beauty.
A grand welcome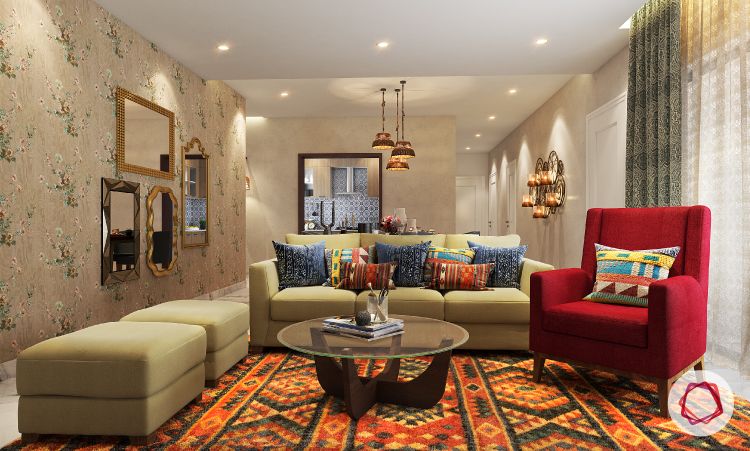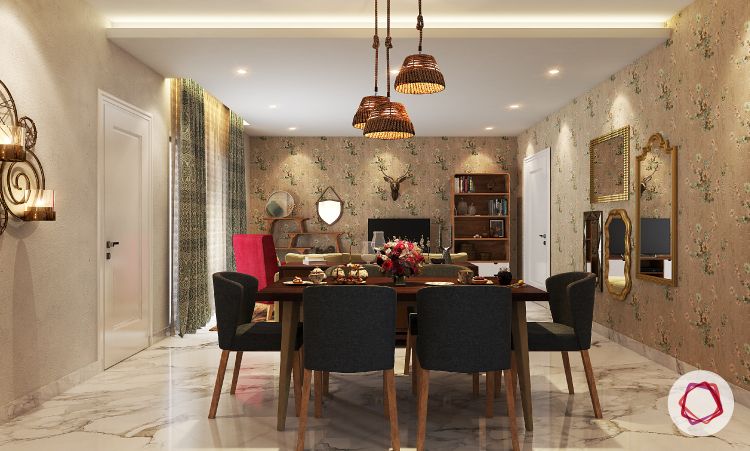 A host of comfortable seating options present themselves as one steps into the open living-cum-dining layout. To demarcate spaces, the tiger orange aztec-style rug grounds the living area while offsetting the pretty throw pillows on the sofa. A magenta accent chair introduces a fun pop to the vignette.
Over the adjacent dining area, rattan pendant lights throw a filtered spotlight thus giving it an intimate feel. The crisp black mid century dining chairs make a bold statement and offer utmost comfort for long mealtimes.
To give the large space a calm feel, a floral motif wallpaper is chosen. It acts as the perfect canvas for the gilded mirrors which introduce a hint of glam and bounce plenty of light around.
Divine corner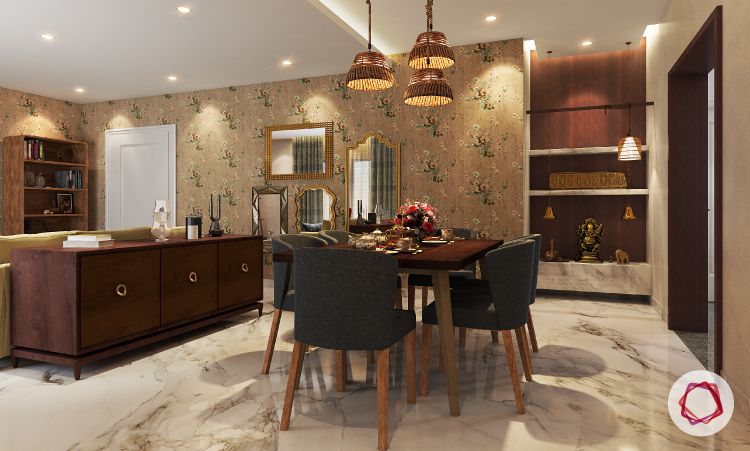 Cleverly designed keeping space constraints in mind, this pooja corner boasts stylish earthy tones and sturdy granite shelves for keeping pooja essentials. Focus lights cast a soft glow on the idol, creating an aura for quiet contemplation.
Down-to-earth sleepy spaces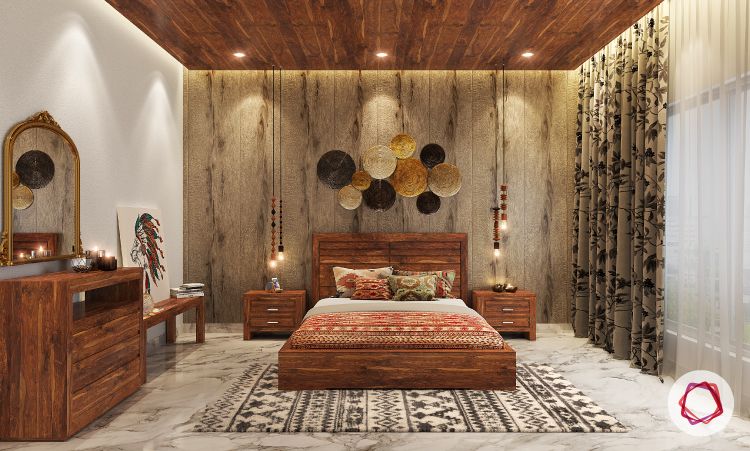 The bedrooms in this Sobha Marvella apartment are all about peace and warmth.
Natural wood grains of the furniture and false ceiling take center stage and eccentric add-ons like the earthen decorative plates over the bed and slim pendant lights bring in tribal charm. To give the bedroom a cohesive look, the printed rug and drapes are thoughtfully picked to match the textured accent wall.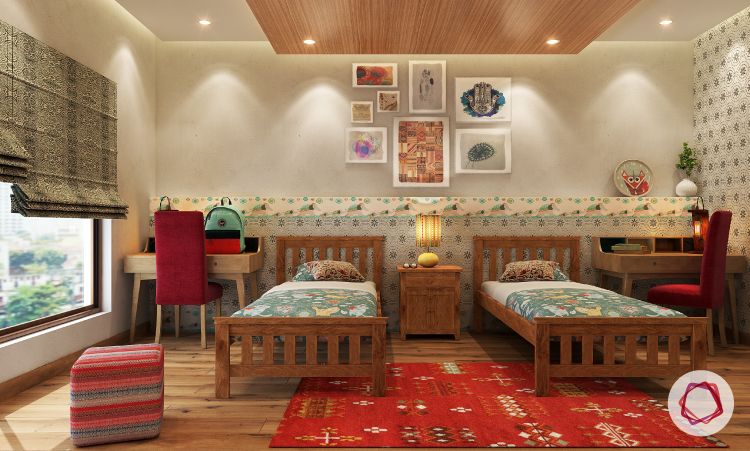 This fun-loving kids' room, designed to last well into the teen years, has a perfect balance of quirky elements and pops of color. Identical study tables and twin beds ensure that each child has his or her own space to relax or work at. A delightful collection of art prints complete the space.
A fun & functional kitchen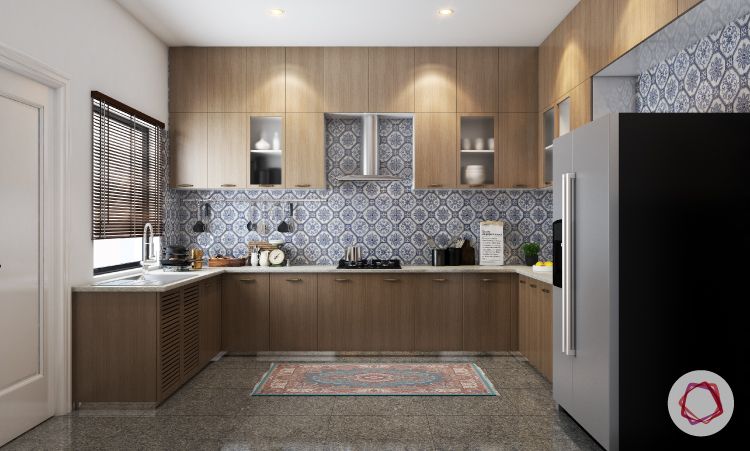 Ethnic touches make their way to the modular kitchen as well. The backsplash styled in cool blues has a mesmerizing effect and balances itself perfectly with the warm wood cabinets. With double level cabinetry and modern day appliances like built-in hob and chimney, the kitchen is every bit practical as it is pretty.