Wall colour paints serve various purposes in a home; they help maintain the strength of the walls, brighten up the space and act as style statements. Designers also reveal that simple wall painting ideas can separate zones within the same space in your home. This is particularly relevant for small rooms and spaces.
Our experts at Livspace bring you wall painting ideas for an abridged and functional makeover for your home, one wall at a time.
#1: Follow the Trend for the Best Wall Painting Ideas
A wall colour paint as futuristic and bold as Very Peri deserves your undivided attention given that it is the Pantone colour of the year 2022.
Such deep and vibrant shades as wall paint design ideas need no further ornamentation; this home painting idea delivers a statement wall by virtue of its brilliance. It's best to leave the painted accent walls bare and let the richness of the shade speak for itself. This is one of the go-to wall painting ideas to use in all kinds of spaces, homes, restaurants or offices.
#2: Add Some Textures to Mix Things Up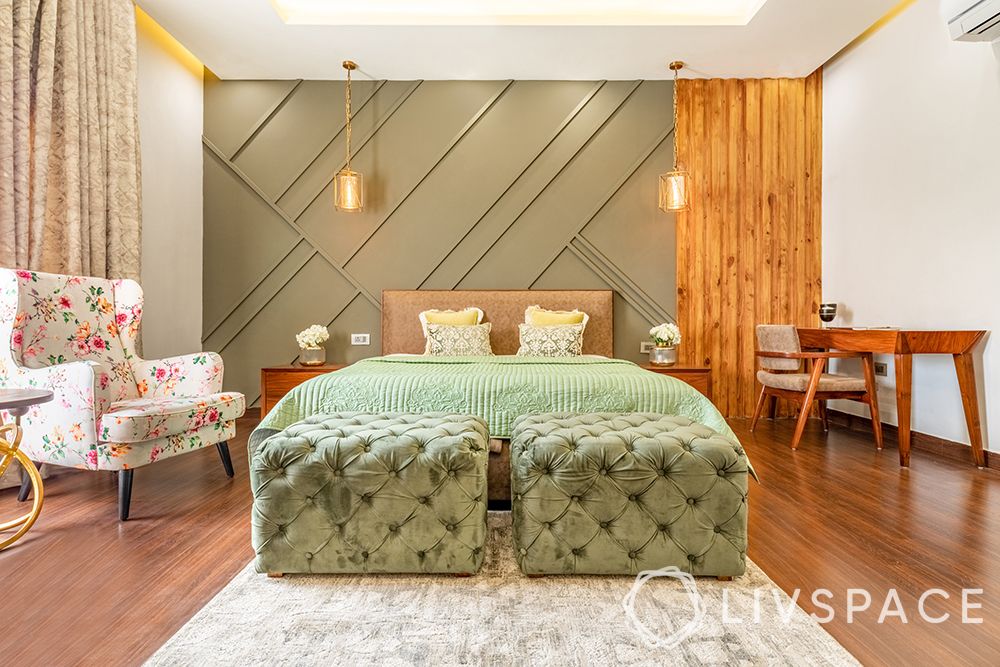 When a room looks flat or lacks character, plain wall colour paint may not do the trick. In such cases, you need wall paint design ideas involving texturing or panelling.
Wall painting ideas that involve using different textures add a distinct personality to the space, which becomes the focal point of a room. Try house painting tips to make sure you're on the right track.
#3: You Can't Go Wrong With Pop Colours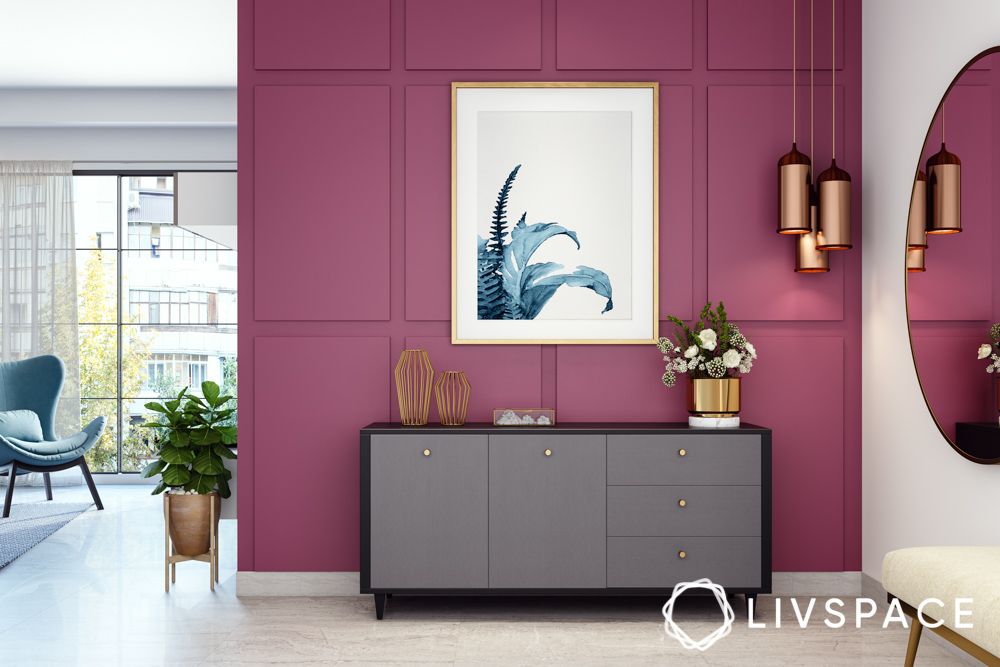 Space crunch is quite a common challenge in urban homes, and it has a classic solution: multifunctional rooms. This solution is explicitly supported by one of our home painting ideas. A room with multiple functions works best when you have designated areas for each function such as sleeping, seating, dining and reading.
Our idea is to use a wall colour paint to create and distinguish zones adjacent to each other for different functions. In this Livspace home, the foyer has been separated from the living room using magenta wall colour paint and textured panelling. For more creative wall painting ideas, read on.
Also Read: 5+ Vibrant Wall Paint Colours for All Your Moods
#4: See Muted Wall Colour Paints for Picture Galleries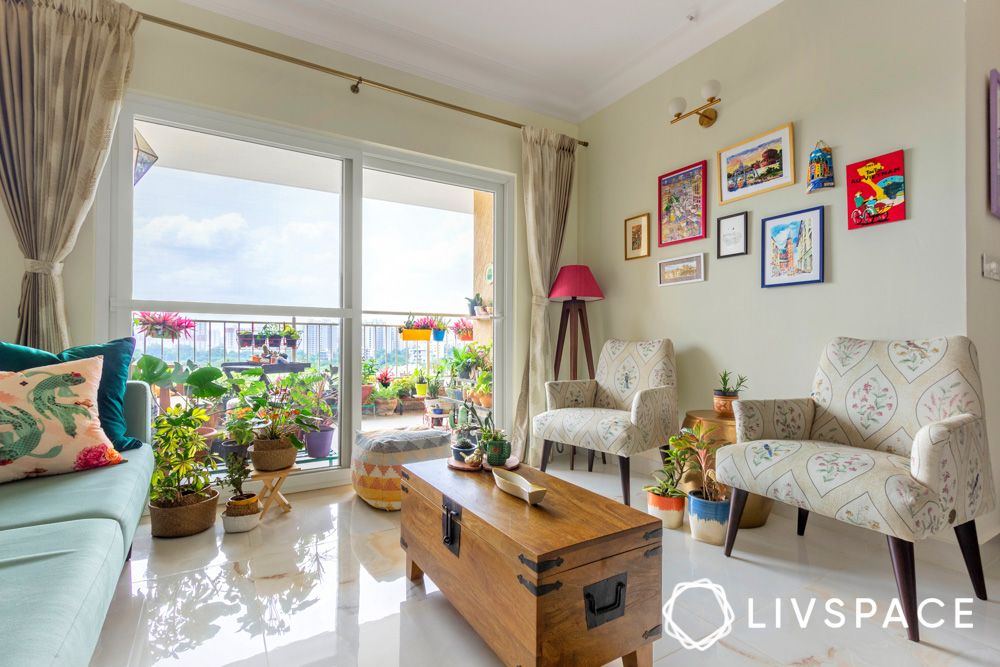 What are the best wall paint design ideas for gallery walls? You can experiment with deeper shades like crimson or teal when the space is limited for your wall painting ideas. For wider gallery walls, stick with pastels or muted shades.
The choice of wall colour for your home painting ideas is also subject to the types of photographs being displayed and the frames used. For example, if the photographs are monochromatic, a lighter shade of wall paint must be used.
If you've brighter photo frames (like the one shown in the picture), neutral backgrounds do better than brighter ones. In any case, go to town with creative wall painting ideas and don't forget to work with design continuity for the best results!
#5: Work With Peppy Accents as Wall Painting Ideas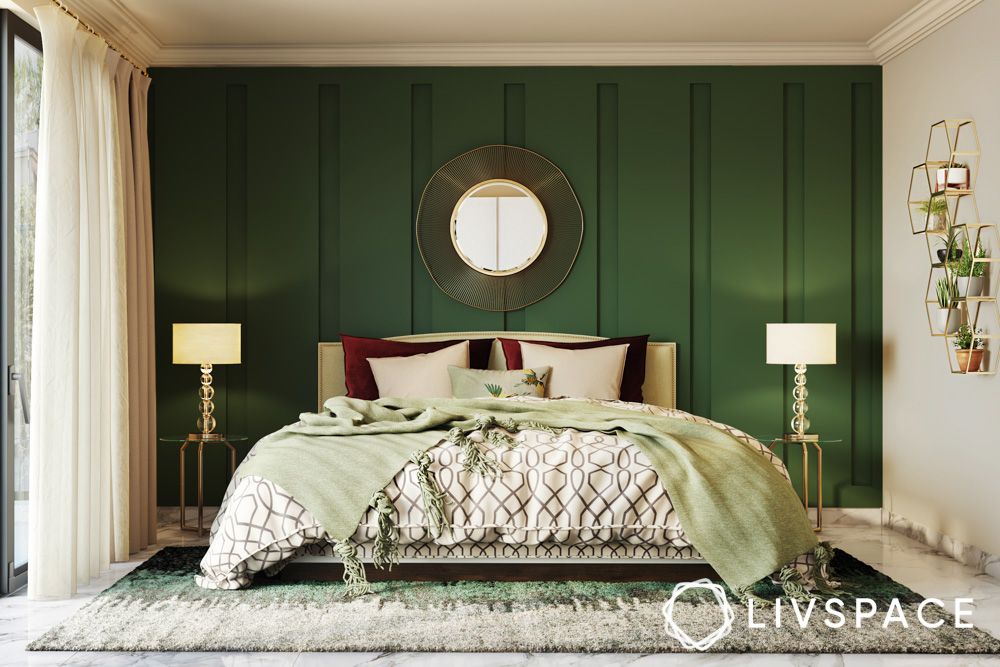 While white is a great colour for walls, it might tend to get a bit monotonous, even in compact spaces. A wall painting idea with tangerine or yellow would give the room an instant facelift in such situations.
On the other hand, cool colours like greens and blues make for soothing spaces.
Happy home painting ideas infuse energy into a space that changes the entire vibe of the room. The highlighted wall can be used as a backdrop for open ledges in contrasting colours, photo frames, bookshelves or console tables.
#6: Go for Prints & Patterns Wall Painting Ideas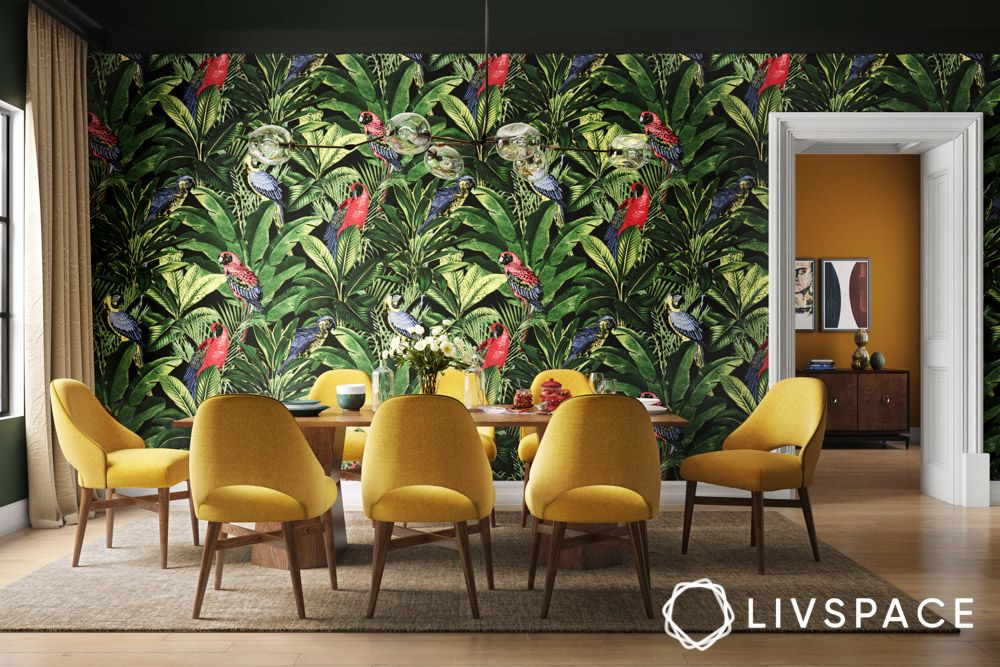 Colours have a profound effect on our mood, and thus it is important that you pick suitable wall painting ideas. Flaming red stokes hunger, while green soothes the eyes. A happy yellow or orange peps up our mood, so these wall paint design ideas are a safe bet as sure-fire mood-makers.
Designers reveal blues and greens work well for home painting ideas as they have a calming effect. And this particular tropical wallpaper above is a great pick for a dining area that is also a chill zone with comfy chairs and a distinct character.
#7. Have Some Fun With Floral Doodle Wall Paint Design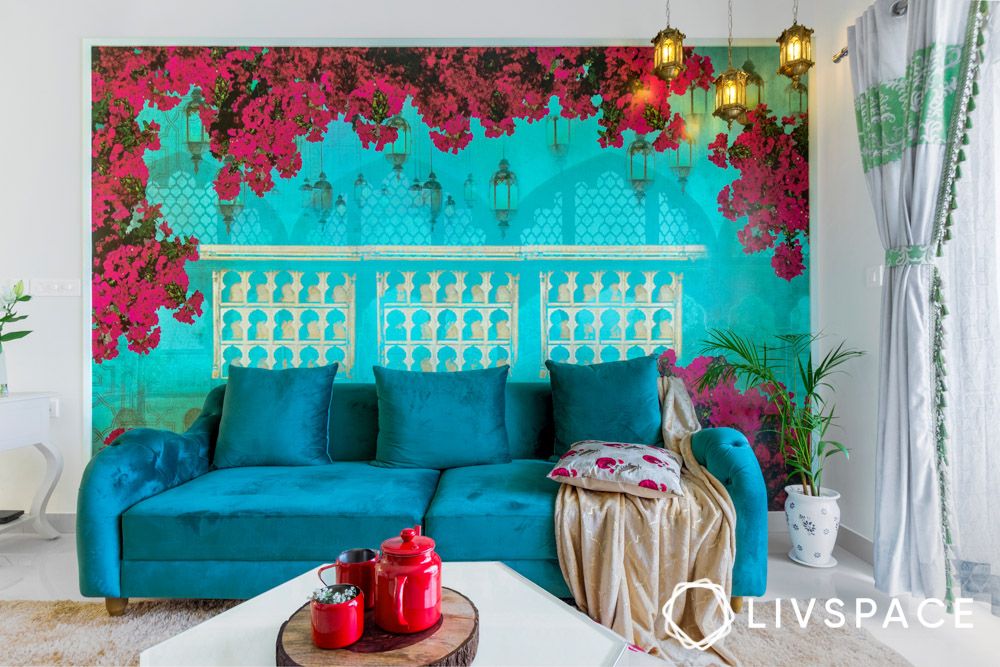 If painting murals is too hard a task and sticking to just wall paint design appears boring, spice things up with a detailed wallpaper that adds character to your living room.
When you're using a bright and bold wallpaper for wall painting ideas at home, make sure that the other three walls are neutral or white to not overwhelm the look.
#8. Try Wall Stencilling for a Traditional Vibe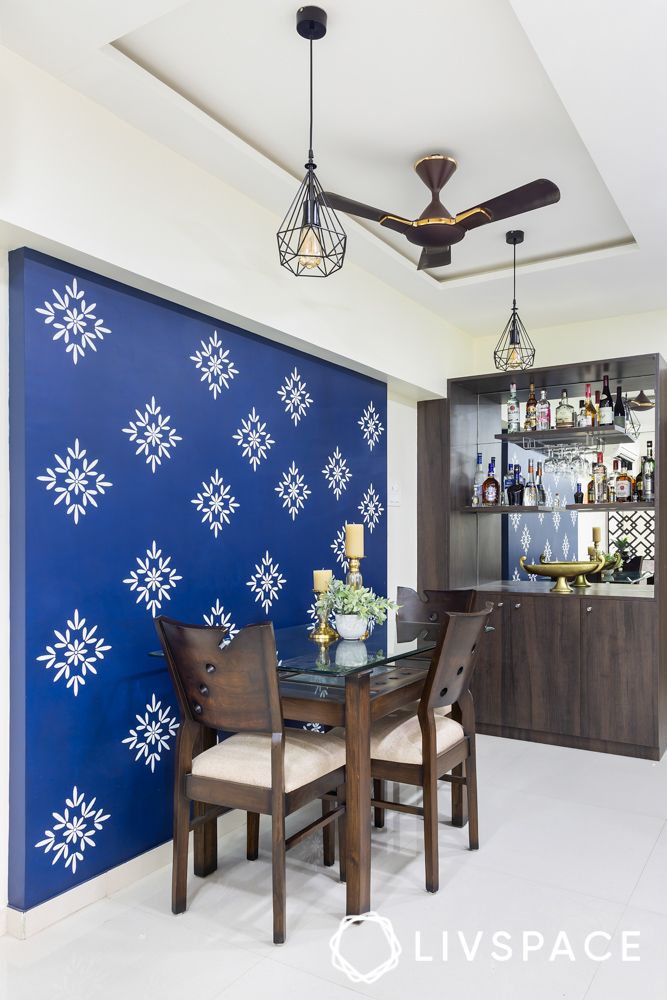 If you want a customised wall painting design for home and yet, don't want to venture out of your comfort zone, try wall stencilling for a beautiful look.
You've a range of wall stencilling designs to choose from – modern, Moroccan, Bohemian, oriental, classic European wall painting design and more!
#9. Opt for Painted Wooden Planks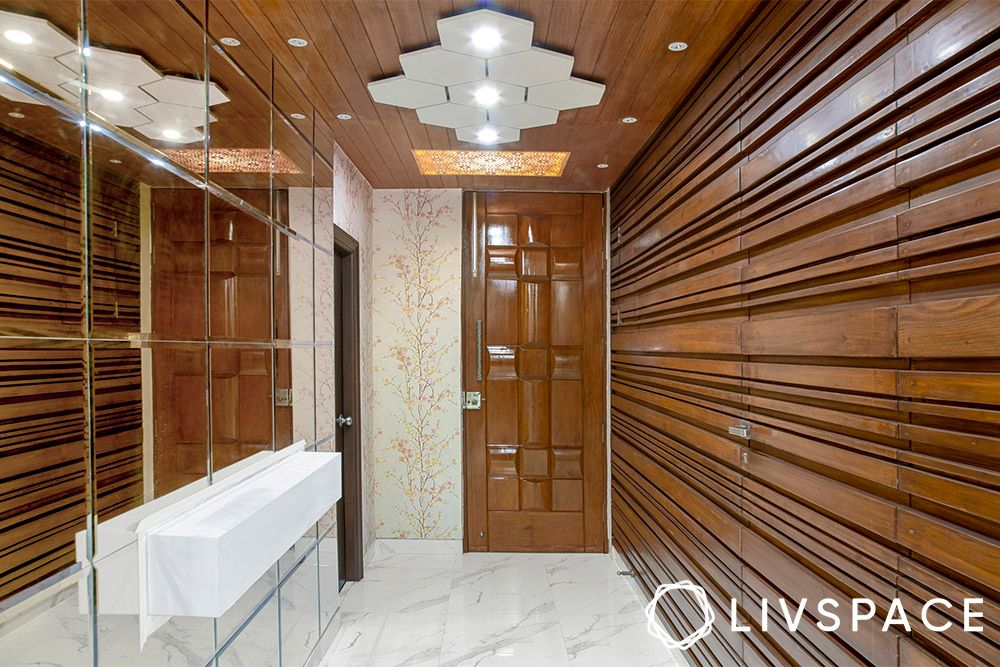 Now when it comes to painting wooden planks, you can get creative with colours, styles and designs! If you want to keep it casual and rustic, try painting them in different colours and give it a faded effect.
However, we've decided to keep it classic for this Liv homeowner. It adds a certain sense of sophistication and charm to the foyer, which pairs perfectly with the marble floors.
Also Read: 5+ Wall Painting Techniques to Try
#10. Heard About Colour Wash?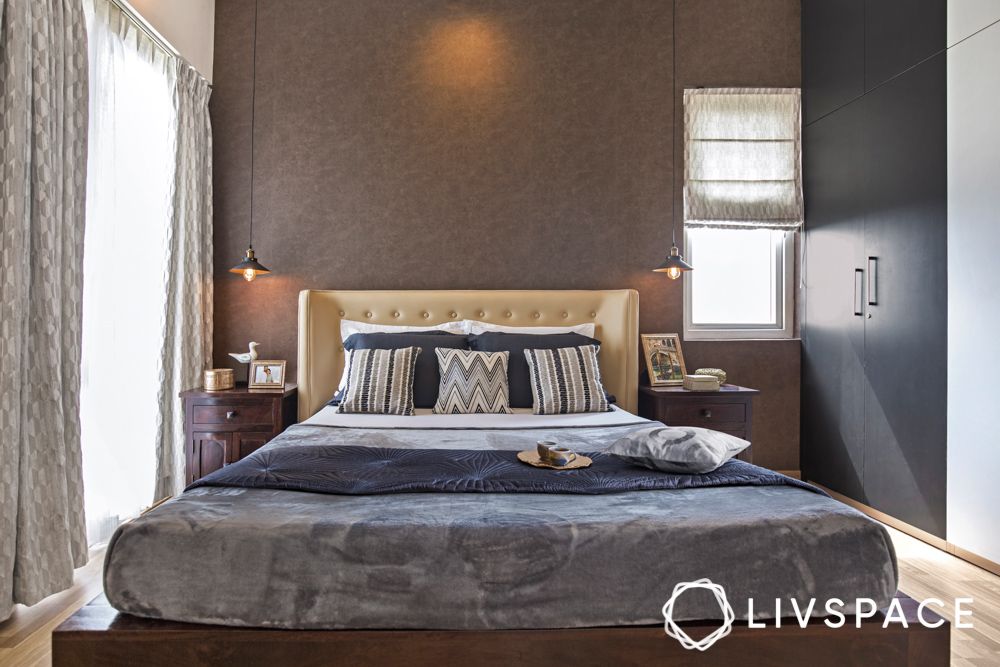 Now, let's first start with understand what colour washing is. It's a faux wall painting design technique that can help add texture, character and warmth to your bare walls. How?
Colour wash imitates the look and feel of a lime washed wall to give it an organically aged/old appearance. It almost looks like watercolour, and it's one of the most creative wall painting design ideas that doesn't break your bank.
What's more is it takes you back to the romance of the old world and emphasises the trend of homely and warm finishes instead of cold, perfect walls. We're impressed! What about you?
#11: Nothing Beats Themed Wall Paint Design Ideas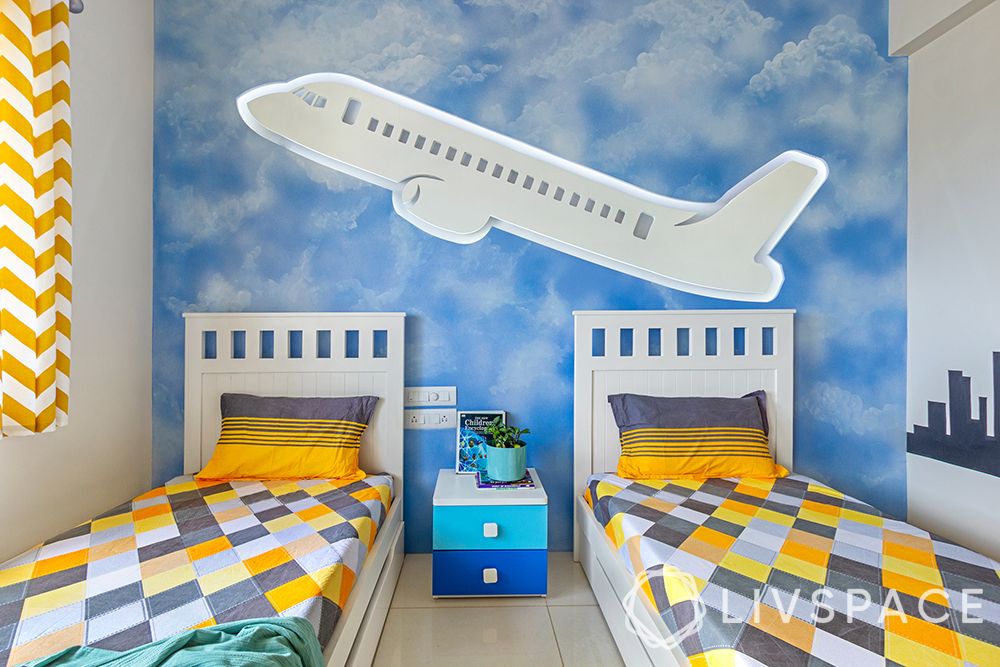 Themes are usually used to decorate either kids' rooms or hobby rooms. In such scenarios, wall paint design ideas can help you state the purpose of a room without much ado.
The aeroplane on the wall is a clear indication that the room belongs to someone who loves planes. Such fun home painting ideas can personalise your bedrooms.
The above wall painting ideas can be used to designate specific areas in a house without creating clutter. Also, keep in mind that paint colours must complement the overall look and feel of the room and the furniture in it.
In fact, if you want to avoid overdoing your walls, you can add themed motifs to wardrobes like this couple from Nizampet, Hyderabad did! They have a cute Google motif on their wardrobe, which is a call back to how they met for the first time. Isn't that sweet?
#12: Go Crazy With Custom Creative Wall Painting Design Ideas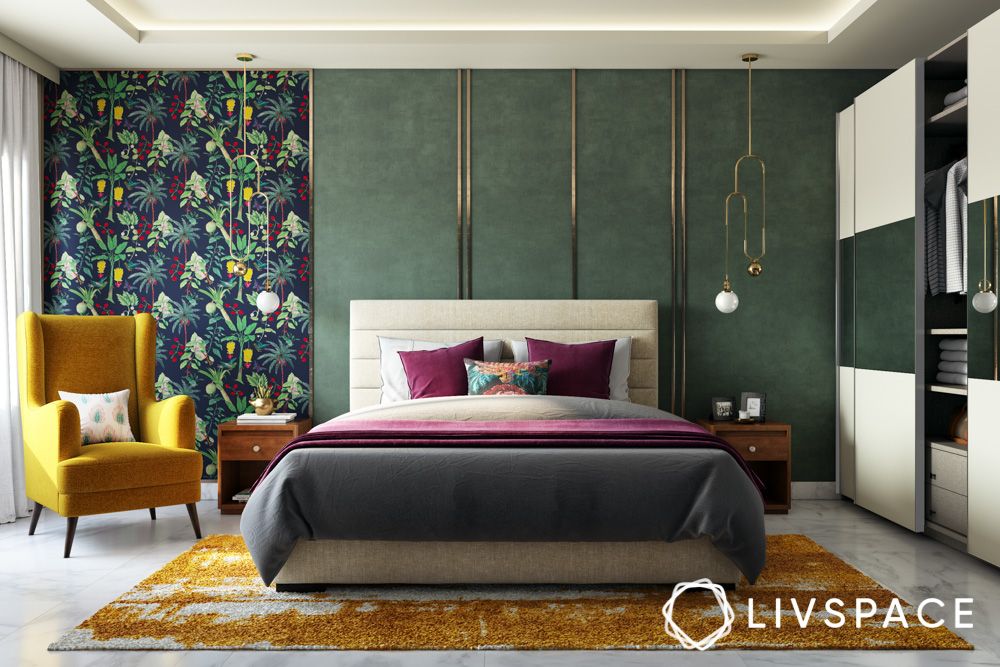 If you want to take your walls from simple to sophisticated, try mixing up patterns, prints and styles. The dark green plays perfectly with the metal inlay, adding a warm golden tint and yet does not get monotonous or boring – all thanks to the floral doodle right next to it.
It only occupies a fraction of the wall, or else it could have been a little too much for the eyes. But see how everything comes together so seamlessly and gives a luxe vibe? That's because the most creative wall painting ideas are custom-made for special people! *Wink, wink*
If you enjoyed reading this post on wall painting ideas, check out a few tips for House Painting Designs and Colours.
How Can Livspace Help You?
We hope you found our ideas useful! If you want beautiful interiors for your home, then look no further. Book an online consultation with Livspace today. Send in your comments and suggestions to editor@livspace.com