Our Indian Materials 101 series takes you back to the basics and tells you everything you need to know about building materials used in Indian homes. There's a lot more to consider than just colour when it comes to choosing paints for your home. Moreover, you can create a wide range of effects and protect your walls with the help of different types of paints. This starter kit is the perfect way to dip your toes into all the various options.
Types of Wall Paints for Home Interiors and Exteriors
#1: Oil Paint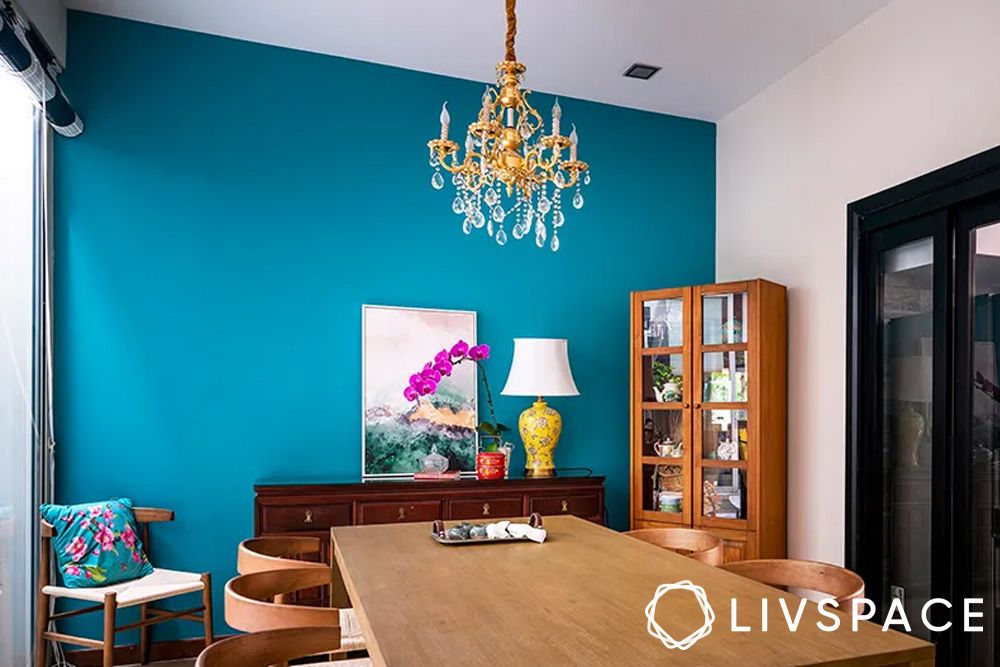 Oil paint is basically a mixture of pigment particles and an oil, usually linseed. You can apply this type of paint as a primer or an undercoat or a finish coat. This type of house paint is ideal if you are looking for a smooth and rich finish, durability and gloss. Additionally, it is also water-resistant, and easy to clean and apply. However, it takes more than 24 hours to dry.
Suitable for: Doors, wooden and metal surfaces, walls, windows
Also Read: Best Paint Colours For Home: Colour Combination For Home Interiors
#2: Cement Paint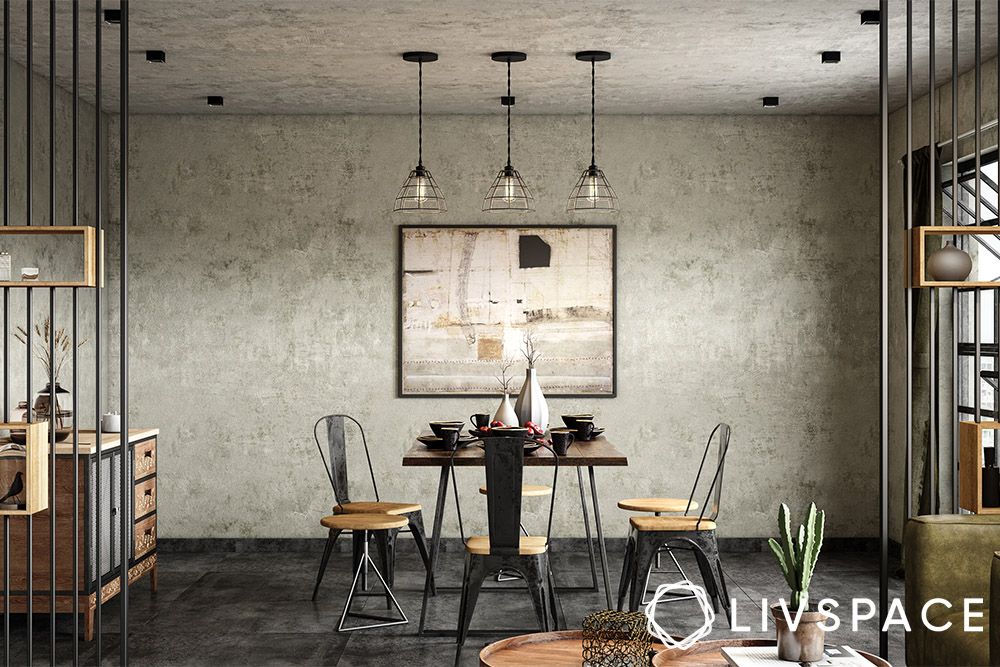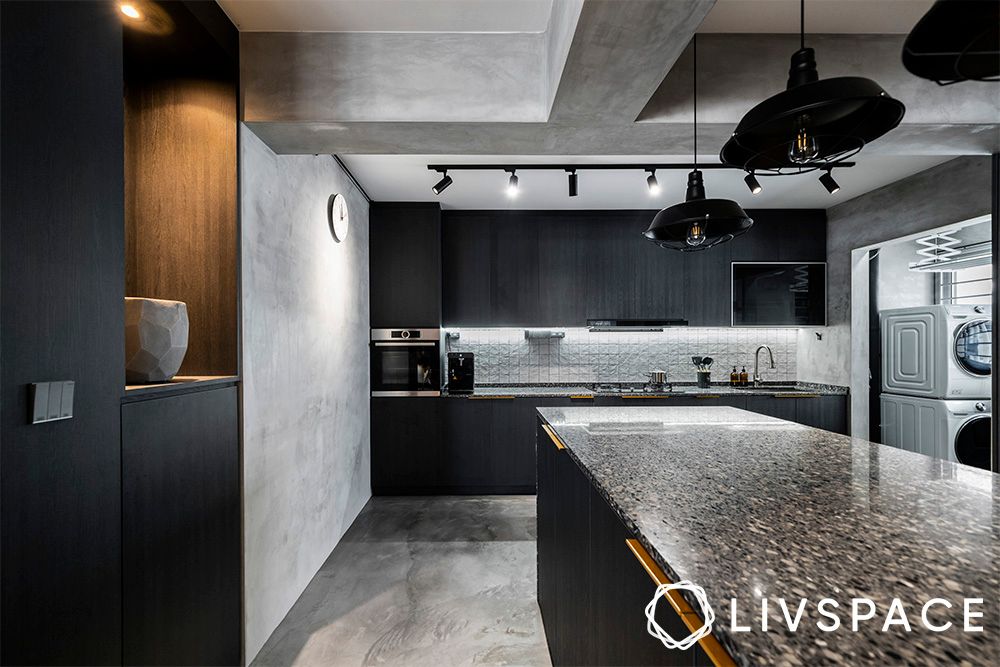 It ranks among the relatively expensive types of paints for homes. Cement paint is a durable paint that is best for exposed surfaces that face fluctuating weather conditions and heavy use.

Suitable for: Cement surfaces and home interiors and exteriors that have a rough finish or are exposed to extreme weather conditions
#3: Distemper Paint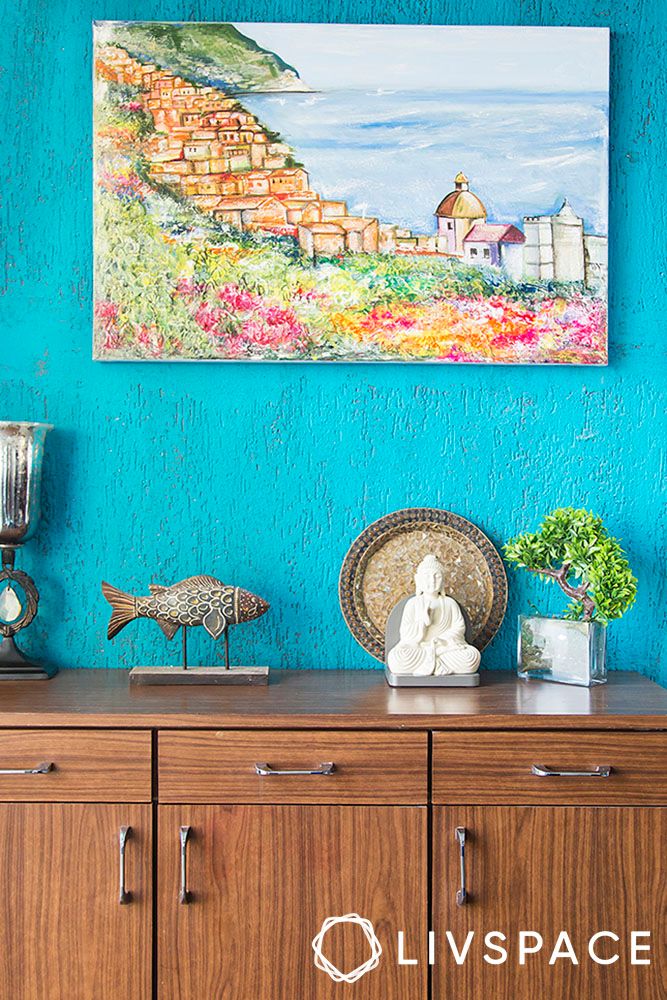 Distemper is made from a mixture of lime, water, chalk, glue and pigment. It is not as good as cement paint, but still better than a whitewash. It is a relatively inexpensive type of paint and is ideal for areas where durability and longevity are not important considerations.
Suitable for: Mostly interiors but can be used in a few exterior areas
#4: Emulsion Paint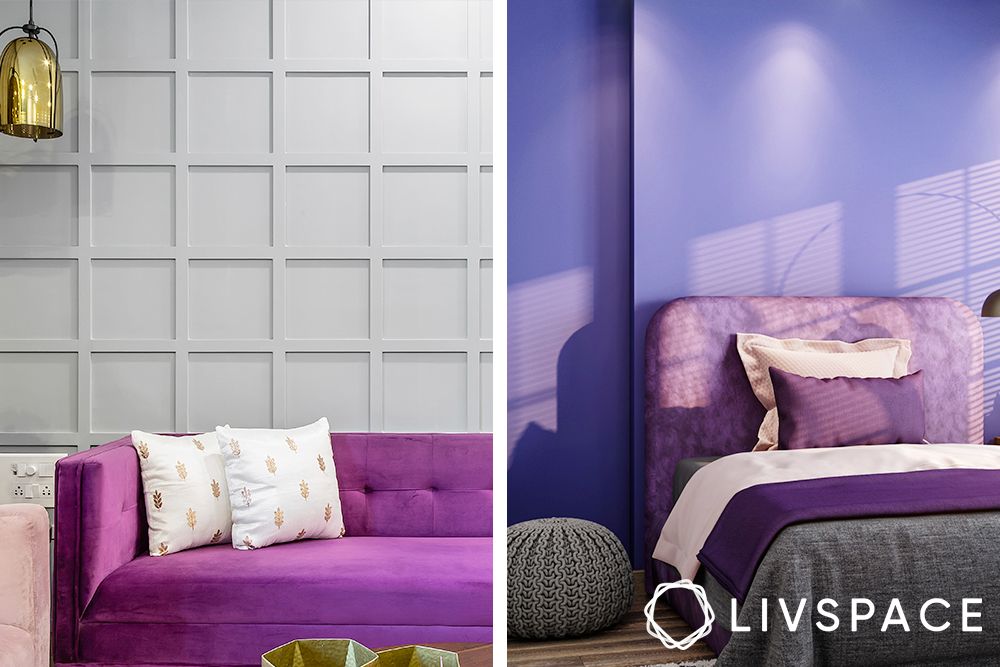 Fast-drying, weather-resistant, long lasting, odour-free, durable, alkali resistant, offers superb texture, and retains colour for longer periods of time — what's not to love about emulsion paint?! Not to be confused with acrylic emulsion, emulsion paints display resistance to fungi and mildew, are easy to apply, and are available in a variety of finishes. This type of paint is non-toxic and easy to clean. So if you have kids and/or pets at home, this can be a good choice.
Suitable for: Exterior and interior walls, homes with kids and pets, kitchens
#5: Whitewash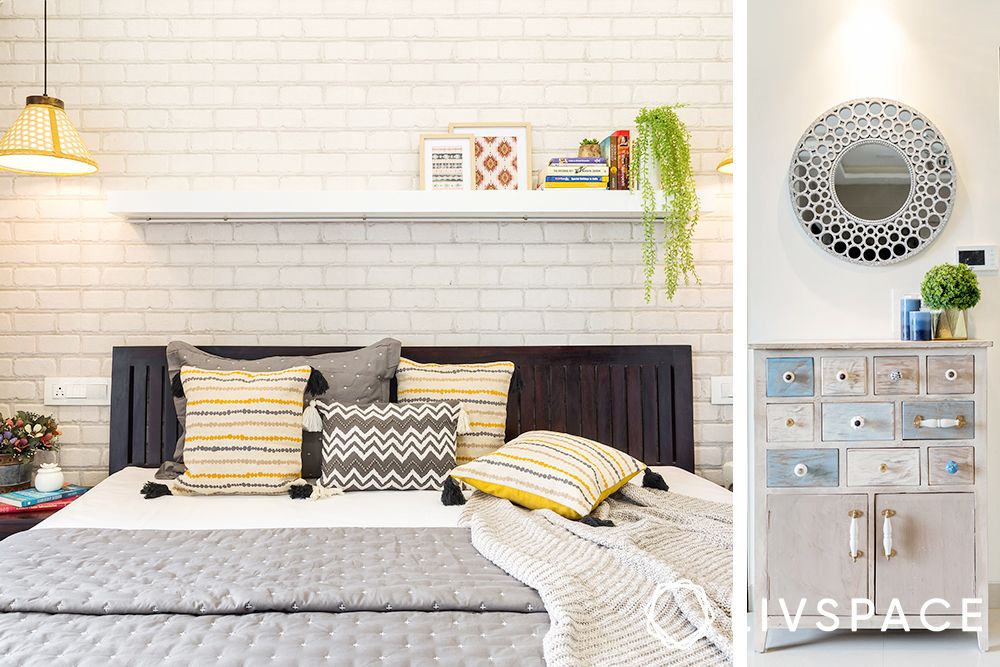 Whitewash is what you get when you mix a water-based paint with more water. The end result is a thinner paint. This type of paint for the house is used when you want to retain the texture and look of the surface that is being painted. For example, it looks great when used to paint porous surfaces like wooden cabinets and brick walls. The thin layer of paint allows some of the original colour, texture or grain of the painted surface to remain visible, adding a rustic vibe to the home.
Suitable for: Brick walls, furniture, cabinets, ceilings
#6: Enamel Paint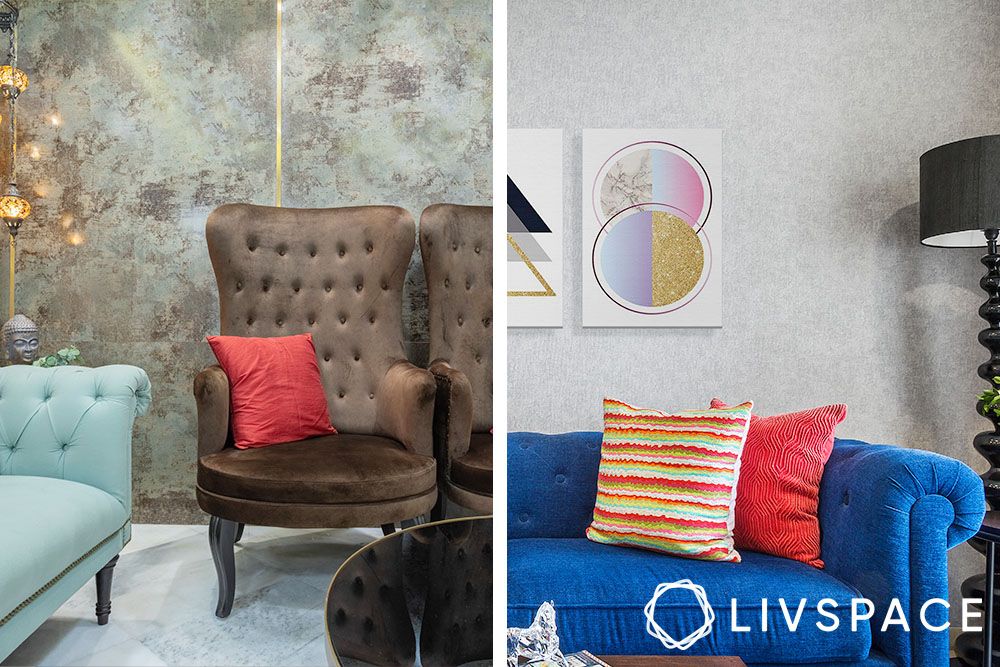 Enamel offers excellent durability and varied glossy effects, but it is one of the most expensive types of house paints for Indian homes. It is stain and water resistant, slow-drying, and long lasting. Although it is primarily an oil-based paint, you do get some water-based options.
Suitable for: Bathrooms, metal and wooden surfaces, walls
#7: Acrylic Emulsion Paint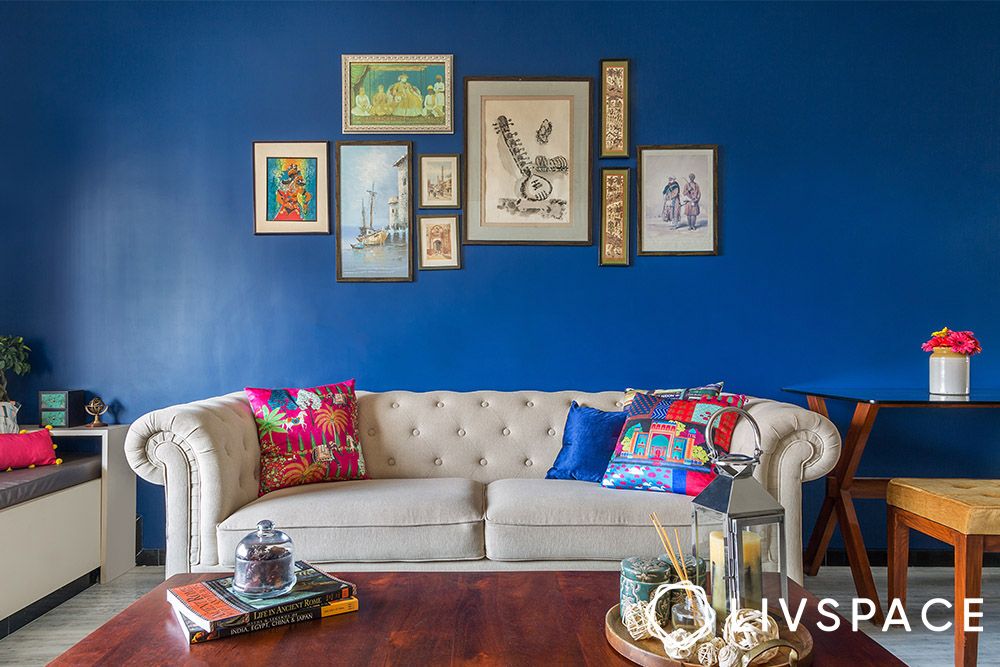 Acrylic emulsion paint has a denser consistency and hence gives better results in terms of colour vibrancy and finish. Fast-drying, water-resistant, non-flammable, odourless and easy to clean, this type of wall paint is a great choice for your home if you have the budget.
Suitable for: Interior walls and wooden objects and furniture
#8: Bituminous Paint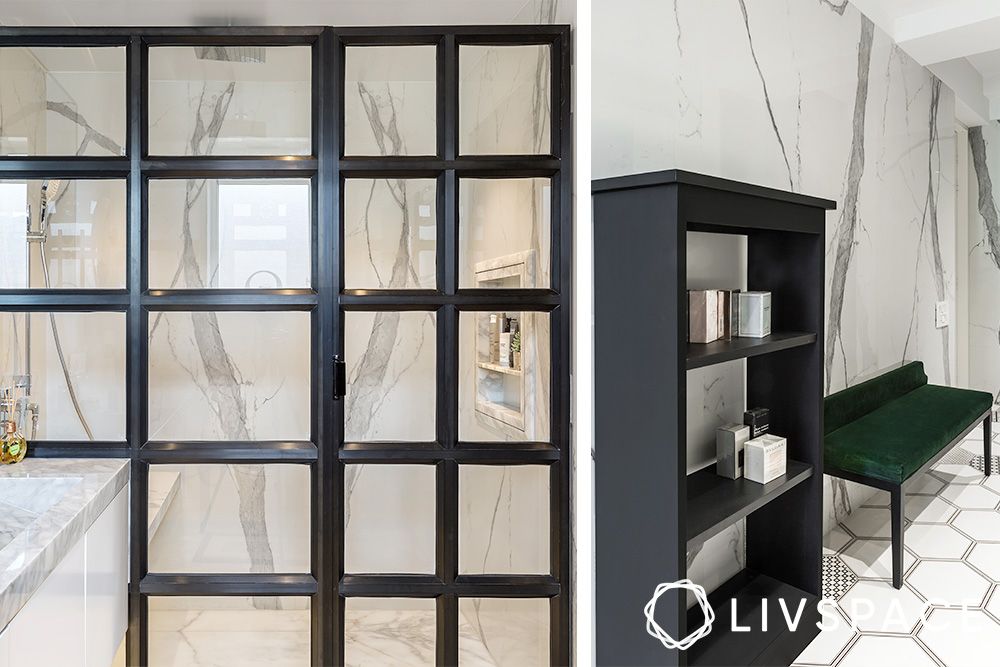 Some types of paints for your house perform a more functional role, and bituminous is one of them. As it is waterproof and rust-and-weather resistant, this type of paint adds a protective layer to surfaces. However, it is not suited for areas that receive a lot of sunlight.

Suitable for: Wood work, pipes, grills, and other metal and underwater surfaces
#9: Synthetic Rubber Paint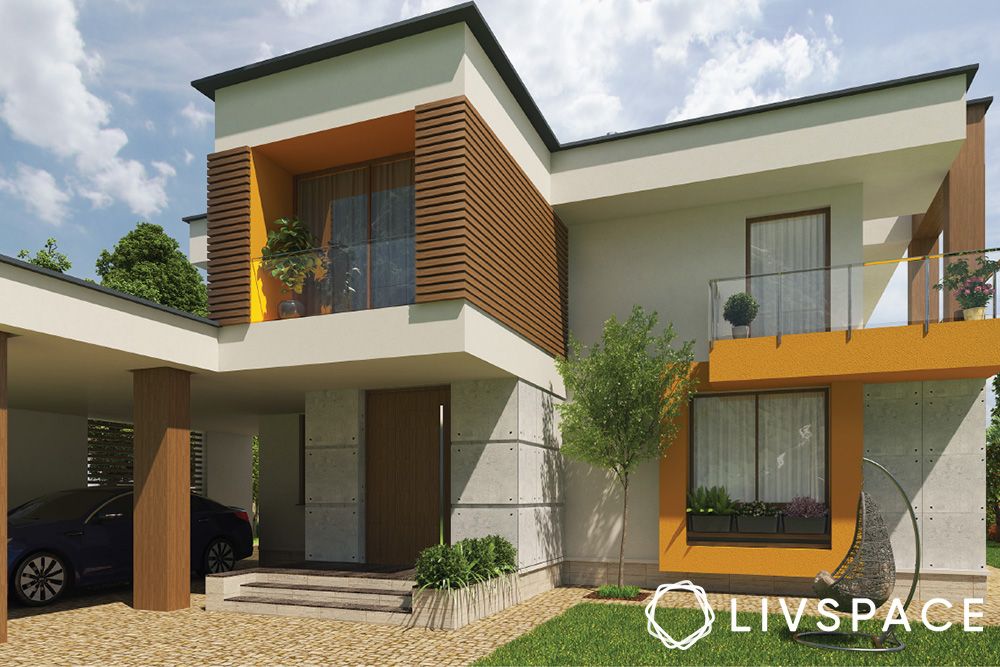 This type of wall paint is made by mixing synthetic resins with solvents and colour pigments. It is not only a cost-effective option for exterior walls, but it also dries quickly and offers excellent protection from the weather and chemicals. Additionally, it applies fairly uniformly to larger areas.
Suitable for: Floors, larger areas, concrete walls
#10: Anti-Corrosion Paint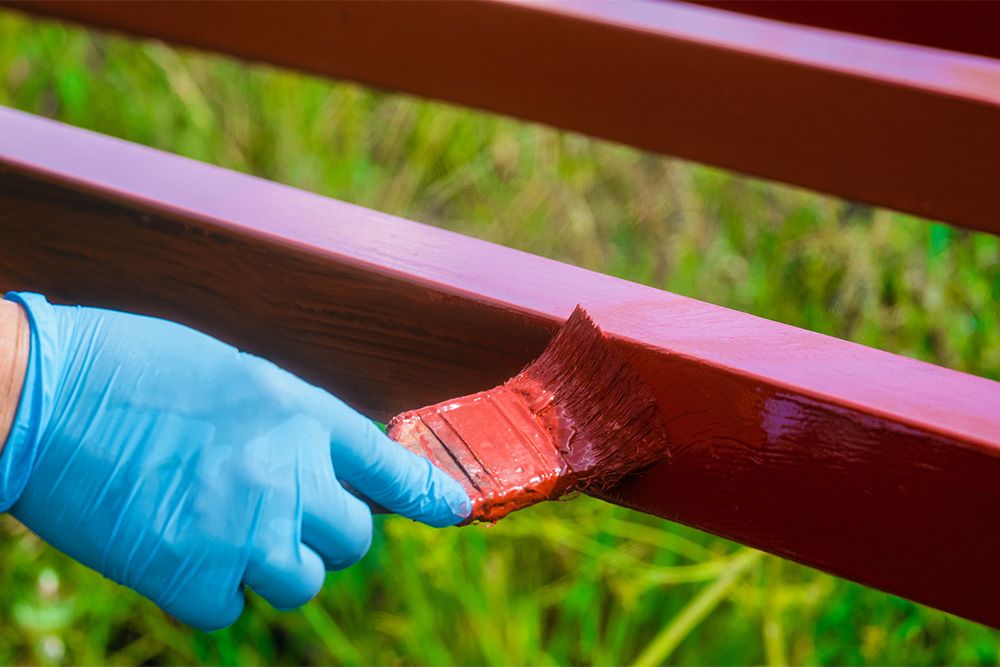 As the name suggests, this type of paint performs the primary function of protecting the treated surfaces from corrosion. Made from a mixture of sand, linseed oil and zinc chrome, anti-corrosion paint is a strong and cost-effective option for surfaces that are regularly exposed to air and humidity.

Suitable for: Metal surfaces made from steel and iron, such as pipes and grills


Popular Wall Paint Brands in India

– Asian
– Dulux
– Berger
– Jenson & Nicholson
– Nerolac
– Snowcem
– Shalimar


Also Read: 10 Features to Look Out for When You're Choosing Wall Paint
Apart from these properties, it is also important to understand how a painted surface looks when it dries. The end result is what is termed as the paint finish.
Types of Finishes for Paints
Types of Paint Finish #1: Matte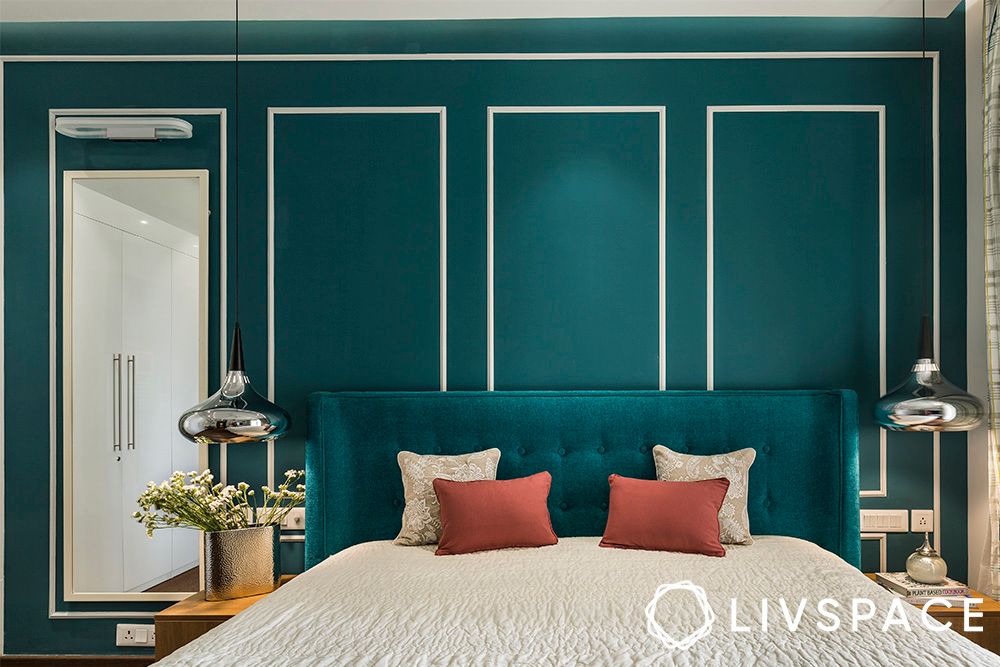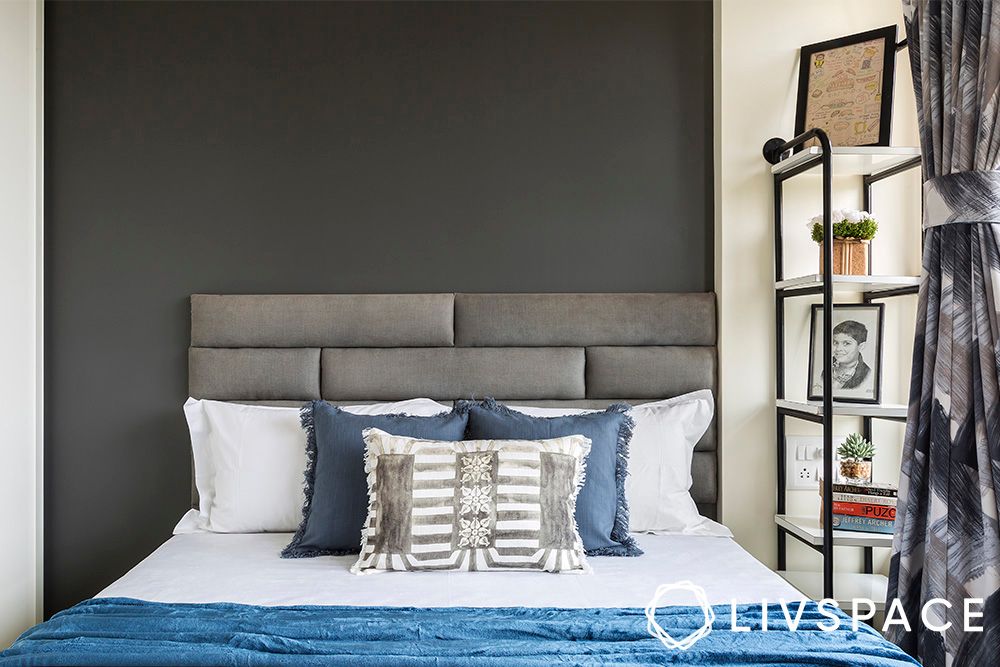 Perfect for hiding imperfections on walls and ceilings, this non-reflective finish offers the lowest level of gloss. However, its porous, velvety texture can be difficult to clean and needs regular retouching.
Types of Paint Finish #2: Gloss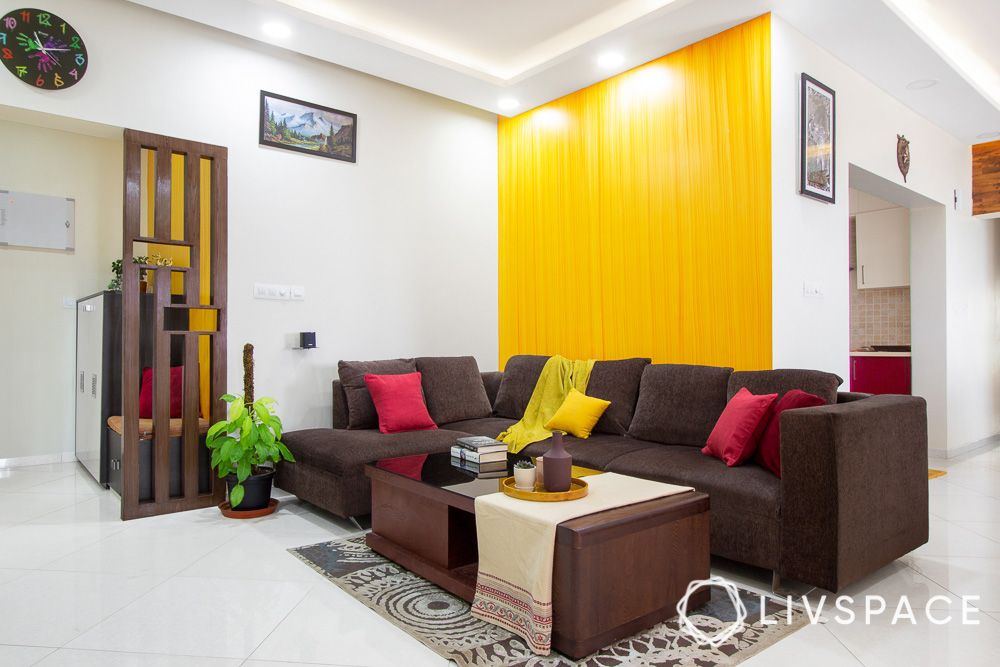 This finish is the most reflective of the four and is long-lasting. It can be cleaned multiple times as well. However, it needs more than one coat of paint to get an even look as otherwise it can highlight flaws.
Types of Paint Finish #3:  Satin and Eggshell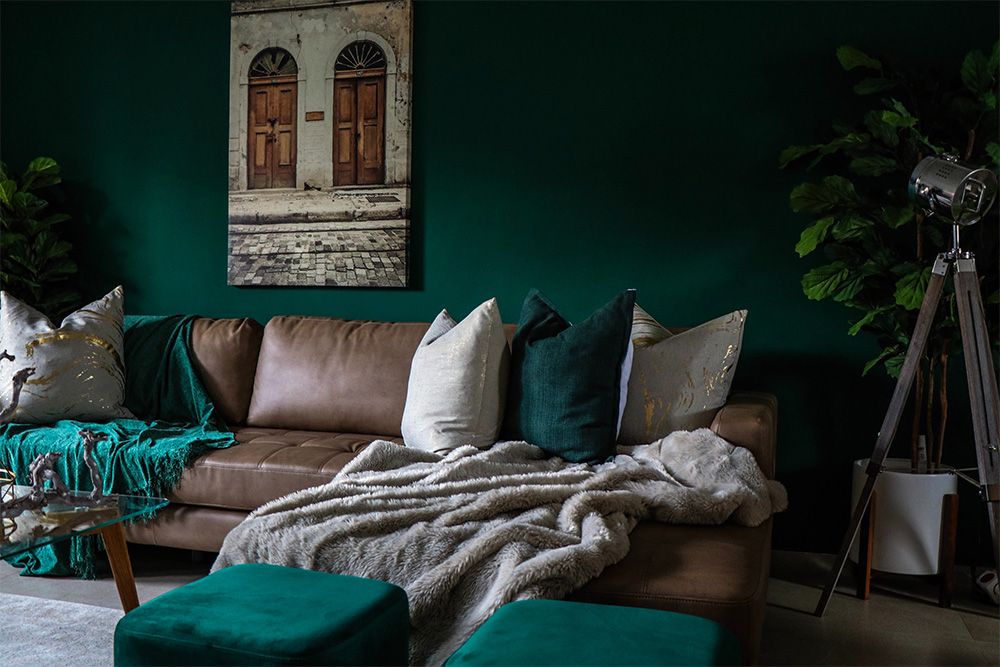 The silky, soft sheen of the satin finish is somewhere between matte and gloss. It's quite durable and is often used to beautify bathrooms and kitchens, but can be used for other rooms as well. On the downside, it cannot hide imperfections. On the other hand, eggshell is easier to apply than satin but doesn't offer the same smoothness.
Types of Paint Finish #4: Texture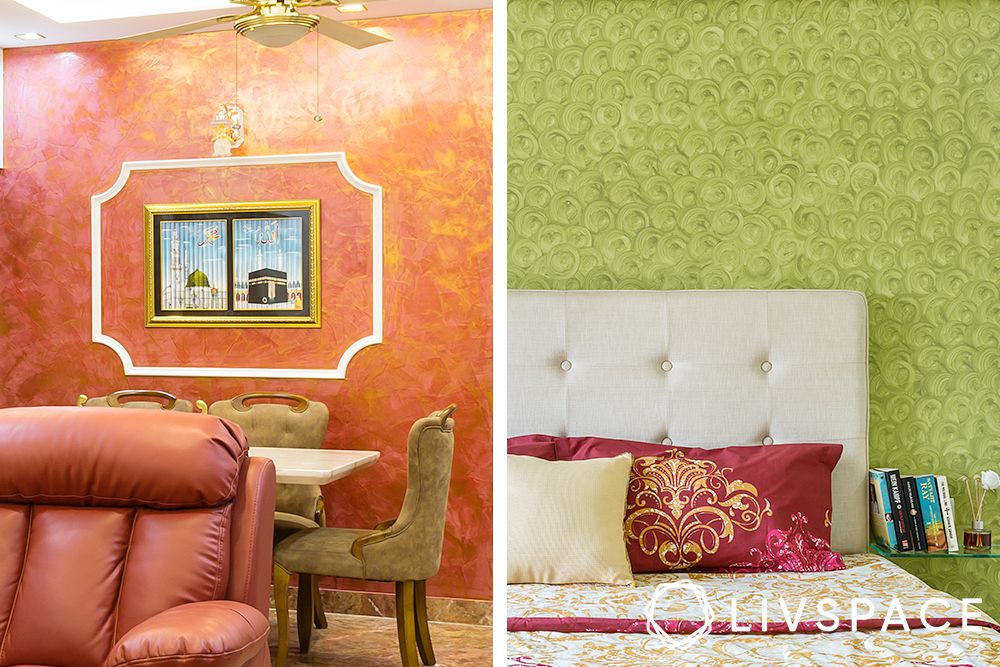 You can add some fun and depth to flat walls with the help of a textured finish. This finish is made by using various techniques and tools. Not only can it hide flaws, but it can also create a 3D effect on the wall. When created with the correct colour combinations, it can look as good as a wallpaper.
You can use different types of paints in the same room to create the result you desire. For example, you can bring vibrancy into your living room by choosing a textured finish for one wall. Also, paints have to be chosen depending on the layout of the room and how much natural light it gets. Lastly, the colour of your wall will always seem brighter and more intense than a swatch, simply because of the wall's larger size.
Never compromise on quality and invest in the best paint within your budget. This way you will #LoveTheWayYouLiv
How Can Livspace Help You? 
We hope you found this information useful for choosing the right paint for your home! If you want your home to be just as beautiful, then look no further. Book an online consultation with Livspace today.
Wondering how our customers feel about working with Livspace? You can check out the Livspace reviews here!
FAQs
1. How Many Types of Paints Are There?
There are multiple different types of paints that can be used in a home, but the most common ones are oil, emulsion and enamel.
2. Which Paint Is the Best for Walls?
For exterior walls, cement, distemper and synthetic rubber paints are great options. For interior walls, you can choose from emulsion, acrylic or enamel depending on your budget and needs.
3. Which Paint Is the Best for Interiors?
The best paint for interiors will change depending on the surface, the need of that area, and the budget. Overall, enamel and emulsion paints are good options.
4. Which Paint Finish Is the Best?
This depends on the area where the finish is to be used. A glossy finish can work well for kitchens as it is easy to clean, whereas for a living room or a bedroom, you can experiment with a textured finish.
5. How Do I Choose a Paint Type?
The choice depends on the purpose that area serves – whether it is an exterior or an interior surface, or a door or a window, or plumbing. For example, a kitchen will need a highly durable and water-and-stain resistant paint such as emulsion.
---