Wallpapers have become a common thing in houses these days, and why should they not? After all, they are cheaper and more durable than texture paint. But the one place where we all get confused is when it comes to wallpaper prices. Wallpaper price remains a bit of an enigma – with wallpaper rates available per square foot as well as per roll, what should you consider, and what should you not? Think of wallpapers as clothes – branded and premium products cost more. That is to say, wallpaper prices can range from as little as ₹3,000 per roll to as much as ₹50,000 per roll.
Still confusing, right? We're here to help you with the cost of wallpapers for your home. Let us first understand the factors that affect the wallpaper price per sq. ft.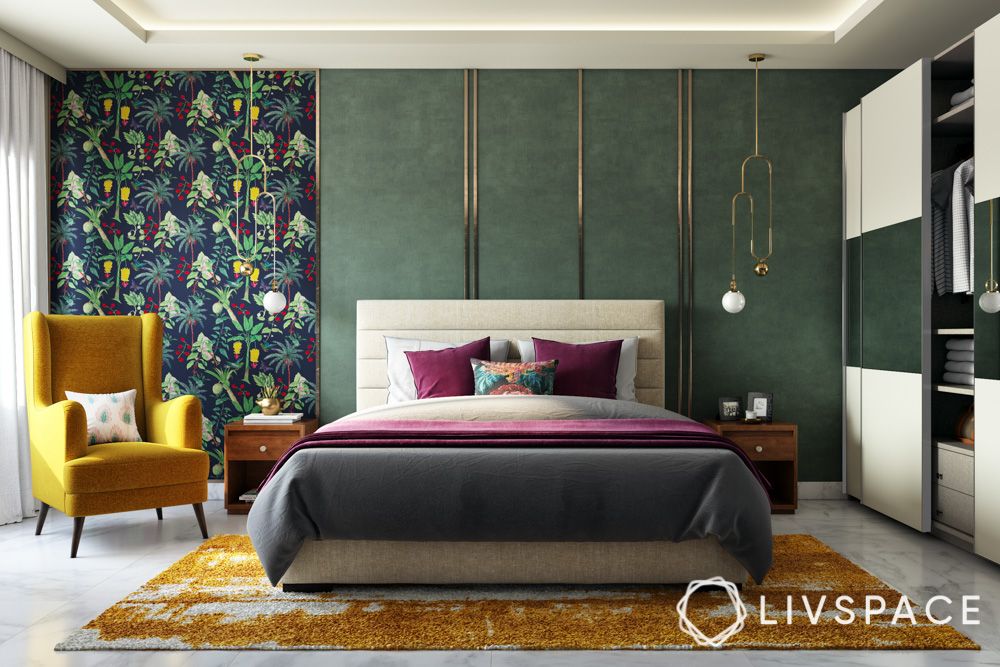 What Are the Factors That Influence Wallpaper Prices?
#1. The Design, Print and Texture
Geometric Wallpapers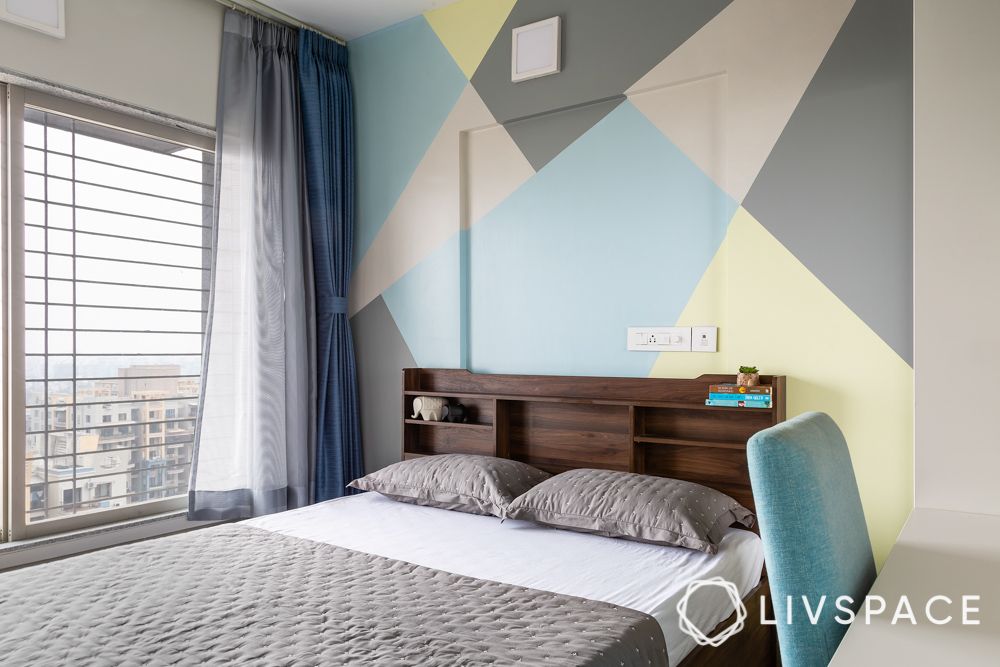 Geometric designs are relatively neutral, as they don't particularly give out any feminine or masculine vibes. They are more suitable for bedrooms as they can be visually heavy in some living rooms with furniture pieces and photo frames. Geometric wallpaper designs for bedrooms are priced on the basis of the material they are made of.
Floral/Tropical Wallpapers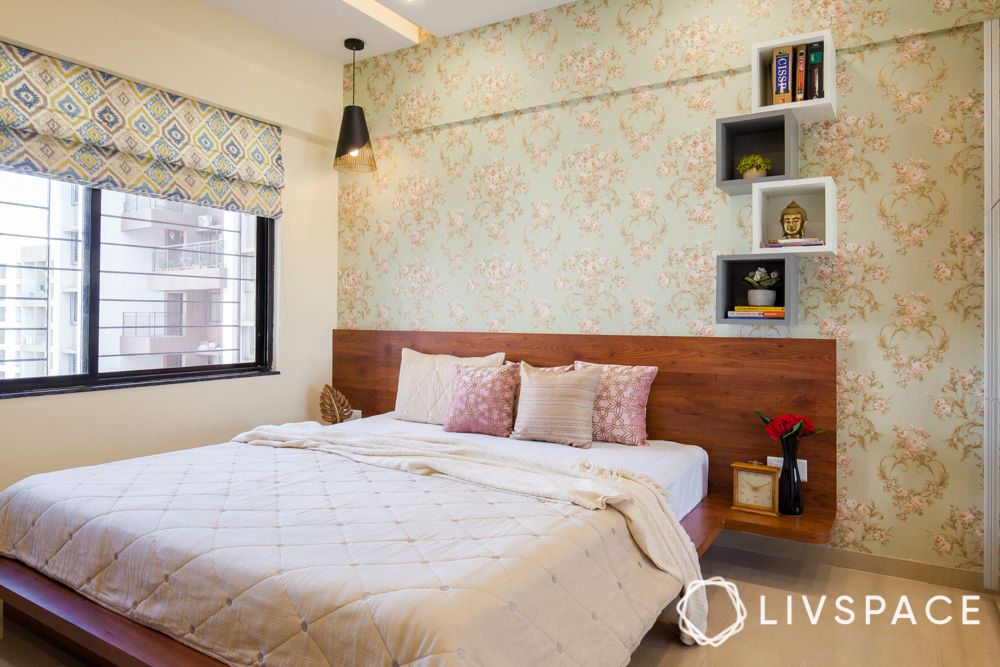 Floral wallpapers are available in some common and some premium prints. They make for the most common wallpaper choices for bedrooms. You can find a wide variety of these wallpapers in terms of colours, prints and materials.
Rustic Wallpapers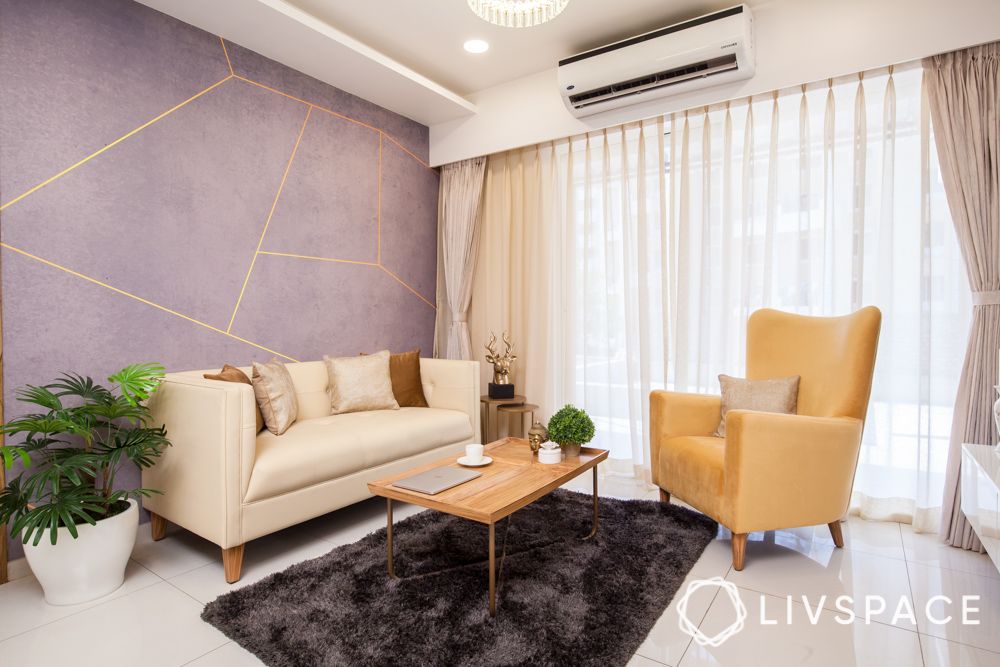 Rustic wallpapers are subtle and yet add texture to your room and make it interesting. It is a trouble-free replacement of texture paint, as it can be more economical and easier to apply.
Traditional Wallpapers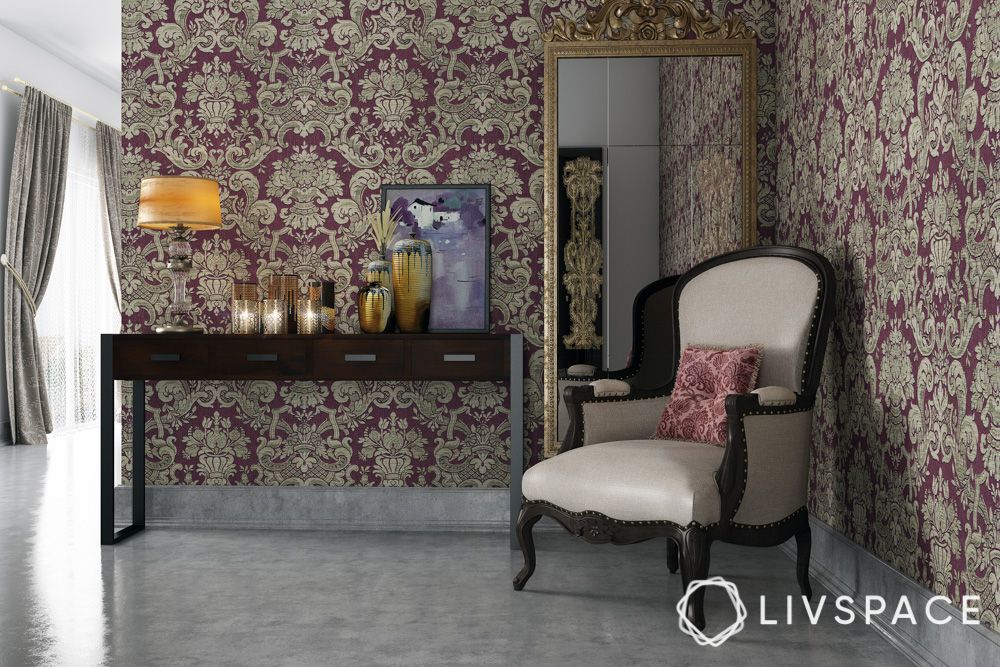 Setting aside the ordinary traditional wallpapers, unique designs are usually found in premium ranges, thereby being expensive. But, they can be installed in any part of your house and go with most kinds of furniture available in Indian homes.
Wallpapers Mimicking Natural Textures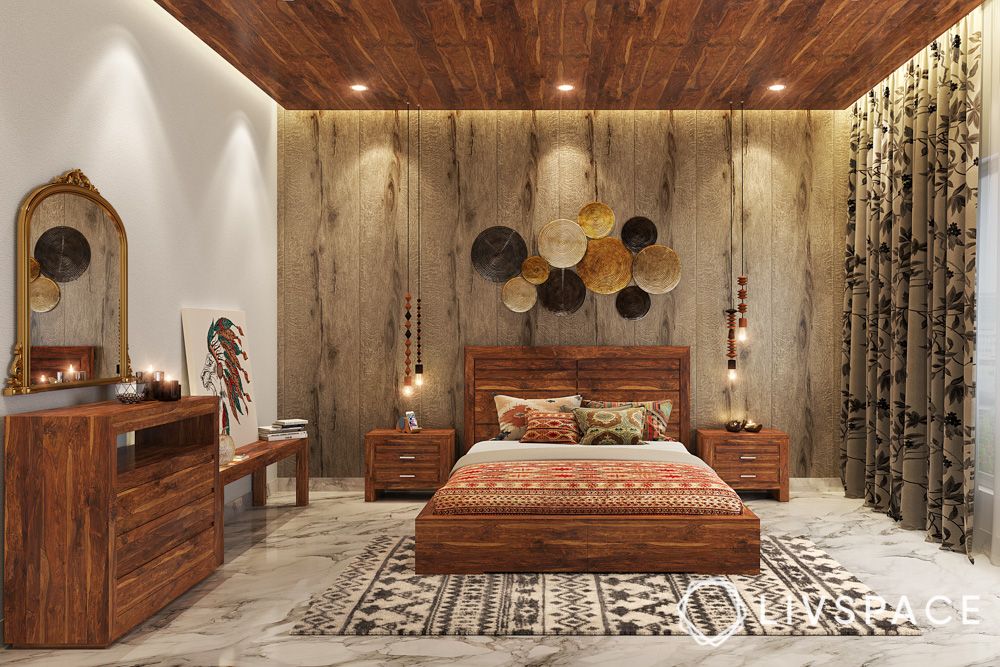 Wallpapers with natural textures like stones, wood, brick or concrete are also becoming popular. They are an economical alternative to wall cladding or panelling, which is also harder to install.
Customised Wallpapers
Since most of us like to personalise our bedrooms, custom wallpaper with a print of our choosing becomes a viable option. But it is not a surprise that such designs will increase your interior design cost, like any custom-made fandom item. You can play around with the choice of material to have more control on its price.
#2. The Wallpaper Material
The most common wallpaper materials available include paper, vinyl, PVC, fabric, natural materials like cork or bamboo and synthetic materials like flock. Among these options, paper wallpapers are the cheapest but least durable ones. Flock, cork and bamboo wallpapers, on the other hand, are the costliest but are hard to maintain. The most suitable option for Indian homes is the vinyl wallpaper, as it is not as pricey as the premium options, but still durable and easy to maintain.
In conclusion, since the material is directly responsible for the durability and manufacturing cost of the wallpaper per square foot, the overall wallpaper price increases with the type of material you choose.
#3. Designer or Premium Products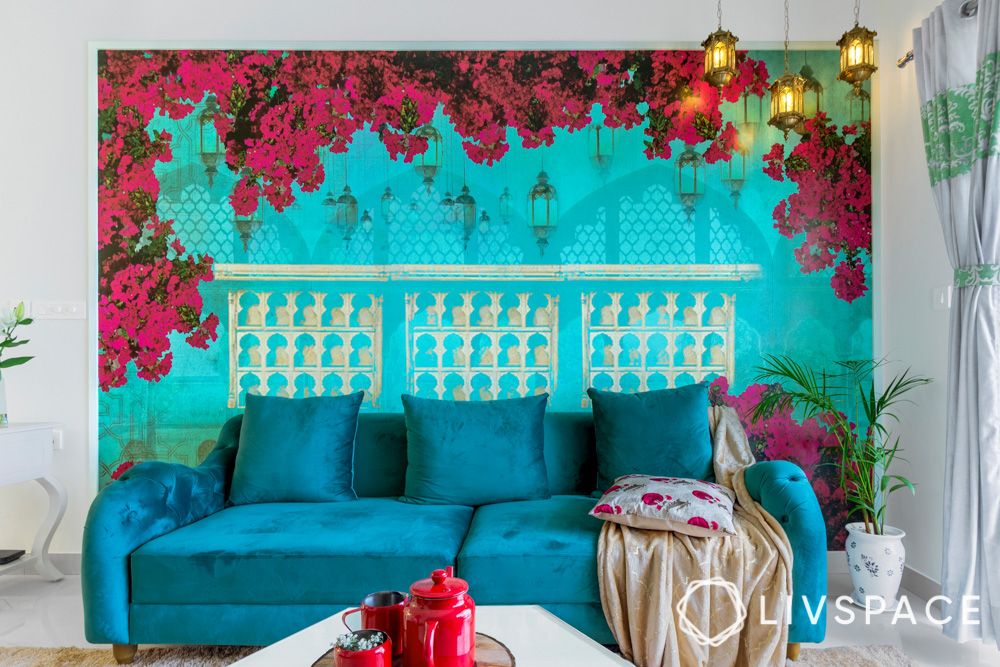 Common wallpapers are sold in rolls and are pre-cut to standard sizes. They also have a repetitive pattern, and each roll can be pasted next to the other to uniformly cover one entire wall. Designer wallpapers, on the other hand, come in custom sizes and designs that cannot be sliced into smaller pieces.
Since they are curated by known designers to suit various settings, they are printed (or sometimes even hand painted) on premium materials. Hence, the cost of these premium wallpapers for a room can be from ₹25,000 to ₹1,00,000.
Also Read: The Ultimate Guide to Buying the Best and Beautiful Wallpapers for Rooms
Wallpaper Price in India by Livspace
Livspace collaborates with brands like Artisan, Talking Texture, Excel, Marshall, Skipper and Stena to procure high-quality wallpapers for homeowners like you. These can last for up to 15 years, if maintained well.
| Brand | Wallpaper Price Per Roll |
| --- | --- |
| Artisan | ₹6,500 to ₹7,200 |
| Talking Texture | ₹7,400 |
| Excel | ₹3,400 to ₹5,800 |
| Marshall | ₹4,850 to ₹10,000 |
| Skipper | ₹2,100 to ₹5,250 |
| Stena | ₹2,800 to ₹3,200 |
| Material | Starting Price Per Roll |
| --- | --- |
| Paper (printed) | ₹120 per sq. ft. |
| Vinyl (paper backed) | ₹2,800 per roll |
| Non-woven | ₹2,100 |
How Much Does Wallpaper Installation Cost in India?
The process of installation for wallpaper begins with smoothening of the wall surface and involves two other steps. It is sanded and cleaned, and then the primer is applied. This process along with installation costs about ₹30 per sq. ft. Since skilled labours are required for installing these wallpapers, Livspace employs the best people to get this done!
What to Consider Before Installing Wallpapers?
Ease of Application
Painting takes around 7 to 8 days to apply, whereas, wallpapers can be applied within a single day to achieve similar or even better results.
Durability
Paint lasts for about 10 years, and wallpapers can stay on your walls for as long as 15 years when maintained properly.
Design and Patterns
Wallpapers have more variety in designs and can achieve more pleasing results simply because they can be printed. Painting can deliver similar results at higher costs when there are skilled painters available.
Also Read: Wallpaper vs Paint, Which is Better? Here's Everything You Need to Know
Check out wallpaper designs:
How Can Livspace Help You?
We hope you found our ideas useful! If you want your home to be just as beautiful, then look no further. Book an online consultation with Livspace today.
We would love to hear your thoughts! Send in your comments and suggestions to editor@livspace.com