Wooden furniture pieces or installations are still in high demand because they are considered timeless classics. With regular use, wood tends to lose its natural shine. However, that doesn't mean that you can't refurbish your old wood and bring the old shine back; that's where wood polishing comes in.
Simply put, wood polishing is a way of care and maintenance for your wooden installations or furniture pieces to help keep them their healthy glow on.
1. What's Wood Polishing?
Wood polishing is the simple process of polishing wood, as the name suggests. Now, there are different ways to polish wood. Wood polishing is done to ensure the shine stays on, the wood furniture pieces stand the test of time and look aesthetically beautiful.
2. How Do You Polish Wood?
You can polish wood by applying the wood polishing liquid with a soft piece of cloth. Now, the process of polishing wood is different for bare wood and finished wood.
There are different products and methods to approach the two. Wood polishing can become a tedious task that requires the intervention of professionals. You wouldn't be entirely wrong to opt for a professional, unless you want to DIY it at home.
3. How to Apply Wood Polish?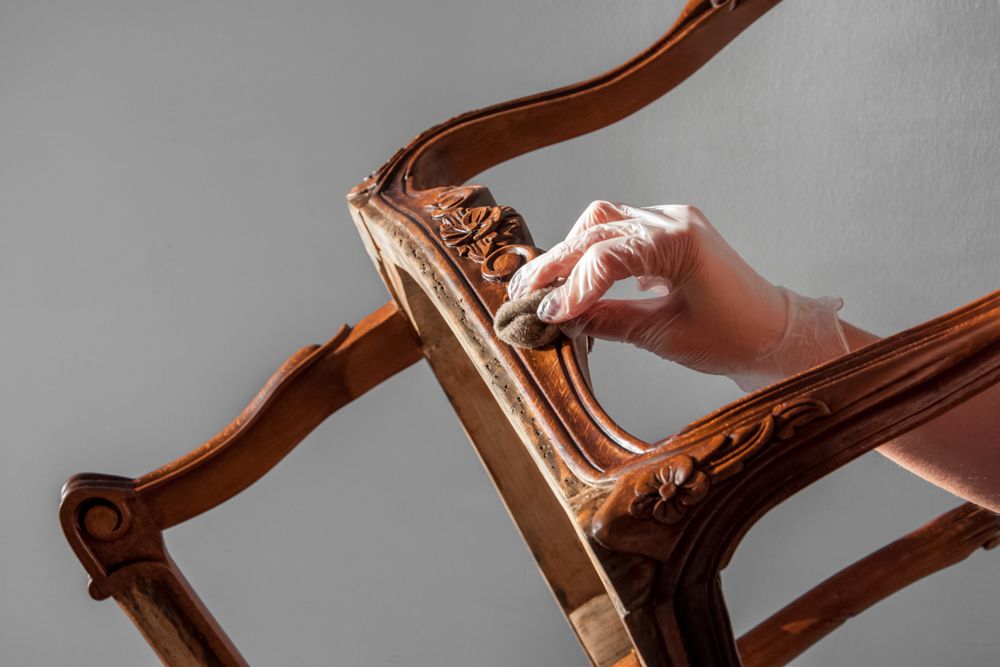 Applying wood polish is easy for certain categories of wood. You can just apply the wood polish with a soft piece of cloth or microfiber.
Wood furniture polish is sometimes followed by rubbing the wood with a wet cloth; and then rubbing off the excess with a dry cloth. That's because you wouldn't want dust to stick on the polish and give your wooden furniture a rough look.
Approach each section one by one to ensure you're covering all fronts, while polishing wood. However, as mentioned above, wood polishing requirements vary depending on the type of wood it is – bare or finished, and the type of furniture, installation or wall in question.
4. Types of Wood Polishing
Wood polishes are of many types. We can categorise them into two broad categories. The first is surface polish, where the polish stays on the surface and provides a thick layer of protection. While the second is penetrating polish, which penetrates the wooden surface and is absorbed inside.

Below, we've discussed some of them to give you a fair idea about what's what and help you choose the best wood polish for you:
i. Water-Based Wood Polish
Suitable to be used for all types of wood – stained, painted or bare, water-based wood polish gives your wooden items a clear coat of polish. Unlike oil-based polishes, it ensures that your wooden pieces don't become yellow in the long-run.
Also Read: What Kind of Wood or Wood-like Materials are Used in Home Interiors, and Why?
ii. Lacquer Wood Polish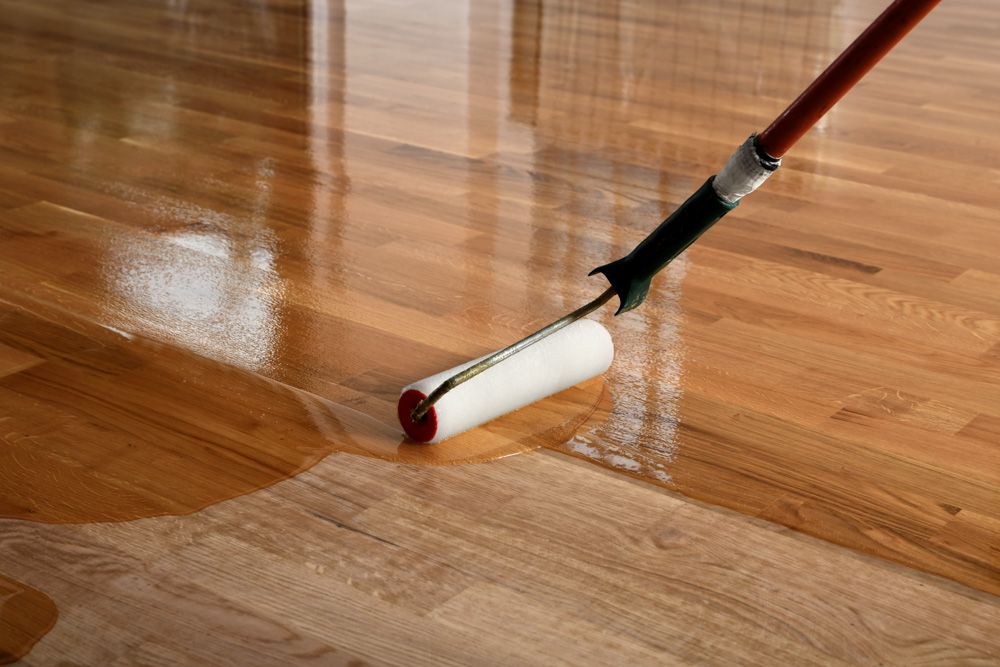 One of the best wood polishes, preferred for the glossy shine it brings on, lacquer wood polish is perfect for giving your wooden pieces a rich and luxurious look.
The method of application is simple: spray it on the piece of wood and watch it dry up in minutes. However, as the finish might emit fumes, it's not a great idea to use it in a closed environment with children around. We suggest airing out your interiors, or doing this in the open.
iii. Varnish Wood Polish
Useful for bare and stained wooden items, varnish wood polish is available in many sheens, but can only be applied to wet areas.
iv. Shellac Wood Polish
Available in many wood polishing colours, shellac wood polish is known for its durability and hard finish. It's often used as a stain remover and sealer.
It's perfect for redecorating old furniture pieces, as well as giving your new space-saving furniture a new look. However, it cannot handle moisture very well, so it's best to avoid using it for outdoor wooden items.
v. PU Wood Polish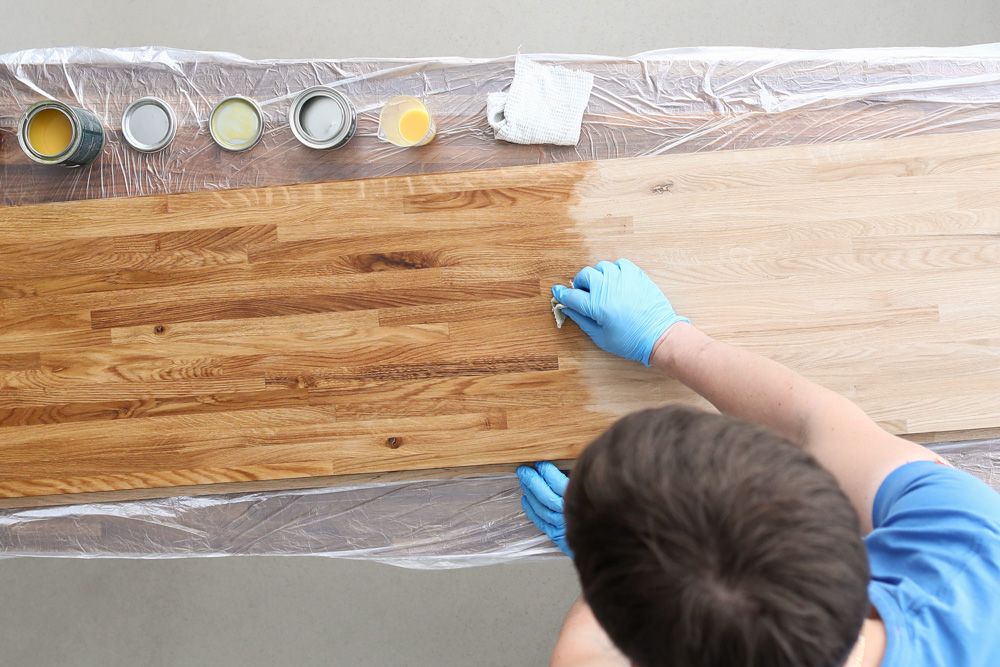 Considered the best wood polish as it's perfect for all wooden surfaces and items, PU wood polish really takes the trophy with its hard finish, durability and sturdiness.
It's also resistant to moisture. While that's a big plus, it's not really made for the outdoors as it doesn't do very well under UV rays.
vi. Oil-Based Wood Polish
Oil-based wood polishes have a bad name in the market for giving your wooden surfaces a yellowish tinge. But, it's also quite popular. Wondering why?
That's because it's one of the most natural wood polishes, known for its luxurious shine and satin finish. It also does quite a good job of covering scratches and cuts on the wooden surfaces. It's one of the penetrating wood polishes. That's to say, it penetrates the surface and gets absorbed inside.
vii. Wax-Based Wood Polish
Another penetrating natural wood polish, wax-based wood polishes can be procured as a liquid a well as a paste. Wax-based polishes are mainly plant-based. In certain cases, they can be derived from animals as well.
Now, depending on its origin and the type of wax-based wood polish it is, you might have to dissolve it in oil before applying it to the wooden surface.
viii. Melamine Wood Polish
A closed pore polishes, meaning, it makes the wood non-breathable and hence protected from cold and hot surfaces placed above it, melamine wood polish is great for usage in kitchens.
It dries off within 20 minutes of application. However, be careful with melamine wood polishes, as it doesn't do very well when it comes in contact with water.
ix. Homemade Wood Polish
If you're trying to remove some dust from your wooden surface while giving it a dose of moisture, you can proceed with a homemade natural wood polish or a wood floor polish.
To prepare a wood floor polish that's homemade, you need to combine equal parts of white vinegar and lemon. This is great for cleaning surfaces. However, if you're looking to make a penetrating wood furniture polish, you can begin by adding two parts of olive oil and one part of lemon juice.
Also Read: How to Clean Your Wooden Furniture and Keep It Looking New?
5. Guidelines You Need to Follow for Wood Polishing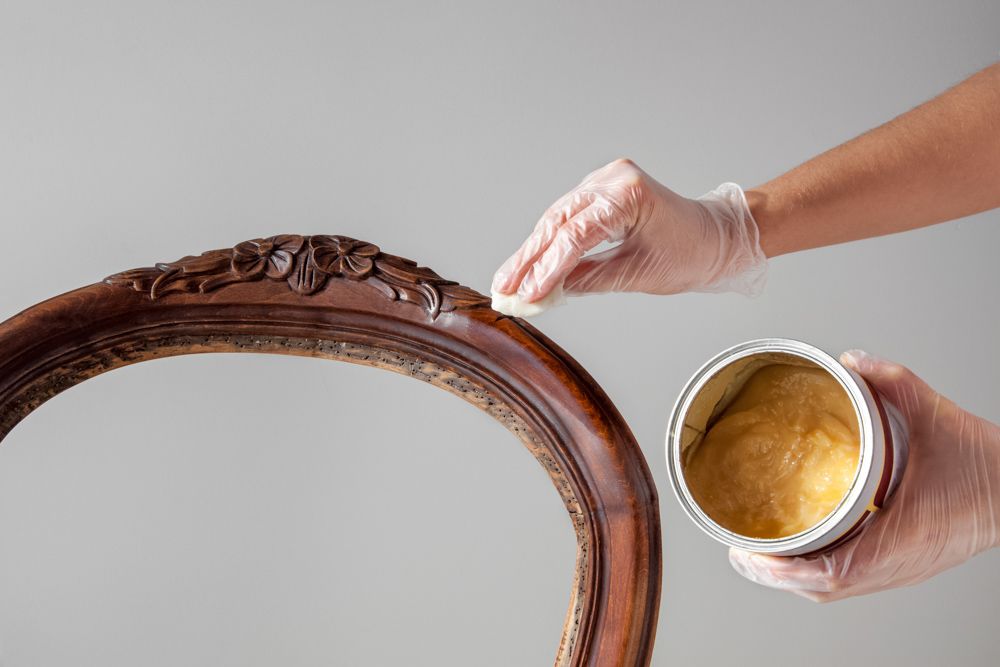 Before you start polishing a wooden surface, there are certain things you've to keep in mind:
Consider the Furniture Type: Know what type of wood you're dealing with and whether it needs a surface polishing agent or a penetrating polishing agent
Clean the Surface: Don't begin wood polishing unless you've thoroughly cleaned the surface and got rid of all the dirt and grime
Fill the Cracks & Cuts: Use an oil-based or wax-based wood polish to fill the cracks and cuts
Sand the Surface: Sanding the wooden surface is usually recommended to ensure there are no rough edges, and give your wooden surface a uniform look and feel
Choose the Correct Wood Polish: Depending on whether your wooden surface is painted, stained or bare, choose a wooden polish that'll work
Application: Clean the surface, apply the wood polish with a soft cloth and rub it off with a dry cloth after you've let it dry
Burnishing: Not all wood polishes require burnishing post application. However, lacquer-based ones do to smoothen rough edges. Contact a designer or talk to an expert to understand whether your wooden surface requires burnishing
6. Cost of Wood Polishes
The cost of wood polishing prices is difficult to predict. Wood polishing prices are subject to vary depending on availability and numerous other factors. Here's a look at some of the wood polish prices:
Type of Wood Polish
Wood Polish Price
Per Sq. Ft. *
Water-Based Wood Polish
₹30 – ₹50 per sft
PU Wood Polish
₹250 – ₹400 per sft
Melamine Wood Polish
₹110 – ₹150 per sft
Oil-Based Wood Polish
₹80 – ₹120 per sft
*Wood polishing price per sq. ft. are for reference only; for exact prices, please talk to an expert.
Disclaimer: At Livspace, we currently don't offer wood polishing services. Our effort is to demystify the interior journey from start to finish, and this blog aims to make you aware of the different components of interior decoration. Talk to our designer to know more about our services and how we can help you design the best home.
How Can Livspace Help You?
You can expect a well-designed plan along with 3D renders
No corners are cut in terms of the quality of work and materials used
Our labour force is trained to support even the trickiest of renovations
If you want to design your home or renovate your old home in a hassle-free way, book an online consultation with Livspace today.