Do you have plain walls at home that you just don't know what to do with? You might have looked around for inspiration, and ultimately landed on either wallpaper or paint. While both options have their pros and cons, we find most homeowners like you struggling with the question of "wallpaper or paint, which is better in India?". So, we're here to break down all the commotion around wallpaper vs paint to make your decision easier.
Here are some handy things to know about both wallpaper and paint, and especially how they fare in Indian homes:
A Short Summary of Differences Between Wallpaper and Paint
| | | |
| --- | --- | --- |
| | Paint | Wallpaper |
| Cost | Comparatively less expensive | Comparatively more expensive |
| Installation Time | Around 2 to 7 days depending on the scope and layers required  | Around 1 day, depending on the size of your home and the scope  |
| Labour for removal/application | Does not require highly skilled labour | Requires professional labour |
| Durability  | Can last for 5 to 10 years | Lasts for up to 15 years with proper maintenance and care |
| Maintenance  | Repaint required every 3 to 5 years | Can be wiped down occasionally to keep it looking new  |
| Variety | Limited availability of finishes  | Wider range of choices for finishes |
| On Imperfect Walls | Requires filling in and sanding before painting  | Can hide minor imperfections |
| Replacement | Can be difficult to replace | Comparatively easier to repaint |
Here's What to Expect Between Wallpaper vs Paint in Terms of Cost
Cost of Wallpaper
| | |
| --- | --- |
| Wallpaper Brands | Wallpaper Price per Roll |
| Artisan | ₹4,500 to ₹7,200 |
| Talking Texture | ₹7,400 |
| Excel | ₹3,400 to ₹5,800 |
| Marshall | ₹4,850 to ₹10,000 |
| Skipper | ₹2,100 to ₹5,250 |
| Stena | ₹2,800 to ₹3,200 |
In terms of wallpaper materials:
| | |
| --- | --- |
| Wallpaper Material | Starting Price per Roll |
| Paper (printed) | ₹120 per sq. ft. |
| Vinyl (paper backed) | ₹2,800 per roll |
| Non-woven | ₹2,100 |
The wallpapering process along with installation costs about ₹30 per sq. ft.
Painting Costs
| | |
| --- | --- |
| Type of Work  | Estimated Range |
| Interior Painting | ₹20 to ₹42 per sq. ft. |
| Exterior Painting | From ₹20 per sq. ft. + labour |
| Fresh Paint | ₹28 to ₹42 per sq. ft. |
| Repaint | ₹14 to ₹35 per sq. ft. |
| Distemper | From ₹18 per sq. ft. |
| Emulsion | From ₹20 per sq. ft. |
| Texture Paint | From ₹80 to ₹250 per sq. ft. |
| Single Colour Painting | From ₹10 per sq. ft. |
Please note that these prices are estimates and are subject to change on the basis of availability and location.
Wallpaper vs Paint: What Should You Pick?
#1: Wallpaper vs Wall Paint in Terms of Variety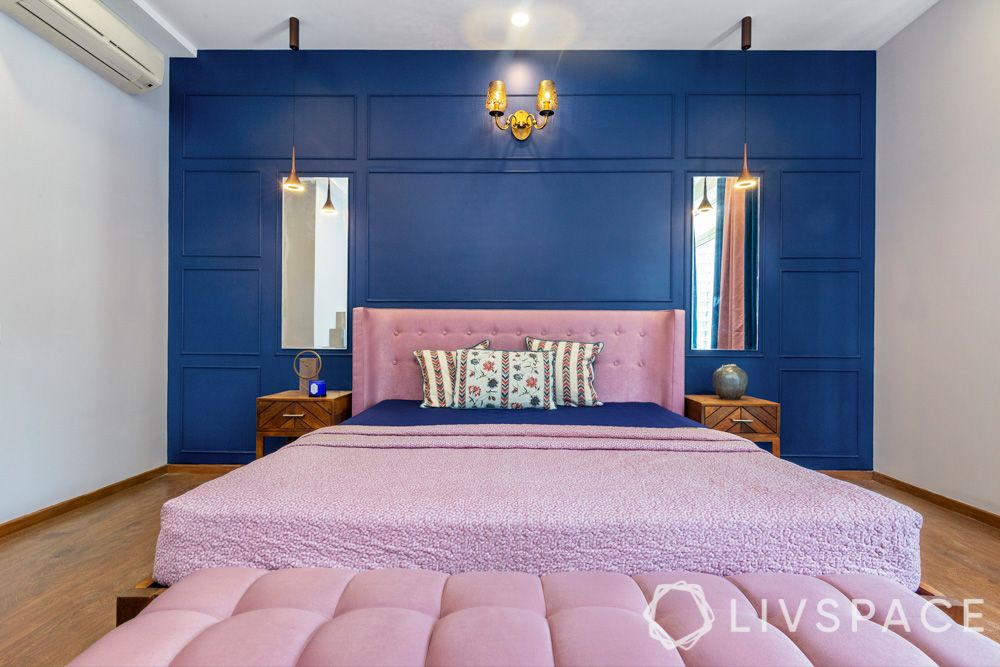 If you're looking to create a unique look for your space, have an eye out for options that can offer a variety of colours and finishes. Thankfully, there's no dearth of variety when it comes to either wallpaper or paint. Regardless of the side of the wallpaper vs paint you land on, both can deliver some amazing and varied results.
| | |
| --- | --- |
| Wallpaper | Paint |
| Available in a range of designs from elegant classical motifs to peppy contemporary patterns | Paint is available in nearly every colour under the sun, allowing you to easily mix and match colours |
| Wallpapers also come in many different finishes like vinyl, fabric, foil printed, embossed textures, and suede  | You can choose from a variety of finishes such as matte, satin, semi-gloss, and glossy |
| Peel and stick wallpaper can be used as an overlay for cabinets and furniture if paint is too much of a commitment  | Can be paired with different layering or painting techniques to create a unique design  |
#2: Application: Which Is Better Wallpaper or Paint?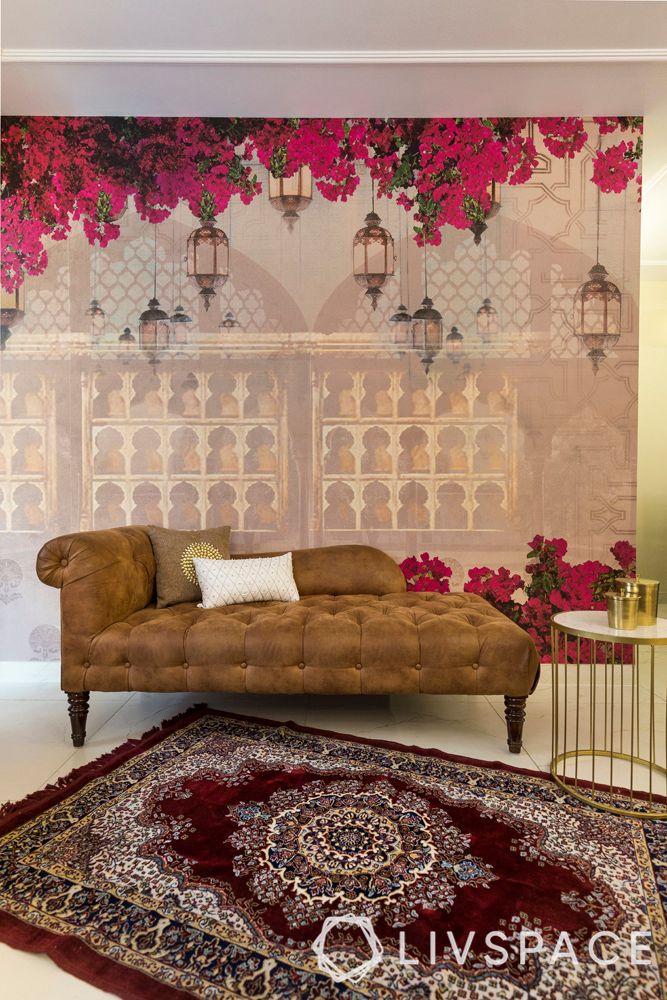 In the debate of wallpaper vs wall paint, paint is the easier and a less fussy option for Indian walls. In fact, as little as a day or two is enough to complete a paint job for a standard-sized room. Let's take a look at why paint wins in the application category of wallpaper vs paint.
| | |
| --- | --- |
| Wallpaper | Paint |
| Wallpaper application is a job best tackled by an expert rather than something you can DIY  | Painted walls are fairly accommodating to newer coats of paint of the same hue |
| A new layer of wallpaper cannot be applied on top of the existing one | If the old surface isn't too worn out, a new coat of paint can be applied directly over it |
| The application and removal process is elaborate, demanding a fair bit of time and patience | Removing paint can be a time-consuming and labour-intensive process, but this will entirely depend on the requirement  |
#3: Who Wins the Test of Durability Between Wallpaper vs Paint?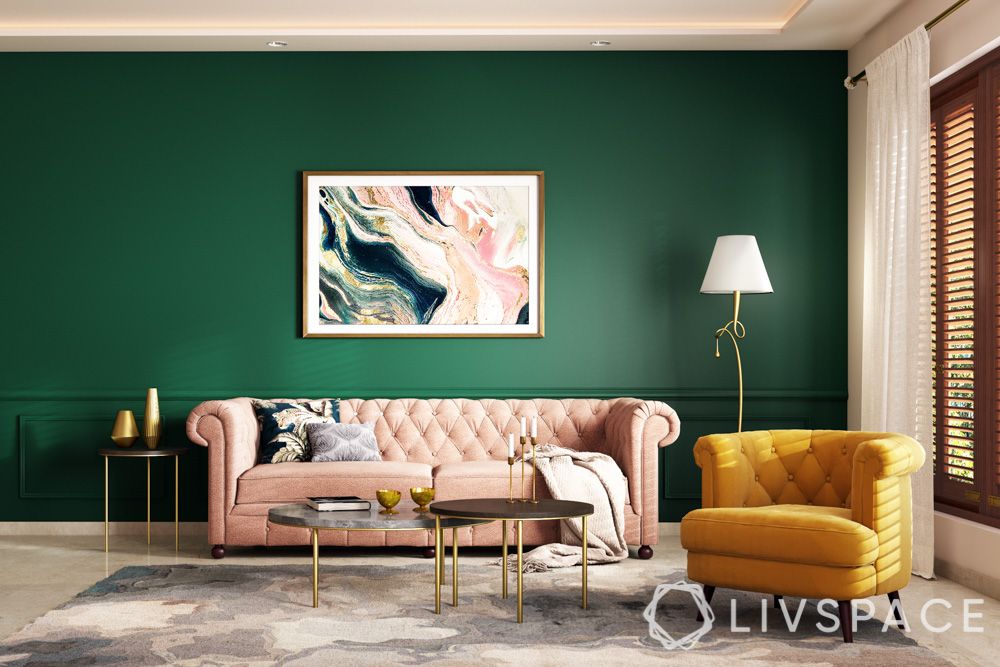 Both wallpaper and paint seem like strong contenders when it comes to durability. However, much like any contest, there can only be one winner! Here's how wallpaper vs paint compare in terms of durability:
| | |
| --- | --- |
| Wallpaper | Paint |
| Wallpaper can be a more long-term wall design solution as it can last up to 15 years depending on its quality  | Good-quality paint, when finished well, can last you up to five years |
| Though comparatively long-lasting, wallpaper is not immune to tearing and can get damaged  | Paint tends to fade and flake in areas that have high usage and exposure to sunlight. Due to this, your walls will require retouching after three years or so |
| In the event of damage, your wallpaper will need to be stripped and reapplied, which can be more time-consuming than repainting  | Lighter coloured paint may need retouching a bit more frequently as cracks and flakes may show more  |
TLDR: It's wallpaper!
#4: Wallpaper or Paint: Which Is Cheaper?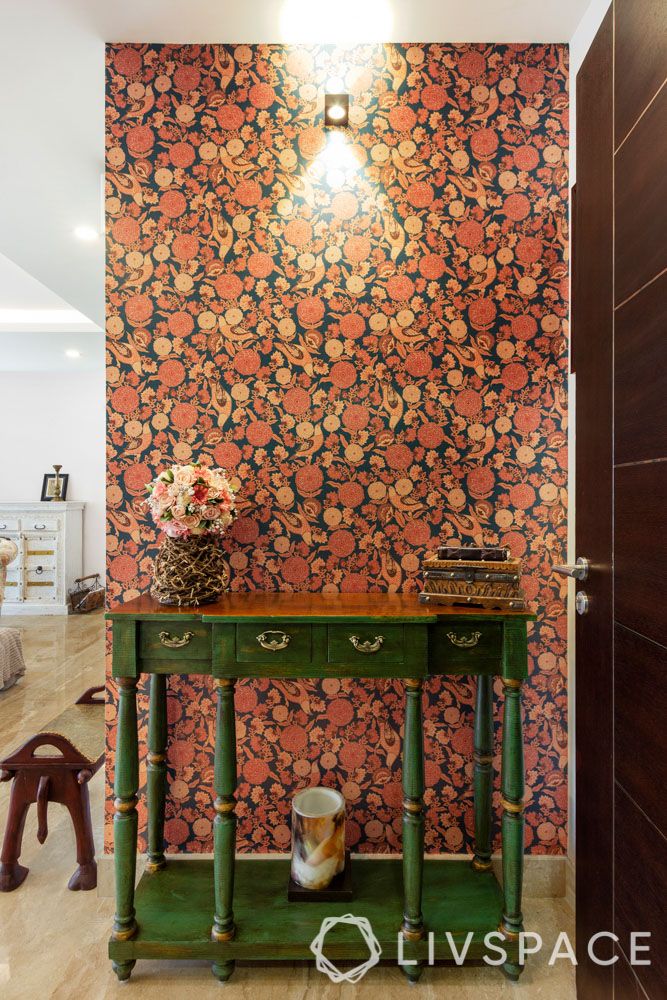 Cost is something all of us consider before we invest in something. This decision-making process is no different when it comes to choosing between wallpaper vs paint.
However, please note that the costs for both materials can vary as per your scope and requirements. Here are some factors that come into play when it comes to the cost of these materials:
| | |
| --- | --- |
| Wallpaper | Paint |
| Wallpaper may be more expensive, but can be a more cost-effective option in the long run | Paint requires frequent reapplication to keep it in top shape, which can increase lifetime costs |
| Requires professional application and can be more labour-intensive  | The time, effort and skill required for application is comparatively less |
| Depending on the brand of wallpaper and the availability of skilled professionals to apply it, the costs can vary | Due to the ready availability of labour and materials, the overall cost for a paint job can be relatively lower than wallpapering |
TLDR: In the short term, it's paint, but in the long term, it's wallpaper!
#5: Wallpaper vs Paint Based on Usage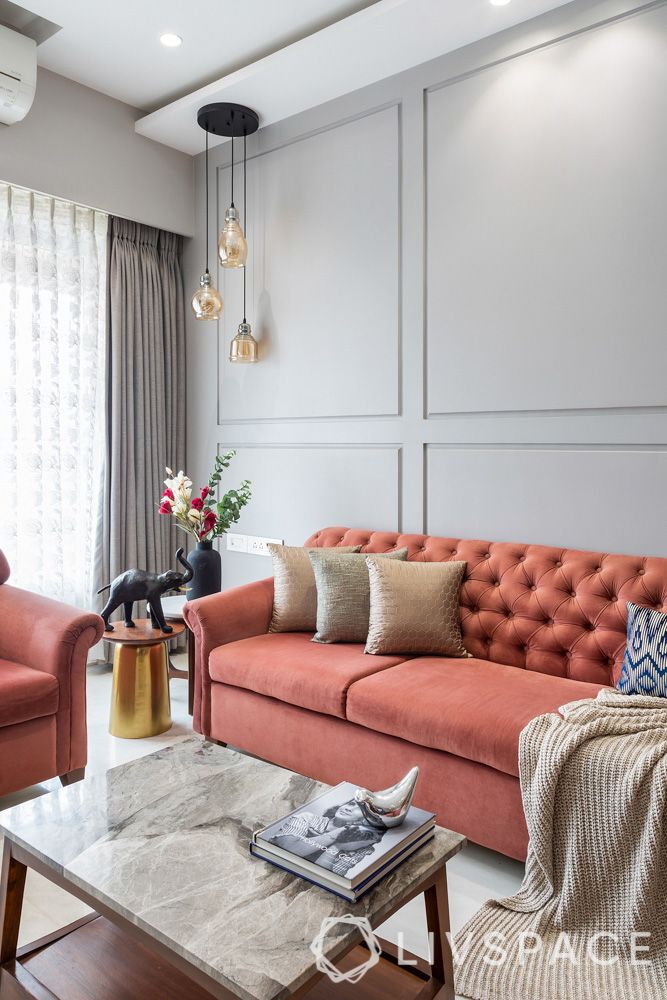 While trying to solve the wallpaper vs paint dilemma, consider the area of your home in question. While paint is generally suitable for all areas of the house, excess heat can adversely affect the life of painted walls.
This accounts for the major difference in between the wallpaper vs paint cost in India, as you end up bearing the cost of repainting often.
Similarly, wallpaper doesn't fare too well in areas with moisture and heat, like kitchens and bathrooms. Since wallpaper can be easily torn or damaged, it's probably best to avoid using it in high traffic areas.
Also Read: 10 Features to Look Out for When You're Choosing Wall Paint
#6: Is Wallpaper Better Than Paint in Terms of Aesthetics?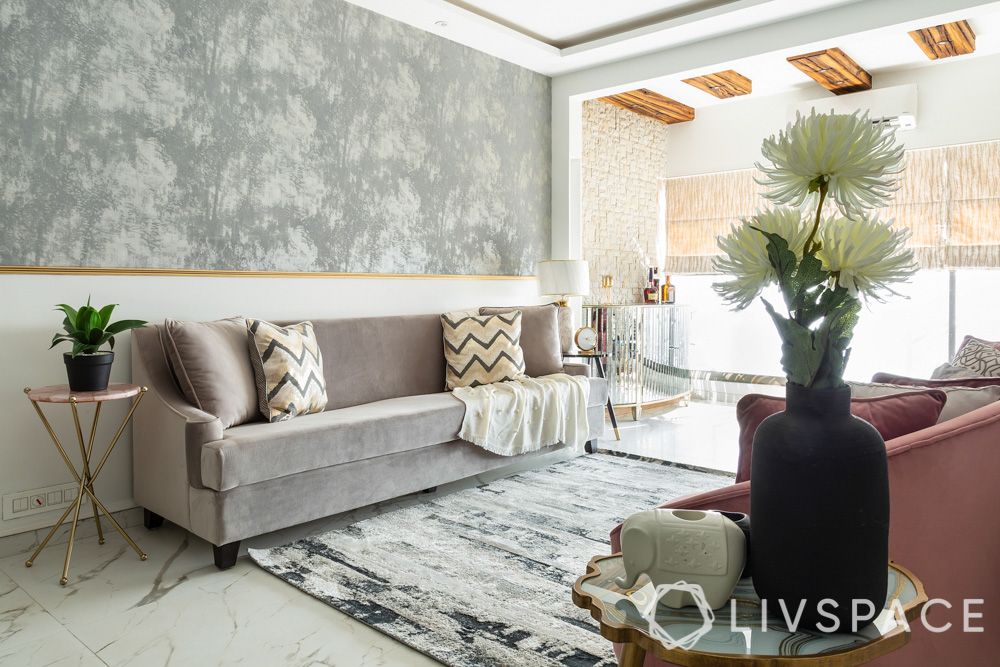 Both wallpaper and paint can be used in effective ways to enhance the aesthetic appeal of Indian homes. Use textured paints or flashy patterned wallpapers to create stunning backdrops for your furniture.
Similarly, you can also create highlights on your walls by using these materials in shapely patterns. Think about creating an arch shape, for example.
#7: Wallpaper vs Paint: How Do They Differ With Customisation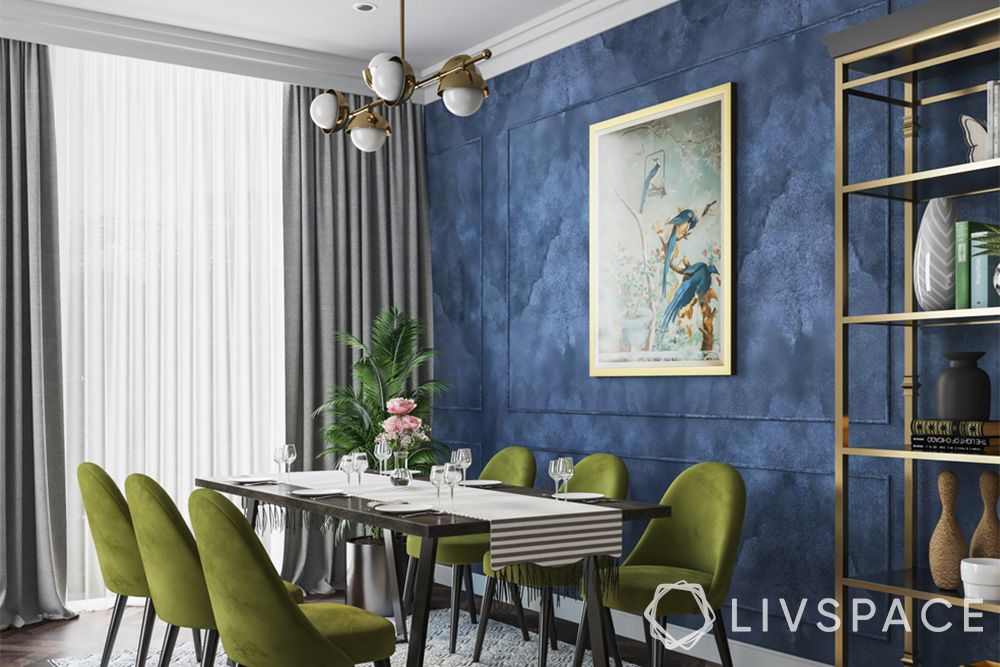 Paint offers ample opportunity for customisation. This is because paints can be generated in any colour you set your heart on. You can choose from thousands of paint swatches or mix hues and tints to get a precisely customised colour.  
Wallpaper, on the other hand, is still an emerging concept in India. Though there is a wide variety of standard designs available in stores across the country, it's tricky to find a vendor to print out custom patterns.
When it is about wallpaper vs paint, do keep in mind that both can be applied only on smoothened walls. To kick things up a notch, you can choose to have a mix of wallpaper and paint in your home as well.
#8: Wallpaper vs Paint: Which Is Better for Maintenance?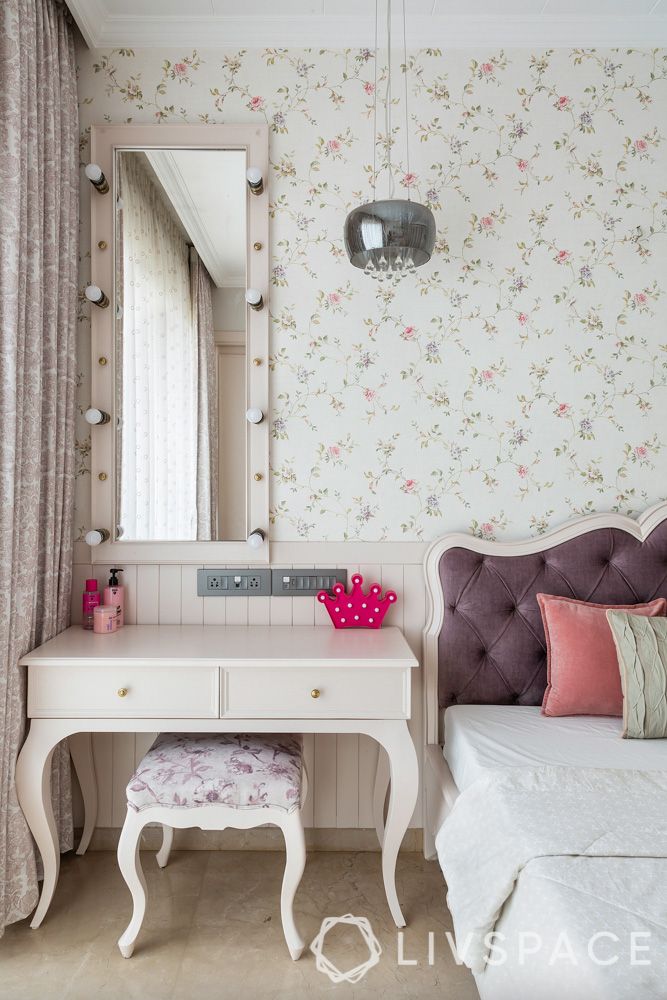 Your paint job might need a touch-up every three to five years to stay in top shape. Moreover, each type of house paint comes with its own care instructions that further dictate durability. Depending on the type of paint you use, the maintenance instructions can vary. 
Wallpapers are comparatively simpler to maintain if they're not used in heavy-traffic areas. Simply wipe it down with a damp cloth, and it's as good as new!
#9: The Universality of Both Wallpaper and Paint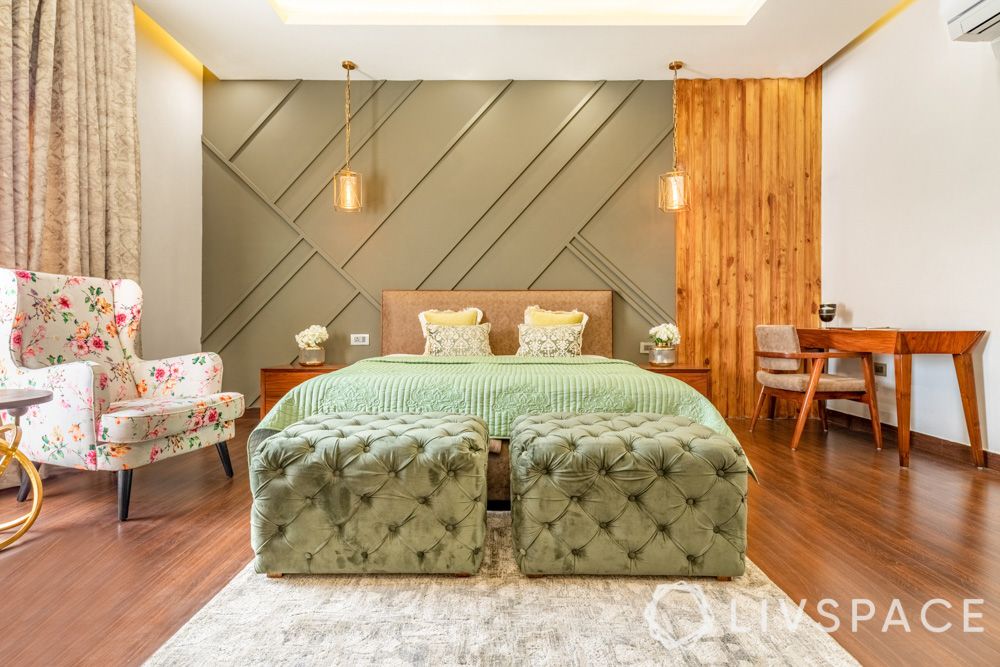 While the choice between wallpaper vs paint is offered for most parts of your home, some rooms can be restricted spaces. For example, wallpaper is not suitable for bathrooms and kitchens. This is because the high humidity might cause it to start peeling.
On the other hand, in children's rooms, it's safer to opt for washable wallpaper so that they can unleash their creativity on the walls. This makes it easier to handle scribbles if keeping your kids off the walls is not a possibility.
The same way, both paint and wallpaper have their unique use cases in different spaces of your home. The only way to understand them is to give both a try!
Also Read: Amazing Wallpaper Designs and Ideas for Stunning Rooms at Home
#10: Wallpaper vs Paint: Which Is Easier to Remove?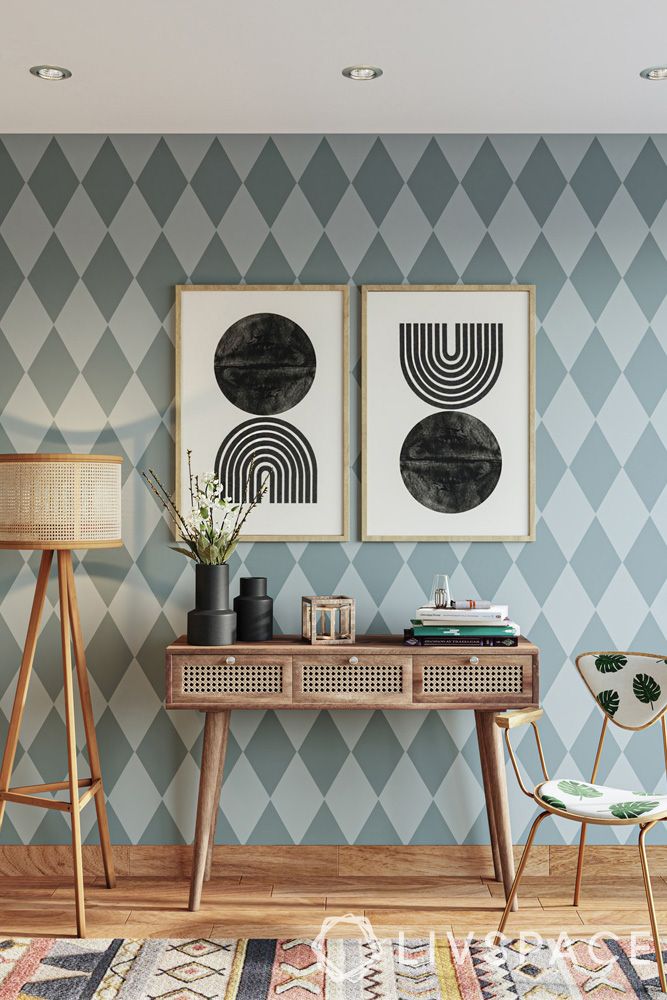 Removing paint is an extensive process that might lead you to even wonder if it's really necessary to bother taking the paint off. The process starts with scraping the old paint off the walls, stripping it down, and then sanding it for smooth walls that you can paint over again. You'll also have a lot of cleaning up to do once the process is over, and that usually requires labour.
However, if you choose peel-and-paste wallpaper designs, you can remove it with ease. In case you've used regular wallpaper, you'll have to scrape it off bit by bit.
No matter how you look at it, both paint and wallpaper can have an extensive removal process. However, the extent of removal can be less intensive with paint, depending on the state of your walls.
How Can Livspace Help You? 
We hope you found this guide on wallpaper vs paint useful! If you want beautiful interiors for your home, then look no further. Book an online consultation with Livspace today.
Have any thoughts or suggestions you'd like to share with us? We're all ears! Drop us a line at editor@livspace.com.
You can also check out these Livspace reviews to know how our customers feel about working with us!
Disclaimer: All contents of the story are specific to the time of publication. Mentions of costs, budget, materials, finishes, and products from the Livspace catalogue can vary with reference to current rates. Talk to our designer for more details on pricing and availability.
FAQs
1. How Often Should You Clean Your Wallpaper?
You can dust or wipe down your wallpapered walls on a monthly basis to keep it free from dust and grime.
2. How Much Does It Cost to Wallpaper One Wall?
The average area of one wall is around 100 sq. ft. where you will need two rolls of wallpaper to cover it. As per these estimates, it will cost you around ₹7,000 to ₹10,000 to wallpaper one wall. However, please note that these prices can vary.
3. How Much Does It Cost to Paint a 2BHK Home?
Standard painting work with distemper paint for the ceiling and premium emulsion for the wall can cost ₹75,000. Similarly, the range for luxury painting services can cost around ₹1.1 lacs.
4. What Are the Advantages and Disadvantages of Painting?
Painting can be a cost-effective and easy solution to designing your walls. However, they will need to be retouched or repainted every three to five years, making it slightly more difficult to maintain.