Picking the right finish is as important as the framework of the storage unit. More than aesthetics, the finish provides protection and can determine the life of the cabinet carcass.That's why homeowners love membrane over several other finishes. 
The term membrane finish might ring a bell if you're in the process of renovating your kitchen or getting a new wardrobe! This is usually labelled as an economical yet durable finish. A better option compared to laminate, but still short of the finesse that acrylic offers. Take a look at a few reasons why membrane is better than laminate and PU finish and why it  might be the ideal choice for your modular storage.
What is membrane?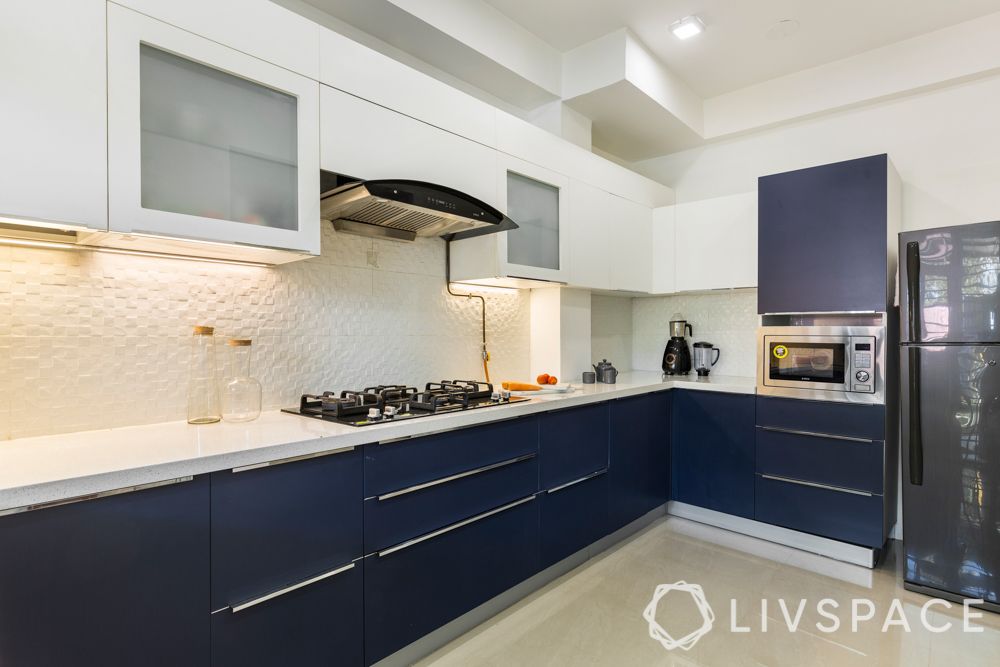 Membrane is a Polyvinyl chloride (PVC) foil. It is available in matte, glossy and even wooden finishes. The foil is wrapped around medium density fibreboard under high pressure.
How is it different from laminate?
You will be surprised to know that laminate finish is made of flat paper glued together. However, membrane is a foil. This is important because you'll not have to worry about edge banding in the case of the membrane. At Livspace, we use edge banding technique on the laminate to provide a smooth edge which otherwise would be sharp.
Also, unlike laminate, they aren't glued to the wooden surface.
What about when compared to PU finish for kitchens and wardrobes?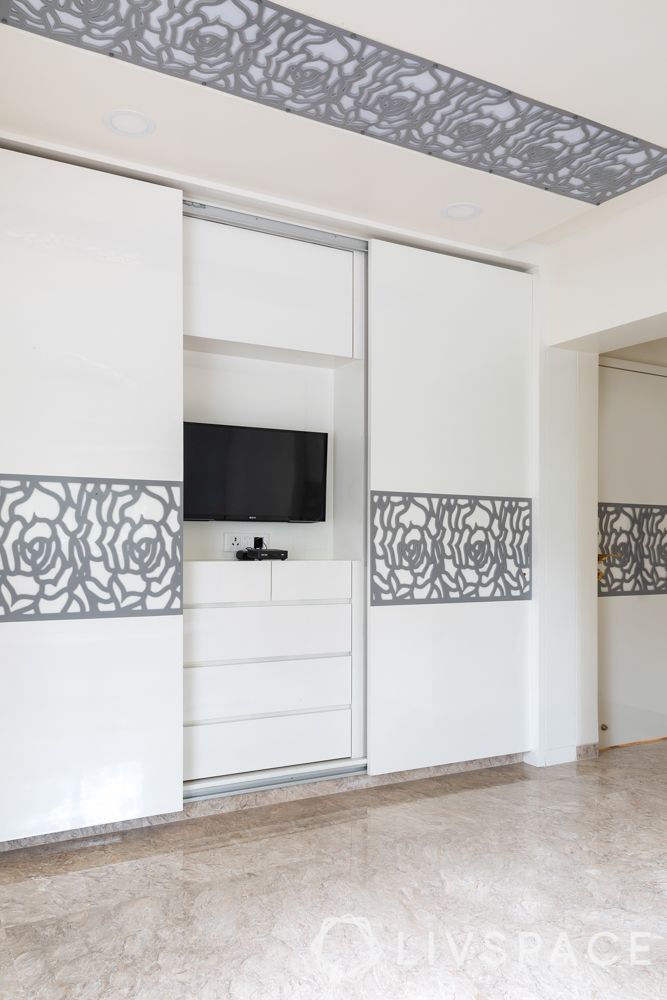 Membrane finish is a popular option due to its price point and durability. However, PU finish should be considered for its luxurious look and feel. PU paint stands for Polyurethane paint. It is a highly durable acrylic paint that is easy to apply. This glossy paint has a royal-finish and is applied over MDF boards. It is resistant to heat, chemicals and water, making it perfect for kitchens, too. Moreover, it is scratch resistant making it long lasting.
However, the drawback for this finish is the price-point. Designers recommend PU paint for high-end, luxury projects due to its durability and flawless finish. So if you are on budget and looking for something glossy, membrane is an economical choice.
Pros and Cons of membrane finish
For a better understanding, here are some positives and negatives of membrane: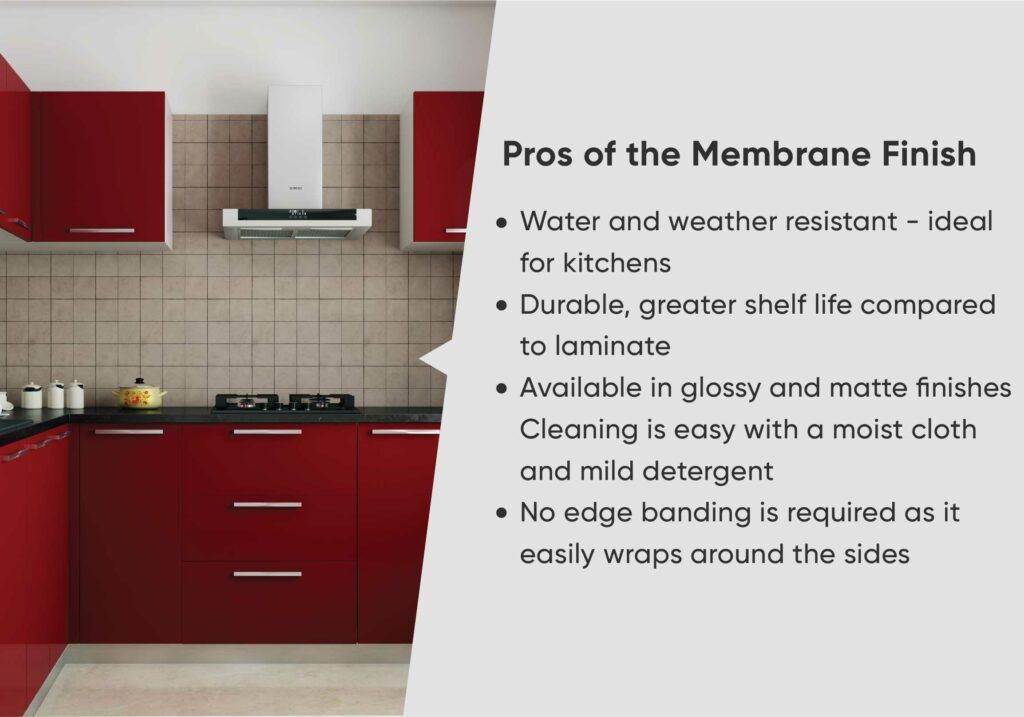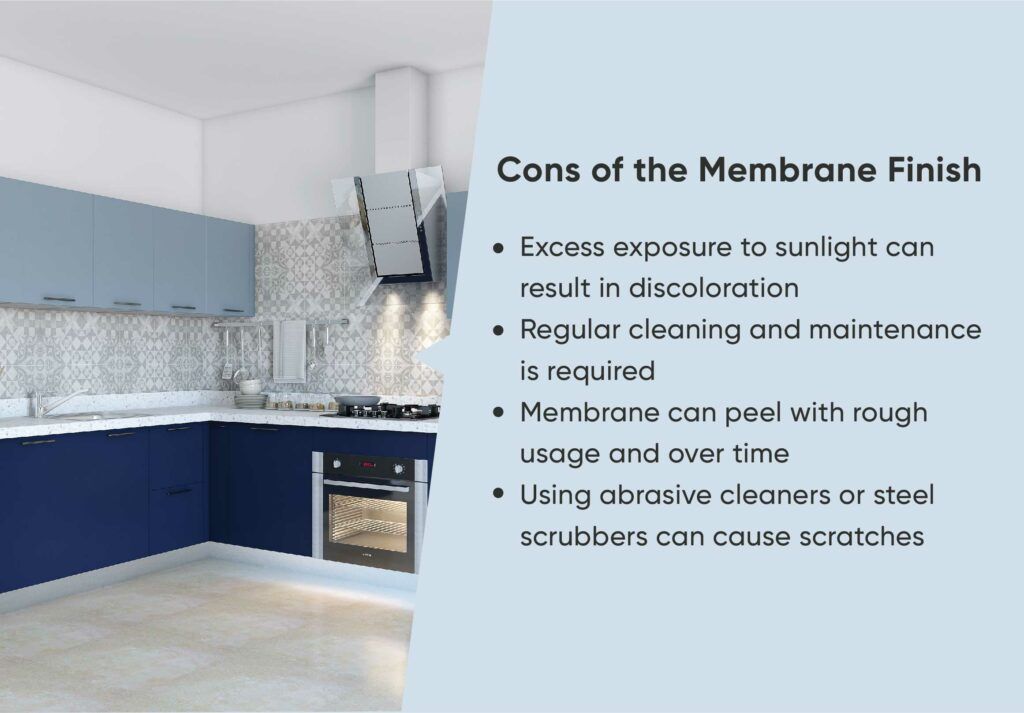 Why is membrane a go-to option?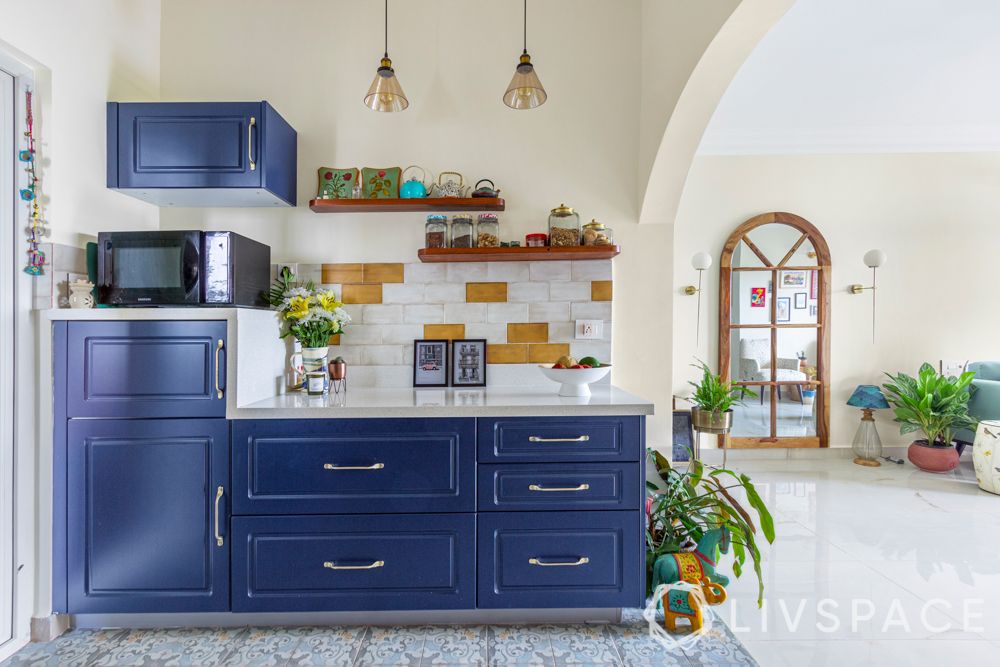 Most homeowners go for membrane finish as it has a rich look which sits well in traditional and contemporary homes. Also, it is an economical in comparison to acrylic finish. The finish feels natural and gives a consistent look. Find out why with Acrylic or Membrane: Which is a Better Finish?
What's new in membrane finish?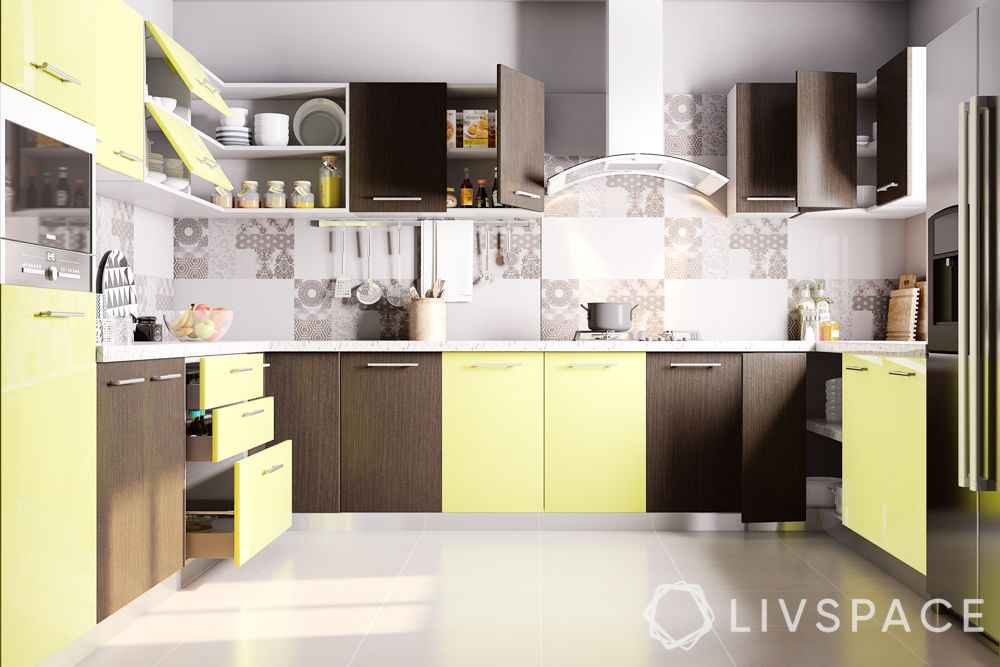 Livspace has tied up with the German brand, Renolit, to offer our customers access to 30 membrane finishes. Our team of experienced designers have hand-picked these finishes based on customer survey and international trends! So you've got a chance to give your modular kitchens and wardrobes a different look of global standards. Keep a watch out for more details on our tie-up with Renolit as we showcase different modular designs inspired by these finishes.
We hope this clears your doubts about the finish. Here is a guide to laminate finishes for modular storage: All About Laminates: Types, Finishes, Maintenance & Lot More
Wondering how our customers feel about working with Livspace? You can check out the Livspace reviews here!