Have you eyed designer wall paint treatments at your friend's place and wondered how much he/she spent on it? Have you looked around your home helplessly and wondered how to brighten those boring walls without spending a bomb? We have all been there at some point of time or the other, haven't we? But, you will be surprised to know that paint — along with some wall painting ideas — is all you need to up the glam quotient of your walls. You need some innovative wall painting techniques too, but we are giving those to you for free!
So all you have to do is hire a professional and fire away with these wall painting techniques that can spruce up your space in a matter of hours.
#1: A Wall Painting Technique Using Stencils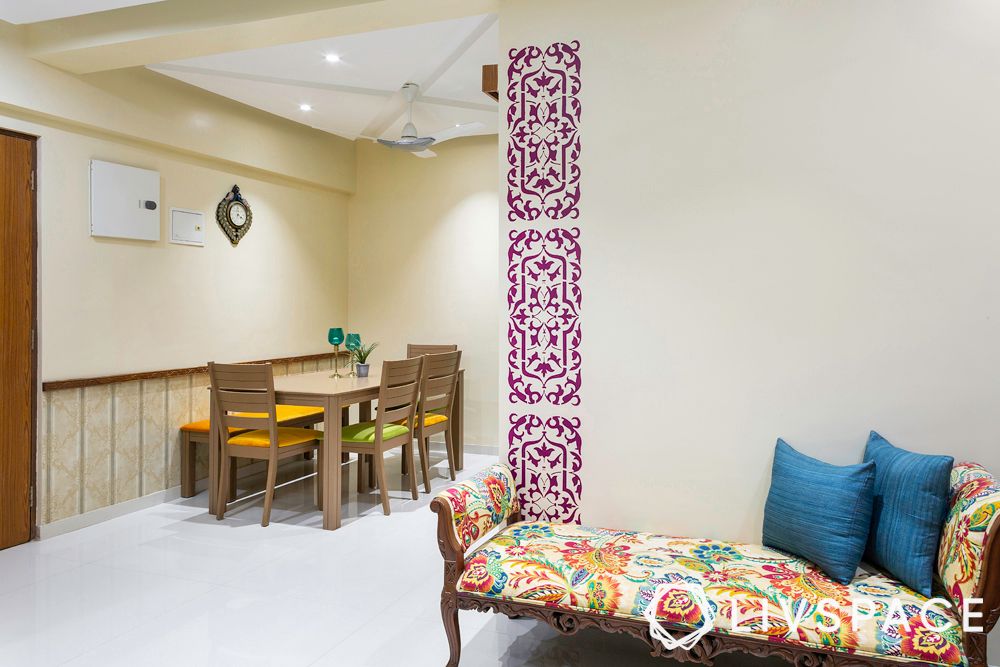 The Process
The process for using stencils for a designer wall paint is a fairly simple one. Stencils are available for preset designs. All you have to do is place them against the wall and paint with a contrasting colour. Moreover, stencils are one of those wall painting techniques that can be DIY. However, if you want perfection with this wall painting idea and wish to avoid any spills, it's best to hire a professional.
The Effect
For the most part, stencils are ornamental in effect. Using this wall painting idea will turn the wall into a piece of art. If stencils are used to create patterns, they could also add texture and enhance the look of the designer wall paint.
Where to use it?
Narrow strips of stencil designs can be used to decorate one portion of a wall, as we can see in the designer wall paint job in the house above. You can also use this wall painting technique to adorn passageways or narrow spaces with some designs.
#2: A Harlequin Wall Painting Idea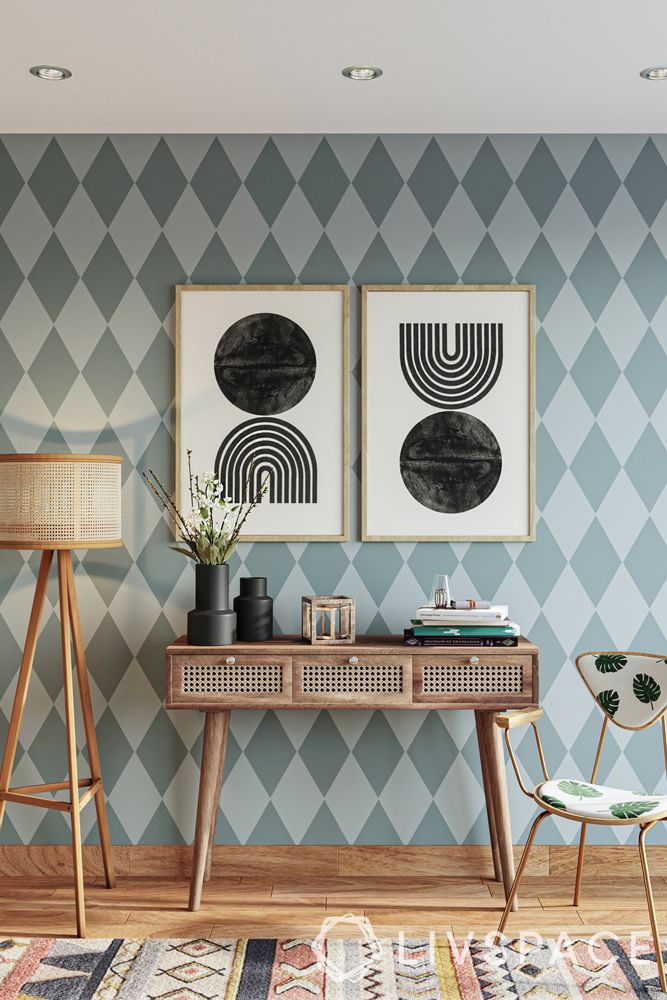 The Process
Typically, duct tape is used to create the harlequin look. One of the more striking wall paint design ideas, this repeating pattern of elongated diamonds is a complex wall painting technique that is best left to the experts.
The Effect
The primary reason for using this wall painting technique is to bring out the contrast. You can use two shades of the same colour if you want subtlety. In fact, if you want the effect to be bolder, pick two very contrasting shades for this wall colour design.
Where to use it?
As the effect of this designer wall paint is rather striking, let the wall do the talking. Don't decorate this wall too much; it'll be an overkill.
#3: Stripes as a Wall Painting Technique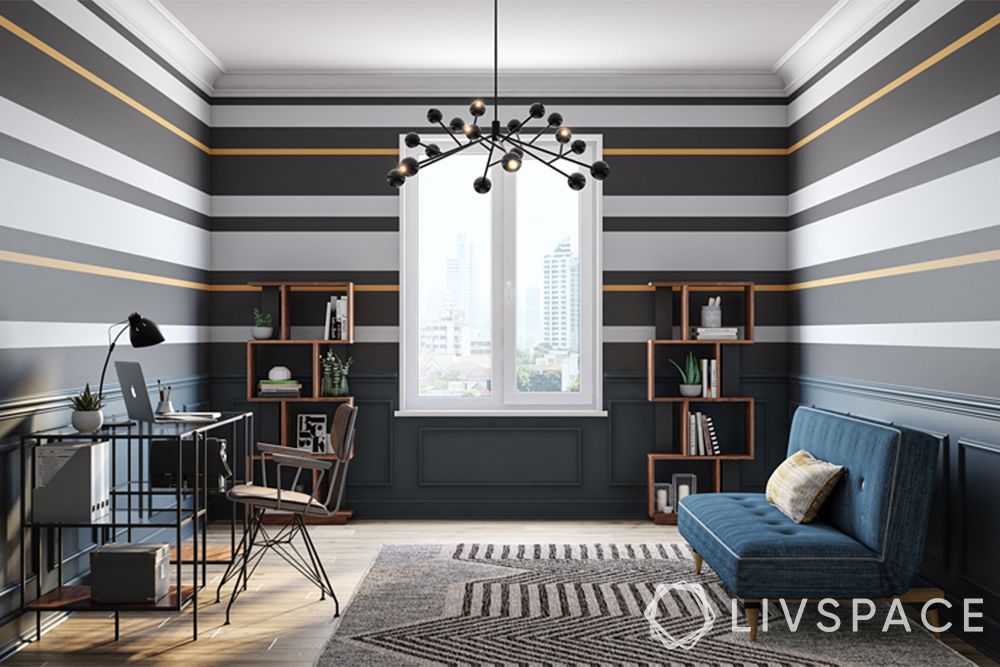 The Process
Similar to the process of painting harlequin, duct tape can be used to separate the stripes of different colours on the wall. Again, this is a wall painting idea best left to specialists.
The Effect
You can choose two or more colours for this. One way is to choose shades of the same colour or family of colours and move from light to dark for this wall paint design idea. Another way is to pick two contrasting colours and make alternate stripes for a bold effect.
Where to use it?
If you are using this wall painting technique throughout a room, you will have to keep the colours subtle and go with very basic furniture. As an accent wall, you can go all out with stripes.
#4: Designer Wall Paint By Sponging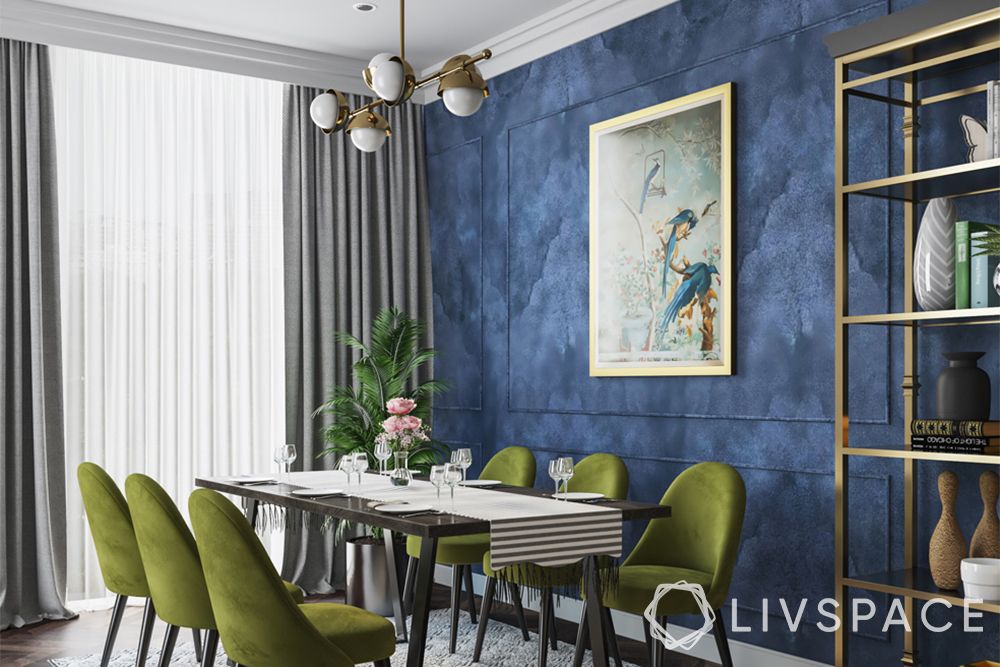 The Process
There is no trick to this wall painting idea as the name gives it away. Sponging is quite literally using a sponge over a freshly painted wall to smudge it.
The Effect
Sponging gives a cloudy effect to the wall. You could call this wall texture design dreamy too. In effect, it is great if you are looking for some abstraction in your home.
Where to use it?
In the children's room, sponging can be done all over. You can also do it for one wall in a living room to make a statement. Sometimes, sponging is part of a larger design you are creating on a wall.
#5: Strie Wall Texture Design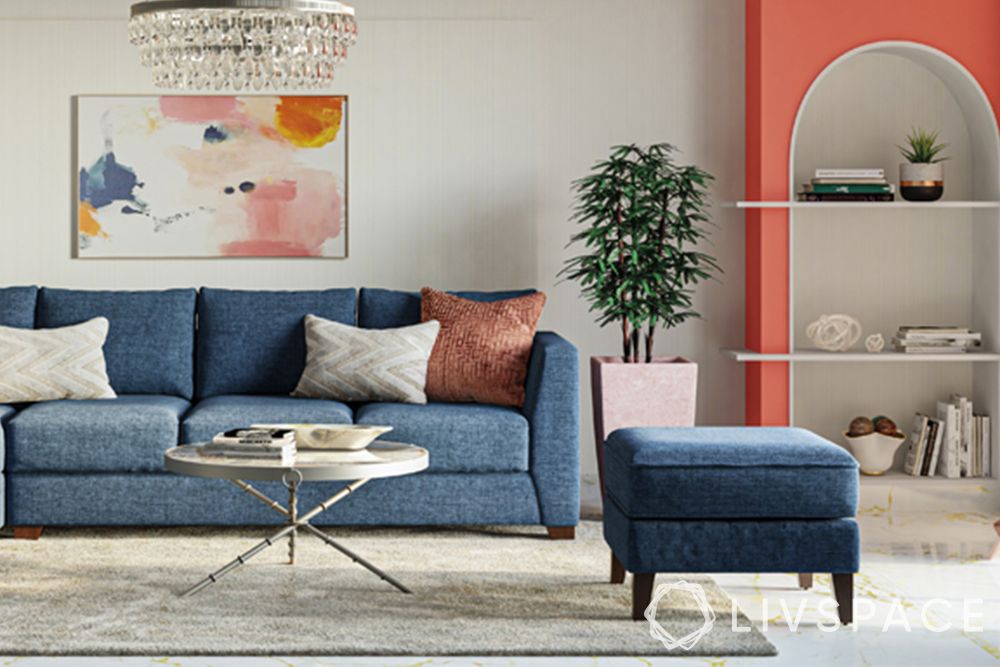 The Process
The word 'strie' is French as is this wall painting technique which is a great way to create stunning walls. A freshly painted wall is combed effectively to get this effect.
The Effect
What you get from this wall painting technique is a very subtle texture. The lines are only visible on taking a closer look. However, this wall painting idea breaks the monotony of a plain wall.
Where to use it?
You can use portions of strie to create visual interest in between plain walls. You can use it to highlight architectural breaks like pillars and columns. As an accent wall, too, this wall painting idea proves an understated elegance to the interiors.
If you enjoyed reading about different wall painting techniques, also explore our story on 5+ Creative Wall Painting Ideas To Add That Oomph Factor to Your Rooms.
Check out wall paint designs:
How Can Livspace Help You?
We hope you found our ideas useful! If you want beautiful interiors for your home, then look no further. Book an online consultation with Livspace today.
Send in your comments and suggestions to editor@livspace.com