You cannot miss these playful kids' room designs that are oh-so-pretty! We love how each of them is different from the other in look and feel. Take a look!
Kids' Room Design #1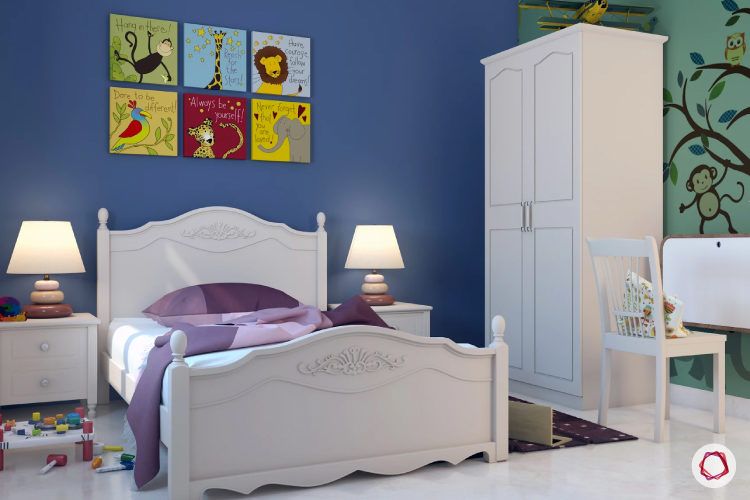 Playful, creative, yet calm, this kids' room is one for the little imaginative genius at home who loves wildlife, The Jungle Book, and shades of blue and green. When you keep the furniture simple in white; you can keep changing the setting every other year.
Kids' Room Design #2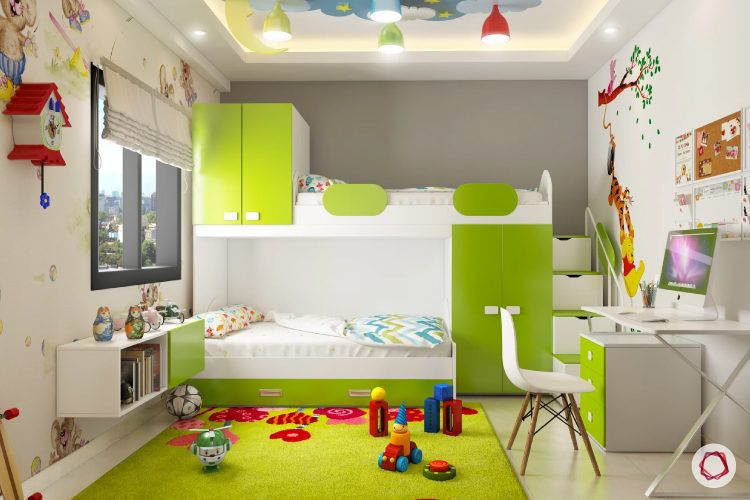 Check out this bunk bed with a twist. The steps have storage built in along with cabinets for their individual possessions. The design keeps the mood fresh and lively in green and white. You can always do up the ceiling and walls with wall art or decals to add to the overall effect.
Kids' Room Design #3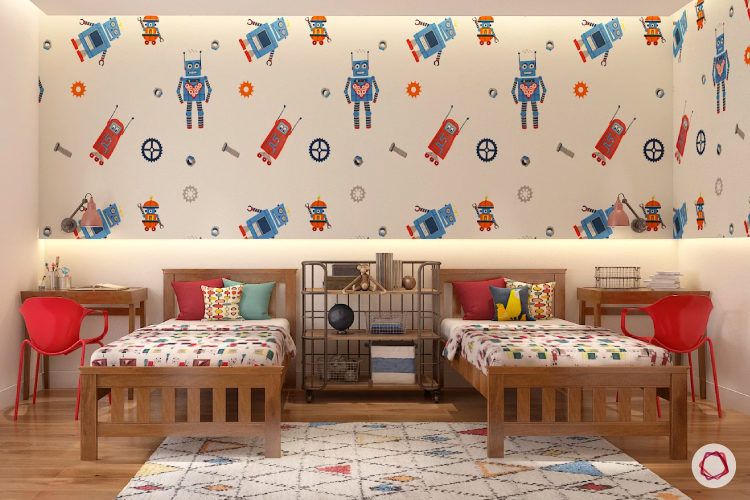 If you have twins, this design will be perfect. With identical beds and study tables, a common table and funky robotic wallpaper, this setup requires very little in terms of permanent changes. You can coordinate the chairs, blinds and sheets with the wallpaper you've picked out.
Kids' Room Design #4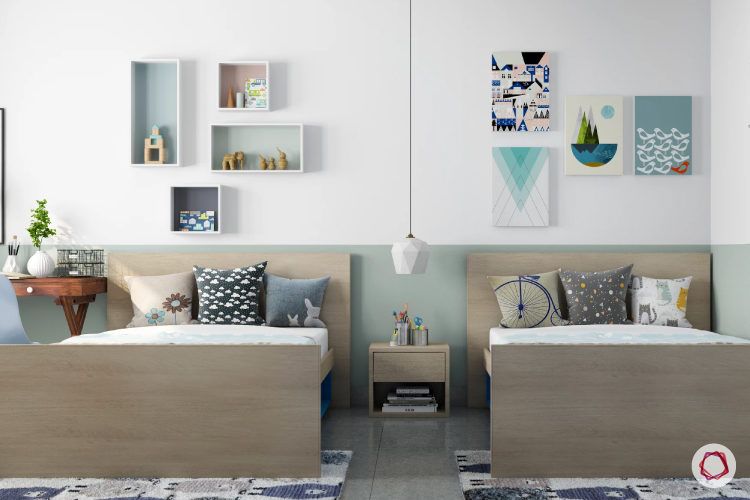 For the sober and more intellectually-inclined adolescents, this is a calming space to relax at the end of the day. The colour scheme is gender-neutral and brings a lot of light and warmth into the room.
Kids' Room Design #5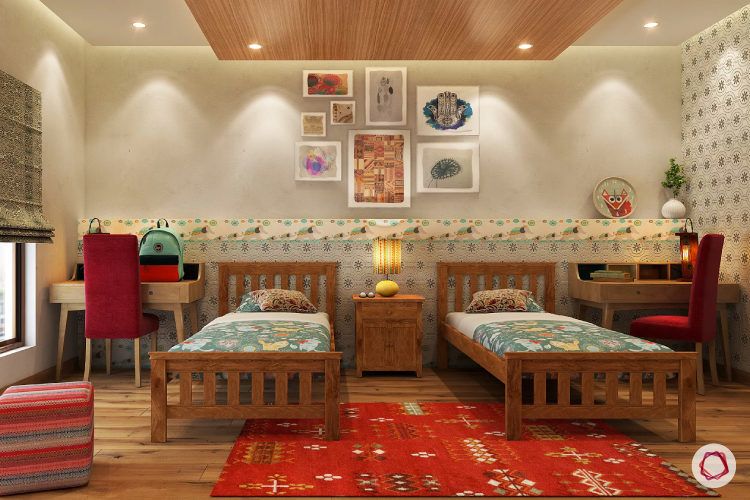 A peppy space for an energetic duo, you can put together shades of red, orange and beige in a pleasing manner. Keep the study and beds the same with a few accent pieces in the room.
Kids' Room Design #6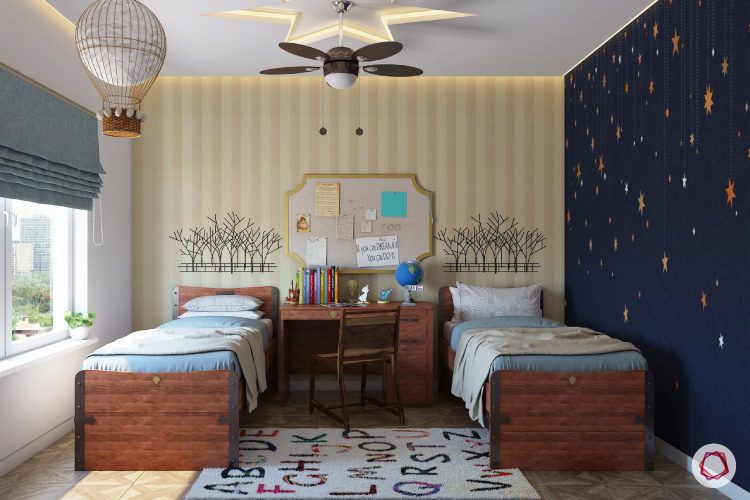 For the whimsically inventive, this is a good space to share. The sunshine flooding the room highlights the wallpaper, while simple furnishings create a zone of tranquility. You can pick out a rug and glow-in-the-dark stars to round out the look.
Kids' Room Design #7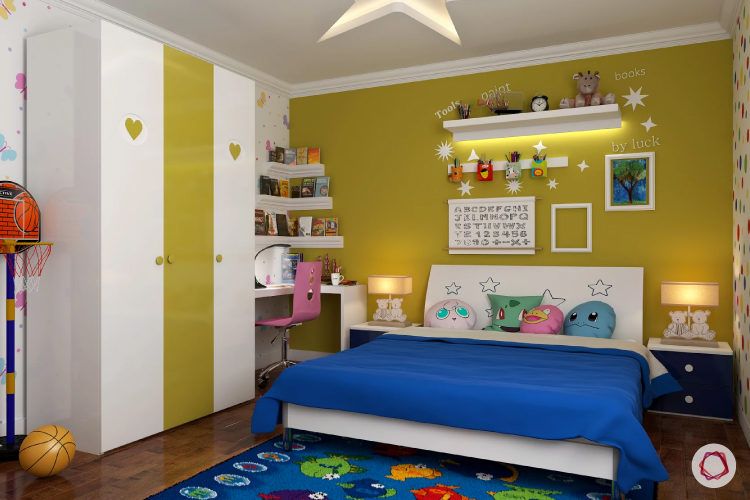 Multicoloured polka dots adorn one wall while a delicious citrus and white form a good contrast on the other walls. This gender-neutral room is perfect for kids with very bubbly personalities. Give them enough open and closed storage spaces for all their toys and books. Watch their imagination come alive in a creative space like this!
Kids' Room Design #8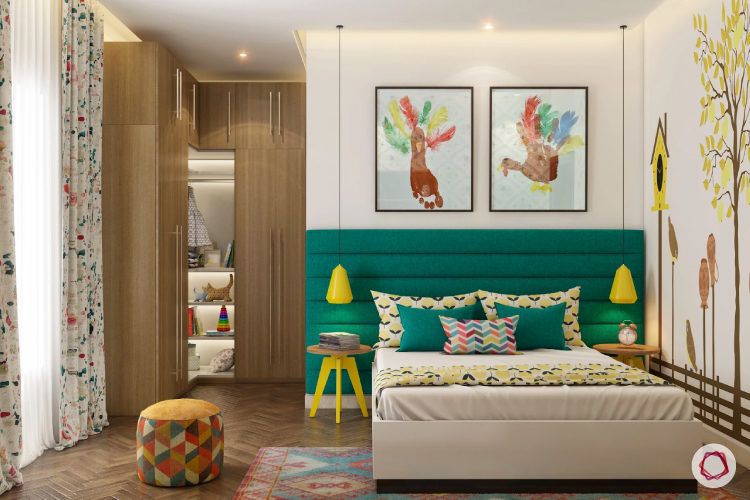 Way to make a colour pop! The headboard, paintings and cushions all call your attention to the beautiful aquamarine. One wall is covered with a hand-painted beauty. This sort of design goes with a regular wooden-finish wardrobe and bed. Add pendant lights to both sides of the bed in a bright shade to make the space pop!
Kids' Room Design #9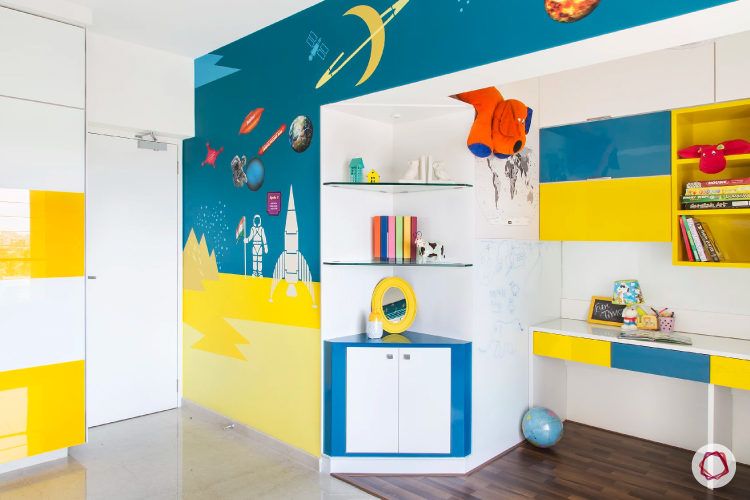 When your child is into science and outer space, you go all out to give them a dreamy atmosphere like this! The furniture is coordinated with the wallpaper and we think it's very upbeat, imaginative and cheery.
Kids' Room Design #10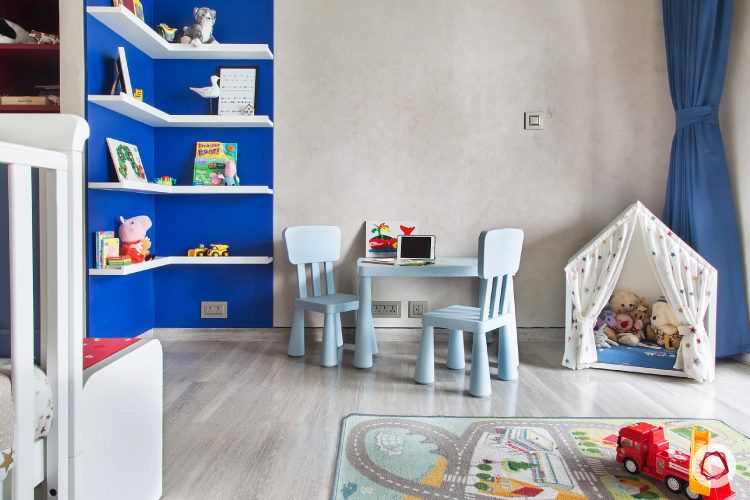 A play corner is every child's dream. Look at the shades of blue employed here! It's great for playtime and storytelling time. Their friends can also join in the fun!
Kids' Room Design #11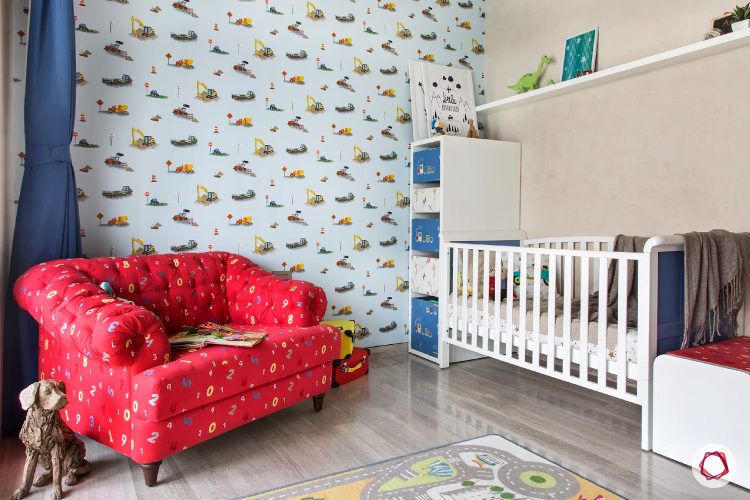 Perfect for a baby or toddler, this space has a lovely crib and storage, colour-coordinated with the wallpaper. The contrasting arm chair is great for parents to read to their children or indulge in mid-day cuddles!
Kids' Room Design #12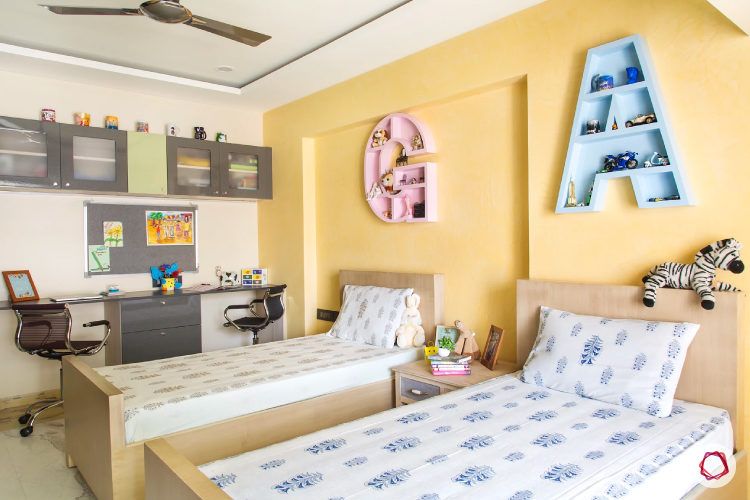 A simple space, this kids room is adorned with book shelves in the initials of the girls who occupy the space. Also, they have identical study spaces and plenty of storage for their growing needs.
For unique storage solutions in your kids' room, read this.
— editor@livspace.com