Have you ever looked at your walls and realised they're just a life-sized blank canvas, waiting for the right inspiration to hit? You can either leave them blank as an artistic statement, or you can go all out with colour. When it comes to wall painting, whatever you choose to do is sure to elevate the overall aesthetic of your home.
So how does one go about selecting the right wall painting technique for their home, you might ask? Well, that's where we come in with our ultimate guide on wall painting ideas!
Read on to find your new favourite style:
#1: Make Your Interiors Pop with a Feature Wall
One-Colour Accent Wall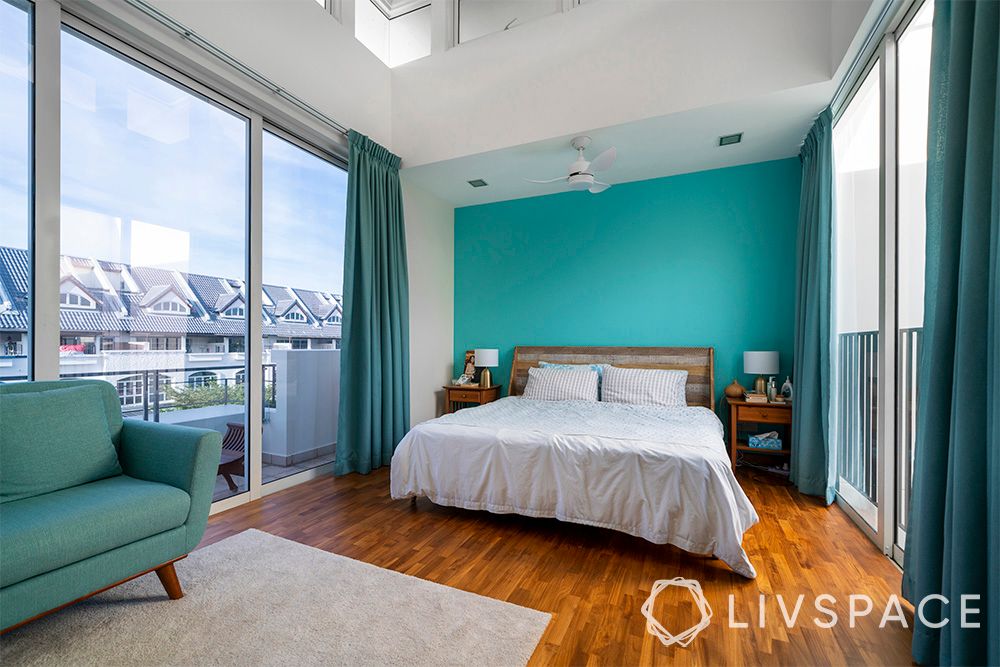 In line with the minimalist trend, a one-colour accent wall helps add some interest to your space. If there's a bold colour you'd like to use, a one-colour accent wall is a great way to implement it. You can go in for clean monotone palettes, or add a subtle pop with colourful shades. Whatever the choice, a standalone accent wall is sure to take your interiors to the next level.
Mural Feature Wall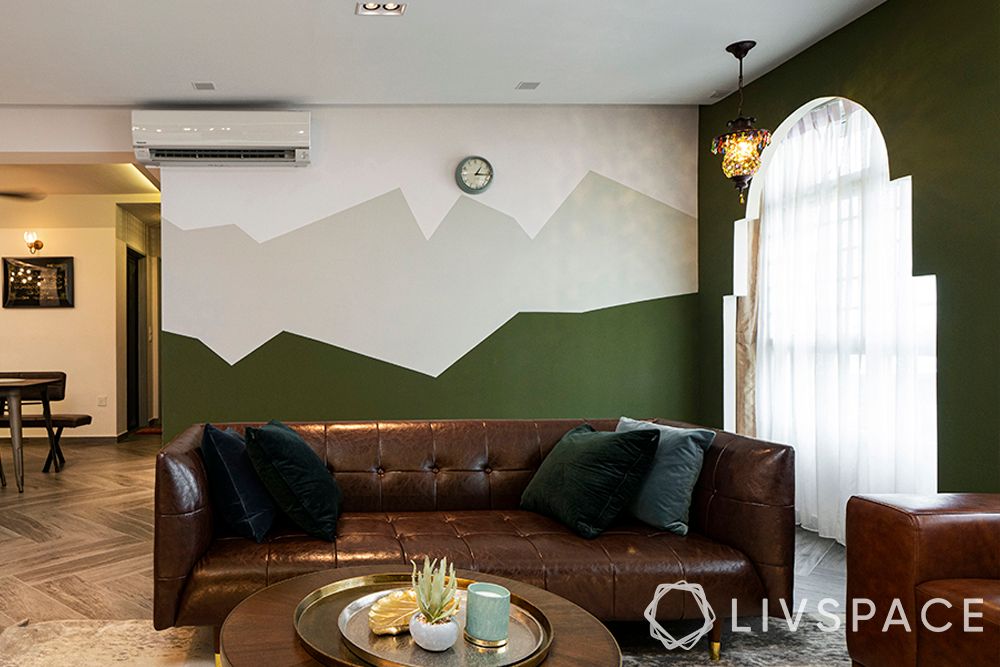 If you'd like to kick things up a notch, a mural feature wall can easily do the trick. Despite being freeing, open-concept floor plans might make your interiors seem like one space. To avoid this, demarcating each room with a dedicated design will bring out its personality. Break the monotony in wall painting with simple patterns or a feature mural to draw the most attention to one room.
For more interesting wall design ideas, you can check out These 10 Exciting Wall Design Solutions.
#2: Add Depth with Textures
Texture Paint
Adding a textured effect to your walls is a great way to add depth to any space in your home. What's more, there are a variety of ways to get this look based on your budget. The easiest way to achieve this is by using textured roller brushes while wall painting, or by colour-washing.
To do this, all you need is a large brush and some glaze to go over your painted walls. Go in for a satin base coat before applying the glaze for best results. For an even easier approach, you can also opt for texture-effect paint to add that extra oomph to your walls!
Sponging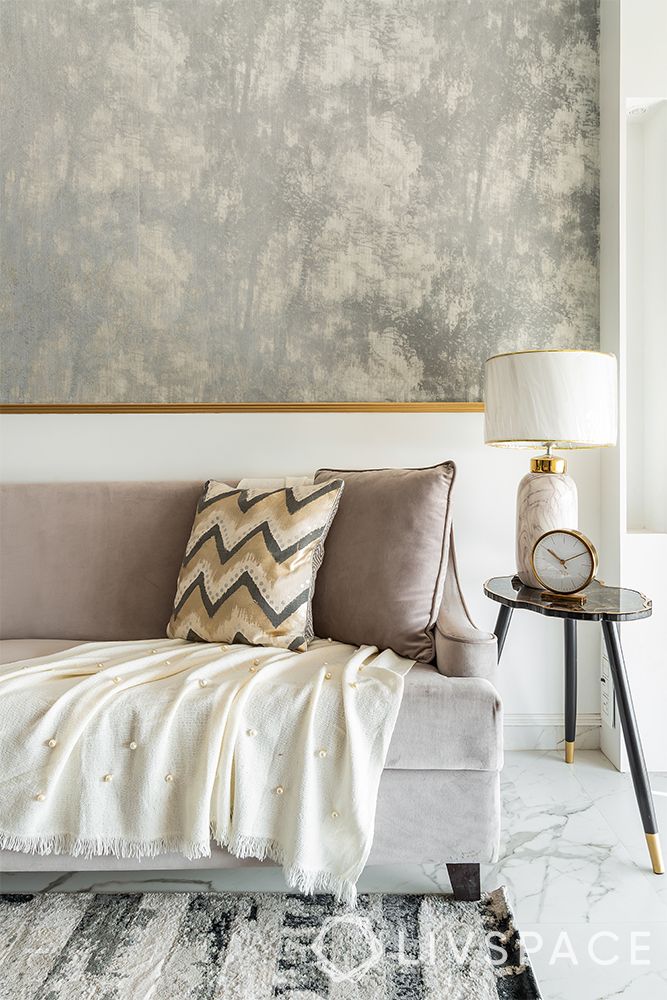 Want to highlight your blank walls with some texture without running your wallet dry? If yes, sponging is the way to go. Much like its name, sponging follows a very straightforward approach when it comes to wall painting. You don't need designer wall paint or extensive skills to make this happen either. All you need is a porous paint roller or an actual sponge and you're ready to go.
#3: Consider Patterns and Colour-Blocking while Wall Painting
Colour Blocking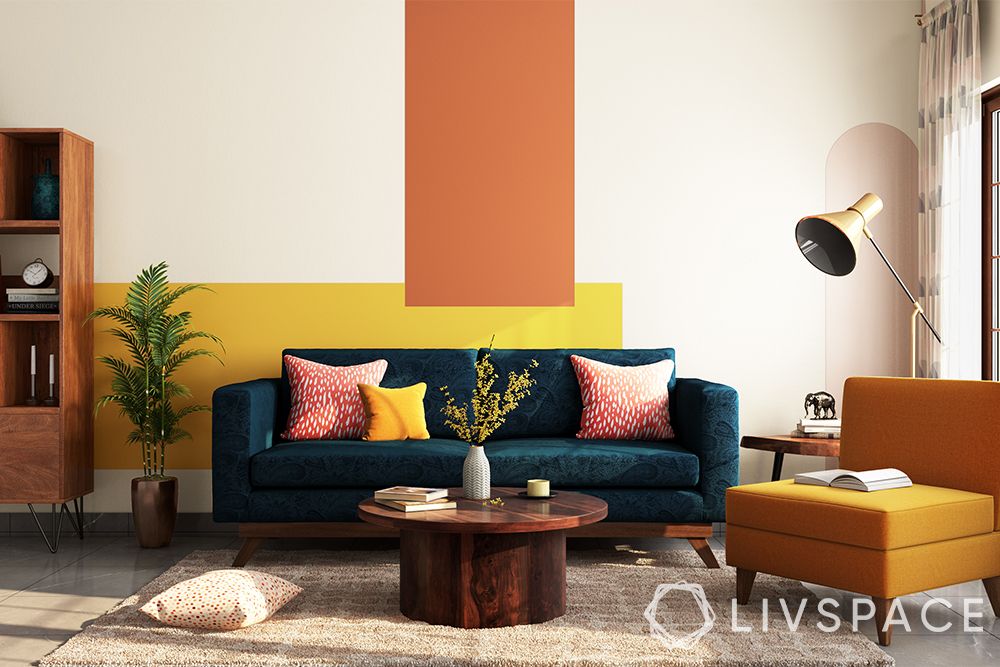 This wall painting technique includes selecting colours that are opposite to each other on the colour wheel. By doing this, you get an interesting palette of vibrant colours to bring a bit of contrast to your interiors. Colour blocking brings an element of fun to your space and can either be paired with neutral or same-colour furniture based on your aesthetic. For contemporary homes that love to experiment, colour blocking is a must-try!
Geometric Patterns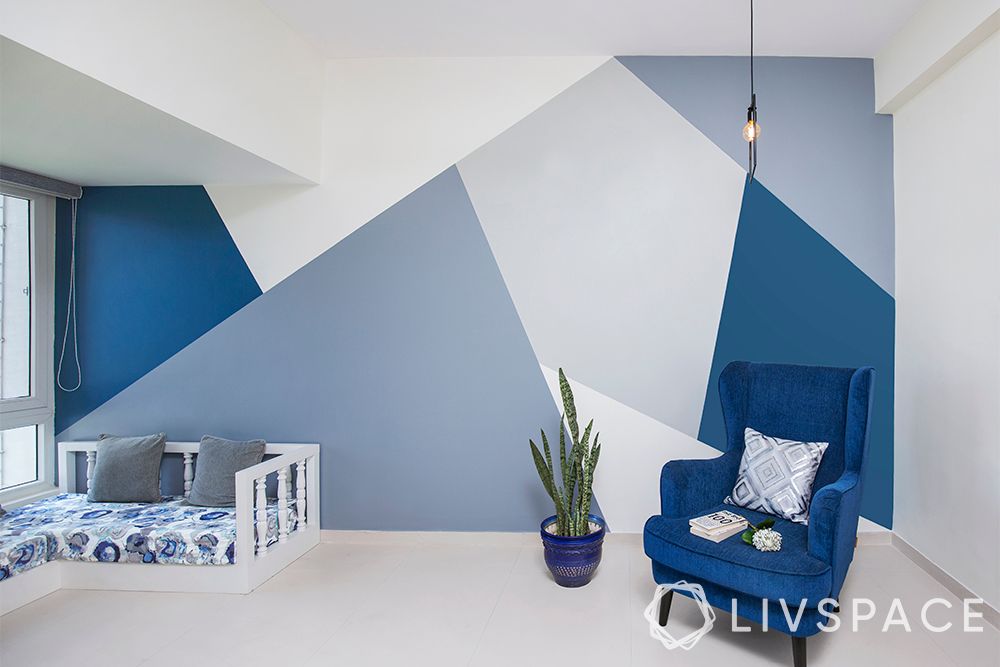 Nothing draws our attention to a wall like bold geometric patterns. Better yet, this wall painting technique can be used in any space, regardless of size. If your room is compact, go in for bigger patterns to create the illusion of space. Since geometric patterns are versatile, they can easily add interest to even the most minimal of aesthetics.
Pop of Paint (Not for the Faint-Hearted!)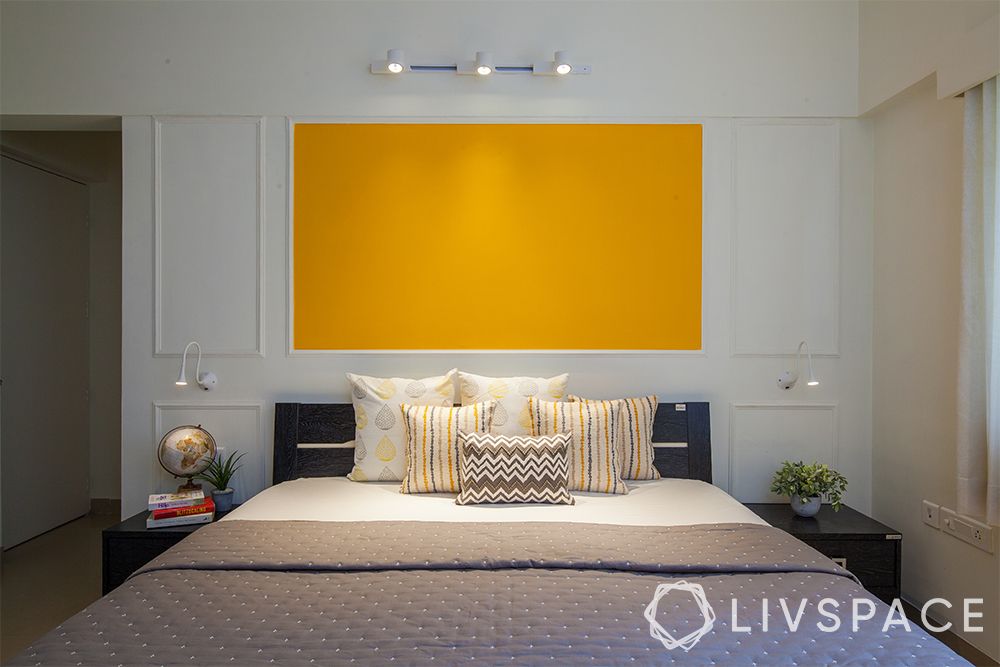 If colour blocking and geometric patterns are too bold for you, highlight your walls with a simple pop of paint instead. This wall painting technique is great for rooms that want to keep things simple, with a touch of personality. What's more, this design also acts as the perfect frame for wall art!
Wondering how to get beautiful walls on a budget? Click here to find out.
#4: Embrace Stripes and Two Tone Palettes for a Modern Touch
Stripes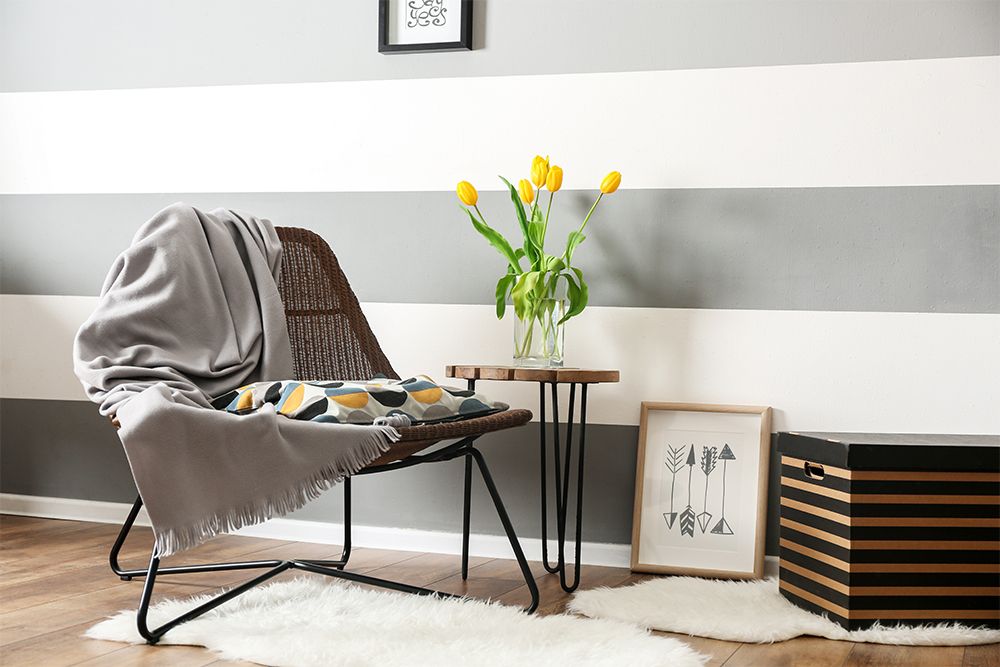 In terms of design, stripes are timeless and work well with nearly any interior style. Dress your walls in big bold stripes or small, leaner lines to accentuate your wall. However you choose to do this, it's sure to create a fun impact that will never go out of style.
Half Painted Wall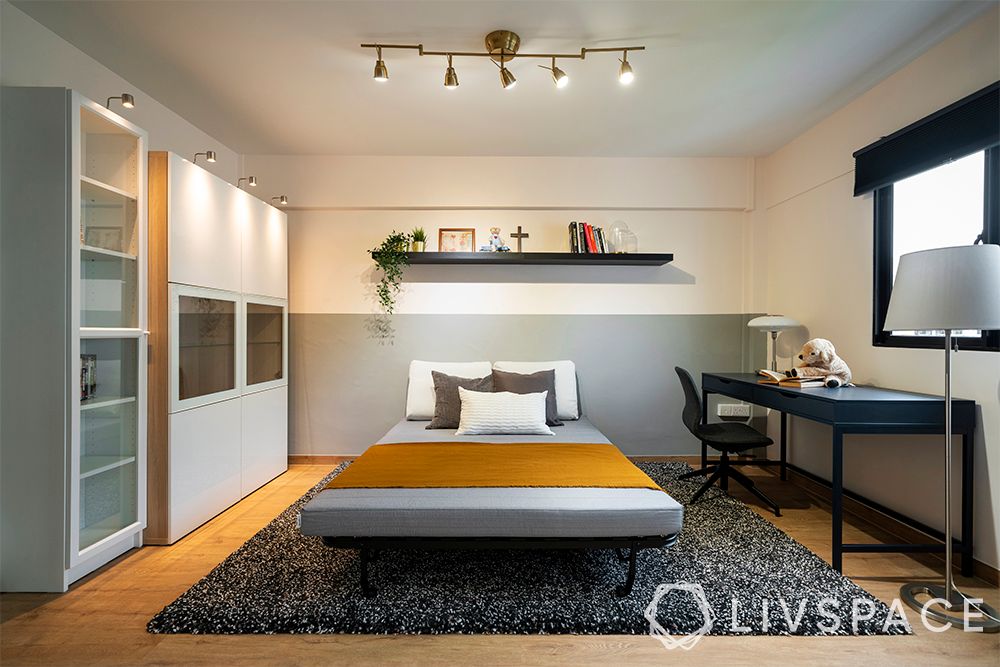 Did you know that half painted walls aren't just about adding a bit of contrast to your room? They also offer the illusion of structural height that can make your ceiling seem higher or lower. To make your ceiling seem higher, use darker colours for the bottom half to create height. For the opposite effect, use darker colours on top to reduce the height of the room.
By using contrasting colours, you can also achieve the colour blocking effect while keeping things minimal. Both techniques are a great way to add dimension while wall painting!
Tone-on-Tone Murals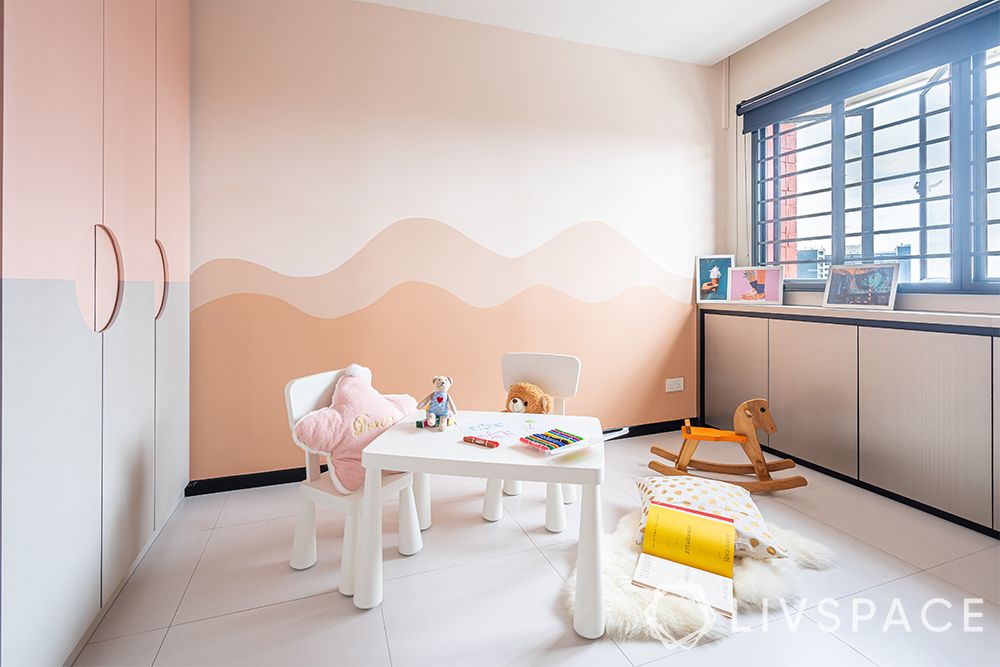 By using different saturation levels of the same colour, you can get a beautiful layered effect for your walls. The tone-on-tone style is a great way to add dimension to your space, while bringing a touch of colour to it. Whether you go dark or light, this style is well suited for modern interiors of any kind.
Similarly, this wall painting technique is not only limited to tone-on-tone murals or feature walls. For the same effect, you can also paint the wall a different colour from the ceiling. This helps create the illusion of space, while still maintaining a minimal aesthetic.
Now that you know what you can do with your walls, you might want to know which house paint colours work best. Read our article on Your Guide to Types of Wall Paint for more details and inspiration!
How Can Livspace Help You?
We hope you found our ideas useful! If you want your home to be just as beautiful, then look no further. Book an online consultation with Livspace today. Delivering safe home interiors has been our No. 1 priority. Click here to find out how interiors are being delivered following all safety protocols.