It doesn't matter if you live in a compact apartment, a dorm or a large mansion – everyone has that one sad yet spirited blank wall that begs to be decorated. Sometimes, finding a solution to do that can seem daunting. Blank walls, big or small, are just like blank canvases and can be decorated in multiple ways. Using DIY home decor crafts can instantly elevate the style quotient of any space. And now that we're staying safe at home, it is the perfect time to give that blank wall a stunning redo!
Below are a few DIY ideas by Anjari Ganguly from ThatYellowTrunk to give any blank wall a quick makeover and add life to a space.
We are calling it THE BLANK WALL PROJECT.
About Anjari Ganguly in Her Own Words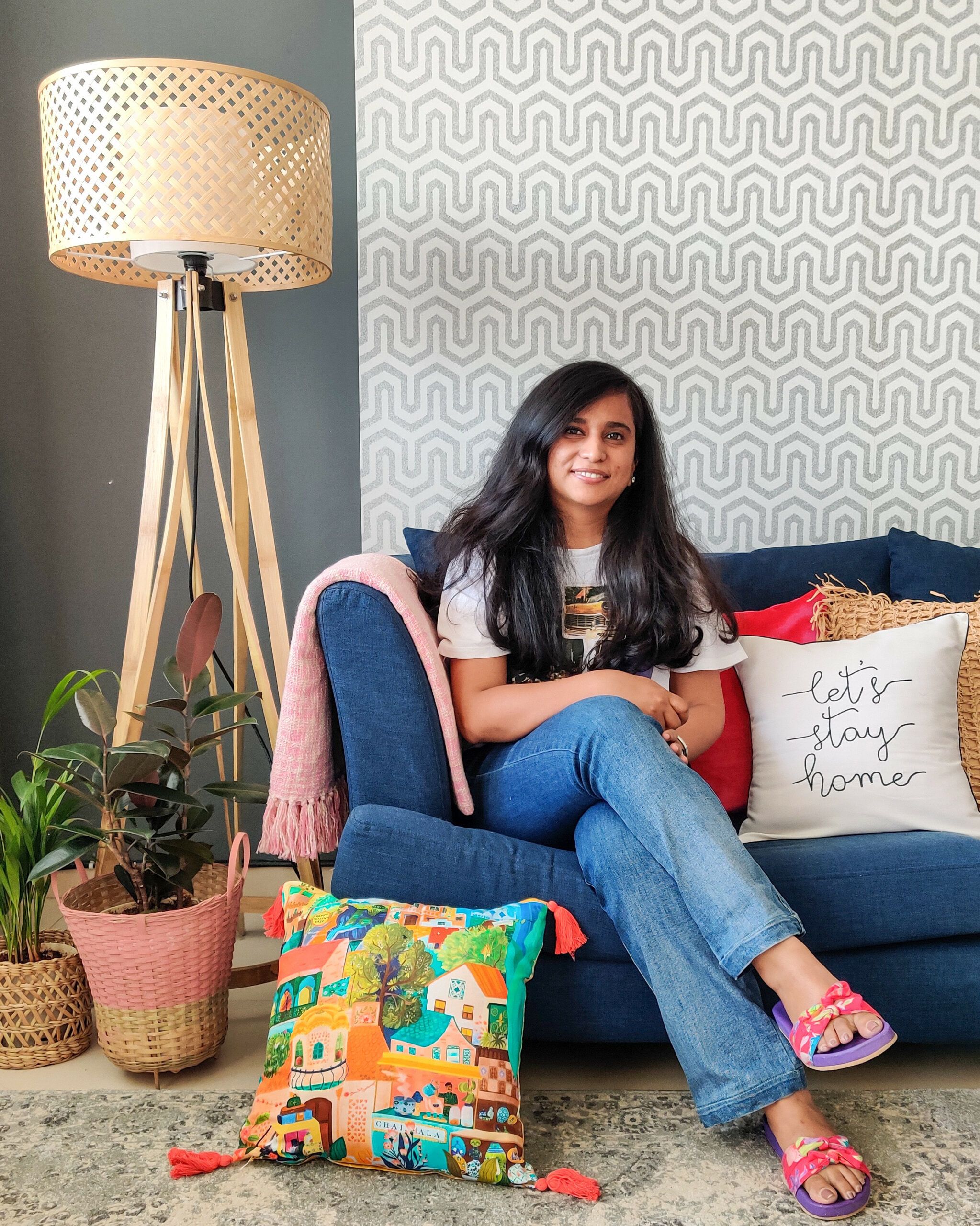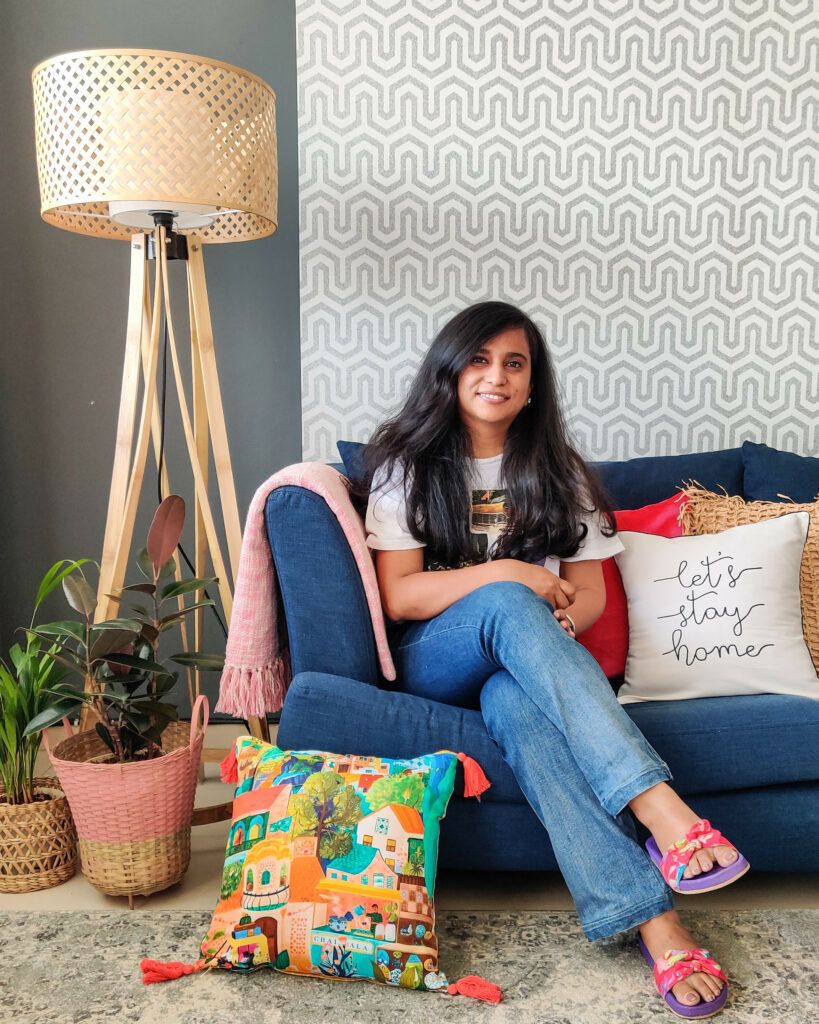 An architect by profession, I have always believed in Einstein's saying "Creativity is intelligence having fun", so 'designing' for me is like a fun-filled puzzle that I keep attempting until it is solved to my liking.
My decor style is contemporary with the extensive use of colours, patterns and indoor greens. I believe in reusing and repurposing home decor. I like to use eco-friendly materials like terracotta and bamboo in my decor. Also, I believe small budgets and small efforts can create smart corners in your home.
I love to up-cycle a lot and constantly try to create decor pieces using old finds from flea markets. My love for everything creative made me start my page "That Yellow Trunk by Anjari" on Instagram and create content around home decor. Today, "That Yellow Trunk" is a community of 60k+ and has been featured in many leading publications.
DIY Home Decor Crafts Idea #1: Themed gallery wall / Framed artwork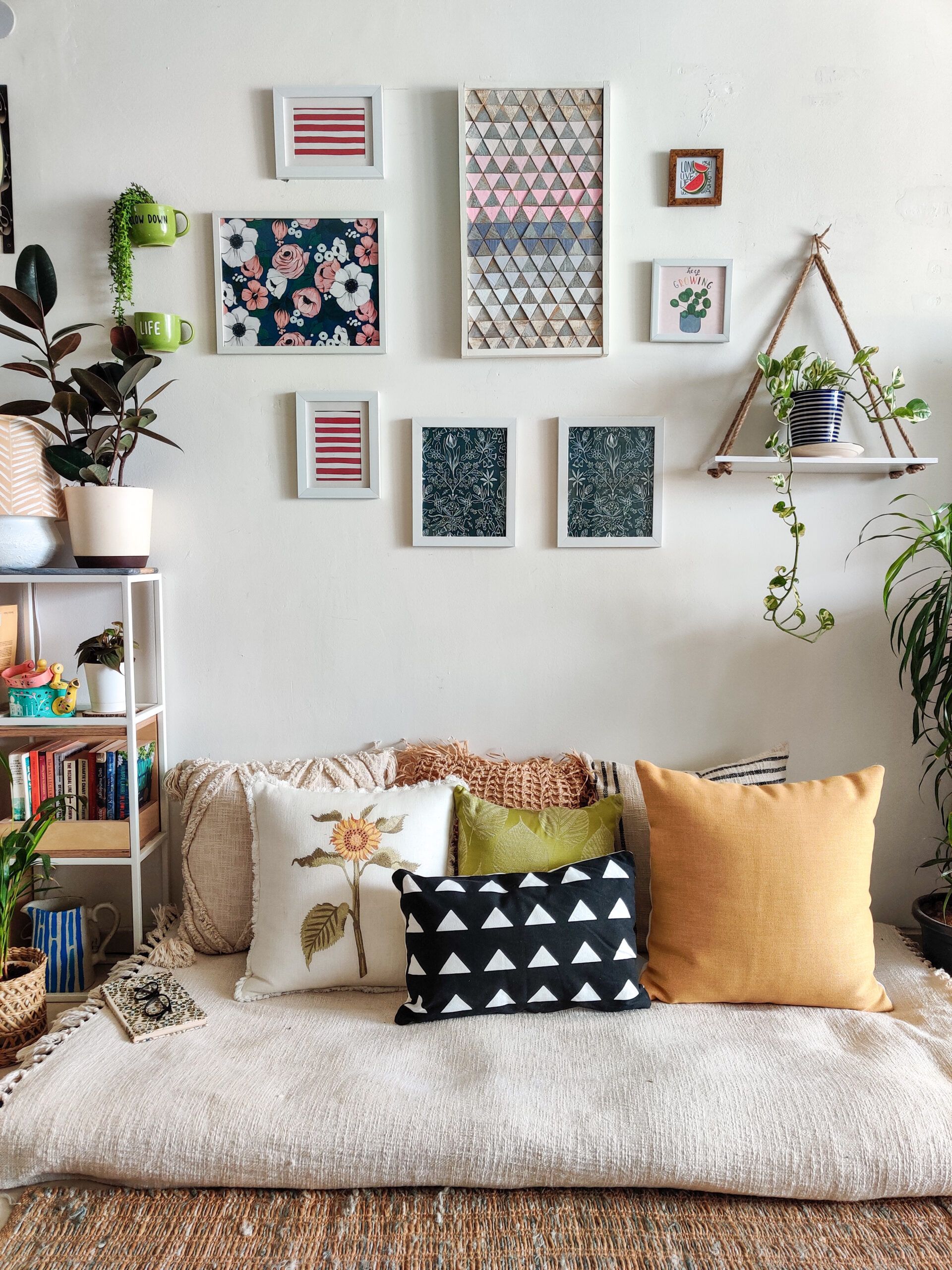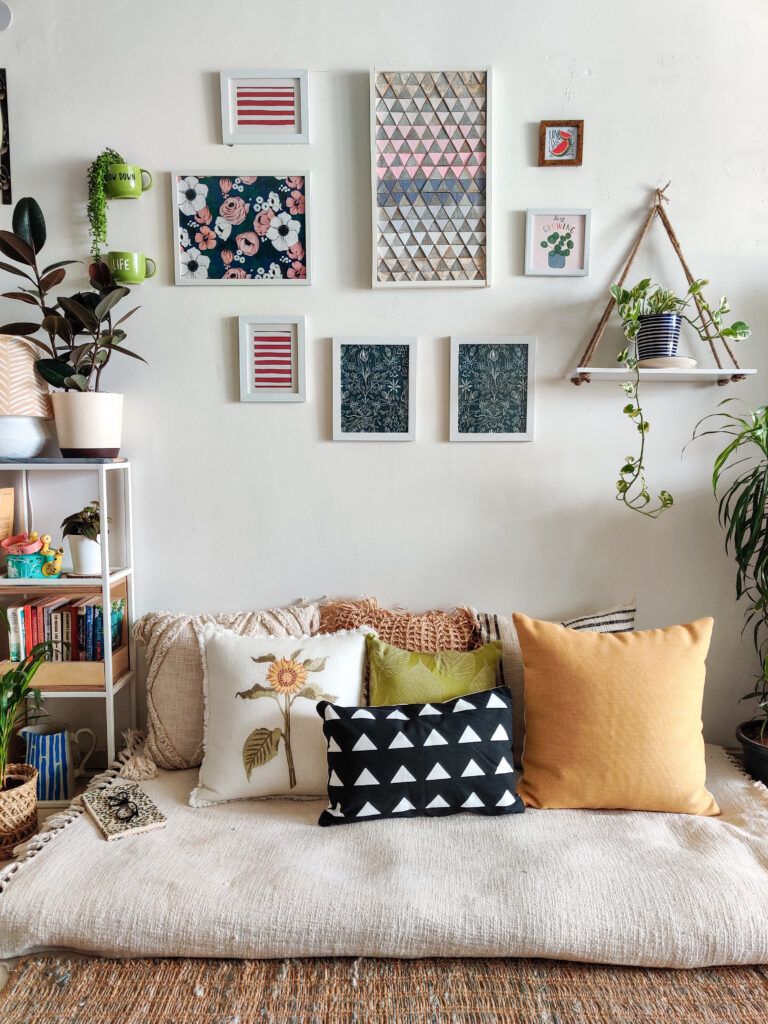 If there is one thing that can make us all nostalgic, it's old photos. So why not create a wall of memories? Hanging multiple framed artworks in different sizes and colours is the easiest way to decorate a wall. People are always drawn towards a well-composed gallery wall because each frame showcases something interesting. A gallery wall can consist of framed family photos, themed posters, or even something as inexpensive as gift wrapping paper. Whatever the design, just make sure that you create the gallery at eye level. There is no rule on how big or small a gallery wall should be. If you have a large/long wall, just fill it with framed artworks and voila! You have one of the most interesting walls in the decor world.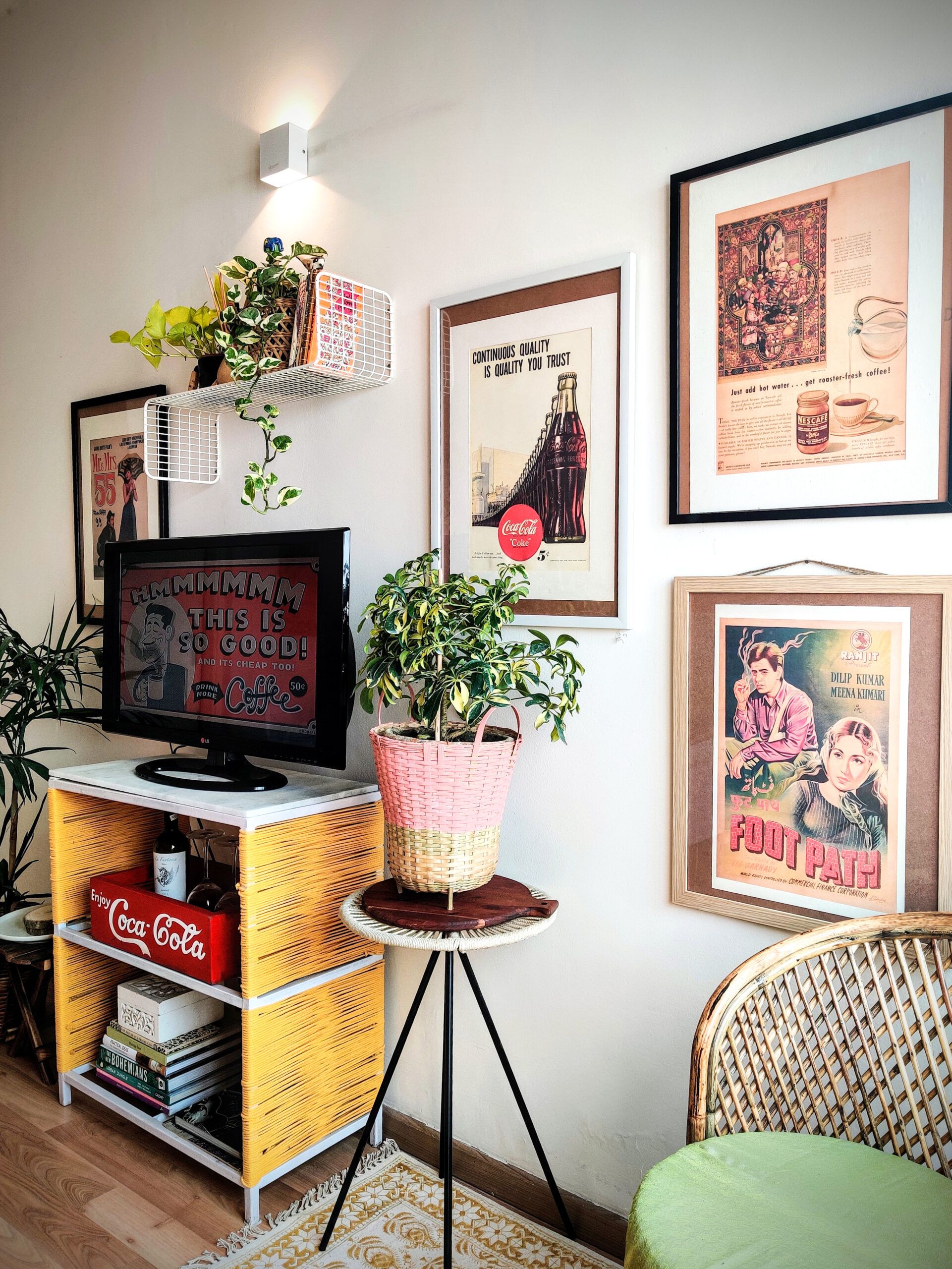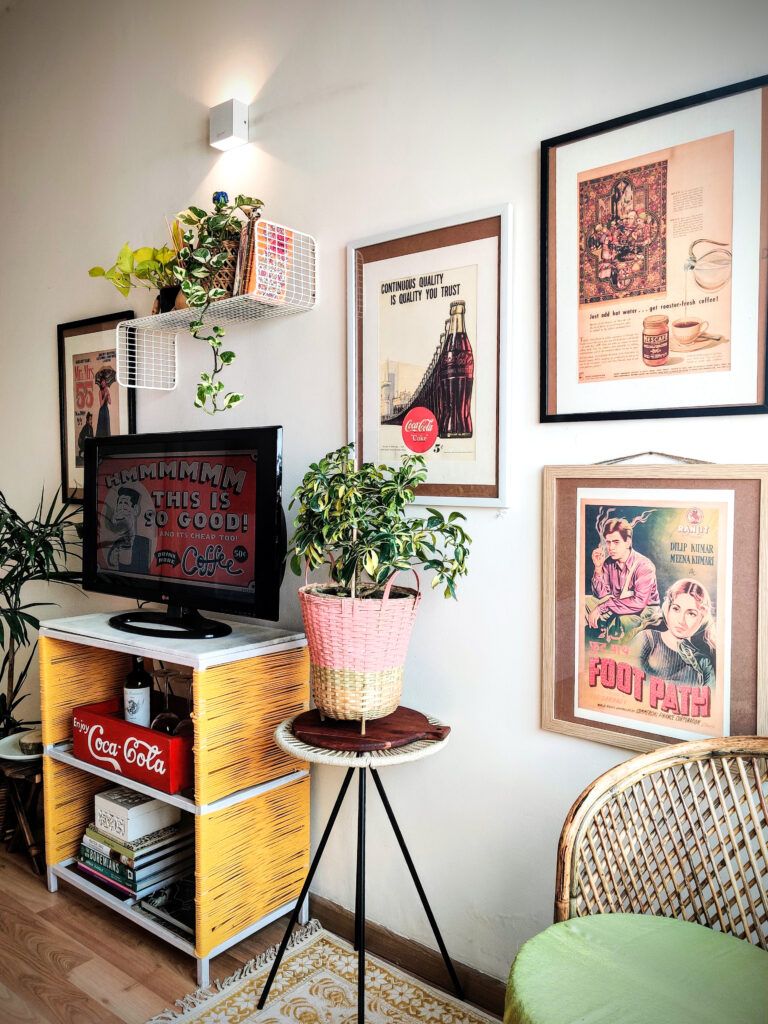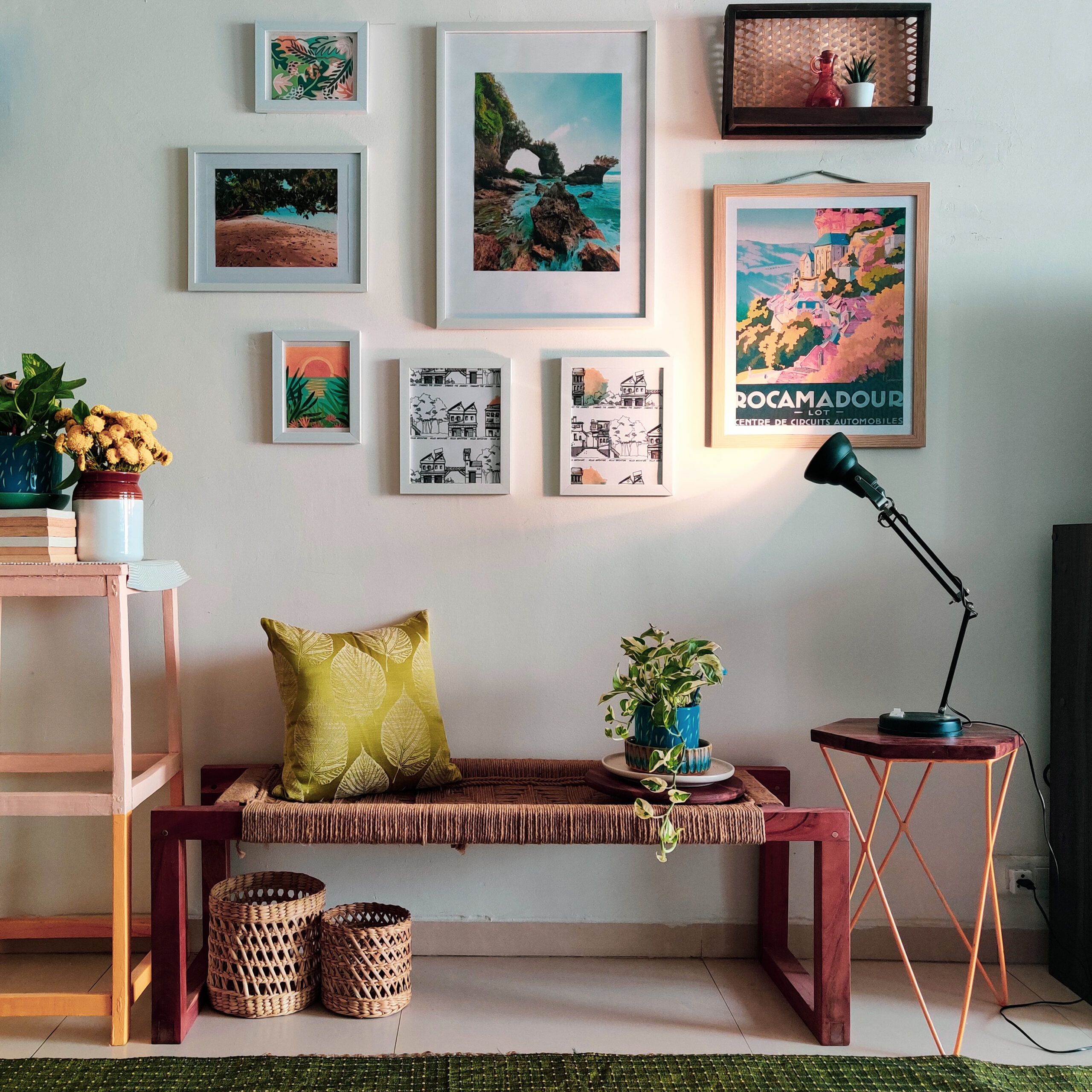 DIY Home Decor Crafts Idea #2: Wall mural / Sketches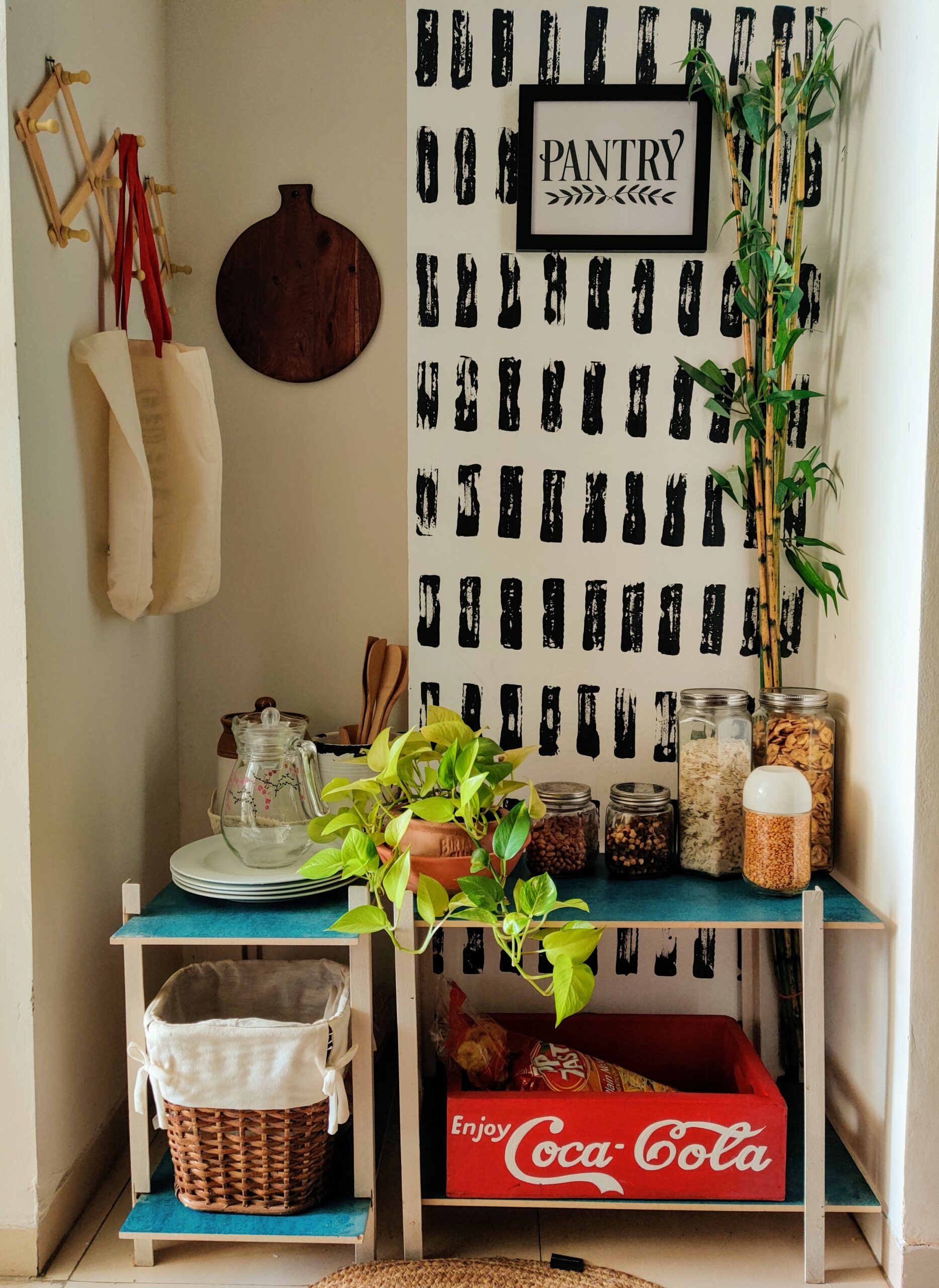 Want to give wings to your creative side? Don't shy away from experimenting and making a wall mural using sharpie pens or the basic acrylic colours available in any convenience store. A mural adds so much personality to a space and is a very calming activity, too. And when it comes to handmade decoration ideas for home, nothing gets easier than a pretty mural.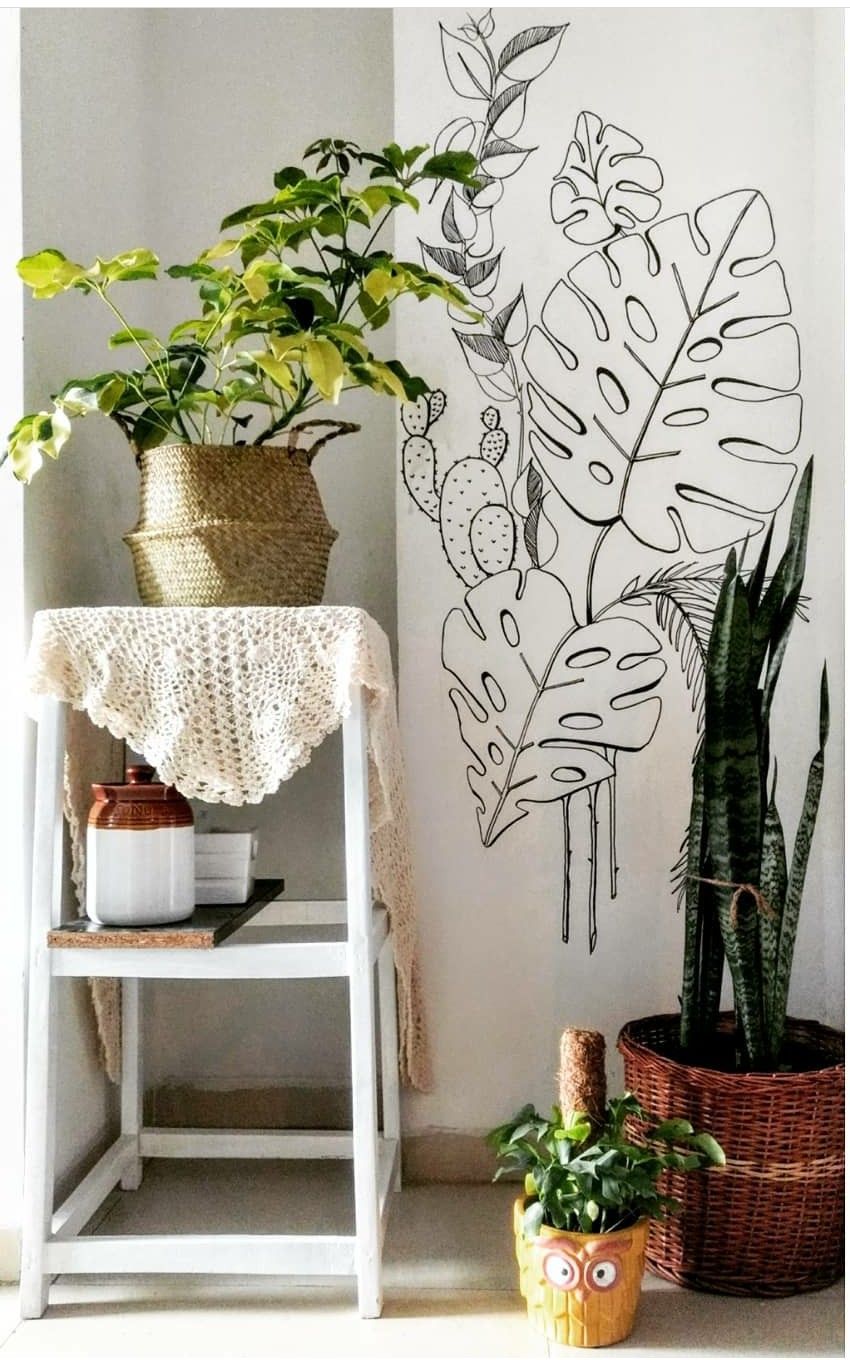 DIY Home Decor Crafts Idea #3: Floating shelves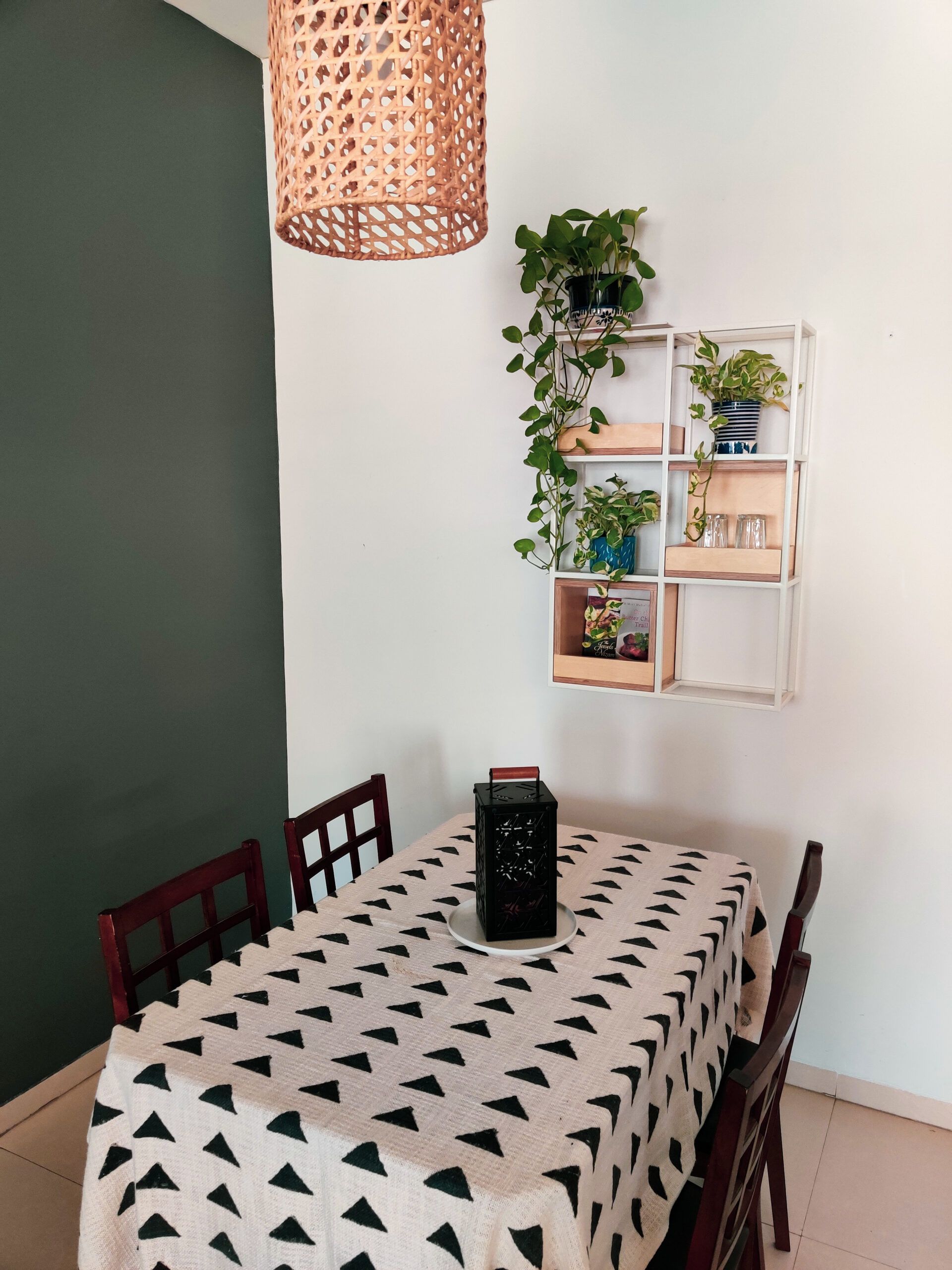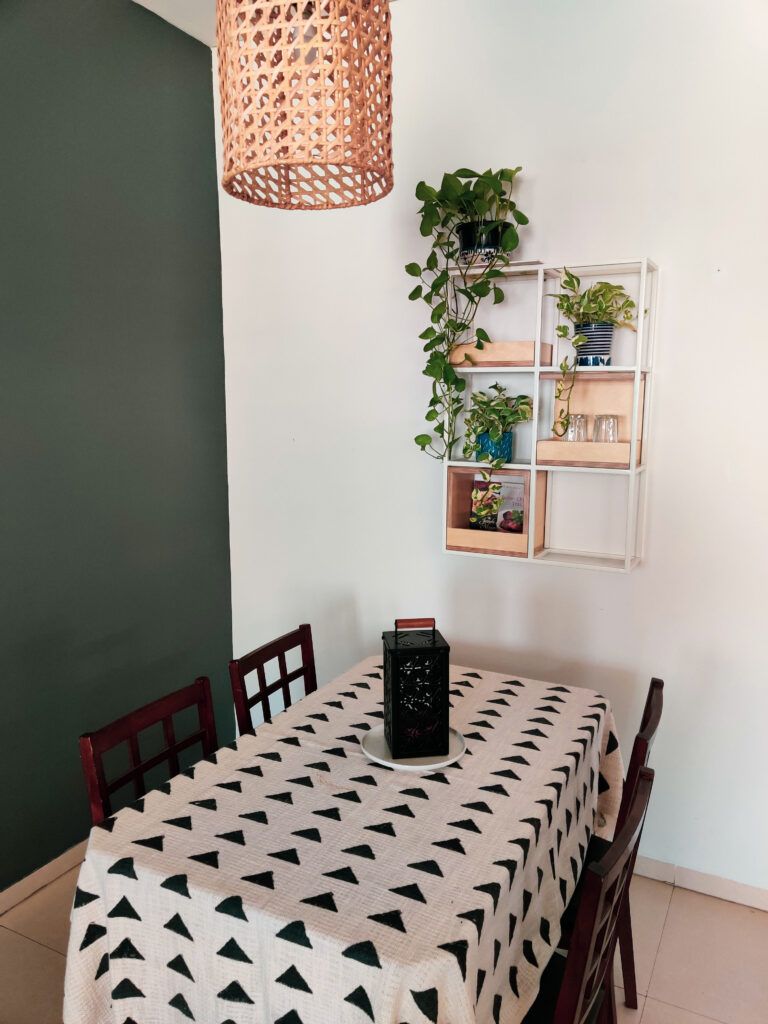 Another easy DIY home decor crafts option for a blank wall is to add some shelves. Open shelving to display books, plants or even colourful curios has been a timeless trend. Placing a desk just below the shelves makes the whole wall come together perfectly.
Where can you get this shelf: https://mohh.com/product/kojo-planter/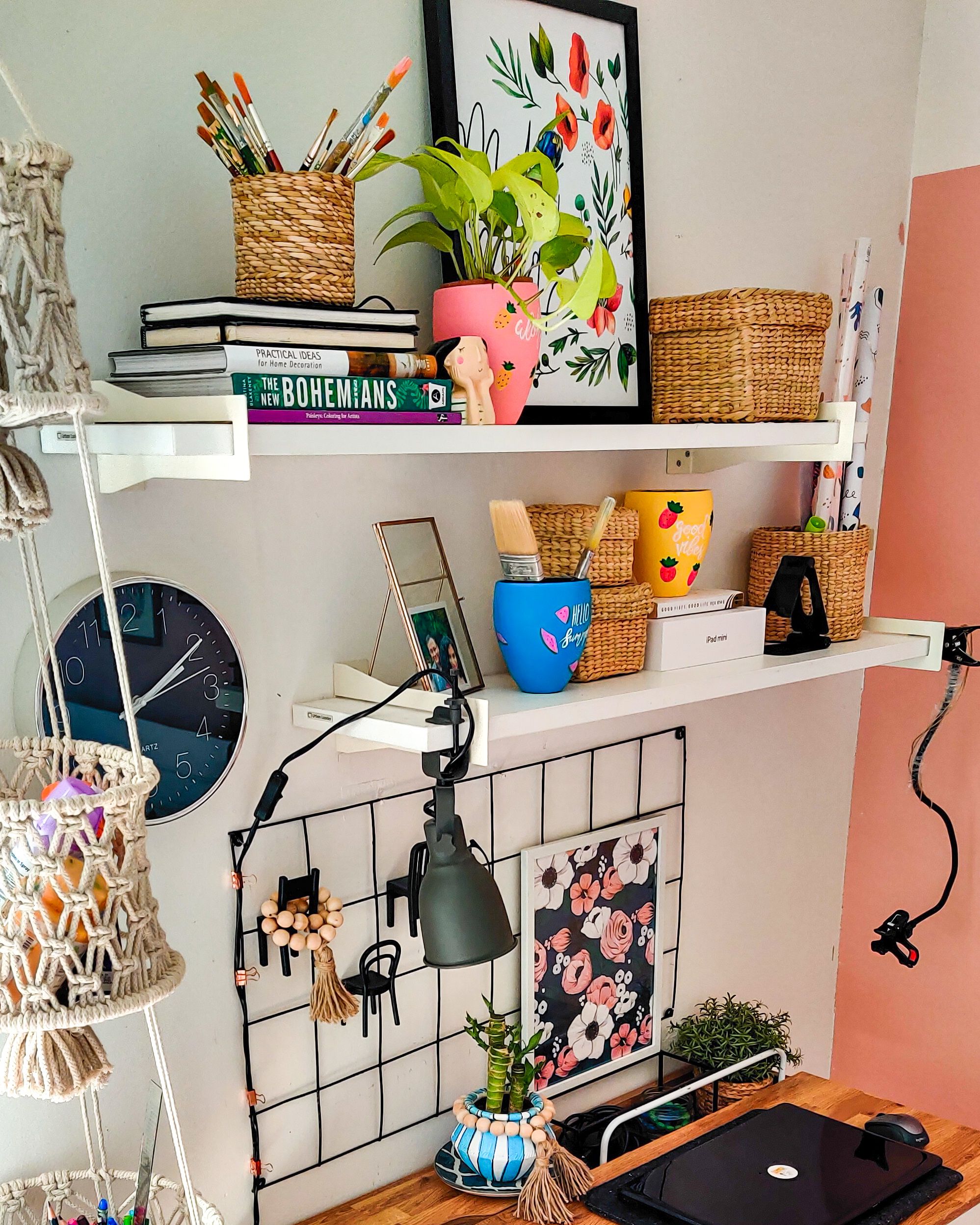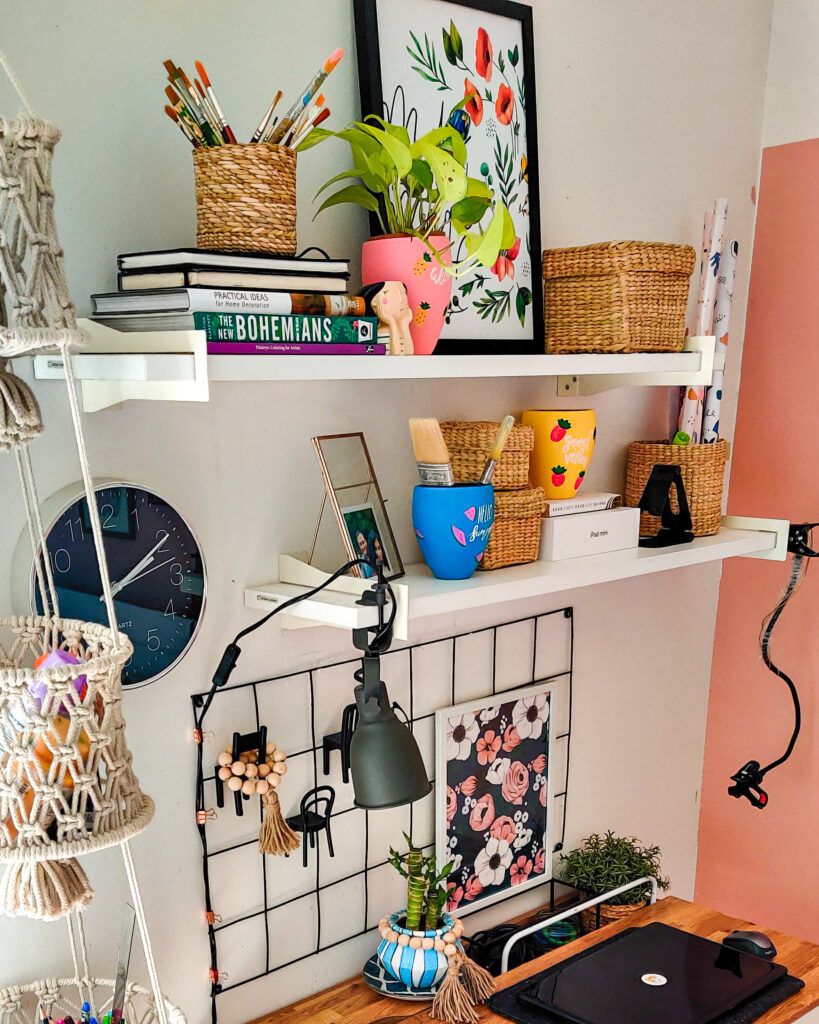 Where can you get this shelf: https://www.ikea.com/in/en/p/burhult-shelf-white-70430520/
DIY Home Decor Crafts Idea #4: Half-and-half painted wall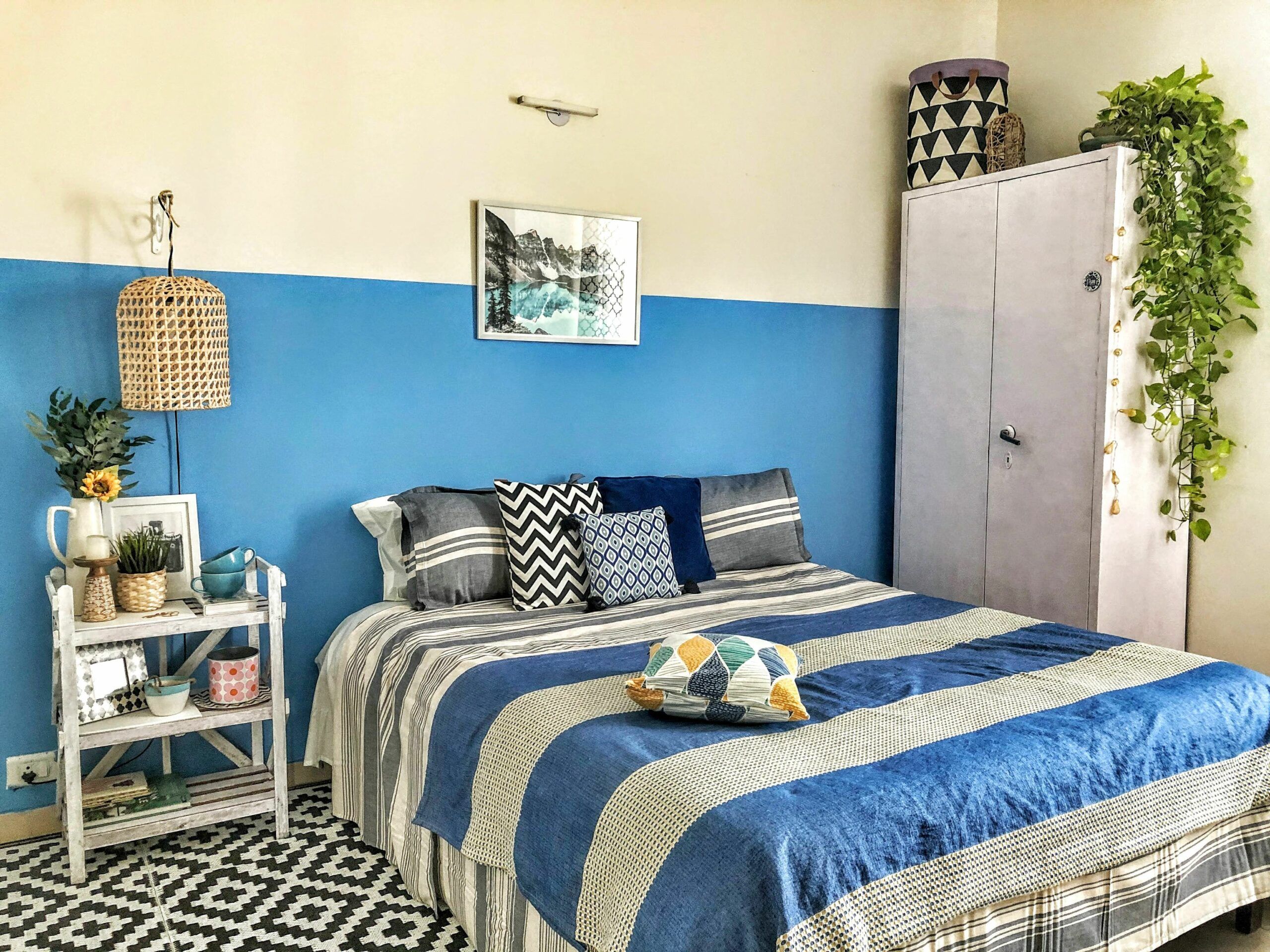 Decor trends always make a comeback! The two-tone wall painting concept is one such trend that has gained immense popularity again. If you're looking for craft ideas for home decor, put on your painting gloves and paint that blank wall! The trick is to choose two colours that have different levels of contrast. Or just choose a bright colour for the lower half and leave the rest of the wall white.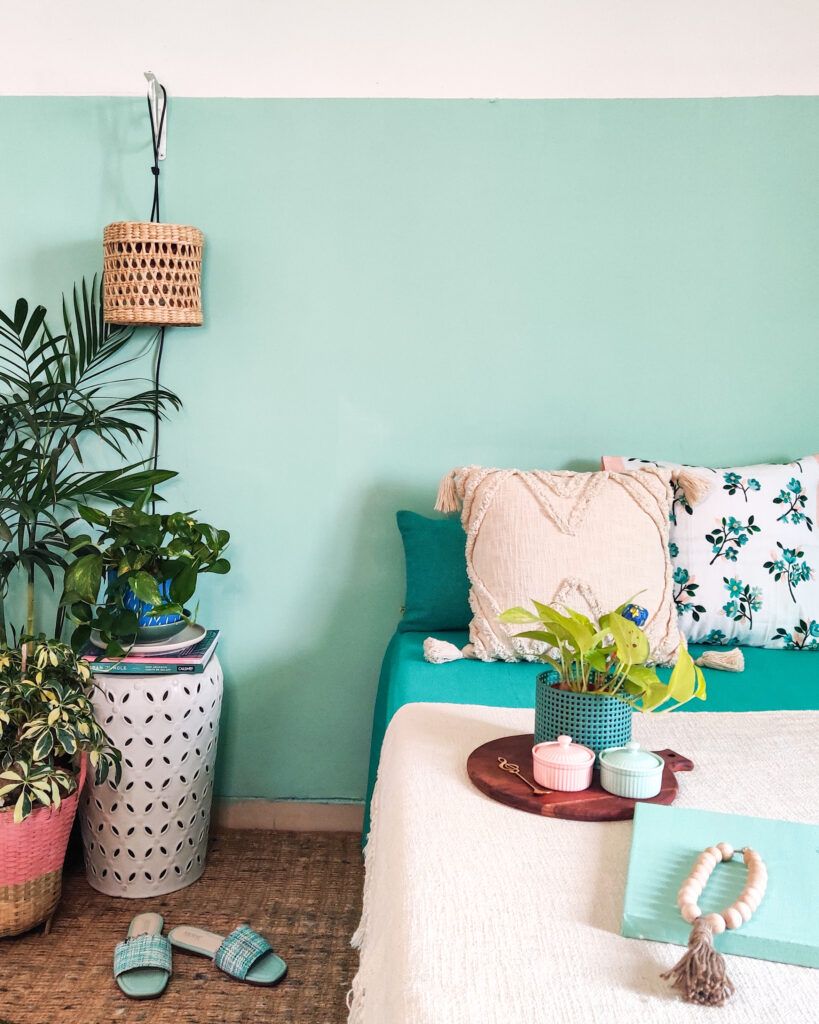 DIY Home Decor Crafts Idea #5: Quirky gallery wall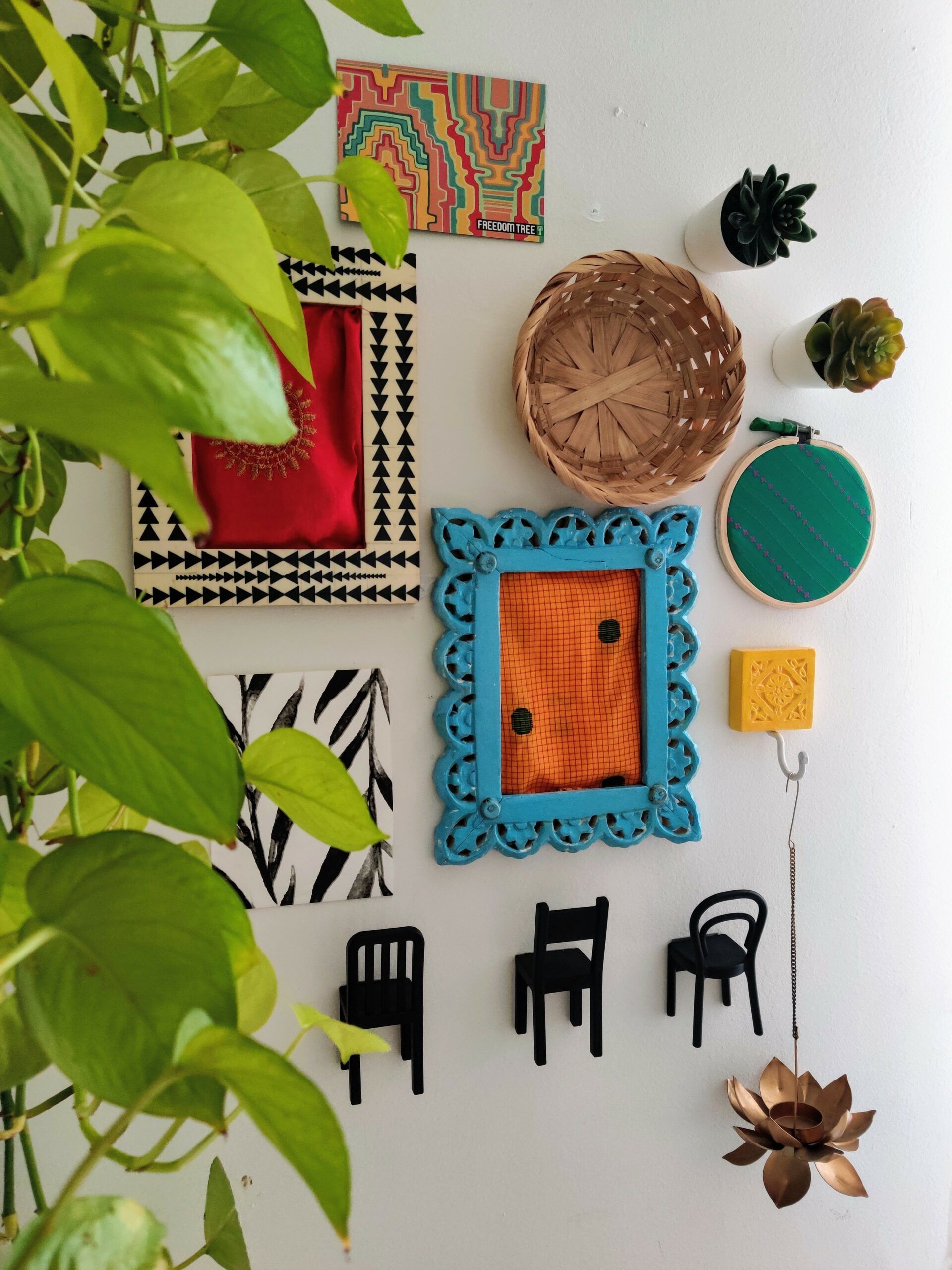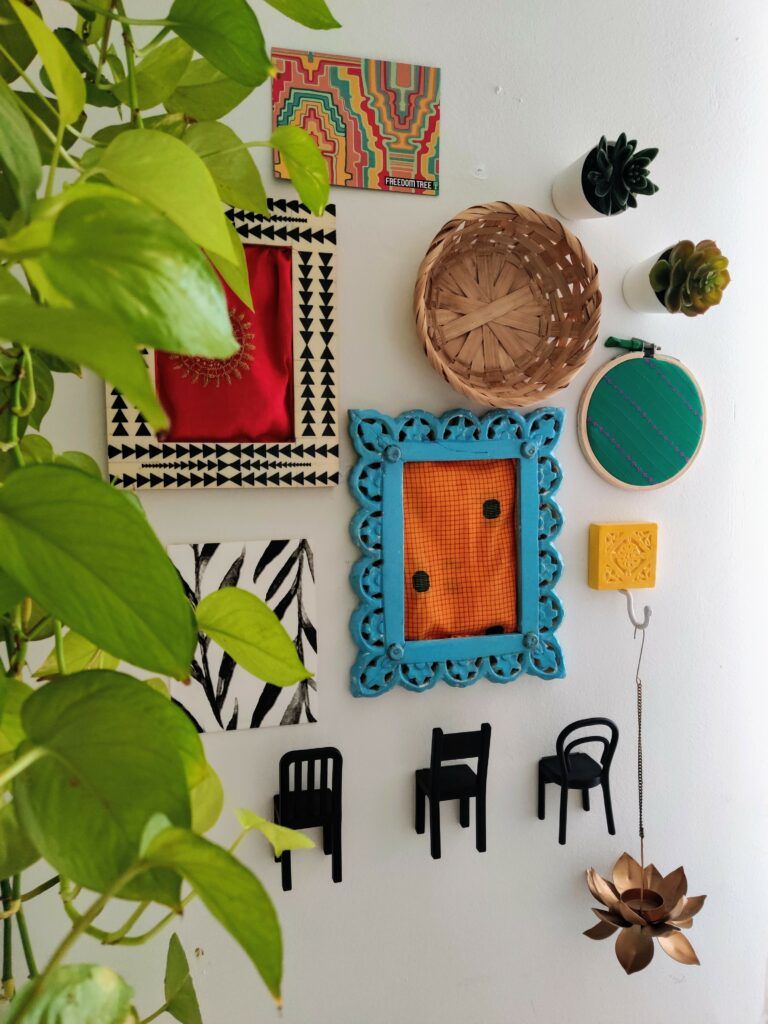 This is our personal favourite! When it comes to DIY home decor crafts, quirky gallery walls are the clear winner! Bring out all the random objects that can be put on a wall from the hidden corners of your home. It could be anything like coasters, flat baskets, decorative frames, postcards, fabric, etc. Make a visually pleasing composition of all the mismatched items and hang it on the wall. Putting up a metal mesh grid and filling it with Polaroid pictures adds a lot of character to your room and also makes for a perfect Instagram selfie spot!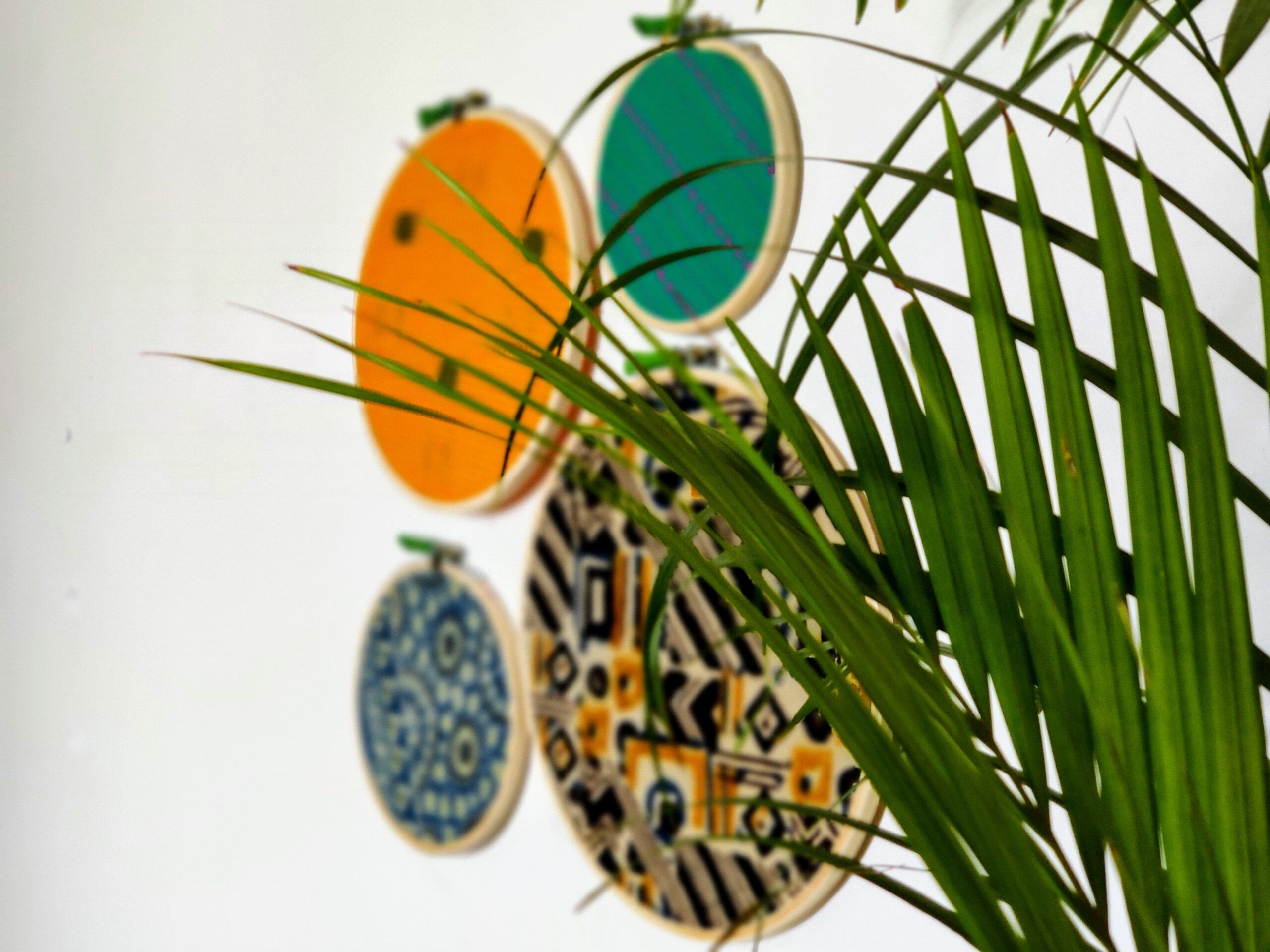 DIY Home Decor Crafts Idea #6: Paint a canvas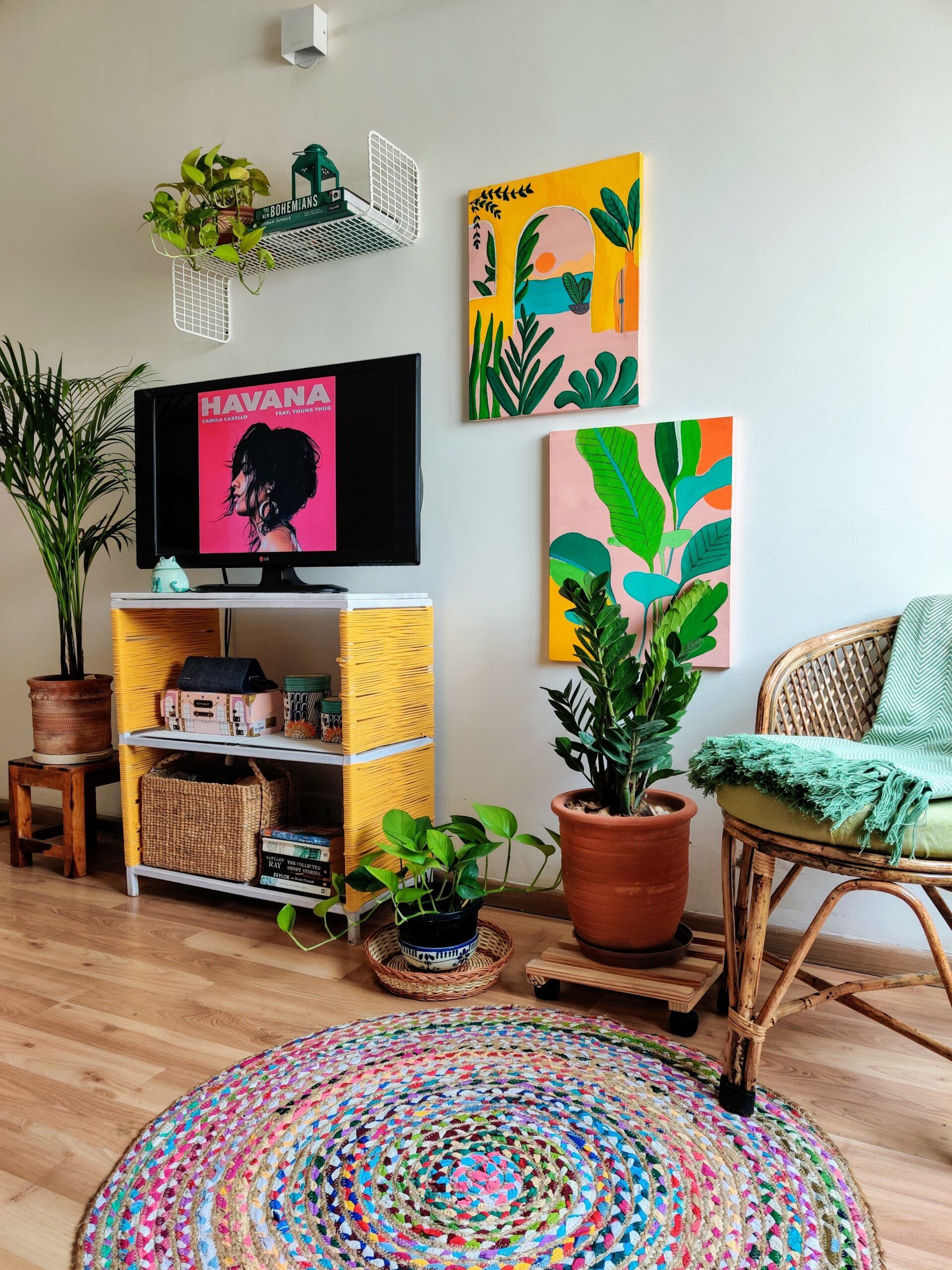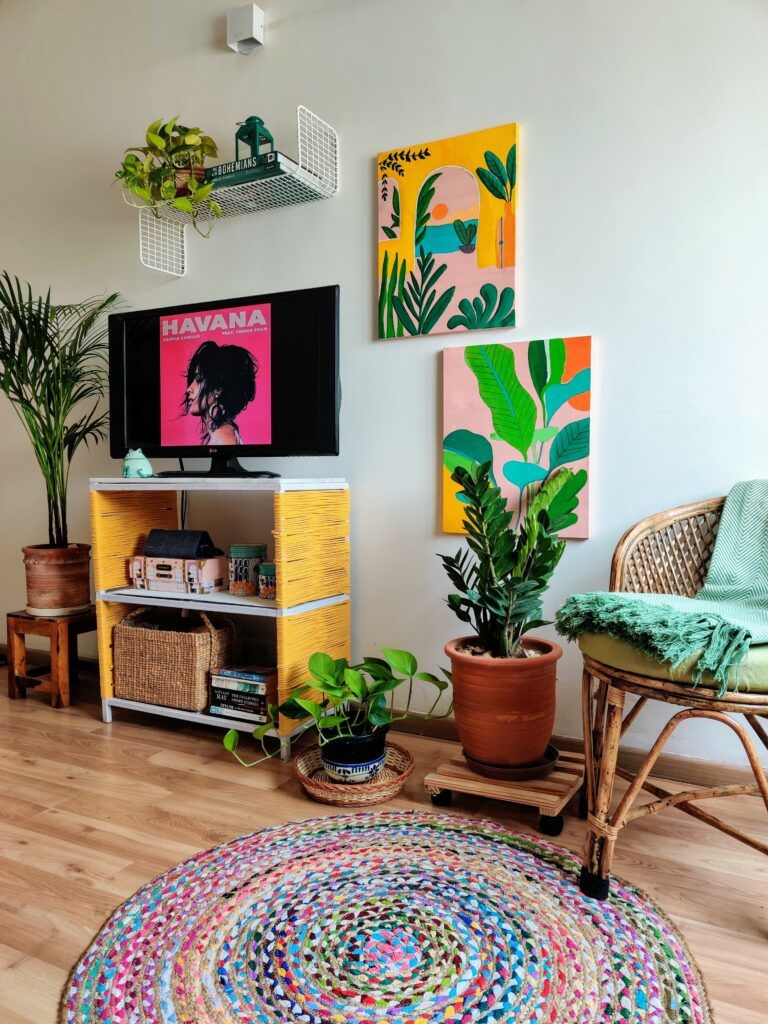 Who says you need to be an artist to paint a canvas?! Painting a canvas and displaying your art in your living space is a very fulfilling activity just like gardening. Dedicate a small space to hang what you create. The best way to start your journey of making your own artwork is to find inspiration on platforms like Pinterest and experiment with inexpensive acrylic colours.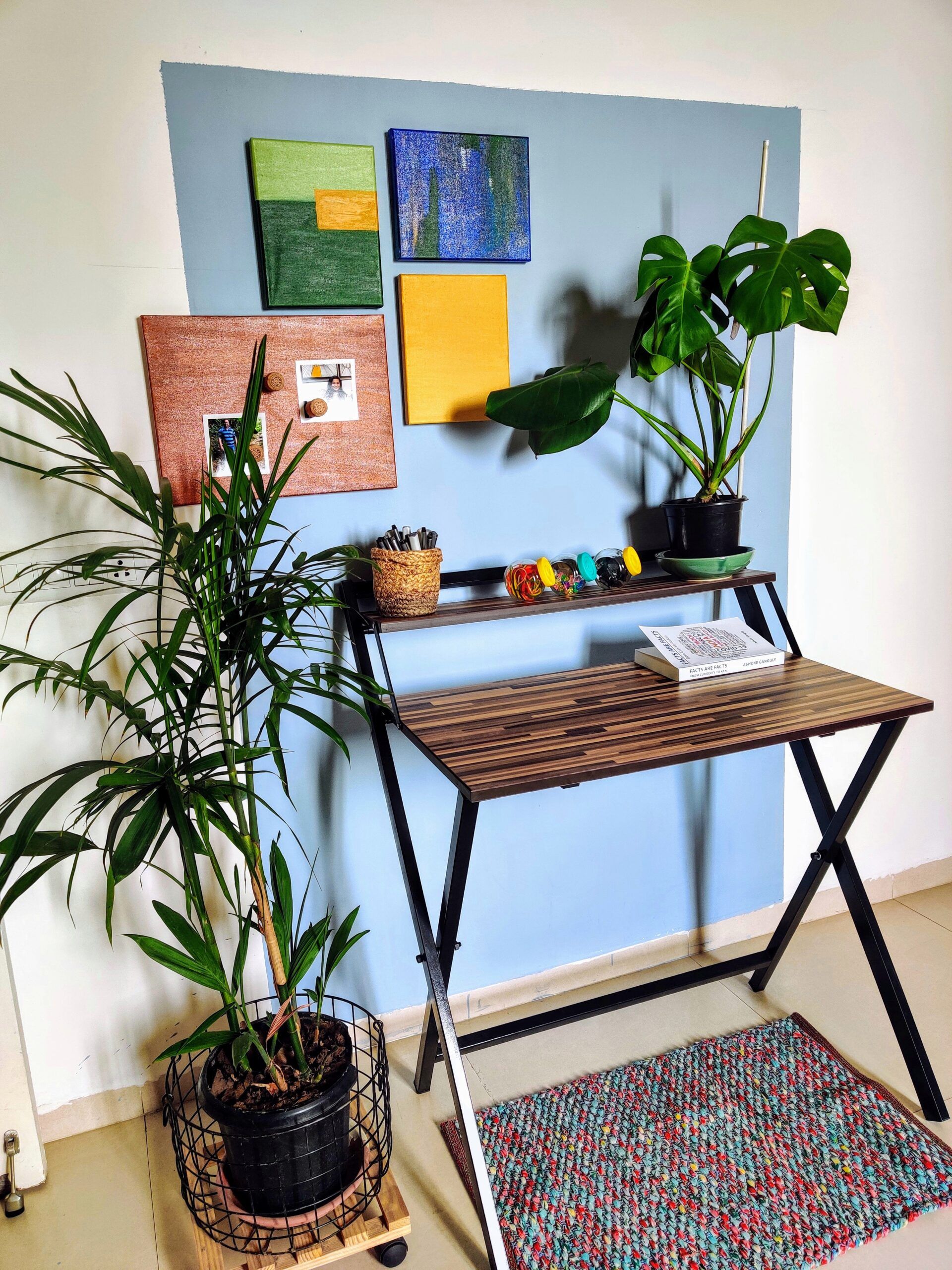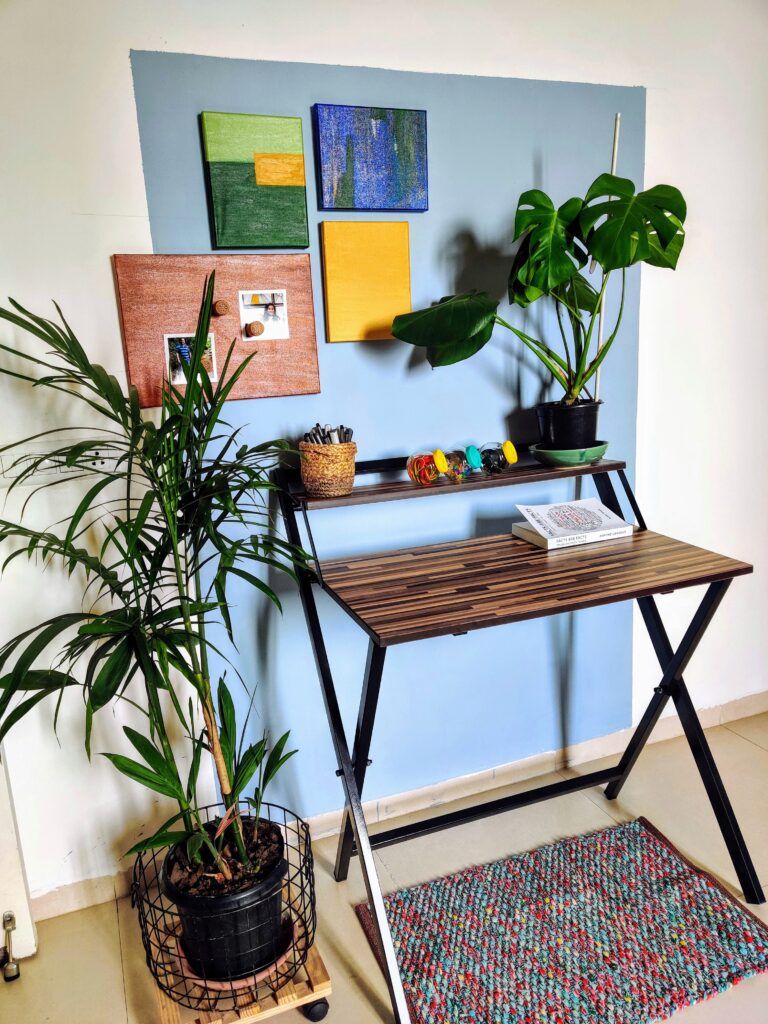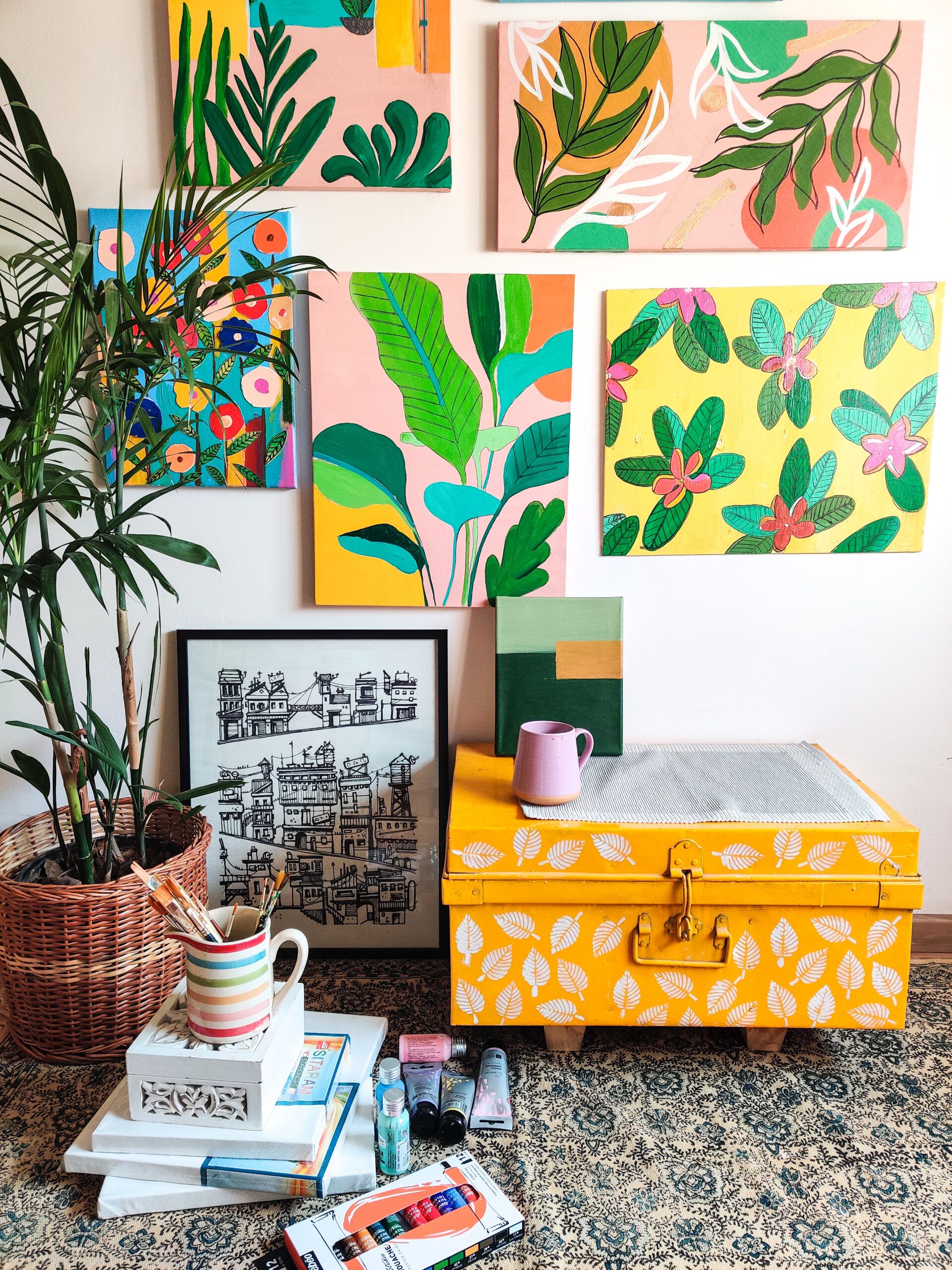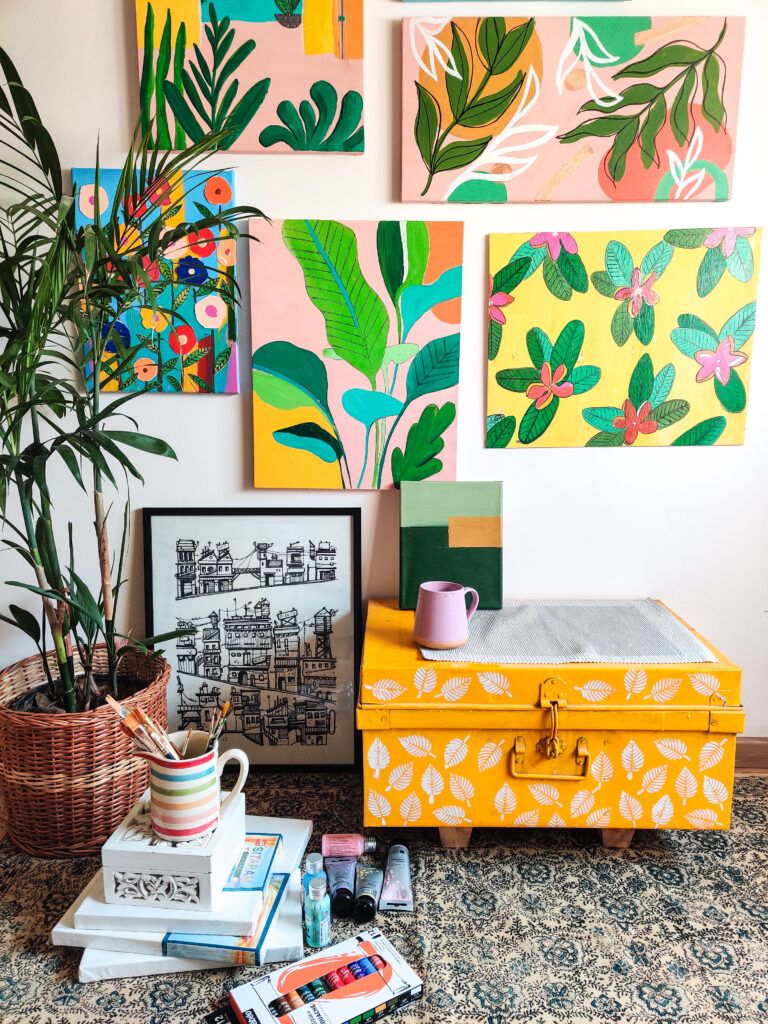 DIY Home Decor Crafts Idea #7: Add plants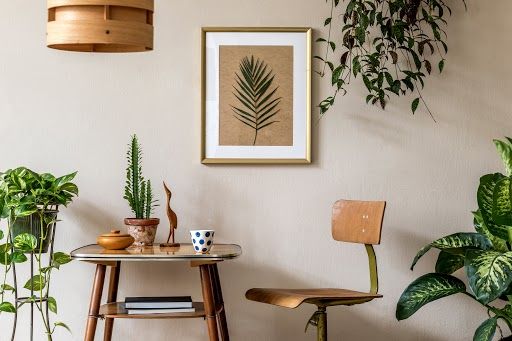 Since you can't go out for the time being, why not bring the outdoors inside your home instead? Plants are one of the most affordable ways to create interest in a space. They add a natural touch to any room while purifying the air around you. Also, plants are amongst the easiest DIY home decor crafts ideas. Select indoor plants of different heights and place them in clusters in front of a blank wall. Colourful planters and planter stands can further brighten up the space.
Styling a blank wall shouldn't be expensive or painstakingly complicated! The above DIY home decor crafts ideas are so simple that even the most unimaginative of people can try them out! Stay at home, stay safe and keep decorating your space!
We love hearing from you! Write to us with your comments and suggestions at editor@livspace.com