Elegant home interiors in Ghatkopar East.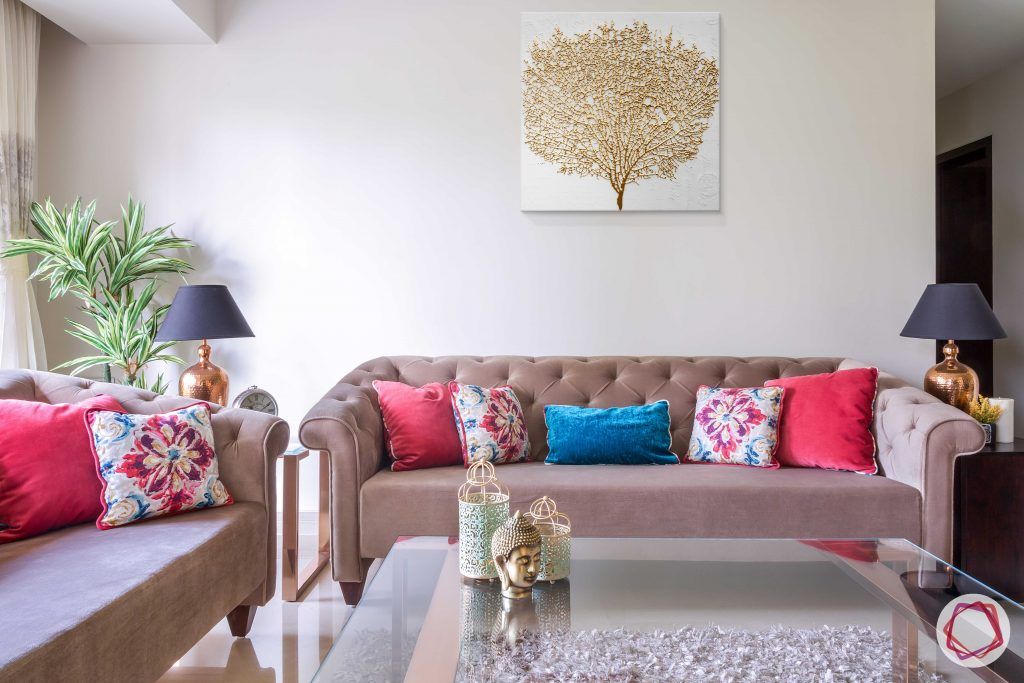 ---
Location: Parasnath building, Ghatkopar East, Mumbai
Size of home: A 4BHK spanning 2,000 sq ft approx.
Design team: Interior Designer Vishakha D'souza and Project Manager Mushir Shaikh
Livspace service: Full home design
Budget: ₹₹₹₹₹
---
Imagine the pressure a home feels when it is standing strong for decades, with new buildings cropping up all around it. This 4BHK is nestled inside one such apartment in a Mumbai suburb that was screaming for a makeover, when the owners decided to get in touch with Livspace. We love giving old homes a facelift so that it can withstand the competition from all sides.
This project was one of the first projects for Livspace designer, Vishakha D'souza and she has given her heart and soul into this one. While she was asked to design the home with subtle colours and modern aesthetics, she also filled the space with warmth. Flaunting neutral colours, glossy finishes and a hint of glitter, this one is surely one of the best home designs in Mumbai.
Home interiors in Ghatkopar East: Flowery elegance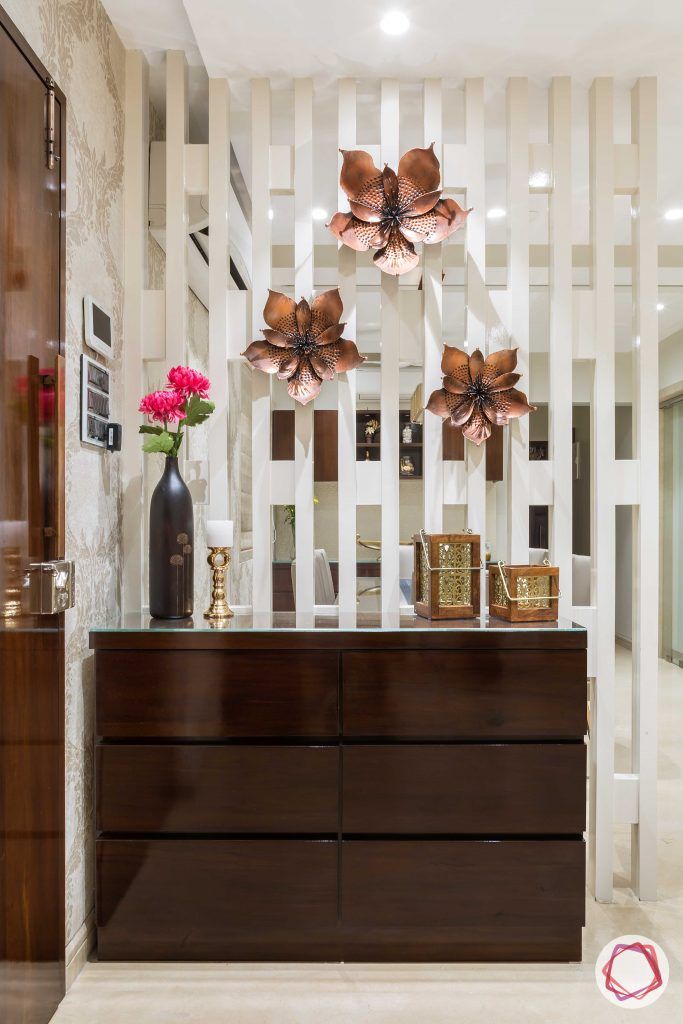 There are some foyers that deserve a mention and this one right here is definitely one such foyer. The fun fact is that the family was not thinking of creating an entryway of sorts. But, Vishakha wanted to break the space and create a partition in between the dining area and the entrance to the home. Therefore, she gave them a jaali divider that is not too heavy on the eyes and a shoe rack that doesn't look like one, making this a functional zone.
Home interiors in Ghatkopar East: A classy drawing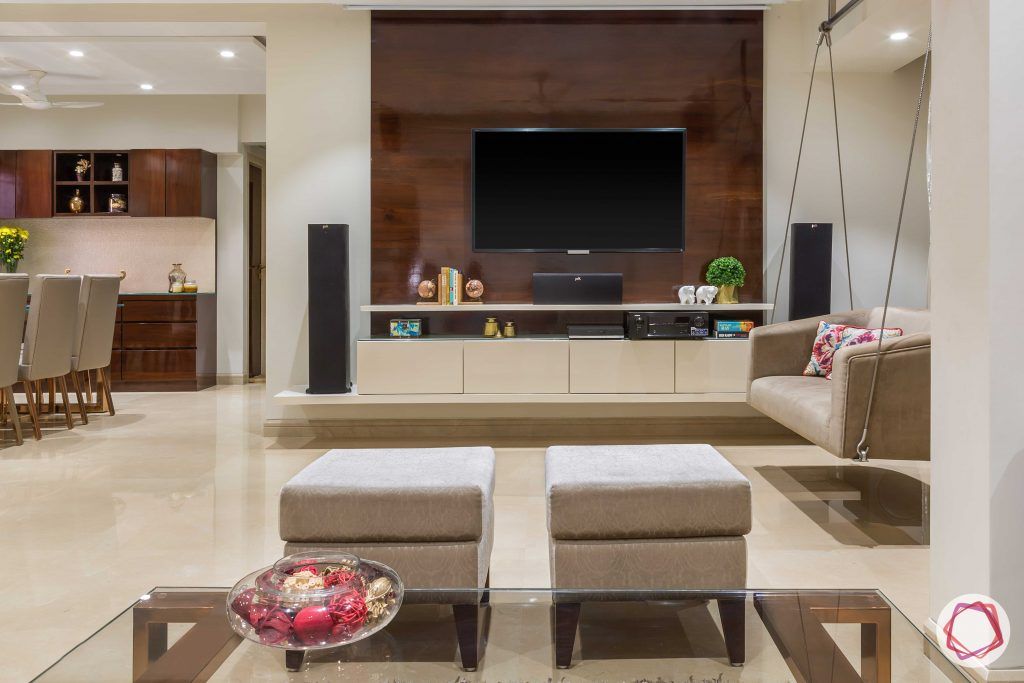 The living room is a perfect example of how modern spaces should be designed. This room combines modern aesthetics with some classic elements like wood finishes and a swing in place. Although the swing has no frills attached and is suspended by simple cables, it adds drama to the seating in this living room. Damask dominates the look and vibe of this space, with beige being the dominant colour. If you notice carefully, the only pop of colour are the chirpy cushions. The TV unit is glossy and accommodates a projector which the family loves using.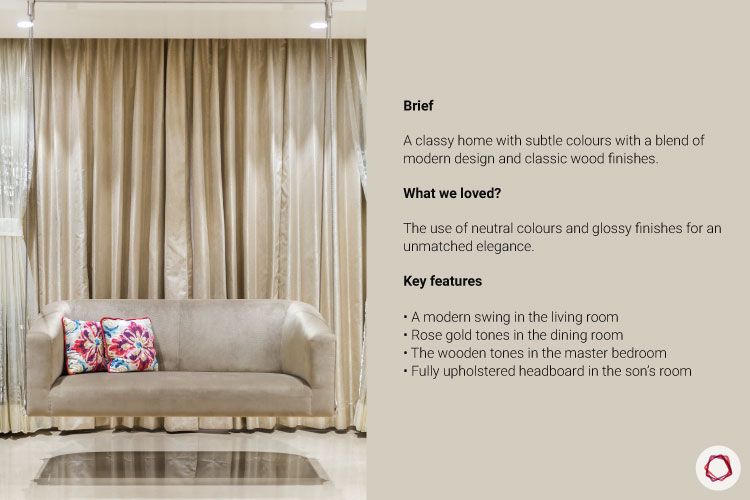 Home interiors in Ghatkopar East: Hints of glitter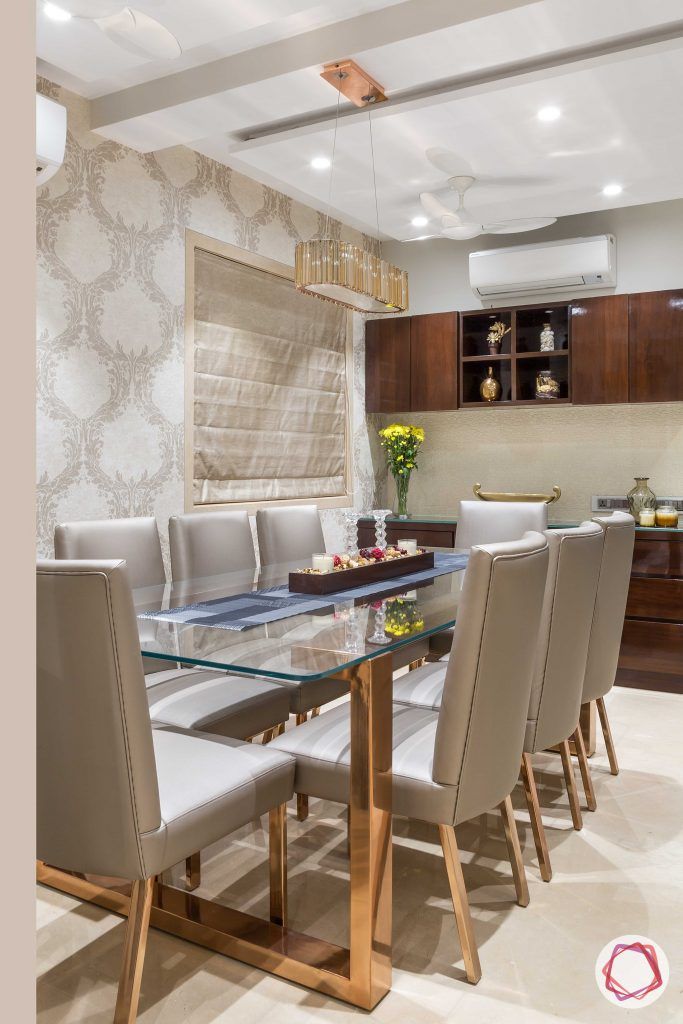 Take a moment to appreciate the classy rose gold tones used in this dining room in abundance. The dining table and chairs flaunt this glamorous finish on the legs, while the wall wears a lovely motif wallpaper. Do not miss the hint of rose gold in the chandelier atop the table. The crockery unit is fully loaded and comes with a lot of storage. There's also a provision to display items in the open shelves in the centre of the wall cabinets.
---
"It was an amazing experience to get our work done though Livspace. Vishakha is a great designer and the best part about her is that she gave in her 100% in everything that she did. She took care of every little detail like artefacts, decor, lighting and so on. She visited our place several times to make sure that all the work was getting done on time. Overall, we are very satisfied with Livspace!"

-Livspace Homeowner
---
Home interiors in Ghatkopar East: A classy kitchen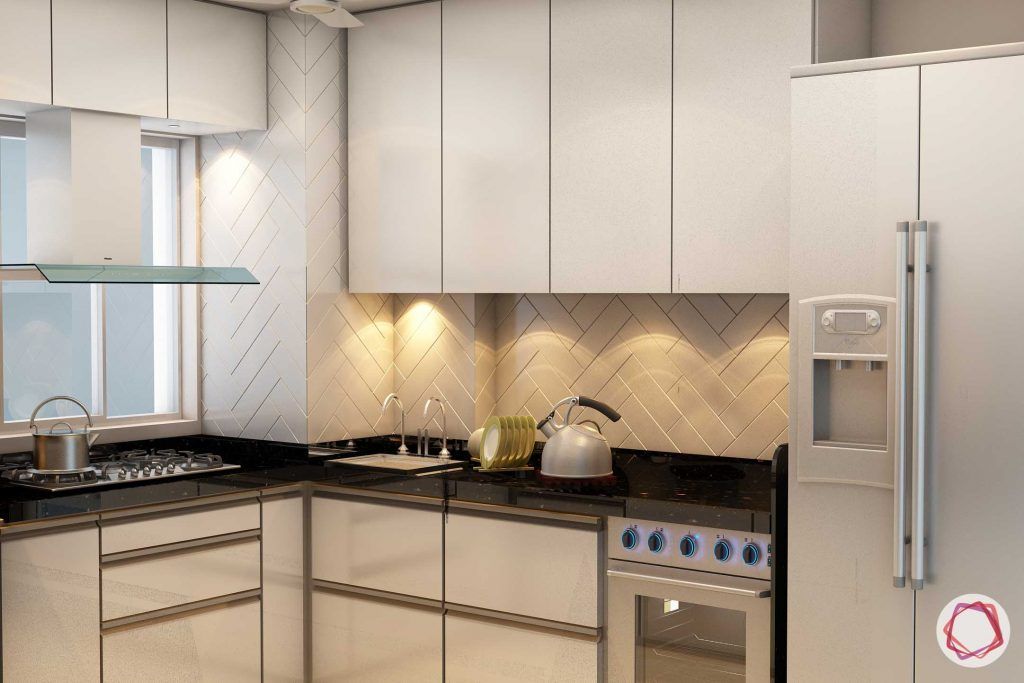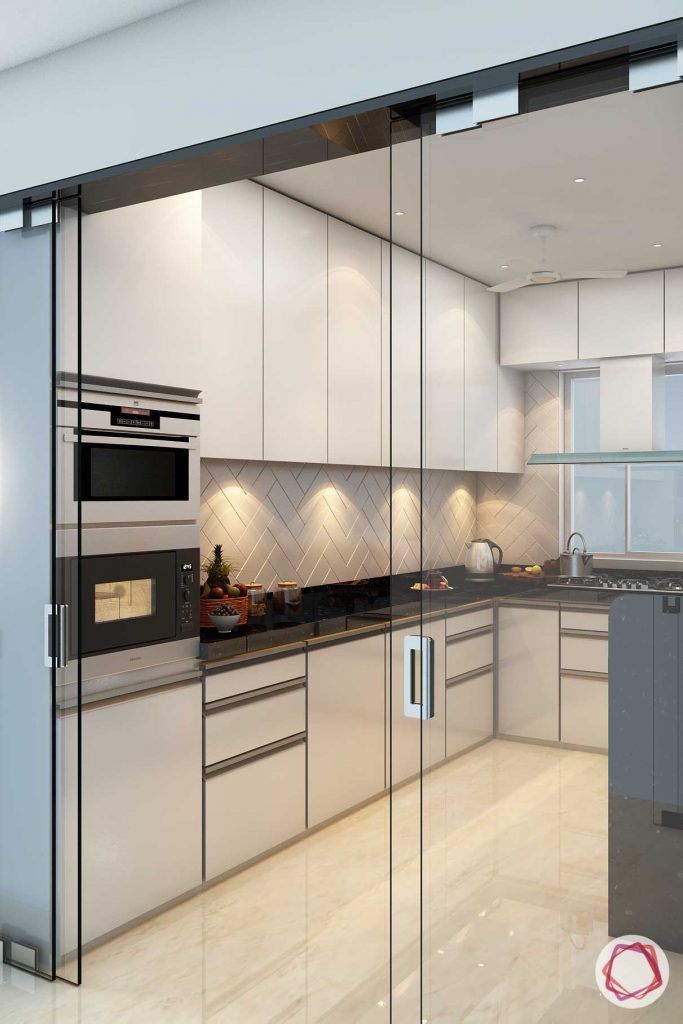 The clients love white and they wanted their kitchen to look elegant and classy. Vishakha decided to give them glossy acrylic finish and handleless cabinets that look super sleek. To add to the aesthetics of the space, she has added a jet black countertop and lovely herringbone pattern on the backsplash. A built-in microwave oven unit keeps things functional, while a glass sliding door acts as a barrier when the air conditioning is switched on in the living room.
Home interiors in Ghatkopar East: A magnificent bedroom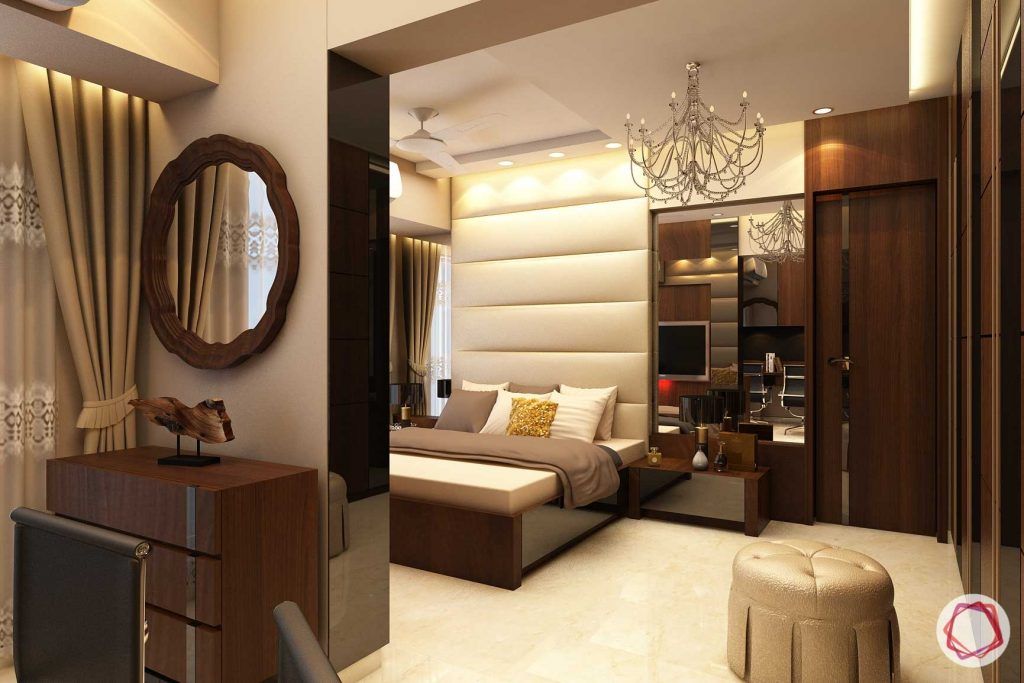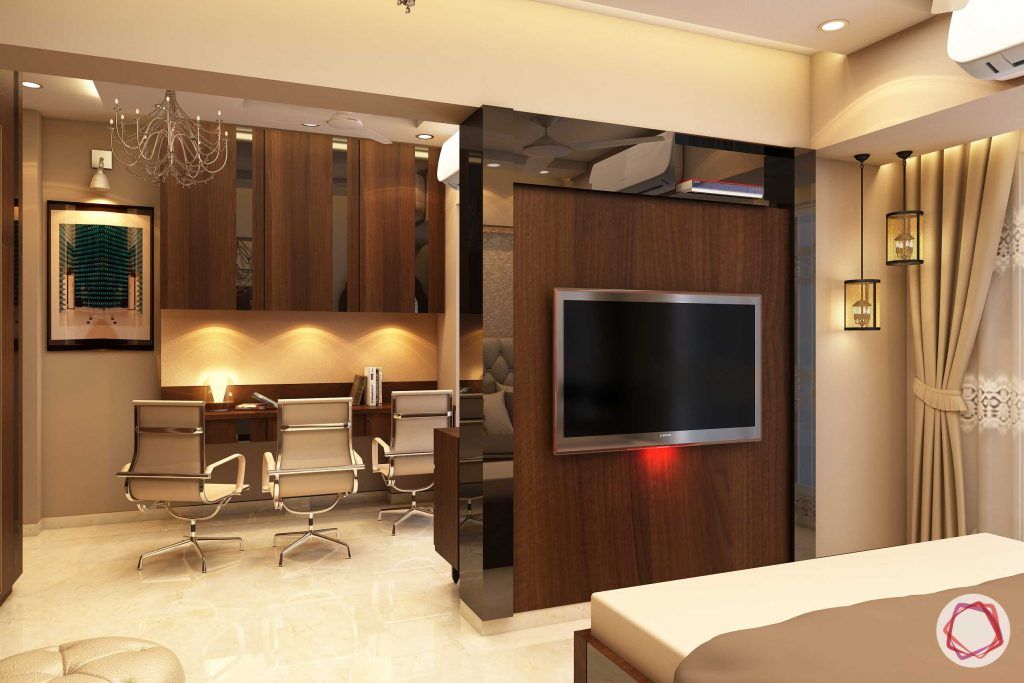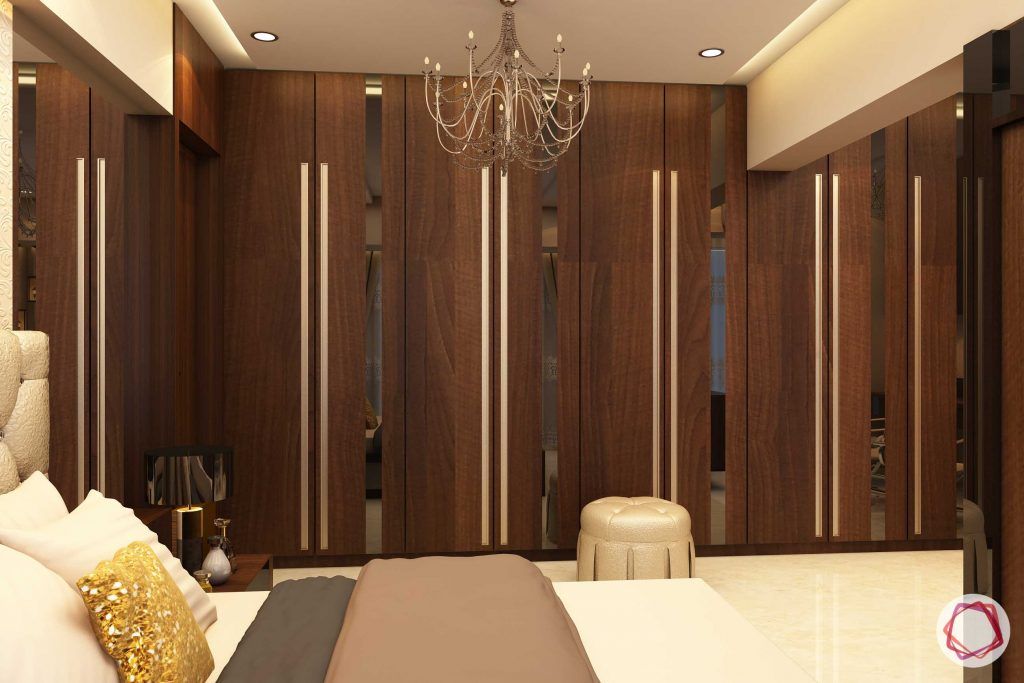 This room is sure to give you bedroom goals when it comes to grandeur and elegance. Take a moment to notice the amazing use of veneer to warm up the space and hints of mirror that add glamour. Do not miss the wonderful ambient lighting, including the chandelier, that brings out the beauty of the design.
Talking about the functionality of this room, the reason why it looks so spacious is because two rooms were combined to make this one. On one side of the room, an elaborate study table with overhead cabinets takes centrestage, while the other side is dominated by the bed that flaunts a luxurious, panelled, upholstered headboard in a delicious cream hue.
Home interiors in Ghatkopar East: Buoyant in blue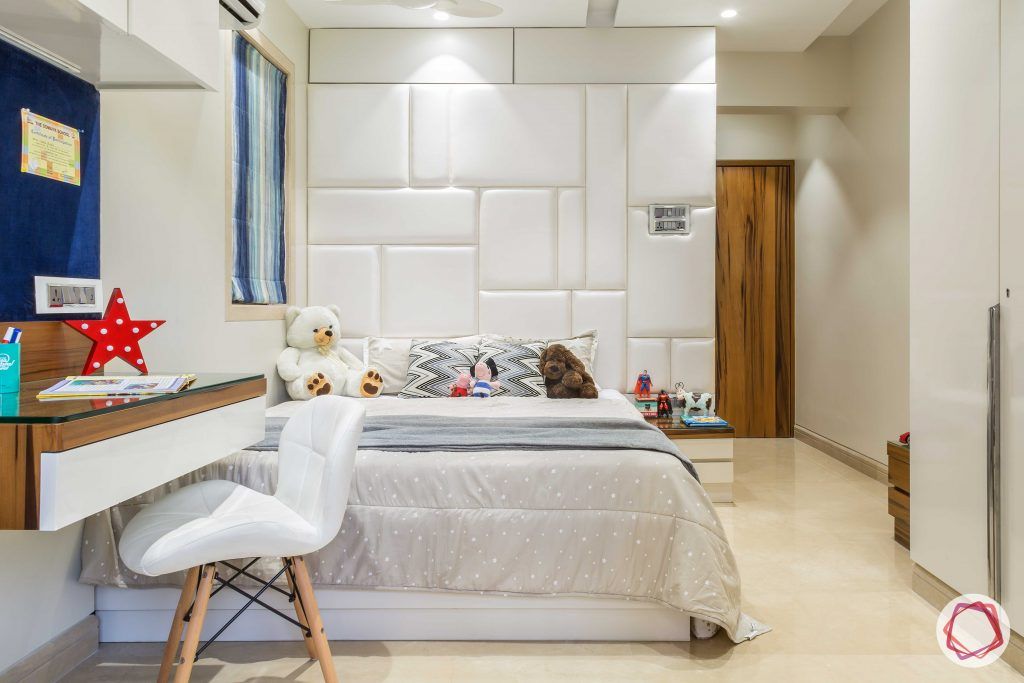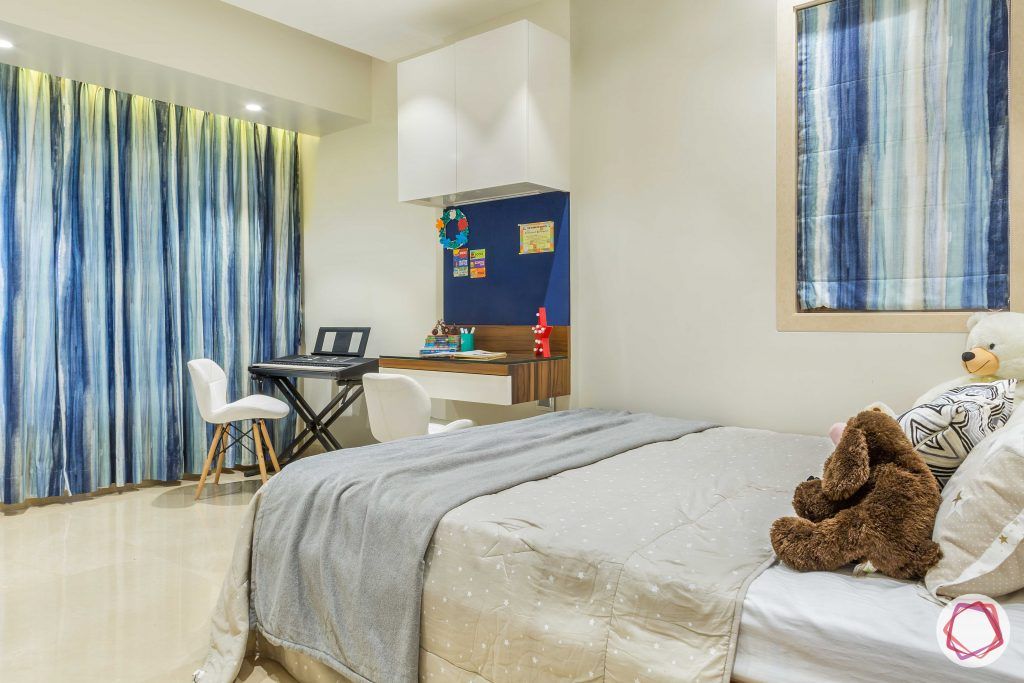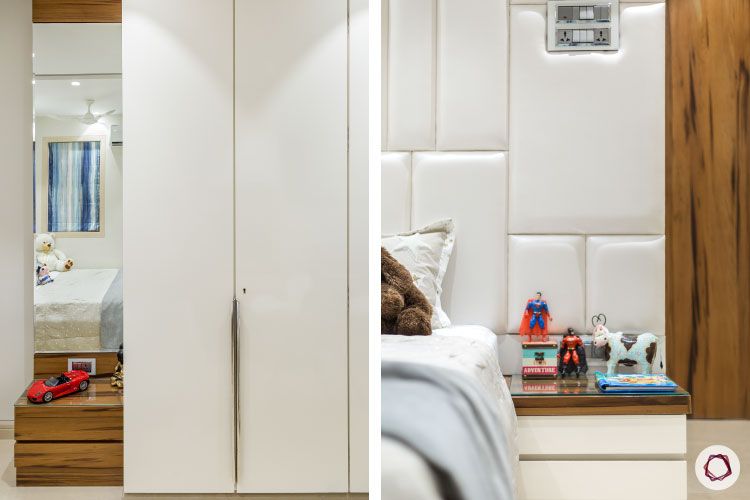 The little boy at home owns this plush room that he loves spending time in. Vishakha gave him a blue and white theme with white being the dominant colour here. The most striking feature of this room is the full-size headboard that is fully upholstered in composite leather and sports a fun geometric pattern on it.
He also has dedicated zones in this room, like the study corner and a special spot for his piano practice, since he loves playing the piano. The dresser on one side of the bed is not a regular one. There's ample storage behind the mirror, with a fun veneer-finished drawer attached to it. Vishakha also made sure that she left enough space for the kids to play around the room by leaving a considerable amount of empty floor space.
Home interiors in Ghatkopar East: All things pretty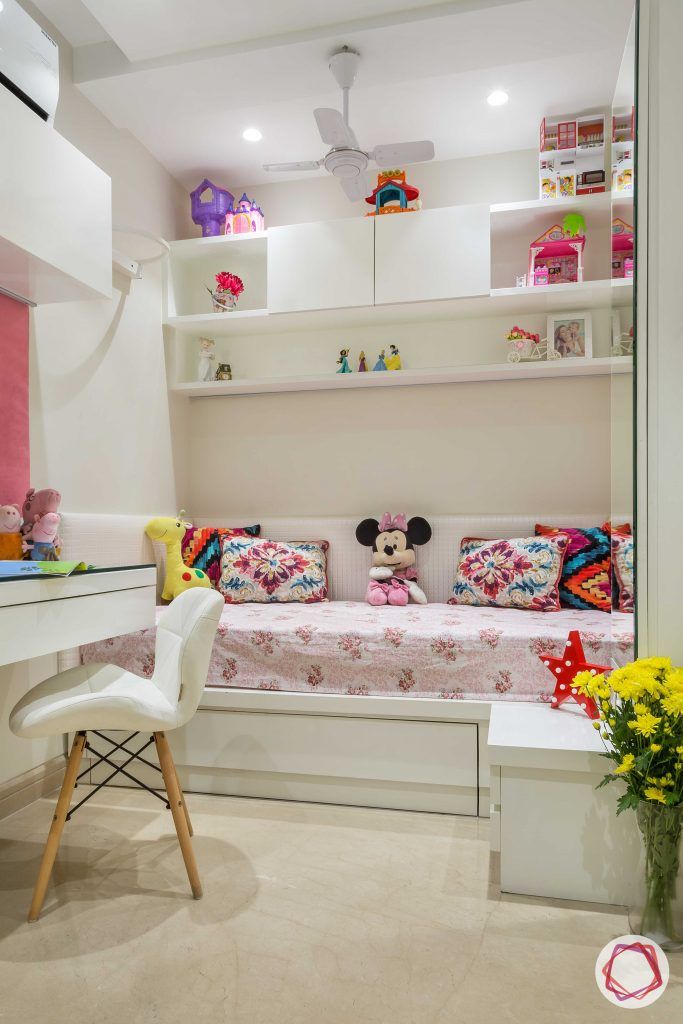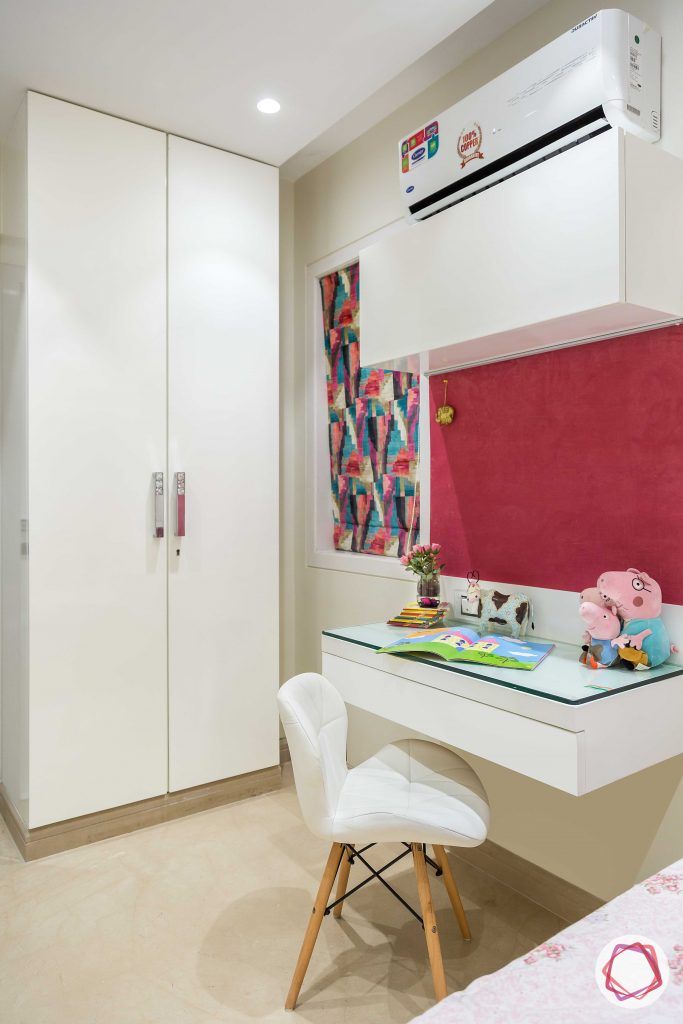 What does a girl who loves pink deserve? A pink themed room, right? This room belongs to a little girl who wanted to give her dolls a special space alongside her. Therefore, Vishakha has given wall shelves and cabinets so that she can keep her dollhouse and toys close to her. If you notice carefully, she has given pink only in specks which can be changed later, once she grows up. We are crushing on this cute little room designed for a princess.
"Design is not what it looks like and feels like. Design is how it works. I had this thought right from the time I started out with my career. The whole intent was to make everything functional while not compromising on the aesthetics. The requirement of the client was very simple — they did not want jazz. And, that's exactly what we gave them. They had a lot of faith in my vision and that gave me a lot of freedom to be creative. Overall, it was an amazing experience to work for this family."

-Vishakha D'souza, Interior Designer, Livspace
If you loved the elegant vibe flowing through this home, then we are sure you'll love this Compact 2BHK That Embodies the Spirit of Mumbai.
Send in your comments and suggestions.