Having an eye-catching kitchen backsplash can drastically change the look and feel of an otherwise plain and simple kitchen. It can easily give your cooking space a homely or edgy dimension while protecting your walls. Wondering how? Read on to see how you can amp up your kitchen backsplash:
Kitchen backsplash idea #1 : In-trend terracotta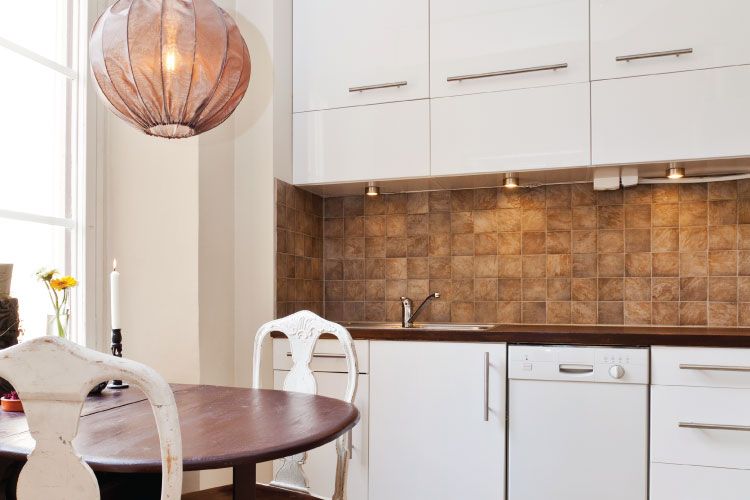 As we already told you, terracotta is going to be big in 2017, so why should the kitchen be left behind? Your kitchen backsplash can don the terracotta tiles in style, while you get busy cooking up your favorite meal. Terracotta not only looks rustic chic, but also adds a worn-out charm to your kitchen.
Kitchen backsplash idea #2 : Shiny disco tiles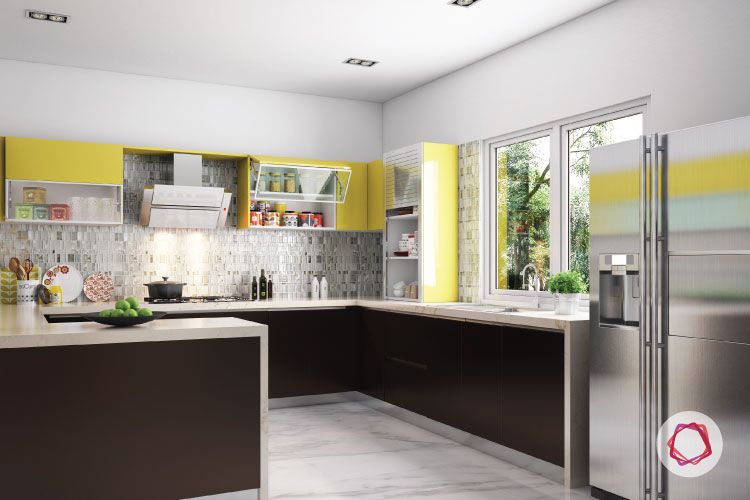 For a spick and span look, irregular shaped glass tiles are your answer. Tightly fit together like mosaic tiles it adds instant drama to the kitchen.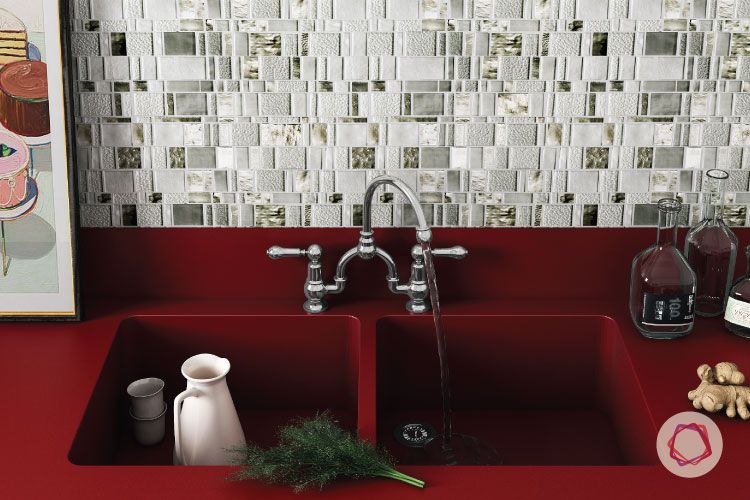 Shades of black and gray look the best while plain ones are most preferred in small kitchens as they open up the space and make it appear wide.
Kitchen backsplash idea #3 : Mosaic magic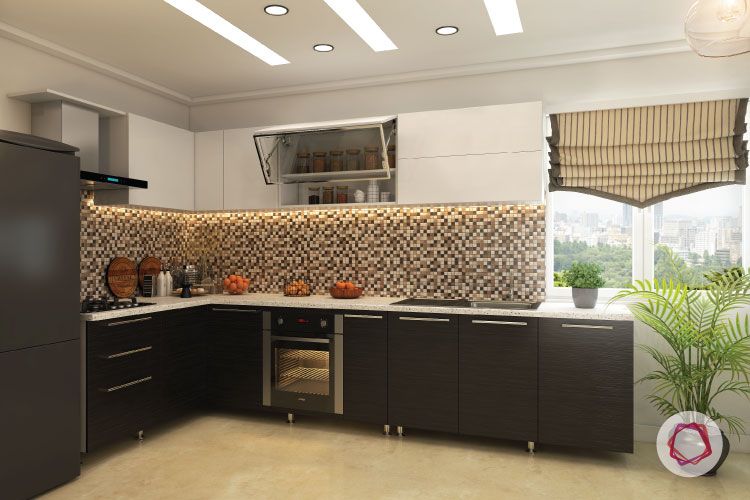 Mosaic tiles on your kitchen backsplash are a timeless option which can be used in multiple ways. For instance, when used as closely placed tiny blocks, they give the kitchen a hypnotic, mesmerizing look.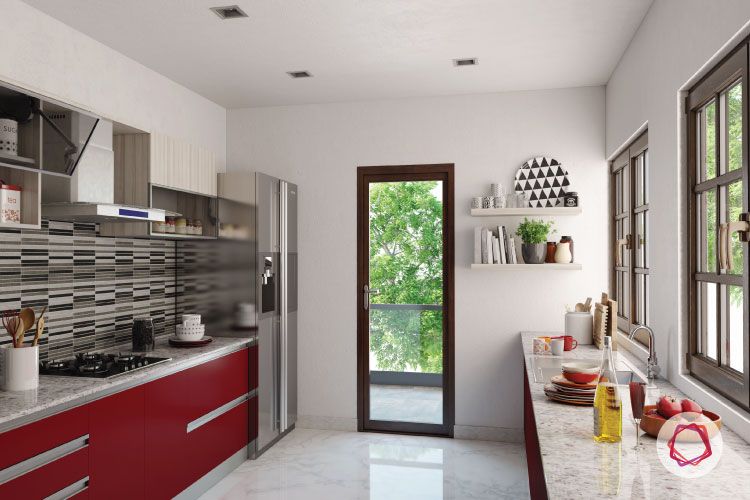 Whereas, striations of mosaic tiles on your backsplash make your kitchen appear longer, therefore adding to its visual length.
Kitchen backsplash idea #4 : Pattern play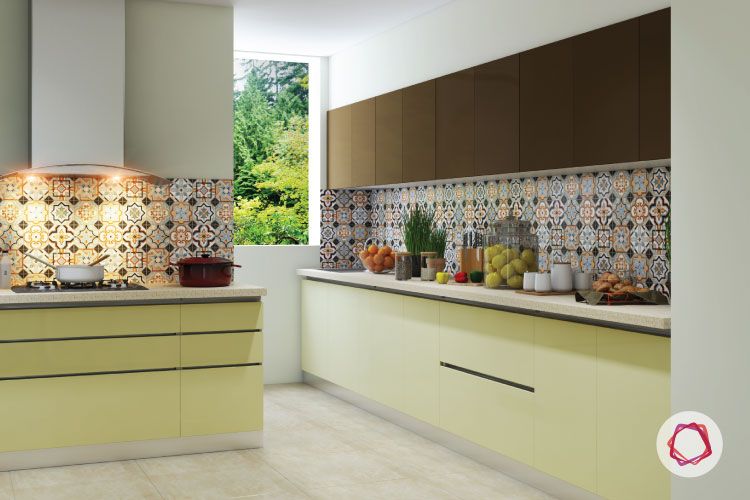 Patterned tiles are a trusted, age-old backsplash idea, since it is easier to match your kitchen interiors with the design or colors of the tiles.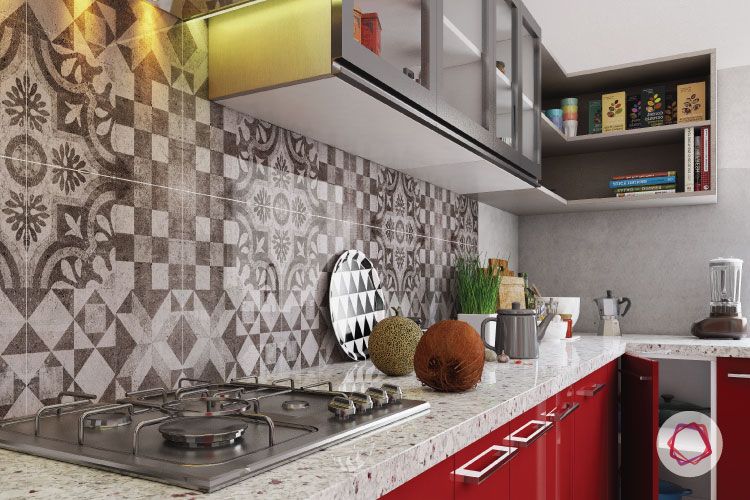 You can use big tiles with spaced out patterns or alternatively use smaller tiles with a busy pattern for a cozy look. Play around with the colors, but stick to neutrals when your pattern is too busy.
Kitchen backsplash idea #5 : Faux fashion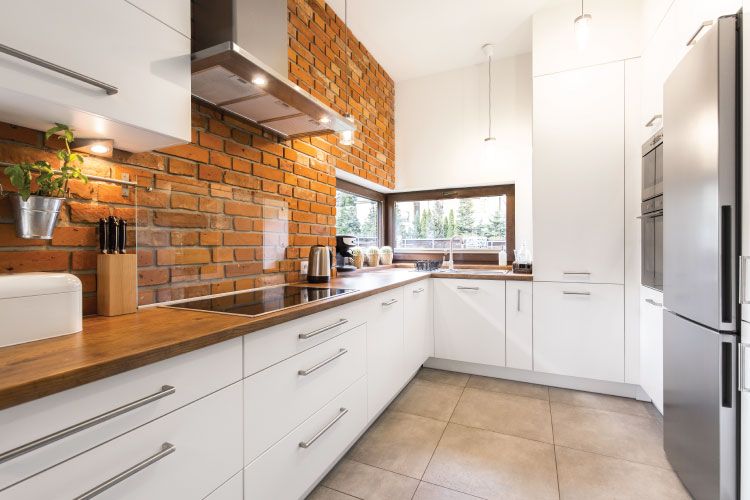 Faux brick backsplashes have more than just a rustic charm about them. They make your kitchen look natural, warm, unique and vintage all at once! It is a treat for sore eyes if you are the kind who likes to break the monotony of a perfectly glossy kitchen.
Also, it is easy to install faux brick backsplashes and the material is way cheaper than other pricey alternatives.
Kitchen backsplash idea #6 : Go Moroccan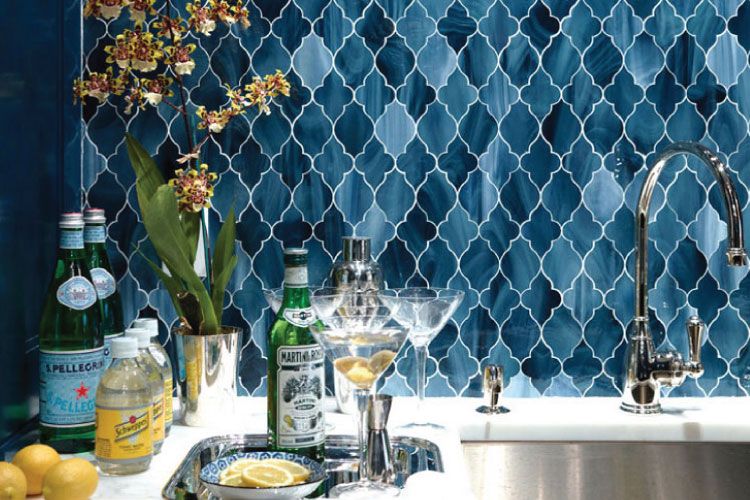 Source
Using Moroccan style tiles for your kitchen backsplash will lend a cozy touch to your kitchen. If you're the kind who likes royal charm, then this one's for you. Moroccan tiles on kitchen backsplashes can feel right in almost all kitchens, provided you coordinate it well with the rest of the walls.
Kitchen backsplash idea #7 : Colored glass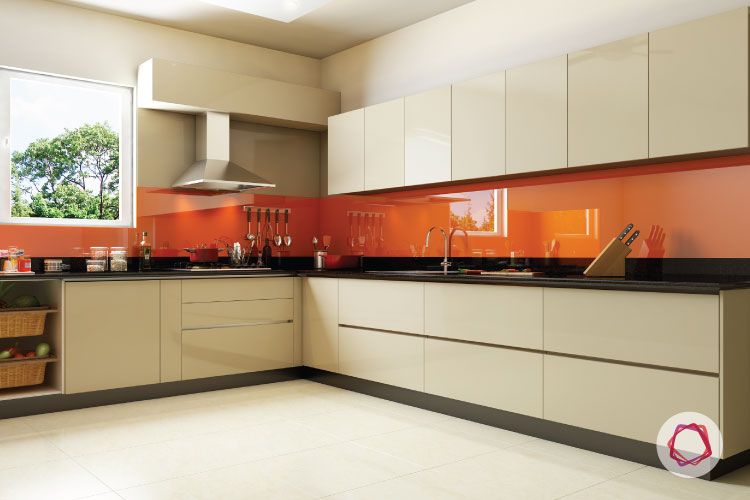 When using neutral color elsewhere in your kitchen, a bright colored glass backsplash makes a bold design statement.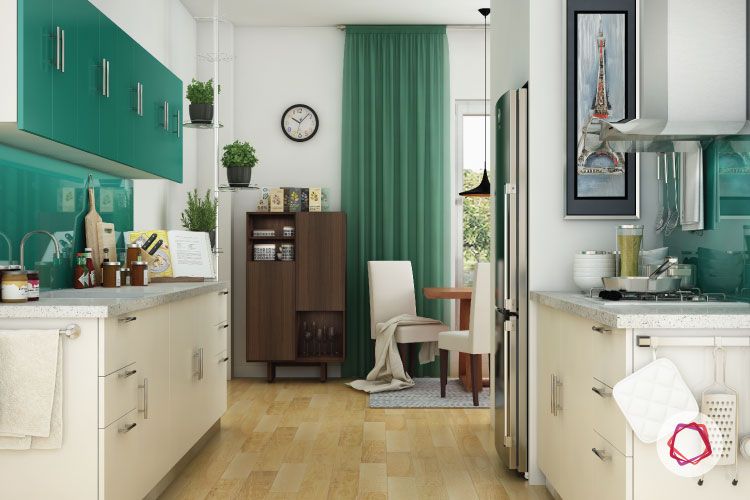 Not just that, glass reflects enormous amount of light, which eventually helps in making the kitchen appear bigger than it actually is.
These kitchen backsplash ideas are just right when you want to make your kitchen a not-so-boring place to cook in. This way your counter walls stay clean, while making a statement in their own way. We recommend you to try these ideas in your own kitchen and get your guests talking!