There's a reason why the kitchen is called the heart of the home — that's the place where you and your family come together to bond over a meal. The kitchen has now turned into a multi-tasking space where you cook, eat and socialise! So, if you are someone who has planned on getting yourself a modular kitchen, then you must know what sort of kitchen cabinets you should opt for along with other components.
Here, we give you a comprehensive list of some basic components that a modular kitchen is composed of. Read on.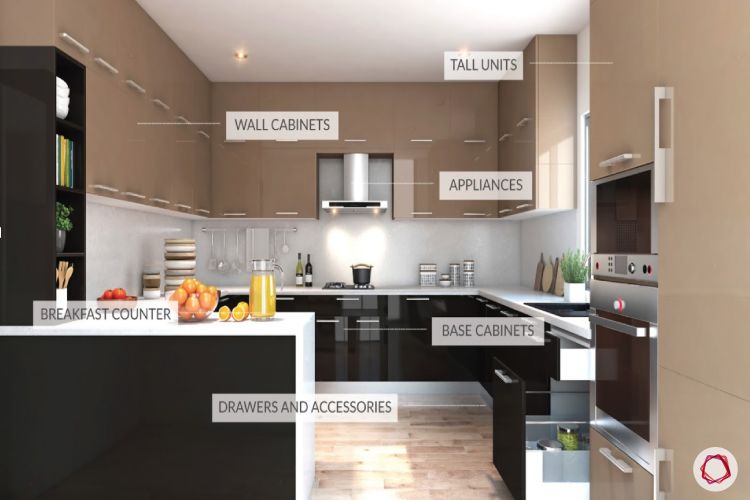 Kitchen Cabinets and Components #1: Cooktop & Appliances
When you think of a kitchen, what is the first thing that comes to your mind? The warmth emanating from the cooktop, right? The "workhorse" of your kitchen, cooktop ergonomics, layout, design, placement and so on are very important. Here are a few pointers before you invest in a cooktop:
Burner:
As you may know, a variety of burners are available in the market. You can choose from double to triple, four and five gas burners, depending upon your requirement. When placing the hob, remember to keep good distance from the tall units and the sink. Make sure the surface of the hob is either stainless steel or tempered glass, which makes it heat, scratch and corrosion-resistant.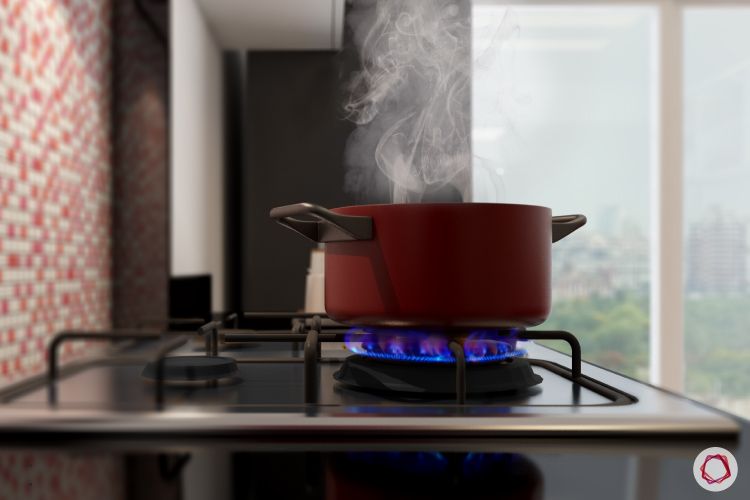 Chimneys:
Indian cooking involves a lot of oil, masala and splattering tadka all over the hob area. An electric chimney will suck the steam and smoke from the kitchen and filters the grease and gives you fresh air that keeps your kitchen well-ventilated. Make sure you keep ergonomics in mind while you place the chimney. Depending upon the need of your kitchen, you can choose from wall canopies, downdraft chimneys, island canopies or built-in versions.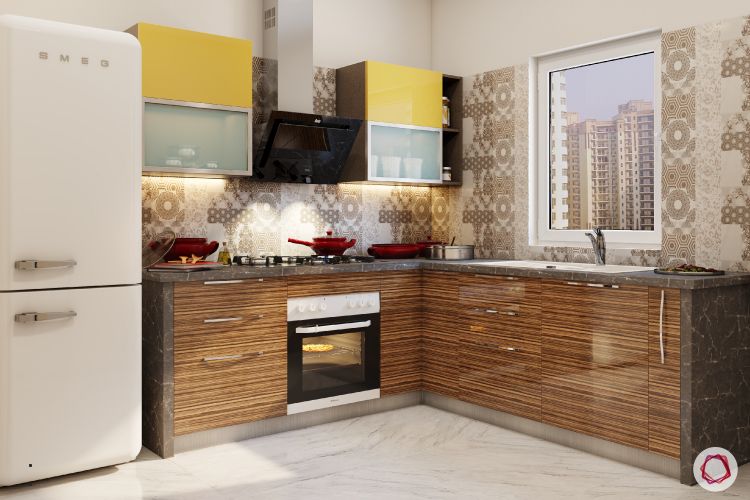 Appliances:
If you are one of the modern families that is always on the go, then you are not new to appliances. For your microwave, oven and the like, you can opt for a tall or a mid-tall unit that has shelves for all your appliances. This is the perfect way to save up on counter space. Modular kitchens also have designated spaces for your refrigerators.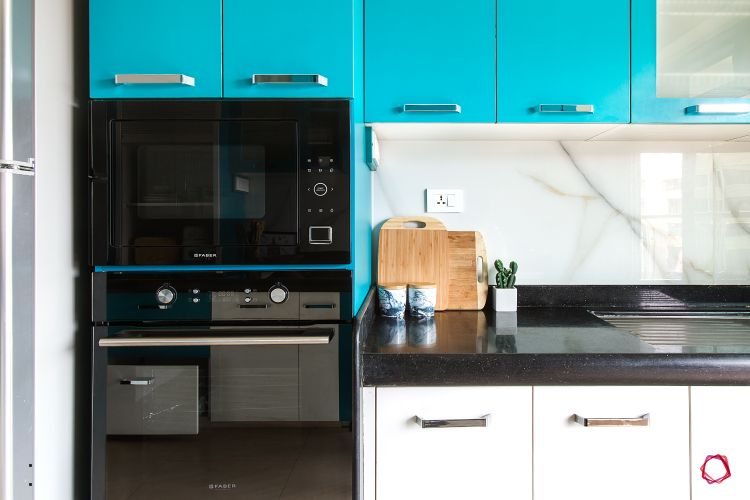 Kitchen Cabinets & Components #2: The Wet Area
The washing area should be built in such a way that it is clear of electrical sockets, appliances and anything else that should be kept away from water. It's also convenient that most of these cabinets are made waterproof. Check with your designer about using Boiling Waterproof Ply. There are a lot of things that fit into the wet area.
Dish Holder:
Gone are the days when you use unsightly wire baskets beside the sink! They are too much of a mess and don't quite fit into the modular kitchen setup. Instead, opt for dish holders right atop the sink so that the water drips down into the sink.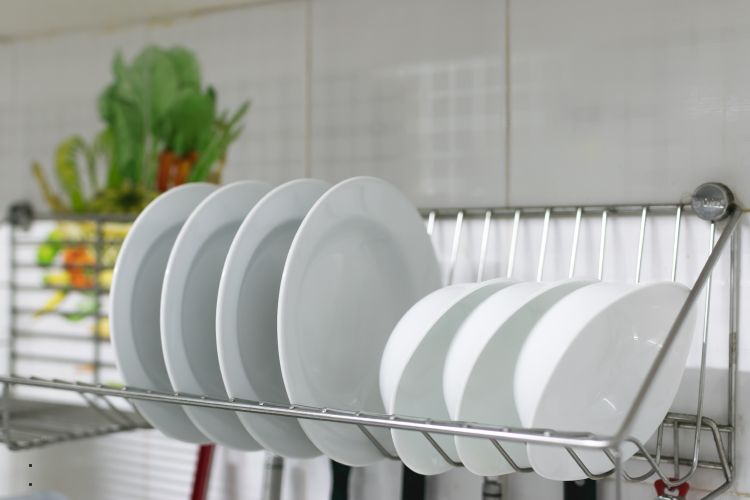 Types of Sinks:
There are various kinds of sinks that you can choose from for your kitchen. From single bowl to double bowl, top-mount to undermount, there are a lot of sink styles that suit every kind of kitchen and lifestyle. Go here to read about the kinds of sinks that are available in the market.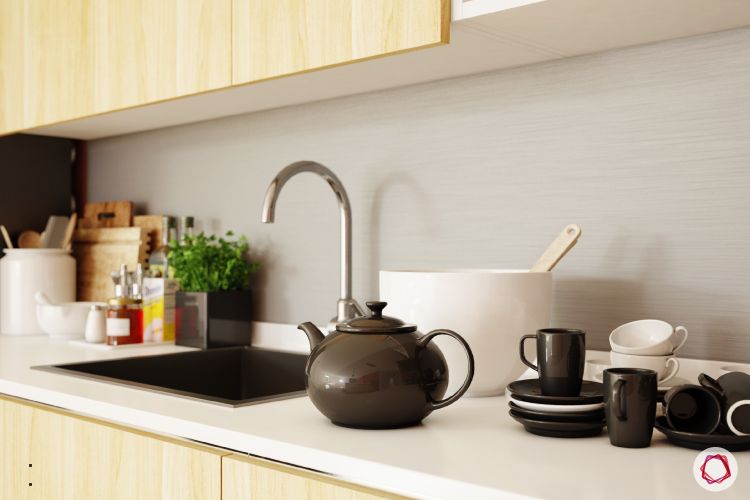 What Lies Beneath:
All your cleaning and waste agents can go underneath the sink area. That is the perfect way to hide that clutter and also keep all your cleaning items in one place!
Washing area:
If you are blessed with a utility area in your kitchen, then you also have the option of placing the washing machine in there. Your heavy utensils can also be washed in that area separately.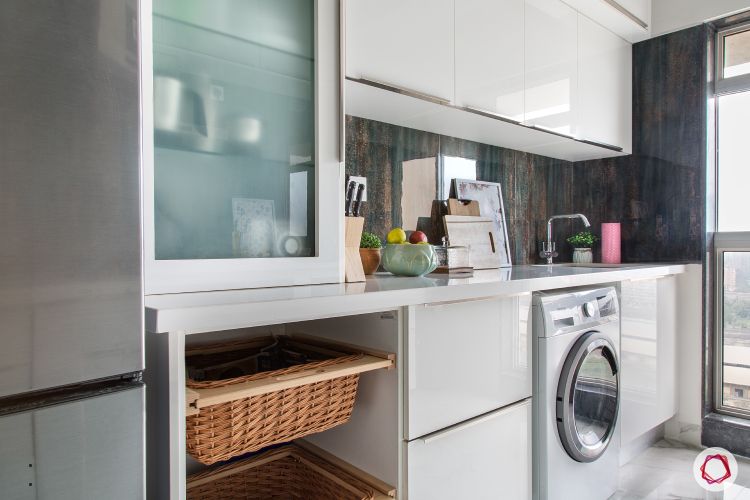 Kitchen Cabinets & Components #3: Storage
There is nothing like enough storage when it comes to kitchens! Specially in modern day apartments where space always a concern, you can always do with extra storage. The best thing about modular kitchens is the variety of storage options that it offers.
Base units:
Ideal for heavy utensils, these handy unit come under the cooktop and are always placed in close proximity with the hob area. They also consist of drawers that can store other utensils as well. Base units also consist of shutters for cylinders.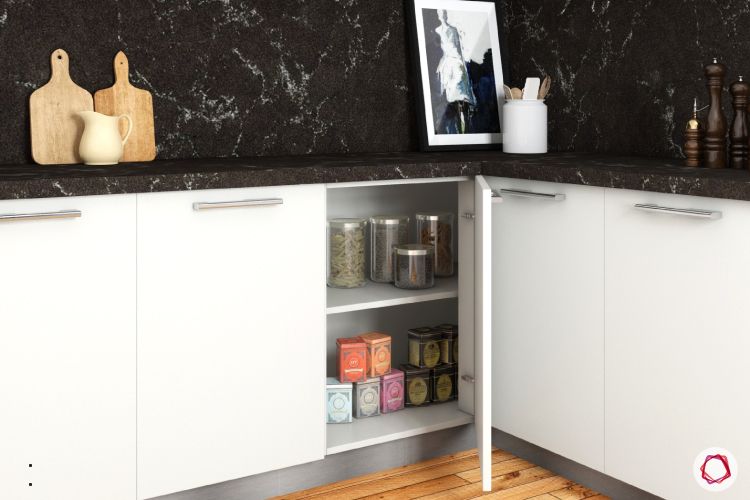 Wall Units:
These come in a variety of shapes and sizes with and without shelves. You can opt for open shelves or glass shutter ones where you can store your spices, teas and coffees.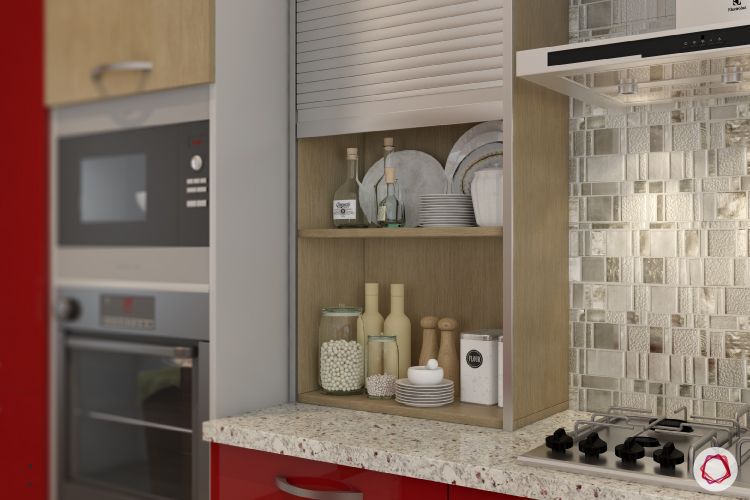 Mid-tall and Tall Units:
These are ideal for storing snacks, groceries and condiments. Tall units also come with shelves for microwaves and other appliances.
Lofts:
As the name suggests, these are placed right on top and are usually utilised for the things that you need the least in everyday cooking. From boxes to big vessels, the loft can hold bigger items.
While these components of a kitchen are the most basic ones you should keep in mind while designing your kitchen, ergonomics is something you should pay attention to. Your designer can help you with this as they have the technical know-how. The idea is to help you make the best use of space and make your life easier. Here are some modular kitchen design ideas for more inspiration:

Let us know if this was helpful to you!