We are in the second phase of the lockdown and there is no respite from the restrictions just yet. With no access to malls and limited slots on online grocery deliveries, a lot of us have stocked up on groceries for at least a month. Which gives rise to the obvious problem of storage. Kitchen organization comes naturally to most of us but for some of us it is just overwhelming. And with all the bulk bought groceries lying around in the kitchen, it might make one anxious.
We got in touch with Gopal Dwivedi, our in-house expert and Head of Category Development, Kitchens, Wardrobes and Storage, to give us some helpful hacks to optimise space in the kitchen. He simplifies the problem at hand with some numbers, "It is important to understand that during this temporary tough time, people are only buying consumables in bulk, there is no increase in the non-consumable capacity of the kitchen. Which means only 40-50% of kitchen storage is getting affected, that people normally keep space for, for one month. So doubling this means the problem is only for additional 25% extra storage space." Here are some tips from the kitchen guru at Livspace:
#1: Making the most of existing space in the kitchen
Make your storage work harder by stocking neatly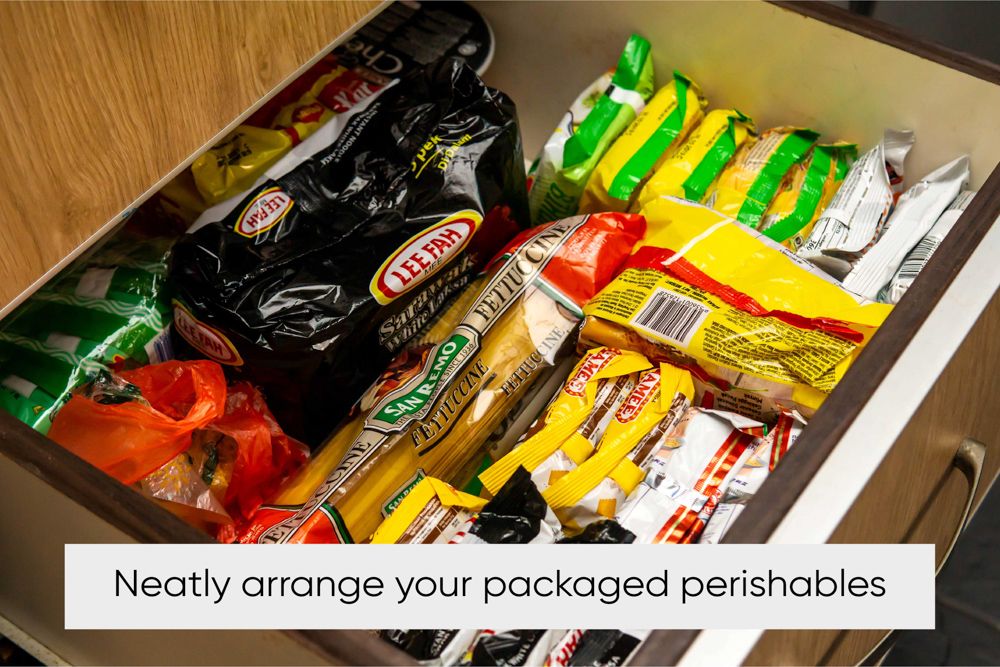 During normal days, we tend to keep our consumables anywhere in the cabinets and drawers. But with the extra items that you have bought due to the lockdown, we urge you to be mindful of available space. Arrange them tightly and nicely in a row in cabinets and drawers. You will be surprised at how many packets can stack up against each other in one drawer! The Trick to Stocking Up is Planning Well, Not Wiping Grocery Stores Clean, so keep this in mind while you go grocery shopping!
Make the kitchen space count by using the right containers and packing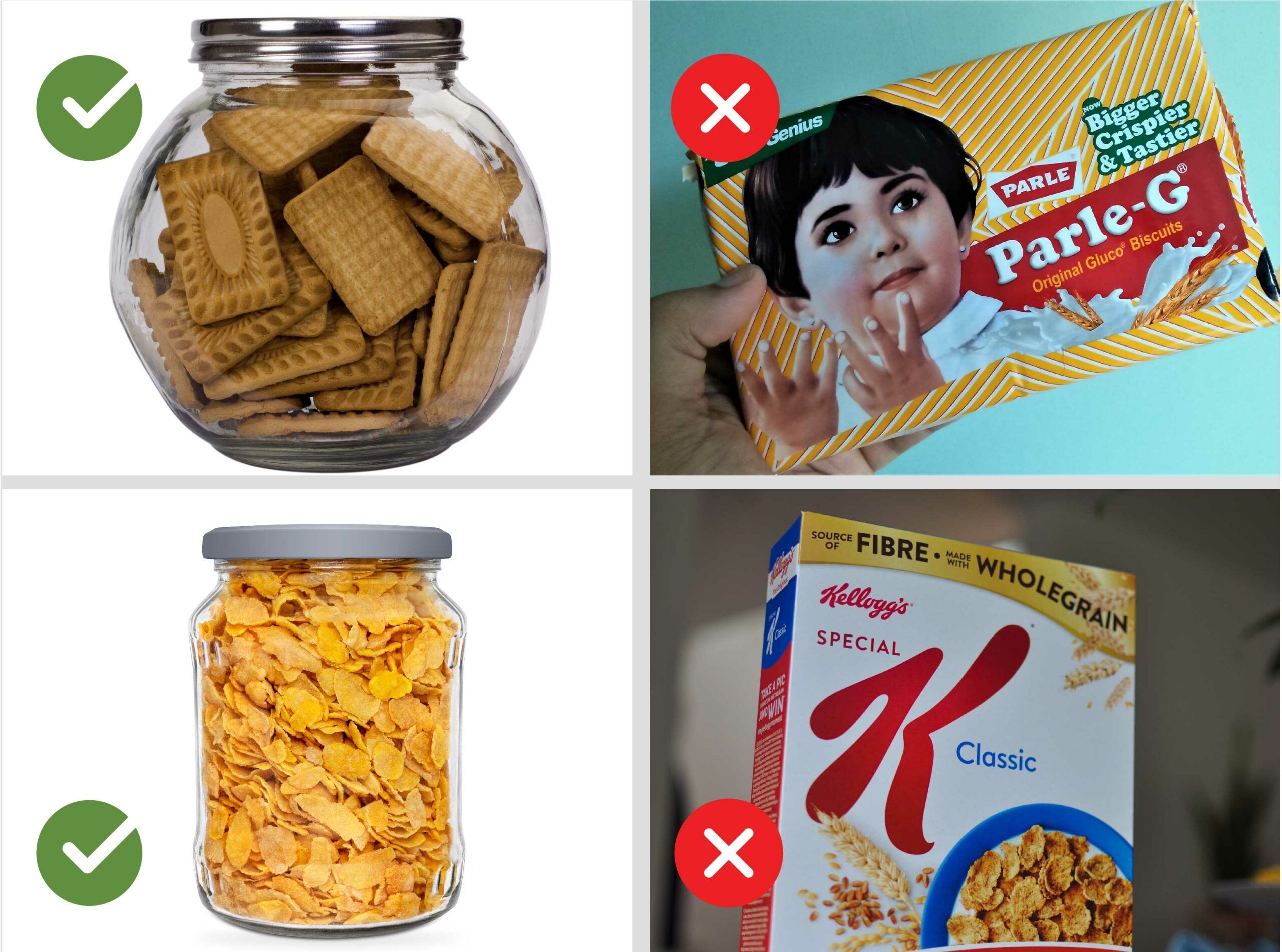 Storing snacks like biscuits, chips, cereals, etc, in their original containers takes up a lot of space that we don't quite realise. Transfer all these items into airtight containers to make sure they remain fresh and you can stock those boxes one on top of the other. Huge packs of cornflakes and other pulses are unnecessary. Move the contents into airtight jars and do away with bulky carton boxes that take up space.
Use your fridge space optimally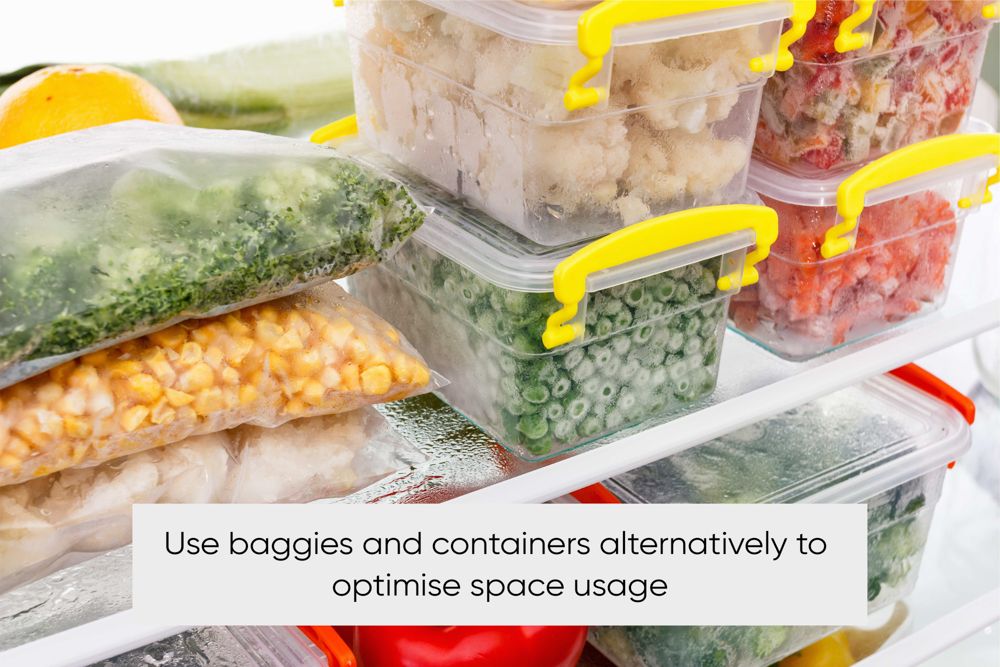 You bought your fridge thinking that you can comfortably store food for a couple of weeks maybe. But none of us ever imagined that we would face something like this. Up your kitchen organization game with storing food in your fridge optimally. Make use of seal and lock bags and containers to store frozen food or cut veggies. This way you can store a lot more than you normally would and fit more into the available space.
Free up space by storing potatoes and onions together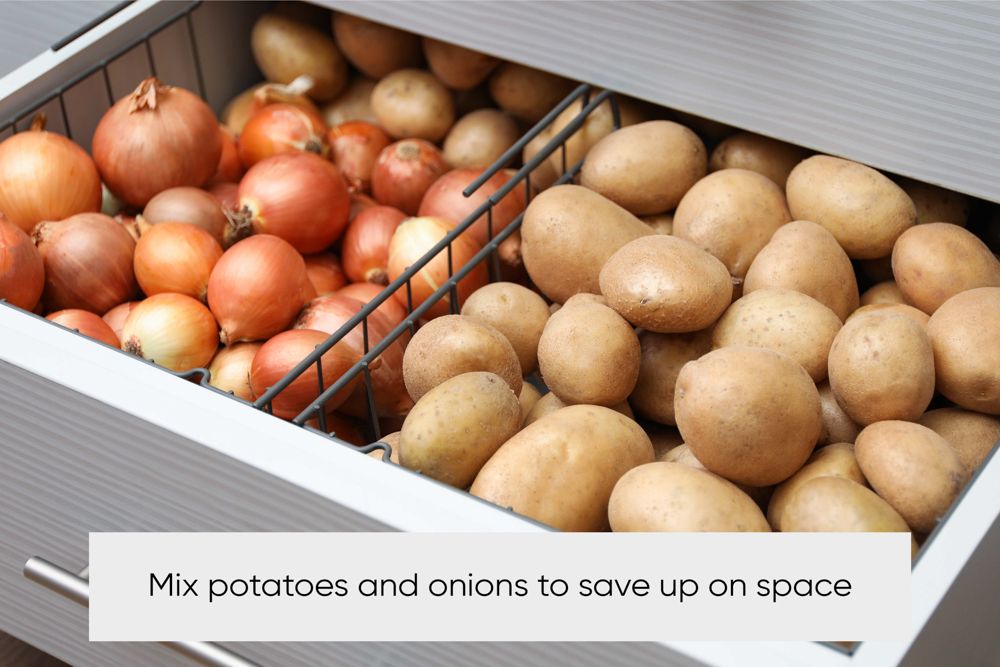 While you might have separate wicker baskets for potatoes and onions, this is not the right time to block that space. Free up one basket by mixing potatoes and onions together. By doing this you can store other things in the space that is now available.
Use the top of your fridge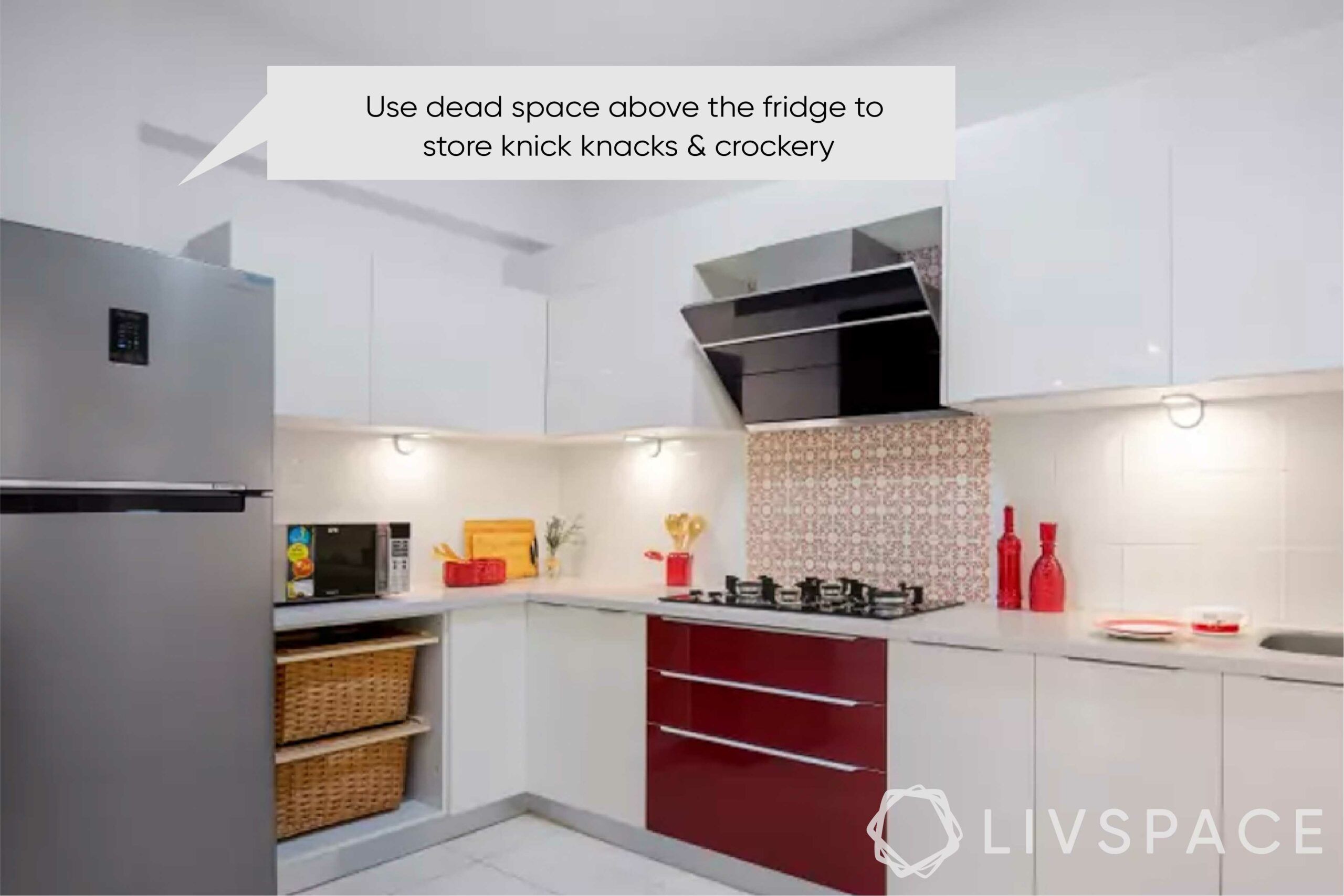 A very useful hack – storage on top of the fridge. This might not be a great idea for heavy-duty things, but your knick-knacks can definitely go there. Light items like light crockery, rarely used utensils and the like can go on top of the fridge. Just make sure you take care of ventilation and do not block that.
Use the top of your cabinets or loft space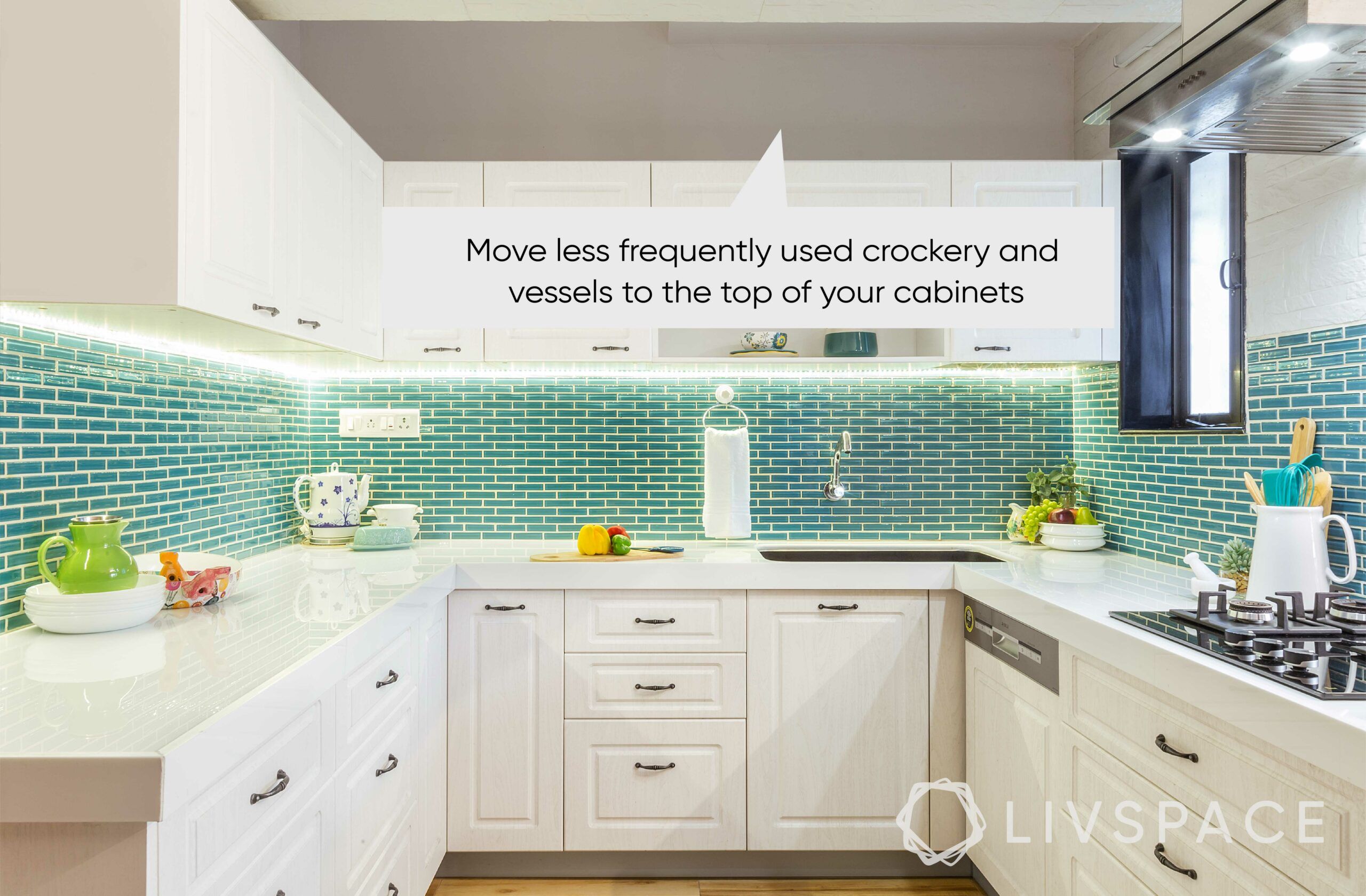 Most of us opt for loft storage in kitchens these days because everyone loves a little extra space. Therefore, move less frequently used items, like crockery for parties, decorative casseroles and fine China cutlery to some other room, or in the loft for some time. Consequently, this will give you real additional space for more storage. If you don't have a loft, move some items to the top of your cabinets! Go here to know Which Cabinets Are the Most & Least Used in a Kitchen?

Use sideboard space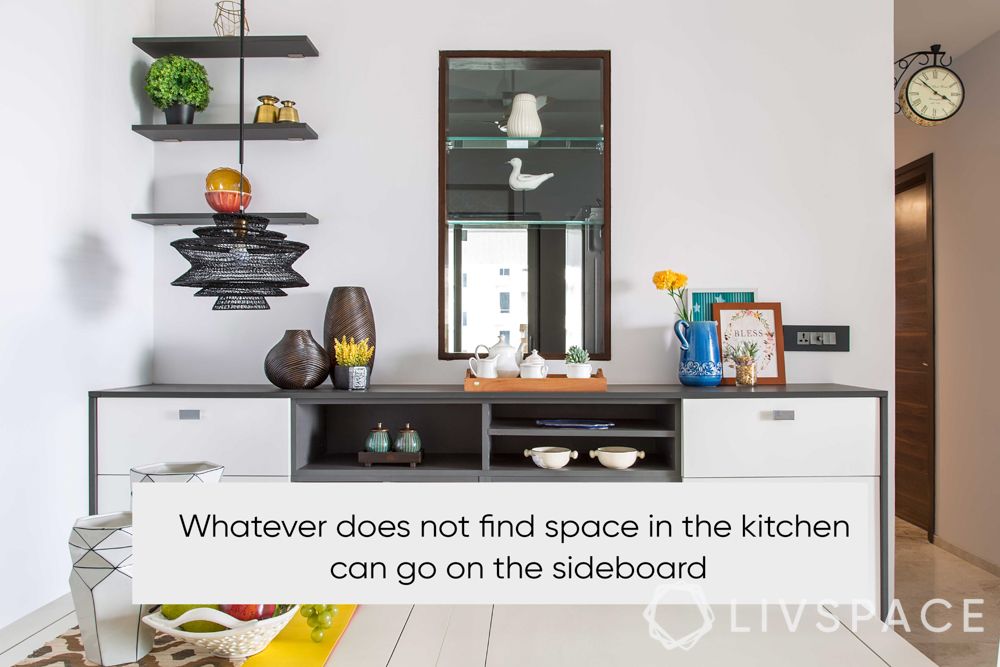 Normally we take pickles, salt & pepper and lots of small items back to the kitchen once used at the dining table. During this time few of these frequently used items can be kept either at the dining table or on the top of the sideboard to free some space from the kitchen. This will really help you with your kitchen organization and create more space for other things inside the kitchen. Also move your table mats, frequently used cutlery and soup bowls to the sideboard!
Move non-essential items – plants to windowsill, decorative crockery to storage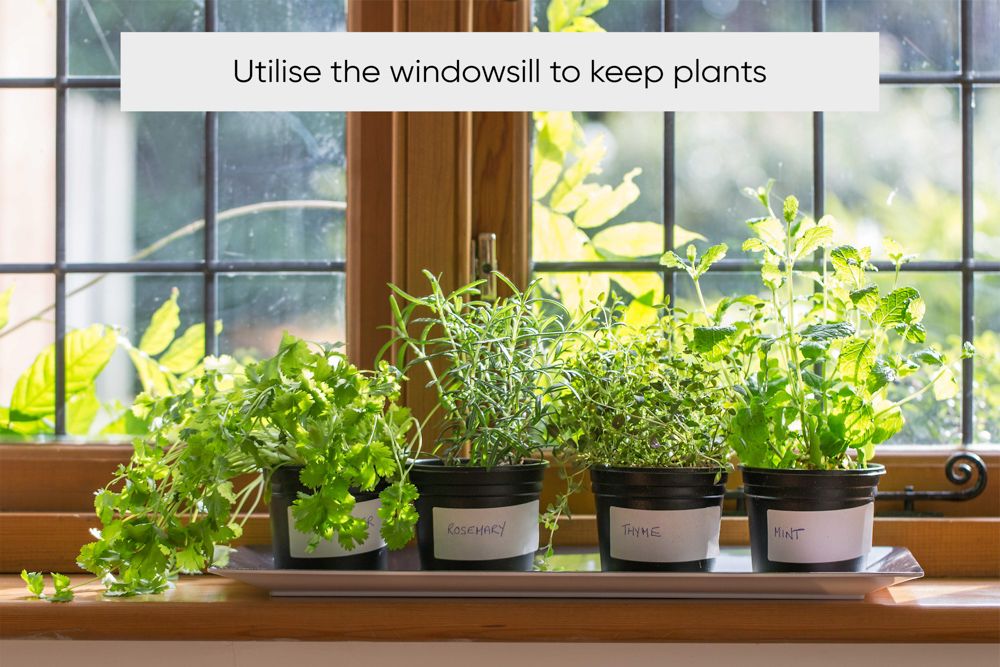 While your kitchen windowsill is the ideal space for your potted friends, you can move them all together and make some space for other things. Bottles and cleaning agents can be kept at the windowsill. This way you will free up some counter space that is generally occupied by these items. Also, let's be honest, you won't have guests over for a while, so your decorative china can go into other cupboards.
#2: Adding more storage
Add racks from other rooms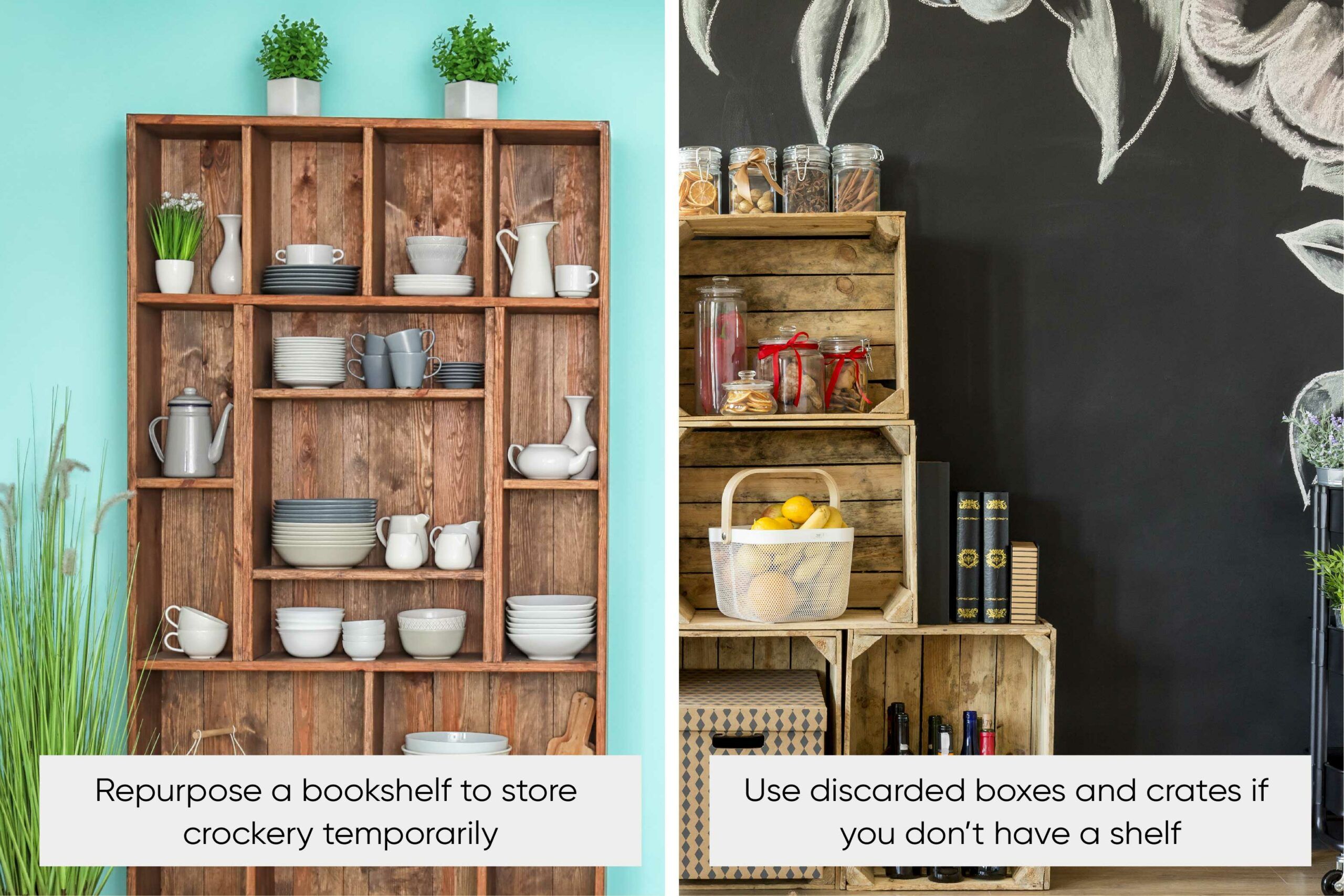 Lots of standalone storage units used at home and corner units can be kept on the kitchen counter or on the floor. This is very useful in providing additional space for temporary time periods and still keep the kitchen organised and look clean and tidy. If you have a bookshelf that you can spare for some time, consider moving it inside or next to the kitchen. A lot of your groceries can go here. Alternatively, if you have empty boxes or crates of bottles lying around then this is the time to put them to use.
#3: Using knick-knacks to store/organise
Installing hooks
Which is that one space that we tend to ignore and waste the most? Yes, it is vertical space. Your kitchen walls can prove to be quite useful during this lockdown. Therefore, it's time to raise your kitchen organization bar with rods and hooks on the walls. Then use these to hang grocery bags or store other items which do not require refrigeration. This can be helpful while cooking also and can also be a great storage space for some time.
Utilise the dado space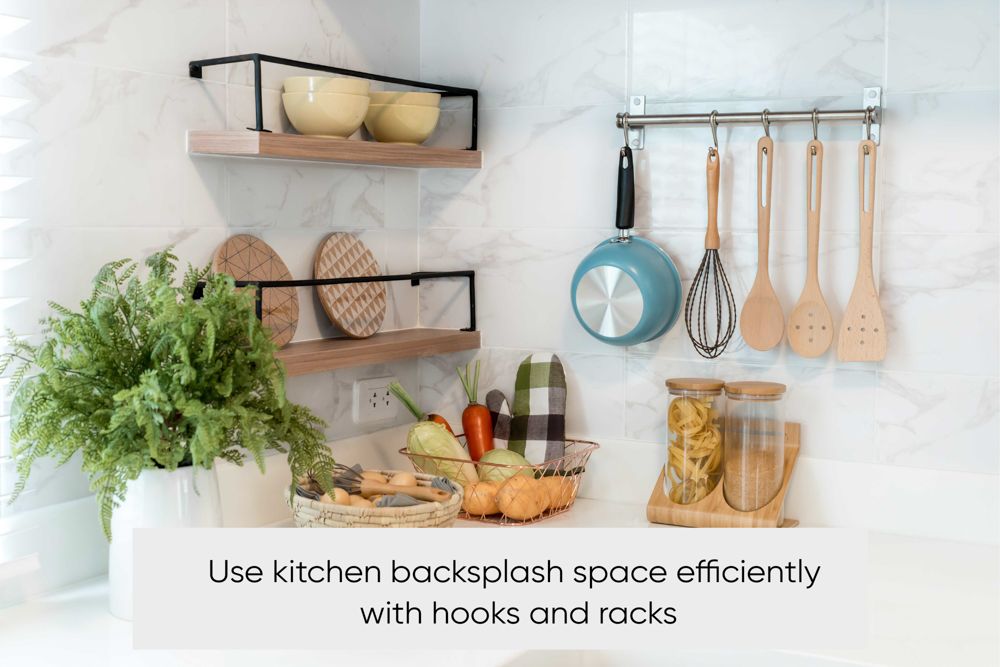 Make use of that backsplash now. Pick some stick-on hooks that we all have at home and stick them up on the backsplash. Then hang your spatulas and everyday mugs on these. You will free up so much storage space in drawers and cabinets with this kitchen organization hack.
Adding storage to cabinet doors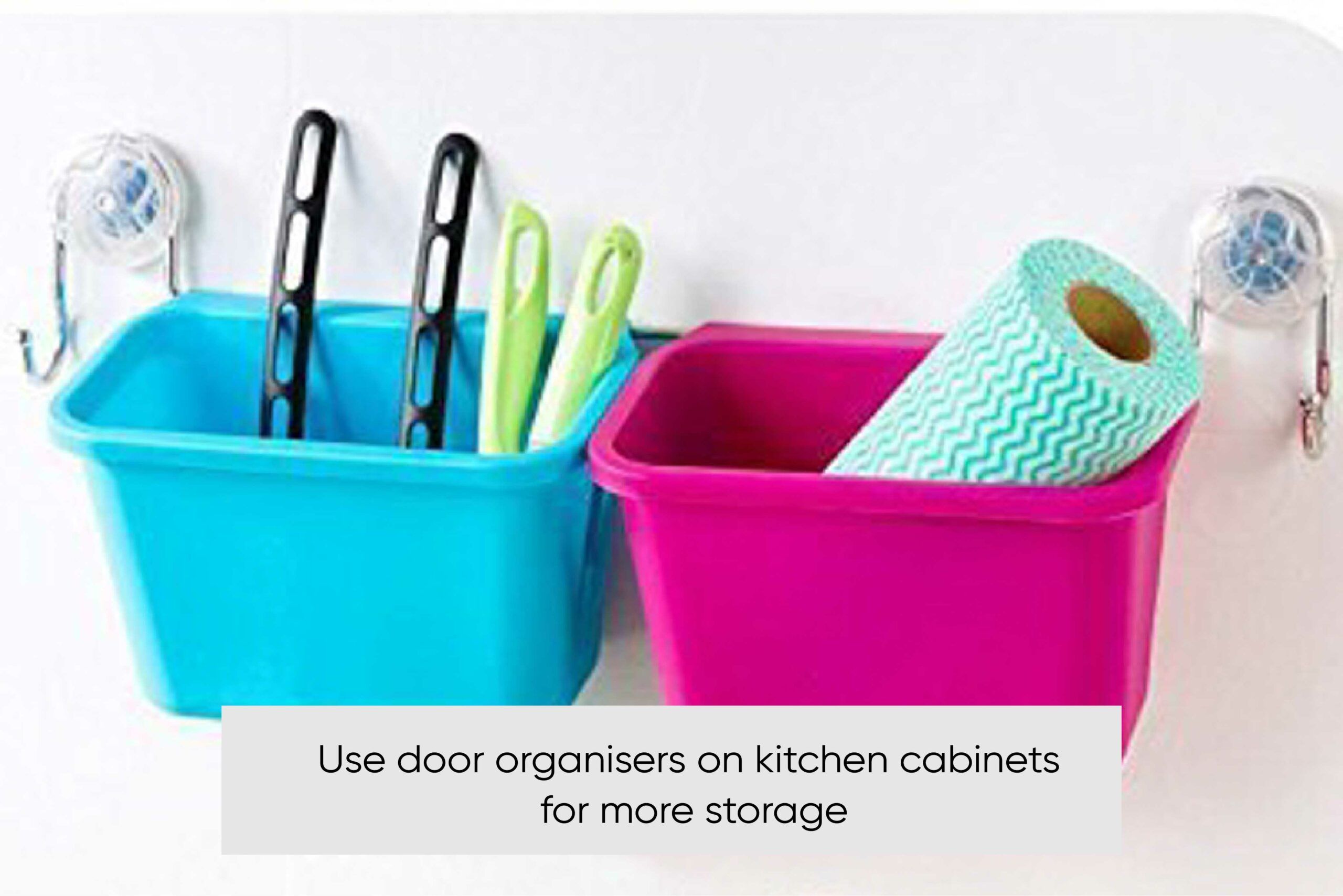 There are lots of small storage solutions, or small big holders and accessories which can be kept hanging on the kitchen base door while working. So, this can be a very good temporary addition to your kitchen added storage. If you do not have them at home then maybe later you should stock up on these. Buy them here.
To sum up in his words, "In our busy lives where we don't have time to eat together, the coronavirus pandemic has brought everyone together for all three meals. So eat healthy, stay safe, and live to tell this story!" He has also given us some pointers on modular kitchen accessories: An Expert Opinion on Must-have Kitchen Accessories!
Here's a little bit about the man behind these useful insights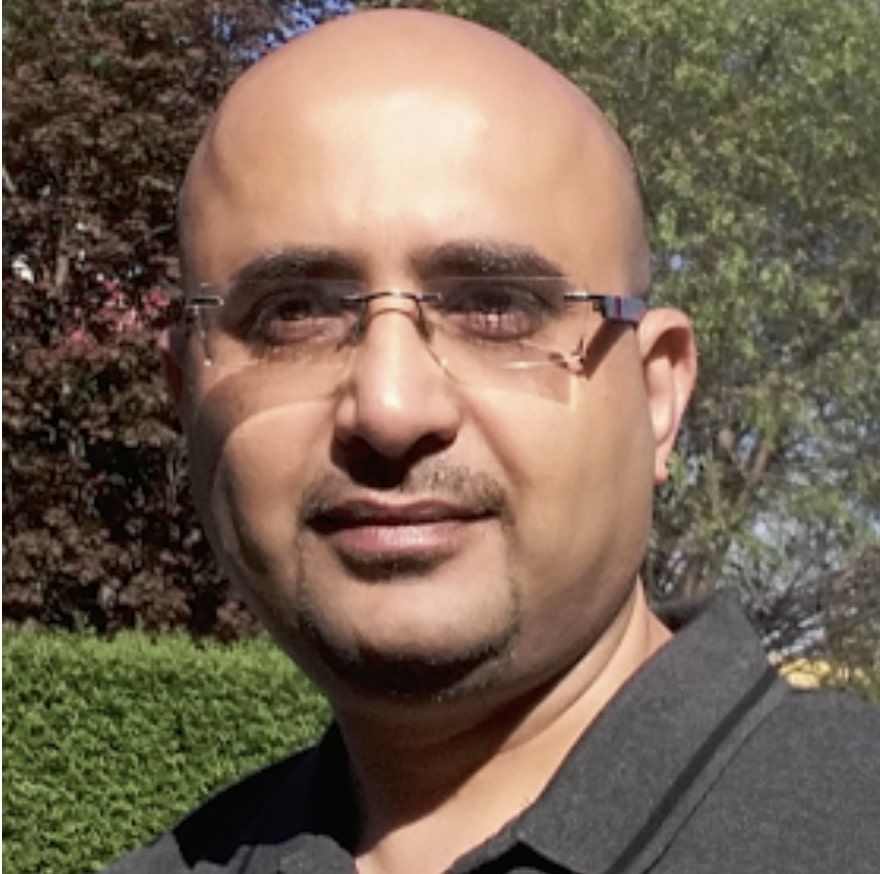 Gopal Dwivedi is an in-house expert on everything related to Modular Kitchens and Wardrobes. Our technical guru not just knows in and out of all things modular but also has a keen interest in cooking and takes this passion seriously! You can also follow him on: https://www.linkedin.com/in/gopaldwivedi/
Bonus recipe!
Stay at home and whip up this easy-peasy recipe by Gopal Dwivedi
Fusilli pasta salad
Prep time: 10 mins
Cook time: 20 mins
Serves: 2
Ingredients
2 cups fusilli pasta
1 cup broccoli
1 cup red cherry tomatoes
1 cup black olives
1 cup feta cheese
1 cup greens
Ingredients for dressing
1 cup Italian salad dressing
1 tbsp Italian salad seasoning
Pinch of oregano
Salt to taste
Method
Cook pasta in salted boiling water, rinse with cold water and drain. In a large bowl place chopped broccoli, tomatoes, cheese, olives and salad dressing. Add cooked pasta to the large bowl, toss well, sprinkle salad seasoning and serve.
For more such amazing recipes, you can buy the recipe book written by him on Amazon.
If you loved these kitchen organization hacks, you will love reading this as well: 10 Steps to an Organised Kitchen.
Check out kitchen design ideas:
Have something more to add? Write to us at editor@livspace.com.