Have you ever noticed that we use the word 'modular kitchens' with a very special reference to India? If you see modular kitchen images from the West, it becomes apparent that almost all kitchens there are modular, and thus, they don't call it out specifically. But modular kitchens arrived on the Indian shores just about a decade ago and took the interiors market by a storm. Naturally, the concept is still novel with reference to Indian kitchens. In fact, it is now becoming something of a necessity for most urban homes.
From the cultural perspective, however, Indian food and cooking are unique. Hence, you cannot pick a kitchen design concept from elsewhere and place it straight away into the Indian context. And if you want to know exactly what a desi modular kitchen should include, you have come to the right place.
At Livspace, we pride ourselves on the ability to deliver kitchens that are tailor-made for Indian homes. And these modular kitchen images are part of our handpicked list to illustrate exactly what an Indian kitchen should entail.
#1: Closed Kitchen Layout Works Best for Indian Cooking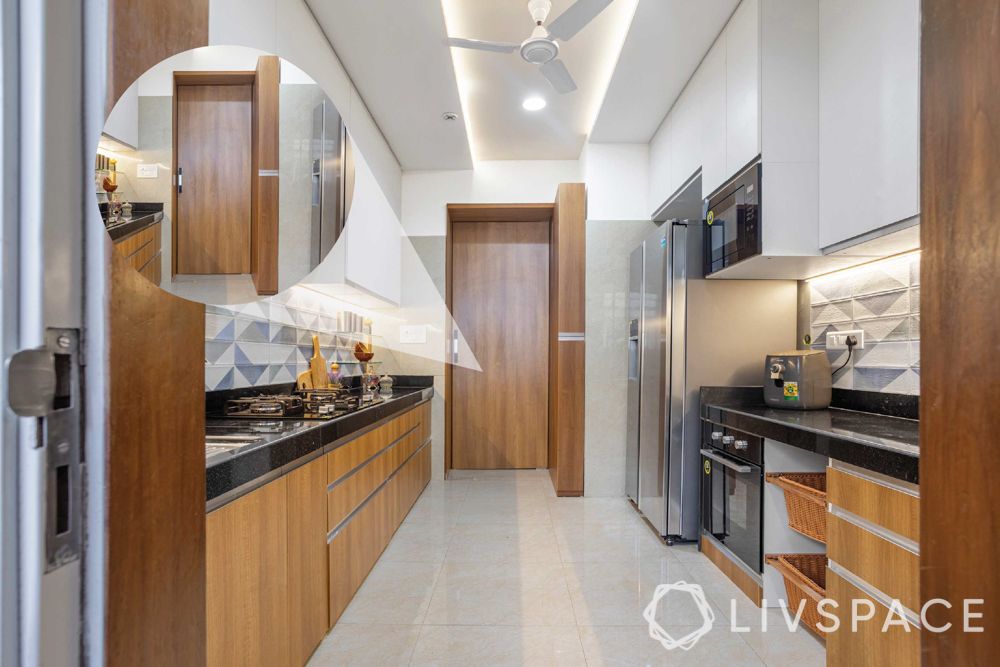 Open kitchens may be a thing these days but a closed kitchen does have its own advantages.Wouldn't we rather keep all those sizzling tadkas and delicious whiff of curries inside the kitchen? Indian cooking involves a lot of oil and smoke that may lead to grimmy walls in the rest of the house if the kitchen is not closed. It also lends a measure of privacy to the kitchen that sees a lot of action; naturally, it's impractical for the kitchen to be squeaky clean all the time.
This particular kitchen, from one of our projects in Crescent Bay, Parel, is the perfect example of a closed kitchen, complete with a door. But not all closed format kitchens come with doors. It might be prudent to have one installed, for otherwise, it defeats the purpose of having a closed kitchen.
Still not convinced? You can check out why Indian homes fare better with closed kitchens here. If you still decide to go for an open kitchen, learn these 5 Things Before Getting One.
#2: Dark Coloured Lower Cabinets in Two-toned Kitchen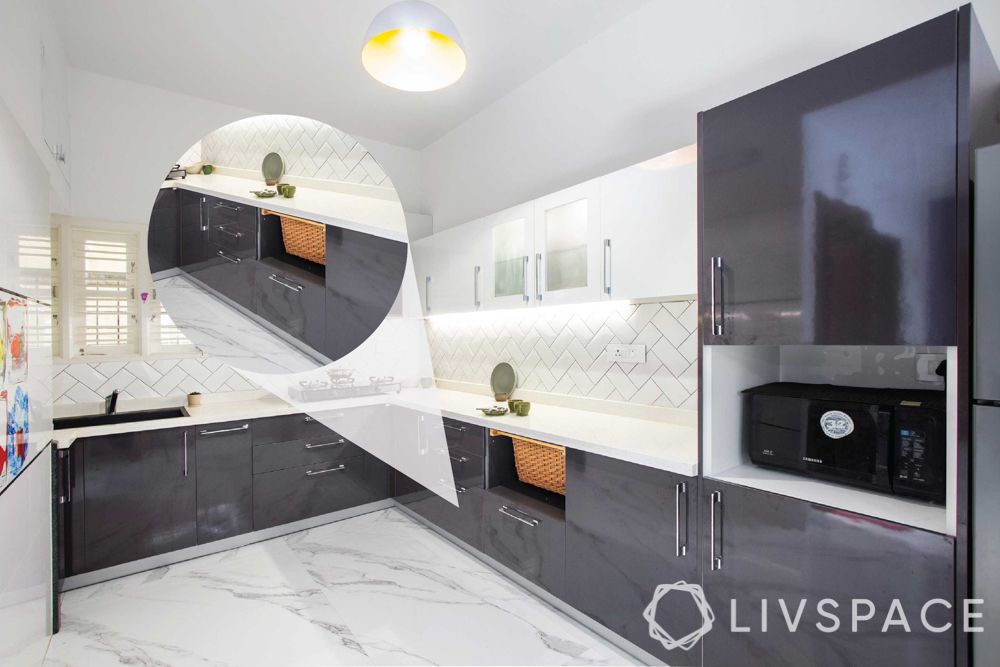 While white kitchens are all the rage, for heavy-duty cooking, two-toned kitchens will tick both style and practically boxes. We recommended keeping white for your upper cabinets, while the base units can be a dark colour.
Curries and richly coloured spices are an integral part of Indian cuisine. Not to mention, the occasional spills here and there!. We recommended keeping white for your upper cabinets, while the base units can be a dark colour. If you fancy lighter colours, we've got other combinations too!
This kitchen from a spacious Bangalore villa used grey for the lower cabinets as they are more vulnerable to stains. For inspiration, check out the other Suitable Colour Schemes for Indian Kitchens.
#3: A Sturdy Countertop for Heavy-duty Cooking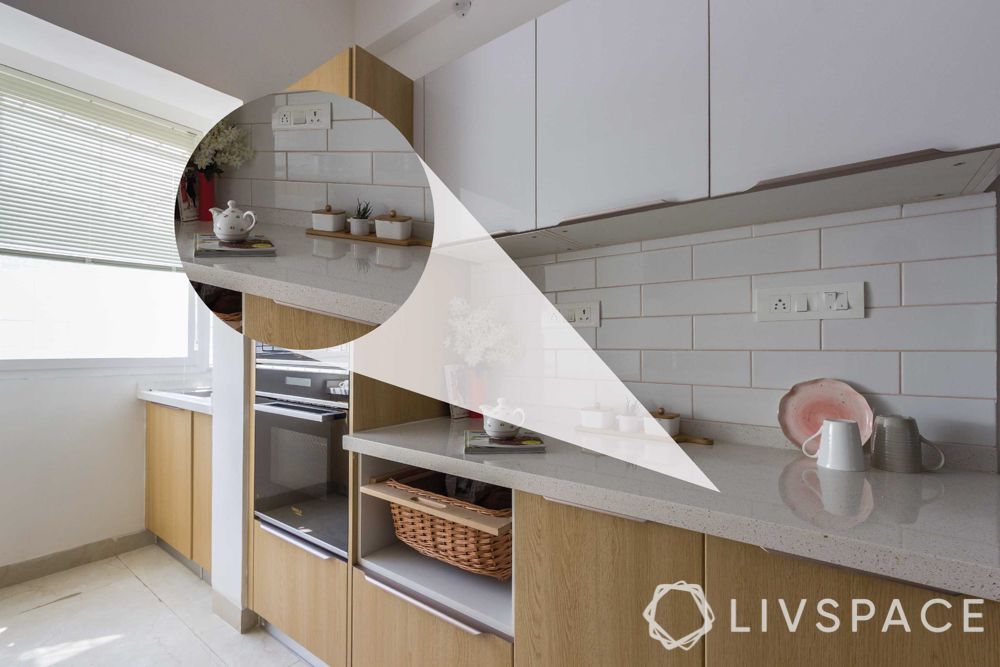 Just like your lower cabinets weather the storms of spills and stains, so do the countertops. Thus, Indian kitchens must have sturdy counters that are resistant to stains. Non-porous materials like quartz and granite are ideal for desi kitchens that have to be put up with the occasional blot of turmeric stains (so learn how to clean them already!).
The above modular kitchen images are from one of our renovation projects in Purva Paradise, Bengaluru. This kitchen sports a smooth quartz countertop to match its brown cabinets. While quartz is the best kitchen countertop material, from the price point, granite is also an affordable option.
You can also choose your kitchen countertop depending on how you use your kitchen. Find out What Kitchen Countertop Matches Your Personality.
#4: Spice Racks for Accessibility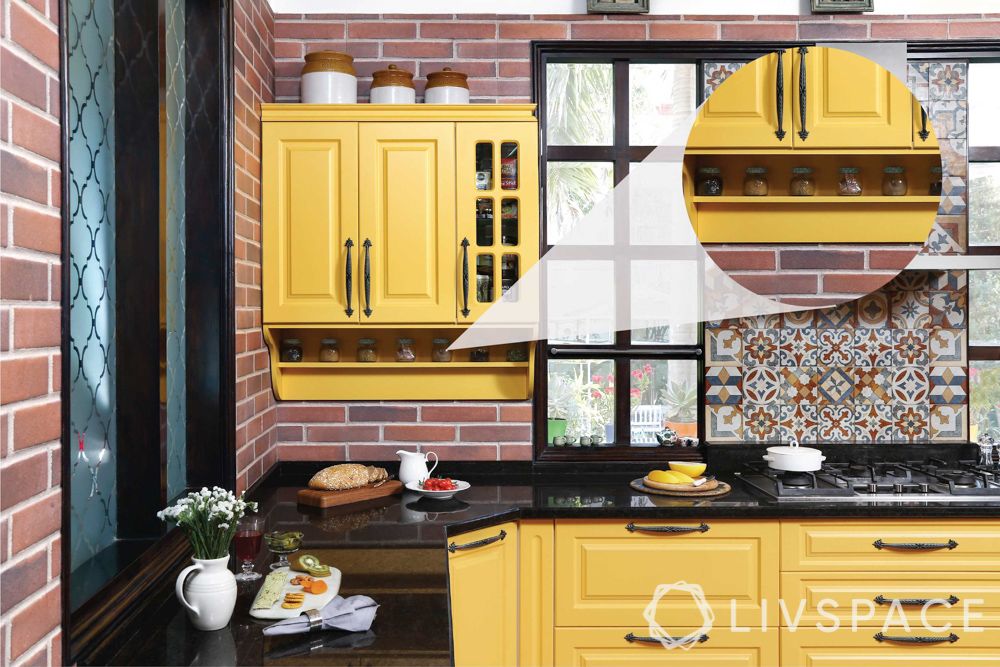 Did you know that the average kitchen in Australia has just four spices? Now compare that to the number of basic spices we have in an Indian kitchen! But it does not end here. Not only do we have an immense number of spices in our kitchens, we also use them frequently in almost all our cooking. So if you want an easy reach of all your essentials, choose open spice racks.
This cheery yellow kitchen, for example, has accessible spice racks built under the cabinets. There are various other types of open shelves available for kitchens.
If you are still wondering if you need open shelves, take this quiz to find out.
#5: Double Sinks or Utility Area to Keep Washing Vessels & Cooking Separate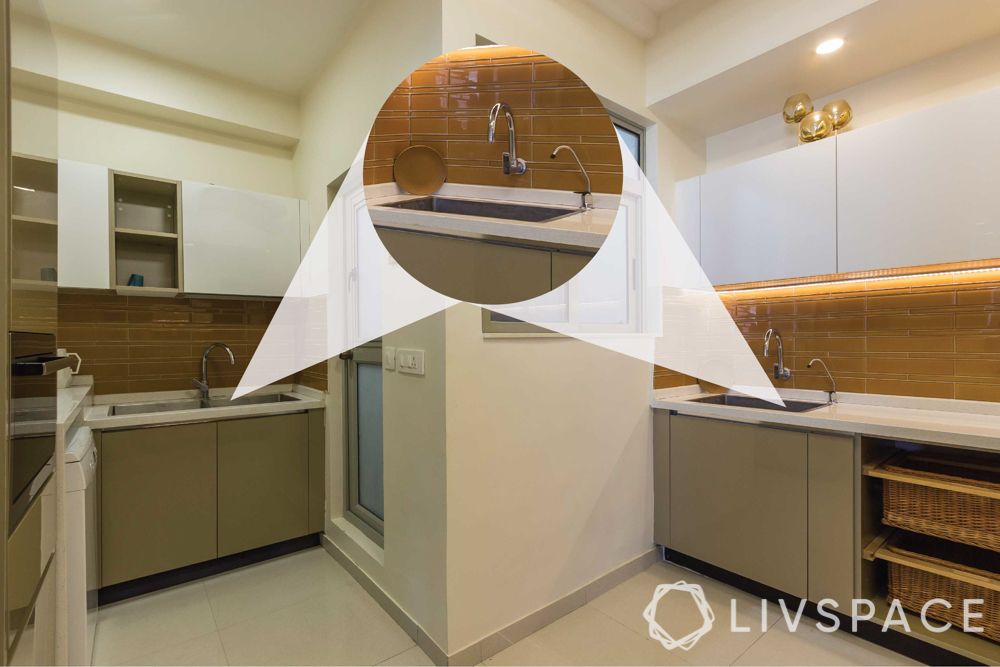 In most Indian homes, we have household helps who come in to do the dishes. Some of us tend to collect the utensils to be washed for the next day in the sink or basket. Having a dedicated utility area or two sinks in a kitchen ensures that the cooking and cleaning areas are kept separate from each other. This kind of segregation helps reduce the potential mess that can occur in your kitchen
In the above modular kitchen images from one of our projects in Hiranandani Hill Crest, Bangalore, we can see a separate though not segregated kitchen sinks. In case you do not have a separate utility area, you can make one by installing a partition in the kitchen. Further, also find out How to Pick the Perfect Sink for Your Kitchen.

#6: Ventilation to Keep the Kitchen Smoke & Odour-free
Cooking can get stuffy. Indian kitchens in particular need proper ventilation. This is especially true because we temper our food leading to quite a bit of fumes and strong odours.
The simplest way to get rid of smoke of course is to buy an effective chimney. But we would say that if there is a window in your kitchen, nothing like it. Our designer worked around the window present in the kitchen in one of the homes done by us in Salarpuria Aspire, Bengaluru. In fact, if there isn't one, it might be a good idea to carve a window out just for ventilation.
Also, find out if You Need a Kitchen Chimney.
#7: Task Lighting for Prep Work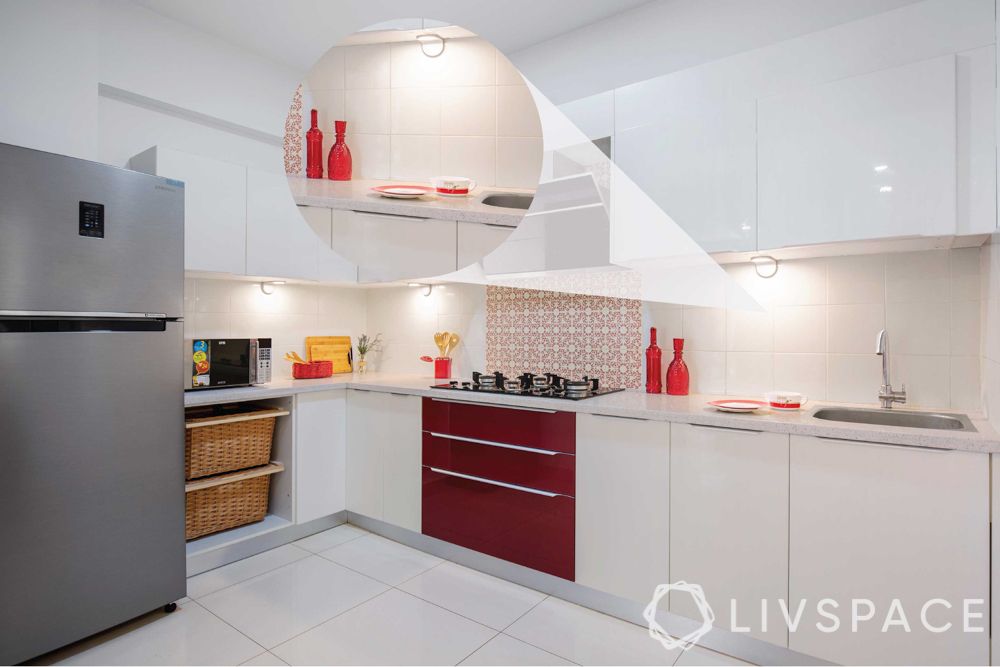 With both partners working these days, we must take into account a scenario where people get back home from work and then cook their meals. Hence, lighting is of paramount importance. And you will especially love task lighting for this.
We can see under-cabinet lighting in this bright kitchen in one of our Whitefield homes. Not only is it functional but also looks rather chic. We genuinely favour this kind of task lighting as you see in the modular kitchen images above. However, you must check out All Types of Lighting for the Kitchen too!
#8: A Space to Hang Spoons & Spatulas as We Use So Many, Don't We!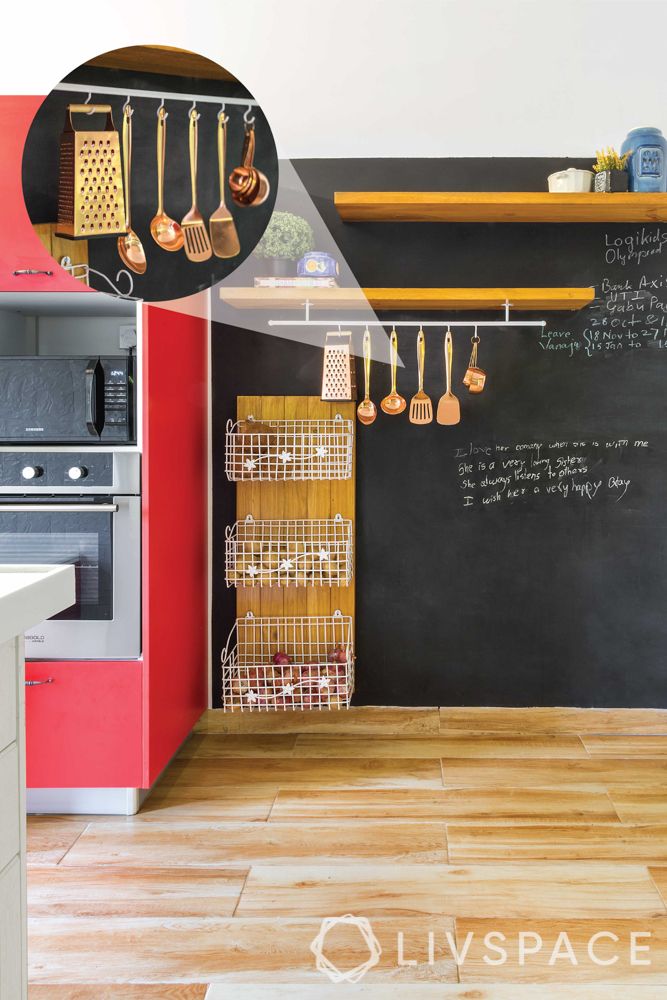 Let's do a tiny social experiment. How about you count the number of cooking spoons and spatulas you use while cooking a full course Indian spread? There is just no end to the number of kadchis you will need and keeping them handy is your best bet. So we highly recommend having hooks to hang up these cooking tools instead of having them inside a drawer. At least the one you need most regularly should be kept handy.
So when we renovated this 14-year-old kitchen in Mumbai, we added the metal rod with hooks to suspend the cooking ware along with other interesting accessories like the blackboard to make weekly menus.
#9: Easy-to-clean Cabinet Finish to Combat the Oil & Grime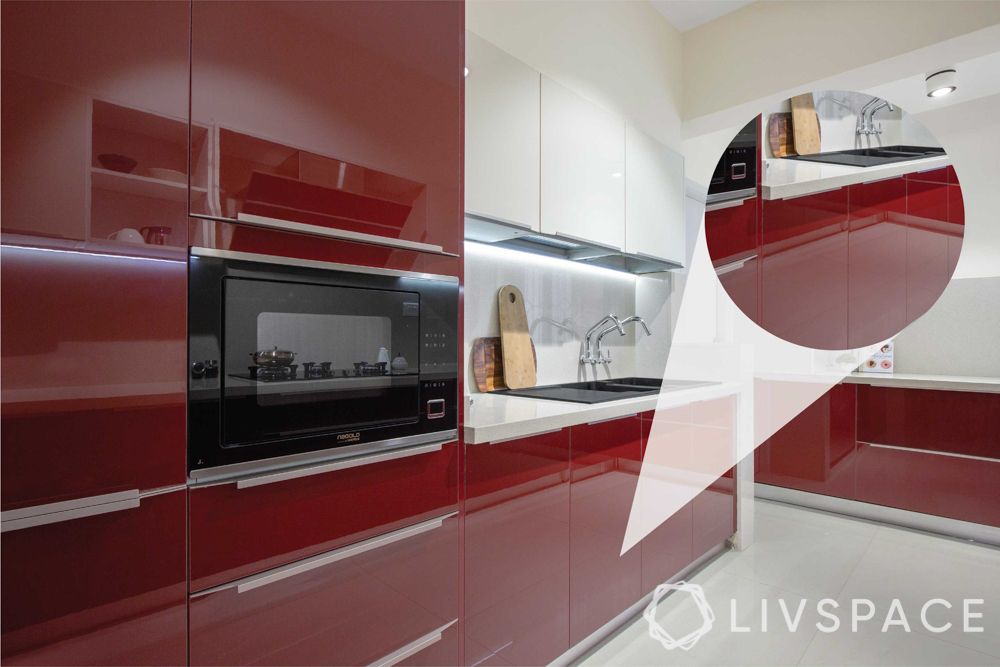 Cooking in a typical Indian household is more about sizzling and simmering than baking and grillings. Naturally, oil, ghee and smoke combine in the kitchen to form a rather stubborn layer of grime. Needless to say that this means we have to clean the kitchen quite often. Thus, the smart choice here is to opt for cabinet shutter finishes that are easy to clean. And what better finish that acrylic when easy cleaning is the ultimate goal. There are plenty of opposing opinions on why acrylic is better than laminates, membrane and PVC; you should explore them all before coming to a decision.
As far as our recommendation goes, fuss-free glossy finishes like acrylic as we see in this Brigade Millenium kitchen are easy to maintain. If acrylic stretches your budget, high-gloss laminate can be an affordable alternative for Indian kitchens.
#10: A Large Pantry Unit to Stock Up All Groceries Together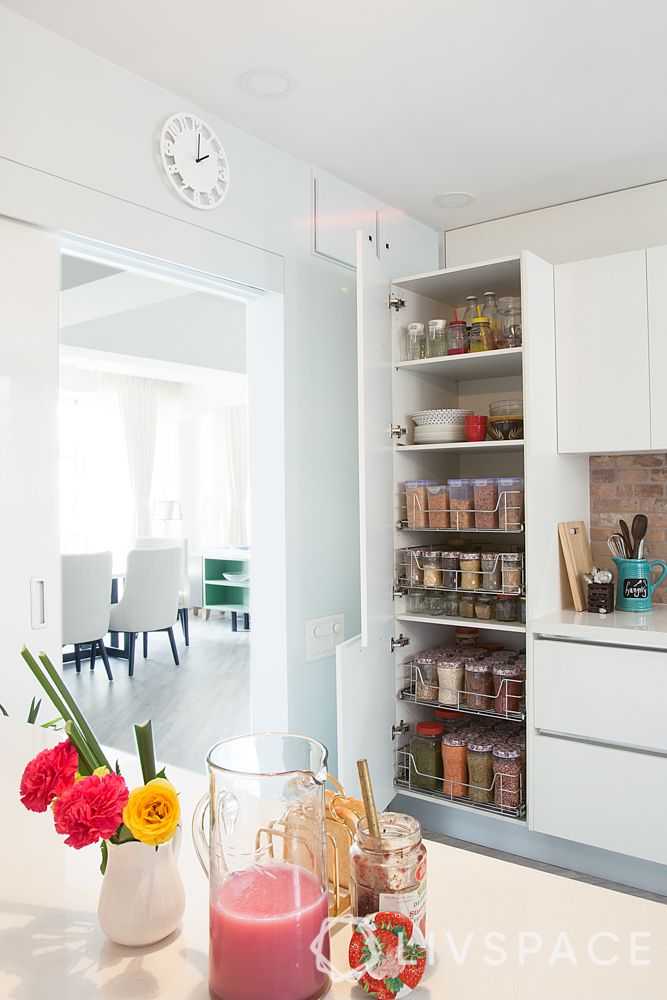 If you grew up in a desi home, you will relate to the fact that we never really run out of anything. Stocking up essentials is an integral part of doing grocery shopping for Indians. Earlier, most houses had larders to stock these extras. And in modern Indian kitchens, we have replaced larders with tall cabinets and pantry-pullouts. But if these kitchen accessories are biting into your budget, you can always opt for open shelves to store our groceries like this Vaishnavi Splendour kitchen in Bangalore.
Having said that, our designers always recommend tall units for all kitchens because they are worth the investment. So find out Why Designers Recommend a Tall Unit for Every Kitchen.
Send in your comments and suggestions.