Whether it is your modular kitchen cabinets or wardrobes, a good finish can turn around the look and feel of your home interiors for the better. While there are many finishes in the market ranging from membrane to polymer, the popular choice swings between acrylic vs PVC laminates. If it is unclear which of these two materials would suit your needs, here is a comparative checklist we have put together for you.
Acrylic vs PVC Laminates : What is acrylic finish?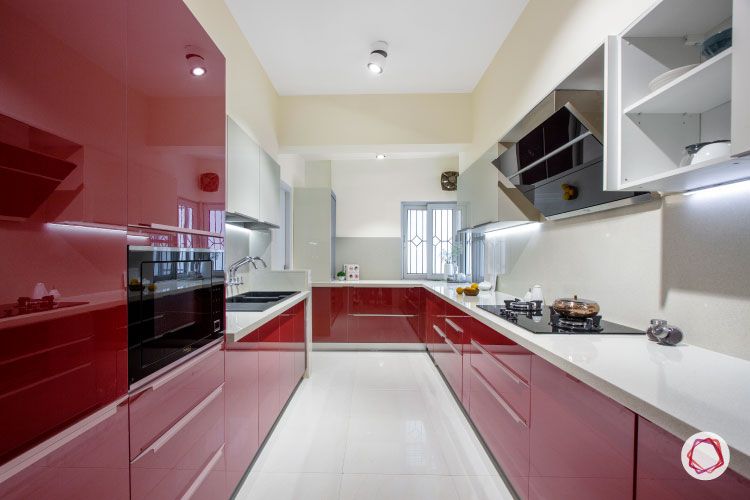 Acrylic, made of polymer fiber, is similar to lacquer. A durable option, it leaves a reflective and glossy sheen on the surface of shutters, which lasts for years. It comes in a range of bright colours which uplift the aesthetics of your interiors. In fact, this glossy wine red is one of the most popular choices.
Acrylic vs PVC Laminates: What is PVC laminate finish?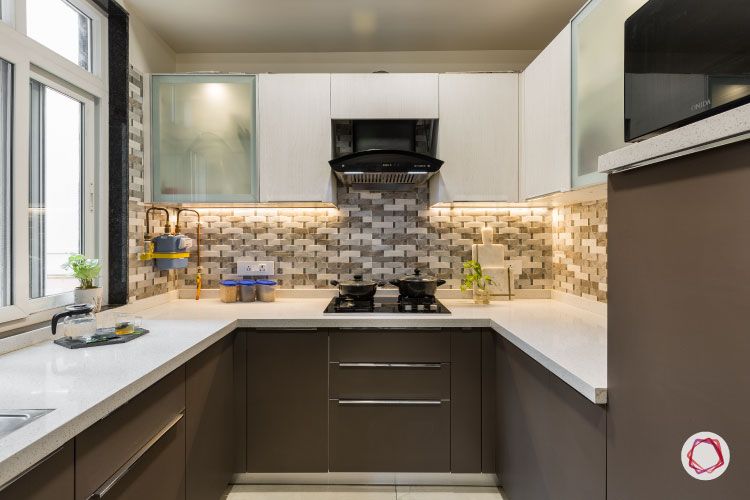 PVC laminates are multi-layered, pre-processed laminate sheets based on polyvinyl chloride. They are made by pressing together paper with plastic resins. Available in matte or glossy finishes, PVC laminates are thin, and they can be bent without breaking.
What are the pros and cons of acrylic and PVC laminates?
We have listed the pros and cons of acrylic vs PVC laminates to help you choose the right option. Here they are:
Acrylic vs PVC Laminates: Cost
While acrylic offers a high-end look, PVC laminates are the more economical option. They come in a variety of colours and textures, with the added advantage of higher durability. However, if budget is not a concern for you, nothing speaks class like acrylic.

Acrylic vs PVC Laminates: Variety
PVC laminates come in a variety of textures such as matte, textured, metal, gloss, and ultra-gloss. They are versatile in terms of colours and patterns.
Acrylic is also available in a wide variety of colours, which retain their lustre for years. However, make sure that you know where to find the right replacement, as you may not always find the same hue in the market.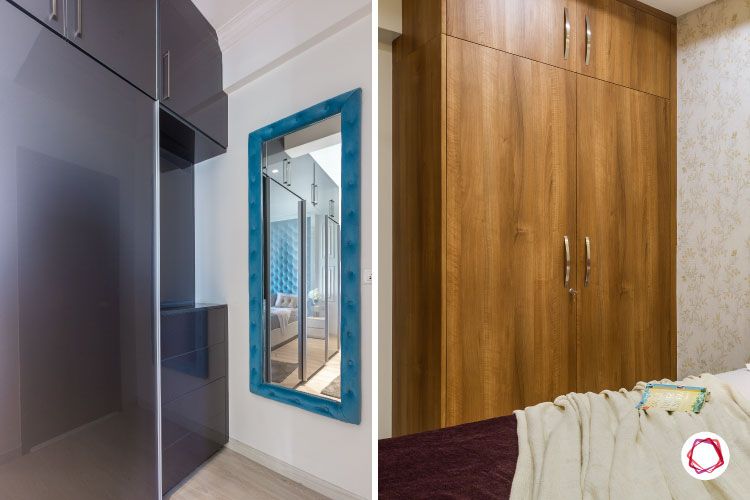 Acrylic vs PVC Laminates: Durability
PVC laminates are flexible laminate sheets that can be bent around the edges up to 90 degrees, thereby eliminating the need for edge bands. They are suitable for nuanced spaces such as designs with ridges. They are resistant to corrosion, termites, heat and water, which makes PVC ideal for kitchen cabinets and counters. Although abrasive cleaners can leave scratches on the surface of PVC laminates, they are more durable compared to acrylic.
Acrylic is also resistant to moisture and UV. While scratches, dirt, or other wear and tear show easily on its glossy surface, it is very easy to clean and maintain.
Acrylic vs PVC Laminates: Best Of Both
A popular design strategy is to use a combination of both acrylic and PVC laminate sheets for the kitchen interiors. PVC laminates are more suitable for the lower half of a modular kitchen that sees regular handling, whereas acrylic is ideal for the upper cabinets. This elevates the look of the kitchen while bringing down your cost considerably. PVC is also widely used for office cabinets.
Maintenance Tips for Acrylic and PVC Laminates
Acrylic
Clean using a damp soft cloth and mild cleaner
Use specific acrylic-based cleaners; avoid acetone
Wipe away any soap build-up
PVC Laminates
Use soft cotton cloth and mild liquid detergent for cleaning
Use acetone to remove stains
Make sure that the surface remains dry, especially after cleaning
How Can Livspace Help You?
We hope you found our ideas useful! If you want your home to be just as beautiful, then look no further. Book an online consultation with Livspace today. Delivering safe home interiors has been our No. 1 priority. Click here to find out how interiors are being delivered following all safety protocols.
We hope this help you assess your needs, and make an informed choice that fits your style, budget, and space.
Want to know more about acrylic and laminate finishes? Read this: Acrylic or Laminate: Which is the Better Finish?
***Colours and finishes are subject to availability. Please check with your nearest Livspace store to check availability.
Send in your comments and suggestions at editor@livspace.com