When Nikhil and Preetika decided to get custom designs for their 3BHK interior design India, they made their choices carefully. Given their love for hosting friends and family frequently, the couple decided to avoid curveballs from the very beginning. With their interior designer Anjali Murali's help, they crafted a quaint, rustic home that sets the mood for house parties. Check out how we designed their home to accommodate a free flow of conversations when friends and family come over. The open layout also works for their fur baby too!
The heart of the party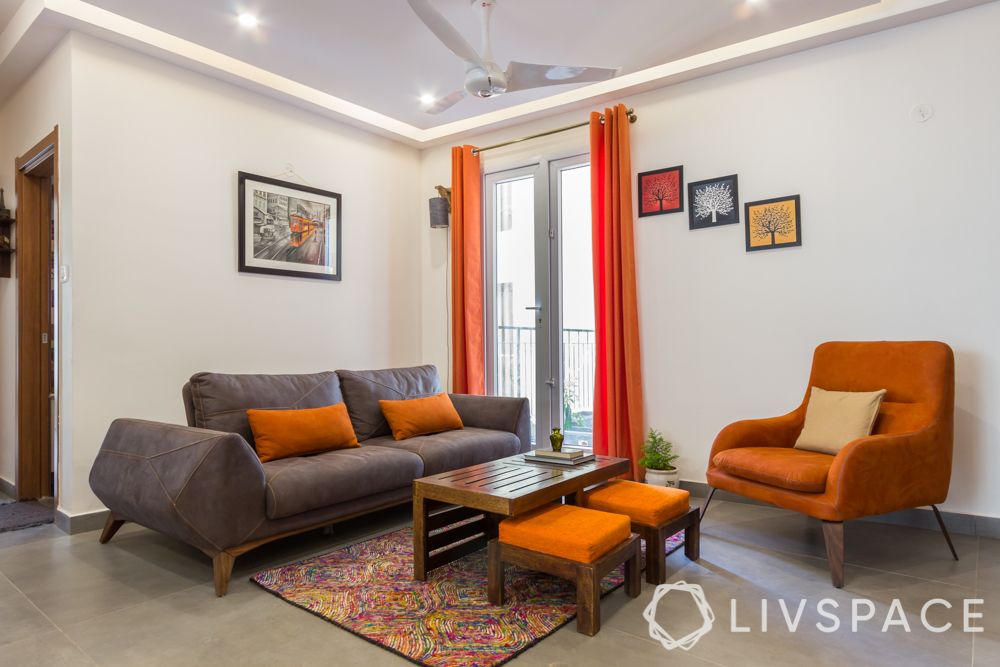 Walking into this 3BHK interior design in India for a house party, you are greeted with a spacious living room with ample seating space. Sink into the comfy sofa or the bright orange armchair and you can chit chat with your friends.
If you need additional seating, why not use one of the nested stools from under the wooden coffee table? This way, when the dancing begins, everyone has ample space too!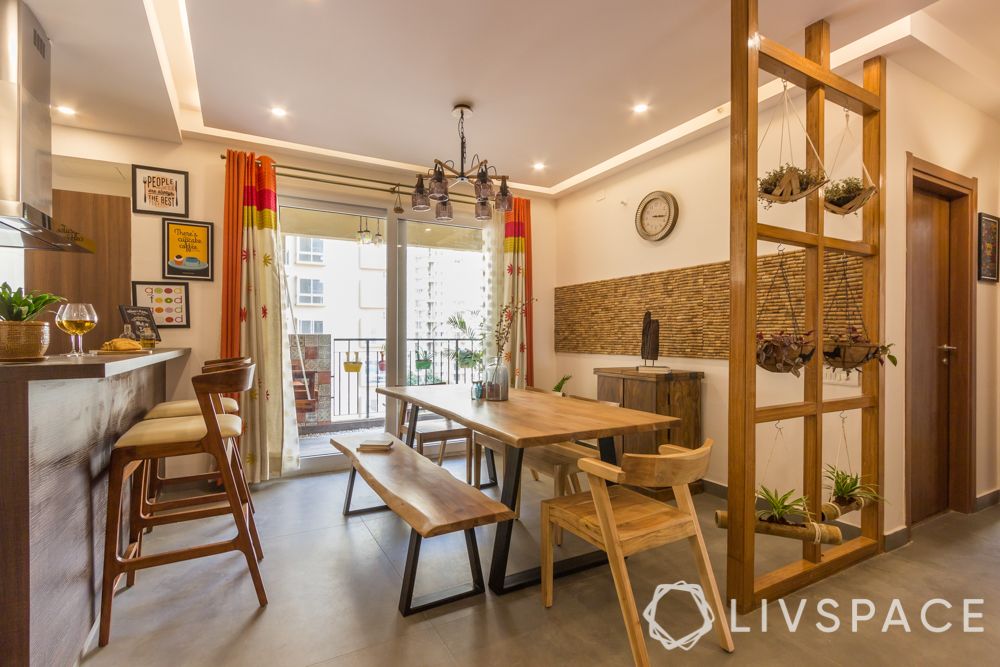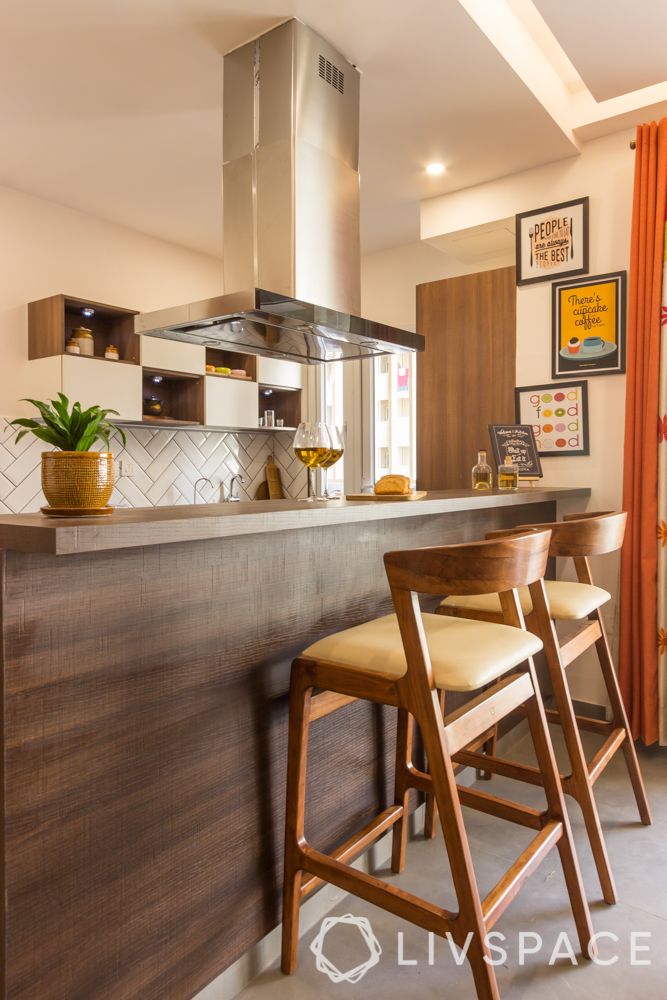 We know that it gets difficult to hold conversations and play host at the same time. And that's why an open layout works. That's exactly what Nikhil and Pritika did in their 3BHK interior design in India! The couple could easily entertain their guests sitting at the dining table or even in the balcony from the comfort of their kitchen.
Notice how the dining nook has a bench on one side? This helps to accommodate more people. And don't miss out on the lovely bar counter – you can sit idly by and nurse your drink in peace, or join in with the laughter of the conversation in the dining room. Moreover, if the hosts or their guests should go into the kitchen to prepare food or drinks, they will not be isolated! In fact, the gorgeous backsplash of herringbone tiles might even become a beautiful setup for such talks!
Also, do not miss out the rustic yet minimal wooden divider with hanging plants – with this unique piece, Anjali has ensured demarcated spaces even without breaking the flow of the party.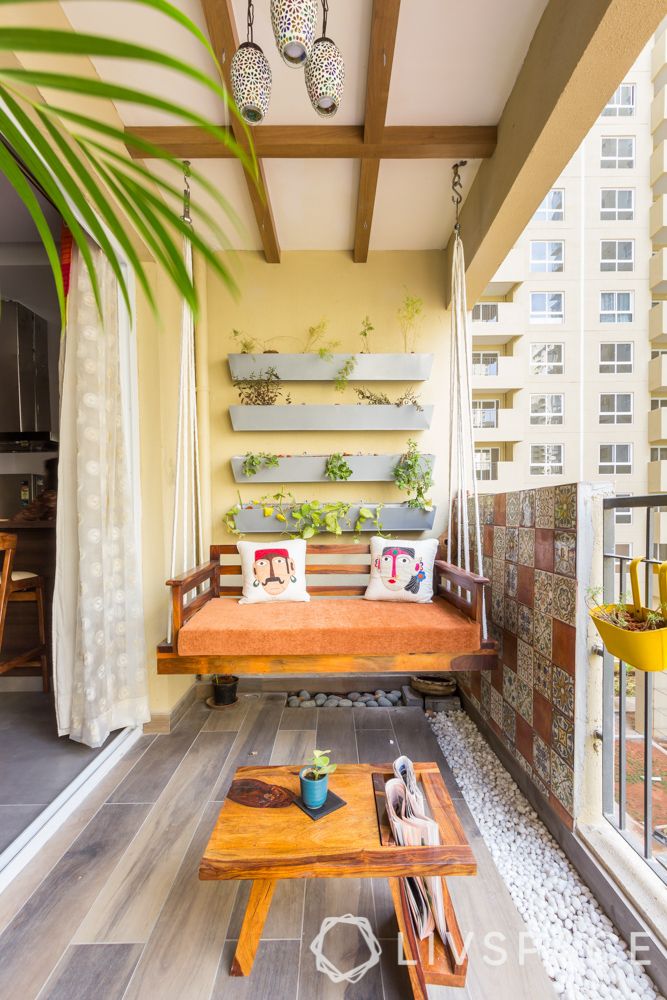 What if a guest feels the need for a breath of fresh air in the middle of a party? Nikhil and Pritika are nothing if not thorough, so they got glass sliding doors that open from the dining room into a simple yet cheerful balcony. Sit awhile on the swing, or watch people passing by. With some luck, Joy might even join you in here!
Spaces for quieter conversations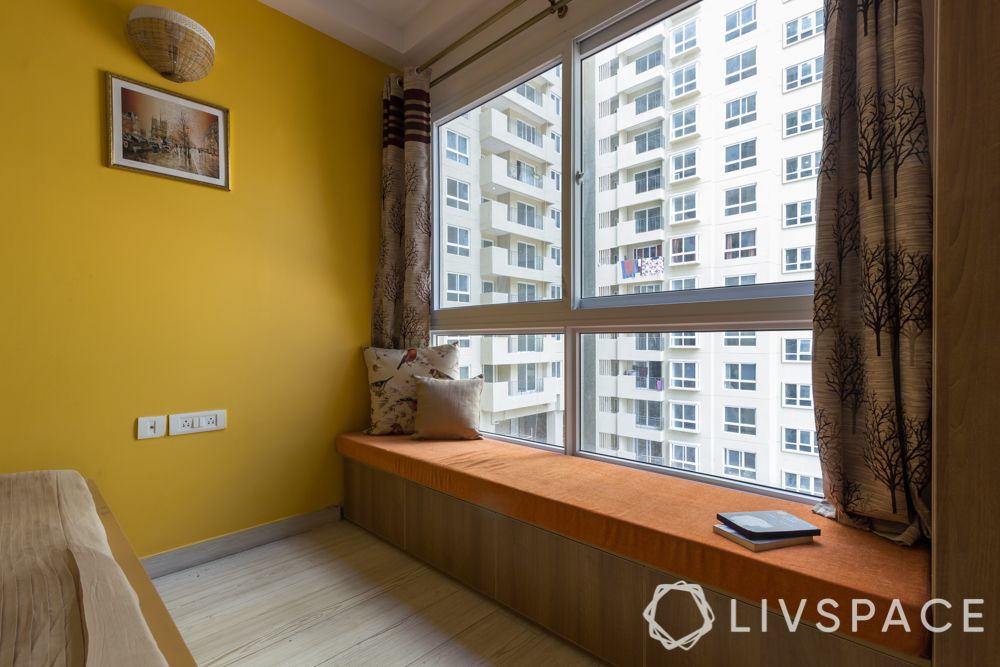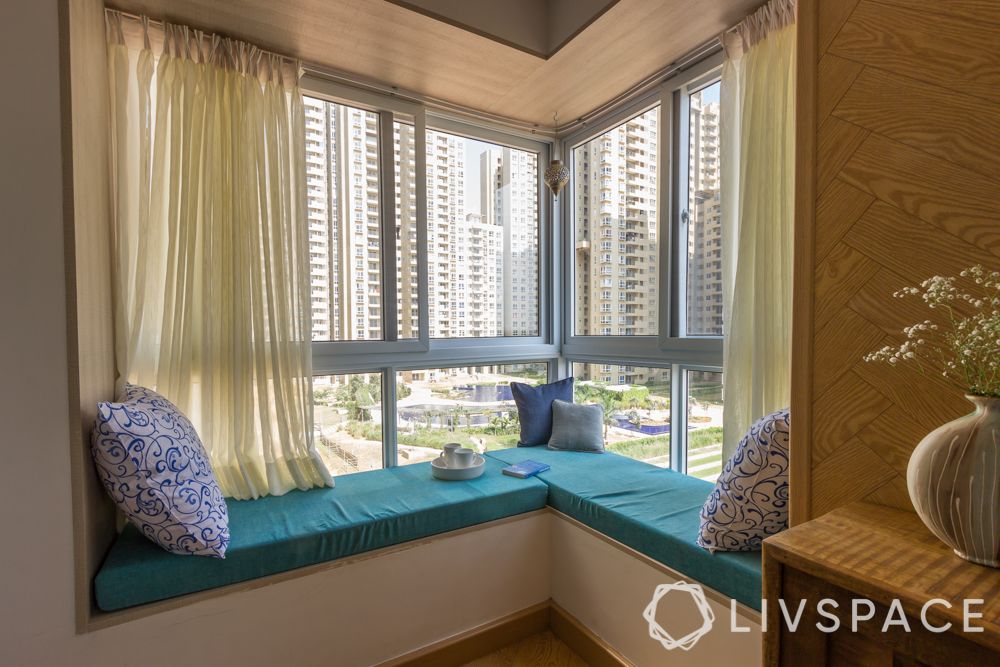 If the world outside gets too much and you want a few moments of quiet, alone or with a friend, these bay windows will be the perfect place for you! Nikhil and Pritika admit to enjoying this cosy space in their master bedroom so much that they had to get the same in the guest bedroom as well. So, if the hosts permit, you can walk into these comfy corners of the 3BHK house design and settle down comfortably as you watch the world go by, through the window. A word of warning, though. The bay window in the master bedroom is Joy's throne, so if you want to sit there, you must have the approval of your furry host (we hear he's very gracious!)
Want a full tour of their rustic home? Check it out here: This 3BHK is Earthy with Industrial Elements.
Send in your thoughts and suggestions to editor@livspace.com.