In India, where it is common to use wood and wooden finishes for your furniture, how do you make your wooden interiors stand apart from the rest? When Venkatakrishna came to Livspace, he was clear that he wanted a lot of wooden textures in the house, but also some solid bright colours. And our designer, Meghana J, took the opportunity where it presented itself – she used colours to give this 3BHK interior design in Hiranandani Glen Classic, a unique identity.
---
Who Livs here: Venkatarkrishna Rajendra and his wife
Location: Hiranandani Glen Classic, Bengaluru
Size of home: A 3BHK spanning 1200 sq. ft. approximately
Design team: Interior Designer Meghana J and Project Manager Nagaraj K
Livspace service: Full home design
Budget: ₹
---
IN A NUTSHELL


Brief
A beautiful home interior with a variety of wooden texture and pops of colours

What We Loved
How the colours bring life to wooden furniture in this house

Look Out for
The sweet and peaceful dining spot for the young couple

Biggest Indulgence
The woody kitchen with a pleasant pop of colour

Smart Buy
Laminates and wallpapers that inexpensively add different textures to the space


So how did Meghana make Venkatakrishna's dream home become a reality with this 3BHK interior design in Hiranandani Glen Classic, Bengaluru? Let's find out:
The Bright Living Room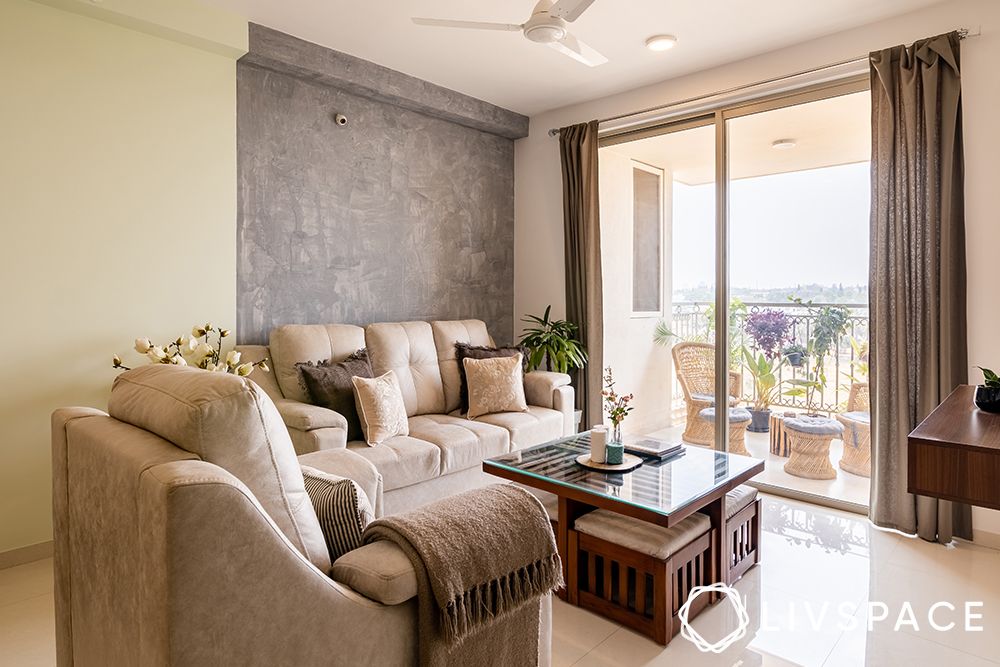 A lot of design perks come with a bright living room space, making it flexible to various kinds of furniture styles and wall colours. For instance, this living room—which is relatively small—receives enough sunlight to allow Venkatakrishna to use a bulky cream sofa set without making the space feel cramped. A sofa like this would hog the entire space if the room wasn't as well-lit as this.
Additionally, Meghana decided to take more advantage of the light and sectioned the large wall in this room using two wall colours. The abundance of natural light makes it easy to combine two colours in the same room, even the ones with different undertones! For a viewer, the room now appears to be large enough to fit two different kinds of colours effortlessly.
The Subtle Dining Room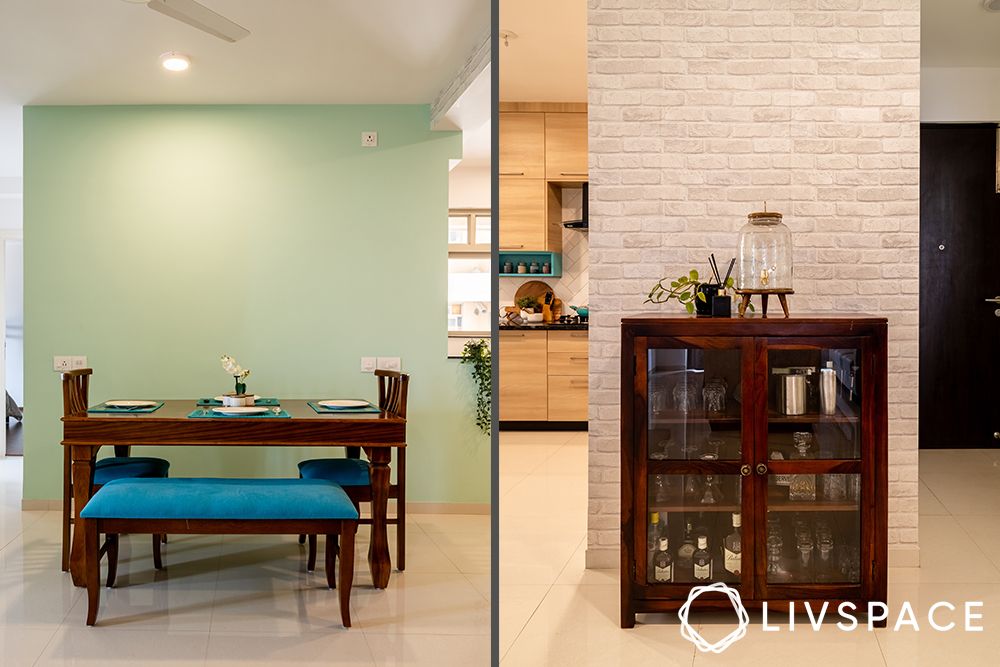 While the living room is designed to capture all the attention, the dining room is made to subtly induce calmness. The muted-green behind the dining table is associated with health and comfort. It is meant for deep conversations without stealing any spotlight from the living room. Meghana also used an understated wallpaper that not only decorates the walls, but also adds a distinct texture to them at the same time.
The State of Art Kitchen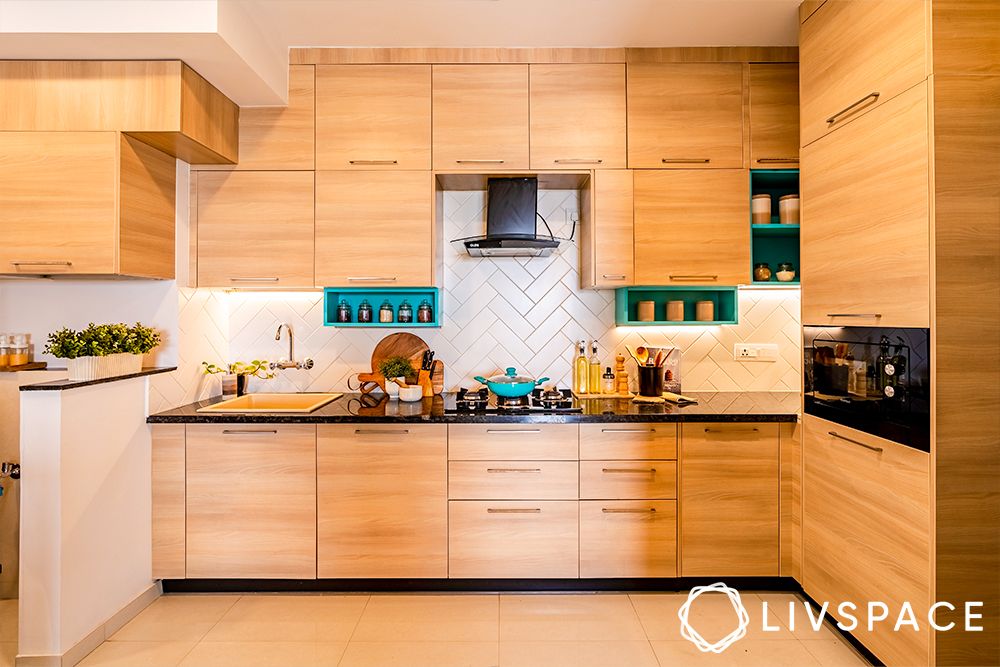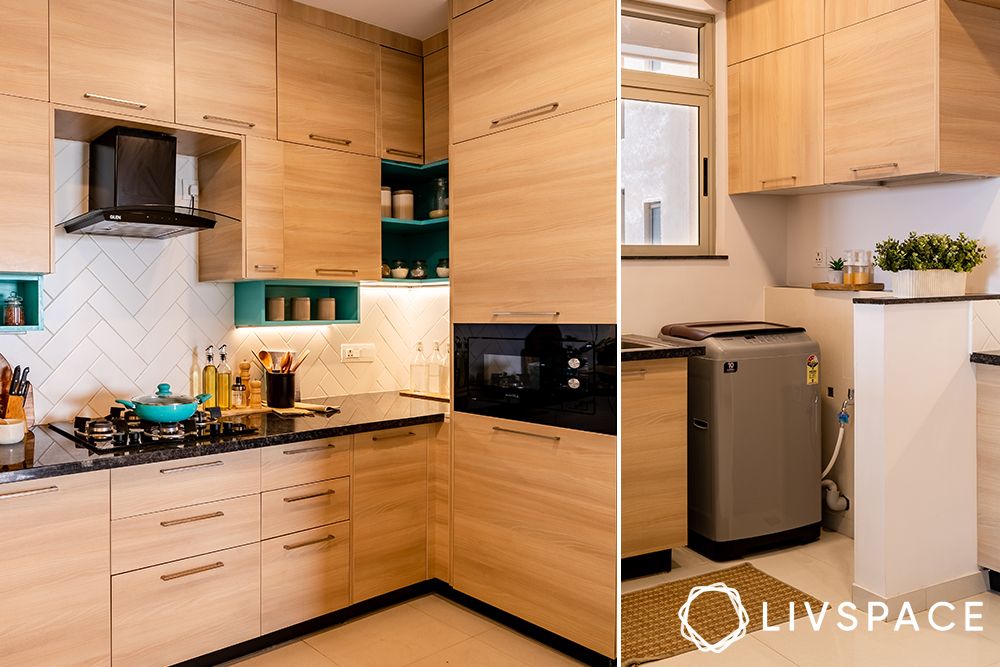 The biggest challenge with an L-shaped kitchen is the storage; and delivering storage-compliant modular units is right in our wheelhouse! You can make up for the storage capacity of your kitchen by adding more cabinets in the utility or opting for tall units, just like in the picture above.
In this kitchen, making up for storage was a cakewalk for us, but making the kitchen interesting with wooden laminates and colours was a little tricky. Firstly, the wooden laminates could reduce the amount of reflected light in the kitchen. Secondly, even after using white chevron-patterned tiles, the kitchen seemed a bit dull for Venkatakrishna's taste. So finally, Meghana added aqua-blue spice racks and open cabinets to put the issue to bed, and give the homeowner the kitchen he can fall in love with.
More Colour Ideas for Hiranandani Glen Classic Homes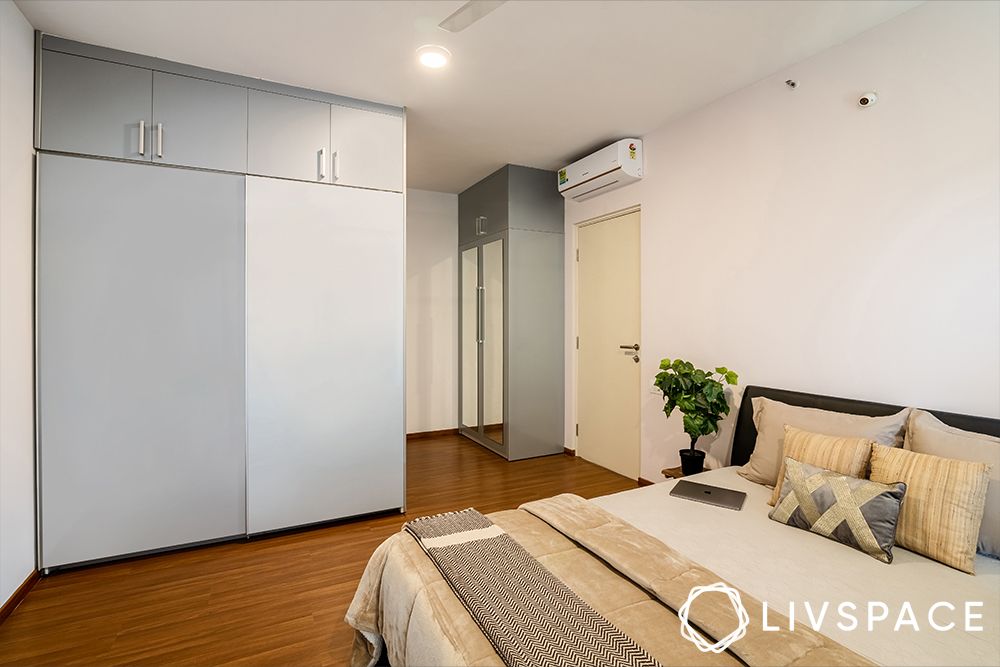 The master bedroom has two grey coloured wardrobes for Venkatakrishna and his wife. While most bedrooms can have gendered designs, master bedrooms are preferred to be gender-neutral, and the colour grey, is a good way to achieve that.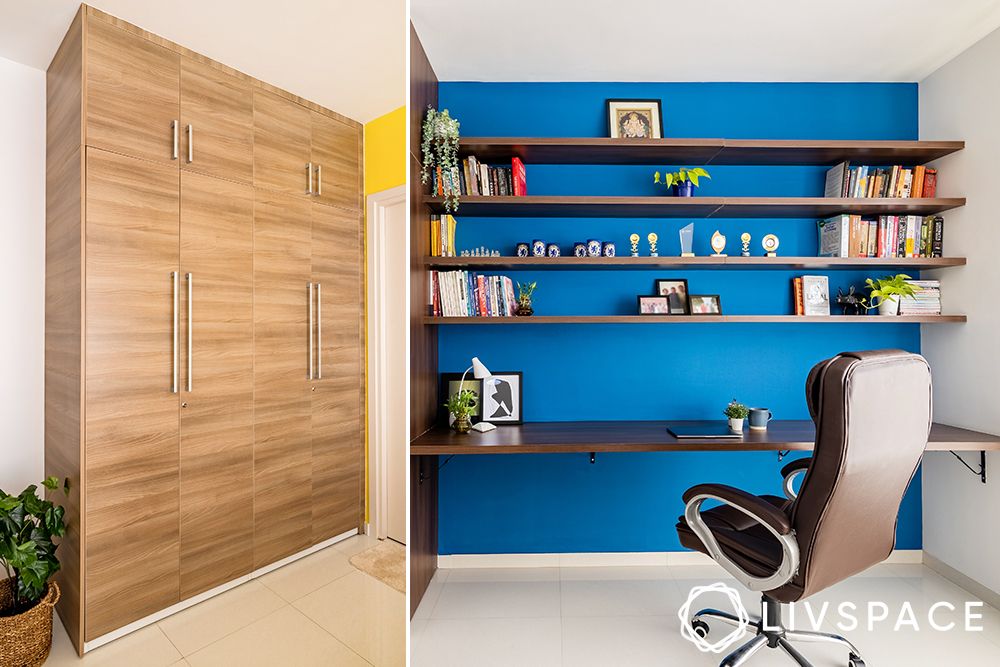 The idea for the guest bedroom in this 3BHK interior design for Hiranandani Glen Classic, was for it to be warm and cheery. Hence, Meghana went with light acacia laminates with yellow accent wall to complete the look of the room.
Additionally, Venkatakrishna wanted his study room to keep him focussed, but also relaxed, during his work hours. So, a cool colour like blue covers the study table wall. Later, Meghana suggested a darker laminate to pair with this blue, as it stood in a clear contrast and made the room appear more modern.
If you like wooden interiors but prefer muted, neutral colour schemes, then you can also read: A Beautiful 3BHK Interior Design for Olympia Jayanthi Residences in Chennai.
You can also take a look at Sadanand Deshpande's Hiranandani Glen Classic home if you're open to classical design styles.
How Can Livspace Help You?
If you want your home to be just as beautiful, then look no further. Book an online consultation with Livspace today.
We love hearing from you! Write to us with your comments and suggestions at editor@livspace.com