When you have a growing child in your home, too many decor pieces or luxurious furnishings are a big no! A simple and clutter-free design ensures minimum maintenance and fewer accidents. And when simplicity, safety and storage the interior design for 3 BHK requirements, it is best to always start with the basics for a home design — the kitchen, wardrobes and storage.
---
Who livs here: Nazia, her husband Nisar and their family
Location: Hyderabad
Size of home: A 3BHK spanning 1,896 sq. ft. approximately
Design team: Interior Designer Anil Verma and Project Manager Mohammed Afzal
Livspace service: KWS Budget: ₹₹₹₹₹
---
Nazia and Nisar, a young couple, had just moved into their first home in Hyderabad. Living with elderly parents and with a baby on the way meant that their top requirements were a simple and sophisticated design with ample storage space. A fully equipped kitchen, sprawling wardrobes and storage units in every room — we gave them everything that a young, growing family needs. And the best part? It was all done within a tight budget!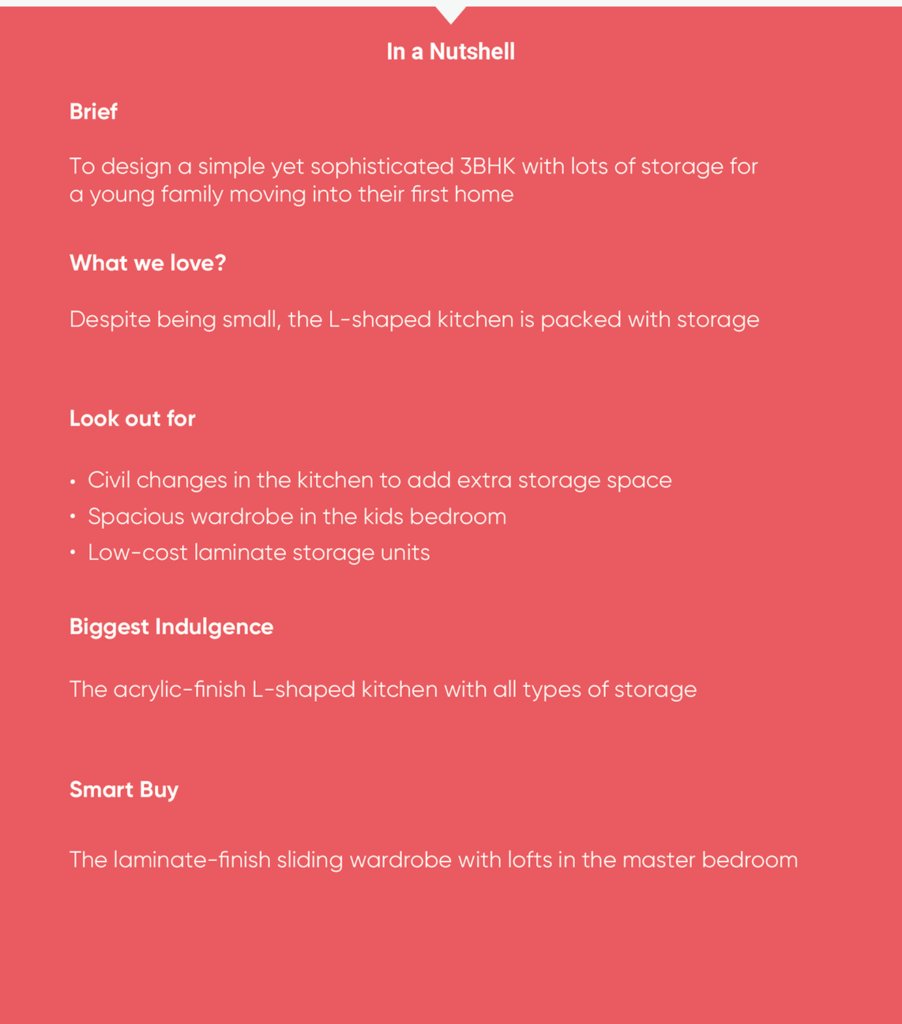 #1: The Biggest Investment — A Kitchen That has it All!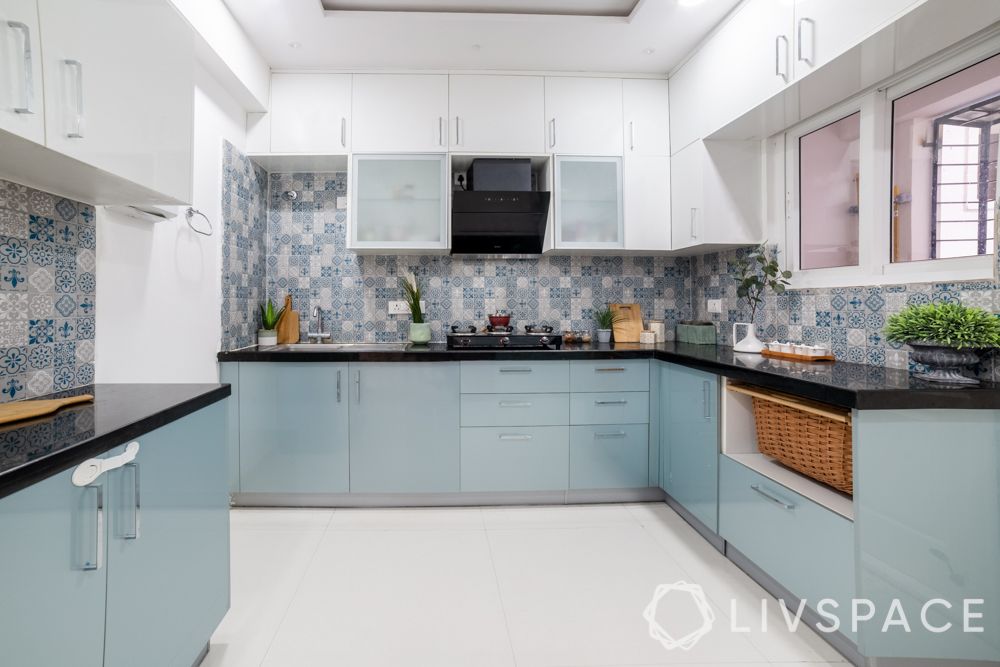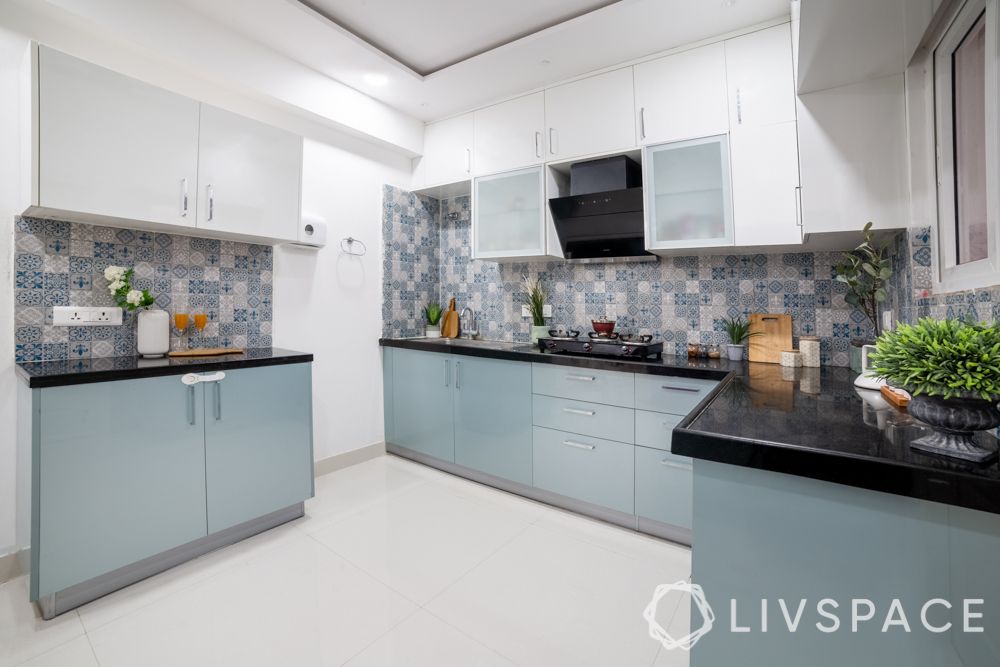 The most expensive part of this interior design for 3 BHK, the kitchen alone had a budget of ₹4 lakhs, nearly half the home design budget. "They did not want to compromise on the kitchen and wanted maximum storage," says Anil Verma, Livspace designer, about the clients. Originally a small L-shaped kitchen, Anil had to break down the flooring to create space for an extra storage unit with a counter. Considering the extra storage module was near the entrance, the design was kept sleek and minimal with a narrow depth. Anil also added upper and lower cabinets, units with frosted-glass doors and wicker baskets so that the family would never run out of space! The soothing blue-and-white theme, the high-end acrylic finish and the black granite countertop are just the icing on the cake!
#2: Wardrobes That Serve Every Need!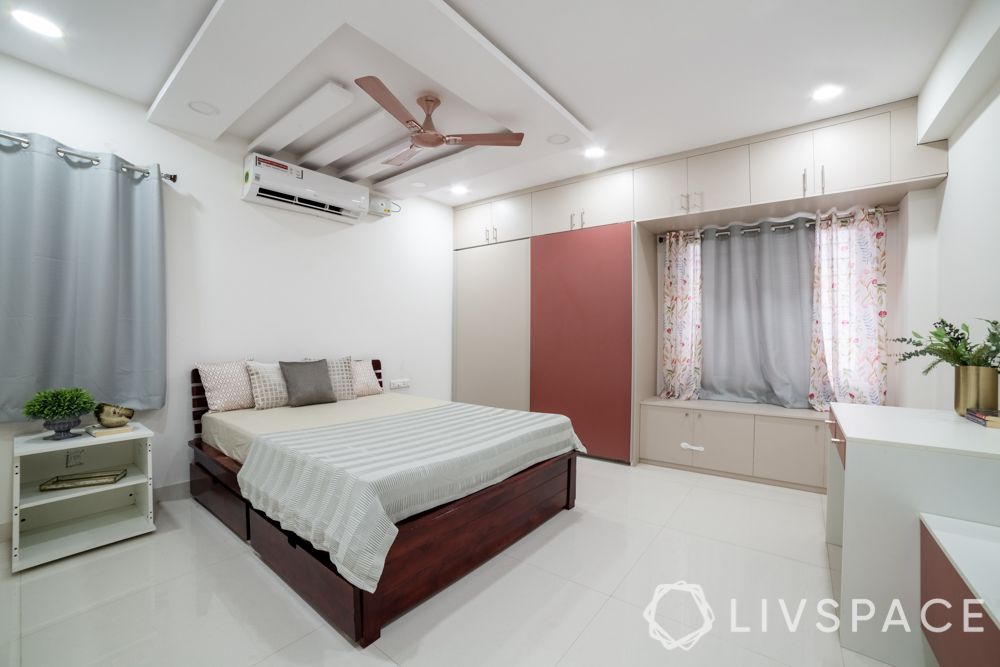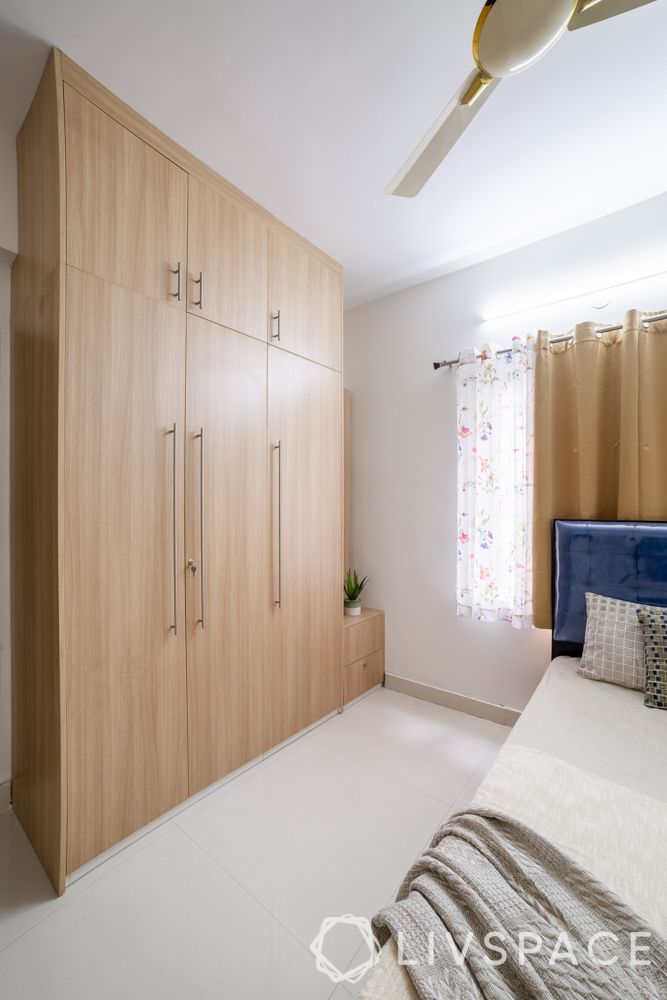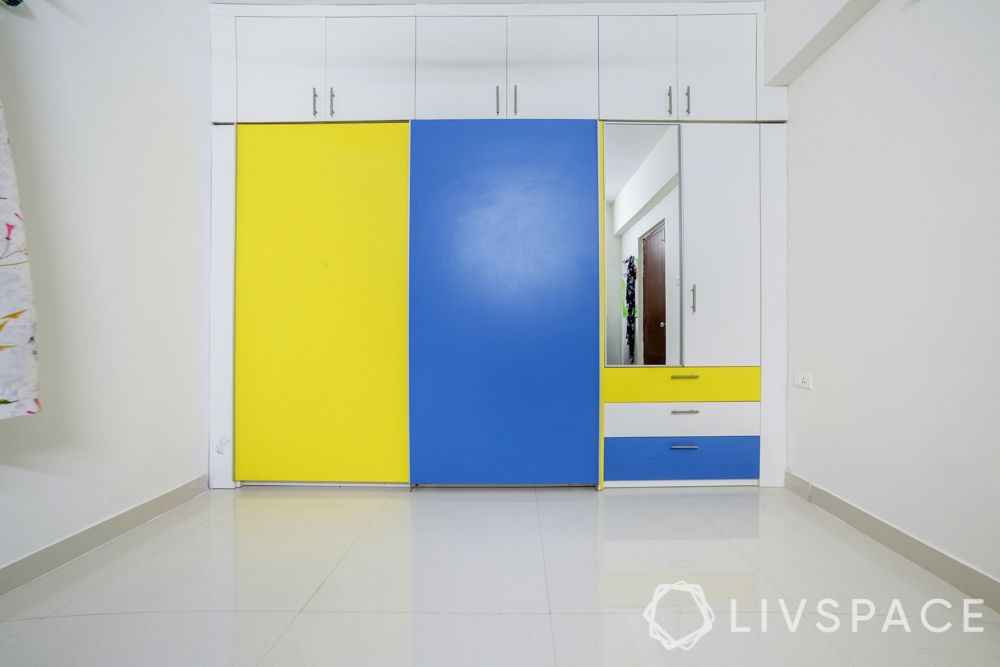 When you have a baby on the way, you can never have enough wardrobes. Nazia and Nisar too were clear that they wanted large, spacious wardrobes in all the bedrooms in their interior design for 3 BHK checklist. Adding a wardrobe may not seem like a very challenging task. But the couple had other requirements and the wardrobes had to fit around these. For instance, in the master bedroom, the couple wanted a dresser unit and the only space available was the niche beside the bed. To accommodate this request, Anil opted for a sliding wardrobe in a low-cost laminate finish.
Similarly, Nazia wanted a spacious wardrobe in her baby's room, which she could use until her child grew older. A sliding wardrobe with lofts and an attached dresser ensured that the room was kept clutter-free, a necessity for a growing baby. We also love the vibrant colours, so different from the overall neutral theme of the home. For the third bedroom, on the other hand, Anil kept it low budget by choosing a swing wardrobe in laminate.
#3: Mix of Storage Solutions for a Young Family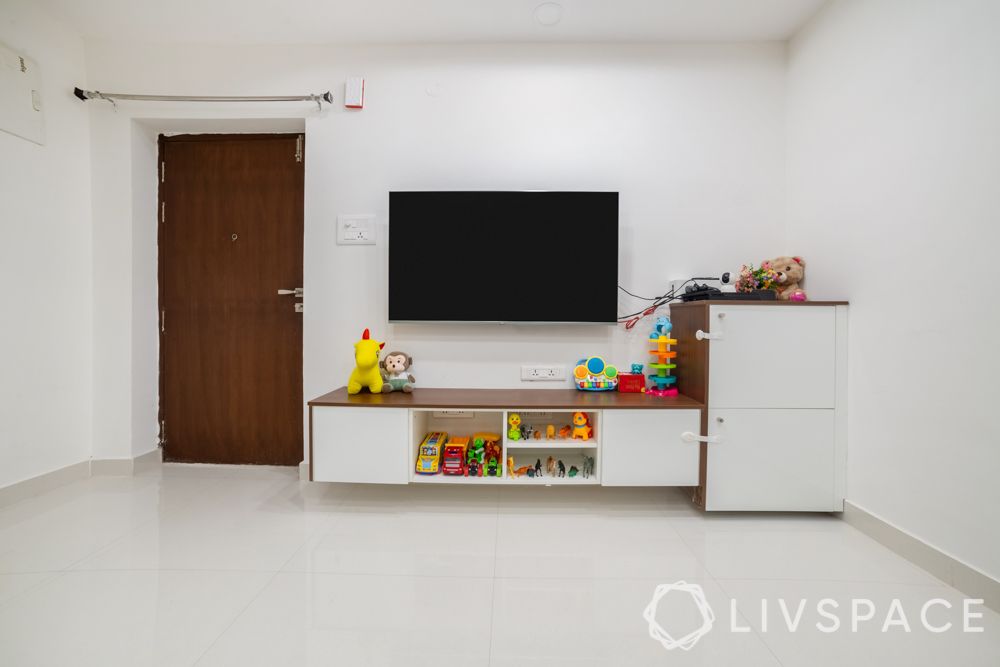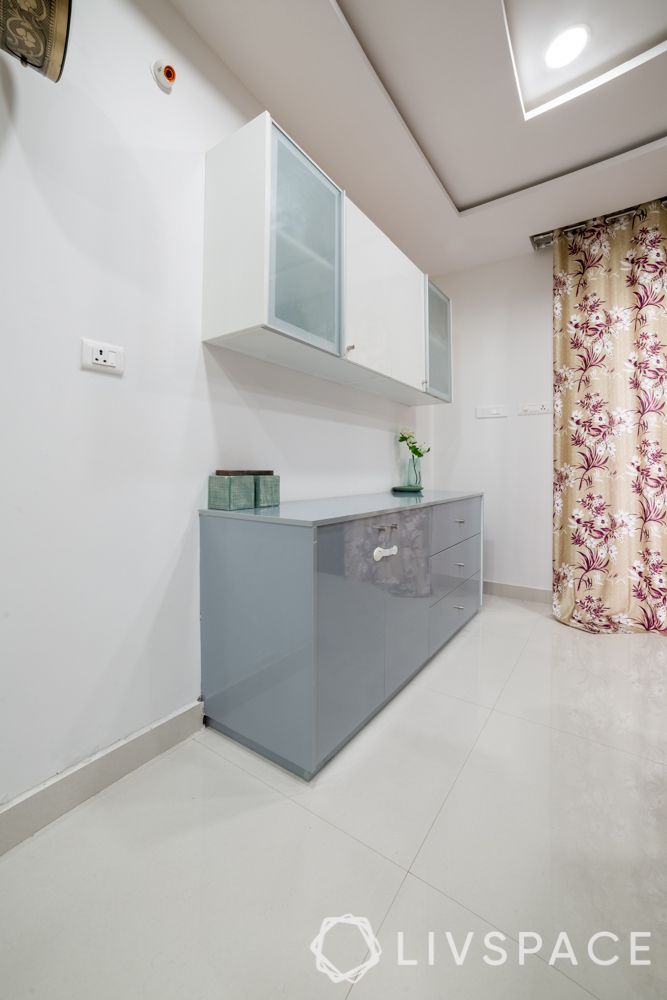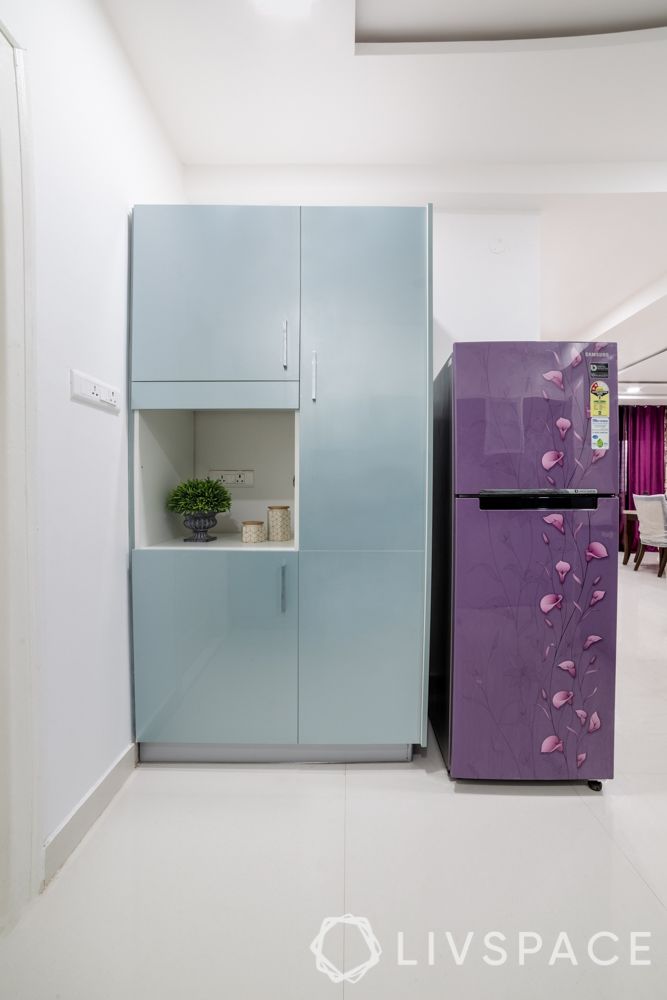 Everybody loves extra storage. And when you are a young, growing family, storage is that one thing that you can never have enough of! For Nazia and Nisar l, an important interior design for 3 BHK requirement was maximum storage. However, considering the budget constraints, the finish and design had to be cost-efficient. Anil ensured that the TV units in the living room and master bedroom came with open and closed storage. The crockery unit in the dining area has a lot of storage space. Would you believe that the plush, acrylic unit is actually a low-cost high-gloss laminate finish? Anil also kept atall acrylic unit just outside the kitchen so that the family had enough storage.
While Nazia and Nisar's interior design for 3 BHK seems quite simple, Anil ensured that they got everything that they could want or need. In Nisar's own words,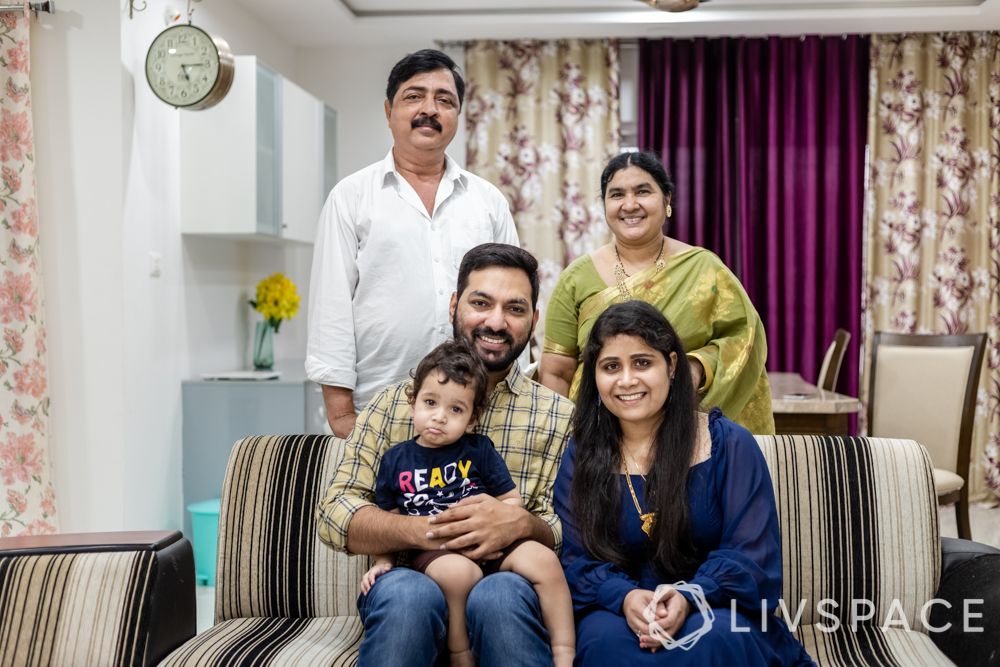 Loved this Hyderabad home? Also, check out this low-cost house design that is a mix of modular and custom elements.
How Can Livspace Help You?
We hope you found our ideas useful! If you want your home to be just as beautiful, then look no further. Book an online consultation with Livspace today. Delivering safe home interiors has been our No. 1 priority. Click here to find out how interiors are being delivered following all safety protocols.
Let us know what you think in the comments or send us an email at editor@livspace.com.