In the market for gas stove designs for your kitchen countertop? You will find numerous material and burner options to choose from. However, there's another important choice you will make: you will be choosing between a built-in hob and a freestanding gas stove design.
Which is better? Why are more and more modern and modular kitchens opting for the built-in hob? Got questions? We have the answers!
What Are the Main Gas Stove Designs Available?
For a modular kitchen in India, two gas stove designs are popular: a freestanding gas stove design and a built-in hob.
There's another gas stove design which exists, but it isn't relevant to the Indian kitchen. It's a portable gas stove design which is used by athletes, adventurers and travellers to cook food in remote areas.
STANDING GAS STOVE DESIGN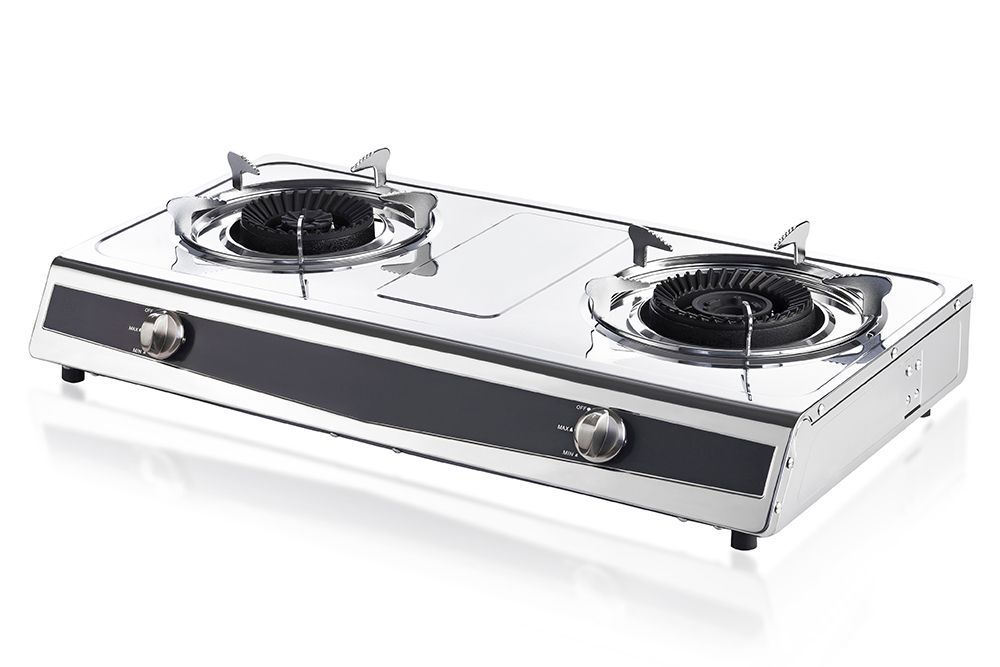 As the name suggests, a freestanding gas chulha design is a standalone gas stove unit which is portable, and can be moved to any area of your kitchen. However, it needs a constant supply of gas to operate.
A standing gas stove design can have one to even five burners.
A standing gas stove design usually has a aluminium body, but the latest gas stove designs can also have a glass cooktop.
BUILT-IN HOB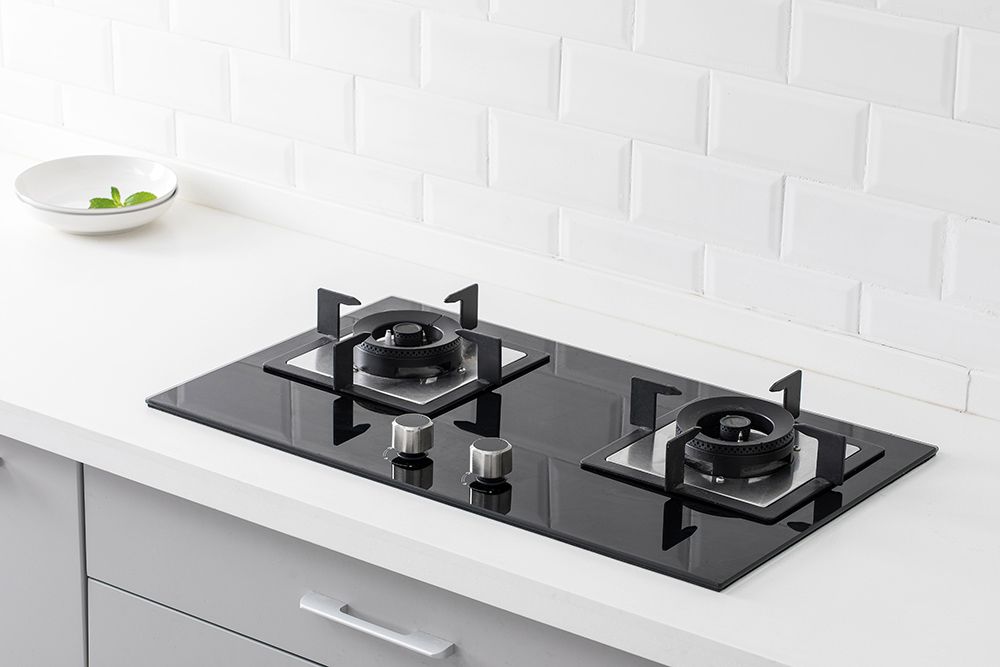 A built-in hob is a gas stove design that's integrated into your kitchen countertop. Perfect for modular kitchens, this gas stove design is getting popular for its seamless and sleek look.
Flush mounted into the countertop, this modern gas stove design offers a streamlined look to your entire kitchen. However, there's more to built-in hob designs than their aesthetic appeal.
Unlike a standing gas stove design, a built-in hob comes with precise temperature control options. This feature further allows professional chefs to evenly distribute heat.
Moreover, in addition to instant heat control, numerous built-in hobs come with automatic ignition feature as well.
They are the leading gas stove design in the modular market today, and for good reason.
Also Read: 10 Trendy Kitchen Trolley Designs for Your Kitchen
Types of Gas Stove Designs
Both a standing gas stove design and a built-in hob can have different individual types based on the number of burners, types of burners or types of ignition they use.
Here's a quick overview of the different types of gas stove designs you can look out for:
1. Based on the Number of Burners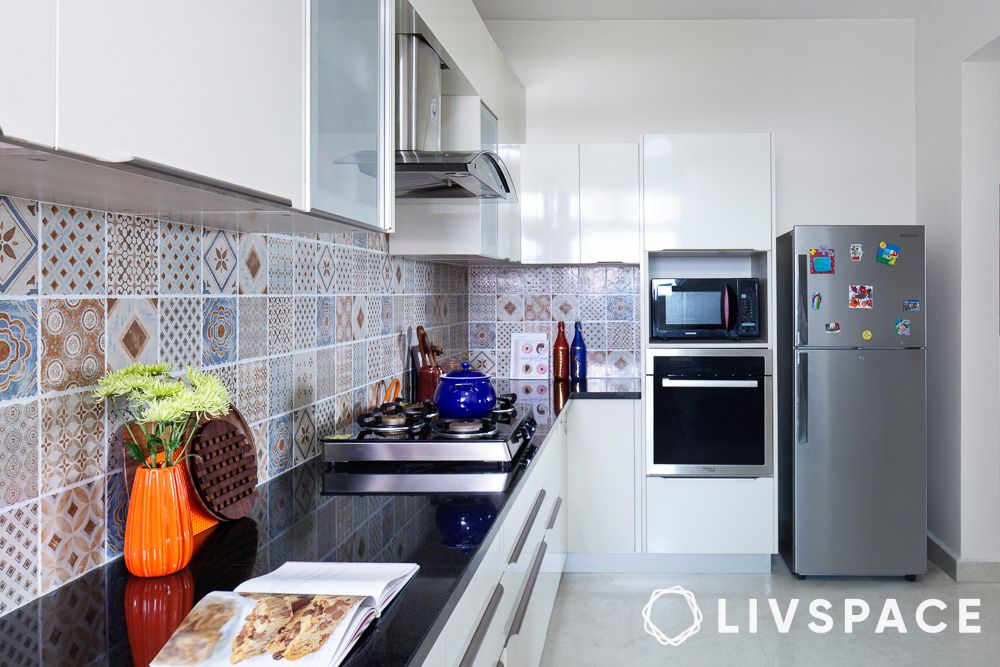 Like we previously mentioned, gas stove designs come in different shapes because of the number of burners you choose.
While you might have grown up seeing a two burner gas stove, you will be surprised to know that a gas stove can come with a single burner, 3 burners or even 4 burners.
Single burner gas stove design: You can choose a single burner if you don't have a lot of cooking to do or if you are just trying to get by.
Two burner gas stoves: A two burner gas stove design is the most widely available one. That's because it provides basic cooking space, while being compact, cost-effective and portable.
3 and 4 burner gas stove designs: 3 burners can help you cook many items simultaneously. The same's the case for 4 burners. 3 and 4 burner gas stove designs help you reduce cooking time considerably. This might be useful if you have a big family, or if you want to finish cooking several items in the shortest time.
2. Based on the Type of Ignition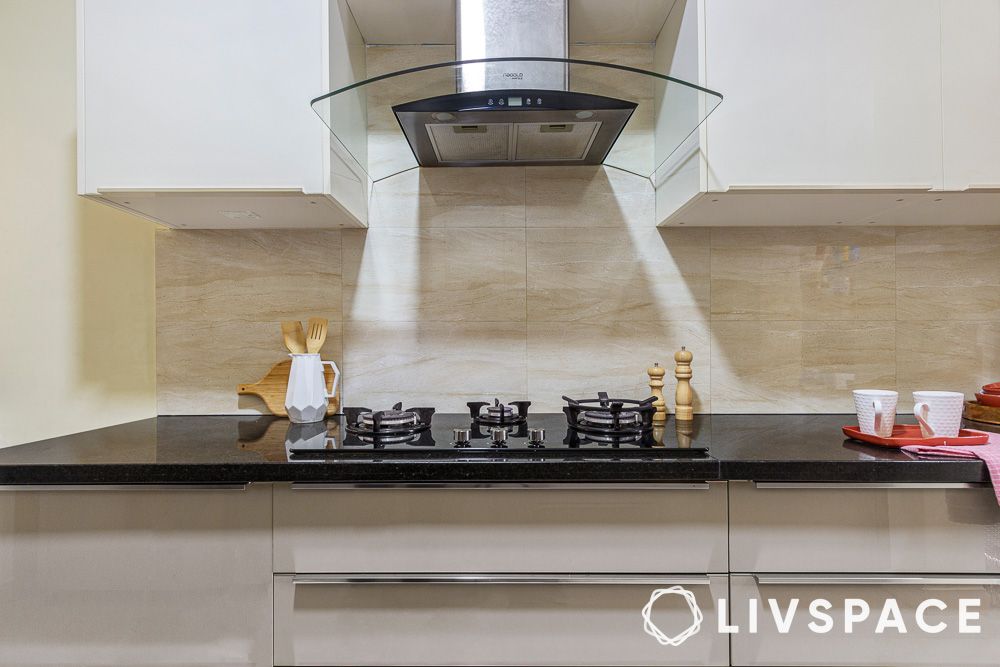 Another important area of consideration that you must look into while evaluating gas stove designs is the type of ignition.
Manual Ignition: You have to manually light up the gas stove using a matchstick or a gas lighter
Auto Ignition: New gas stove designs come with auto ignition where you simply turn the knob, and it lights up. A battery fitted inside the gas stove makes this possible.
Also Read: 10+ Genuine Kitchen Storage Problems and How to Solve Them
3. Based on the Types of Burners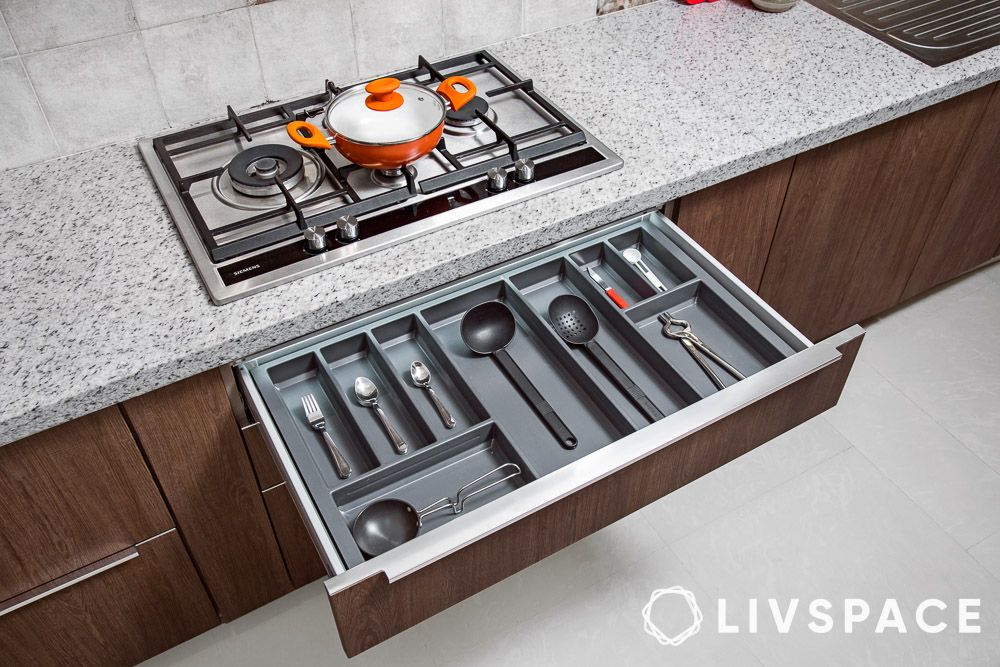 Though this isn't common knowledge, there are three types of burners available with the latest gas stove designs:
Standing Pilot for Gas Chulha Design: It is the most popular design, but it exhausts a lot of energy. Hence, many homeowners are considering other alternatives
Sealed Burner for Gas Stove Design: Sealed with the cooktop, this burner design can be cleaned easily. It requires low maintenance and facilitates faster cooking times. It also exhausts the least amount of energy
Electric Ignition for Gas Stove Design: You can use a simple switch to light up this gas stove design as it works on electricity or a combination of gas and electricity
Things to Keep in Mind for a Built-in Hob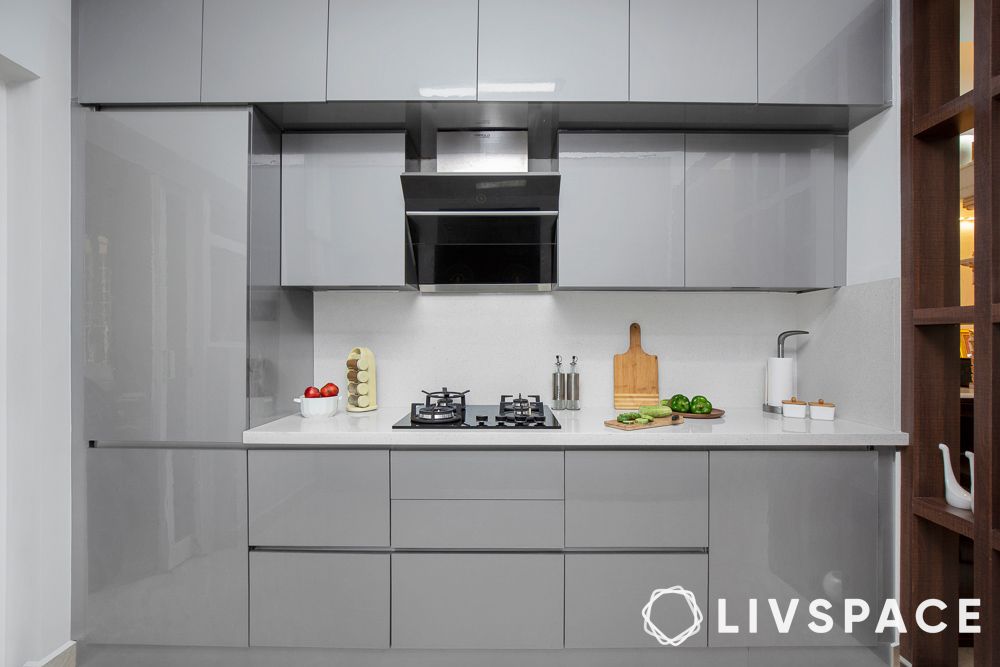 As built-in hobs are getting increasingly popular in urban Indian kitchens, here's a quick overview to help you:
Available in different sizes ranging from 2 to 5 burners
Customisable in different finishes like glass, ceramic and steel, with the most popular being glass in Indian kitchens
Available in both electric and gas variants
Customisable with advanced functionalities like alarms, automatic switch off
Available with flame failure device where it automatically switches off to prevent gas leakage
Comes with a pulse ignition feature which doesn't require you to light it up manually
Built-In Hob Vs Standing Gas Stove Design: The Real Winner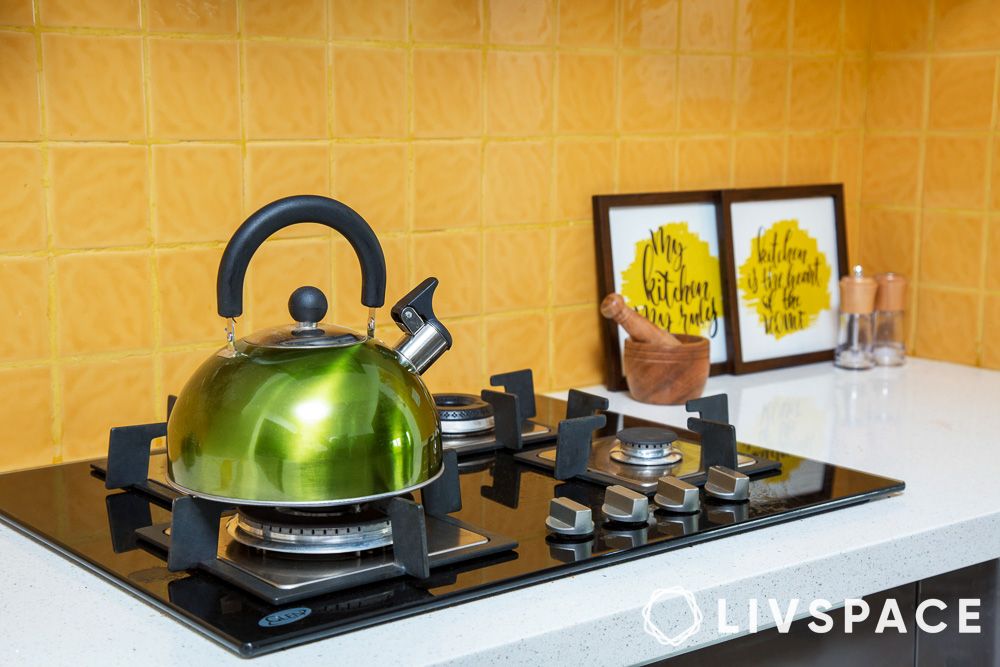 While a standing gas stove design is flexible and portable in the sense that it can be moved around, a built-in hob is more of a permanent fixture.
A standing gas stove design can be easily moved around anywhere
A built-in hob comes with concealed pipes for a more streamlined look
In addition, a built-in hob countertop is resistant to scratches, spills and can be easier to maintain. You can wipe down the surface with a microfibre cloth. However, as you know from experience, freestanding gas stove designs can be harder to clean, unless the cooktop is made of glass.
In any case, a built-in hob is the clear winner for a modular kitchen for its ultra-advanced functionalities, seamless look and scratch-resistant surface. However, if you want a more cost-effective and portable option, opt for a freestanding gas stove design.
In the end, choose the one that works best for you and your kitchen.
How Can Livspace Help You?
All our modular products are precision-engineered
They come with AquaBloc, AntiBubble & DuraBuild technology to last longer
Our modular kitchens, wardrobes and units have a 10-year warranty
Planning to design your new kitchen or renovate your existing one? Book an online consultation with Livspace today.