When it comes to setting the design tone in a bedroom, a fresh lick of paint and stunning upholstery can work wonders. However, it's the headboard that ties it all together with a flourish. It's often the first thing you'll see when you enter a bedroom; if its one of these wooden headboards, it'll also dominate the visual array.
Wooden headboard designs #1: Canopy-style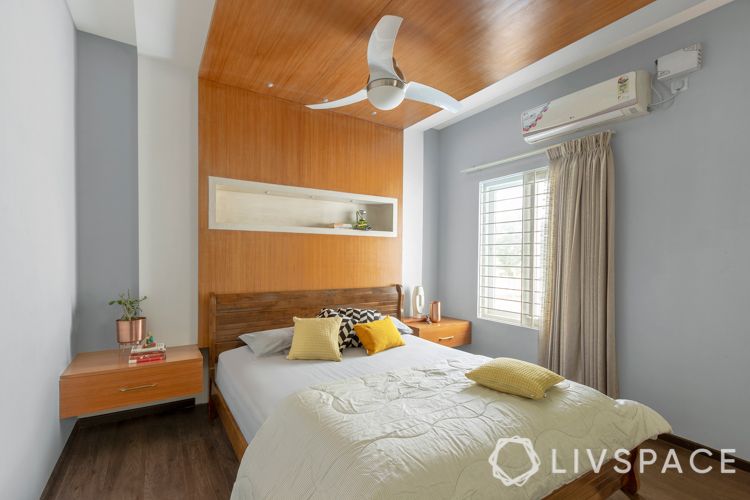 The eye is instantly drawn to the canopy headboard design in this otherwise pared-back bedroom. The headboard extends from behind the bed, adding visual height. The cut-out niche in the headboard serves as a shelf and a clever attempt to avoid monotony.
Wooden headboard designs #2: Full wall headboard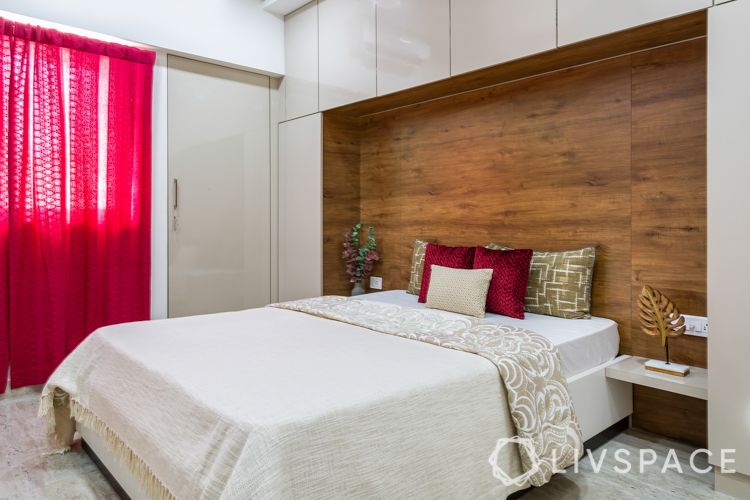 Quite unlike traditional wooden headboards, this headboard takes over the wall behind the bed to function as a massive backrest. The sunken-in effect makes the space seem cosier and the wooden tones only elevate that warmth.
Wooden headboard designs #3: Attached bedside tables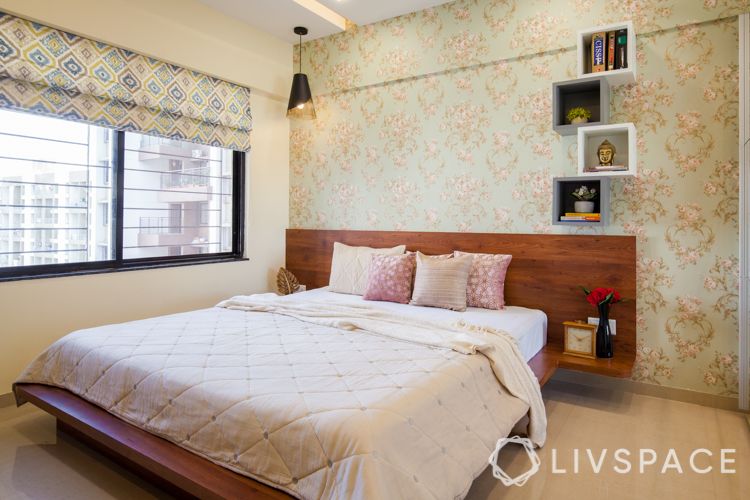 Hitting two birds with one stone, the wooden headboard in this bedroom comes with built-in bedside tables. This is a boon for compact spaces that need additional shelves but without compromising on style or space. It also serves to tone down the otherwise eye-catching wallpaper.

Wooden headboard designs #4: Traditional carvings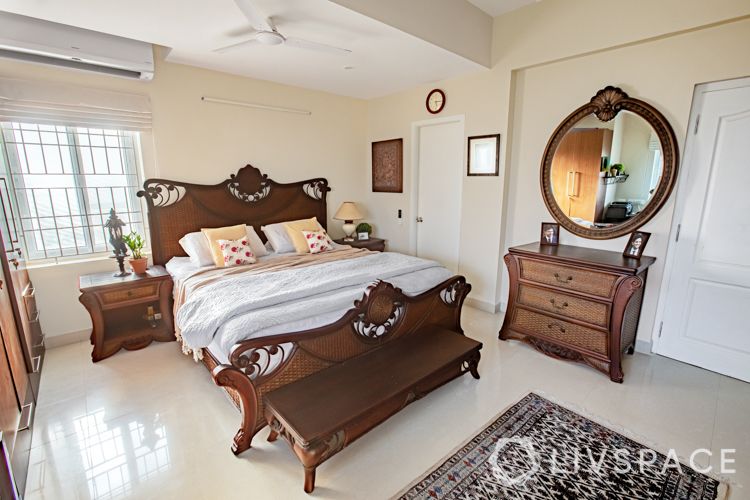 Despite the many contemporary options, there's nothing wrong with opting for traditional wooden headboards! In this bedroom, the exquisitely carved headboard is no doubt the feature of the room. A similarly carved footboard ramps up the appeal and ties in all the wooden tones around.
Wooden headboard designs #5: LED strips on the corners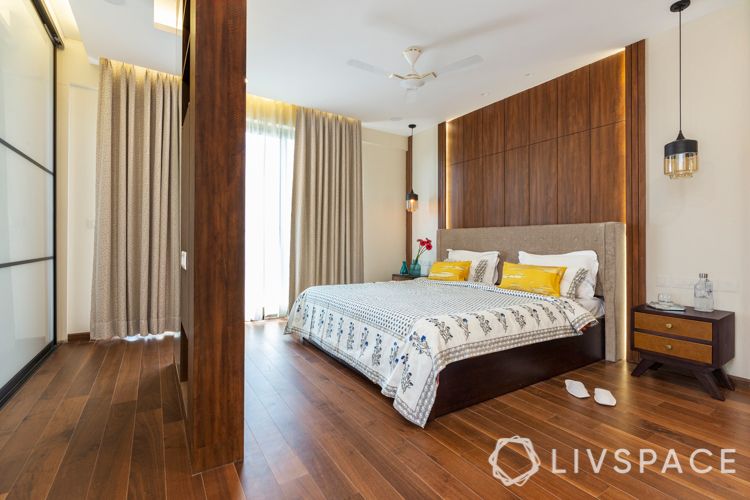 Wooden headboard designs are also a cheeky way to infuse some mood lighting into the space, as seen in this bedroom. The wall-to-ceiling headboard adds to the illusion of height while hidden lighting creates a moody atmosphere while also functioning as task lighting if required.
Wooden headboard designs #6: With an attached mesh
For a farmhouse or colonial aesthetic that is chic and comfortable, opt for wooden headboard that come with a mesh. In this bedroom, the rattan-style mesh adds diversity to the colour palette; thin wooden beams break up the mesh for added layers.
Wooden headboard designs #7: Duco-painted carved wood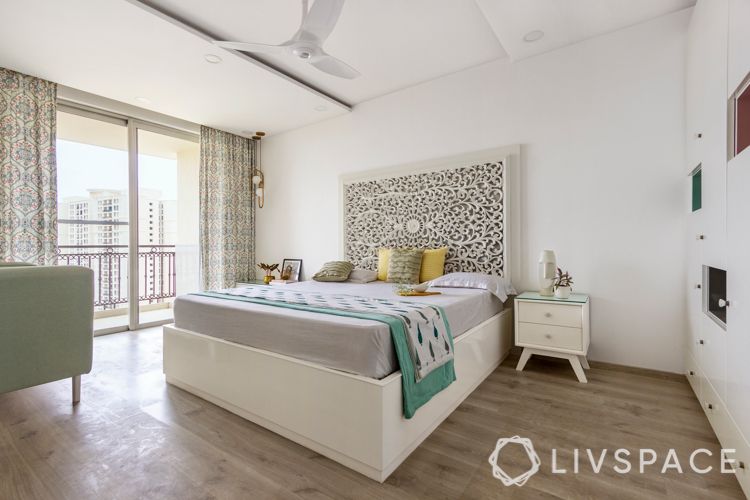 To add shine to your headboard without taking away from your design, Duco paint is a great option. In this bedroom, the lacquer has been used on an intricately carved headboard. The paint shows off the detailing yet ties the headboard in with the overall colour palette.
Wooden headboard designs #8: Herringbone pattern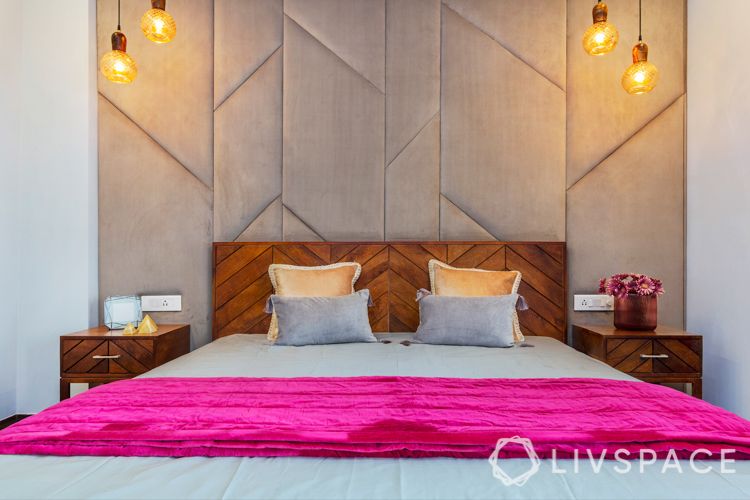 Wood is versatile in that it can be adapted to patterns and finishes that only add to its natural appeal. This headboard is a ready example– the vertical and diagonal lines break up the otherwise monotone piece and add depth.
Wooden headboards are a great way to infuse the natural tones and warmth of wood without compromising on contemporary appeal! Check this out for more inspiration: 6 Trendy Headboard Styles for Your Bedroom.
Send in your comments and suggestions.