Remember the days when our grandmothers had the luxury to have an elaborate dressing room with winged mirrors, to pamper themselves in? As much as we'd love to have the same, practicality is an issue. With modern apartments, having dressers that match the interiors is essential, and that too fitted into the space available. We thought you could do with some inspiration for stylish dressing corners at home. From studio-style dressers to storage-cum-dressing units, we have it all. Read on.
Dressing Table Design #1: Inspired by Pinterest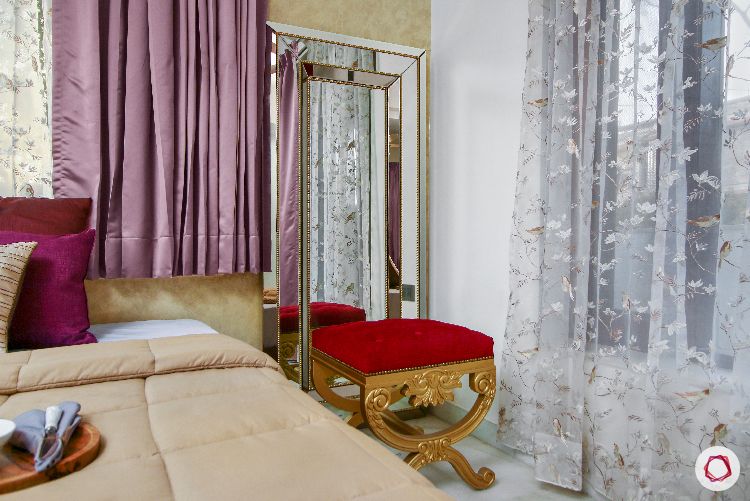 A mirror is the most essential part of a dresser and when that becomes the focal point, you end up having a dressing corner straight out of Pinterest. Just place a huge mirror on the floor, with a Victorian-style ottoman in front and you're done!
Dressing Table Design #2: A Sweet Spot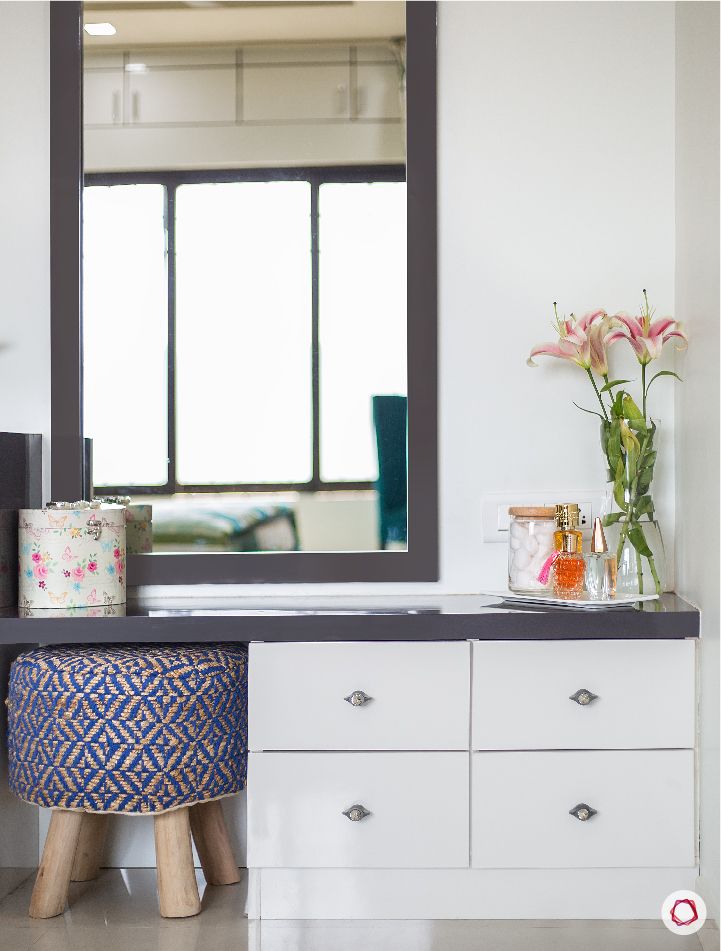 How about a cute dressing corner with a well-planned, strategically placed niche for a stool? With drawers that serve the purpose of storing your cosmetics and a wall mounted mirror, this dresser looks commonplace. However, its design accommodates the stool when it's not in use. This makes your room look neater.
Dressing Table Design #3: Wooden Wonder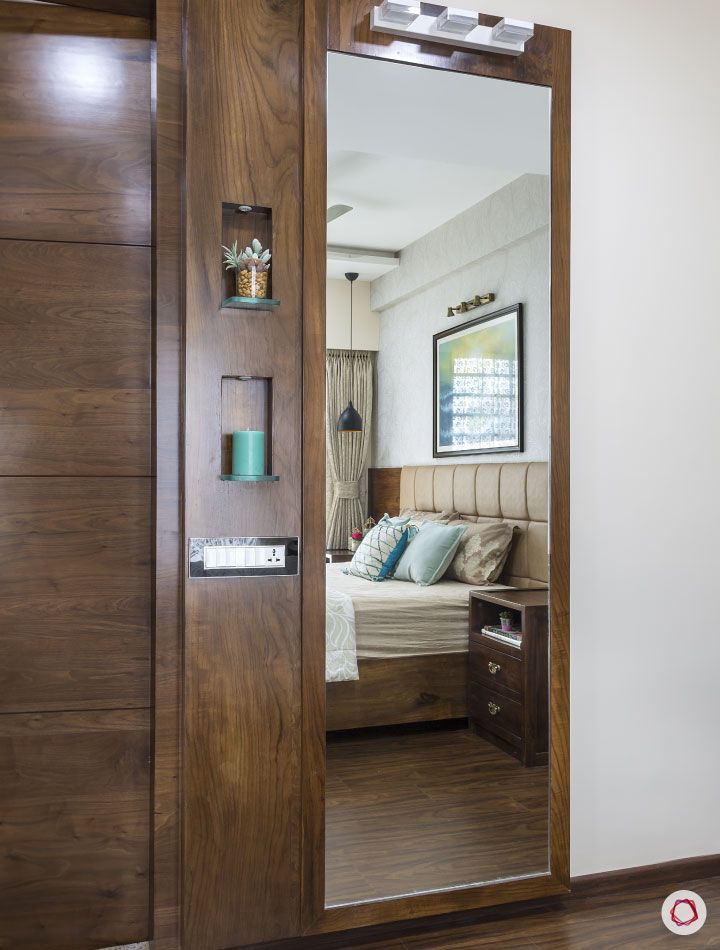 What if you can't drill a niche into the wall, but you've got to build that dresser? Well, you can get a wooden frame with a full-length mirror, spotlights and niches for your cosmetics. Aesthetics and functionality sorted!
Dressing Table Design #4: One for the Kids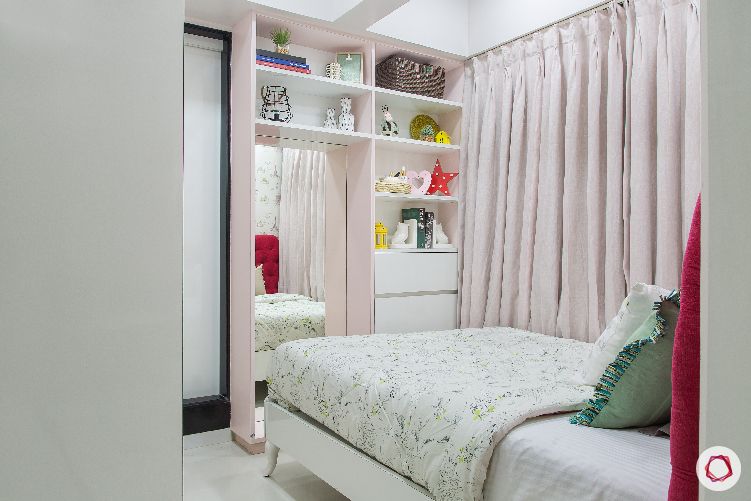 What is a pretty kid's room without a cozy little dressing corner? In the bookshelf, you can accommodate a mirror and a dressing corner for the little ones to get ready. They just need one tiny shelf to keep their essentials.
Dressing Table Design #5: Contemporary Design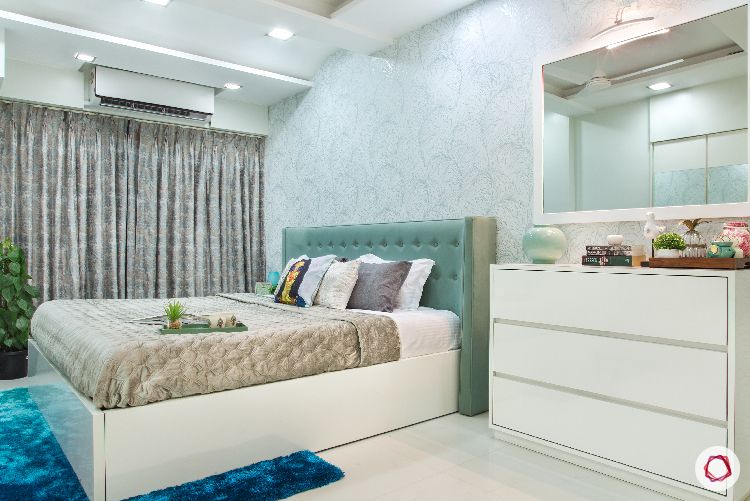 A streamlined design deserves a contemporary dresser like this one. Get a chest of drawers in frosty white finish and place it under a mirror. This can alternate as your side table too, if placed next to the bed.
Dressing Table Design #6: Rustic Touches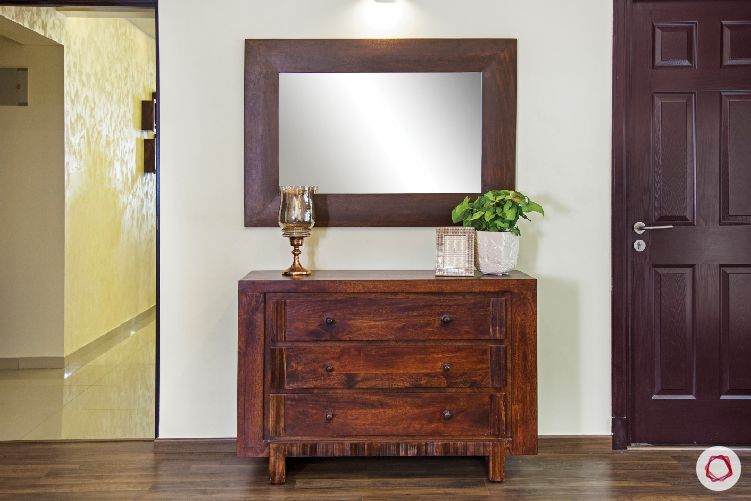 Have you ever come across a chest of drawers that you lost your heart to, almost instantly? But then you realise that does not fit in anywhere! Then, just convert it into a dresser, with a lovely wooden framed mirror. It can easily pass off for a regular storage unit!
Dressing Table Design #7: A Mirrored Cabinet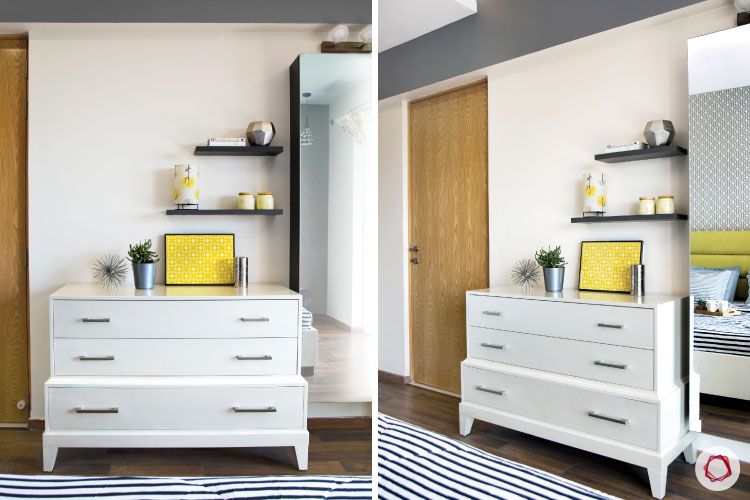 A dresser comes in various forms and this one's about a mirrored cabinet with a stylish storage unit next to it. The design of the cabinet ensures that your floors can be cleaned easily.
Dressing Table Design #8: Utilise the Passage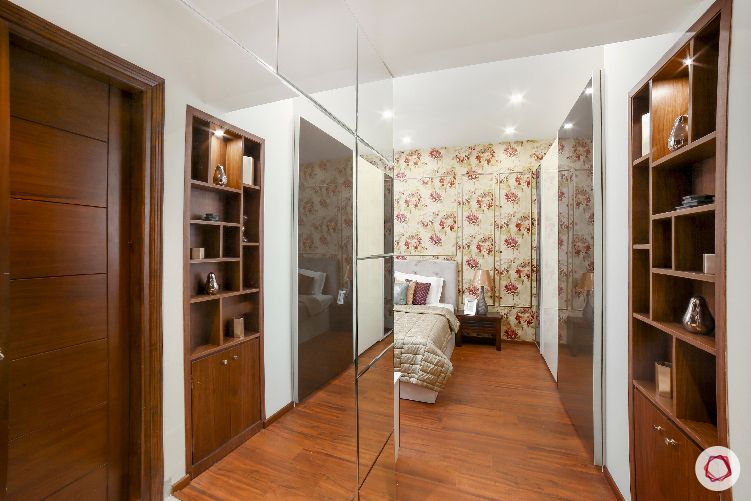 If your room is spacious and you enjoy the luxury of having a passage that leads inside, then that's the spot for your dresser! A mirror wall, with shelves on the opposite wall will work just fine, especially when your bathroom is right next to it.
Dressing Table Design #9: Keep it Private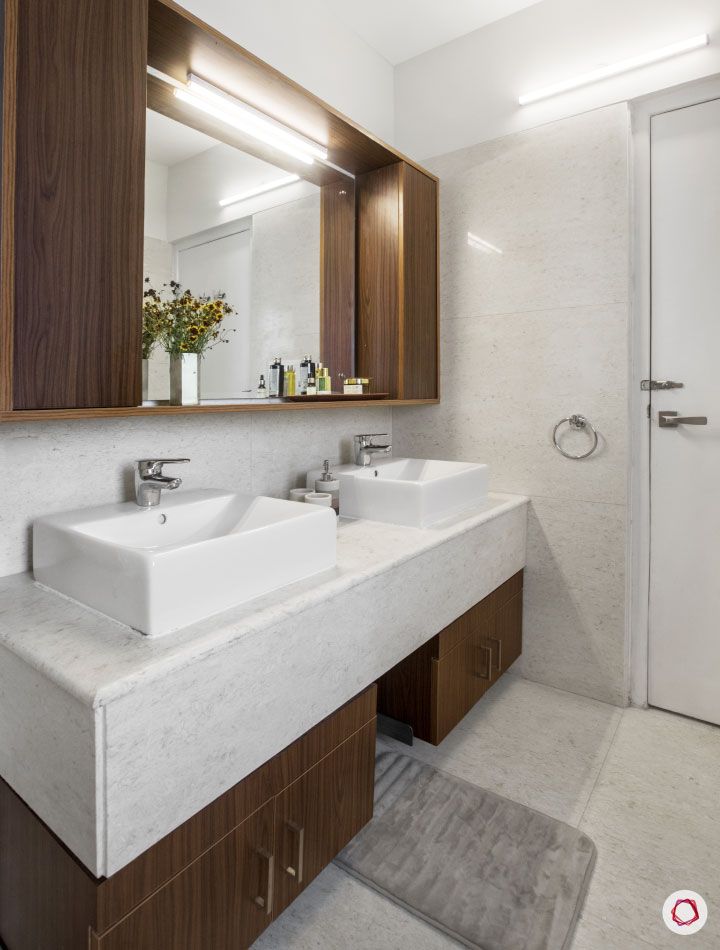 Not everyone likes having a complete dresser in their rooms. Therefore, you can opt for dressers that are built inside the bathroom. Cabinets on either side of a mirror are appropriate for this.
Dressing Table Design #10: Like a Superstar!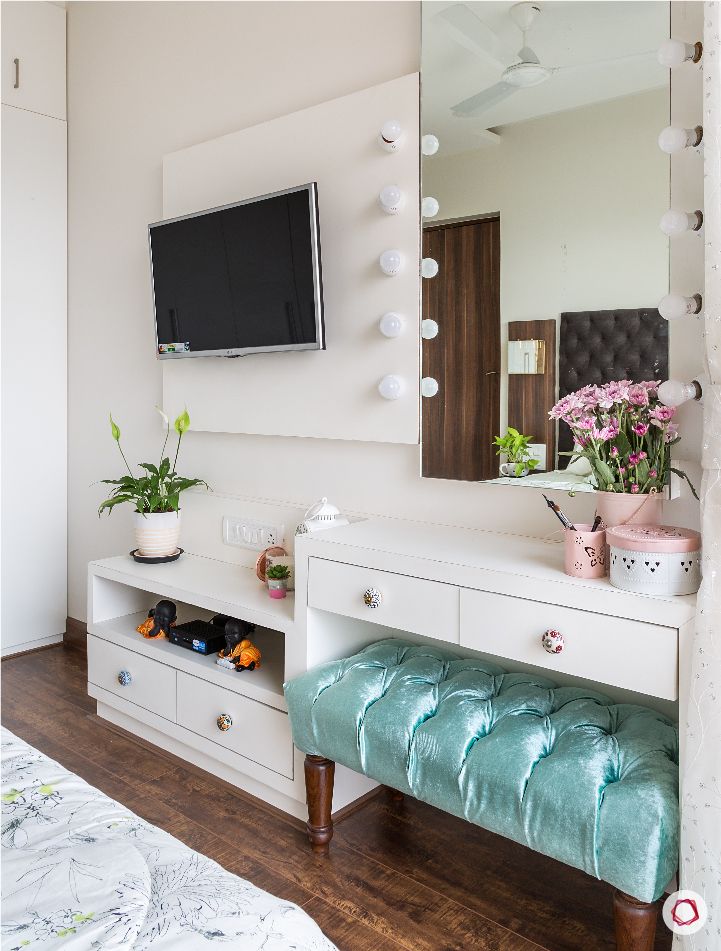 If you love the spotlight, then we are sure you'll dig this idea for a dressing table. With studio lights, you are sure to feel like a diva of sorts. A plush upholstered bench will make sure that you can doll-up comfortably!
These are designs that suit every home and are mostly multi-purpose units. If you're still looking for options that are perfect for compact spaces, then take a look at the chic ways to add a dresser in any corner!
Send in your comments and suggestions!
Check out bedroom design ideas: