Whether it is bingeing on your favourite Netflix show or watching the news, every family loves to sit in front of the TV. It is the focal point for most Indian living rooms. Thus, there is a lot of attention given to getting an entertainment unit that is functional, as well as capable of lending to the look of the room.
Here are some of the best modern TV unit designs we created this year that became the centrepiece of the rooms. We're certain that these practical designs that can work for any Indian home can give you ideas for your own space. Read on and get inspired!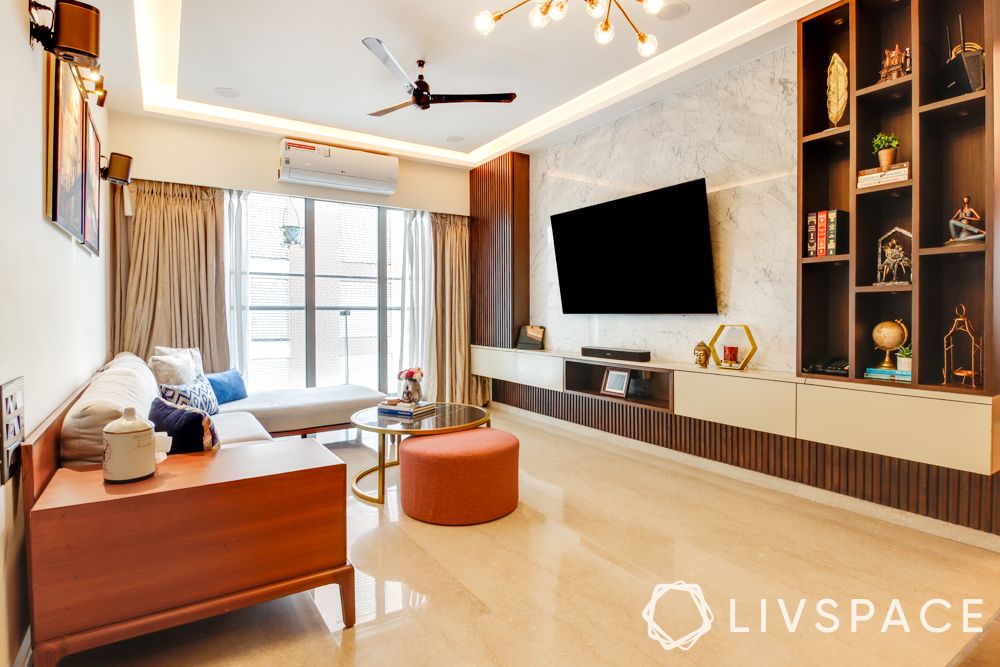 This plush Mumbai home has a mix of modern and contemporary elements. Paired with a solid wood sofa and a metal coffee table, this TV unit packs a lot of storage in the form of closed cabinets, which makes it a very functional piece to have in the living room.
What we love:
Mandir attached to the TV unit that makes great use of space
A marble wall mounted TV unit that adds a touch of glam
Laminate finish with ample storage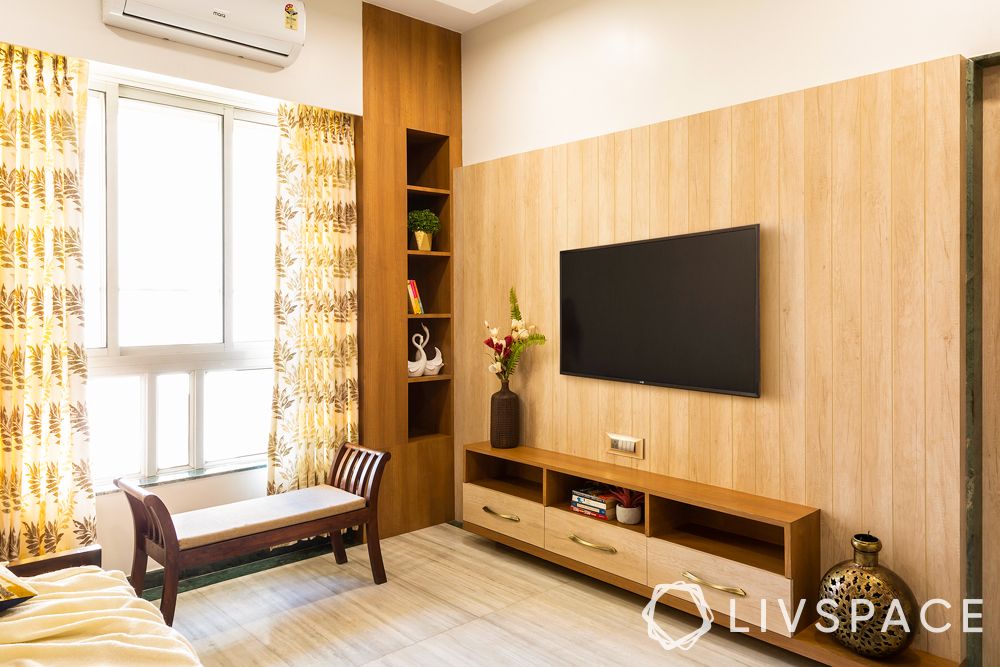 This TV unit design idea in this Mumbai home was crafted with the intention of bringing the family together. Shawika Sidhawani wanted a living room where her family could relax and unwind. The TV unit played a crucial role in putting together this whole room. This unit, as you can see, is made with a wood-like laminate finish, which is cost-effective and looks like real wood!
What we love:
A floating TV unit with clever storage space plus display racks
Wood-like laminate finish that lends a warm look to the living room
A sleek finish that is easy to maintain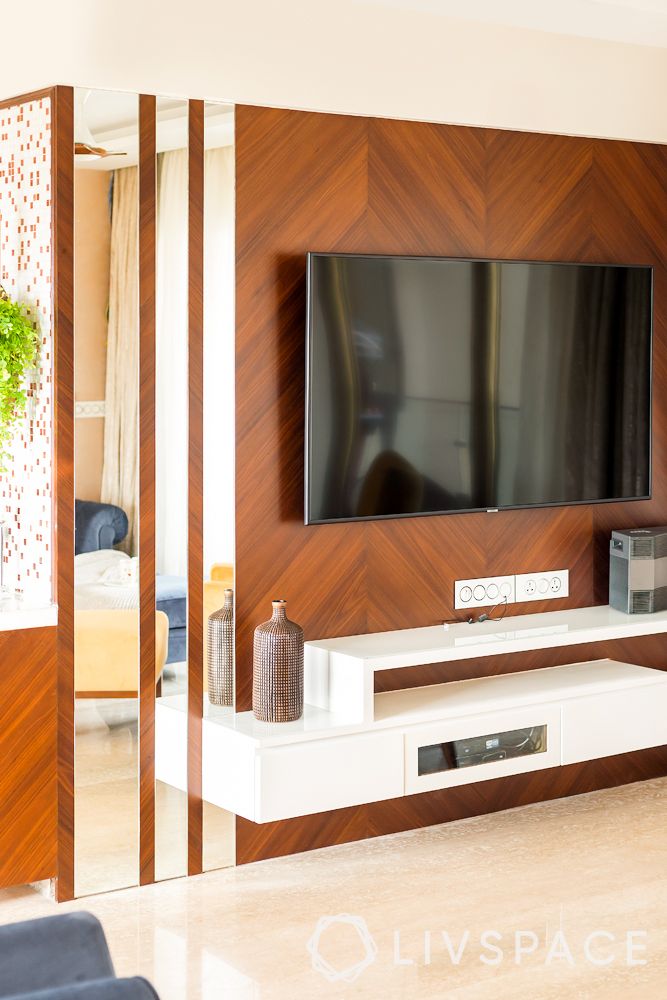 This wall mounted TV unit is easily the most expensive indulgence of the living room with its minimalist design. The Kanodias opted for this modern TV unit design to go with their bright and elegant living room. Livspace delivered this masterpiece and the final outcome has been eye-pleasing, to say the least!
What we love:
Gorgeous custom-made chevron-patterned wall
Veneer and glass panelling that maintain the glamorous look
A functional unit that is easy to clean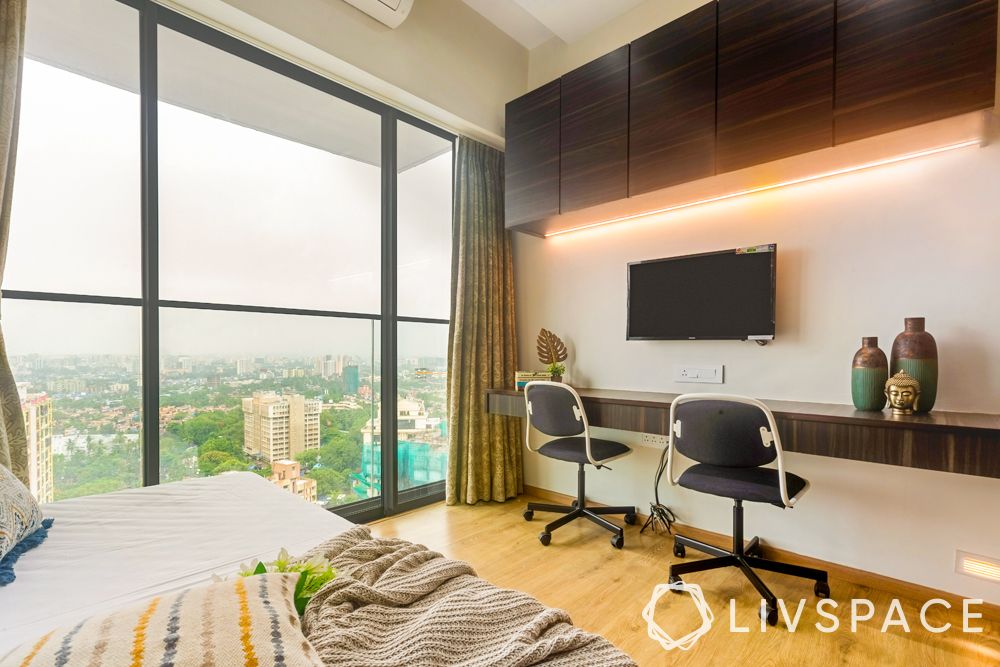 This TV-cum-workstation is in the master bedroom of the homeowner. This sleek design combines an entertainment unit with a workstation in this all-white space. This is ideal for anyone who wants optimal storage but with a minimal setup.
What we love:
The running loft above the unit offers optimal storage
Ambient lighting ensures that there is always ample lighting
The sleek, laminate-finish design is easy to maintain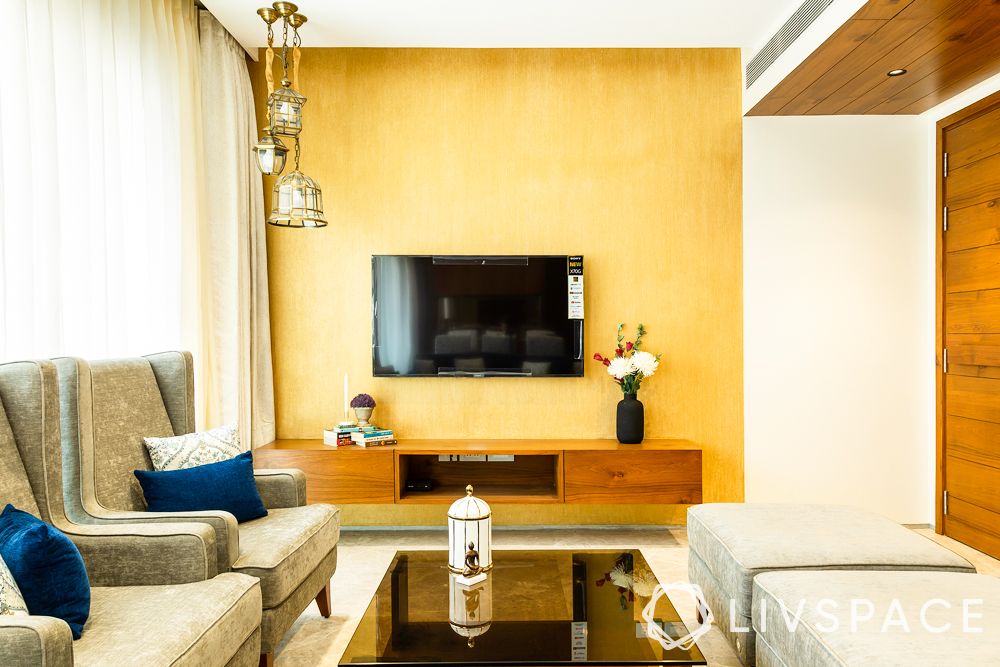 This vastu-compliant Mumbai house has oodles of characters. And that is reflected in the entertainment unit as well. Set against a textured wall, this TV unit is elegant and functional with ample storage.
What we love:
A floating unit that has abundant storage
A modern touch with a textured wall
Seamless look with a veneer panelling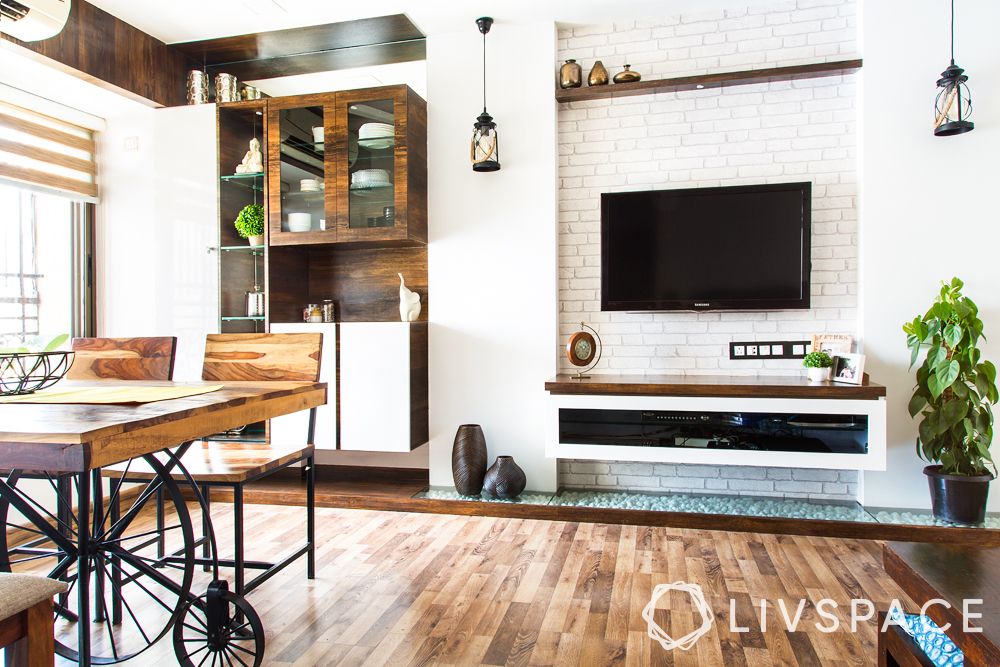 This beautiful sleek TV unit design set against a textured wall was part of an elaborate transformation that Livspace did of a seven-year-old Mumbai home. Find out all about that here! We are yet to get over this beautiful, white TV unit that is sleek and practical. Contrasted with the wooden flooring, it gets a rustic, yet modern vibe to it.
What we love:
Wood-like furniture contrasted with an exposed white brick wall mounted TV unit
A minimalist look that still optimises storage
A modern, yet rustic look of the contrasting textures of the TV unit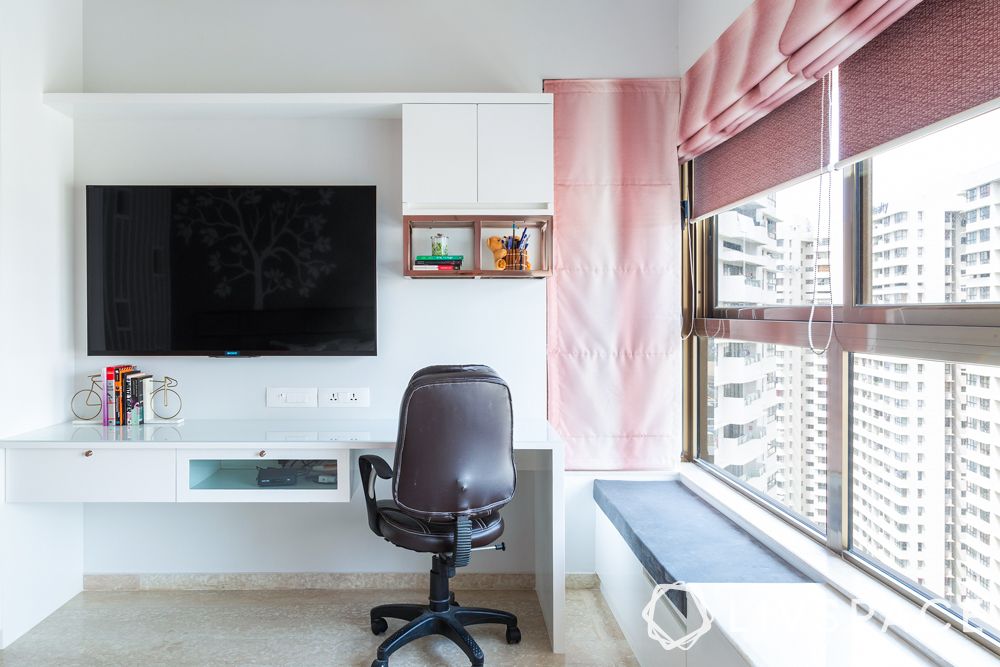 Made specifically keeping in mind the requirement of kids, this TV unit design idea is modern and minimal. What's even better is that there is ample natural light that pours into the room, which gives it a bright and airy look. Additionally, the study table is partitioned from the bedroom, which is a vastu-friendly design idea.
What we love:
A prominent dash of rose gold to the overarching white theme
A vastu-compliant functional study table with ample storage
A PU-finish laminate that is child-friendly and easy to maintain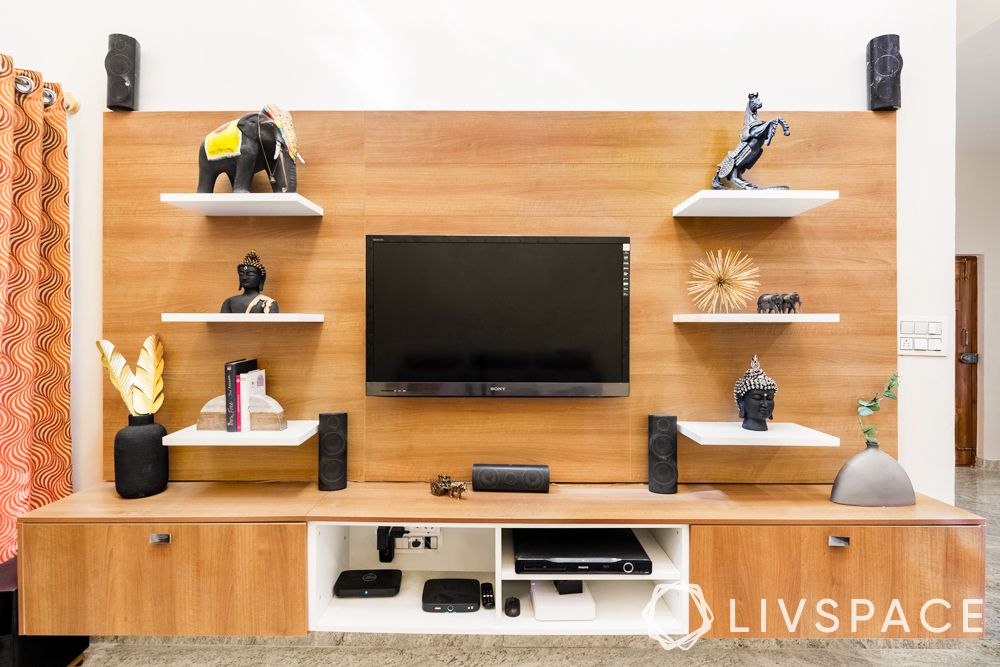 What do you do when you are working within a budget? Well, you don't compromise on style or storage, that's for sure! Take a look at this TV unit in a Bengaluru house. This TV unit was made specifically for a working couple who are regular TV watchers. The design aptly makes the TV unit the accent piece of the living room without compromising on function or style.
What we love:
Laminate finish that is easy to maintain
A custom-made back panel that gives you plenty of style
Open shelves replace the drawers to make it more budget-friendly
Also read: 10+ Pretty Low-Cost TV Cabinets and How We Designed Them on a Budget!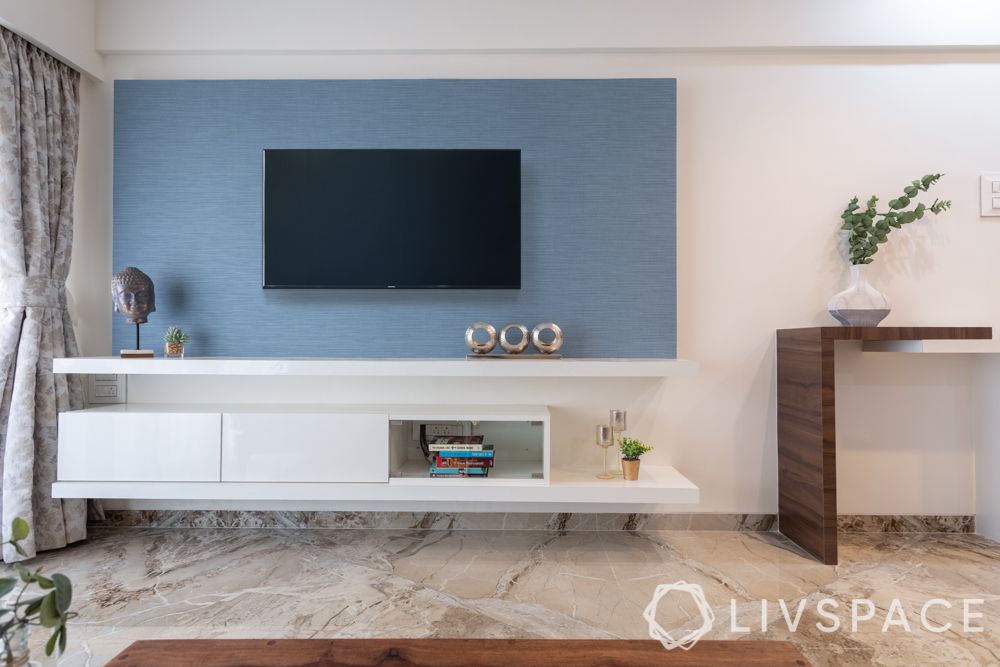 Another one of our budget entertainment units, this one is rather fine with its sleek finish. This contemporary home has a soothing beachy vibe with its wash of colours and laid-back design. This TV unit design idea keeps the mood light and airy with colours and finish that complement the overall look of the room.
What we love:
The wash of budget-friendly blue wallpaper
Sleek white-finished cabinets that complement the blue wall mounted TV unit
A warm look achieved by using natural materials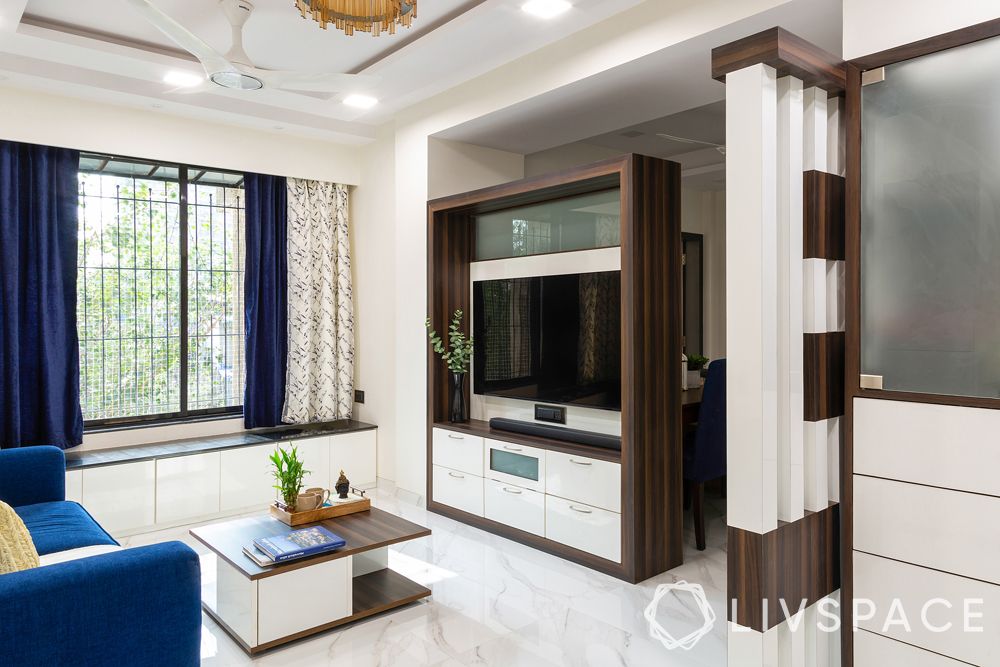 This 2BHK home is all about a compact and clutter-free look. Packed with ample storage, this partition-cum-TV-units all about saving space but also using the living space optimally. With a subtle palette, this TV unit blends well with the living room.
What we love:
Carefully partitioned stand-alone TV unit that is multipurpose
Ample storage unit with drawers
A glossy finish that adds a reflexive element which gives the illusion of space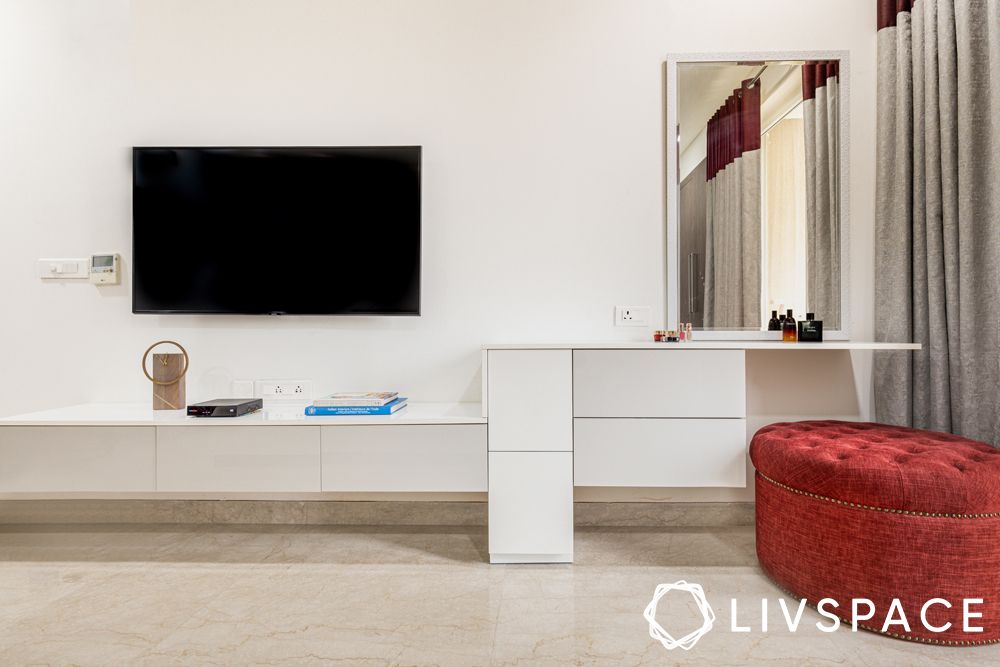 Who says TV units are only for the living room? This playful bedroom has bold splashes of red with muted beiges and white. What is interesting about the room is the compact TV unit that transitions smoothly to a dresser. This multipurpose unit proved to be a convenient addition for the homeowners.
What we love:
An acrylic finish that gives it added gloss and durability
The design is ideal for a compact space
The multipurpose unit that will help in keeping the space clutter-free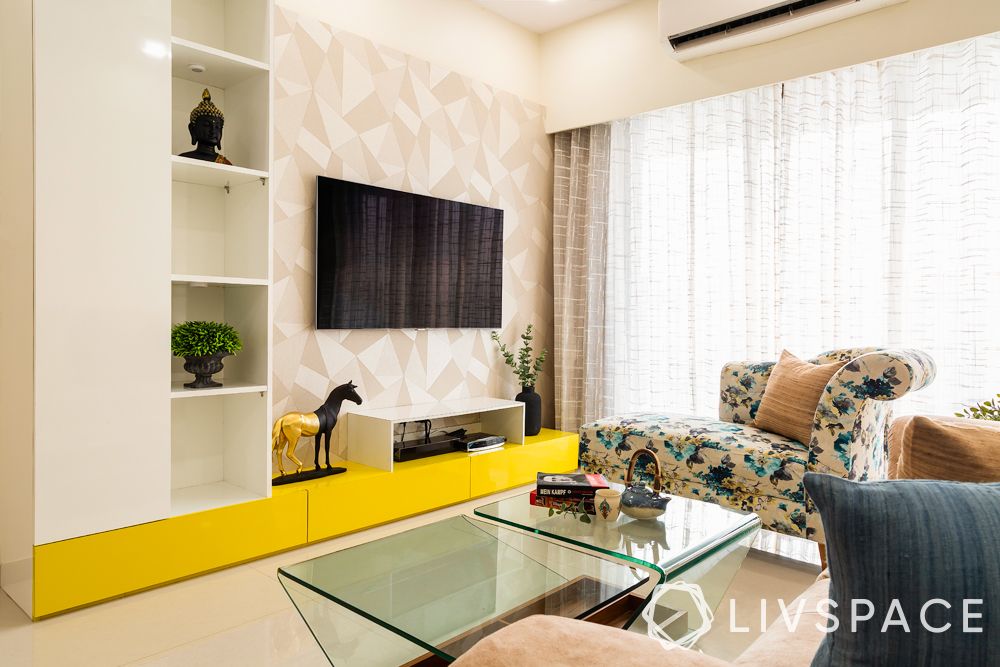 This compact unit has been partially customised for the homeowners as they wanted a judicious use of their space. Out came this TV unit straight out of the Livspace catalogue that delivered exactly what our customers wanted.
What we love:
The pop of yellow that captures attention
The patterned wall that gives it an interesting touch
A budget-friendly design with storage
These were some of the best TV unit designs from Livspace in 2021. Want to check out some more? Read 60+ Stunning Modern TV Unit Design Ideas for 2021.
Wondering how our customers feel about working with Livspace? You can check out the Livspace reviews here!
How Can Livspace Help You?
We hope you found our ideas useful! If you want your home to be just as beautiful, then look no further. Book an online consultation with Livspace today. Delivering safe home interiors has been our No. 1 priority. Click here to find out how interiors are being delivered following all safety protocols.