Recreation and entertainment have become a major stressbuster, an activity to unwind among families, peer groups and the likes. Everyone loves to kick-back, huddle on the couch and spend some quality time with their loved ones, or even just Netflix & Chill on their own. A TV showcase then becomes one of the most prominent pieces of furniture in your living room.
These often come in a variety of designs and styles, each with a distinct and individual character. They are designed to aesthetically add dimensions to the living room, while also decluttering the space, providing utilitarian value. While sleek, clean and contemporary designs are ruling the roost for entertainment units, there are a lot of options to choose from.
We've curated 4 different types of entertainment units depending on their function and placement. Here they are are:
Showcase for TV: The Wall TV Section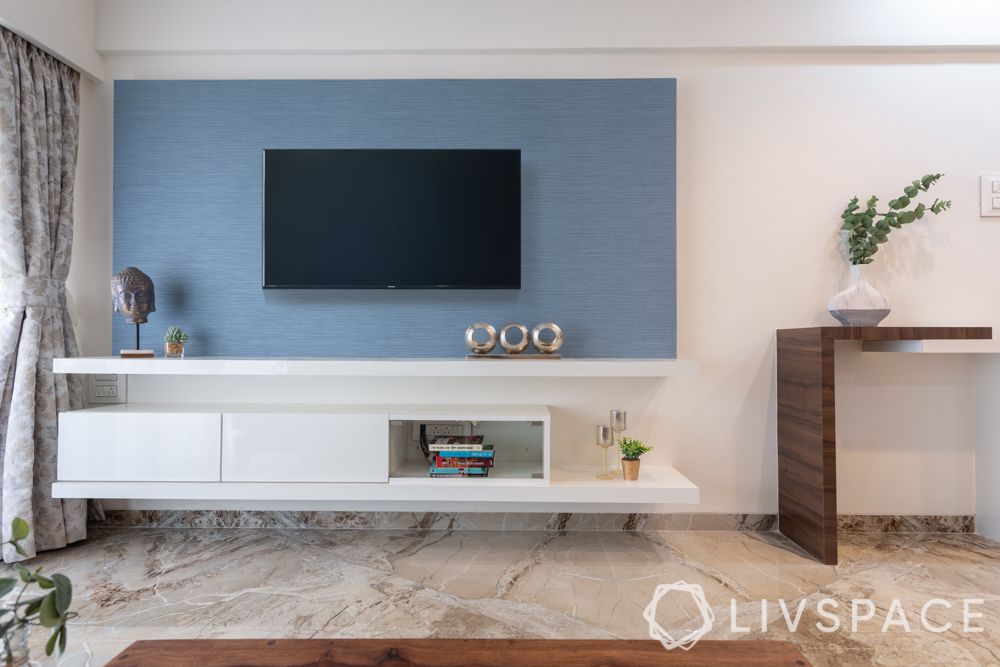 Minimalistic and classy, this wall-mounted TV is a brilliant way to keep things simple and yet angular and sleek. And this way, technically you don't need a showcase for the TV but can have a workaround that is just as elegant.
We love the way white is used against the flooring of the living room and is a great idea for an entertainment room for families that love spending evenings together catching up on some movies and more.
The white cabinets below compliment the plain blue on the background wall & the panel right below the TV can serve as a great stand for succulents, trophies and other decor items.
PRO Tip for White TV Showcases
Showcase for TV: The Gallery TV Design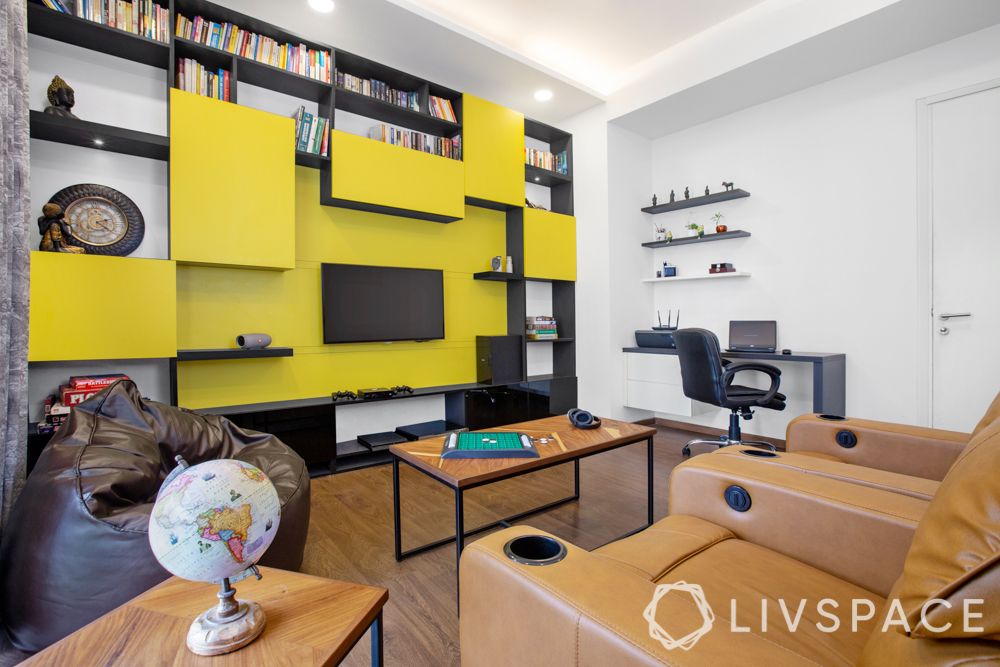 Cleverly designed to be a showstopper in a compact room, this functional design of the gallery type TV showcase features a bookshelf at the top, angular open stands as display shelves on the side, and an open shelf right below the tv for more storage. The best part is they all come together to frame the TV in the centre.
Showcase for TV: Cozy Bedroom TV Panel Designs
Making complete use of the wall, the colour palette chosen for the room and the space, this TV showcase ties the entire bedroom together. This modern & chic arrangement , which also serves as a study table, is great for functionality. It has a simple pull-up chair that leaves you with additional space to move around your bedroom.
The TV height from the floor is perfectly aligned for the study table space to make the layout look visually and spatially pleasing altogether.
The white background along with the cream overtones complementary to the black TV add a modern vibe to the decor in the bedroom. It is a contemporary blend of open stands and small cupboards to create symmetry that is classy and trendy.

Showcase for TV: Corner Table TV Tops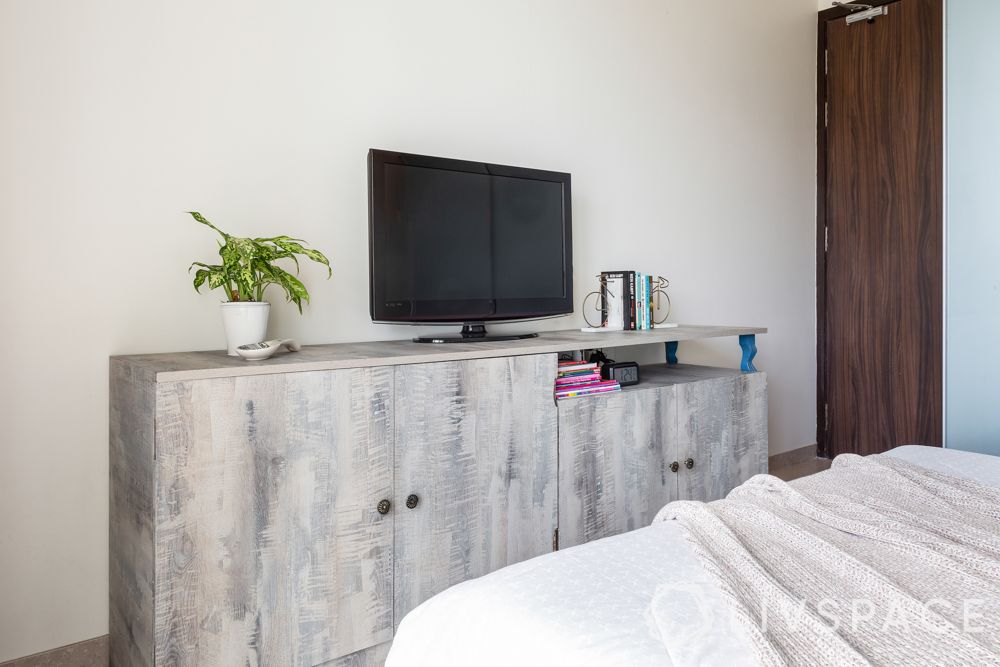 Last but not the least, for a more compact room, take the simple route. The corner tabletop TV showcase can do wonders for your space if chosen right and can be a great option for a budget-friendly home as well.
Make sure the colour of your tabletop complements the colour palette you have chosen for your room. The tabletop can also double as a storage unit, with cupboards for utility, as shown.

PRO Tip for Corner Table
Choosing a TV showcase that brings your home decor and design elements together is not as tedious as you think. These designs and styles cater to the needs of an urban household. Remember to choose a showcase that is functional, eye-catching and gorgeous but most importantly, pick one that matches your own personal style!
If you enjoyed reading this story, also explore 60+ Best TV Unit Designs Trending in 2021.
How can Livspace help you?
So the next time you're renovating, try out these exciting color schemes for your kitchen for a whole new look. If you are looking for professional assistance, then Livspace is here for you. Consult our designers online and start your kitchen renovation right away. We deliver quality interiors with safety as the utmost priority. Learn more about our COVID-19 protocols here.
Want to see more color schemes for your kitchen? Check out Inspiring White Kitchen Designs for Your Home.
Send your comments and suggestions.