Having acted in a number of films in Tamil, Telugu and Hindi cinema, Shruti Haasan is a well-known name in the industry now. Daughter of superstar Kamal Haasan, she has displayed versatility in her roles and displayed her talent as a musician as well.
So, when it comes to her personal space – her home – what do you think would it look like? Many of you might have guessed it by now. Just like her versatile nature, Shruti's home in Mumbai is a mirror reflection of her personality. You will love the colours, vibrancy, personal corners, boho vibe and the open layout of her home. We stole some ideas from her home and tried to recreate it for you!
Shruti's living room has a great mix of colours and comfy seating options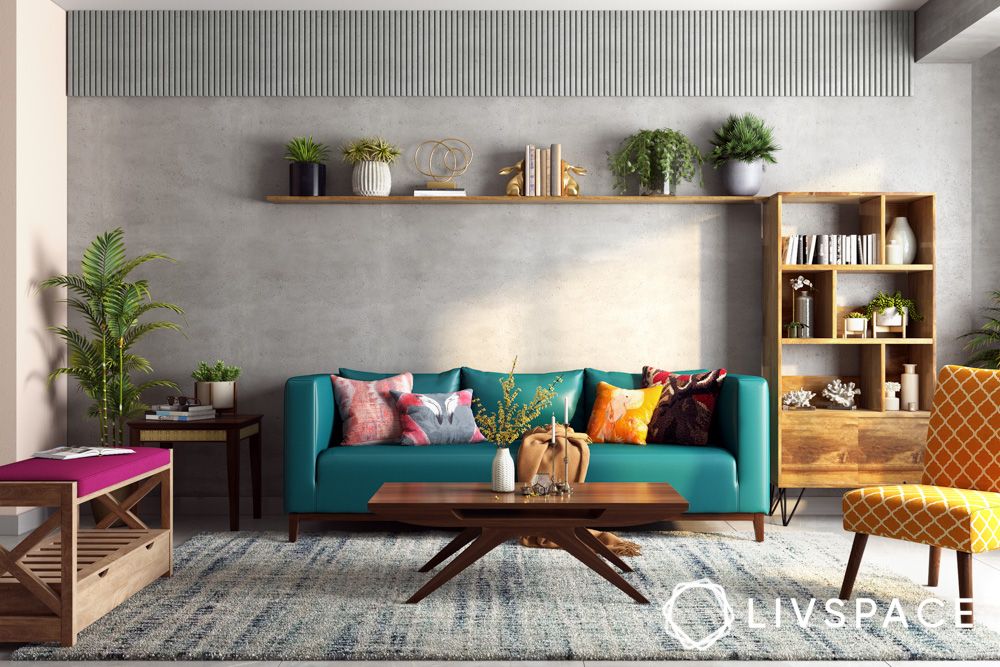 In the casual video tour of her home, Shruti Haasan admitted to using crazy colours in her Mumbai home. For someone who has spent a considerable amount of time overseas, she wanted her own home to feel as cosy as possible. And colours are what she chose. Her living room is a riot of colours in stark contrast to the concrete walls and polished concrete flooring that adds that character to her home.
Ideas to steal:
An open bookshelf-cum-display rack for books and your favourite decor items (toys, for Shruti!)
A modern version of the khatiya as a quirky seating option
The dining room is doused in her favourite colour – pink!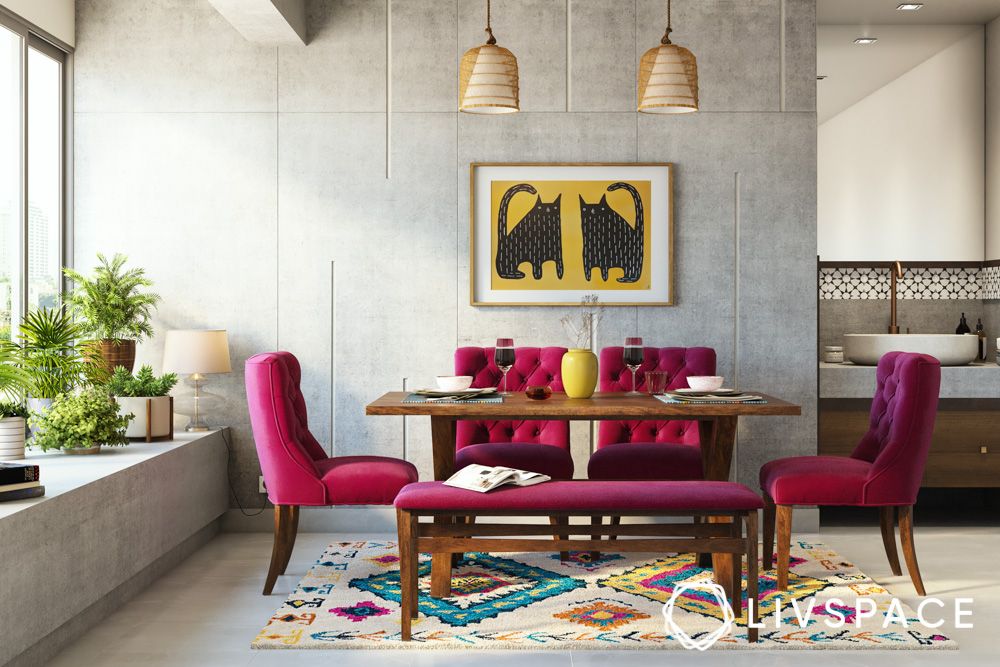 Her home is definitely doused in pink elements and we chose to recreate it for you in the dining room. We also paired the dining table set with an aztec print rug to further define the space. Throw in some pendant lights and you are good to go!
Ideas to steal:
Wall art that defines who you are
Potted plants by the window ledge that can also double-up as seating space
Her kitchen is a breath of fresh air with mint green hues and an airy vibe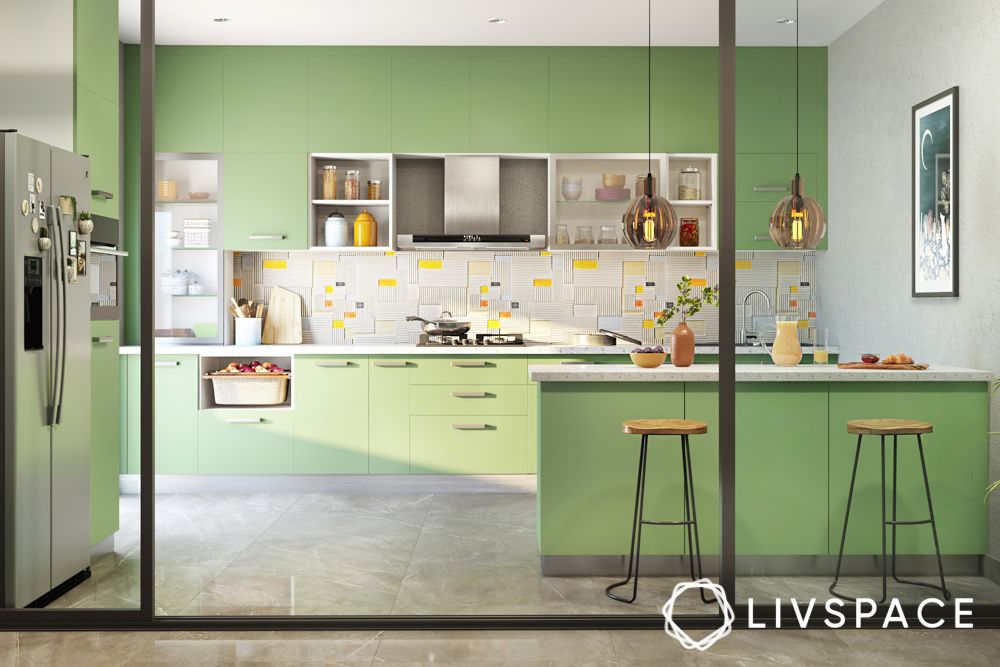 Most celebrities love cooking their favourite dishes and enjoy them away from all the limelight. That brings us to Shruti's mint green kitchen at this cosy apartment. A lover of open layouts, Shruti made sure that her kitchen was a part of the rest of the home. So, we thought we could add a glass partition here, which makes that a bit easy.
Ideas to steal:
Industrial bar stools next to the cosy breakfast counter
Seamless finish for the cabinets to enhance the fresh colour scheme
A special corner dedicated to jammin' sessions with friends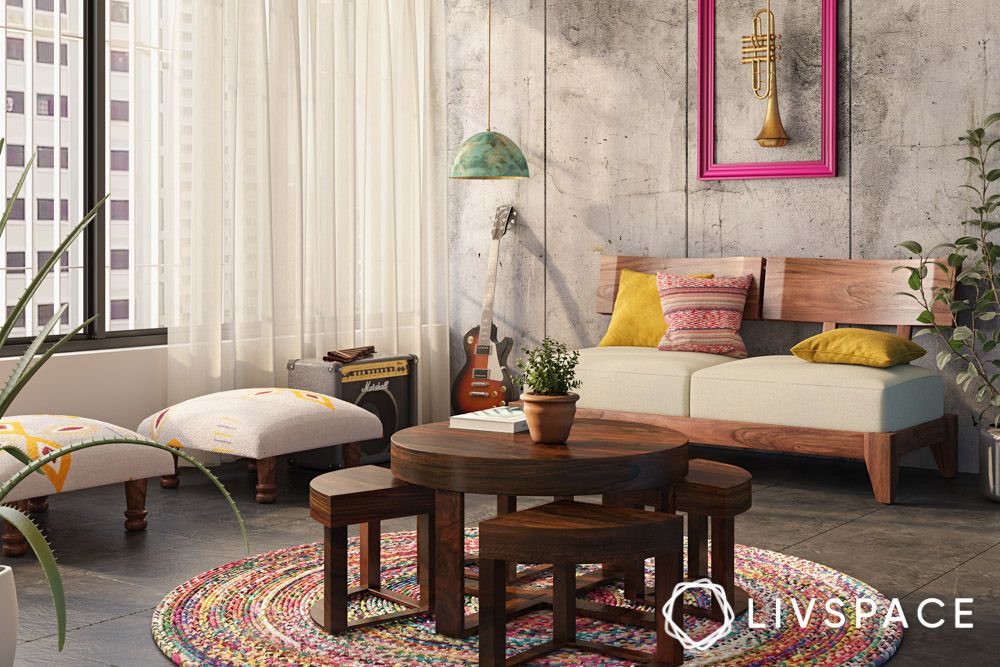 The moment you step into Shruti Haasan's Mumbai apartment, you will notice her casual seating arrangement. Dedicated to her friends and close ones with whom she loves jammin' and sharing light moments, the vibe here is very boho and easy-going. You can spot her musical instruments like the guitar, bass, amplifier, tanpura and so on. This is where most of her activity takes place.
Ideas to steal:
Low seating to create that boho vibe at home
Sheer curtains to add that breezy feeling
Shruti loves creating music in her personal corner. Let's adapt some of those delightful elements!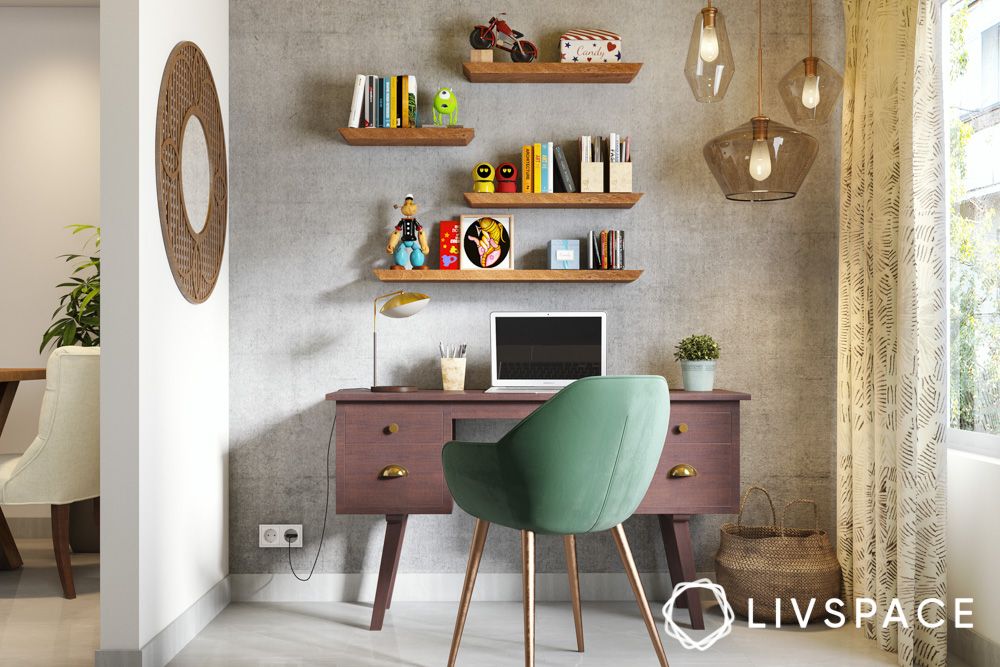 Coming to that one spot which Shruti Haasan owns completely. In her home you can spot her old love – her piano, which has been with her for quite some time now. She absolutely adores it and spends most of her time with it. Her musical notes and everything related to it can be spotted there. For you, we have reimagined this space as a modern and cosy working spot. You can turn any corner at home into your personal nook, just like this!
Ideas to steal:
A brightly painted ceiling to add an element of cheer
Wall shelves to utilise vertical space
We're sure you have so many ideas to steal from Shruti Haasan's home and you're already thinking about it! If you'd like to see how Jacqueline has done up her home, check this out: We Recreated Jacqueline's Parisian Chic Mumbai Home.
Want to share pictures of how you used Shruti Haasan home decorating ideas?
Write to us at editor@livspace.com.