Classy and well defined—the arch has always enjoyed popularity throughout the years. Something about its prominent curved appearance makes it appealing to the eye. Maybe because it reminds us of large beautiful historical buildings and the yesteryear charm it undoubtedly exudes. It's no wonder then that several homeowners are searching for the perfect hallway arch designs, which is the popular choice for its placement at home. But it's not all about looks.
The Origin of Arch Designs
An arch was ancient history's answer to bear all the weight of the structure above. The first example was seen in Mesopotamian architecture, dating back to around 3800 BC. It later moved and evolved from one civilisation to another. From ancient Roman structures (think Colosseum) to its pointed Gothic counterparts ( the Notre Dame Cathedral) and to our very own Ajanta Caves and the tombs created during the time of the Delhi Sultanate.
History is full of marvellous arches and its variations:
Rounded
Pointed
Aligned side by side and known as vaults
While we can't have large-scale arches in our homes (but we sure can wish!), designers can work out a design that's perfect for your home. This is where hall arch designs come in.
How Do You Use Arches in a Modern Home?
If you are up for experimentation, you can combine hallway arch designs with a trendy art deco design. After all, when it comes to art deco, with its Gatsby-like charm and appreciation for geometrical shapes, the addition of an arch is the right way to go!
But if you want it on a smaller scale, here are a few ways to use a home arch design:
#1: Welcome Your Guests With an Arch Design in Hall
We designed this arch design in hall for a flat in Bengaluru that connects the foyer and the living room. This arch design in hall doesn't overwhelm or shrink the space. In fact, it visually adds a lot more depth and it's also the homeowner's favourite part! And guess what? Arches in the foyer are actually good for vastu!
Read here: Vastu tips for entrance to welcome good vibes
#2: Add an Arch to a Partition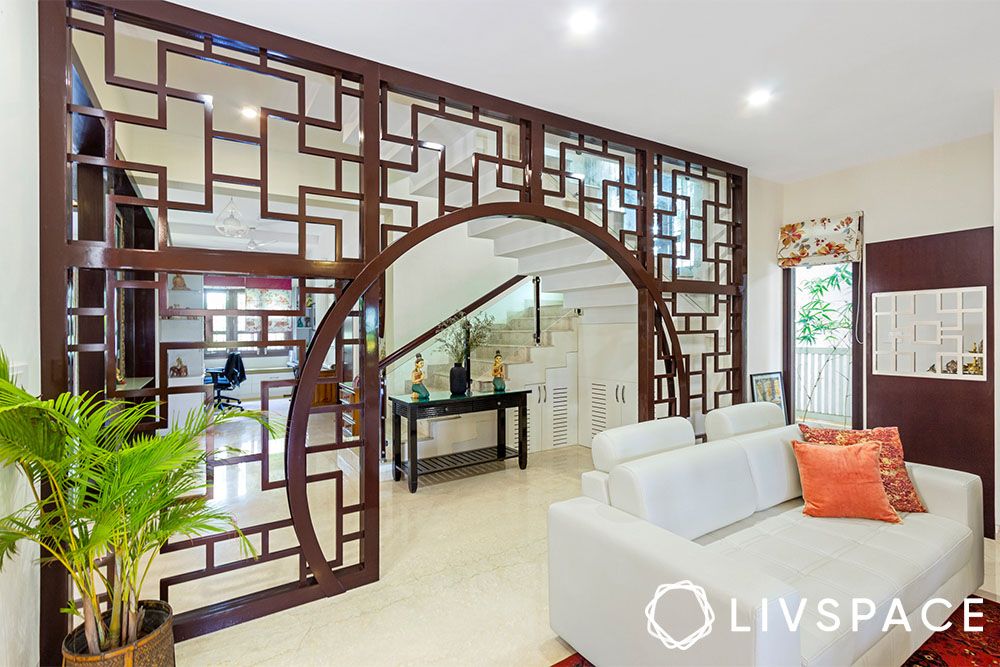 When it comes to a modern arch design for hall, you don't have to restrict yourself to the walls alone. The above image incorporates a beloved arch into a hall partition that divides the living room. The dome-like modern arch design for hall coupled with its MDF structure will definitely grab attention. Also, an added bonus would be that you wouldn't have to make civil changes to install this, unlike wall arches.
#3: Hallway Arch Designs for Your Windows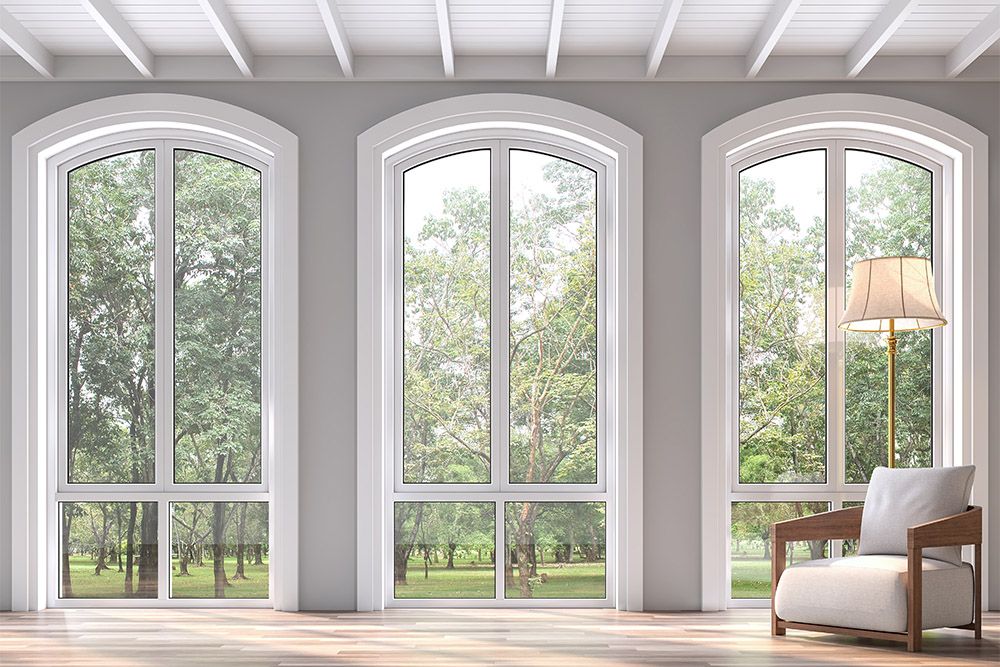 If you want a dash of drama, turn to a window for an arched statement. The simple white colour theme offsets the grandiose of the arches in an amazing manner. Now, that's the perfect simple arch design for hall!
#4: Skip the Kitchen Door & Opt for an Arch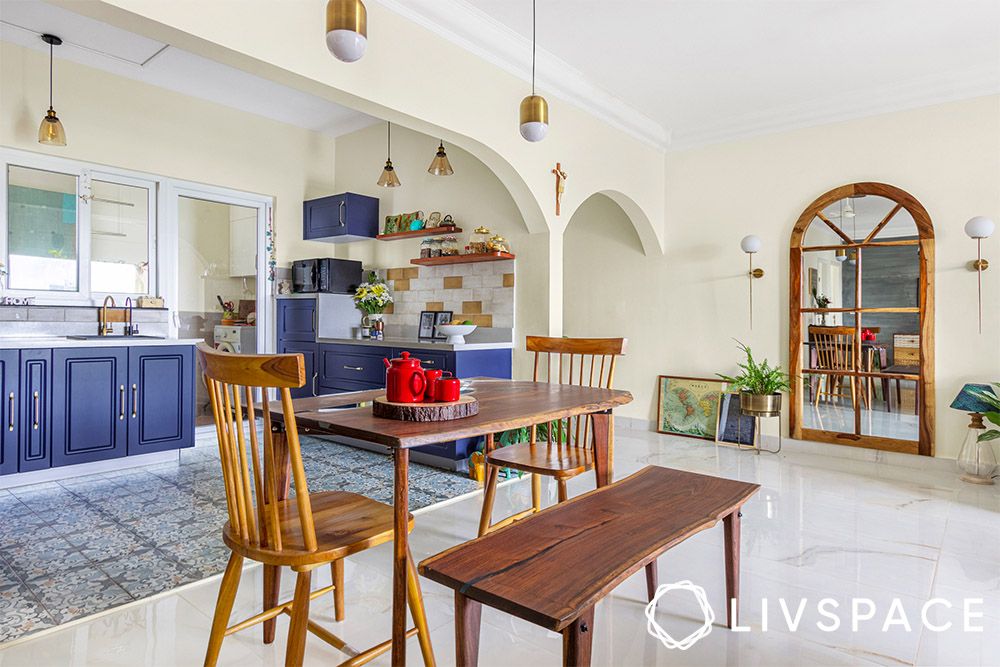 An open kitchen is quite popular among homeowners now. But that doesn't mean you can't jazz things up! This elegant arch design for the kitchen completes the look of this space. This way, it doesn't lose the open kitchen vibe and gives dimension to the area. Make sure to dress the space around it with pendant lights to enhance the atmosphere.
Types of Hallway Arch Designs
Before choosing the best arch for your home, take a look at the types of hall arch designs.
#1: Simple Arch Design for Hall With Tiles
If you want a simple arch design for hall, tiles are a good option. A tiled arch can look very contemporary, matching the modern aesthetics of our apartments. Ensure that the tiling matches the flooring.
#2: Arch Design for Hall With Wood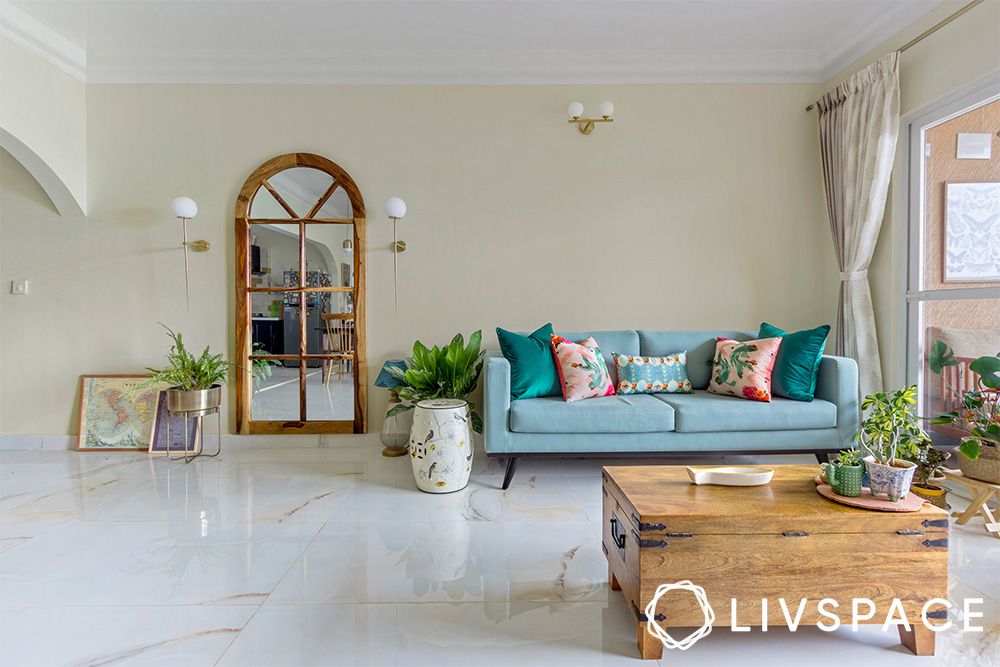 Nothing beats the charm of wood! A wooden arch design for hall can add a touch of warmth if you have a contemporary or minimal flat. In this Bengaluru home, the wooden arch matches the furniture and adds some layering to this otherwise simple room.
#3: Latest Arch Designs for Hall With Glass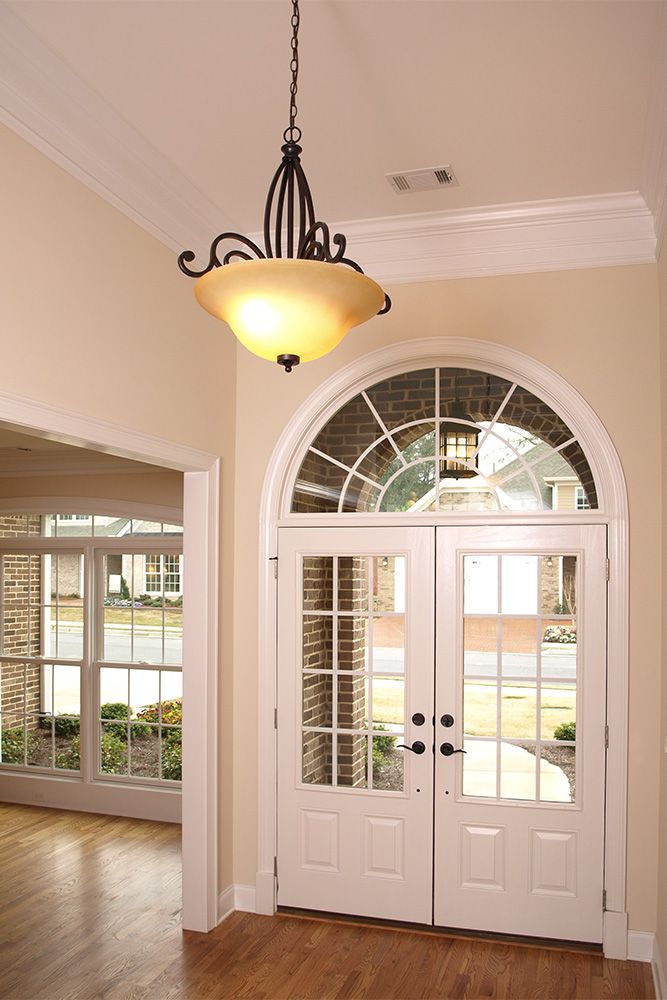 If the look you hope to achieve is something sleek and classy, glass is your best friend! Hallway arch designs in glass not only look modern but can also make a small space look bigger. If you are looking for latest arch designs for hall, jump on the glass bandwagon!
#4: POP Hallway Arch Designs
POP or Plaster of Paris is one of the most versatile materials available in the market. Be it a POP false ceiling design or a hallway arch, POP can give you the design and look that you want for your home.
#5: Semi-Circular Arches
Not every arch looks the same. Semi-circular arch designs are a unique alternative to the traditional arch. Moreover, this design is much more minimal, making it more suited for urban apartments.
#6: Pointed or Gothic Arches
Channel your inner goth with a gothic arch. The main differentiating factor of a gothic arch from a normal arch is that the former has a pointed tip instead of a completely curved one. While gothic arches generally look better in large homes, opting for a simple design can make it work for your flat as well.
#7: A Semi-Elliptical Arch
Another one for all the people who want some uniqueness in their home. While uncommon, semi-elliptical hallway arch designs are a trendy and contemporary option.
#8: Segmented Hallway Arch Designs
If you feel that a complete arch is too traditional, then this one is for you! As the name suggests, the segmented arch design is not a complete arch and more minimal in style. Also, it provides a wider entrance.
#9: Horseshoe-Shaped Arch Design for Hall
A horseshoe-shaped arch can be a fun and quirky addition to your home. This type of arch design is best suited for your kids' room.
#10: Arch Design for Hall With Cement
While cement might not seem like a very common choice, it can make your hallway arch look quite elegant and simple. An arch design for hall with cement can also be painted in the colour of your choice.
Also Read: The Latest POP Design Ideas to Revamp Your Home Interiors
Tips for Choosing Arch Design Colours
While choosing your hallway arch designs, the colours plays a While choosing your hallway arch designs, the colours plays a significant role. Since an arch is part of your home interior design, the colour of your arch should match the palette of the rest of the home. However, you can also choose a different colour to add a pop of brightness. But make sure that the colour isn't garish and blends well with the other colours.
Enjoyed reading this article about arch designs for halls and how to use arches in other parts of your home? Also read how to use different types of wall moulding in your home.
How Can Livspace Help You?
We hope you found our ideas useful! If you want beautiful interiors for your home, then look no further. Book an online consultation with Livspace today.
Wondering how our customers feel about working with Livspace? You can check out the Livspace reviews here!
Write to us with your comments and suggestions at editor@livspace.com