For those who love travel-inspired interiors!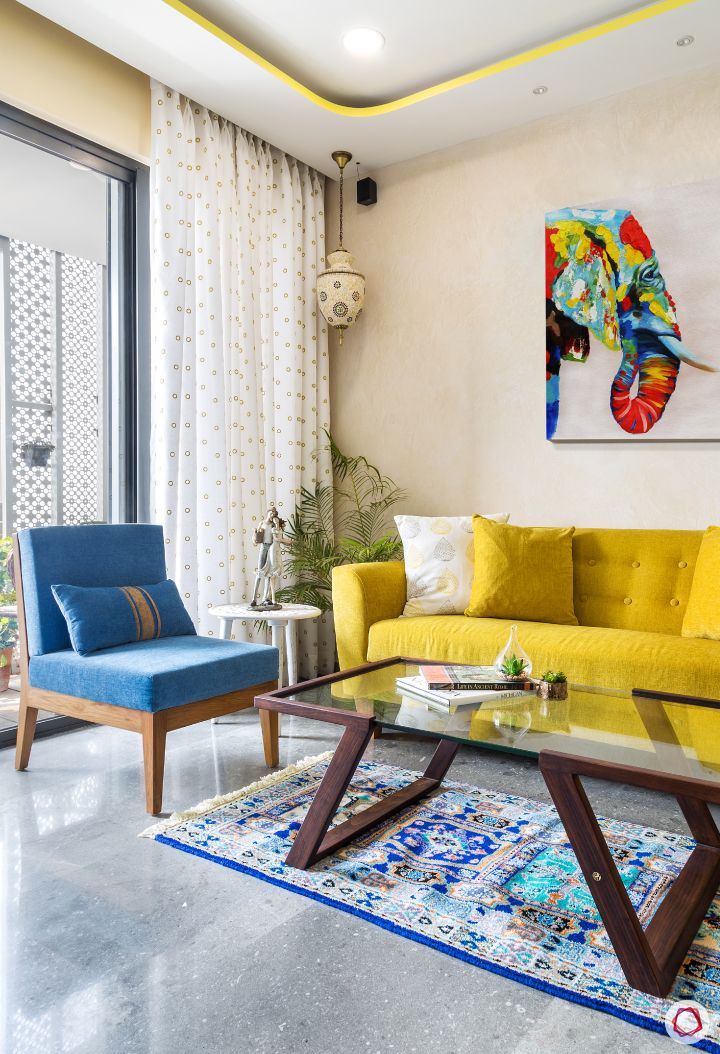 ---
Who livs here: Manisha Raodeo, her husband Shashank, and their daughter Anshruta
Location: Lodha Enchante, Wadala, Mumbai
Size of home: 2BHK spanning 1,400 sq ft
Design team: Interior designer Rajvi Jhaveri
Livspace service: Full home design (excluding kitchen)
Budget: ₹₹₹₹₹
---
You know what's the best part of traveling? It's a mind full of happy memories and experiences. Something that Manisha Raodeo, her husband Shashank and their daughter Anshruta have in abundance. So when they bought a new home at Lodha Enchante, Mumbai they wanted it to remind them of their colourful memories.

A meeting with our interior designer Rajvi Jhaveri followed. Along with travel-inspired interiors, they also revealed they weren't fans of white homes. "We can't get enough of colour," Manisha tells us. Comfort and a relaxed ambience were also priorities. Above all, everything had to neatly fit in their 1,400 sq ft home. Of course, Rajvi was ecstatic! "The family was clear they wanted their home to capture each of their trips" she explains. "So, I tried to ensure every room made their memory constant."

With a Japanese-themed bedroom for the couple and a Greek-inspired bedroom for the daughter, Rajvi translated their passion into a design any globetrotter would love. Here's the tour!

Lodha Wadala: From Morocco to Mumbai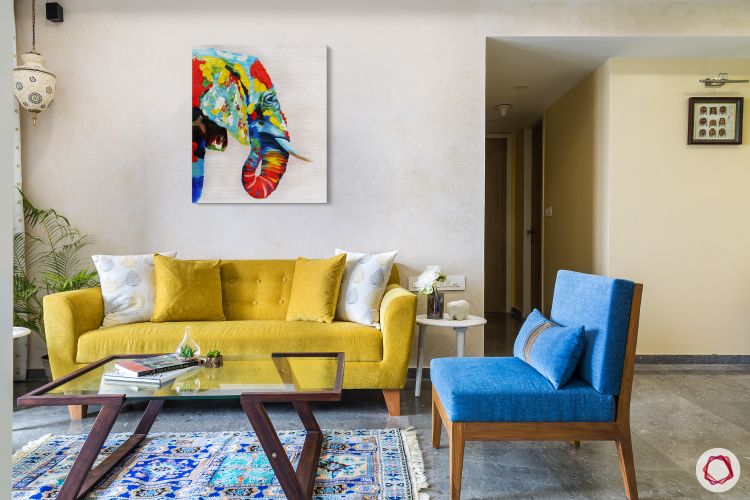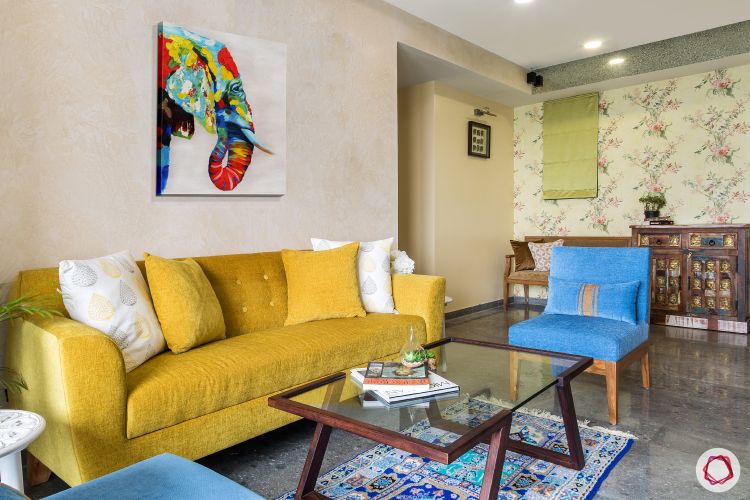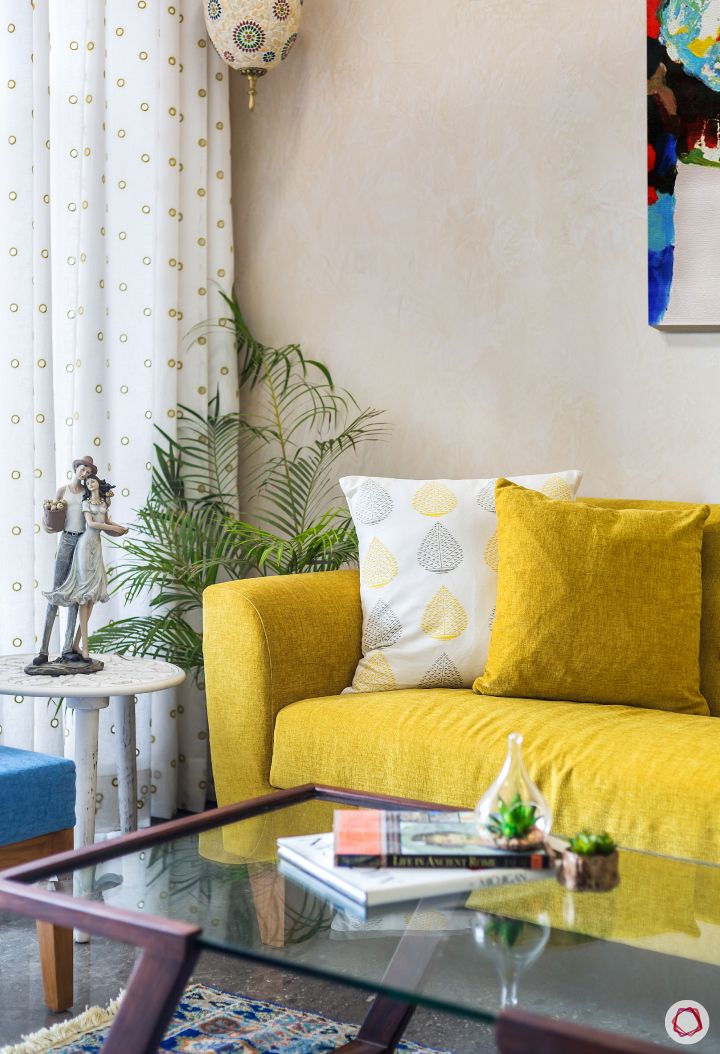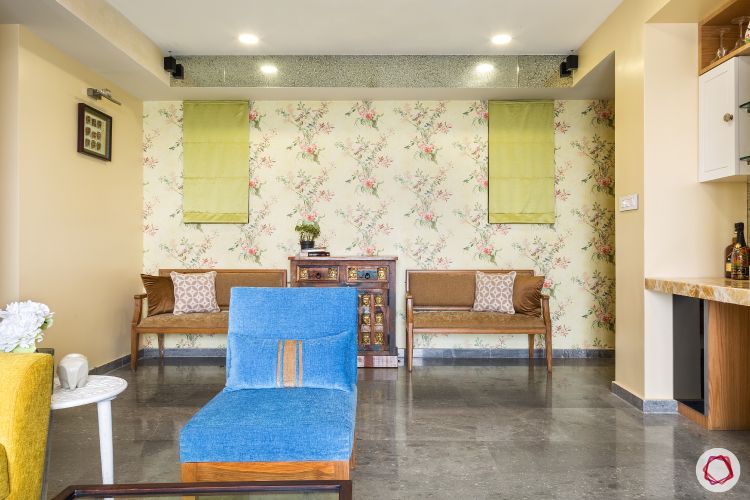 The living room stands out in a burst of vibrant colours. While its essence is a mixture of the family's several trips, the centre of it all is a rug that they loved from Morocco. They wanted all the furniture and the surrounding elements to match with the blue Moroccan rug. As a result, Rajvi put in a popping yellow two seater, blue cushioned chairs, a sleek wooden coffee table with a glass top, and ingrained side tables. An accent light in the corner adds a touch of warmth to the space. The TV unit stands in a soothing white PU finish.

Behind the sofa, the wall is dressed in subtle stucco paint, a popular feature in traditional Moroocan walls. Notice the false ceiling? Every room features a distinct ceiling. The living room flaunts a ceiling with its edge band in yellow.

On the other side of the room, two wooden benches have been placed for extra seating. The floral wallpaper behind it adds a vintage touch to the room. We love how the pastel green blinds help to create a comfy vibe.
"Our designer Rajvi was able to conceptualise exactly what we imagined. We showed her pictures of our travels and reference images and finally, our home design came together, even down to the shades we liked."


– Manisha Raodeo, Livspace Homeowner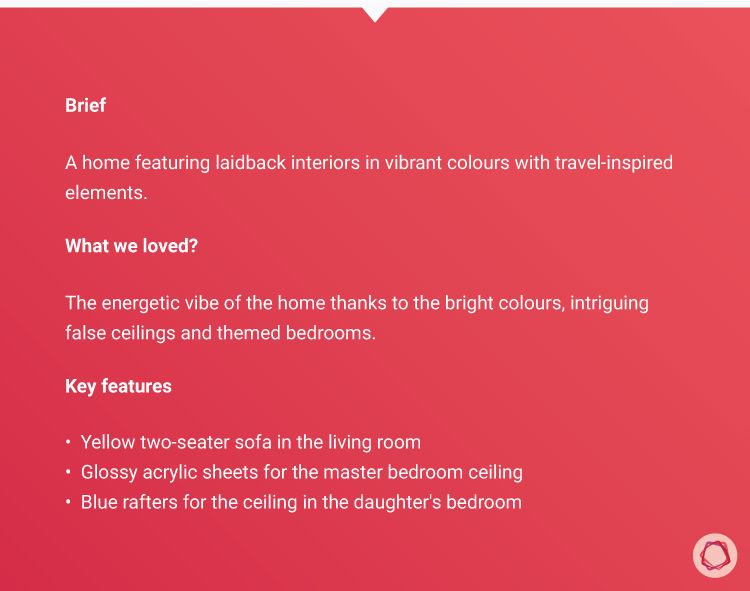 Lodha Wadala: A Bar Nook That Doubles as a Study

Mumbai homes are famous for their innovative ways to use space. Since their home already had a wall niche, Rajvi put in a compact bar unit that also doubles up as a work space or even for just a quick meal. The counter here is in onyx which is lit from inside. Just like the TV unit, the bar cabinets too are done up in white PU finish.

You could also see the basked-in-yellow foyer here. The space houses a shoe cabinet with two drawers to stash knick knacks. If you look carefully, you would also notice a niche at the top of the cabinet. This is to display souvenirs. The yellow painted wall is kept bare to eventually place a painting. The ceiling here too is distinct, with recessed lights.
Lodha Wadala: For the Love of Traditional Japanese Interiors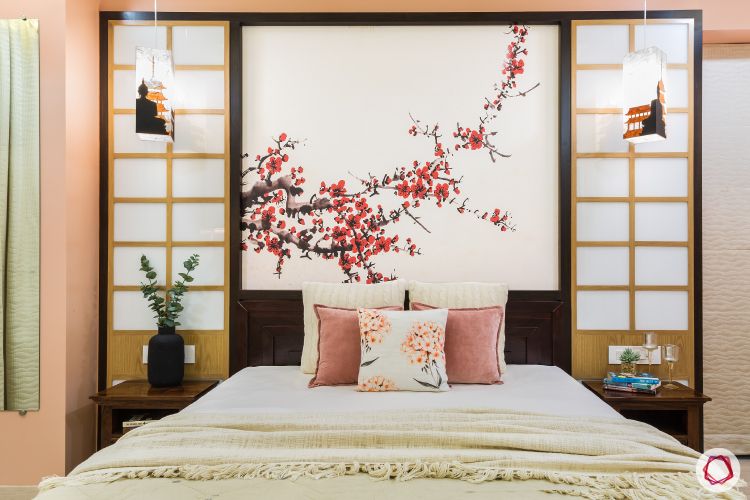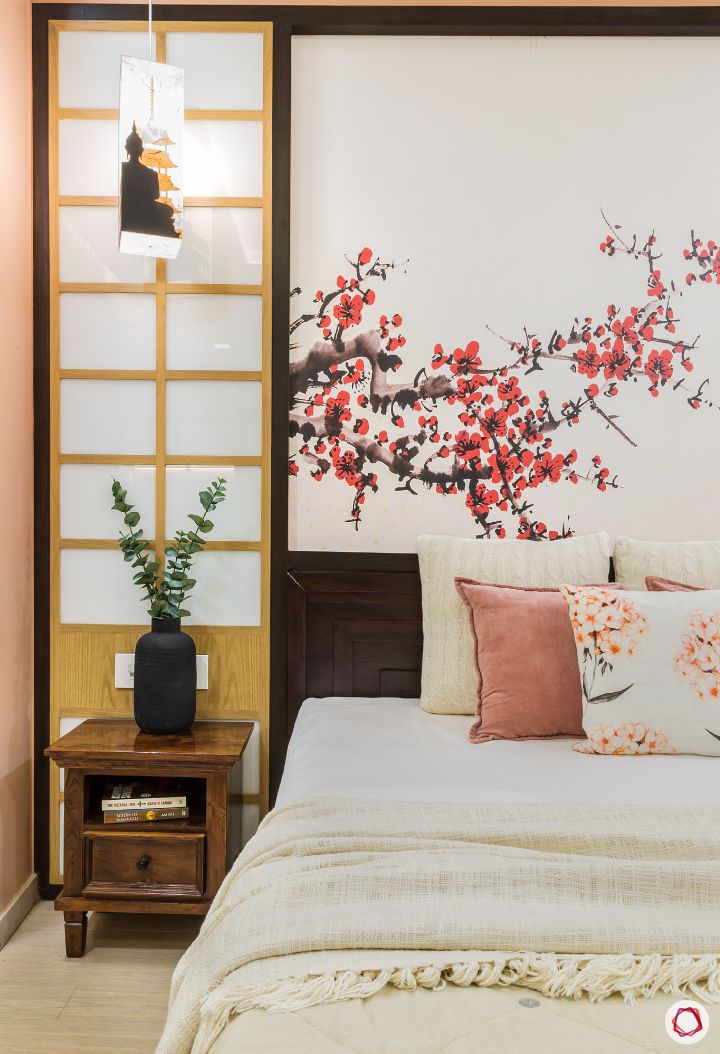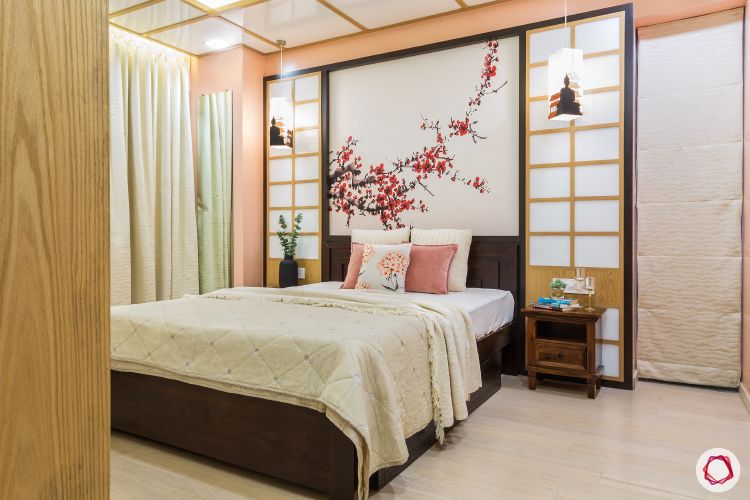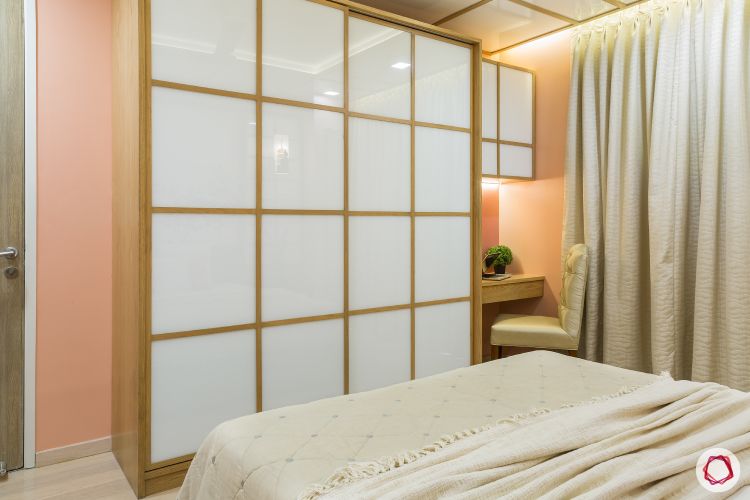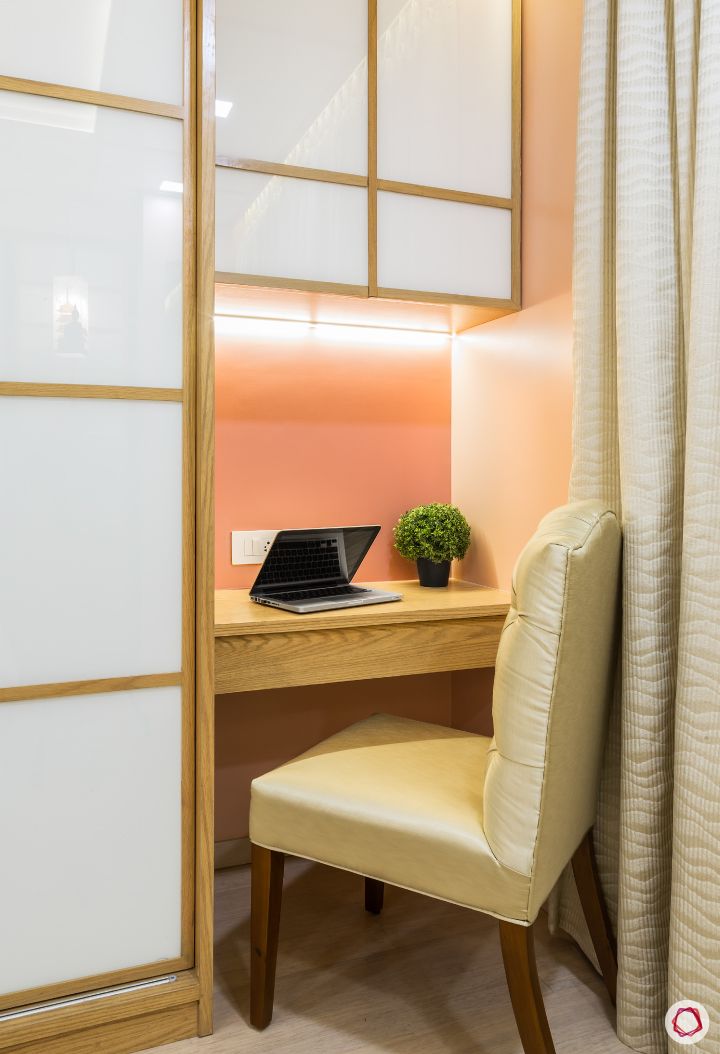 We love rooms that transport you to a different place! Since the family absolutely fell in love with Japan, they wanted the master bedroom to be an ode to traditional Japanese interiors. Whether it's the false ceiling done in acrylic sheets and wooden frames or the accent wall and wardrobes in veneer and backpainted glass, the room is full of intriguing elements. Two statement lights above the bed also elevates the ambience in the bedroom.

While the cherry blossom centre is a wallpaper, the black frame around it had to be specially created to align with the thickness of the headboard. The sliding door wardrobe ends with a cosy study nook. Also, doesn't the coral pinkish painted walls look gorgeous? We also love how it complements the neutral-toned blind.

Lodha Wadala: Greece Blues and Whites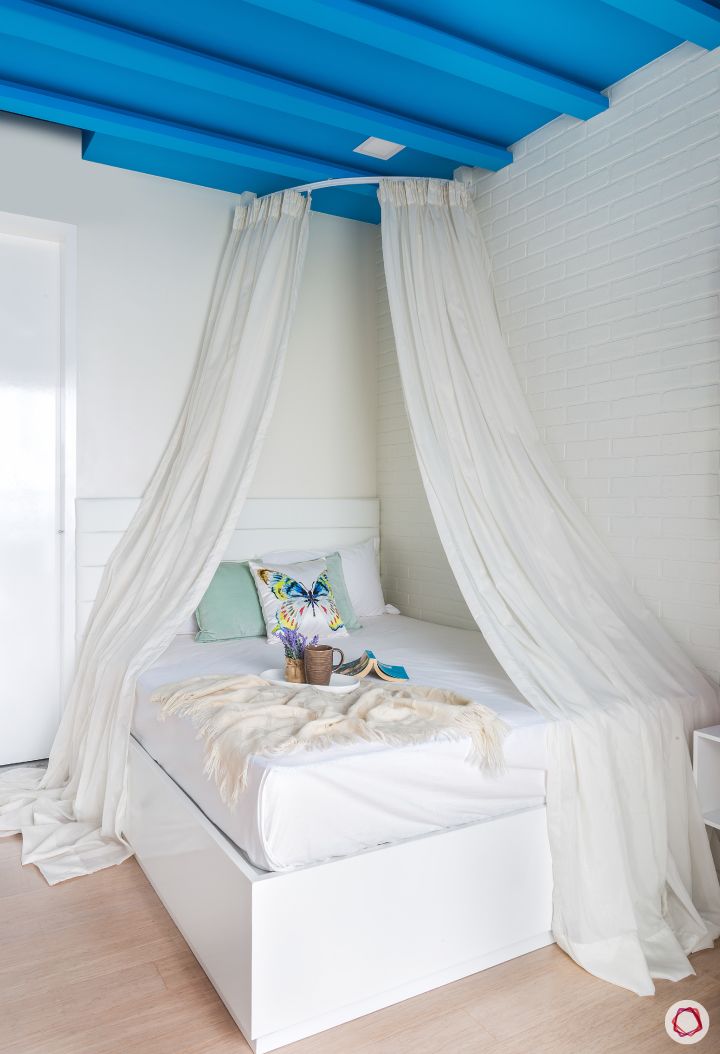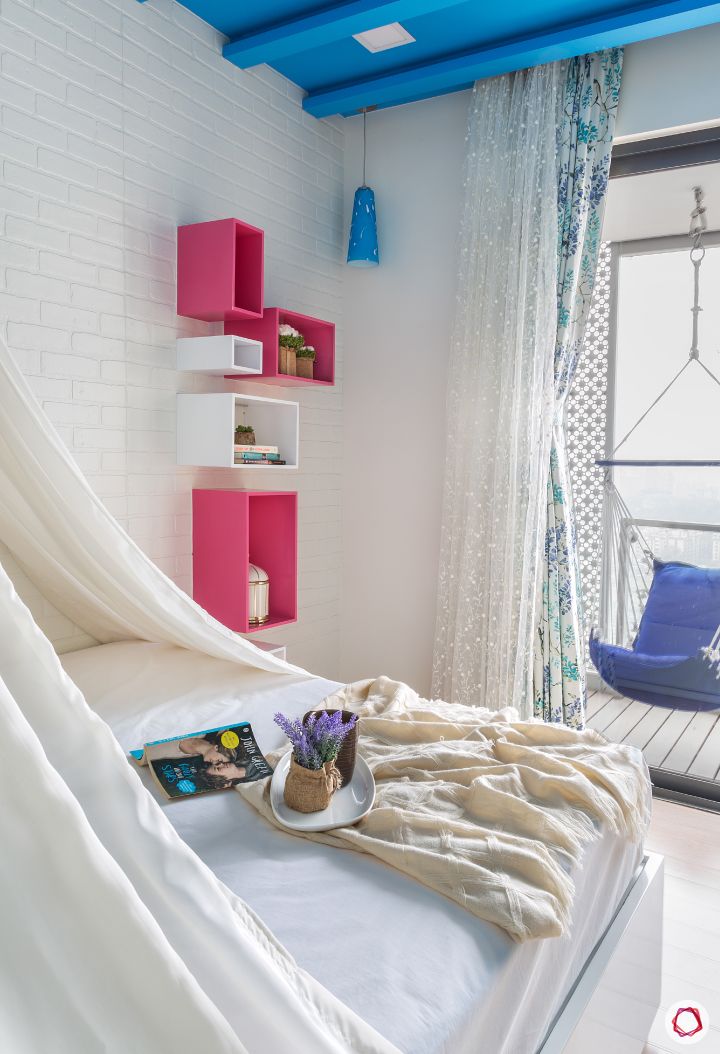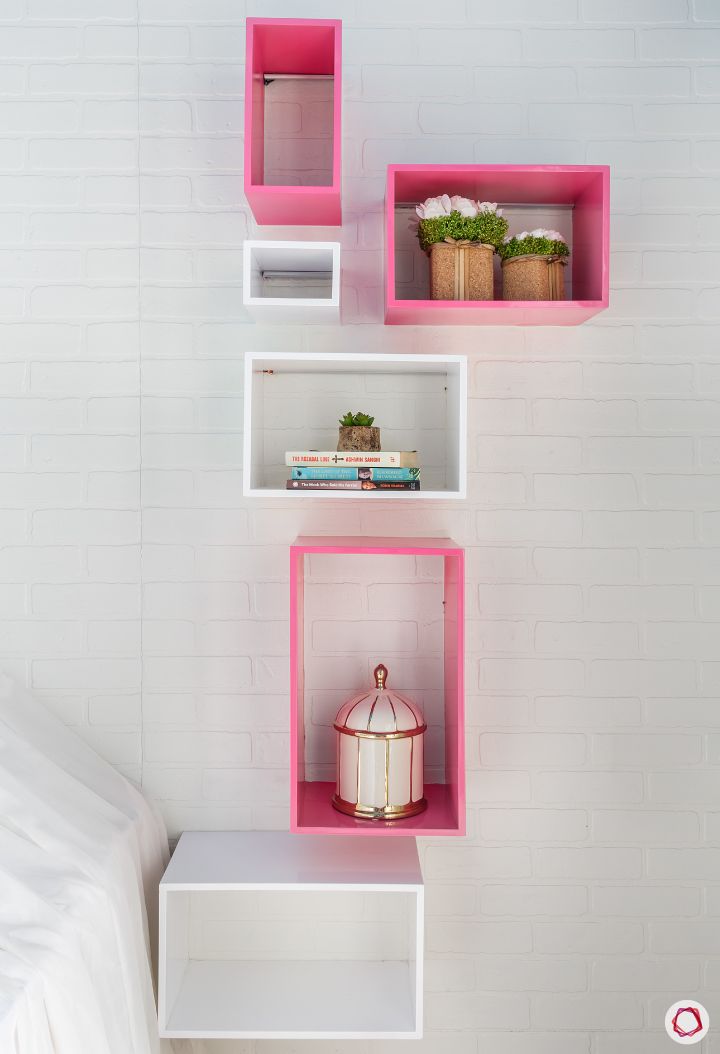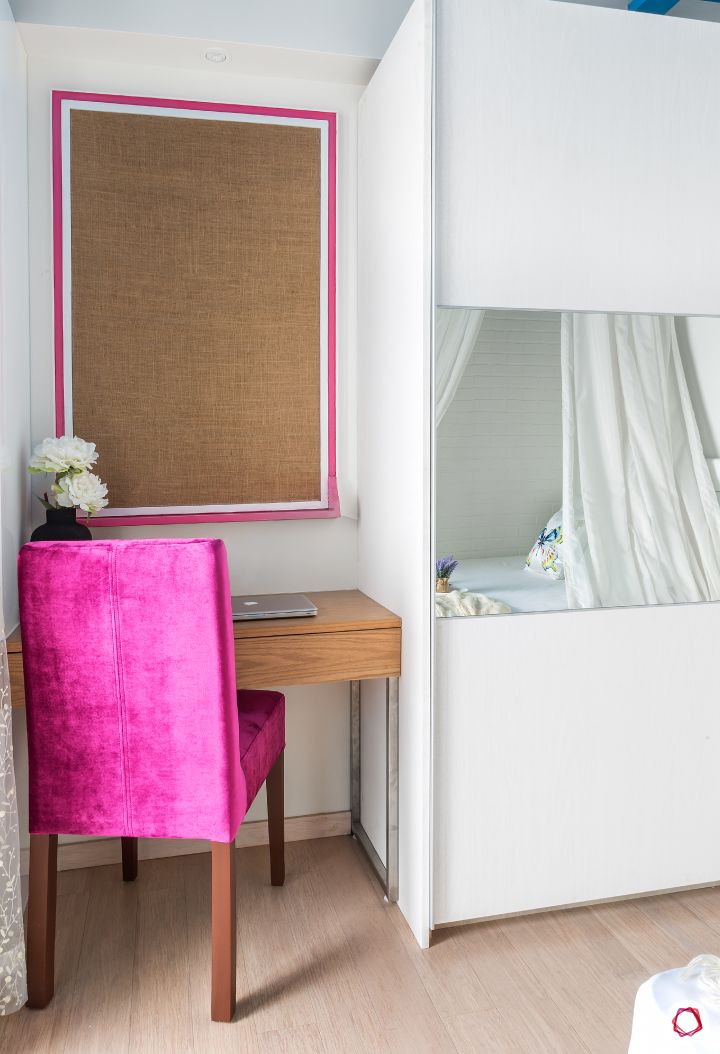 One of Anshruta's favourite trips was Greece. And of course, she wanted to bring the feelings back home! From the brick tile walls to the white drapes veiled over her bed, we love all the dainty elements in the room. Since Greece is popular for their blue dome buildings, Rajvi put in rafters for the ceiling in the same shade. In addition, a swing in the same colour has been placed in the balcony.
Notice the white and pink open shelves mounted on the wall? Since Anshruta saw plenty of bougainvilleas scattered around Greece, she wanted the same pink hue for her bedroom as well. "We wanted to keep the walls white and neutral, so we could add colour to the rest of the space," Rajvi explains.

Opposite the bed, stands a white membrane wardrobe with a mirror panel in the centre. In addition, a study table with bright pink upholstery also captivates your attention. Despite being compact, the bedroom is definitely crafted to impress!

Lodha Wadala: A Cuppa in Tranquility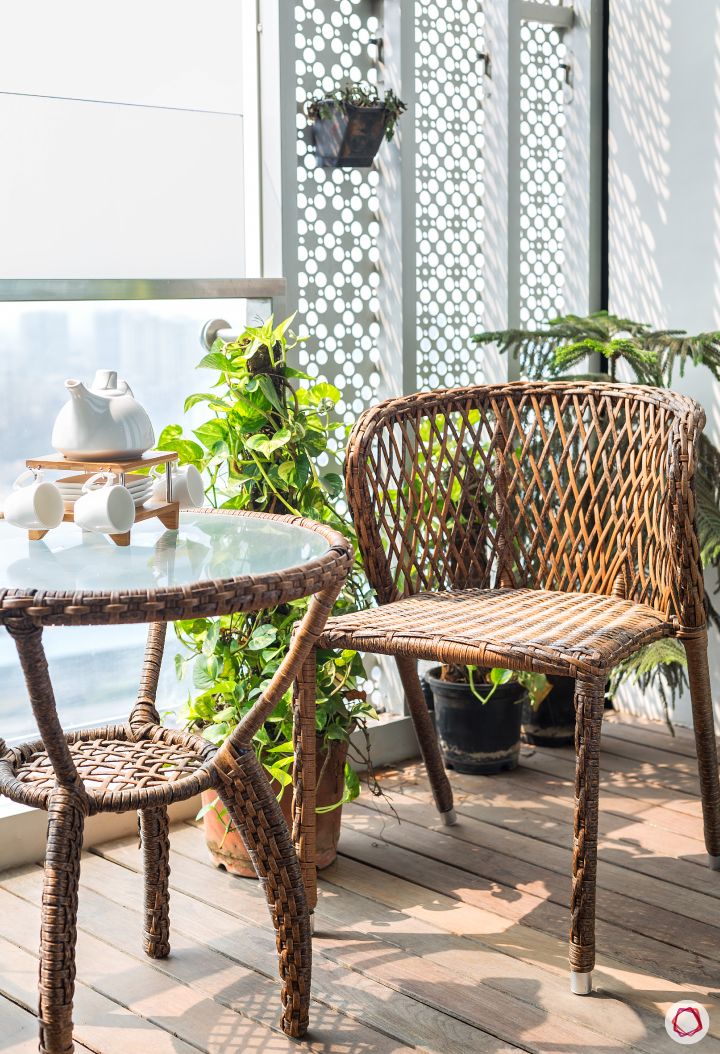 Manisha loves plants. So Rajvi dedicated the balcony to the perfect downtime nook. With a rattan table and a pair of chairs along with floor plants, the family comes here to have their morning tea.
"It was great working with Manisha and her family. They were particular about what they wanted and at the same time they were open to ideas. I loved designing their home. Every room has a story and a conversation. Every piece of furniture has a story behind it. The family had a story to say. And I interpreted it into design. It was a great experience."


– Rajvi Jhaveri, Interior Designer, Livspace
If you loved this travel-inspired home, take a look at this Luxurious Travel-Inspired 8BHK as well.

Send in your comments and suggestions.