A perfect fusion of rustic and contemporary notes to create a classy Mumbai home.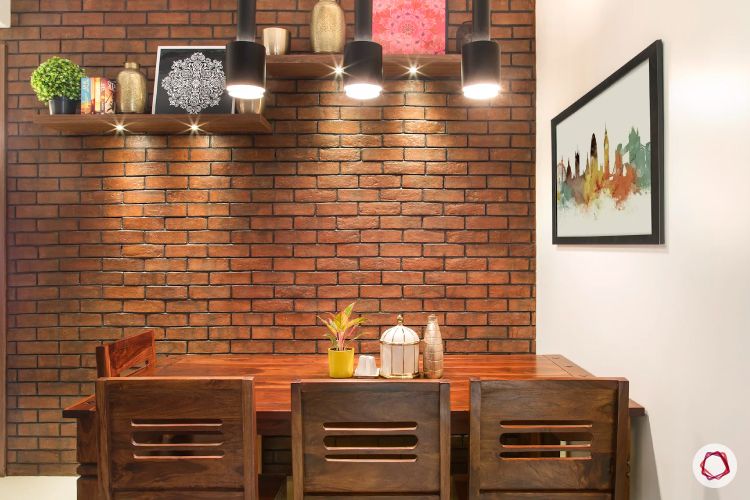 ---
Who livs here: Hemant Tiwari with his wife Neetu and two sons Satvik and Utkarsh
Location: Lodha Aurum Grande, Kanjurmarg, Mumbai
Home Size: 2BHK spanning 625 sqft
Design team: Interior Designer Sneha Kadam with Project Manager Trinath Kapal
Livspace service: Full home design
Budget: ₹₹₹₹₹
---
Hemant Tiwari, longed for a home that was warm and inviting with rustic tones yet somehow subdued to make it homely. On his pursuit, he ventured upon Livspace and met his designer Sneha Kadam.
Sneha made it a point to bring together the preferences of the family of four while creating a masterpiece. A design that was an extension of their personalities and would conform with practicality. She also had to work her way around the electric restrictions, which made the process often challenging.
Living in Splendour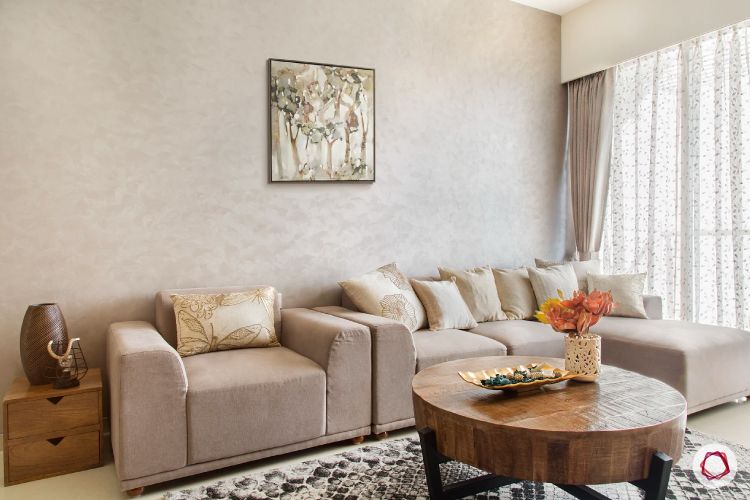 The living room greets visitors with cool tones of grey. The soft textures of cotton upholstery and delicate patterns of the curtains give the room an air of grace. To and add some warmth and functionality to the space, a sturdy centre table has been provided.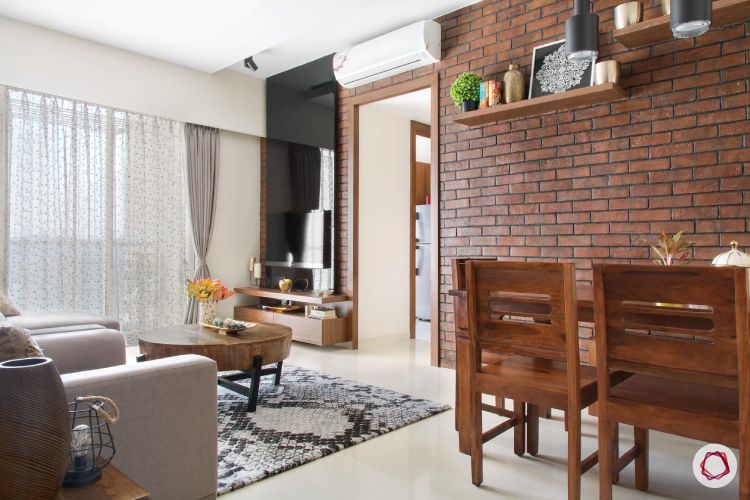 Another reason why Sneha chose to use subtle and understated tones in the living room was to contrast the industrial wall that envelops the opposite side. The sleek back-painted glass for the entertainment unit brings in a contemporary contrast to the otherwise rustic look of the space.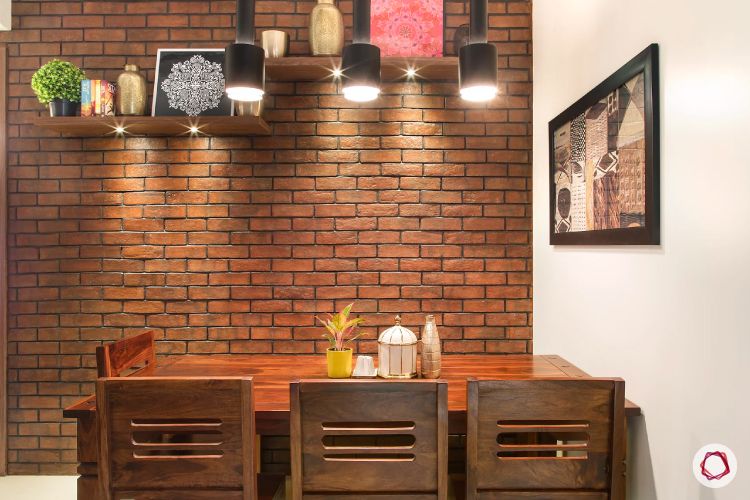 The dining room will remind you of your neighbourhood cafe — cool, comfortable and earthy. With brick-like tiles, wall shelves and fancy black pendant lights, this is easily the corner that everyone adores. The sturdy furniture completes the look by adding earthiness to the space.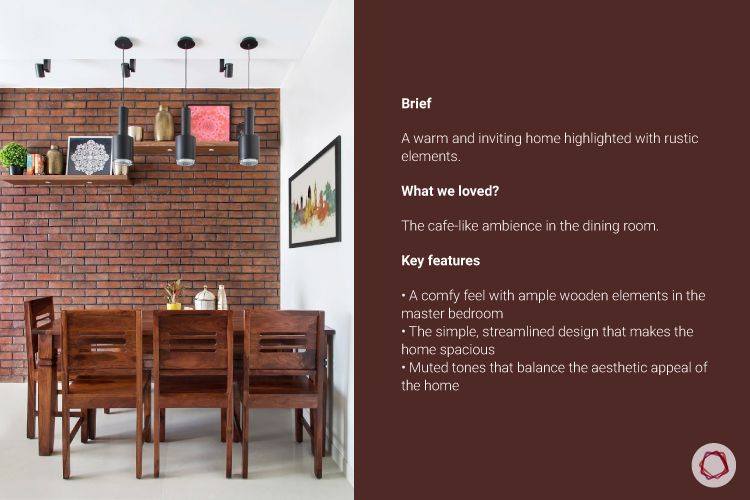 Where the Heart Resides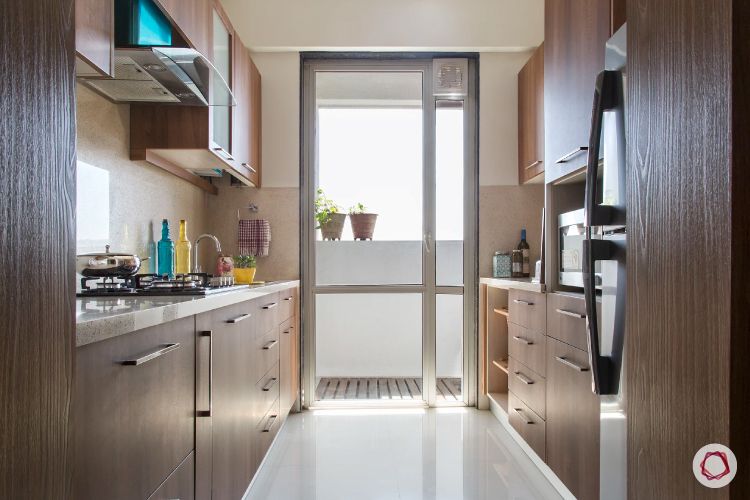 While Hemant's wife, Neetu, wanted a minimal and functional kitchen, he was keen on adding wooden finishes for a classy touch. Thus the kitchen is a fusion of these two ideas with light walnut finishes and sleek yet utilitarian cabinets.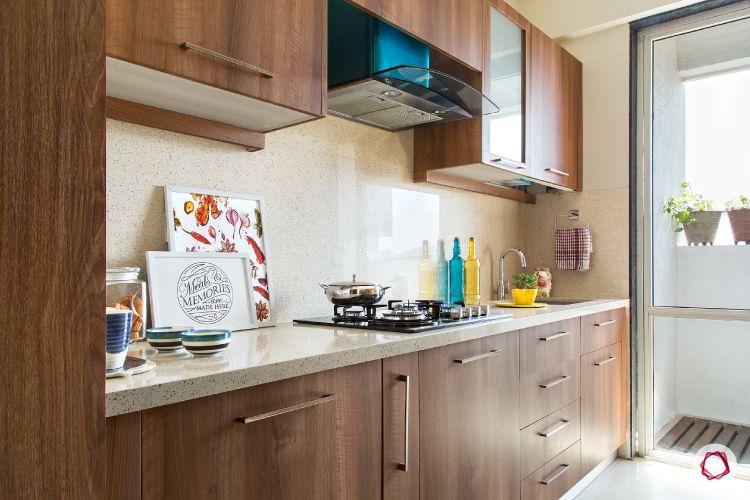 The glossy quartz in the countertop is extended to form the backsplash that invokes an airy and bright feel set against darker hues.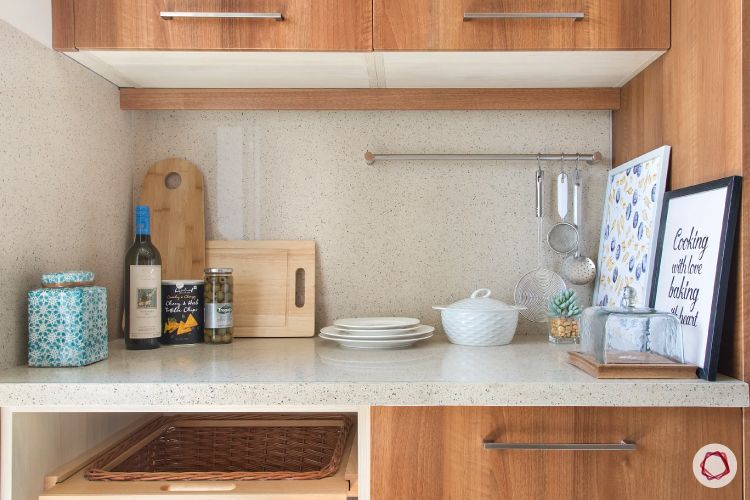 The kitchen was planned carefully to provide enough counter space to carry out all tasks — from chopping to washing and cooking without interruption.
A Warm Refuge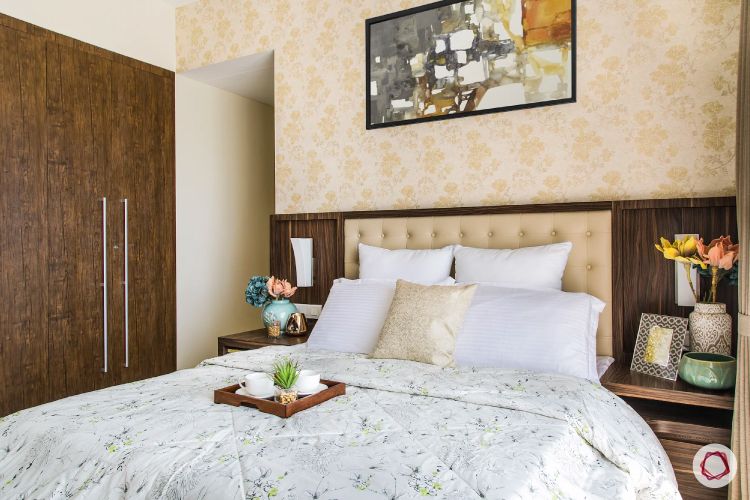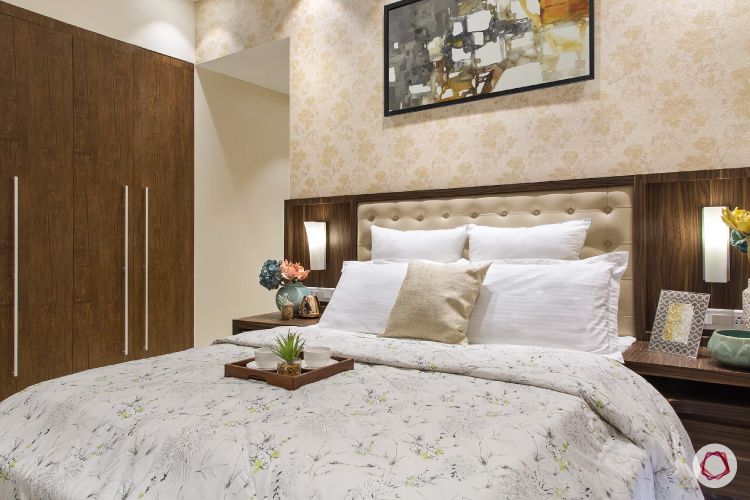 The bedroom also reflects Hemant's love for wooden finishes. Doused in warm browns and beiges, the bedroom offers a comfortable repose. The tufted headboard softens the appearance of the sturdy textures while the floral wallpaper adds elegance to the room.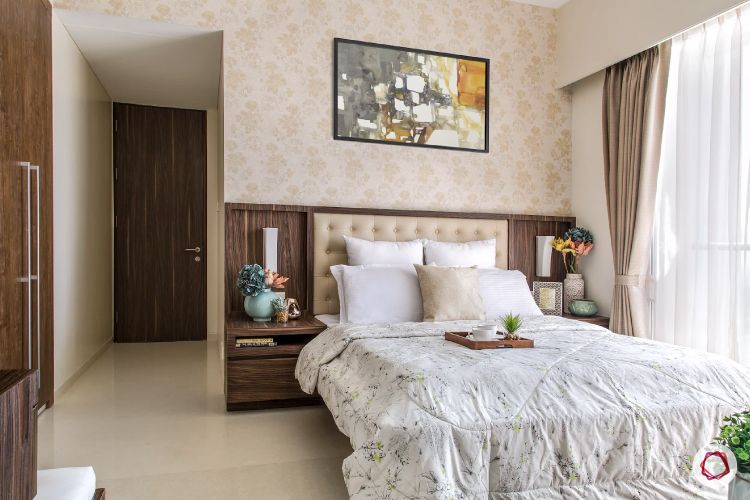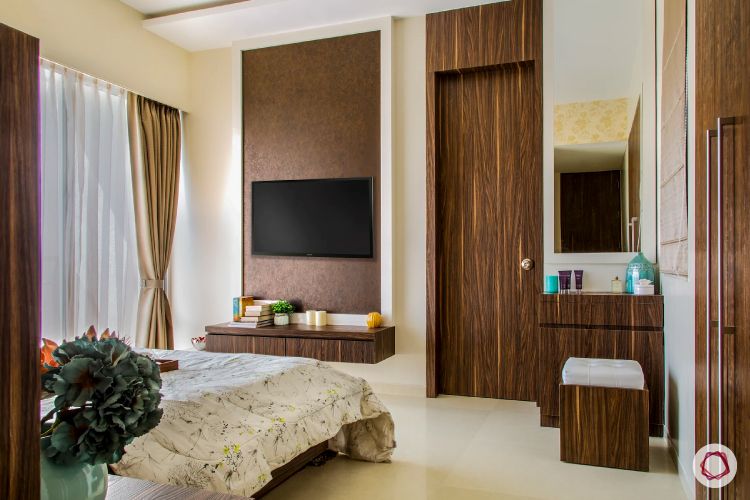 Sneha also added white trims and beige elements to brighten the room which otherwise would sport a gloomy look with dark tones. Each of these tones and textures used in the entertainment unit and dresser works harmoniously in bringing out a sophisticated taste.
Airy and Breezy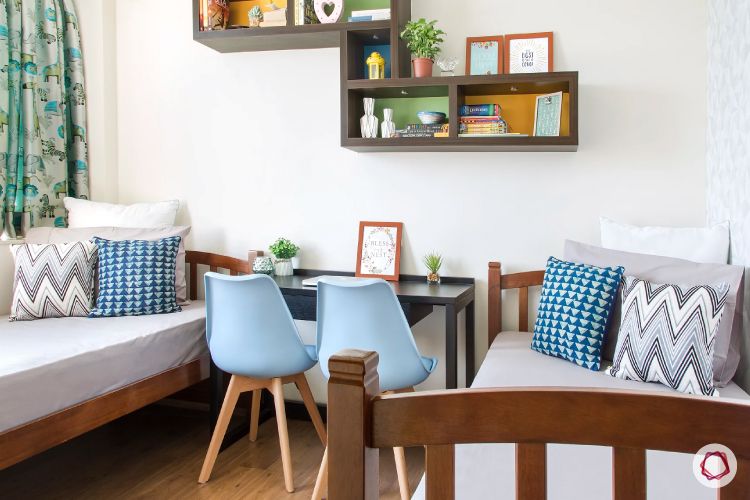 The kids' room has fresh and light feels with light blue elements and plenty of natural light. Though it is a compact room, Sneha was able to fit in two beds and a simple study table with ease. However, to make up for the storage, a Z-shaped shelf was provided overhead.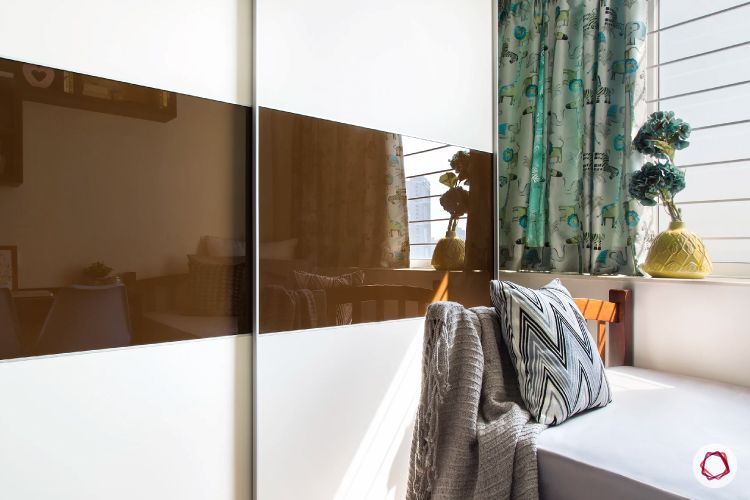 The room also has a cappuccino and white glossy wardrobe that uplifts the room's airy spirit. The sliding wardrobe is a sensible move for compact spaces such as this.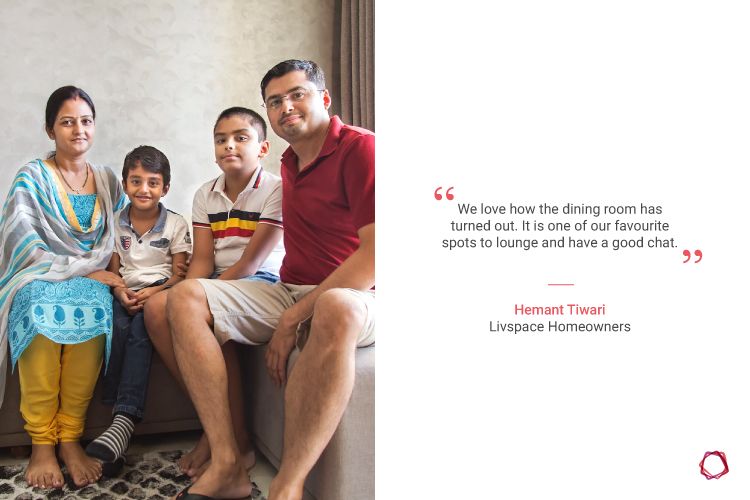 " I loved the process from start to end as it was a smooth journey. The Tiwaris were clear as to what they liked and encouraged my every decision."
– Sneha Kadam, Interior Designer, Livspace
Loved this home? You can view other Mumbai homes designed by Livspace here.
Disclaimer: All contents of the story are specific to the time of publication. Mentions of costs, budget, materials, finishes, and products from the Livspace catalogue can vary with reference to current rates. Please get in touch with a designer for more details on pricing and availability. 
— editor@livspace.com