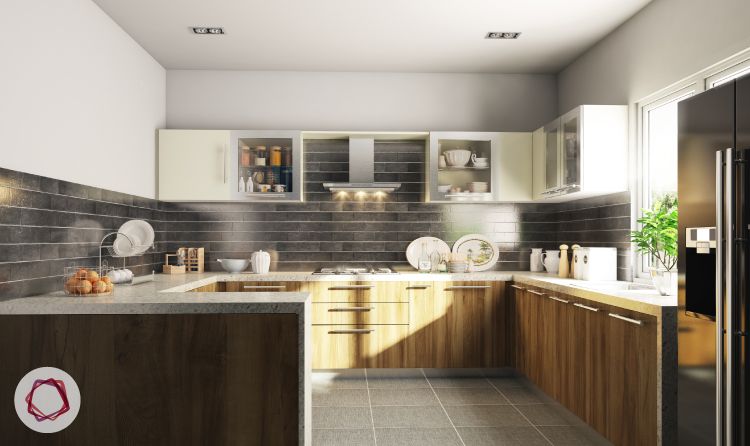 Besides housing cooking essentials and utensils, cabinets also help beautify your kitchen. Choosing the right kitchen cabinet finish can be crucial since it is usually a one-time investment.
Our master guide on kitchen cabinet finishes will take you through the durability, maintenance and quality of available finishes — UV, acrylic, membrane and laminate — so you can make an informed choice.
Laminate finish
A commonly used finish for kitchen cabinets, laminate, is made by pressing together thin layers of flat paper and plastic resins. This is done in factories using high pressure automated machinery.
The upper layer is then printed with a decorative pattern or color.
Pros
Available in matt, glossy and ultra glossy finishes.
Offer variety and durability at a significantly lower cost.
Comparatively more hard-wearing and durable than other finishes.
Moisture and heat-resistant.
Easy to clean
Cons
While laminates are available in glossy options, they are not as reflective as the acrylic finish. As a result, the overall look is muted and less striking.
Ultraviolet finish
Ultraviolet (UV) finish is increasingly gaining popularity in Indian homes as this kitchen cabinet finish offers a reflective glossy look. The process of creating UV cabinets involves nine layers of UV coating being coated on engineered wood boards. This process happens over a period of 12 days and results in seamless cabinets that leave a lasting impression for years to come.
Pros
Available in several colors and gloss options.
Extremely durable and is resistant to heat, scratches or dents.
The layers are well coated on all sides of the board, which makes it water-resistant as well.
Cons
Since the manufacturing process is elaborate, UV finish is priced higher than laminate or membrane.
Acrylic finish
Acrylic is a non-toxic, reflective high-gloss finish, which gives cabinets a perfectly smooth appearance. It's available in a wide range of colors and will give a mirror-like sheen to your contemporary kitchen cabinets.
Pros
It's a premium high-gloss option that's preferred for high-end kitchens.
They are available in a wide range of vibrant colors, which retain their hue and brightness for years.
Scratch resistant acrylic finishes don't tarnish, de-laminate or fade away with time.
Cons
Acrylic cabinets are the most expensive in the range.
Membrane finish
Available in matt and high gloss, membrane foils give a unique and consistent look to your modular kitchen. Poly vinyl chloride (PVC) foils are pressed under high pressure on medium-density fibre panels and are not glued together like the UV or acrylic counterparts. Membrane finish appeals to most homeowners as it sits well in traditional and contemporary homes
Pros
Available in various colors and textures like matt and gloss finishes.
It's traditional and cost-effective attributes make this finish a popular choice in most homes.
Cons
The foil peels off with time and constant usage.
When exposed to sunlight, it can result in discoloration.
Check out kitchen designs: