Typically, the kitchen in Indian families is used by one or two people. Thus, the kitchen interiors too can be tuned to the way each individual uses the space. However, the Guptas from Defence Officers Apartment, in Dwarka, New Delhi, presented our design team with a unique challenge. This was a family full of cooking enthusiasts so the kitchen was to be used by no less than 3 people, Charu Gupta, her husband and mother-in-law were equally adept home chefs with different personalities. Plus, the family entertained a lot so their kitchen interiors had to account for extensive hosting too!
If you are trying to design a kitchen for more than one cook, this family's kitchen could serve as your prototype! Let's take you through the finer points of the ingenious design plan created by Livspace designer Nilisha Keshri.
#1: An accommodating layout
To begin with, this kitchen was just about 100 sq ft in size. Also, it was a narrow space, so a parallel kitchen was the only viable layout option. We extended the kitchen to include the utility area all the way up to the window so that there was enough room to move around if all the home chefs were in the kitchen together.
If you have a small kitchen too, here's how you can make it look bigger!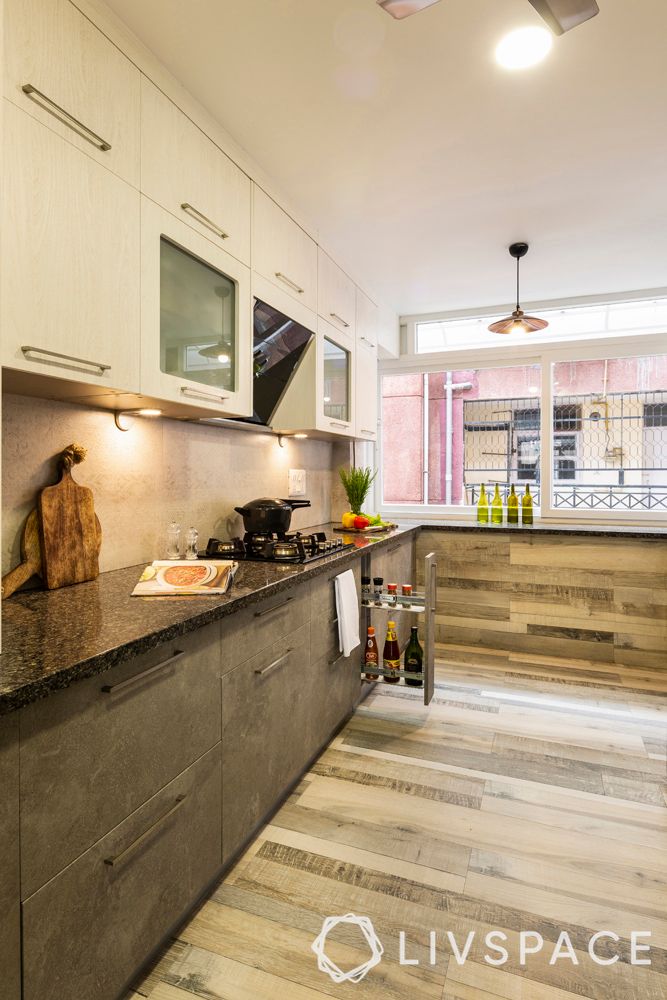 #2: A clutter-free countertop
Just space for three bodies won't do the trick. Afterall, the three people also need counter space to work! Keeping this requirement in mind, the kitchen interior includes extra countertop space added by the window sill. This space can also be used to keep cooked food before it is taken out to serve guests.
Find out what countertop to choose for your kitchen and personality.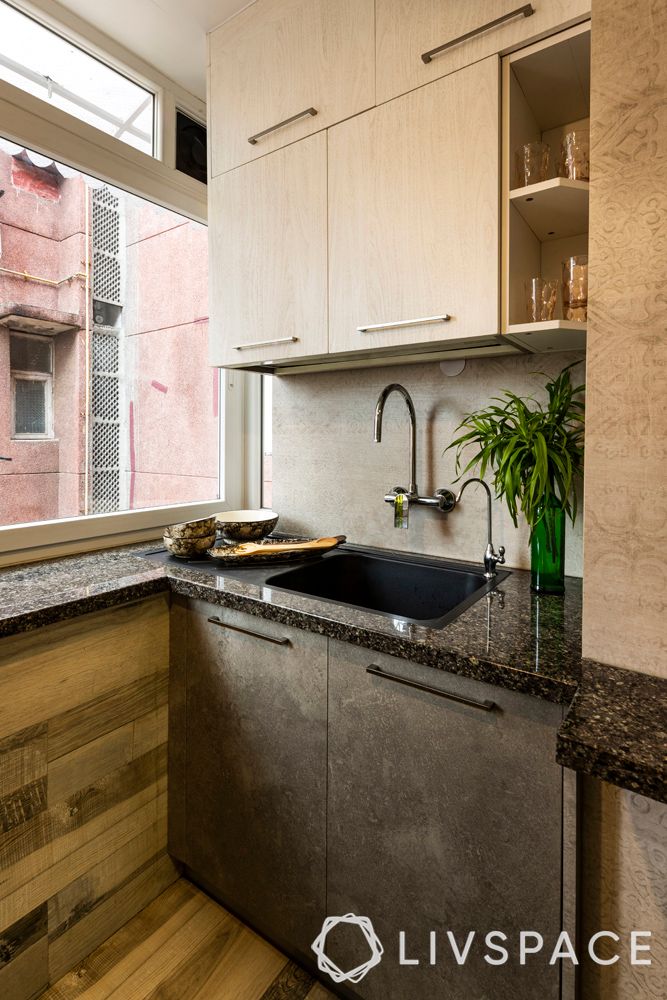 #3: Your kitchen interiors need a semi-open kitchen design
When more than one chef is cooking up a storm in the kitchen, there is bound to be more smoke and sizzles. So an open kitchen was out of the question. However, as the family hosts frequently, the kitchen's easy access to the dining area was crucial. The solution? A sliding glass door to keep odours at bay that turned this into a semi-open kitchen. Also, the wall-to-wall window at the end of this kitchen helps get rid of smoke and smells, thanks to cross ventilation.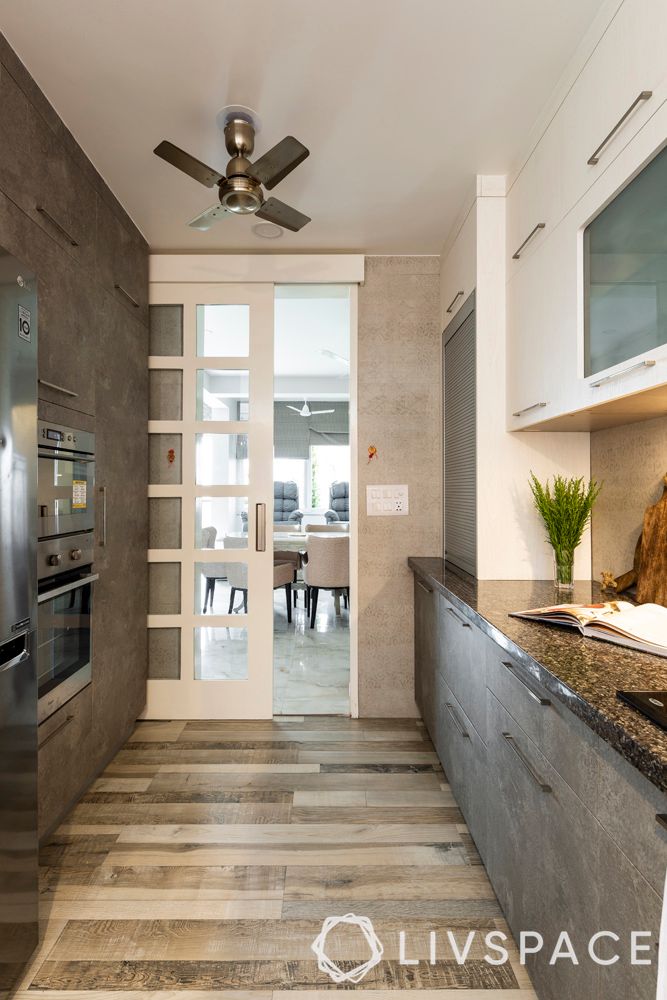 Kitchen accessories to sort things into their place is a given for most regular kitchen interiors these days. However, in a kitchen used by more people, it takes on added importance. When more than one person cooks in a kitchen, the chances of placing ingredients where they don't belong is high. The pantry pull-out is a classic solution for this problem because it ensures that all your groceries stay together in one cabinet. Similarly, bottle pull-outs ensure that all the bottles including sauces and liquid ingredients are kept together. To summarise, dedicated spaces help keep things in order for any kitchen.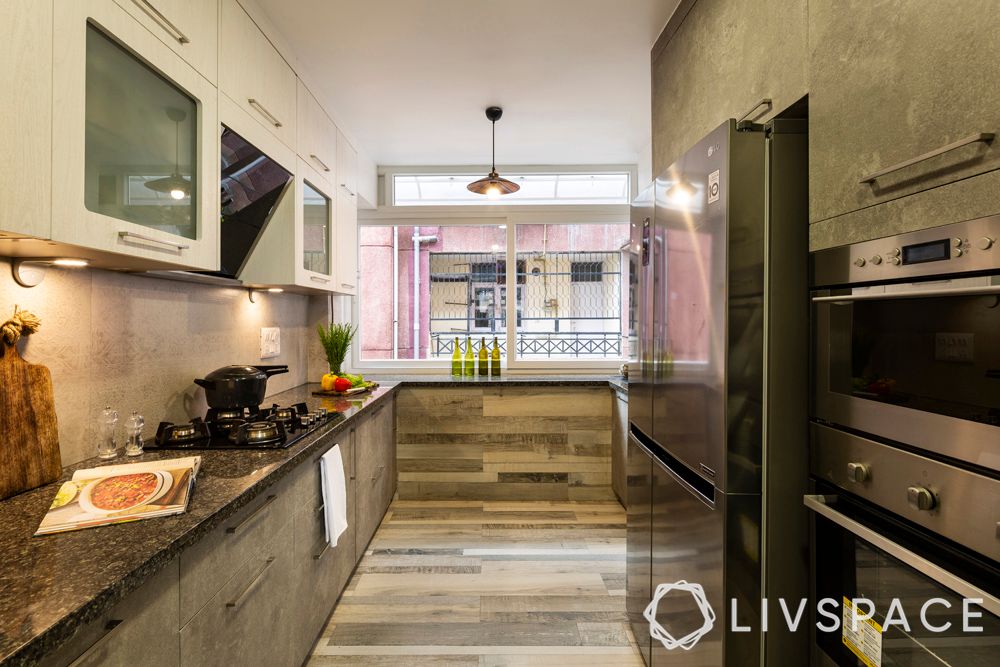 If you found this kitchen design useful, here's another kitchen transformation story worth your time!
Write in with your suggestions and comments to editor@livspace.com