Bringing in natural light and air to your interiors has many advantages — it improves visibility, is beneficial for your health and also creates the illusion of a larger space. With large kitchen windows, you can improve your cooking experience at home. They make for bright, airy spaces that you can comfortably work in while saving on electricity during the day.
Here are 5 modular kitchen designs which prove that large windows are an impactful and impressive choice.
Large kitchen window design #1
Kick-start your day with a hearty breakfast in this bright, spacious kitchen that has a lovely cottage country-style vibe with white casement windows. The two large windows are placed such that the natural light plays beautifully off the tiled walls and wooden surfaces.This blends effortlessly with the neutral scheme of the kitchen making it an absolute winner.
Large kitchen window design #2
The wide window in this charming kitchen lets in plenty of natural light, making cooking so much more pleasant. Sunlight accentuates the beautiful wooden texture of the cabinets, adding brightness and warmth to the space. The window sill can house indoor plants, which will grow well in sunlight and also brings in a refreshing touch of green to your kitchen.
Large kitchen window design #3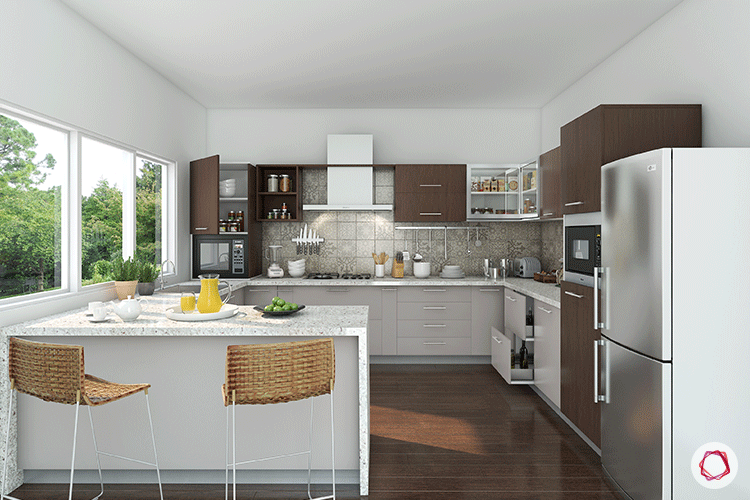 If you're on a higher floor, having a large window is a plus point in terms of the outdoor view and ventilation. After all, who doesn't love a good airy kitchen? This well-designed kitchen has a breakfast bar positioned right by the window, so that you can sit down to quick meals or tea-time chats while taking in the serene view of treetops and a clear blue sky.
Large kitchen window design #4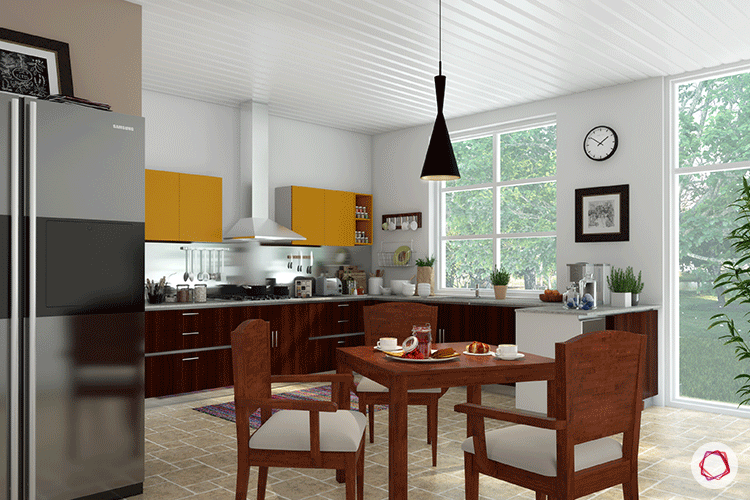 We love how natural light has swathed this kitchen with sheer warmth and brightness. A glass door with a transom on top allows for ample daylight to stream in. The large casement window adds to the kitchen's appeal and is also cleverly positioned to give you a view of your garden.
Large kitchen window design #5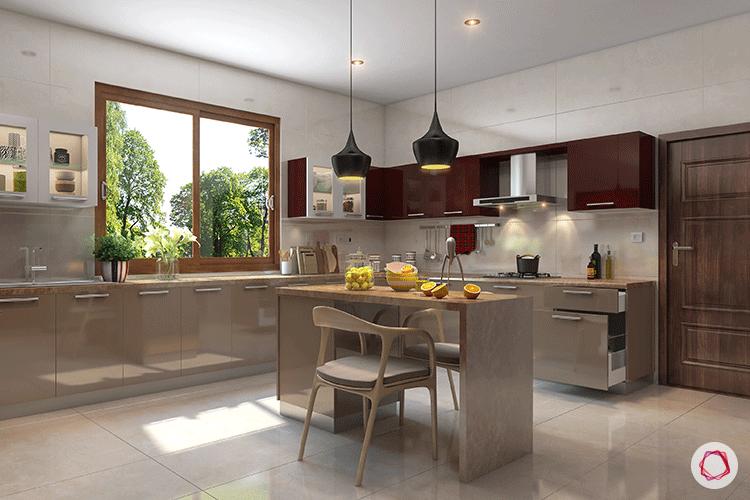 The placement of the window in this large kitchen couldn't be better – it allows for a stunning view for the outdoors without compromising on storage space. Natural light makes it easier to spot things, especially when you're cooking. The light also enhances the beauty of the polished and gleaming cabinets which are in complete sync with the floor.
Depending on the layout and designs you choose, a large kitchen window can become a functional point in your cooking space. So let there be light and lots of it!