What's the one room you can't wait to retreat to everyday? For us, it's the bedroom. It is estimated that we spend a third of our lives in our bedroom so your master bedroom design deserves nothing but the best. However, the tricky part is designing a peaceful sanctuary away from the commotion of the outside world which can be overwhelming at times. Don't worry, we have got you covered! Here's a comprehensive guide on all things bedroom considering countless styles, space, furniture and more.
In honour of the most relaxing room in the home, we bring to you everything you need to know about designing the master bedroom plan in your home.
Master Bedroom Design #1: Furniture Essentials for a Bedroom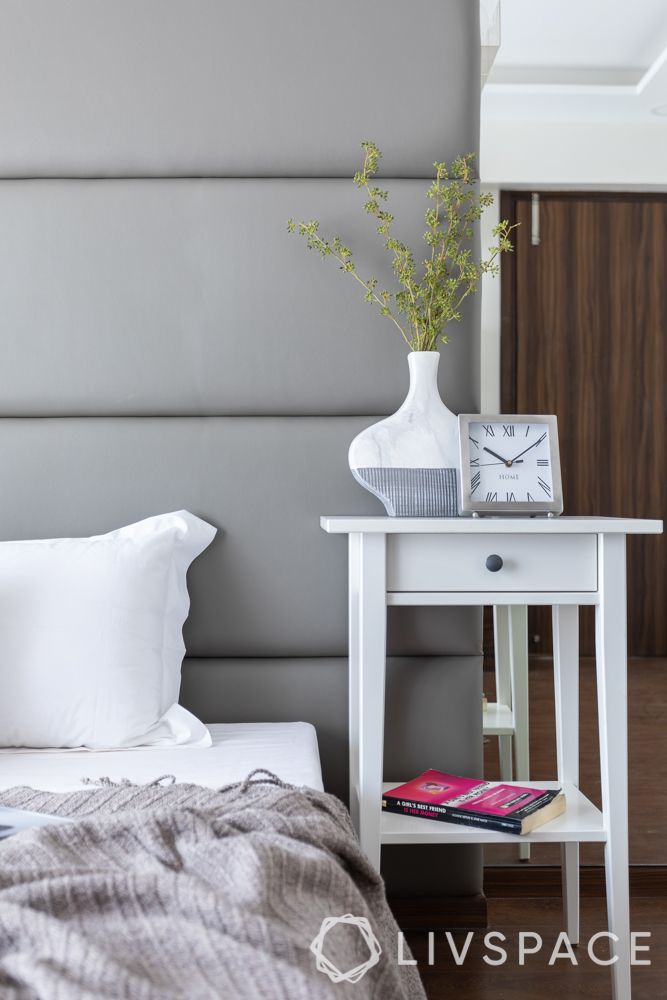 Before you get down to deciding which drapes suit the theme of your room, you must pay attention to the basics. For example, the bed should be of the right size and durable. Along with it, a utilitarian bedside table and spacious vanity will only add to your convenience. Don't forget a wardrobe that is sleek and high on storage. Lastly, make it dreamy with seating for a snug reading nook with plenty of ambient lighting. The Rule of Five for Bedroom Furniture will guide you through the process of buying a bed to picking out wall sconces.
Moreover, these are 9 Things Your Bedroom Needs Right Now so don't skip out on it.
Master Bedroom Design #2: Bed Frames & Styles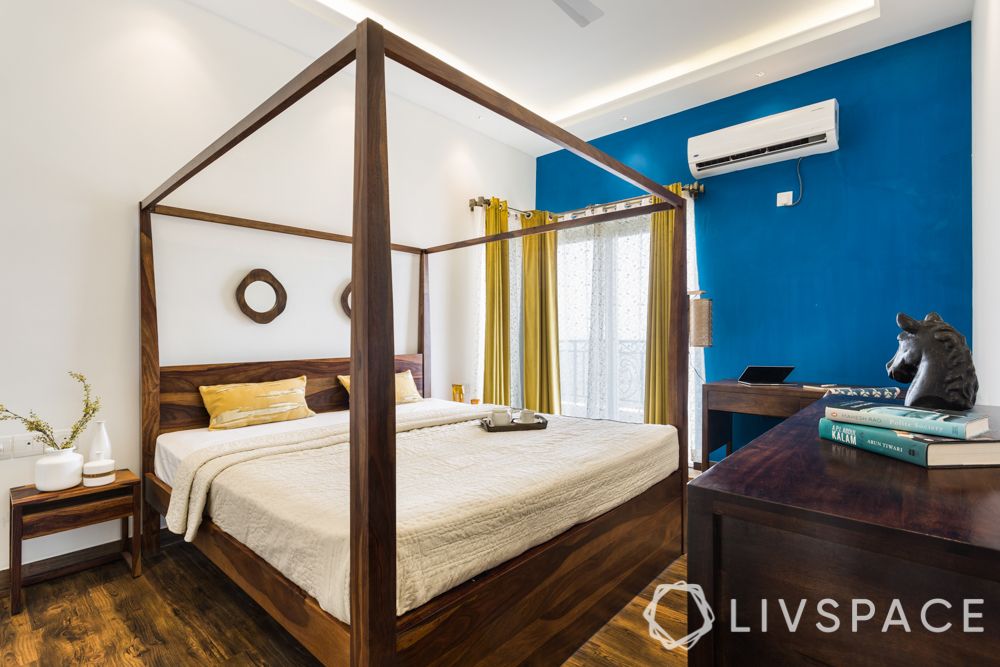 The perfect bed makes the perfect bedroom. With countless designs, picking a bed that will last you a long time can be a challenging task. From four poster beds to murphy beds, the space in your room will help you settle on one type.
If you're overwhelmed by the number of options before you, pick from any of these popular designs:
Wing-back Beds
Panel Beds
Sleigh Beds
Slat Beds
Open-frame Beds
Four Poster Beds
Canopy Beds
Murphy Beds
Floating Beds
Trundle Beds
Cottage Style Beds
Bunk Beds
Sleeping Lofts

Here's a comprehensive guide to help you decide which of these beds suits your needs the best: We Bet You Can't Name More Than 4 of These 13 Iconic Beds.
Master Bedroom Design #3: Headboard Designs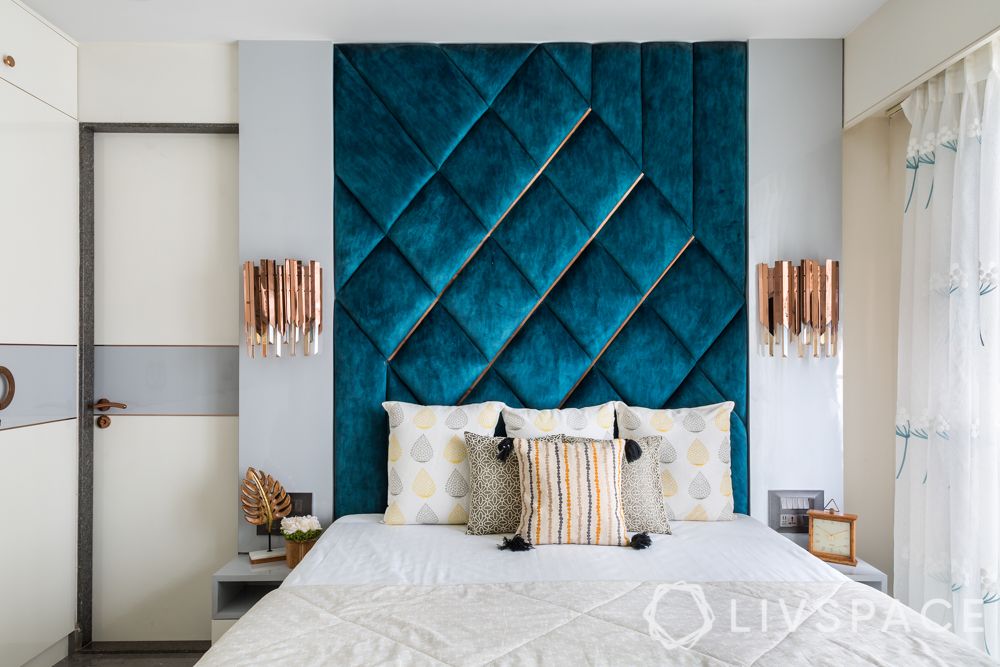 Sometimes a bedroom just calls for a stylish element. A headboard most definitely not an essential piece of furniture but it's a detail that can complete a bedroom.
You can opt for carved wooden headboards for a touch of ethnicity, perhaps even a bohemian chic vibe. While a mesh design will remind you of idyllic days with your grandparents so you can embrace the bucolic aesthetic. However, a headboard made of wooden panels is sure to act as an eye-catching focal point, especially in compact bedrooms. A full length velvet headboard will transform your blank walls into a sophisticated bedroom wall with its floor-to-ceiling design. Subsequently, a POP headboard lends a romantic vibe to contemporary bedrooms. Whereas, the most common tufted headboard add elegance to any space and can be found in a number of colours.
With so many designs to pick from, we've narrowed it down to 10 Headboard Designs to Change the Way Your Room Looks.
Master Bedroom Design #4: All Things Wardrobe
How to design a wardrobe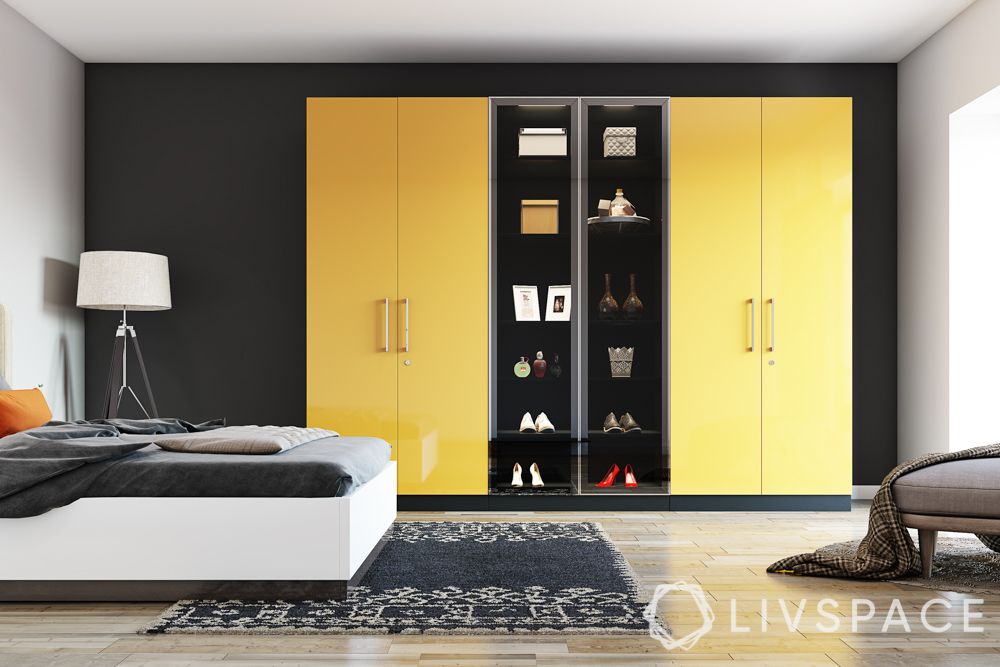 Designing the wardrobe can be a herculean task, as it is fixed and cannot be shifted to make space — unlike the bed. Firstly, if you have the space for it, you'll need to assess the area before you can fit a wardrobe. For a two-door swing wardrobe, a minimum space of 800 mm is required, i.e., 2-3 ft. But if you want a two-door sliding wardrobe, your room should spare a minimum of 6 ft. Then, pick an ergonomic size for your height. Moreover, if you require more storage, then opt for lofts as well. Move on to picking the materials for the carcass and shutters and top it off with choosing between finishes like laminate, membrane, UV, acrylic, aluminium with glass or aluminium with lacquer. Lastly, invest in durable accessories for your wardrobe like, belt trays and pull out hangers.
So, here is an in-depth guide on to How to Design the Wardrobe You Need. It is sure to help you get the perfect wardrobe to suit all your requirements from functionality to aesthetics.
Learning about Wardrobe Materials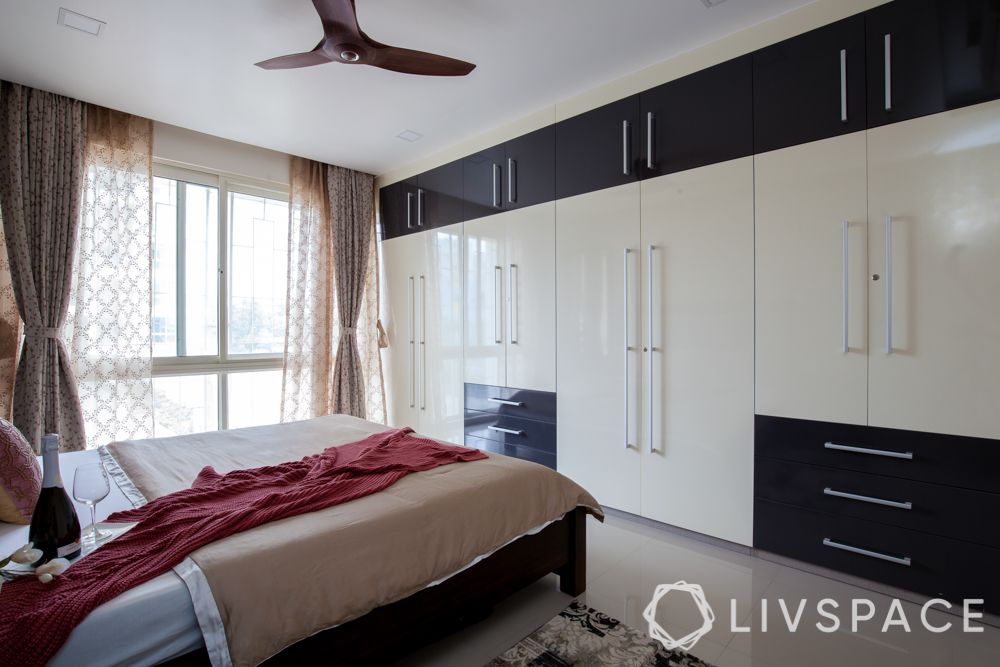 A wardrobe might be used for storage in the end, but that doesn't mean it can get away with looking plain and dumpy. Pick the right material for your needs and make it stylish!
Here's a list of wardrobe materials to choose from:
Plywood: It is one of the most durable and robust substitutes for solid wood. This material is made by putting together sheets upon sheets of wood veneer.

MDF: It consists of wood residue that's been hammered down into sheets. Since fine particles are used in the making, the resulting surface is smooth and even, without bumps and knots. This makes it the best wardrobe material for painting on.

Particleboard: It is also engineered from waste wood chips and sawdust, making it yet another eco-friendly option. It's much lower priced when compared to MDF and plywood.

Glass: A popular choice among contemporary homes, glass is resistant to most wear-and-tear and can be wiped down for fingerprints and stains.

Solid Wood: It's not as customisable as other options when it comes to colour and finishes. But many owners prefer it that way. Solid wood is heavy and can be susceptible to scratches and nicks if not taken care of properly.
So, the next time you're in conversation with a carpenter, our tips will keep you up to date with Basic Materials that can Spruce Up Your Wardrobe.
Selecting a Wardrobe Finish
With a sea of wardrobe finishes and combinations, picking one that just looks good isn't enough. We have broken down 5 Flawless Finishes We Love for Wardrobes so you can make an informed decision. Take a look:
Veneer: It gives off the look of real wood without actually consisting of much of that. That makes it both environmentally friendly and easy-care.

PU Paint: It has a spectrum of sheen levels, from dull to high-gloss, giving you a window for further customisation.

Mirrors: It opens up the room and reflects ambient light to make it seem more spacious. Due to this, mirrors work extremely well in compact homes or cramped spaces.

Laminate: It is durable and easy to maintain, making it ideal for everyday-use furniture such as wardrobes. It's highly resistant to scratches, meaning you might get away with using it in children's rooms or walk-ins.

Acrylic: It one of the premium most finishes for cupboards in terms of cost. The glazed finish that you get from this material is glamorous and also very easy to maintain.
Design Guide for a Man's Wardrobes
The best men's wardrobe design accounts for lifestyle and career choices to maximise storage and efficiently utilise available space. For example, in many cases, men may not need ceiling-to-floor hanging spaces. Take this opportunity to include double hanging rods in men's wardrobe design to maximise the use of vertical space and increase the volume of storage. A useful addition are cubby holes for clothes that can be folded. Additional accessories like divided drawers for belts, hooks for hats and tie hangers for ties help in organisation.
With these 7 Essential Features of Men's Wardrobes, you can create distinct spaces for everything from suits to hoodies.
Design Guide for a Woman's Wardrobes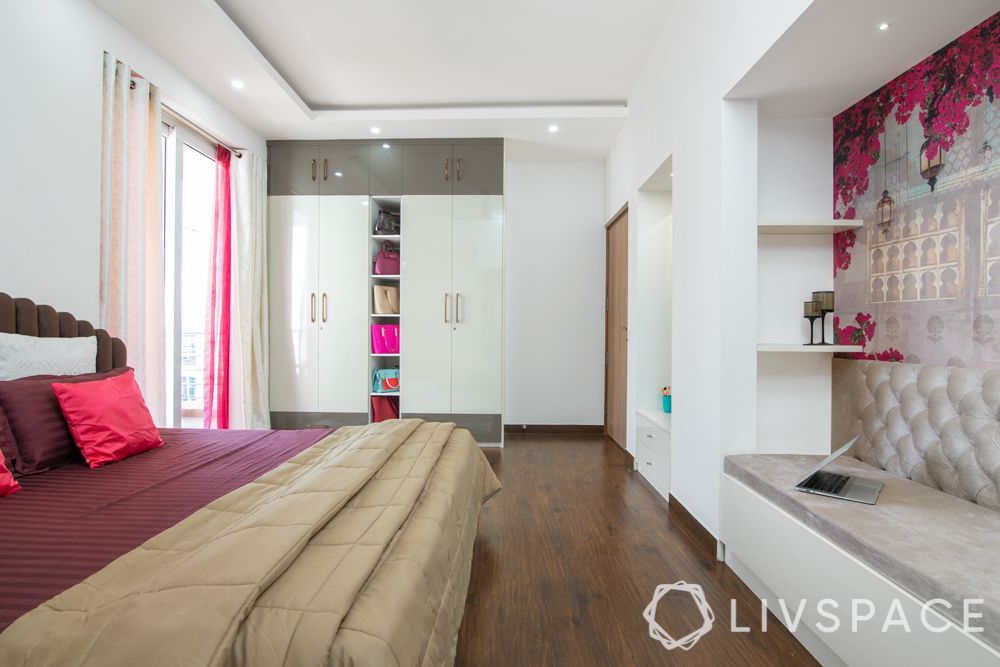 With homes and apartments getting smaller, creative use of space becomes essential. In this case, open shelves and cubby holes are perfect to display designer handbags that double up as decor elements. An open loft in a walk-in wardrobe can also accommodate rarely used, larger tote bags that take up more space. Therefore, if you are looking to customise your wardrobe, we'll tell you work around hanging space, drawer space, display shelves and mirror panels. Read this comprehensive list of ideas on key wardrobe styles for women, and get ready to make a change! Here's How to Design a Woman's Wardrobe.
Walk-in Wardrobes for Compact Rooms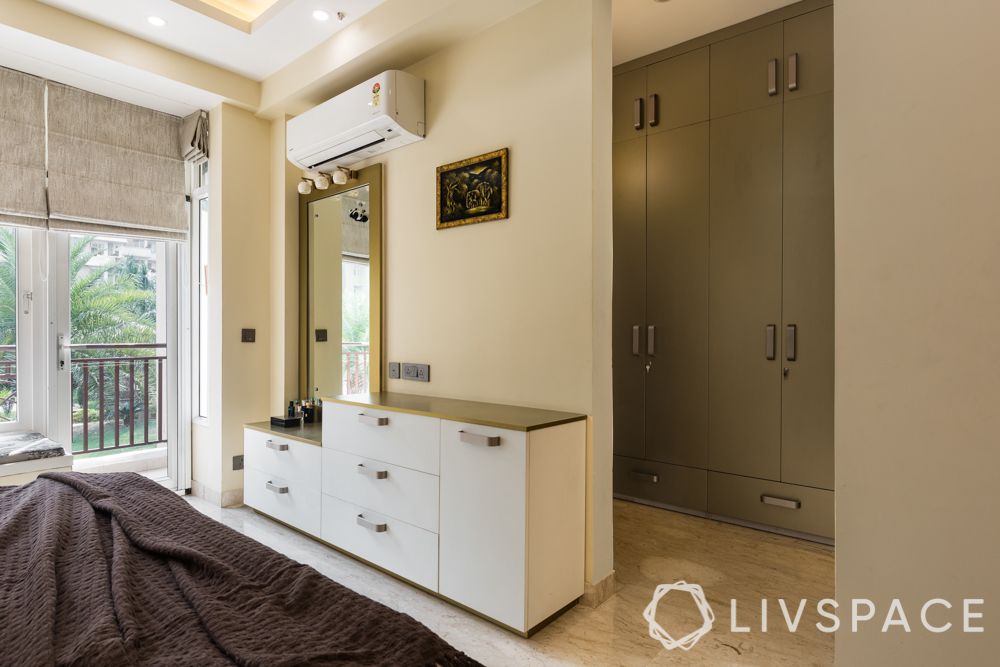 Wondering if you Can You Get a Walk-in Wardrobe for a Small Room? A walk-in closet isn't reserved for palatial homes anymore. It is a boon when a room is shared between two or more people. It creates an additional space to change into outfits without having to kick the other person out. Also, it makes perfect use of empty vertical space in a room. So, find out if your bedroom has the dedicated square footage and other requirements to accommodate a walk-in wardrobe.
Trendy Wardrobe Designs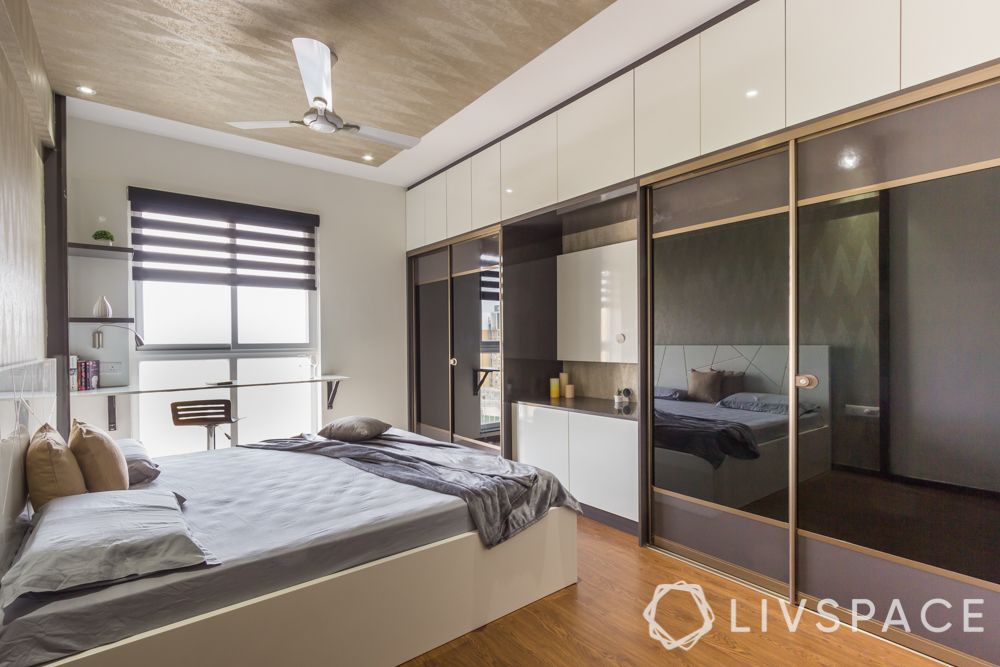 A quintessential wardrobe with enough space to store all your shoes and clothes is easily within your reach with any Livspace wardrobe design. Here, the beautiful sliding door wardrobe features grey tinted mirror and rose gold frames. In between the wardrobe there is a crafted nook for the TV unit. Sporting a frosty white laminate, the unit also has separate storage for books, music and other essentials. It's a complete package.
Irrespective of how cramped your bedroom is, you can make the most of this space with The Trendiest Wardrobes This Year.
Master Bedroom Design #5: Ceiling Design Ideas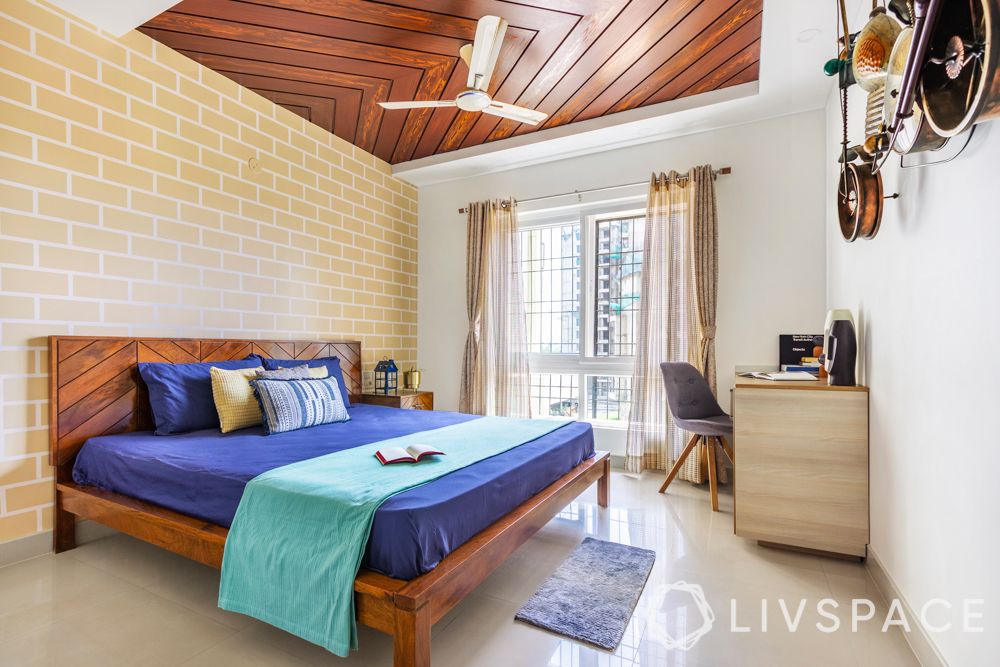 The ceiling is an oft-neglected space in a room. The fifth wall is one of the key elements of a bedroom, one that can tie an entire decor scheme together in a flash. For example, consider using wooden panelling on your bedroom ceilings for some added drama. On the ceiling, this wooden panelling makes for a warm and cosy-looking space. What we love about such ceilings is how effortlessly they fit into any room – modern, contemporary or traditional, without looking out of place!
So, Why Deal with Boring Ceilings? If you're keen on revamping your bedroom ceiling, we've got your back!
Master Bedroom Design #6: Flooring Options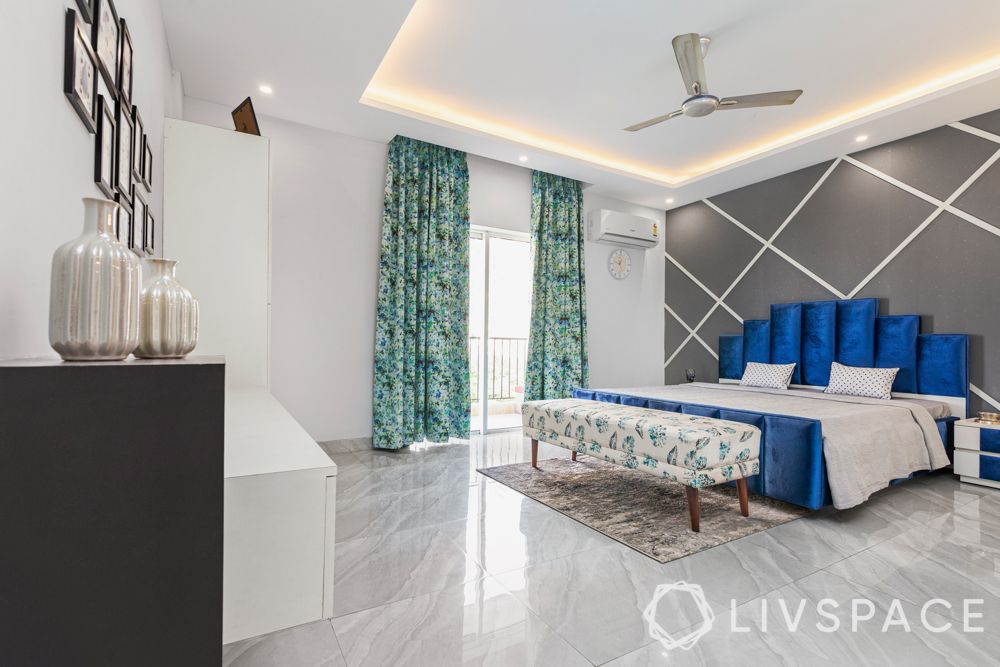 Have you always loved the elegance of marble floors, but rethought your flooring choices because of your budget? Well, we have great news for you! Check out marble-printed tiles. Not only will these be easier on your pocket, but also you'll effortlessly feel like royalty while walking on these floors.
Moreover, we've compiled a list of factors that form an essential part of trendy flooring so you know What Flooring is in Vogue This Year. From colours and finishes to the evergreen choices, here's all the information you need about the latest floor design ideas!

Master Bedroom Design #7: Covering Bedroom Colours
Vastu-approved Bedroom Colours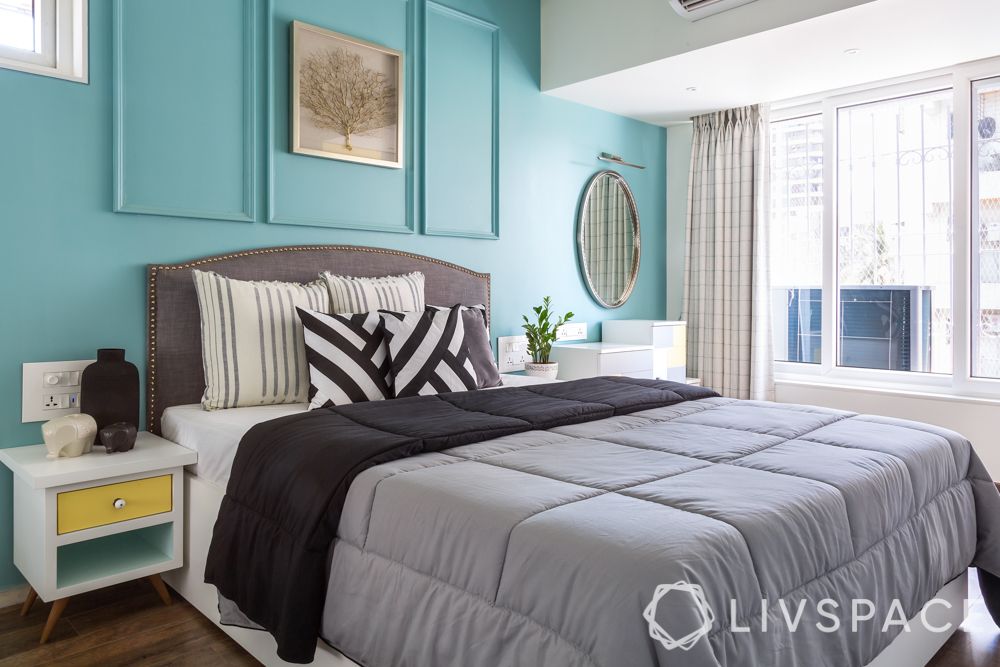 Getting the right bedroom color as per vastu is a quick and easy way to usher in good vibes and positive energy in a space that is considered a safe haven. Each colour is significant and can determine how you start the day. Take a look:
Blue: It's the perfect shade for unwinding after a long day. However, when used in a smaller room, the colour can make the space feel tiny and claustrophobic.

Green: It represents nature, growth, healing and abundance. Those with low immunity, or the elderly should take advantage of the healing properties of this shade.

Yellow: It channels happiness, positivity, optimism and intelligence. Use this vibrant shade in small-sized bedrooms to make the space feel expansive and welcoming.

Pink: It is the universal color of love. It also stands for joy, intimacy and creativity as per Vastu for bedroom.

Brown: Shades of brown and beige are perfect colours here. Wood-tones in furniture are the quickest way to infuse brown into a space, and they don't necessarily have to look dull.

Purple: It represents wealth, mercy, self-respect and poise, making it perfect for those with anxiety. If you aren't sure about this dramatic colour, you can always use a soft lilac shade on the walls.
Read this brief guide on 6 Vastu-approved Bedroom Colours and their impact on your psyche, to decide the best color for you!
Stylish Bedroom Themes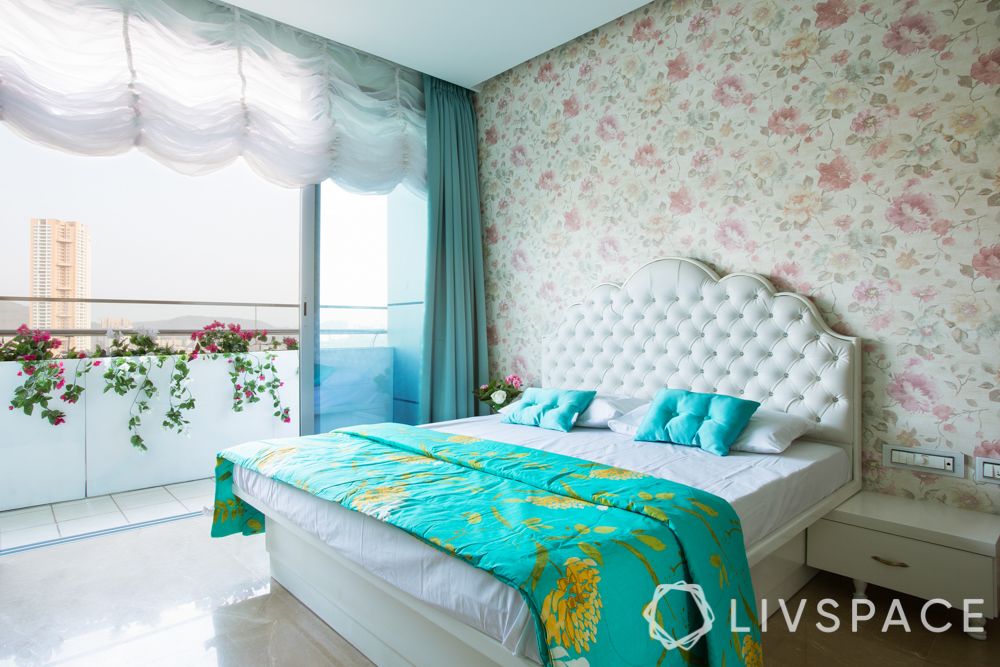 Or skip the rules and go with the Pinterest inspired looks you have been crushing on. This article on Dreamy Bedrooms from #LivspaceHomes is the mood board you are looking for. Feature walls are a great way to spruce up your room. Pastel hues lend an understated, almost vintage look, whereas bright, contrasting colours give you a bold, vibrant look. Don't forget the bunched curtains that lend a dream-like aura to this bright room.
Master Bedroom Design #8: Investing in Accessories & Vanity Units
How to Add a Vanity Space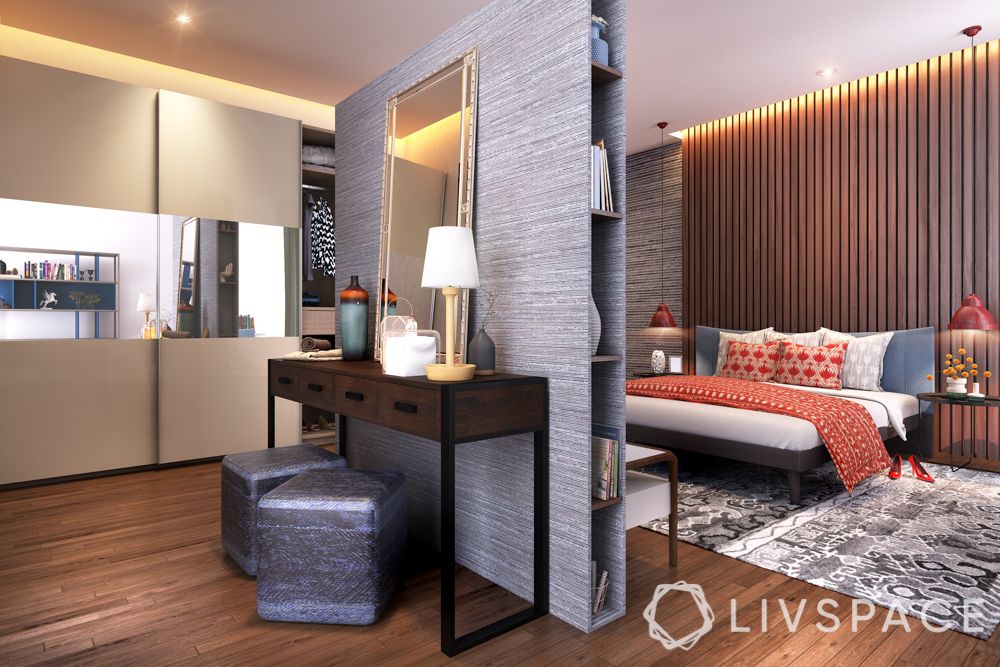 For those of you stuck with no dedicated space for a dresser, we have a few dressing table ideas on how you can fix that. If you don't have to find an empty wall or corner space to set up your vanity unit, you can make the space. Pick a versatile divider, with storage on the sides, can act as a faux wall for your dressing unit. Place the mirror against it atop your dresser and voila!
Read on to find out 6 Chic Ways To Add A Dressing Corner At Home.
Unique Vanity Unit Designs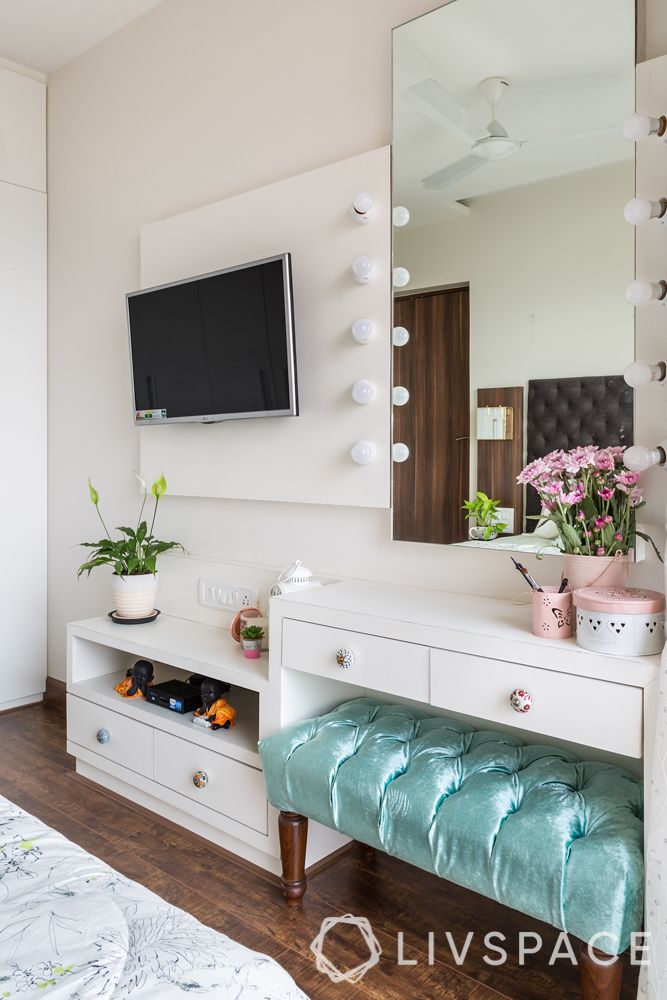 With modern apartments, having dressers that match the interiors is essential, and that too fitted into the space available. We thought you could do with some inspiration for stylish dressing corners in your master bedroom plan and Pick a Dressing Table Design for Your Home. With this Hollywood style mirror, you are sure to feel like a diva of sorts. A plush upholstered bench will make sure that you can doll-up comfortably!
Master Bedroom Design #9: Lighting for Every Mood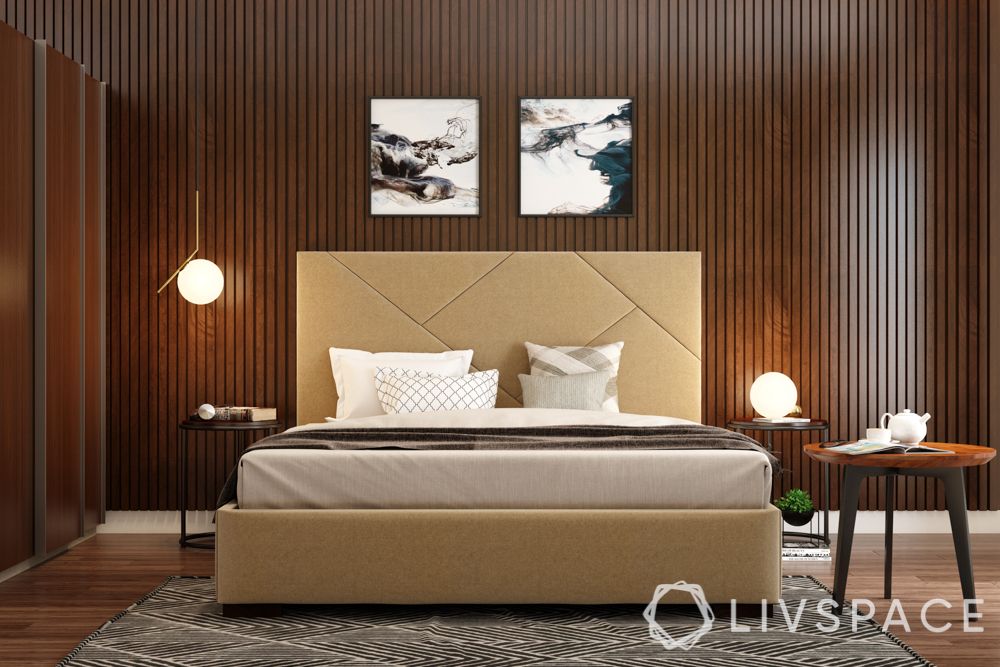 If you don't spend much time in the bedroom, opting for good artificial lighting is a must. There are plenty of options for Bedroom Lighting Options for Every Mood & Need. Pay special attention to task lighting and keep in mind that the light needs to be warm and subtle but not lacking. For example, ambient lighting should not be too harsh or too bright. Lights in a bedroom at all points of time should be soft and warm, creating a relaxing ambience. Reds and oranges are warm colors that infuse cheer and warmth in a room.
Master Bedroom Design #10: Experimenting with Wall Accents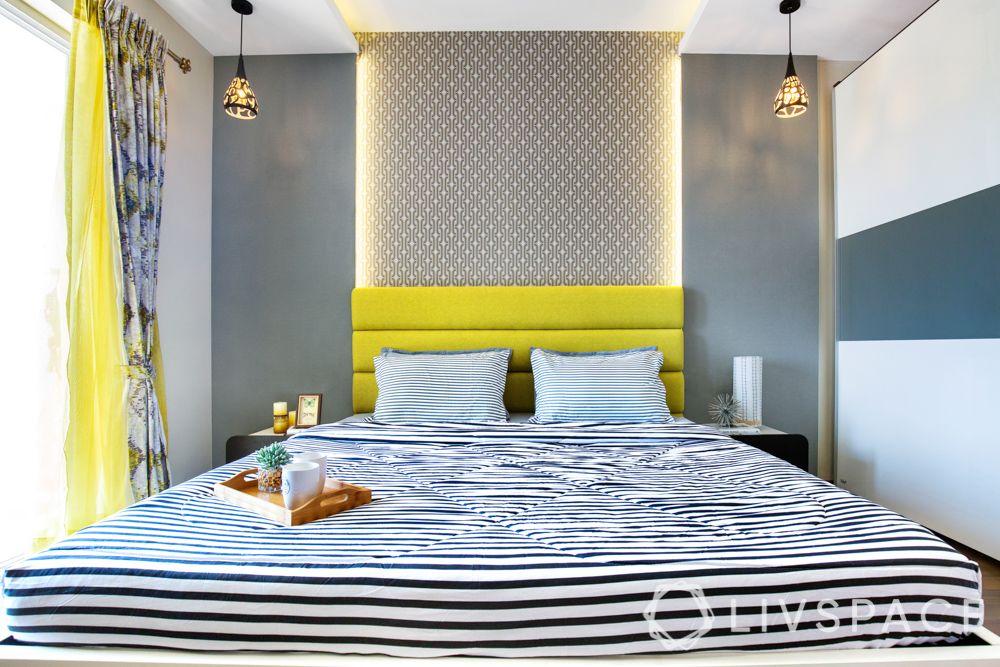 We hope you enjoy the creative process of determining if and what type of accent wall will work best for you and your bedroom with these 8 Trendy Wall Accents For Your Bedroom.
Here you will find ways to work with textured paint, mural designs, patterned wallpaper, framed wall trims, a combination of textures, mirrors, back lighting and unique stencil elements. However, nothing says plush like a unique backlit wall in the bedroom. They enhance the wall treatments, making it the focus of the room. Use strip lights to create a halo effect on one wall as an accent feature. These lights can double up as night lights if needed.
Master Bedroom Design #11: Select a Seating Style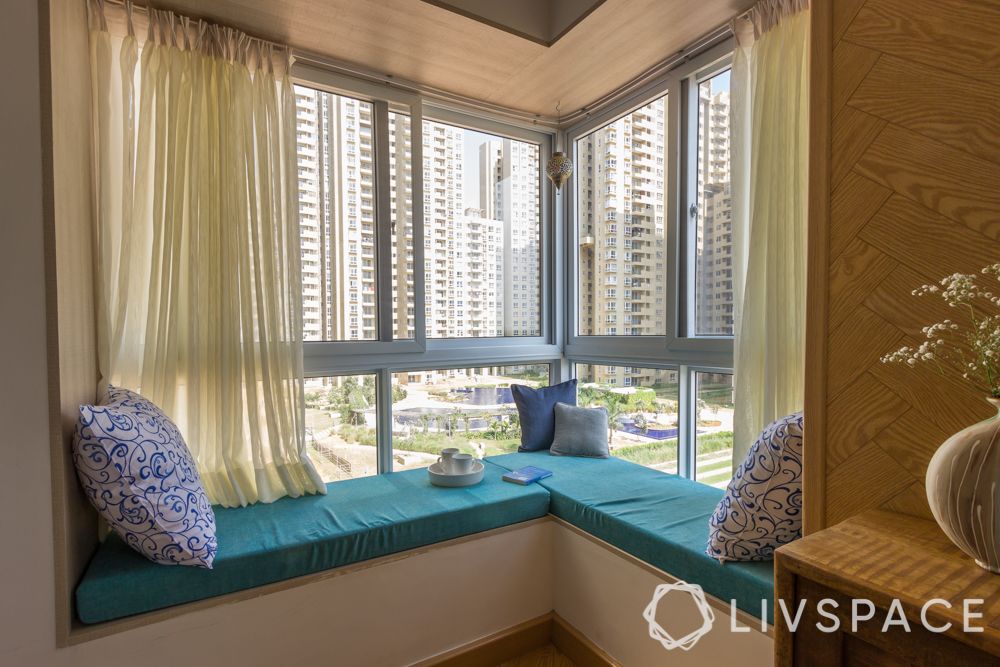 Seating comes in all shapes and sizes. So, we've got the Best Bedroom Seating Ideas of All Time. If you don't have enough floor space for poufs or additional seating, consider using existing furniture or architectural elements to create a cosy niche. Moreover, a low window ledge can be kitted out with pillows and throws or if you have the scope for it, consider hanging a swinging chair or hammock in the bedroom. This allows you to enjoy some downtime at a place that is not your bed or your desk and puts you in a peaceful mind space after a busy day.
Master Bedroom Design #12: Considering Vastu Shastra for Bedrooms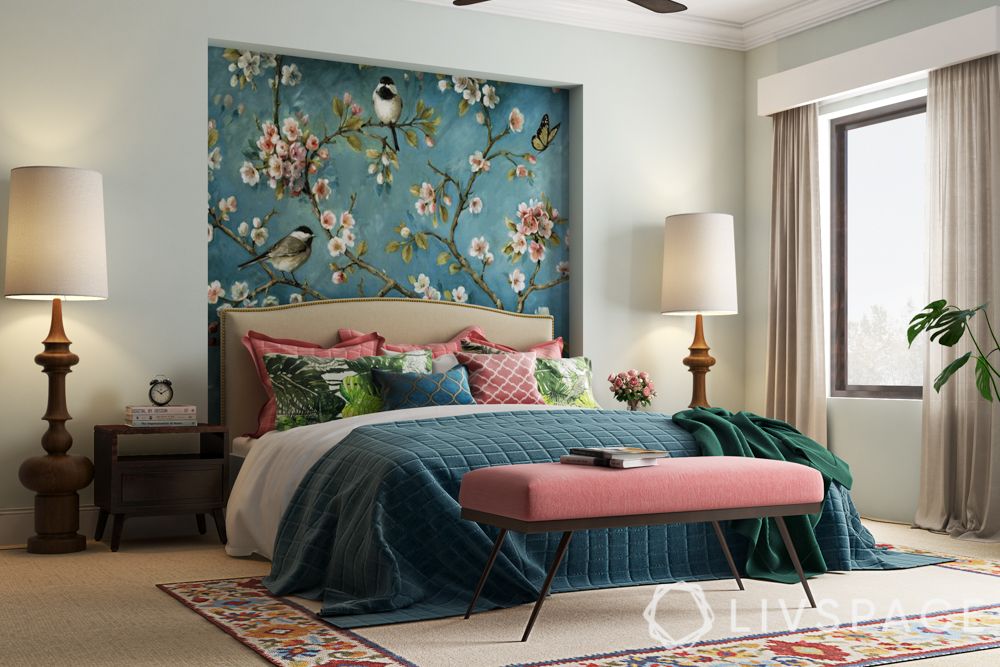 Designing a room with the correct vastu in mind can help individuals live in a positive environment at home. Here we have covered the direction of the room, placement of the beds, wardrobes and TV units. These Tips to Design a Vastu-Friendly Bedroom are sure to improve your living conditions. So, make sure the master bedroom is the South-West corner of the home and the bed towards the south or east direction. Vastu shastra suggests, that you should pace heavy objects like cupboards and almirahs in the South, South-West or West direction. Try placing the safe towards the South wall and make sure it opens towards the North. This will prove to be very auspicious. Lastly, it is best to avoid televisions and appliances in the bedroom, since these tend to send out energies that can disturb your sleep.
Master Bedroom Design #13: Everything You Need to Know About Designing a Compact Bedroom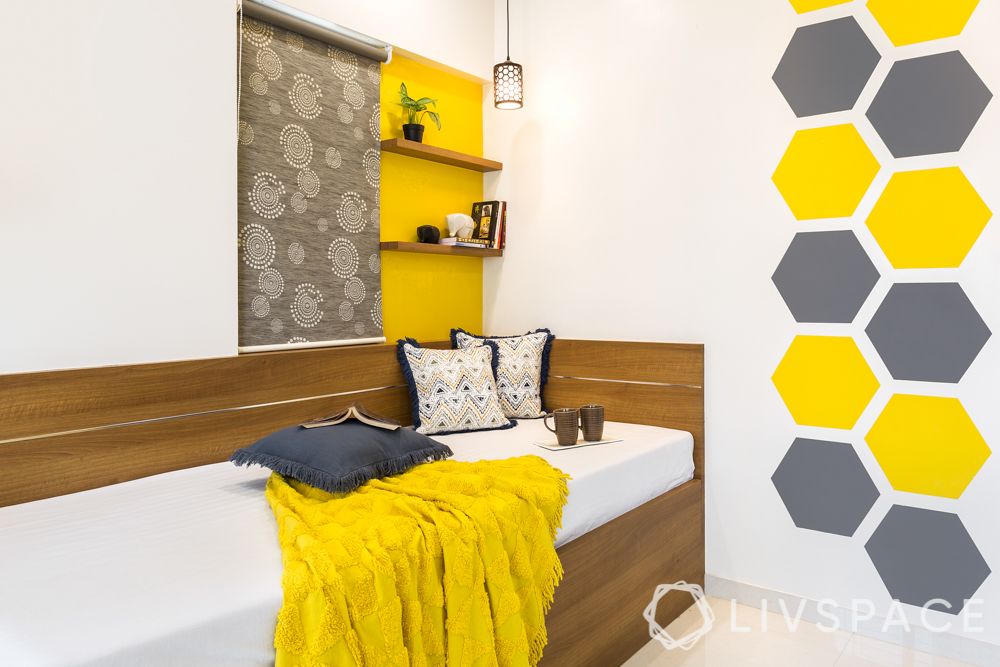 Furnishing a small bedroom inspires us to come up with space-saving hacks that are stunning too! The most important being picking the right colour. The prevailing mantra is that small bedrooms need lighter, brighter, whiter colours. That is indeed safe play, but there are ways to use dark colours in small room ideas that will reflect a keen sense of design. Whites and neutrals make a small space look bigger, especially if there's natural sunlight to play with. Creams, off-whites, greys, beiges and ecru tones are ideal if you're going for a neutral colour palette.
Here's a golden opportunity to flex creative muscles. A Complete Guide to Designing a Small Room is sure to help you decide on colours, finishes and furniture.
Master Bedroom Design #14: Multi-functional & Space-saving Wardrobes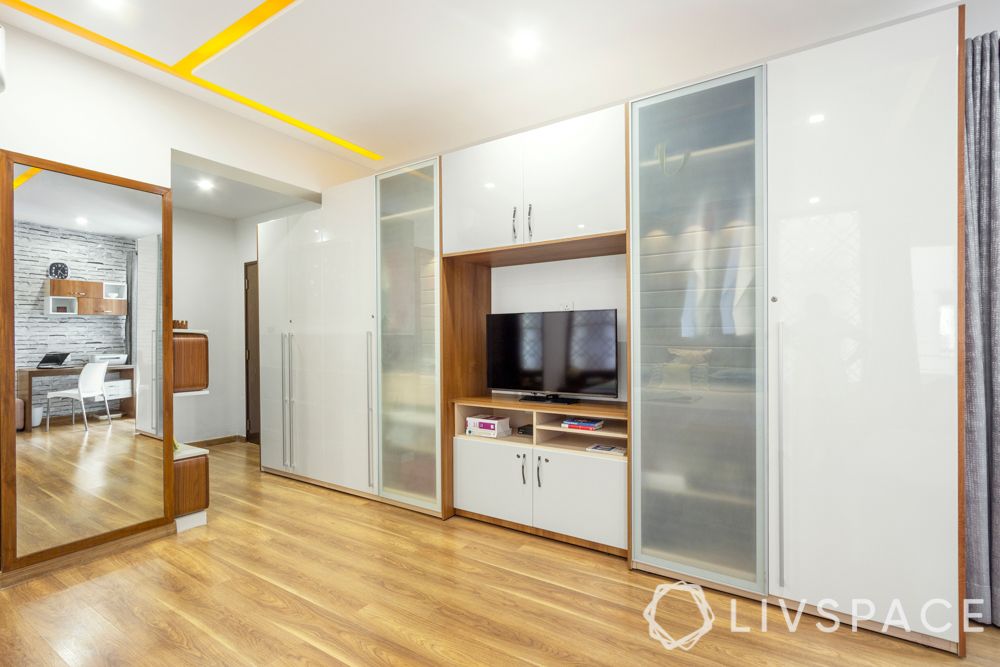 Think of your room's potential. It doesn't just have to be a place to sleep. It can be your dressing area, your study, your entertainment zone, your library and much more! Considering the space constraints most modern homes face, we've come up with designs that work as Space-saving & Multi-functional Wardrobes. Moreover, a good combination is wardrobe-cum-TV-unit. Getting a TV unit and wardrobe would mean you need to sort out space for two different items. That won't be a problem with a wardrobe-cum-TV-unit. You could either mount the TV or have it stand in the middle of your wardrobe. Both ways are sure to give your room a clutter-free look!
Master Bedroom Design #16: Smart Storage Hacks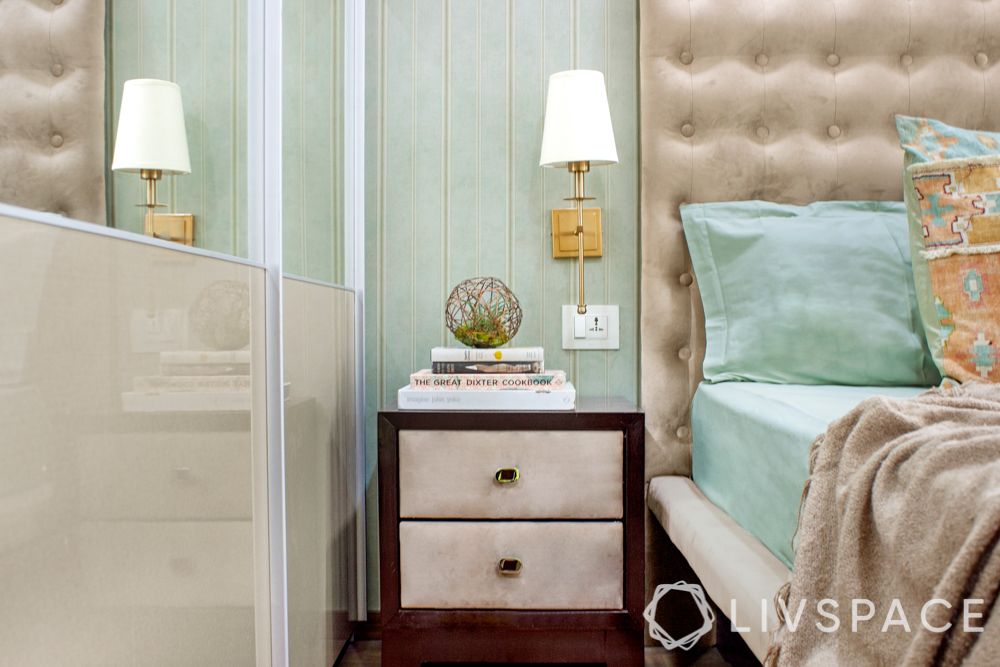 We have all encountered that feeling of stowing away junk under our beds to hide that unsightly clutter, but before you give in to that temptation, give this piece a read! An afforable trick to add storage is by lining up wicker baskets. There can be so many nitty gritties that do not find an appropriate place in your home. This is where wicker baskets come in! You can use a variety of shapes and sizes of these baskets according to the stuff that needs to go in. Just make sure you cover them up to save them from dust and grime.
In this article, we will help you to organise your room with Make the Most of the Space Under Your Bed.
Master Bedroom Design #15: Styling a Compact Bedroom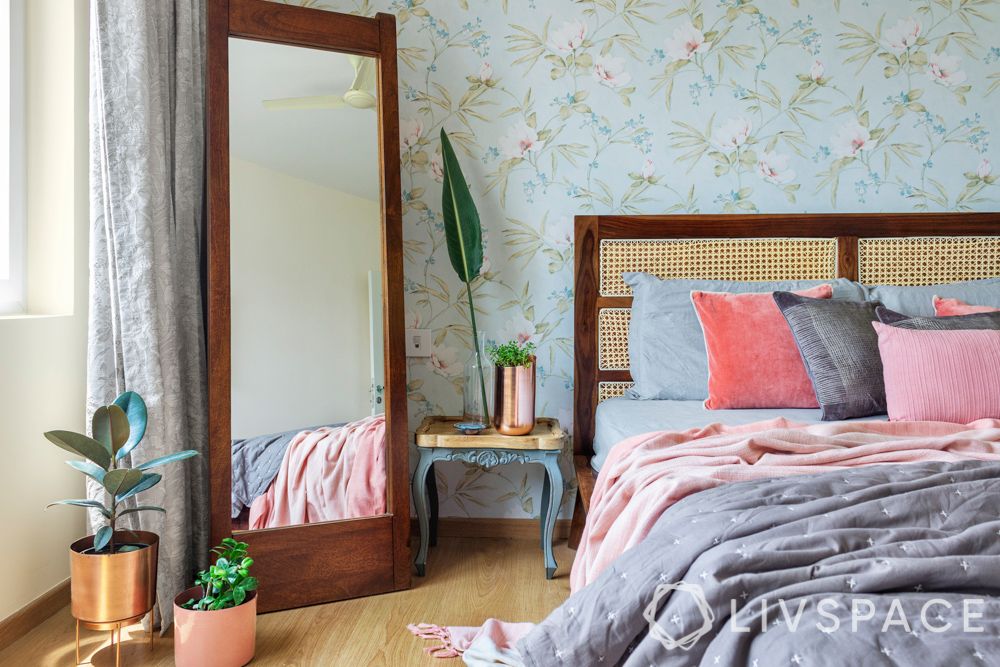 Now that you have found your way around designing a compact room, go all the way with stylish decor. If you think a small bedroom has to be dull because of limited space? Think again! You can add textures, install stunning wall sconces, decorate in pairs for uniformity, figure out how to minimize furniture and learn where to add mirrors. Here, we have used mirror to reflect light, making a room seem bigger and airier. Standing mirrors function as structural accents while also serving a practical purpose. If you're low on floor space, consider fitting out your wardrobe doors with mirrors – these fulfil the same purposes but keep your floors free.
With our tips you can Make Your Small Bedroom Look Like a Million Bucks.
Master Bedroom Design #17: Styling Tips
If all that wasn't enough, here's a quick video to help you imagine what your bedroom would look like.
If you enjoyed reading this and are looking for more, Your Search for All Things Lighting Ends Here.
Send in your comments and suggestions.