Unlike other rooms, bedroom design is an intimate affair. It's usually the only room we let our true personalities show through the elements we pick out. Even for couples, a design which uplifts both their personalities can be brought together. From a cosy bed to the photo frames on the wall, everything is sure to give visitors a sneak peek into your personality. More often than not, when we start out, we only pick out a bed and cupboard, but a room is so much more! Before you design this personal abode let's go over what the essentials are, as recommended by our designers. Let's look at the furniture first:
Comfy Bed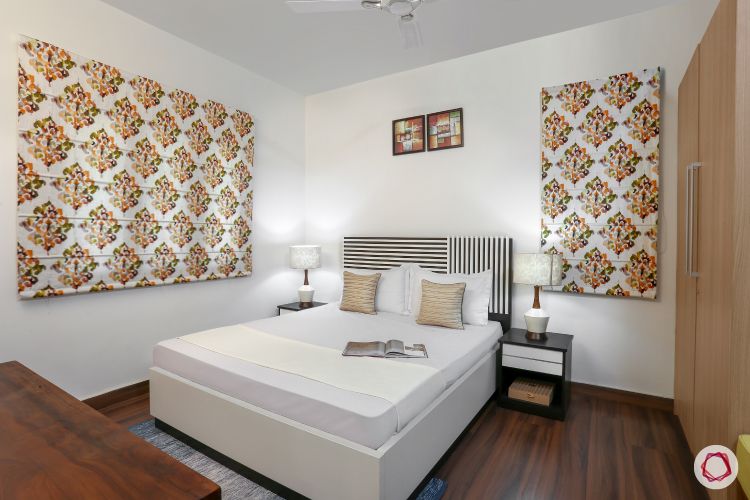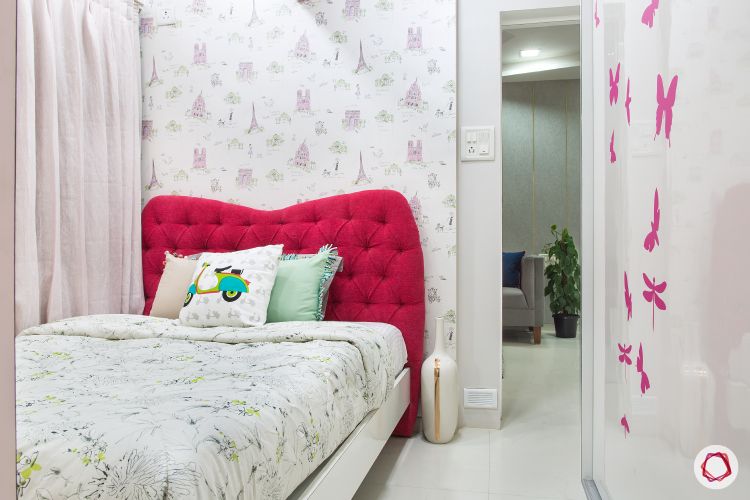 You may think that selecting a bed is easy! What if we told you that it can make or break the look of the room? It's not just about comfort, but you also the size, shape, storage, headboard and more. This checklist can help you pick the right bed. Select a colour or type of bed that also goes hand-in-hand with the theme of your bedroom.
Efficient Wardrobe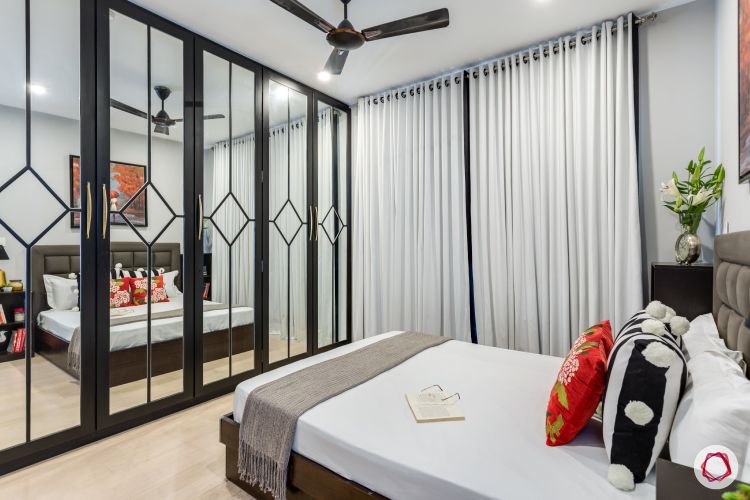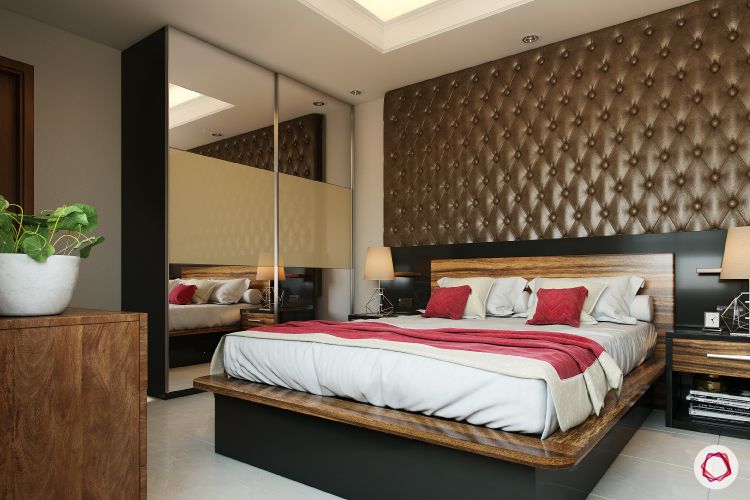 The second most important element in your bedroom is the wardrobe! It is handy to have an efficient design to house all your apparels and accessories whether you're a shopaholic or not. Even wardrobes for small bedrooms can be optimised to store more essentials. Explore your options with sliding and swing door options and try to add lofts for more storage.
Since the wardrobe occupies a large space in the room (visually as well), try colours that either blend into the setting or provide a striking contrast to grab attention.
Bedside Tables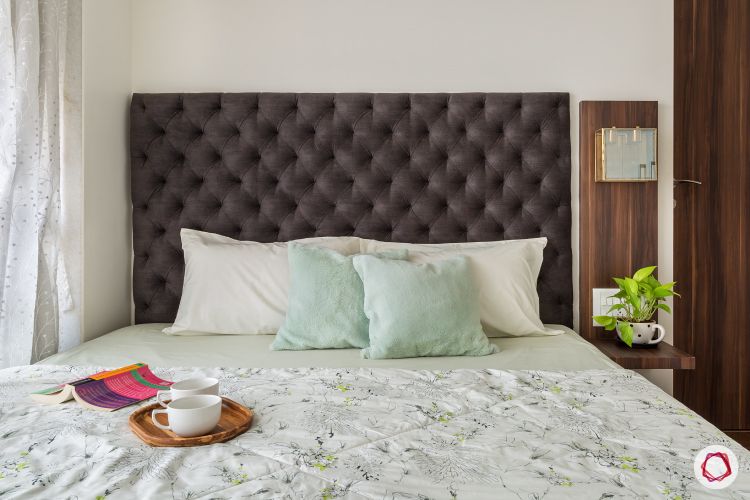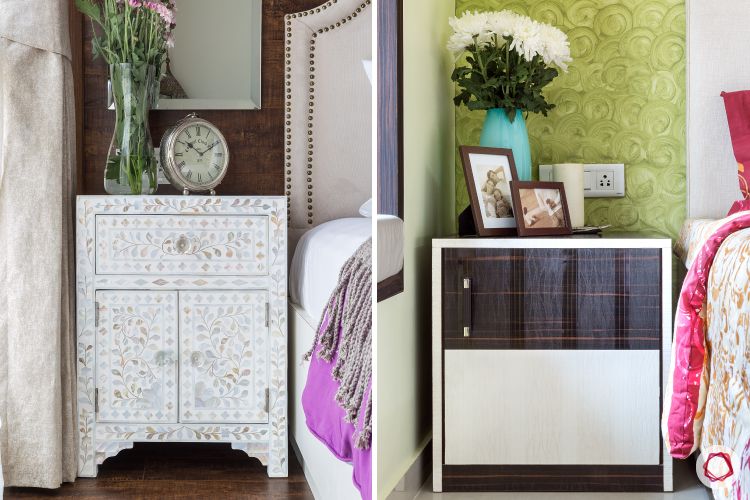 Bedside tables are definitely the most ignored piece of furniture in India. A table at hand to hold your glasses, books and any other essentials that are a part of your bedtime routine is a must. If nothing, it can at least hold a bedside lamp for bedtime reading. For a space-crunched bedroom, try using a shelf to act as a bedside holder.
Dressing Corner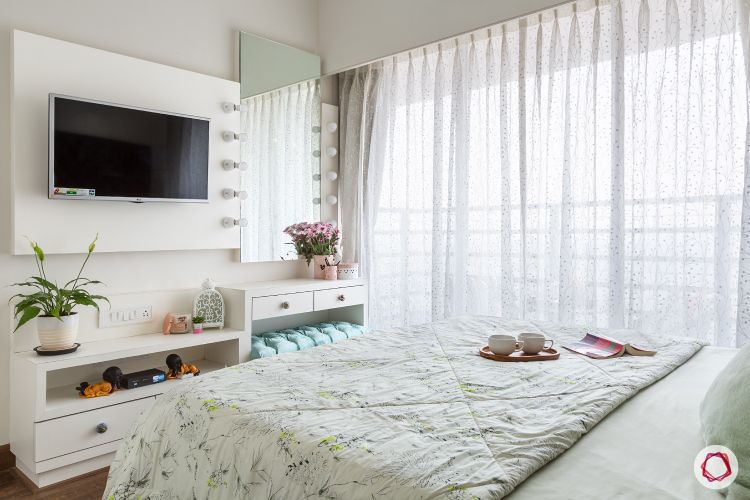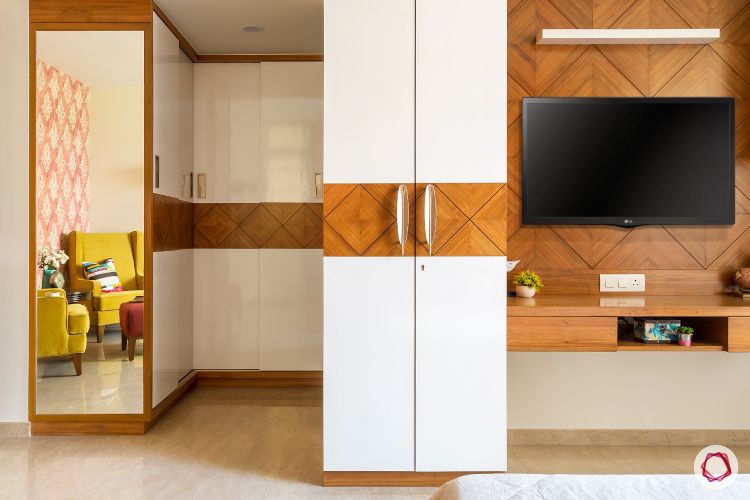 Unless you have a separate walk-in closet or a dressing area, your bedroom should also have space to get ready. A mirror, some seating space and storage to hold the cosmetics and accessories is what you'll need to design it. However, for compact bedrooms, a mirror on the wardrobe or a wall-mounted dresser is more feasible.
Add-on Furniture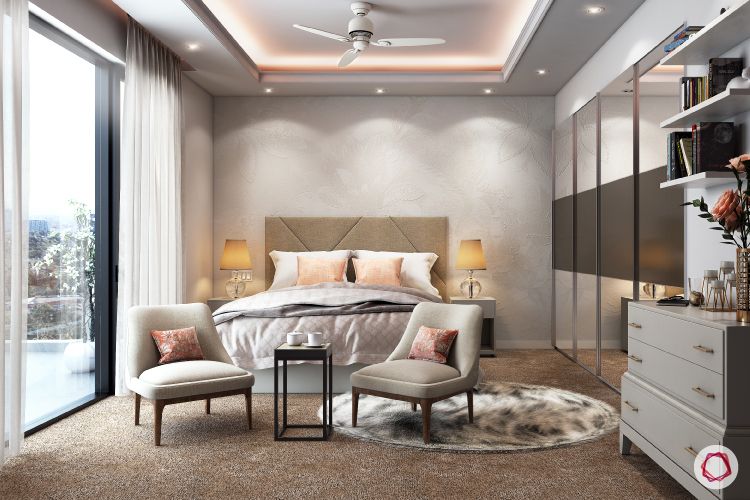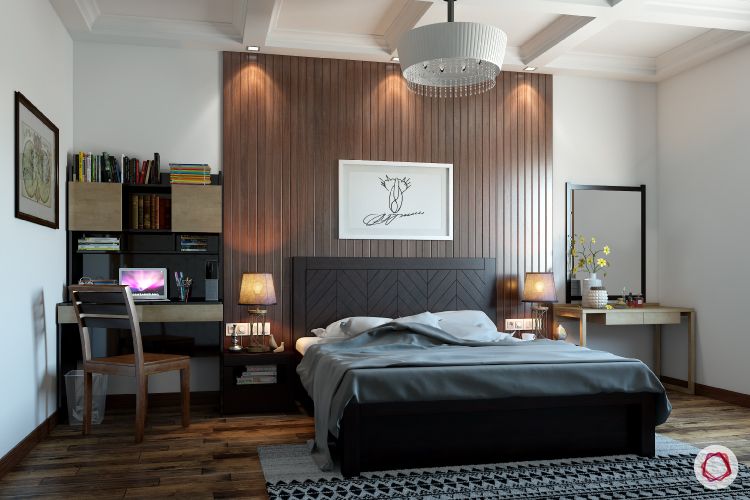 If your bedroom has enough space, you can try adding a wall-mounted study, a TV unit for entertainment and even some seating to lounge in. These options, although, require careful planning. Especially if you want it fitted in a small bedroom. Your bedroom can be much more than a snoozing corner if you put some thought into the design and functionality.
Colours for bedroom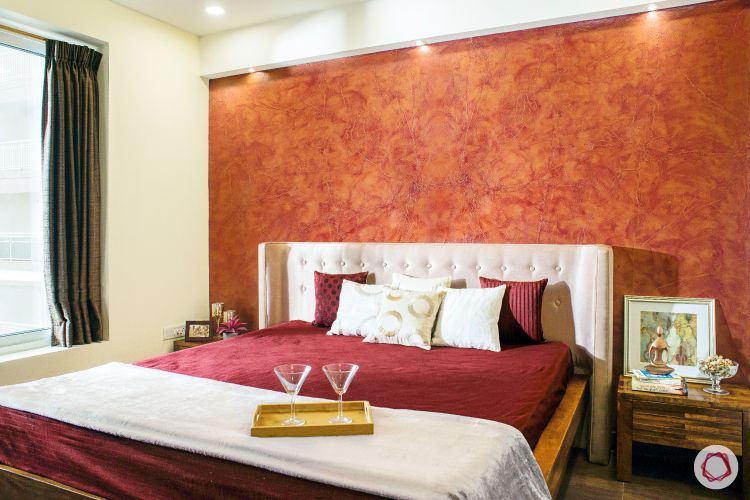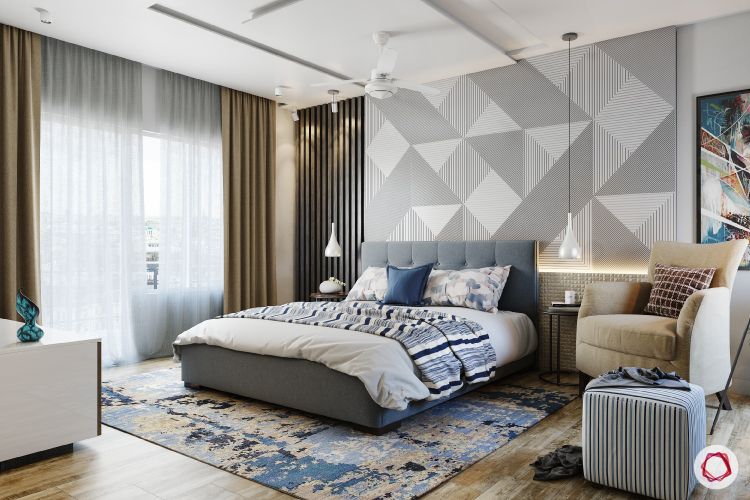 Colours make all the difference to set the right mood in your room. You can choose neutrals and pastels if you want a relaxing vibe for your bedroom. Whereas primary colours definitely are great for changing the tone to romantic, refreshing, adventurous and more. It also depends on the person using the room. For the parents' room or a nursery, it is advised to go for a muted palette, whereas a kids room can have more bright colours.
Soft Furnishings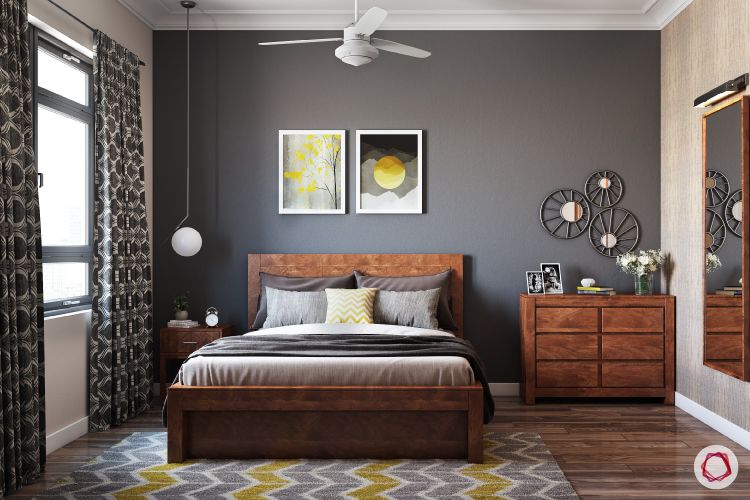 Soft furnishings like curtains and rugs play an important role in making you feel pampered in the room. Adding sheer curtains along with drapes can let you control natural light. Whereas soft rugs add to the aesthetics and are give comfort to your feet when you get out of bed on a chilly night. Throw in some cushions or additional pillows to give it a hotel-like ambience.
Lighting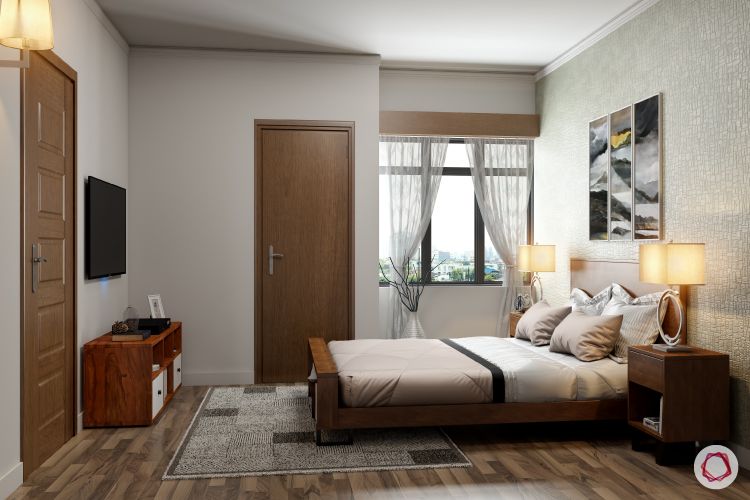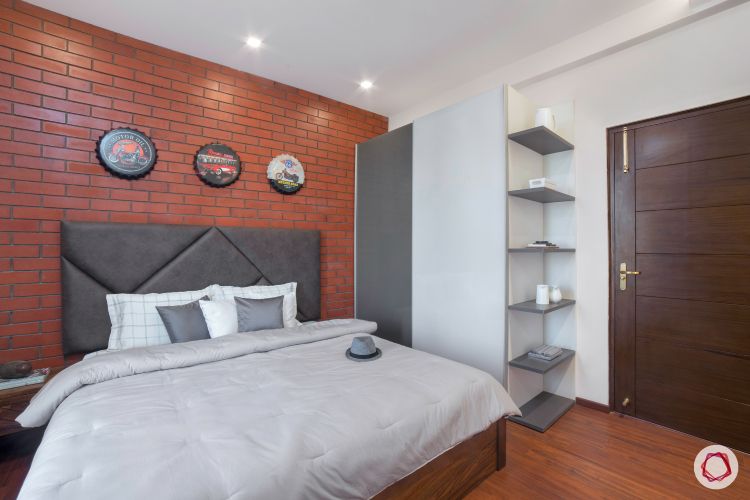 No matter what style of the room, a well-lit space is the key to a good ambience. While chandeliers work well as ambient light, you can use recessed lights for a compact room. Adding task lights like bedside lamps, wall sconces or even low-hung pendant lights can make it easy to read before turning in for the night. If you have some stunning decor, add strip lights or LED lights to highlight the space or give it a soft glow.
Decor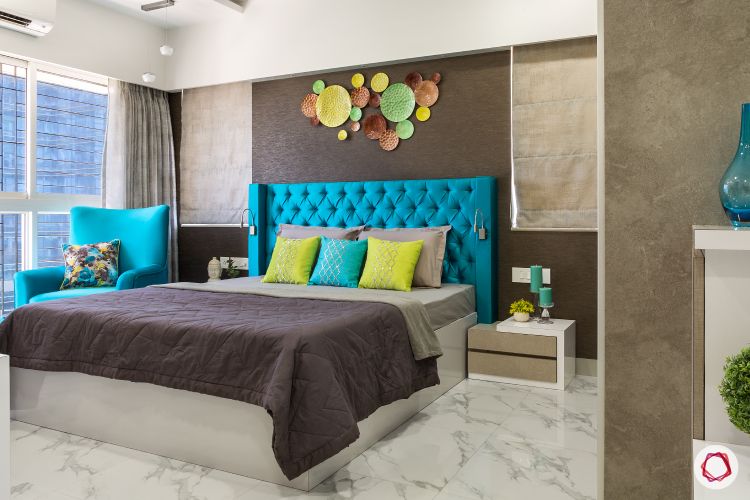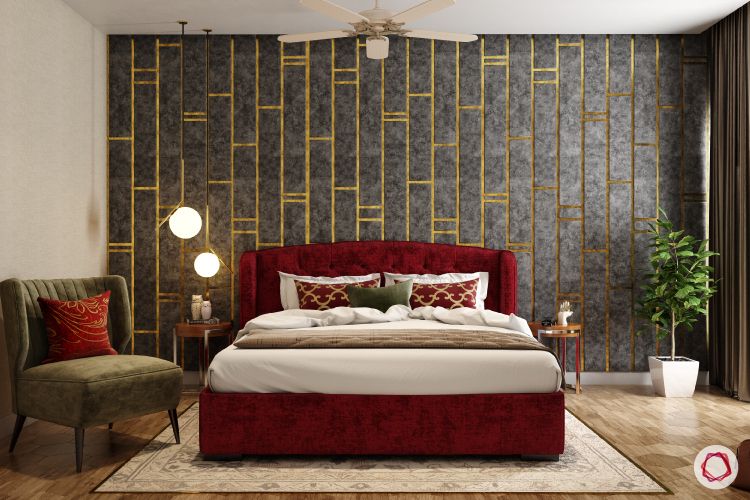 Decor to match the theme of your room is essential to complete the look. Whether you choose to have a gallery wall behind your bed or a fancy accent wall, the choice is up to you. Adding curios and elements of sentimental value can definitely amp up the cosy and personal feel of the room. However, limit the decor for a breathable space.
Since the bedroom usually has heavy furniture, keep these add-on tips in mind while designing:
Ensure you make most of the ventilation to avoid feeling cramped in the room
Ample natural light should be provided for hygienic conditions
Make sure movement around the room is free, especially around the bed and in front of the wardrobe
If your bedroom is compact, pick visually light furniture and colours for the room
Hope this helps in setting up your room to match your taste. Just remember to make it as refreshing and airy as possible to spend more time in it.