A private haven away from the chaos of the world, your bedroom is the most intimate corner of your home. Given its importance, it makes sense to spend some time to design a bedroom that suits your unique needs and reflects your personality. This guide with bedroom design tips explains how you can bring together elements to create a space you'll love to spend time in.
Bedroom Design Tip #1: Ensure clean movement
Clear movement pathways and ample circulation form the basis of efficient bedroom design. A minimum distance of three feet between bedroom furniture pieces leaves you plenty of room to stagger in and out of bed, in a semi-sleepy state, without having to worry about knocking anything over.
Also, making the bed every day requires access to all three sides, so keep the floor space as clean as possible. You can do this by recessing the wardrobe into a wall or having a chest of drawers for smaller items. Make sure that the bed is not placed within the opening arc of these wardrobe doors or drawers either.
The same principle can be applied to other major traffic ways of the bedroom design such as the entrance to the bathroom, pathway to the dressing table and exit to balcony or pool. Picking right door widths here will ensure clean movement, especially when adding furnishings.
Bedroom Design Tip #2: Privacy is paramount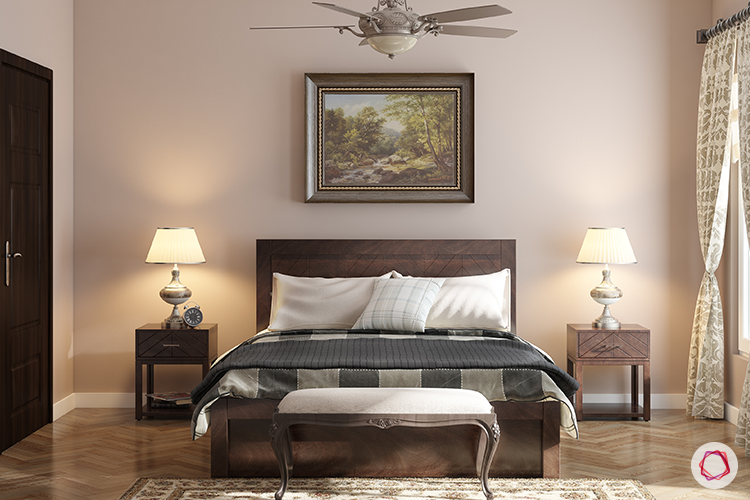 Tuck your bedroom behind a small foyer or mini hallway so that the bed, dressing area or even the connecting bathroom, is not visible from the doorway. Also, if you are moving into a community where houses are packed tightly together, position your windows away from the direct gaze of your neighbors.
However, for those of you who don't have a say in your bedroom's orientation — curtains, window treatments or dividers can help. Have a curtain fabric you love that you think is too transparent? Stitch dark lining for more privacy. Alternatively, you can pair curtains with window shades so you have the option of ensuring privacy while letting the natural light in.
Bedroom Design Tip #3: Styling with lights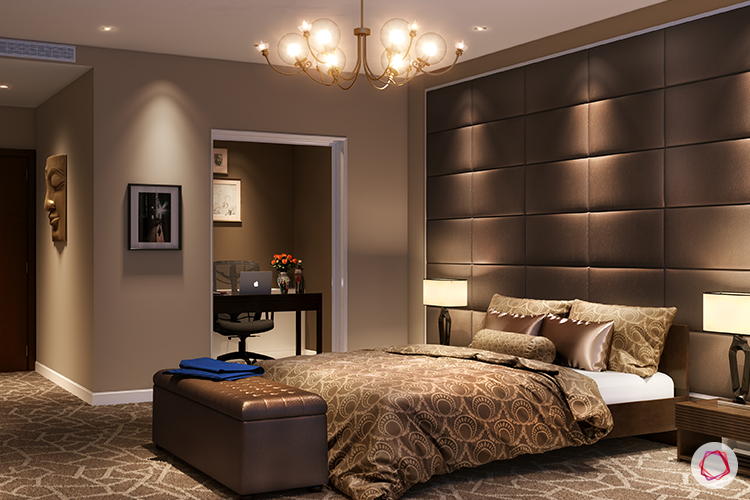 There is nothing like natural light to infuse your bedroom with comfort and cheer. Position mirrors or the dressing table so that they catch the daylight to illuminate the room. To create a relaxing setting for the evenings, resort to a combination of ambient and focus lighting.
For example, task lighting which focuses on a smaller area is needed at study tables or reading areas; cross lighting which includes light sources from opposite points to provide a shadowless image works well in dressing areas and bathrooms; soft ambient lighting gives a warm, overall glow to the bedroom and so on.
Bedroom Design Tip #4: Room with a view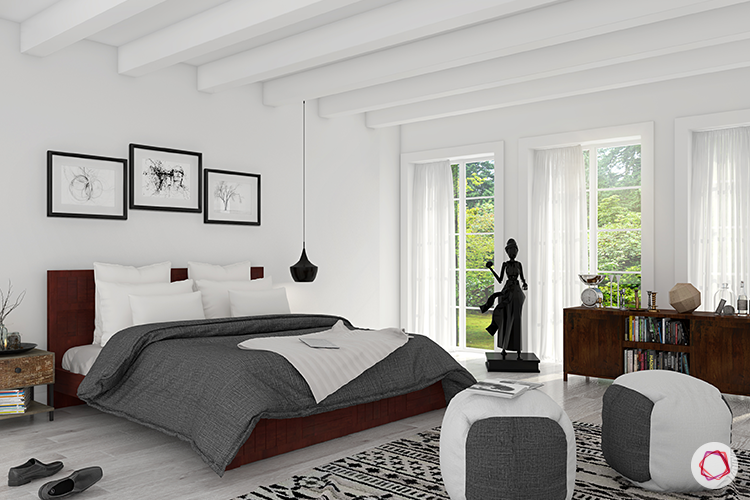 Having a bedroom that overlooks a garden, wooded backyard or a water body can make for welcoming mornings and evenings. In such cases, you can enhance the experience by choosing draperies and curtains that regulate natural light or glass doors which make the bedroom look larger than usual by bringing the outside in. Also, ensure that your view is not blocked with any of the bedroom furniture.
Bedroom Design Tip #5: Furniture Placement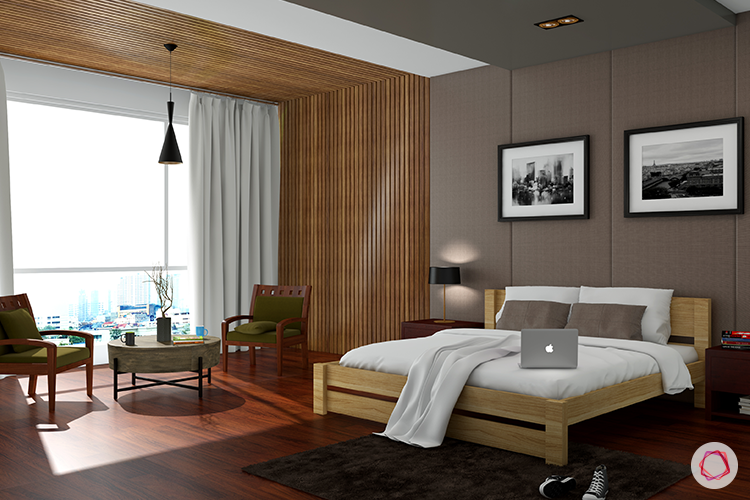 There's a lot more to bedroom design than just placing your bed and wardrobe. A bedroom's dimensions and position of windows and doors dictates the size and layout of the furniture used inside. Start with the largest piece of furniture – the bed, which should be no more than two-thirds of your bedroom area. Anything larger, will clutter the space and leave no room for other essential furniture.
Locating the bed opposite the entrance makes for a pleasant, inviting view. If that doesn't work, use it along the bedroom's longest wall so you have plenty of room to place bedside tables or cabinets on either side. If you do not have a bathroom vanity, the next largest piece of furniture to worry about would be the dressing table.
Bedroom Design Tip #6: Storing like a pro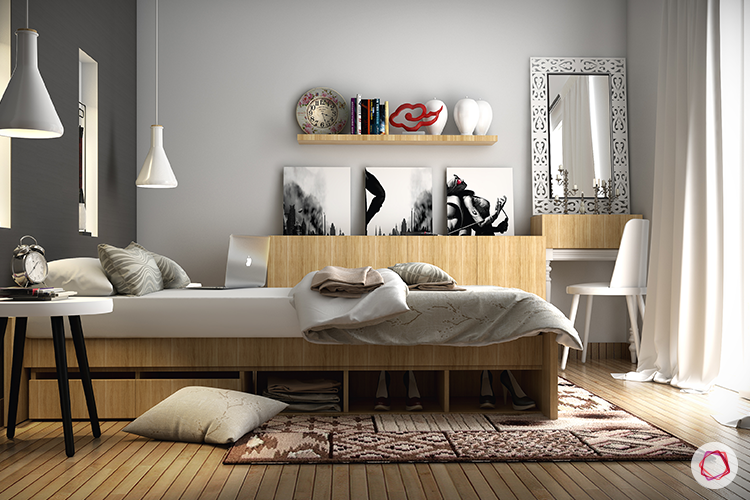 Take adequate time to assess your storage needs before piling on the bedroom furniture. Include walk-in closets, wall-to-wall sliding wardrobe, accessible shelving and cabinet layouts in your bedroom's blueprint if you are in the planning phase.
Beds with built-in compartments, nightstands with drawers, sideboards, box chests are great value for money purchases. These will give you an array of storage space to keep anything from pillows, blankets, kids' toys to bed lamps, hand creams, reading glasses and more.
Since your wardrobe will take up most of the space in the bedroom, ensure that you make every inch count. Have baskets, hangers, hooks, and drawers so you create a flawless organization system.
Bedroom Design Tip #7: Comfort in colors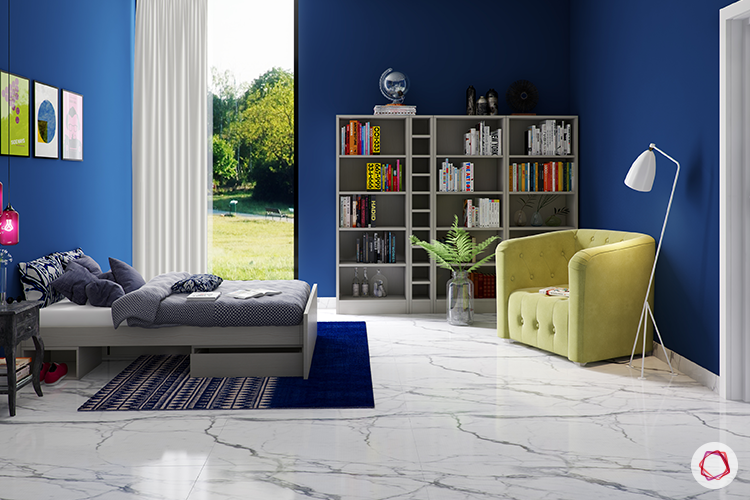 Sometimes, a coat of happy colors is all it takes to vitalize a bedroom. Light hues are known to contribute to an expansive, restful feeling. But that doesn't necessarily apply to everyone. Some might get inspired with bold, uplifting colors, while others might prefer sedate neutrals. The idea is to settle on a scheme that engages your senses the way you want.
Link colors, create statement walls, add a dash of adventurous hues on a light background, mix contrasting colored textures – there are many ways to create intimate moods in the bedroom. For more bedroom design ideas, look here.
Designing a bedroom is usually found at the bottom of everyone's priority list because unlike public spaces in your home, the bedroom is meant for your eyes only. However, applying these minor tweaks to your bedroom design can be a rewarding experience, helping you kick-start your day with positivity or ensconcing you in comfort as you drift off to sleep.