What is that one thing that binds us urbanites together? Yes, it's the shared joy of a cramped rental apartment! Frankly, there is nothing more annoying than stubbing your toe against your bed because your bedroom is too small. Yes, we've all been there before. And there's not much you can do about it, because the space isn't yours! So we stick to superficial changes. Small bedroom designing for rental homes can be quite fun if you have the right advice. These 6 amazing budget décor ideas will transform your small bedroom into a stunning haven!
Bedroom Designing Idea #1: The Walls
Walls maketh or breaketh a room! When you enter a room, the first thing you notice is the walls. Beautiful wall décor can make even the plainest of rooms look like a masterpiece! But when you live in a rental home, your landlord's rules will not allow you to paint or make other permanent changes to your walls. So here are some wall design tips that are temporary but look amazing!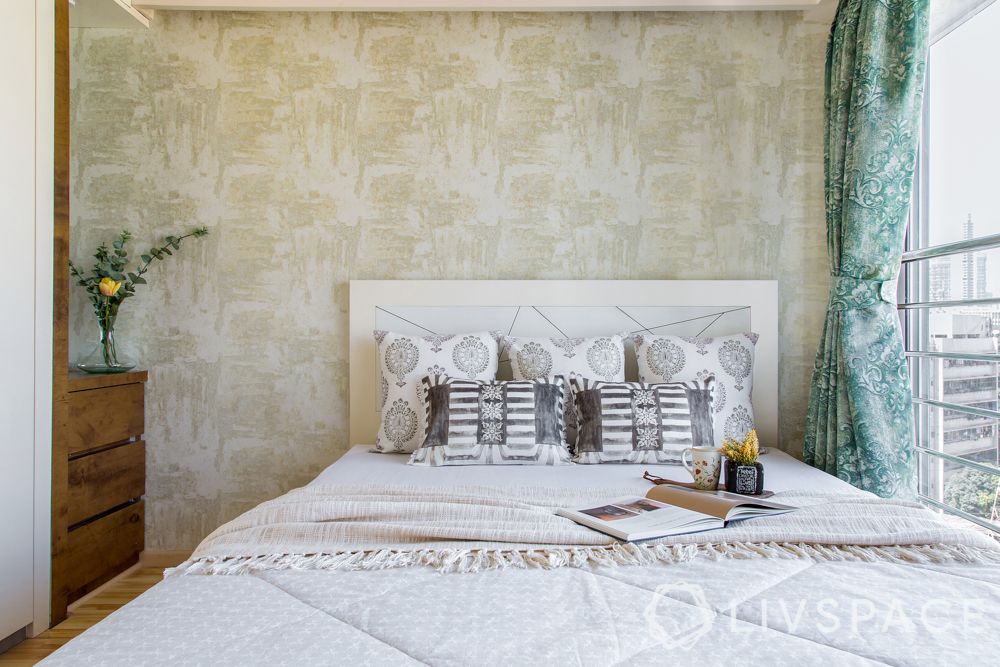 While painting may not be allowed in your rental home, it doesn't mean you can't change your walls. As tenants, wallpapers are your best friend! Gorgeous, low cost and versatile, the right wallpaper can revamp your small bedroom design.
The best part about wallpapers? They are removable and will cause no damage to your walls!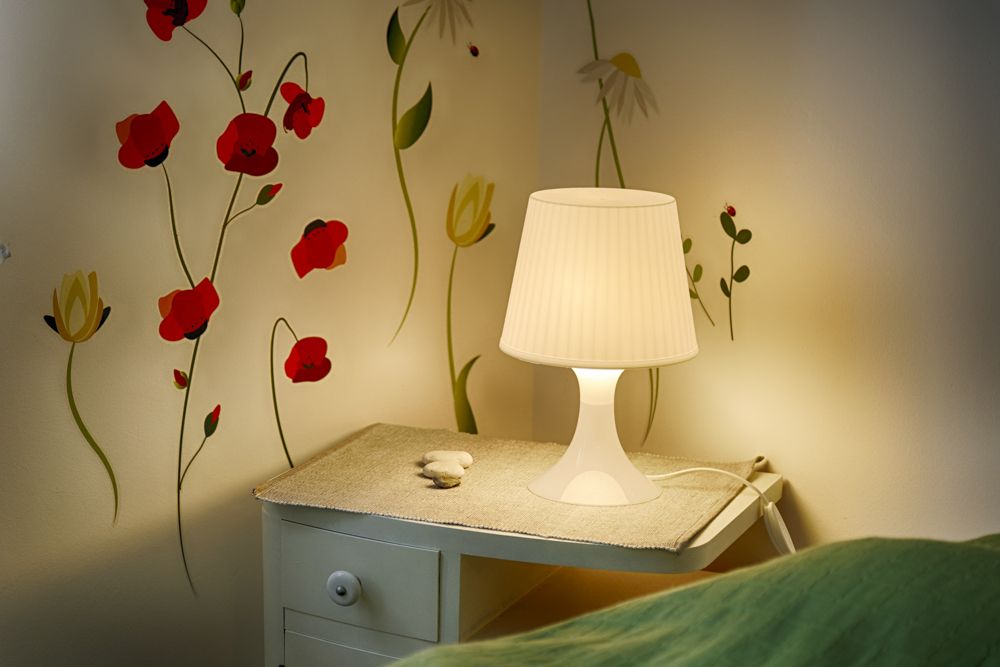 Don't fancy a complete transformation of your walls with wallpaper? Opt for wall stickers/decals instead. Available in unique designs and patterns, they can add that burst of joy on your walls with minimal effort. Choose simple and elegant designs which will go with the walls of your small rental bedroom.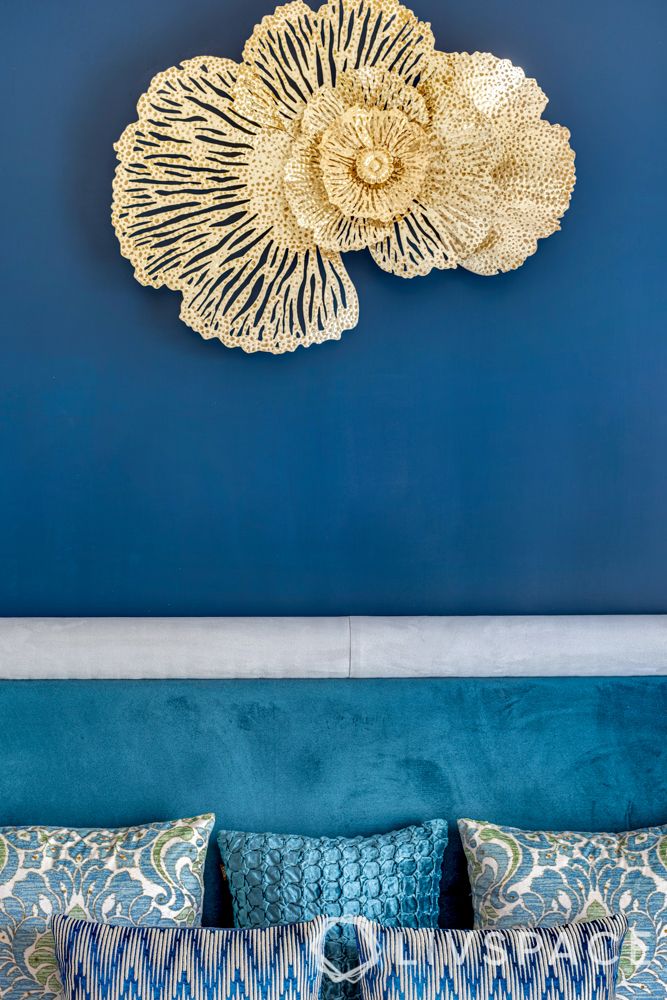 Statement wall décor pieces too can highlight any wall. Décor items from Amazon and thrift stores are also very cost-effective.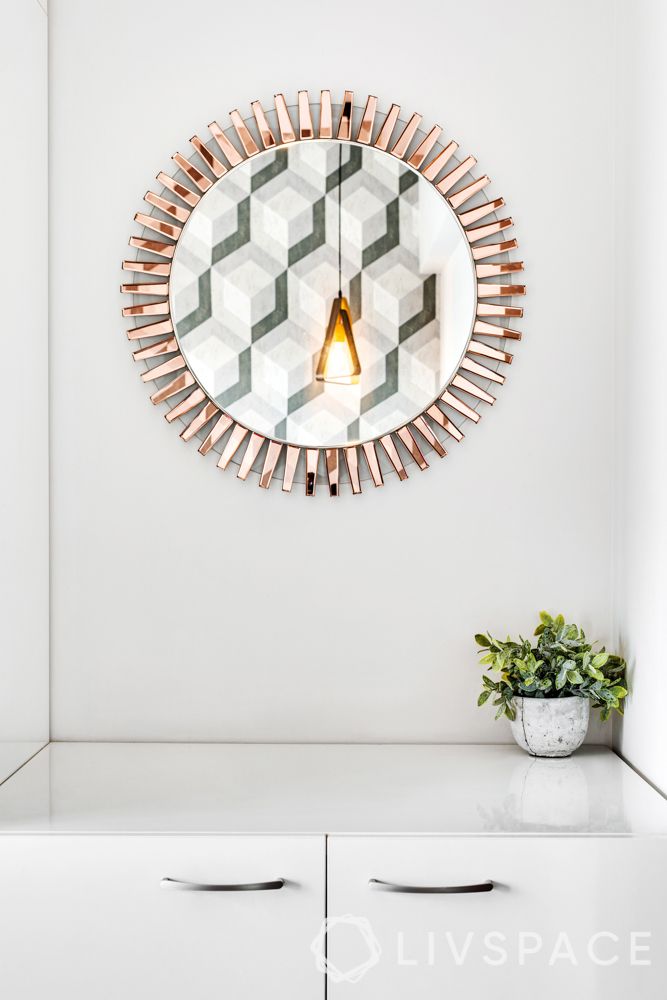 Here's a design tip for you – mirrors can make the smallest of spaces look big by creating the illusion of space. If you can, try to get yourself a full-length mirror which will give a spacious look. If that isn't possible, a small wall mirror/ or a long floor mirror will also do the job. Look for some statement piece to add some glamour to your walls.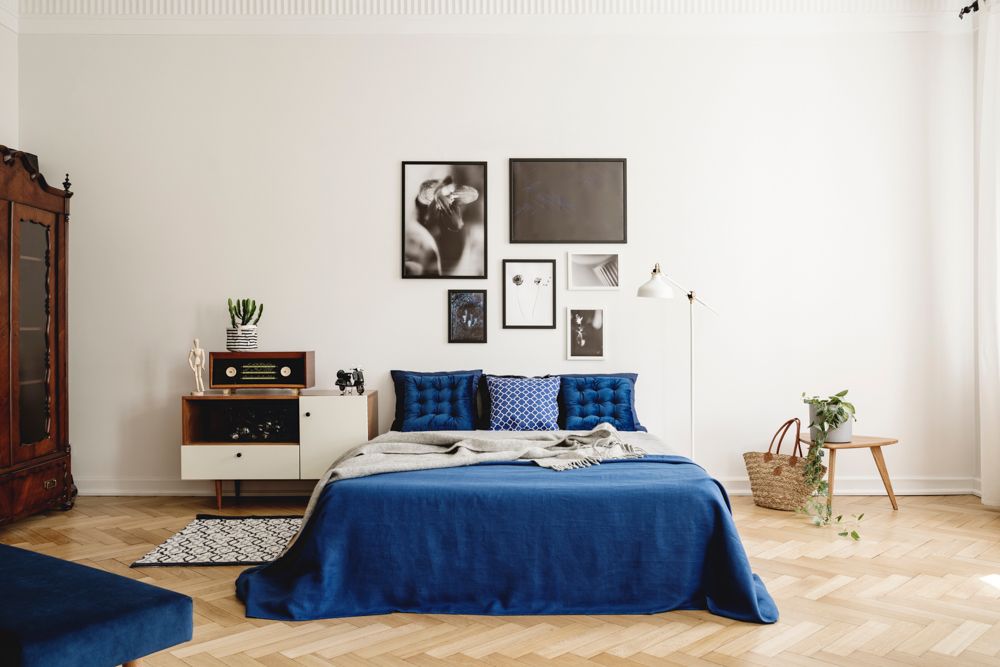 A simple DIY small bedroom design option is to create a photo gallery on your walls. You can create the look you want by using simple, glam or quirky photo frames.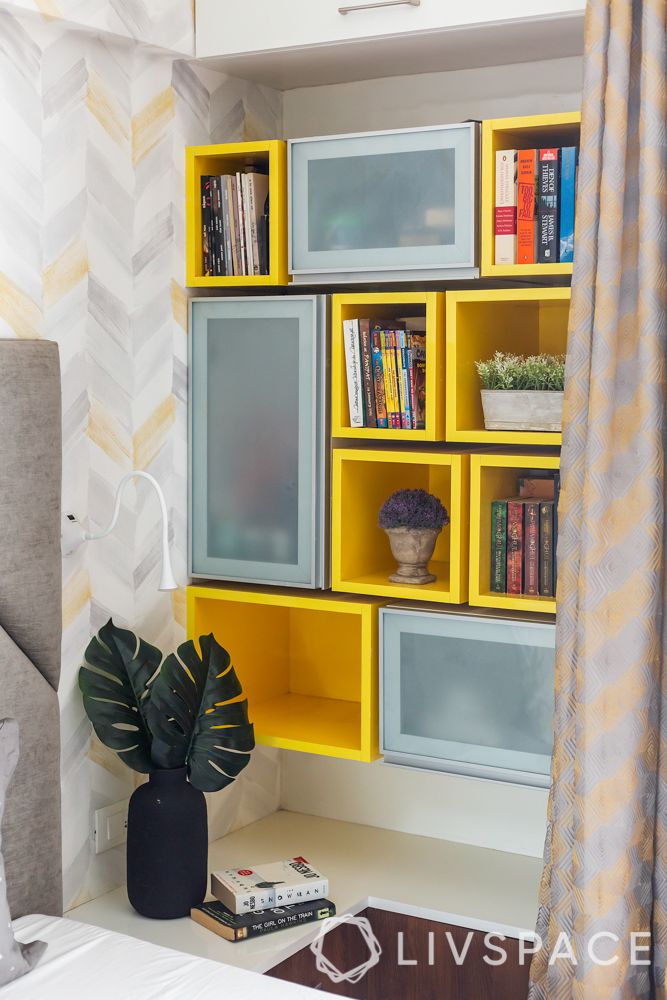 One of the most important tips to design a small space is to look for multi-functional décor items. So, why not get some wall-mounted cabinets in bright colours? Available on Amazon in multiple designs, these serve the dual purpose of looking trendy and providing storage and display space.
Bedroom Designing Idea #2: The Floor
The next part of your bedroom designing plan for a small rental room is the floor. Here are some flooring décor tips that are easy to implement and look amazing!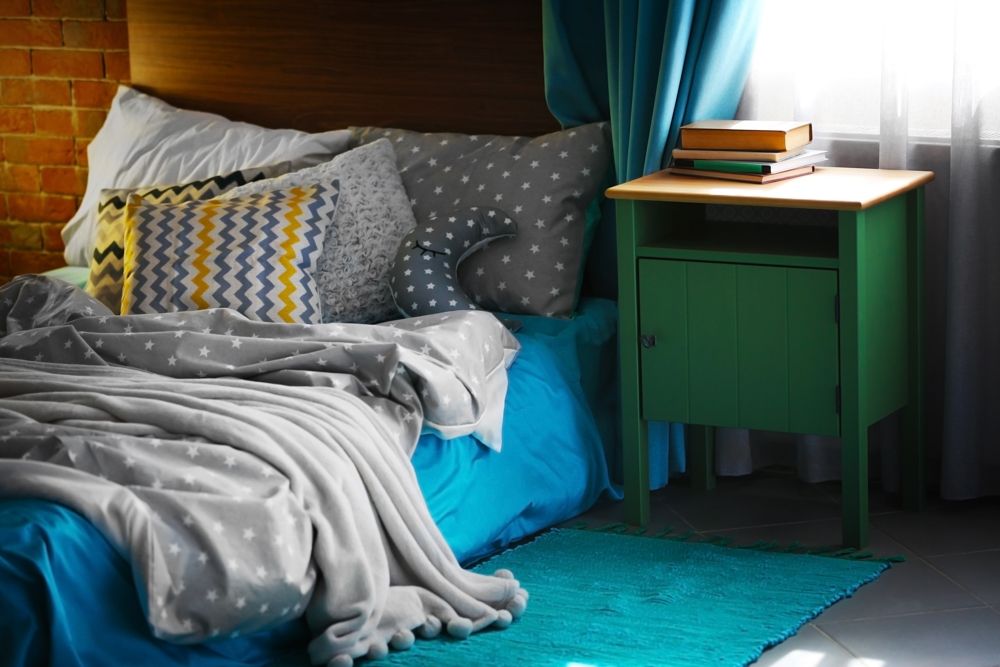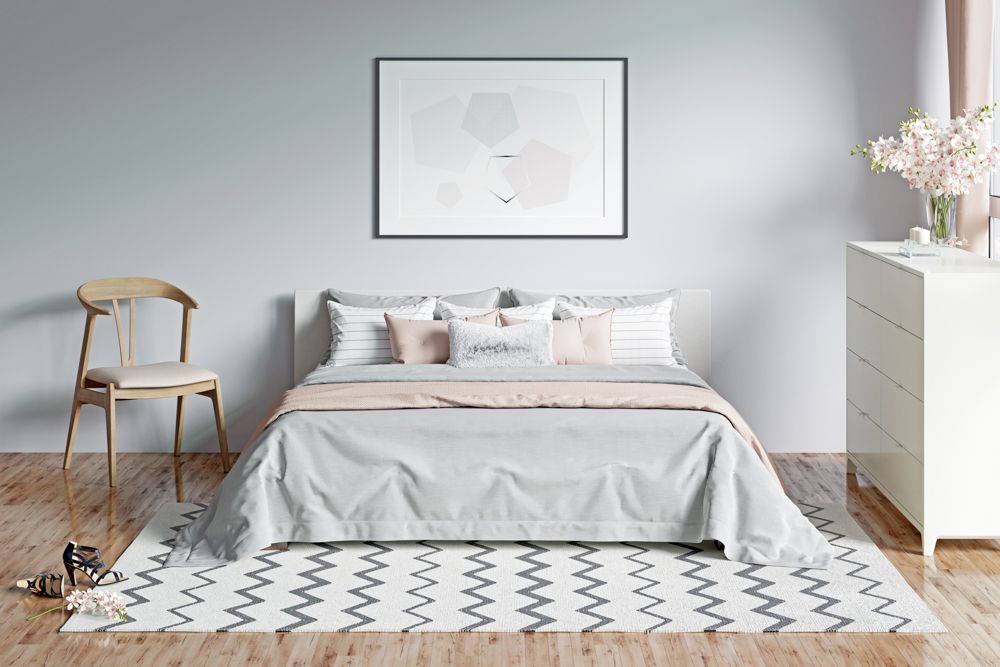 What is a cost-effective and easy way to decorate your floor? Rugs and carpets, of course! Be it a small rug or a full carpet, these decorative items are a must-have for your small bedroom design.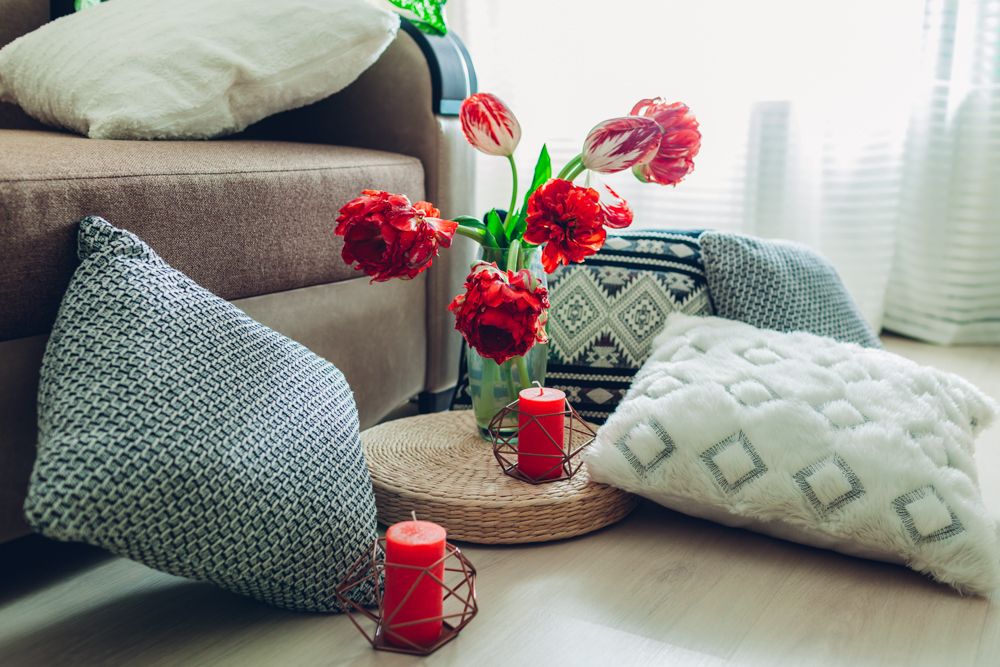 Your mother might be unimpressed by you keeping pillows on the floor, but trust us, if done properly, these can look stunning! Throw in some colourful cushions and add decor items for a striking look.
Bedroom Designing Idea #3: The Windows
When your bedroom is compact, the biggest mistake you can make is to create a dark ambience. Let in the sunlight and watch your small bedroom design change into a bright and spacious area.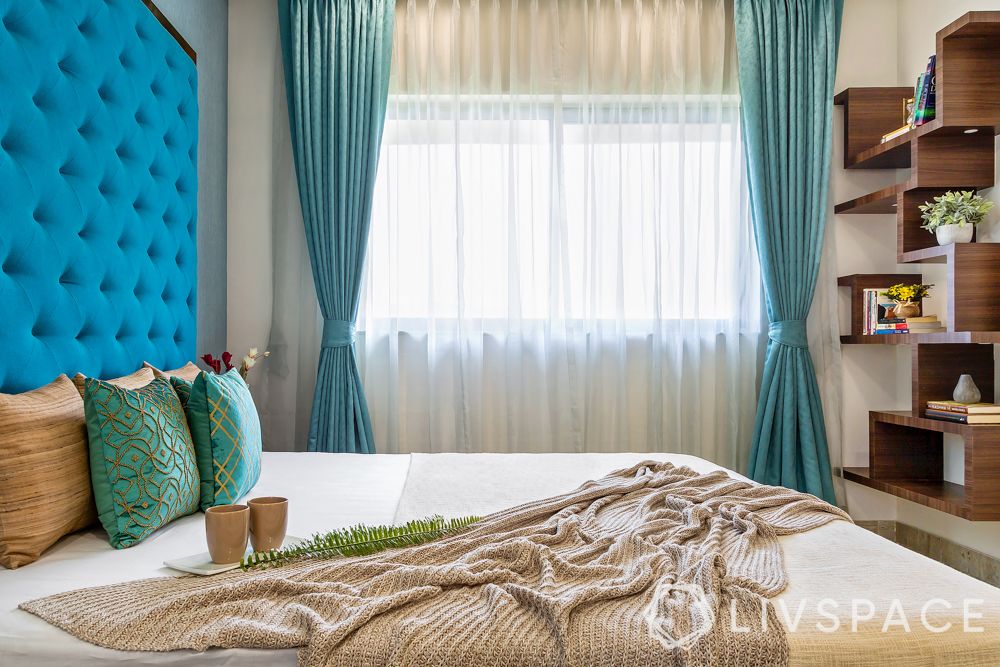 When we talk bedroom designing for small rooms, curtains can play a pivotal role.
Floor-length curtains in a solid colour, vertical stripes or minimal designs are your best option. You can also add a sheer drape that will allow light in while maintaining your privacy.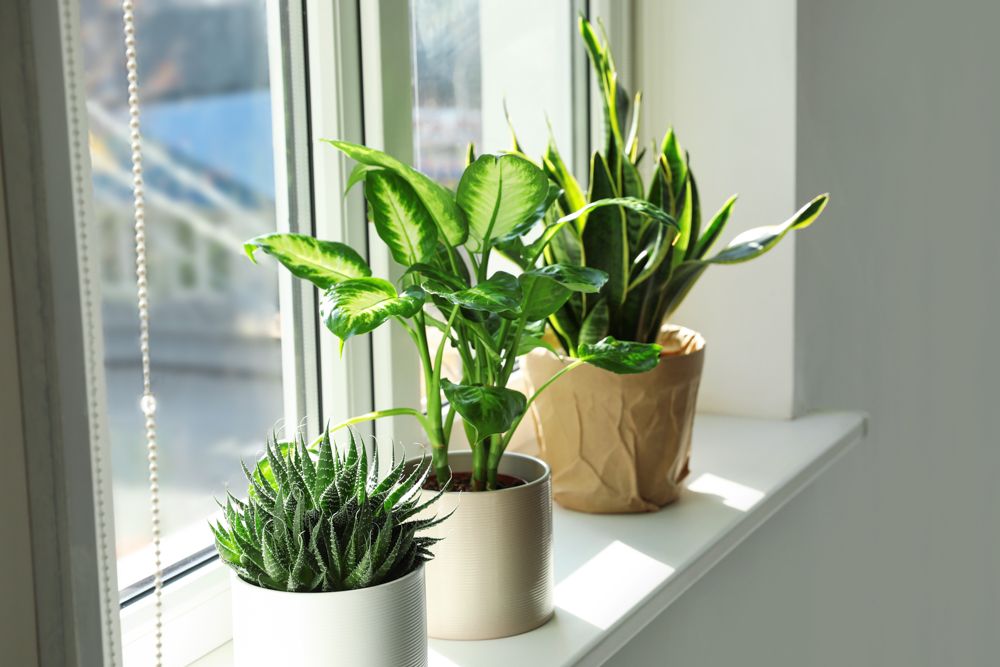 A dash of green can do wonders to make your small bedroom design look trendy! Make good use of your windowsill by placing some low-maintenance potted plants like the snake plant and money plant. Some fresh plants are a great way to dress up your windows while ensuring an ample supply of oxygen in your home.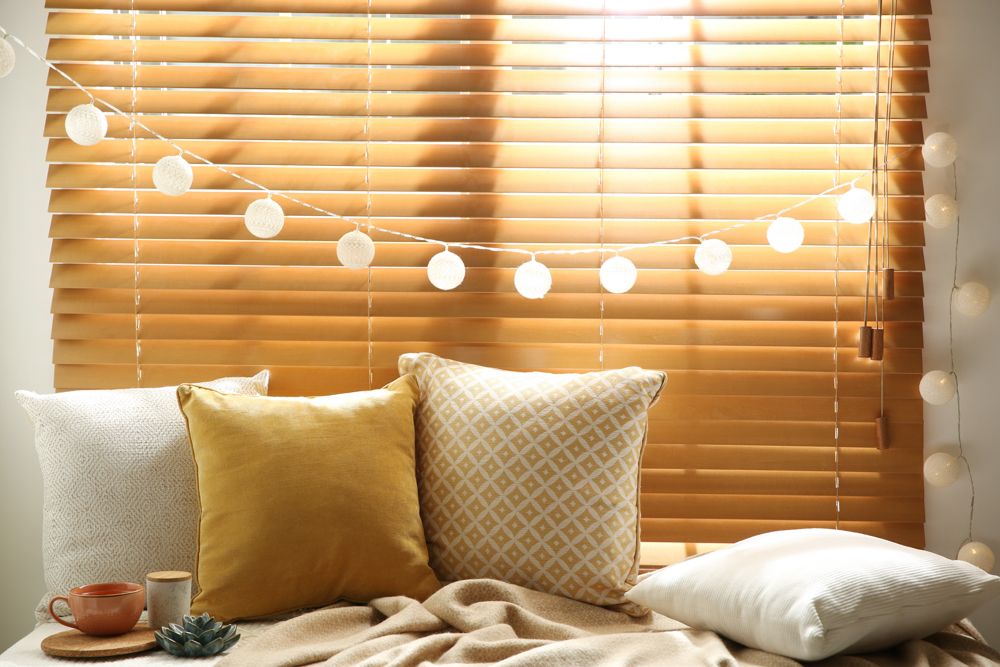 And finally, fairy lights! For all those living in rentals, fairy lights must already be a major part of your bedroom decor. Just hang a string of twinkly lights over your windows for a magical look.
Bedroom Designing Idea #4: The Furniture
The right furniture is key to creating a unique and homely space. However, in small rental bedrooms, there are several constraints like space constraints and landlord rules. Here are some smart furniture tips that will not take up too much space in your bedroom.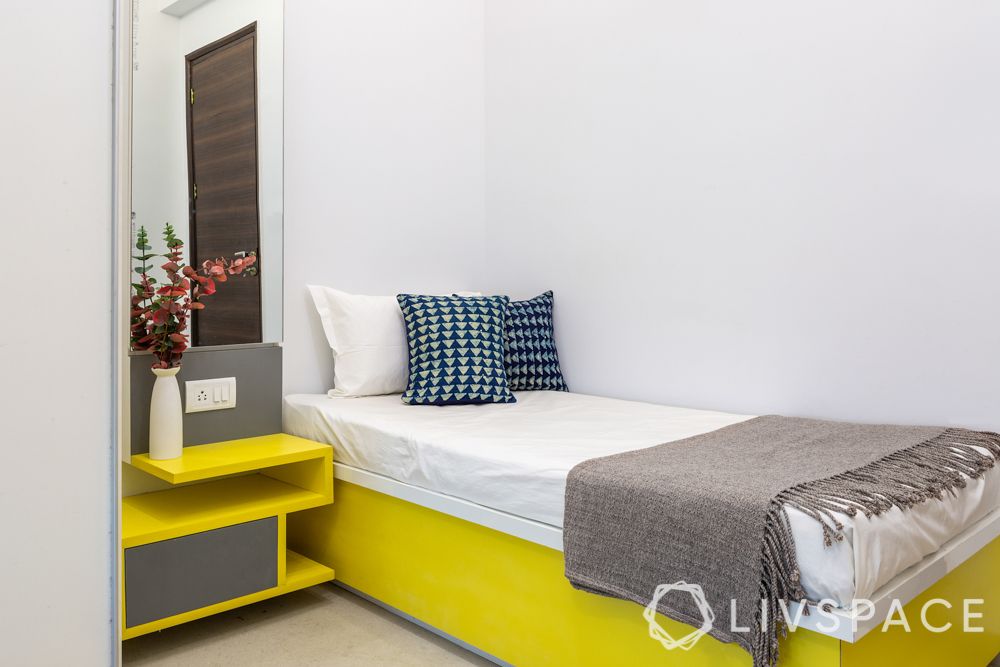 The most important furniture in your bedroom is obviously the bed. Considering the space constraints, hydraulic beds are the best option for you.
If you want to add some drama to your small bedroom design, choose a bed in a bright, peppy colour.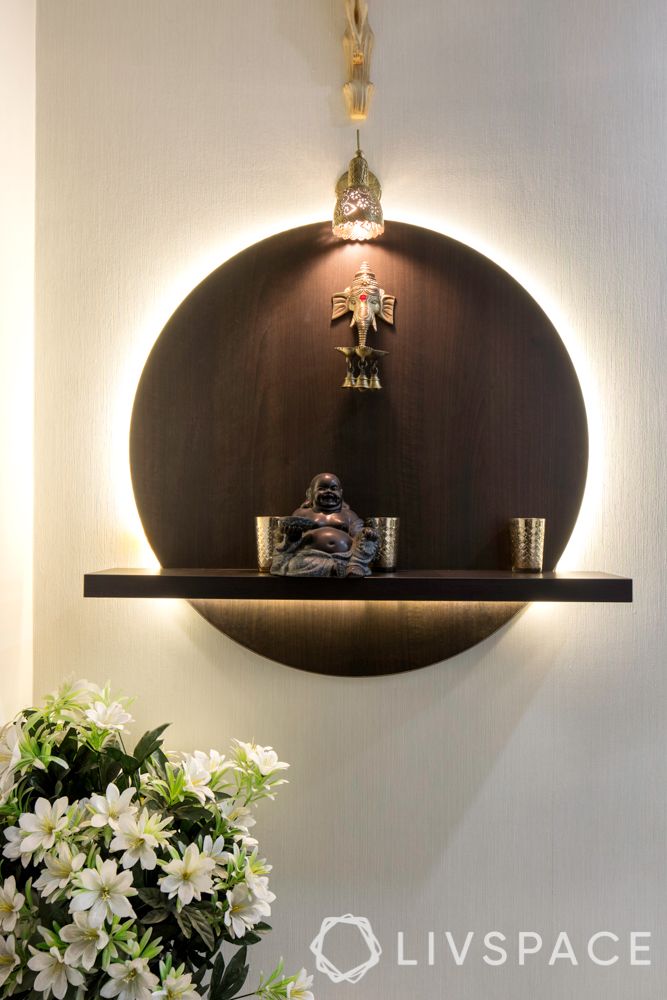 Next, we come to display units. In large bedrooms, there is ample space to install cabinets and display your curios. Not so in small bedrooms. But a small space does not mean you cannot do some trendy bedroom designing!
Look for sleek wall-mounted units to display your curios that will not take up too much space.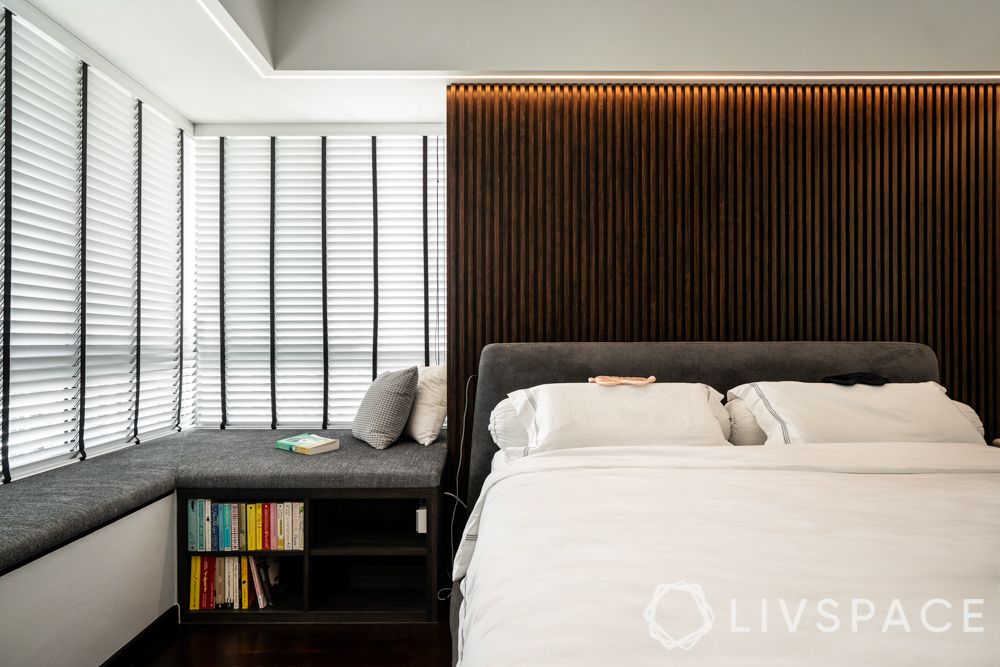 Another important trick for a small bedroom is to look for integrated furniture. Save on both space and cost by opting for furniture that serves more than one purpose.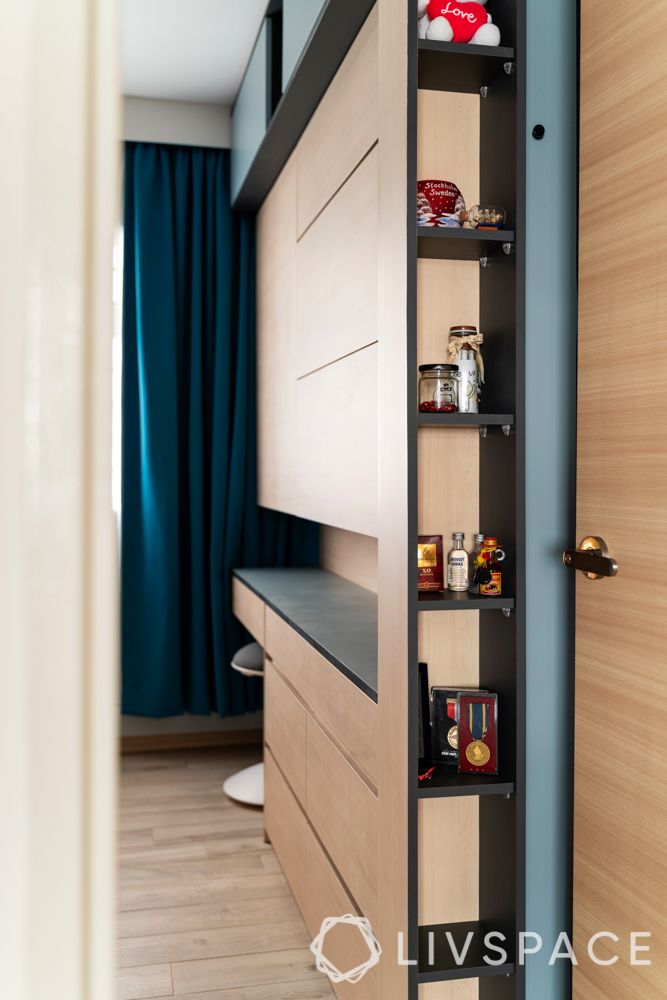 When your bedroom is tiny, space-saving furniture will come to your rescue! Steer clear from bulky furniture that takes up too much space. Instead, look for sleek options that can fit into corners and narrow spaces.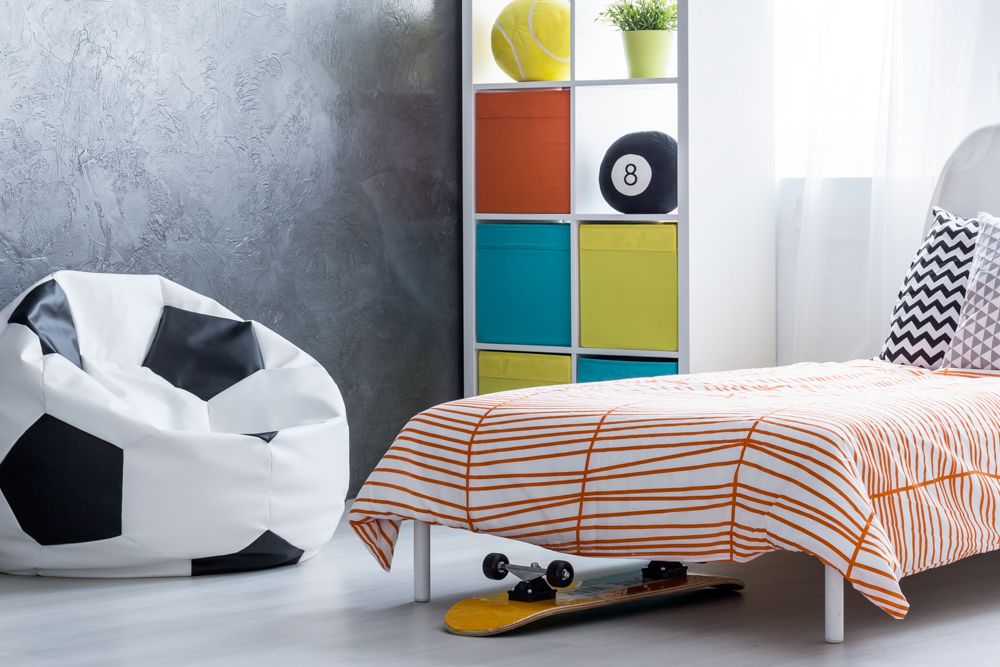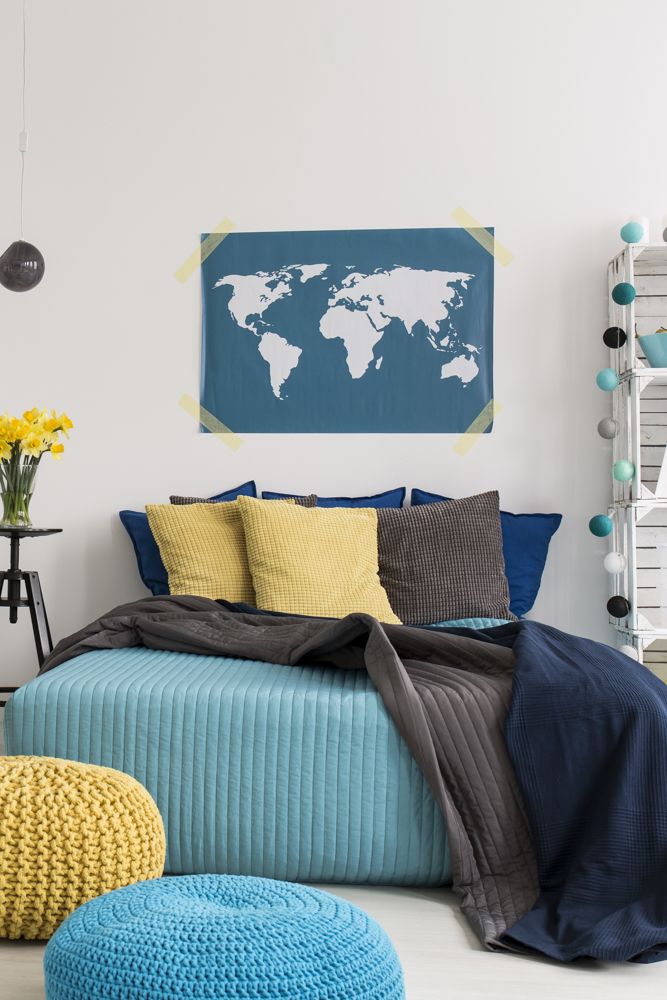 Love entertaining your friends, but no space to add seating in your bedroom? Instead of heavy chairs, get some bean bags, ottomans and pouffes in quirky colours. You can move these under the bed when not in use, thereby avoiding clutter.
Bedroom Designing Idea #5: The Cosy Nook
A bedroom is a place where we eat, sleep and rejuvenate. And in case you share the rental home with other flatmates, you must create your personal nook in your bedroom itself. So, here are some ideas to create a cosy nook in your small bedroom.
If you have a gigantic window in your bedroom, take full advantage of it! Place a statement chair beside the window along with a small table for a comfortable and relaxing space. On rainy days, sit back with a hot cup of tea and enjoy the weather outside.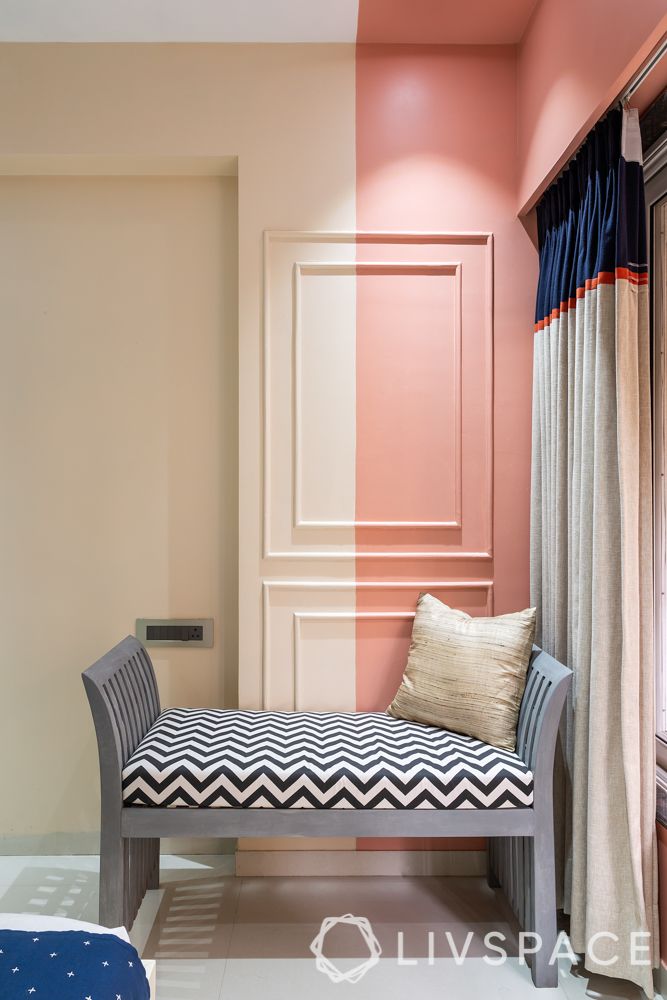 For those lazy ones who can never get out of bed, a small daybed is a great option. Place it in a corner or beside the window. A daybed will give you the motivation to get out of bed while also giving you the flexibility to lie down if you tire of your day!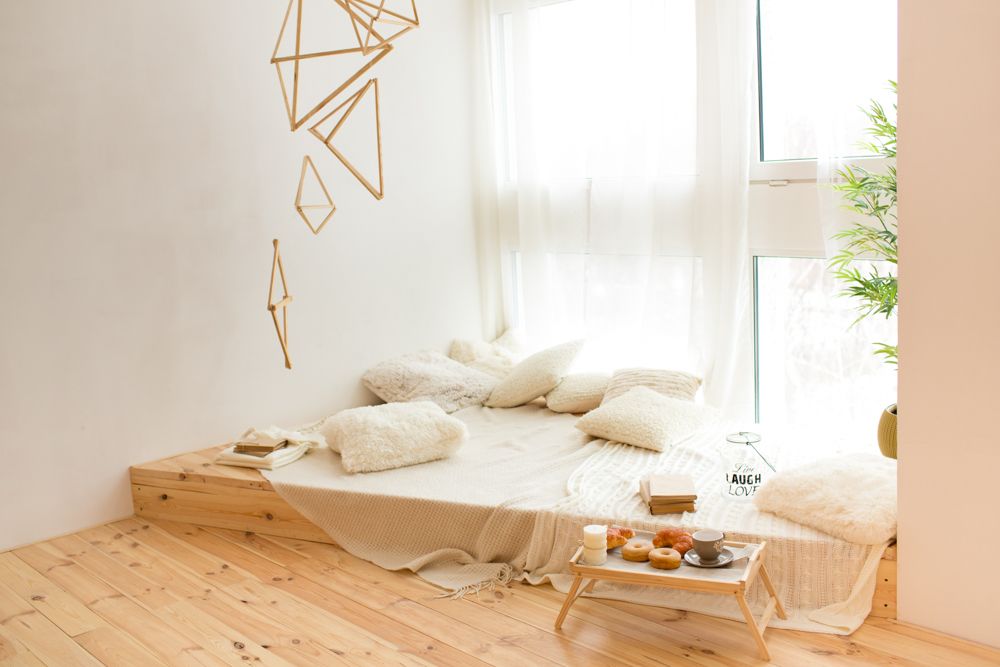 But what if you just don't have enough space for these extra furniture pieces? Not a problem! While bedroom designing, create your personal corner by throwing in a quilt, some pillows and a table on which you can keep your coffee.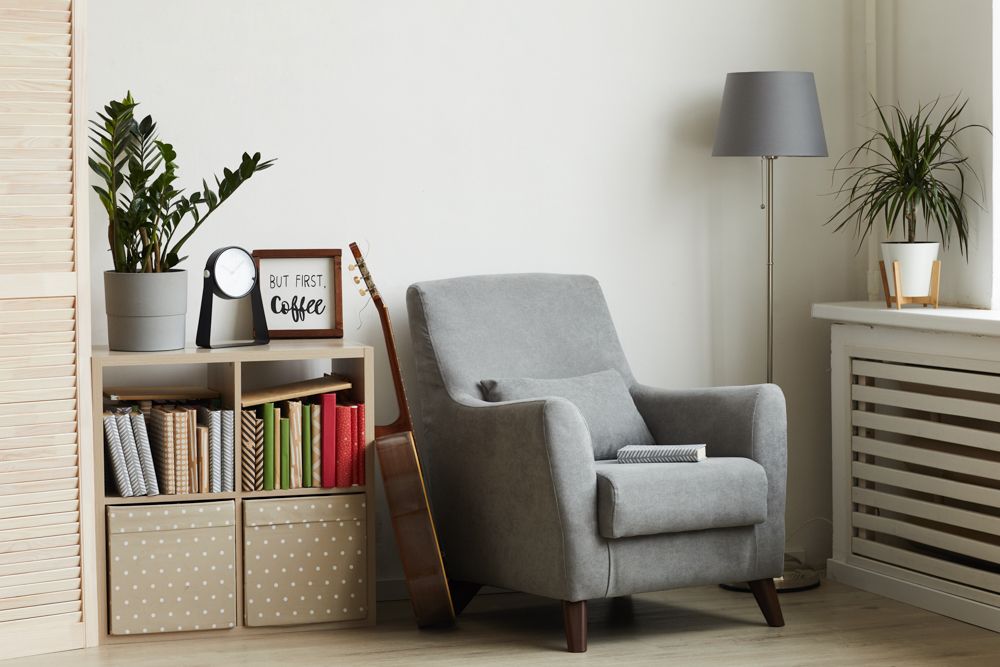 We bibliophiles love our cosy corners, don't we? If you have a limitless collection of books, invest in a small bookshelf or cabinet. You can also look at wall-mounted options if space is scarce. Place an armchair beside the cabinet where you can sit and get lost in your favourite book!
Bedroom Designing Idea #6: The Lighting
And finally, the lighting! Proper lighting can brighten up boring spaces and create a glam look. Dim spaces look smaller than they actually are. Thus, perfect lighting is a must for your small bedroom design.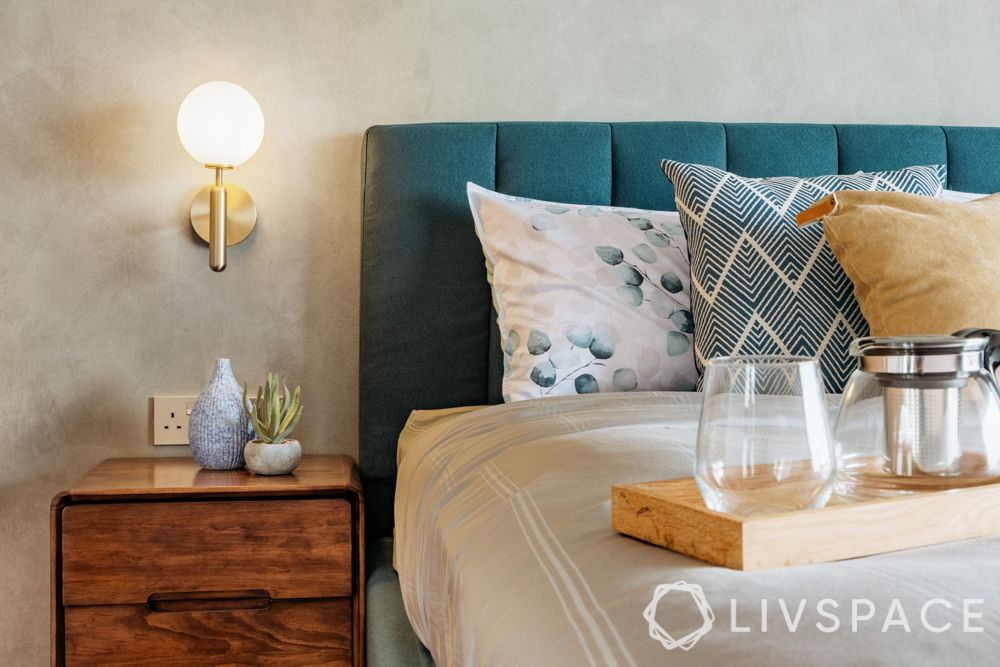 Sconces are the perfect option if you want to light up your small bedroom.
The best thing about these lights is that they are not glaringly bright, drawing attention away from the smallness of the room.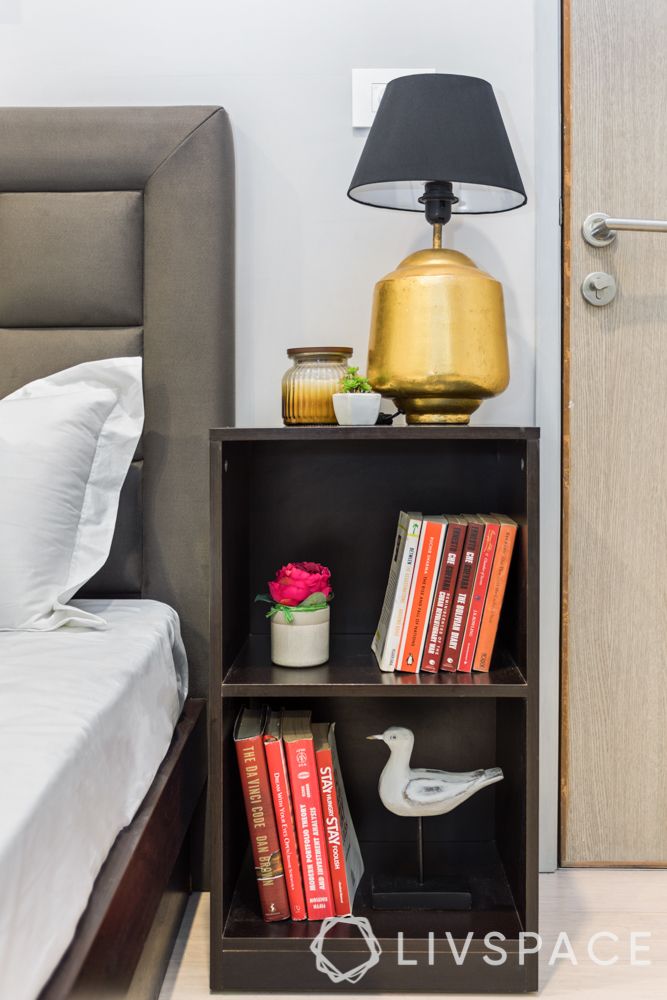 The next obvious option is table lamps. Cost-effective and available everywhere, table lamps serve as a great decor piece. The only drawback about a table lamp is that you can only invest in one if you have enough space for a side table.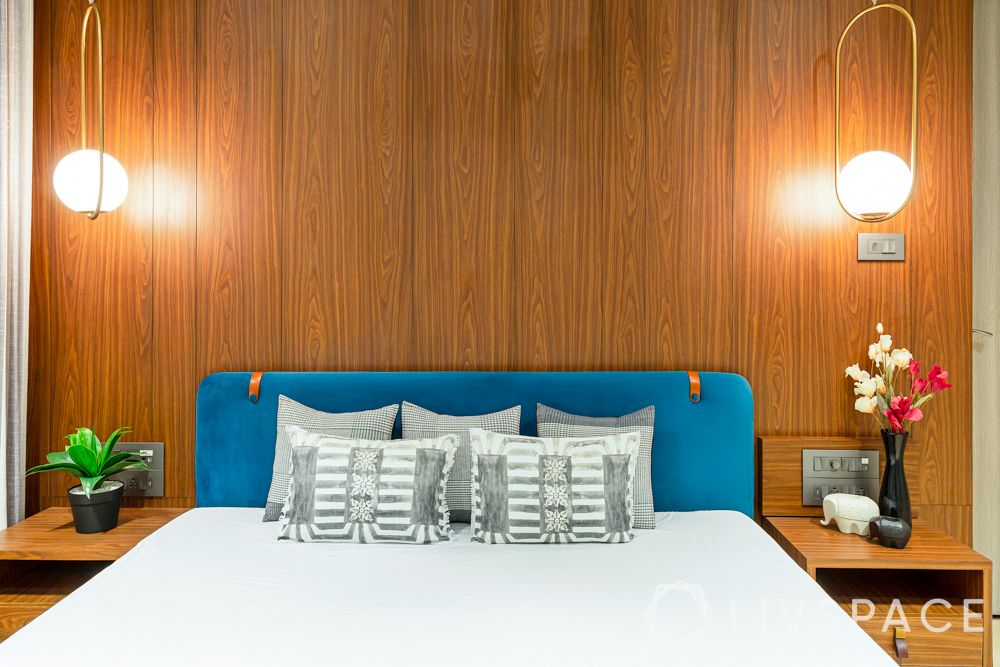 Want to give your small rental bedroom a glamorous, hotel-like look? Some classy pendant lights are the perfect option for you! These lights look sophisticated and create an intimate ambience.
More lighting tips:
Did you like these small rental bedroom designing ideas? Check out these tips on how to design a small bathroom.