Don't we all love our modern, urban apartments? But there is one thing that is a bane for everyone living in apartments — the size of our bathrooms! Tiny, cramped and cluttered, Indian bathrooms are a far cry from the luxury, spa-esque bathrooms we see in movies. So if you're looking to make the most of your space, our small bathroom ideas will help you create a luxurious haven of a bathroom right in your home. Inspired straight from our Livspace small bathroom designs, these low budget small bathroom ideas will give your bathroom the makeover it deserves.
Get the Best Small Bathroom Ideas for Lighting
One of the very small bathroom ideas to open the space is getting the lighting right. So, if you are looking for small bathroom designs for Indian homes, the lighting is the first thing that you must consider.
#1: Small Toilet and Bathroom Ideas with LED Lights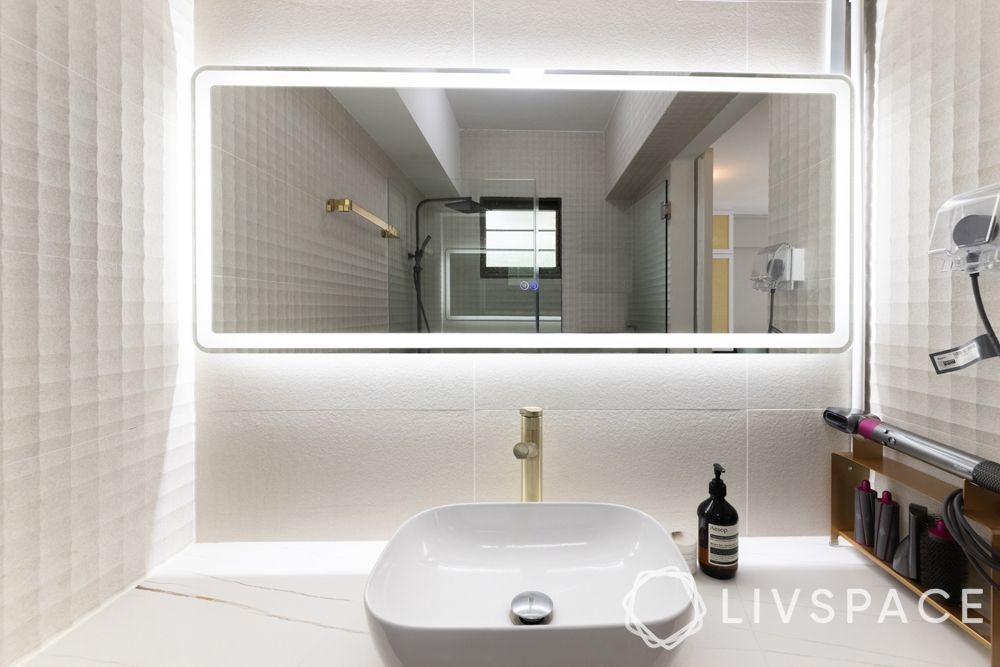 The year is 2022 and it's time we all go green! LED lighting is an energy-efficient option that will not only help you do your bit for the world but also save cost. Also, this convenient lighting option is a great choice for small bathrooms. Use LED lights around your bathroom mirror to create an edgy and modern look. They can also serve as a source of ambient lighting in small bathroom designs with showers.
#2: Cove Lights for a Small Bathroom Interior Design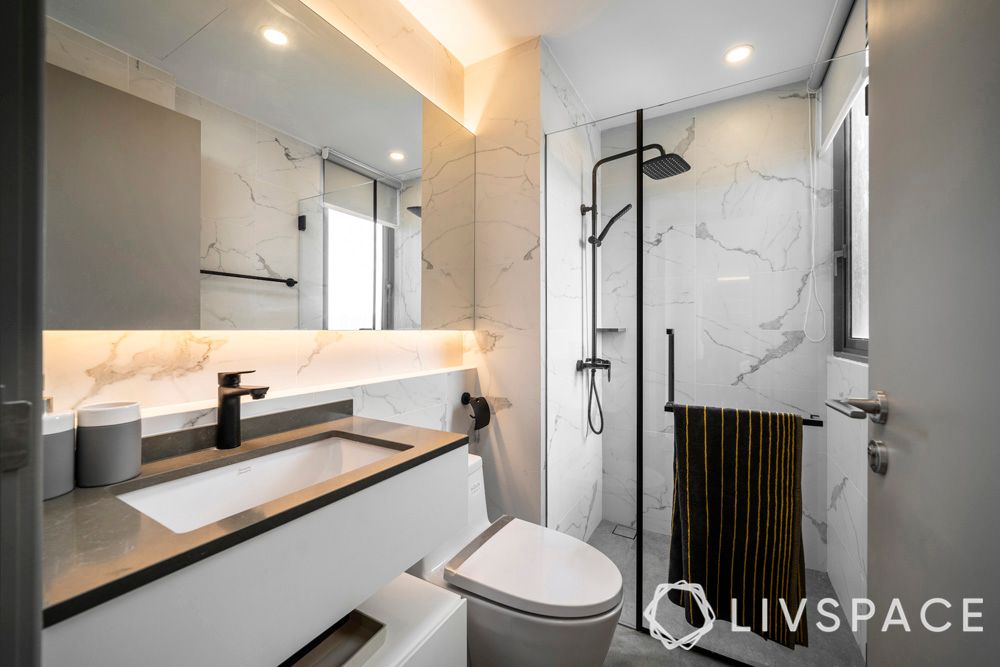 Who doesn't want a bathroom that looks like a spa? However, aking how will it fit your budget? When it comes to easy-on-the-pocket budget small bathroom ideas, you can never go wrong with cove lights. They can transform a basic bathroom into a five-star one! You can conceal these subtle lights behind mirrors and false ceilings. The resultant look is soft, intimate and warm.
#3: Spotlights To Keep Up with Your Small Bathroom Design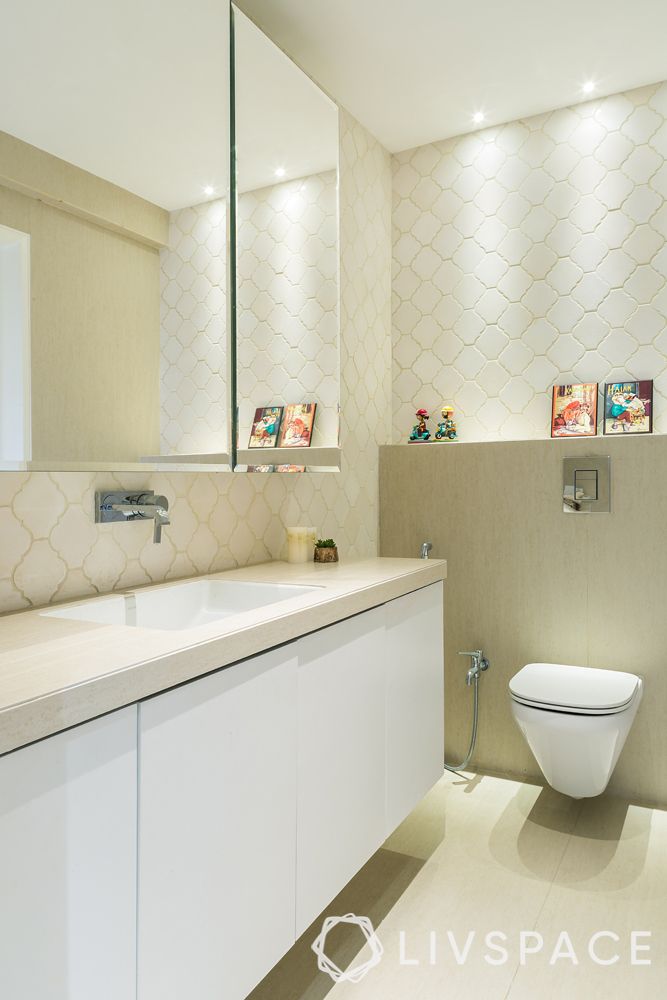 Looking for some simple yet distinctive small bathroom design ideas? Spotlights are an easy way to light up your space without going overboard. The best thing about spotlights? They will enliven your bathroom without drawing attention to the small size, cracks, clutter etc.
#4: Profile Lighting Around the Mirror To Light Up Small Bathroom Designs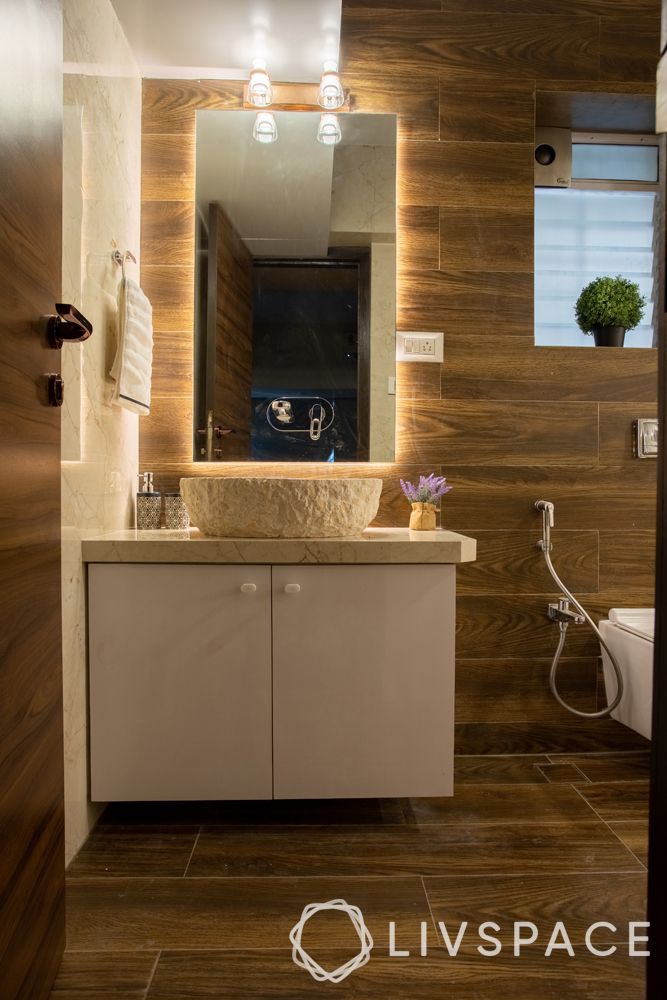 We Indians love some pizzazz in our home decor! Needless to say, when it comes to small bathroom designs in India, there has to be some wow element! Profile lighting can give you that opulent look even if you have a small bathroom design. Add it around your mirror as backlighting and instantly transform your bathroom into a spa-like space.
#5: Statement Lights for Low Budget Small Bathroom Ideas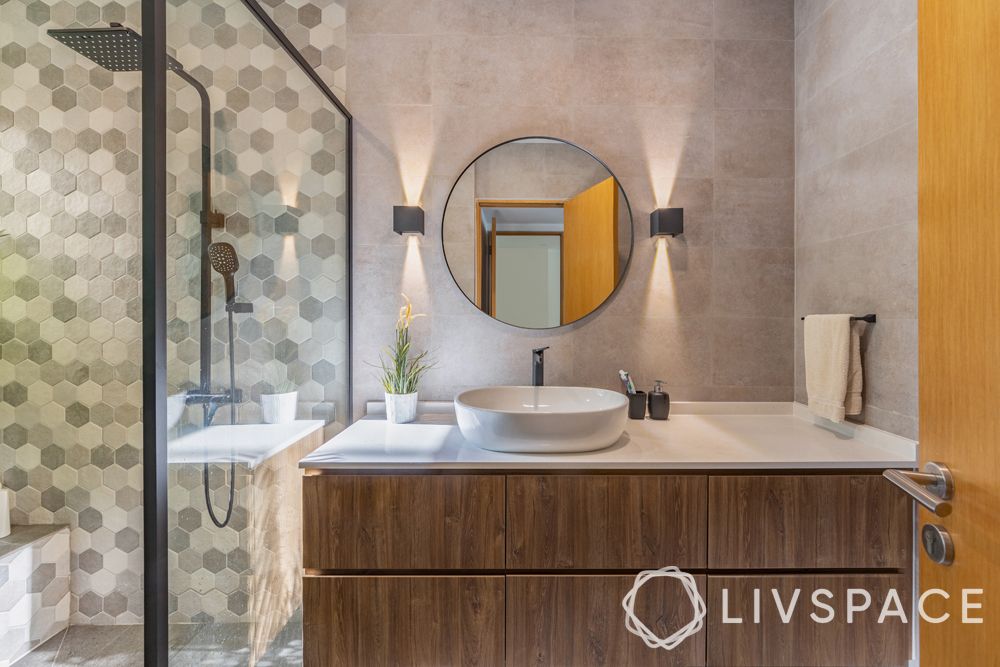 Looking for low budget small bathroom ideas that combine style and functionality? A great budget option is to add some pretty wall lights in your bathroom. Available in different styles and varieties, you can easily pick up a couple from a thrift store. Use them beside your mirror to create a statement effect.
Make Use of the Walls for Creative Small Bathroom Designs
When it comes to very small bathroom ideas, your wall decor is of utmost importance. When space is small and cramped, the walls provide the only way to create a stunning look.
#6: A Wallpaper will Work for Any Small Toilet and Bathroom Ideas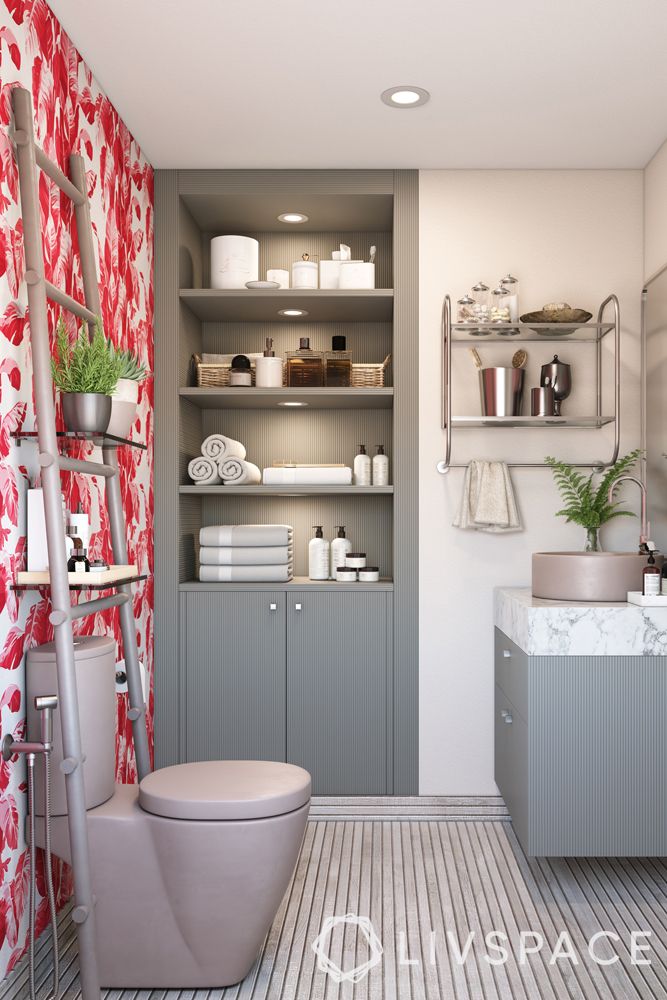 When we say wall designs, what is the first thing that comes to your mind? If your answer is wallpaper, then we're on the same page! Wallpapers are the easiest way to remodel the look of your small bathroom design. This convenient option is available in a variety of designs and colours. And the best part? You can get gorgeous designs without having to empty your pockets!
#7: Wall Shelves To Save Up on Floor Space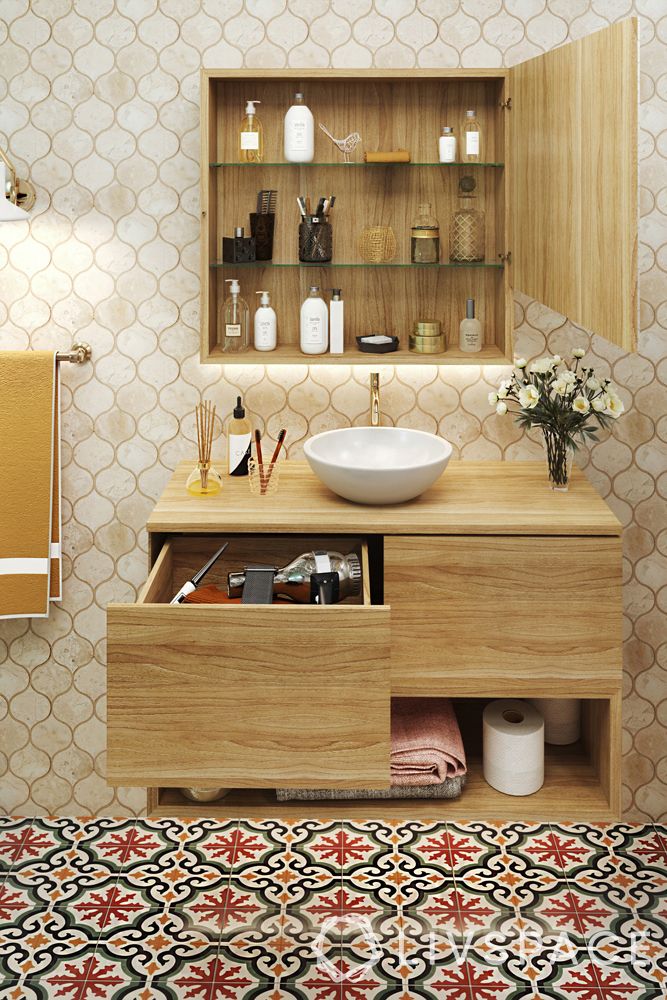 For small bathroom designs with showers, vertical space is your best friend! Make the most of your bathroom walls by installing floating cabinets. This not only keeps the floor space clutter-free but also provides ample storage. At the same time, you can also keep candles, plants and curios in these cabinets to create a laid-back and plush look.
#8: Statement Mirrors Create a Focal Point for a Small Bathroom Interior Design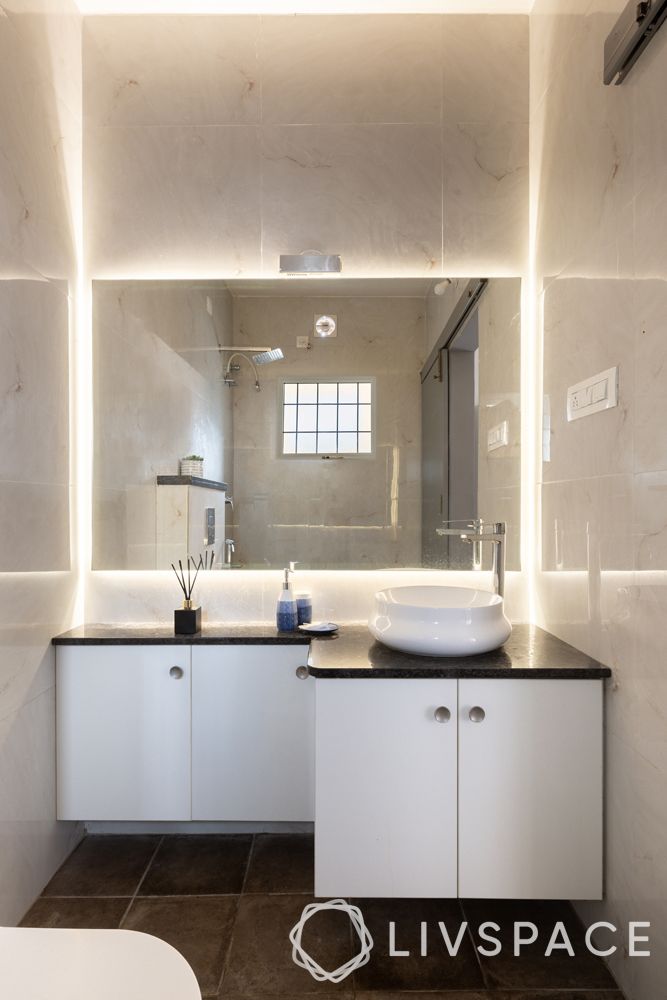 Here's a tip from experienced designers — reflective surfaces like mirrors can create the illusion of a large space. Mirrors are your answer to small bathroom designs for Indian homes. Generally, Indian bathrooms come equipped with a small face mirror above the sink. However, if you really want effective and stylish small bathroom ideas with showers, consider investing in a large statement mirror. A designer statement mirror will make your bathroom look trendy while also opening up the available space.
#9: Greenery Is One of the Most Effective and Popular Small Bathroom Design Ideas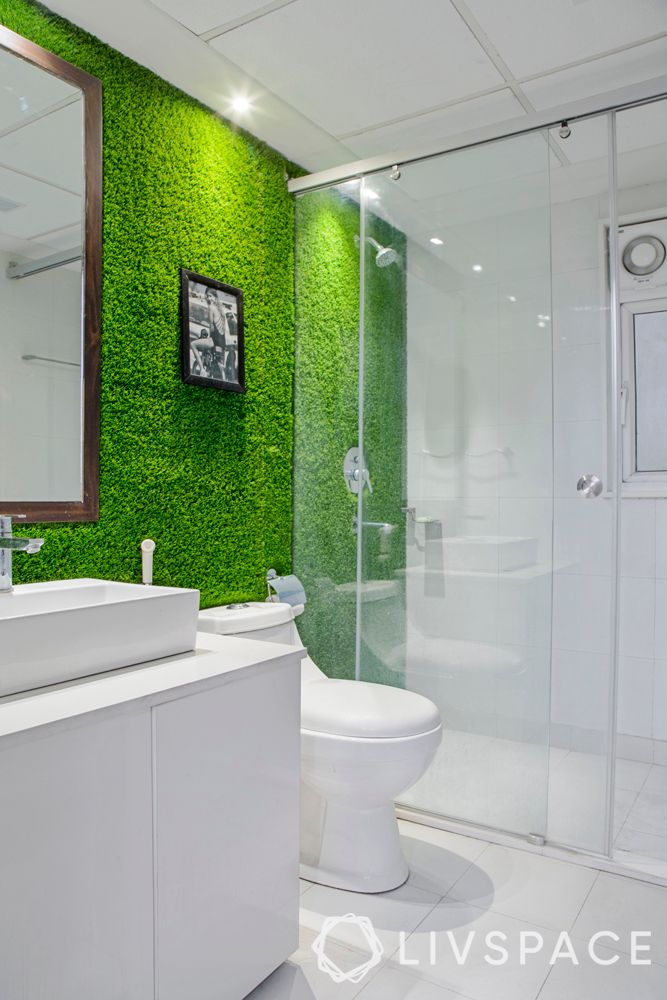 Imagine this — you are underneath a waterfall in a tropical rainforest surrounded by lush greenery. An impossible dream, we know! While a tropical rainforest may not be easily accessible, you can take a leaf out of that idea and include adding greenery to your small bathroom ideas. When it comes to budget small bathroom ideas, greenery is an easy way to revamp the entire look. Just add some potted plants to your bathroom windowsill. And if you want to go all out, get yourself a vertical garden for your bathroom wall.
Pro Tip: For the lazy ones, a faux vertical garden will do just as well as a real one!
#10: Lively Small Bathroom Ideas Include Adding Moroccan Tiles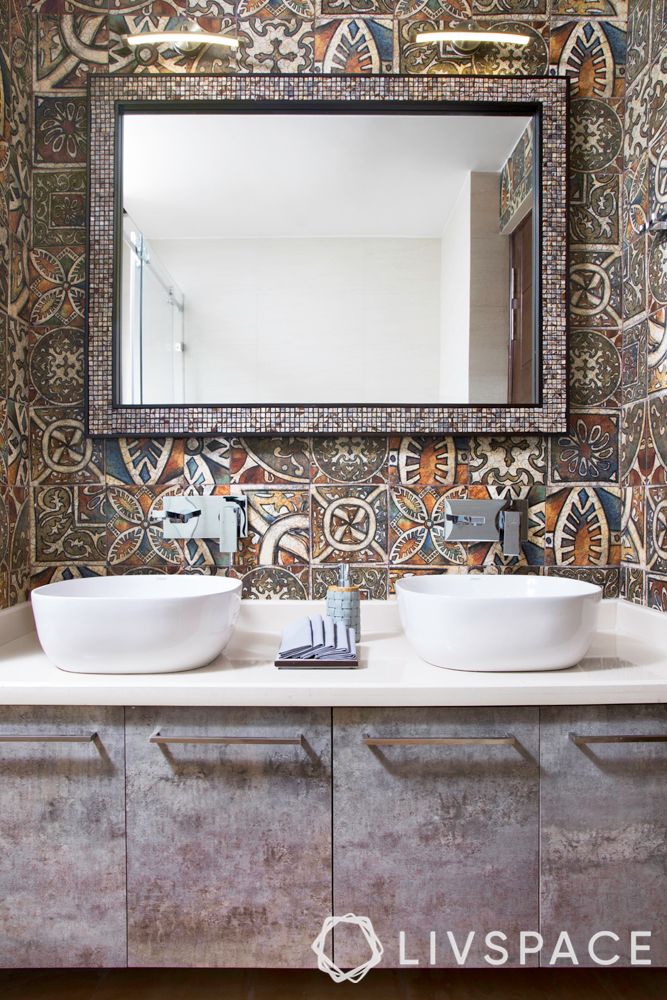 When we talk about very small bathroom ideas, the tiles are one of the primary factors to consider. Moroccan tiles are a great way to add some brightness and colour when it comes to thinking up vibrant small toilet and bathroom ideas. The vivid patterns can make even the smallest of bathrooms look striking! These tiles are available in a wide price range starting from Rs 65/sq. ft.
Pro Tip: Don't have the bandwidth to add new tiles in your bathroom? Get a backsplash wallpaper in Moroccan print.
Colours Are Important and Effective Small Bathroom Design Ideas
One of the deciding factors of the overall look of your bathroom is the colour. If you have a small bathroom, the theme and colour are the easiest ways to make the space look beautiful and spacious.
#11: Add a Pop of Sea Blue for Some Soothing Glamour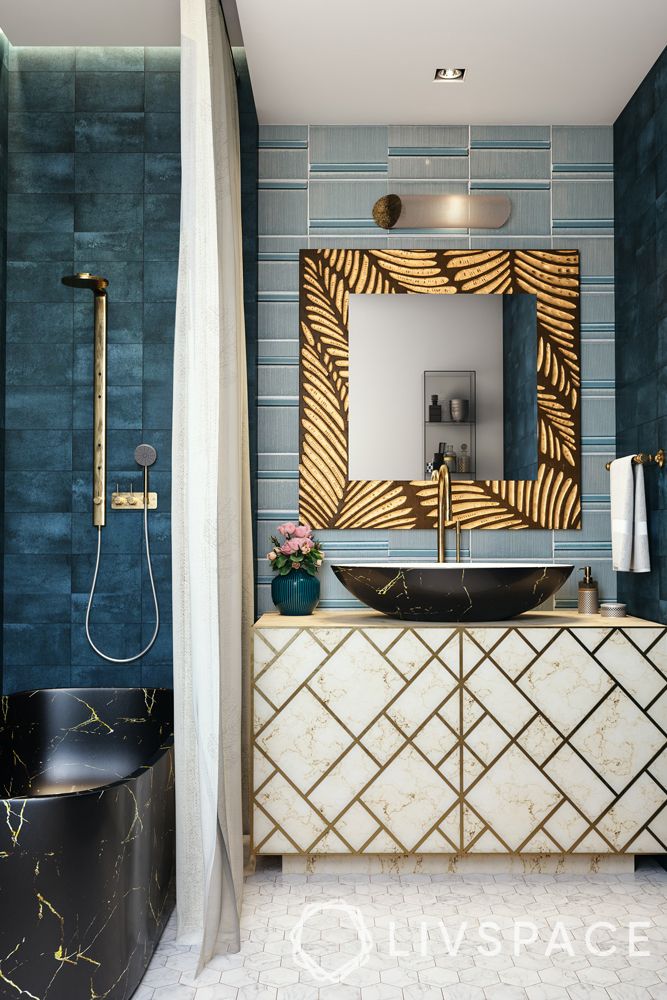 Doesn't this stunning sea blue bathroom design remind you of a luxe spa? Blue is a versatile colour that looks amazing wherever you use it. Keep it elegant by matching sea blue with beige tones and pristine white bathroom ware.
#12: Rustic Wonder for Modern Small Bathroom Designs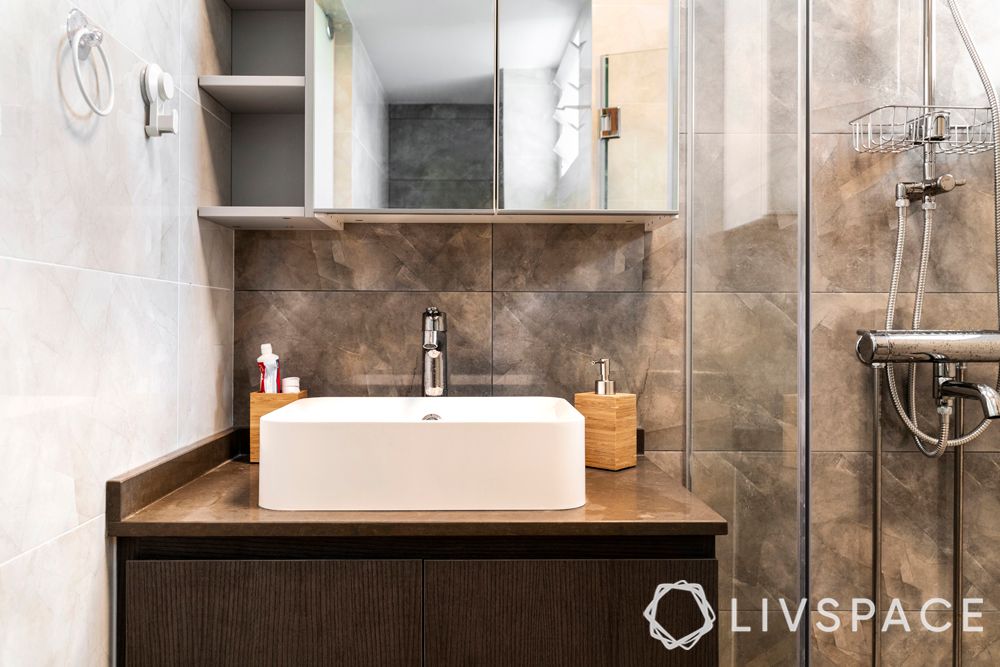 Another great bathroom colour is rust. A warm shade reminiscent of autumn leaves, this colour palette is a much-needed change from the cool tones generally used in bathrooms. Combine it with wood-like ware for a cosy and snug bathroom design.
#13: Bright and Colourful Make for Playful Interiors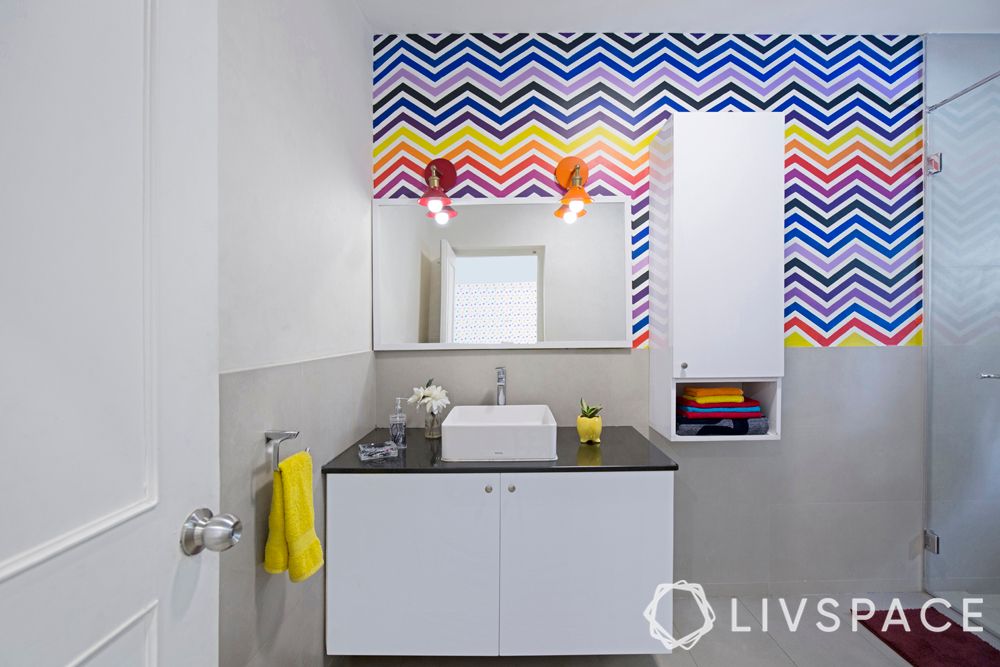 Why just choose one colour when you can choose many?! Colourful walls may not be everyone's cup of tea, but when used judiciously, they can look stunning. Colourful walls are generally the first choice for kids' bathrooms. However, you can even use this scheme in the main bathroom. Keep it muted by only having one wall or part of a wall in multiple bright colours while keeping the rest of the walls neutral.
#14: Fresh Greens as Small Bathroom Ideas To Cool Off This Summer
This bathroom looks so luxurious and royal! Pastel green is a soothing colour that can make even the smallest of bathrooms look plush. To keep it from looking tacky, avoid painting the walls green. Instead, opt for green tiles and bathroom ware. Pair it with gold accessories and a pretty floral flooring design for that complete spa-esque look.
#15: Get Bold with Black to Jump on the Trendy Bandwagon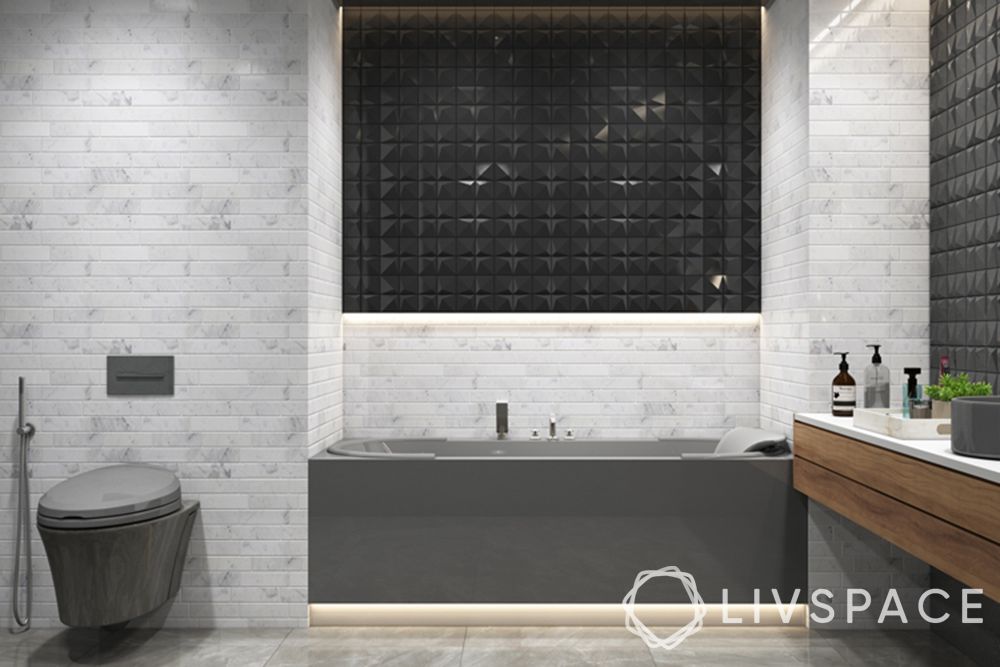 You might be thinking, "Don't dark colours make a space look smaller? Yes, they do, but not if you use them smartly as part of your small bathroom ideas, it can look amazing. But to keep it from making the space look smaller, consider choosing a softer shade than dark black. Also, use bright white bathroom ware to keep things balanced.
Explore Design Styles Fit for Your Personal Style
Now, we come to design styles. There are multiple small bathroom designs for Indian homes that you can try. Here are a few:
#16: Pick Contemporary for a Chic Bathroom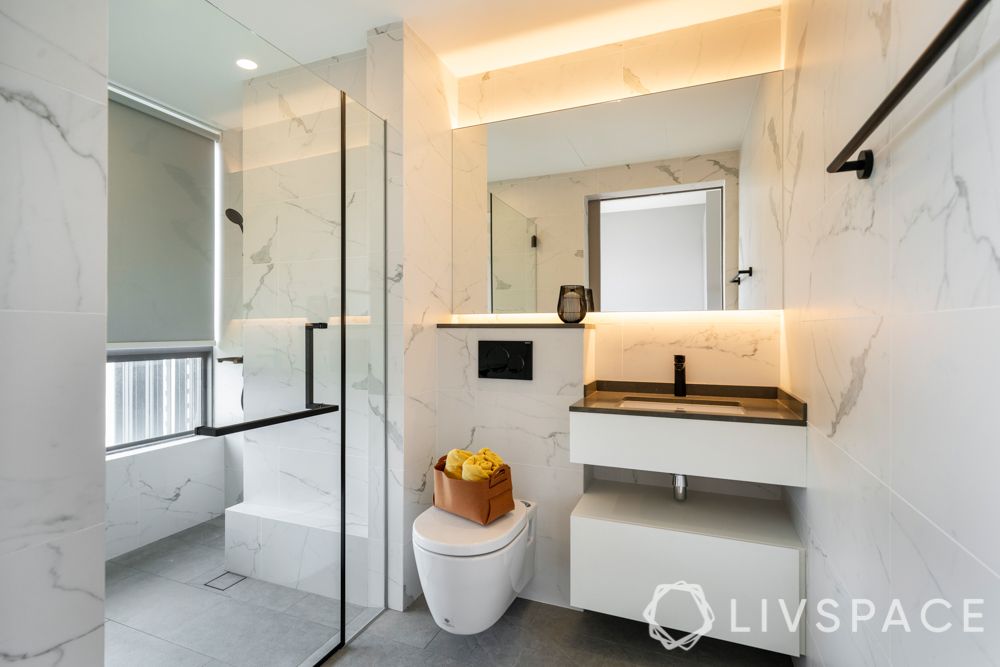 It goes without saying that the contemporary design style looks perfect in modern bathrooms. All about clean lines and a subtle palette, it's easy to see why contemporary design is a go to when it comes to small bathroom ideas. Choose light colours to open up the space and use backlighting or accent lighting for that wow factor!
#17: Choose the Scandinavian Style for Its Simple Designs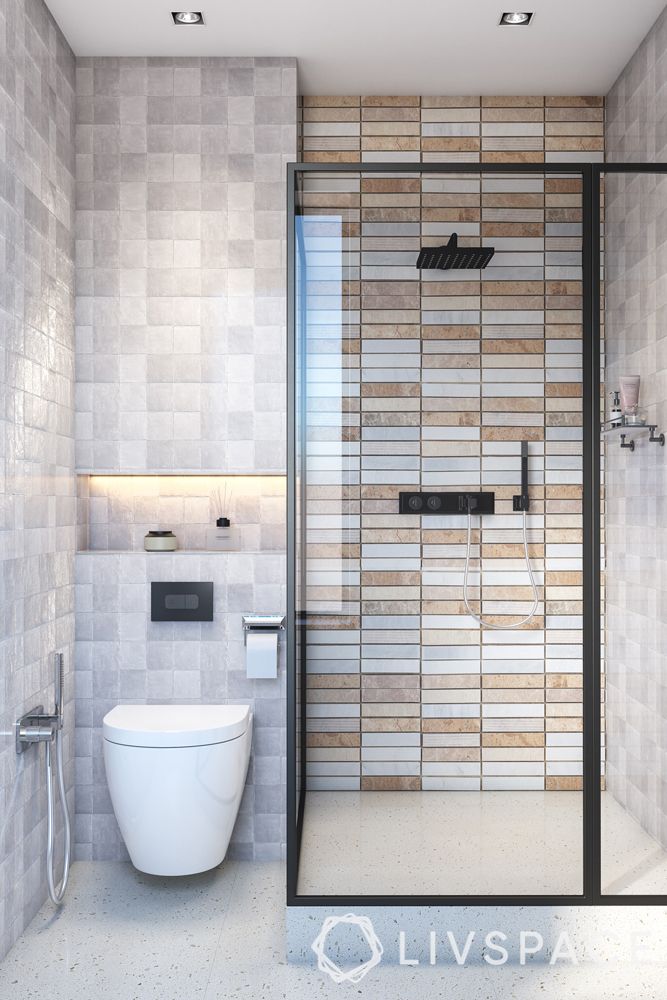 The Scandinavian design style has taken the world of interiors by storm! The defining characteristic of this style is the ample use of white. This makes it perfect for small Indian bathrooms as white makes a space look large. Also, remember to keep it minimal and clutter-free. You can add an accent wall in warm natural shades as Scandinavian design revolves around nature.
#18: Venture into Bohemian-Inspired Aesthetics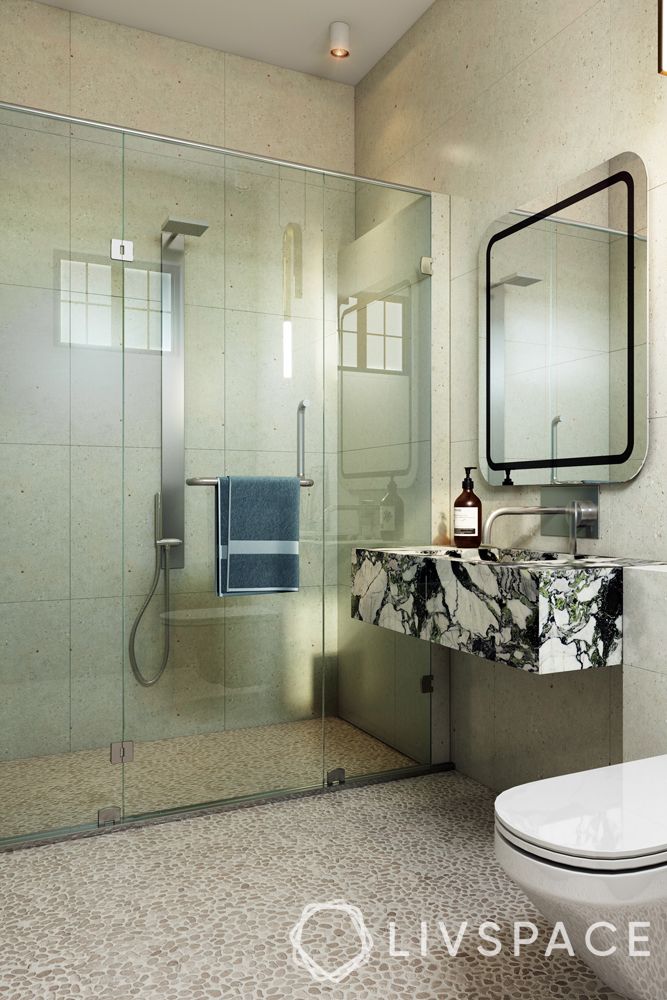 If you are looking for quirky small bathroom ideas, the bohemian style is a great look. Vivid and free-spirited, boho design has only one rule — do what you love! This mix-and-match style is quite easy to achieve. Just throw together different things — shower curtains, towels, tiles, bathware — anything that you think will look good. And don't forget to experiment with colours, designs and patterns!
#19: Stay Traditional To Your Aesthetic Roots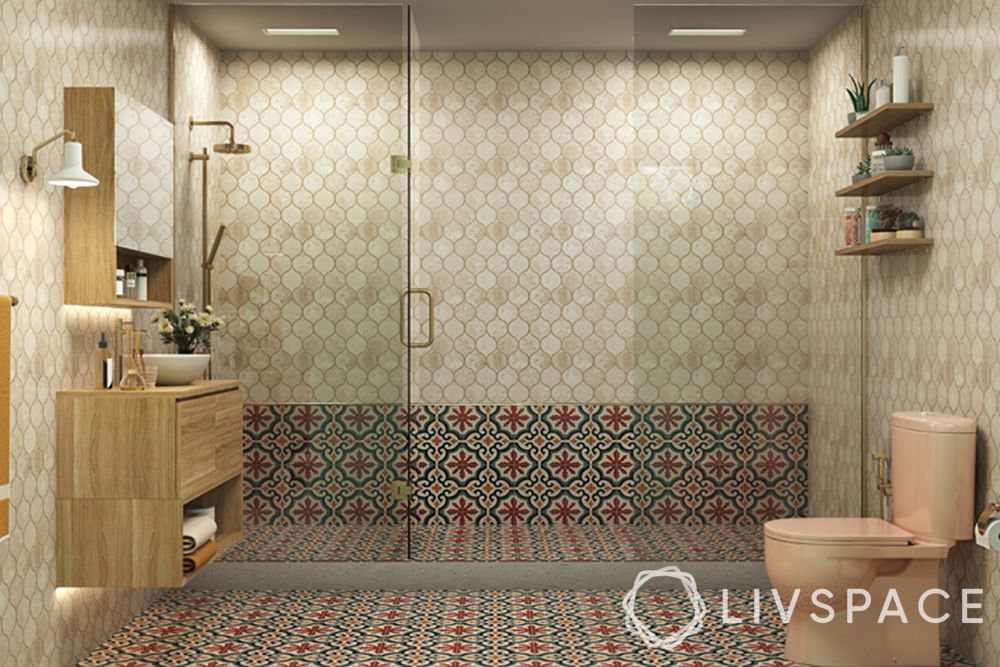 Not keen on experimenting? Then choose a traditional approach for your small bathroom designs, India style. But 'traditional' does not have to be boring! Wood-like finishes, pristine white bathware, statement lights and a dash of greenery — it is the recipe to a hotel-like bathroom design.
#20: Go Tropical with Your Small Bathroom Ideas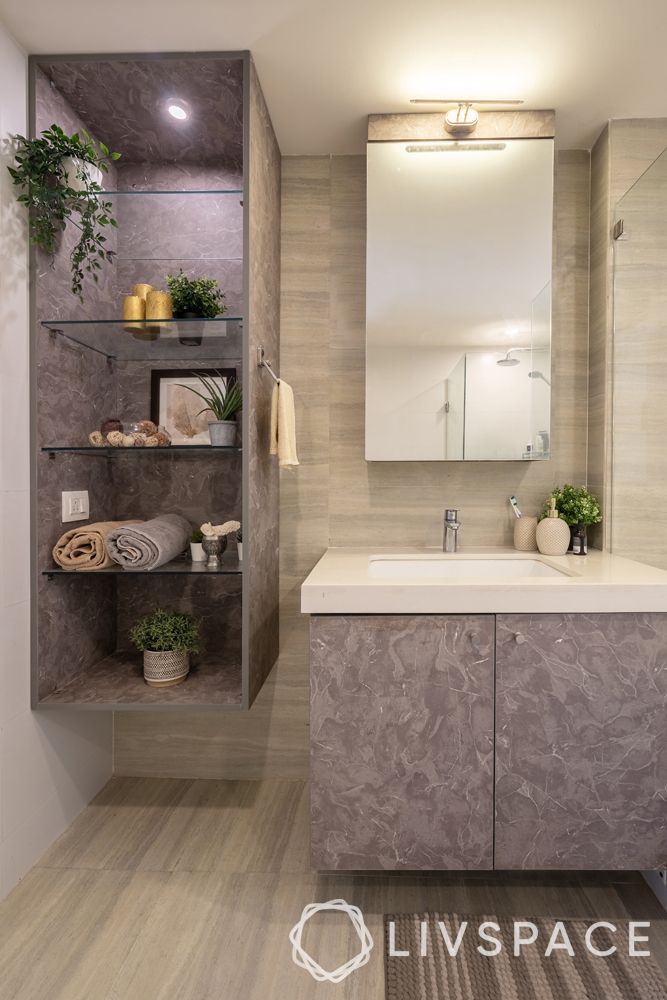 Why not go with a themed look for your small bathroom design? We love the idea of a tropical-themed bathroom! But how do you go about it when your budget is small and so is your bathroom? Greenery is the answer! Visit your nearest thrift store to find some straw knick-knacks that you can add to your bathroom counters. And fill up your bathrooms with potted plants and greenery. This will not only look amazing but also fill up the space with clean air.
Maintenance Tips
Having a stunning bathroom design is just the first step. You also have to maintain it. The secret to a luxe, spa-like bathroom is a combination of the two — stunning décor and utmost cleanliness.
#1: Clean the Toilet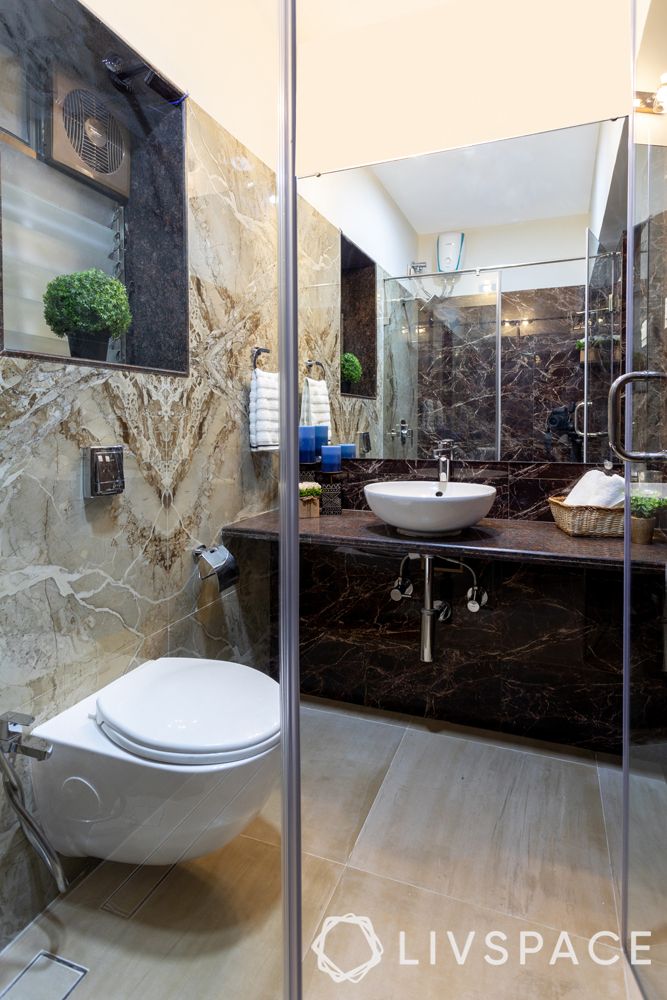 This might seem like the worst job to you but it has to be done! A dirty toilet is not only disgusting to look at but also a breeding ground for germs and bacteria. Experts advise that you must regularly clean your toilet with the help of a cleaning agent and scrub. Also, do check the base and back of the toilet to avoid any emergency visits from the plumber.
#2: Stay Focused on Organisation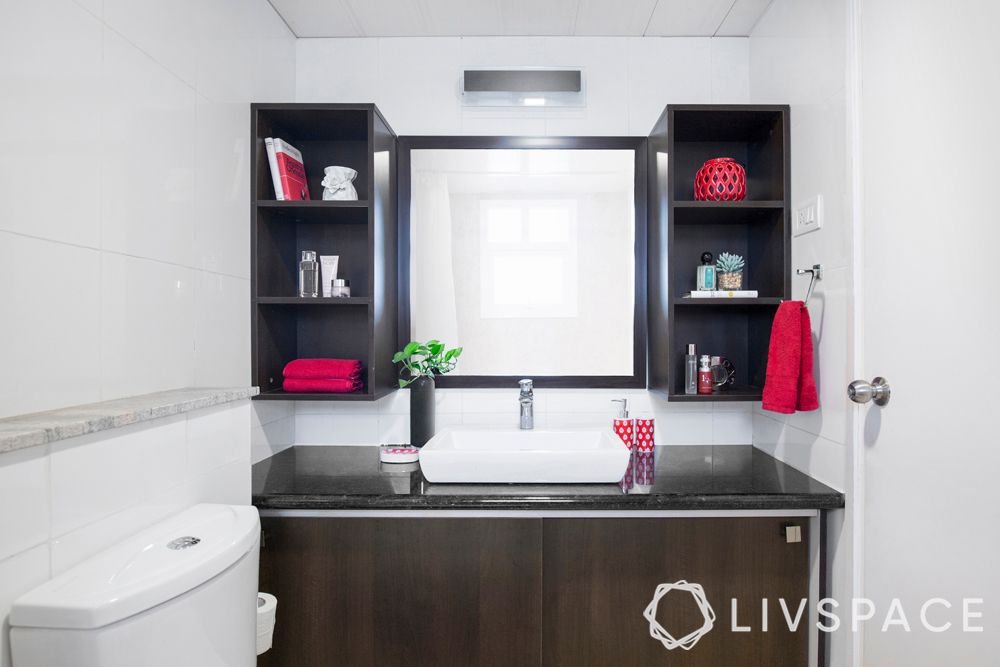 When you have a small bathroom, clutter can make the space look even more compact. If you don't have some already, invest in sturdy cabinetry. When space is restricted, opt for wall-mounted shelves. Proper cabinets and storage units in your bathroom are essential for both a clutter-free space as well as your convenience.
#3: Clean Walls and Floors Too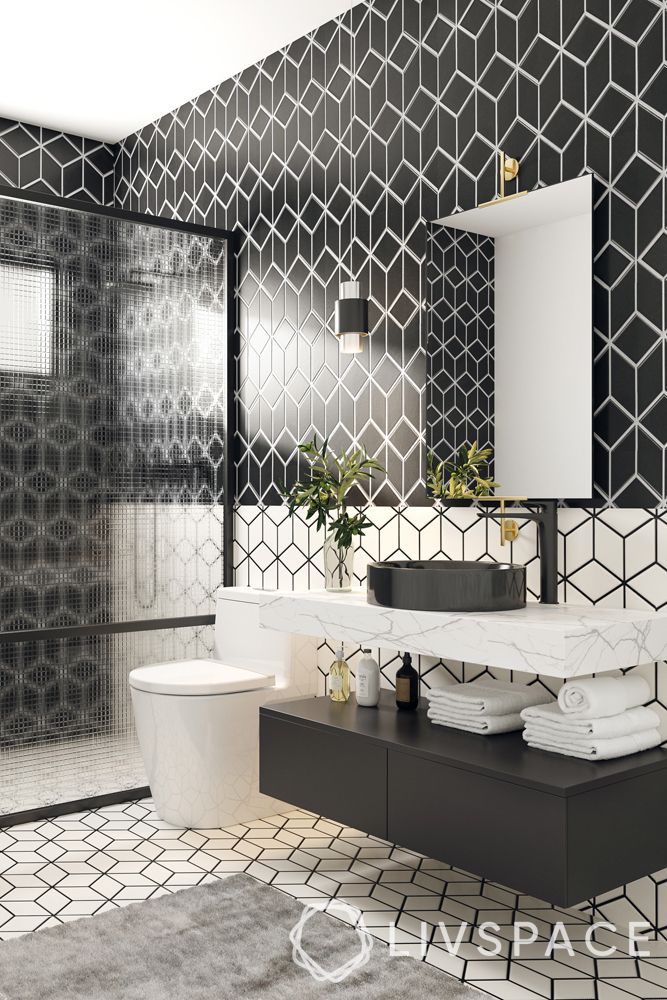 Before you start decorating your bathroom, you must ensure that the floor and walls are spotless. Bathroom floors are a high-traffic area and hence require regular cleaning. Do a daily scrub-down to remove all grime and dirt. If you have a bathroom mat, wash it at least once every month to avoid mould.
#4: Clean Your Sink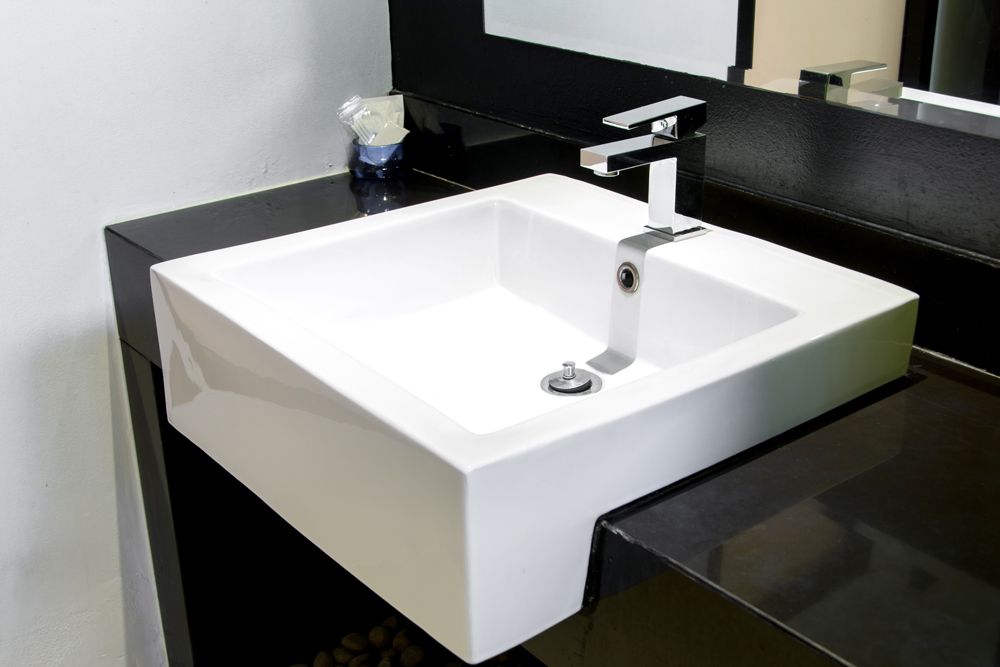 Sinks, if not cleaned on a regular basis, can get very dirty. Thoroughly scrub and clean your sink at least once a week. Also, the sink drain can get clogged up with gunk and mould. Use drainage cleaners to clean the drain as much as possible.
Check out more bathroom designs here:
A small bathroom design should not stop you from having a spa-esque bathroom where you can unwind and relax. If you are looking for more bathroom design ideas, check out the 3 types of bathrooms and how to design them.
How Can Livspace Help You?
We hope you found our ideas useful! If you want beautiful interiors for your home, then look no further. Book an online consultation with Livspace today. Have any thoughts or suggestions you'd like to share with us? We'd love to hear you out. Write to us at editor@livspace.com.