Storage plays a vital role in your home, especially in kitchens and bathrooms. However, when you have a compact space, it might get difficult for you to add storage. Picture yourself having a bath and stubbing your toe only because your bathroom cabinet takes up too much space. But a small bathroom space doesn't mean you need to compromise on storage. Instead, what you need are some smart bathroom cabinet designs that will give you maximum storage while taking up minimum space.
#1: Twin Open Shelves in Dark Wood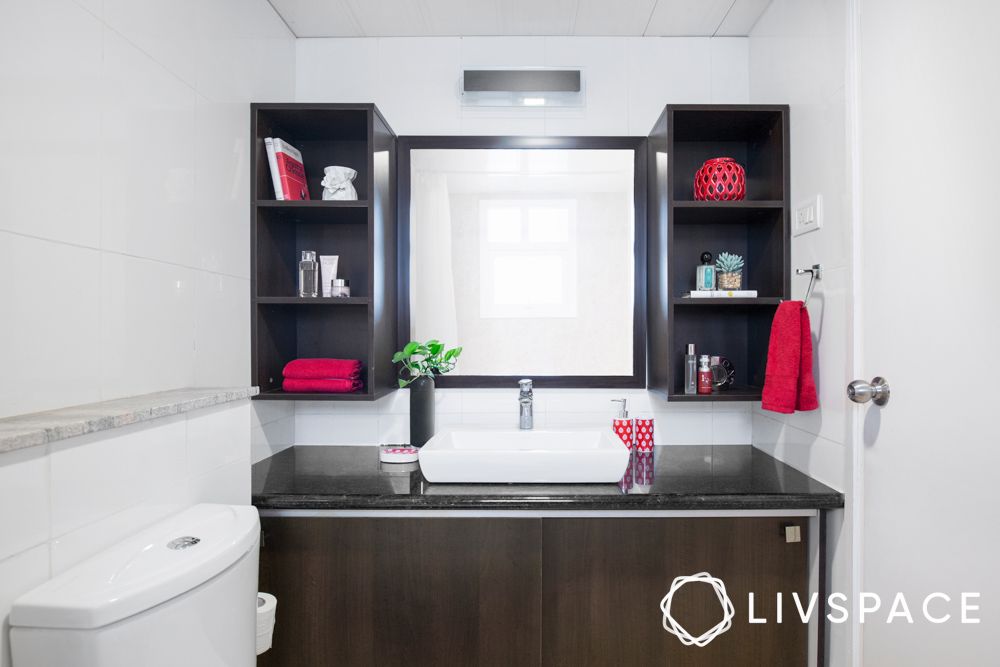 When you have a small space, a closed bathroom cabinet can often create a cramped and congested appearance. Instead, choose open shelves where you can display your toiletries without making your bathroom look tinier than it actually is.
This bathroom mirror cabinet design is a great option as it's wall-mounted, thereby saving on space. Plus, it features an open design in dark wood that is both airy and trendy.
Also Read: 20+ Easy Small Bathroom Ideas to Amp Up Small Bathroom Designs
#2: A Sleek and Contemporary Bathroom Cabinet Design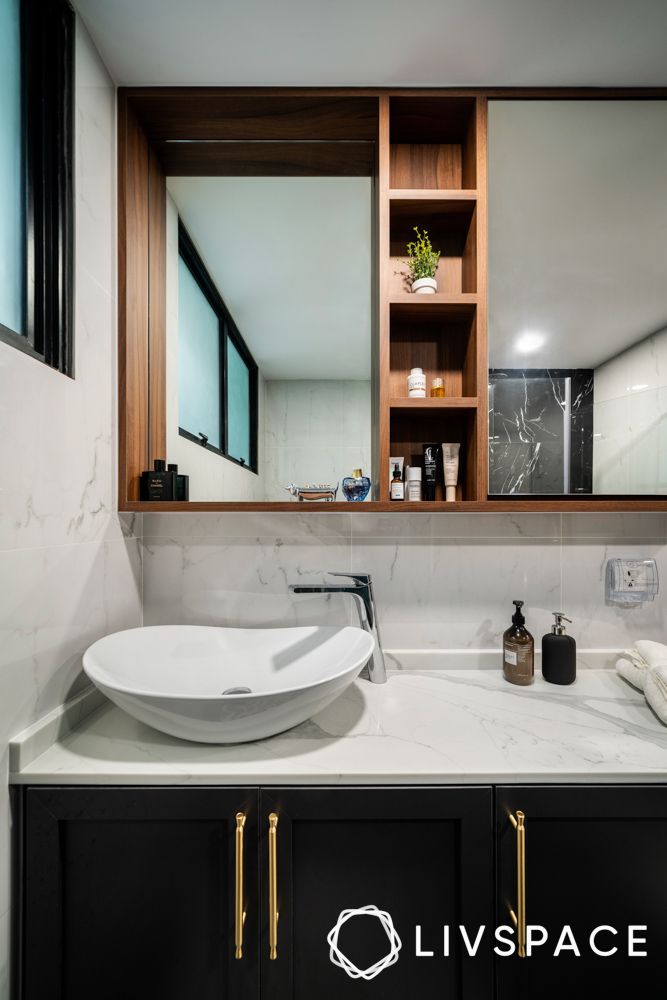 A bathroom cupboard that is wall-mounted is always the best option for a small space. It makes space when you don't have it.
In fact, one of the main reasons why this bathroom cabinet stands out is due to the design – the in-built mirror creates the illusion of space.
Moreover, if the shelves are not enough, and you need extra space, opt for a bathroom washbasin cabinet in black with gold handles for a luxe look.
#3: A Full-Wall Mirrored Bathroom Cabinet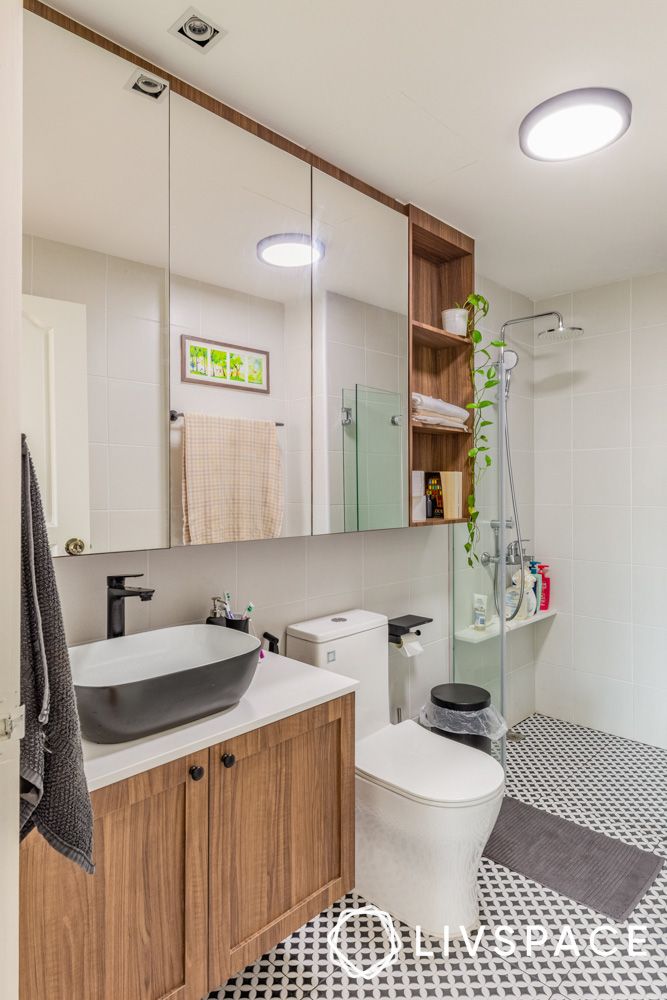 To add storage without compromising on space, use your entire bathroom wall for cabinetry. However, wall-to-wall bathroom cabinet designs can often make your space look cluttered. To avoid this, choose a seamless mirrored finish and open shelves.
#4: An Under-Sink Bathroom Cabinet Design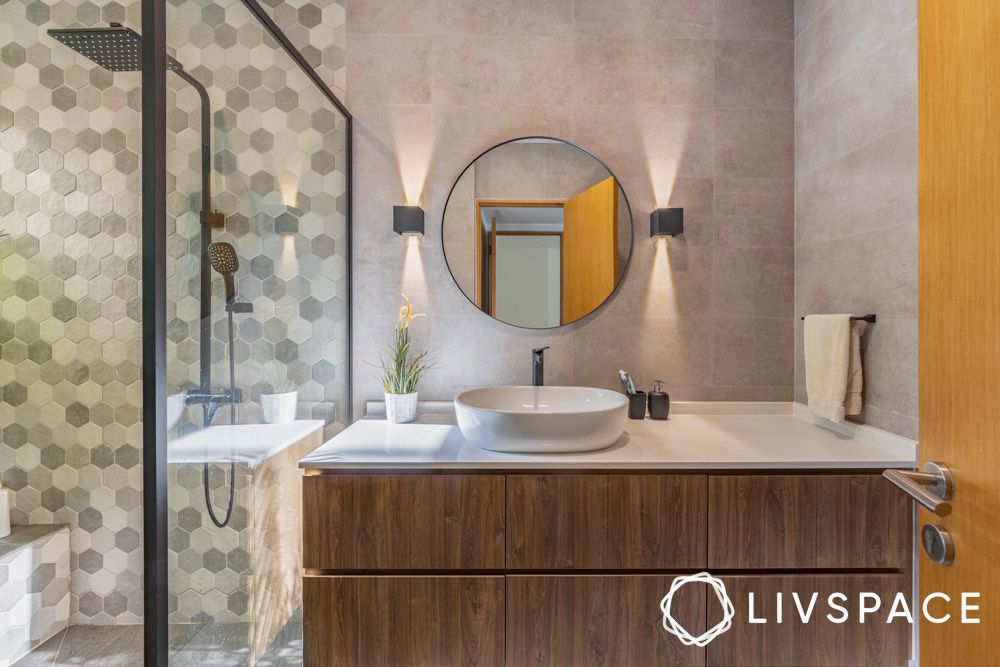 If you're someone who doesn't like wall-mounted bathroom cabinets, a washbasin cabinet with a mirror is the best option for you. However, avoid choosing a bulky cupboard and instead go for a sleek, handleless unit.
#5: Floating Bathroom Cabinet Ideas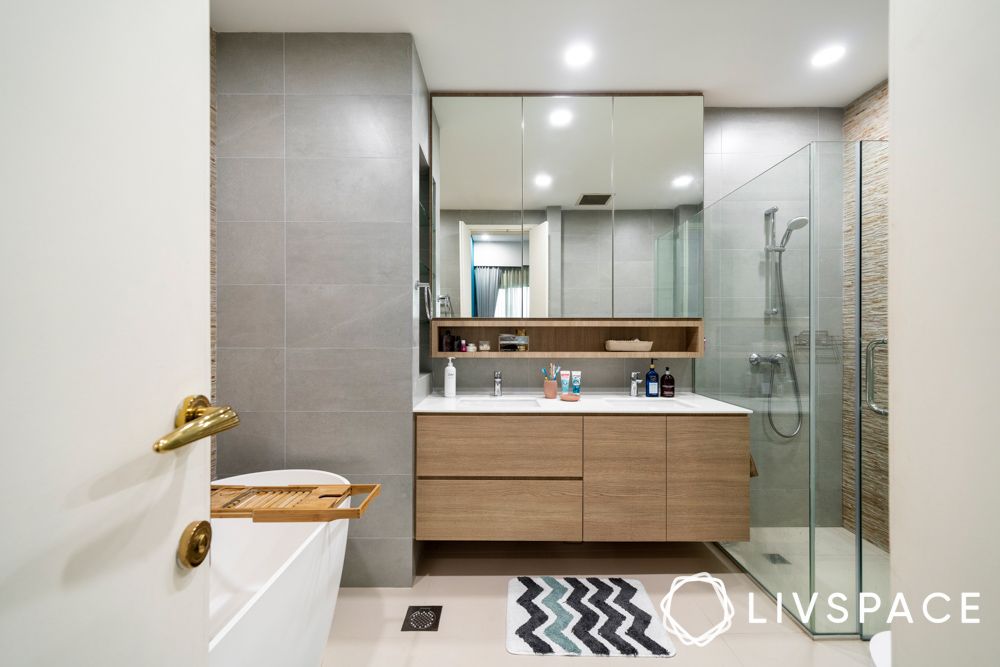 This is another great example of a bathroom cabinet that comes with maximum storage space. The lower cupboard is floating, which makes the bathroom low-maintenance and easy-to-clean. In addition, the glass finish of the wall cabinet makes the small bathroom look larger than it actually is.
#6: More Floating Bathroom Cabinet Designs for You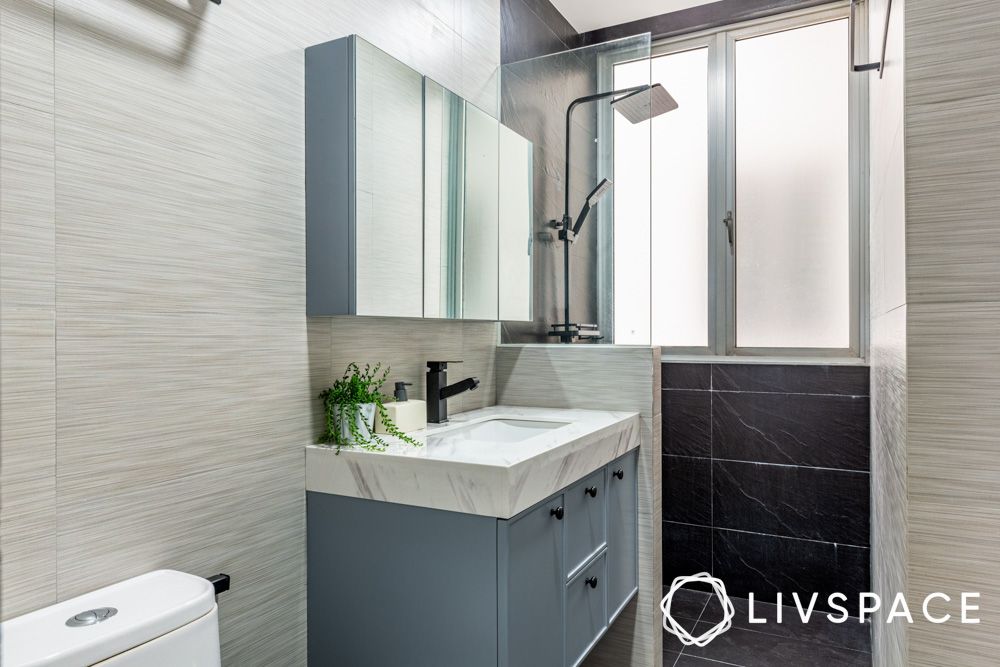 As we mentioned in the previous point, you should choose a combination of floating and mirrored bathroom cupboards if you have a small bathroom. Additionally, take it to the next level by opting for light, neutral and pastel colours as such shades create an airy appearance.
#7: A Jazzy Bathroom With a Simple Cabinet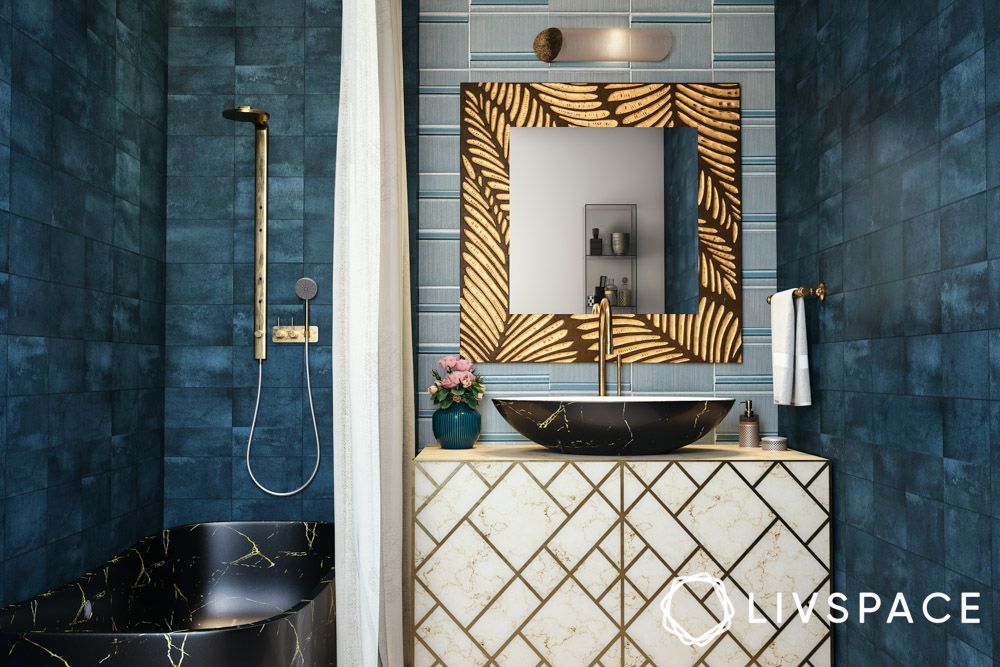 Bored of the whites and greys? Go all out with a jewel-blue bathroom design! However, to avoid an over-the-top look, opt for a simple bathroom cabinet in a neutral colour like beige.
If basic is not your style, add some grooves to your cabinet design.
#8: A Tall Unit in Your Bathroom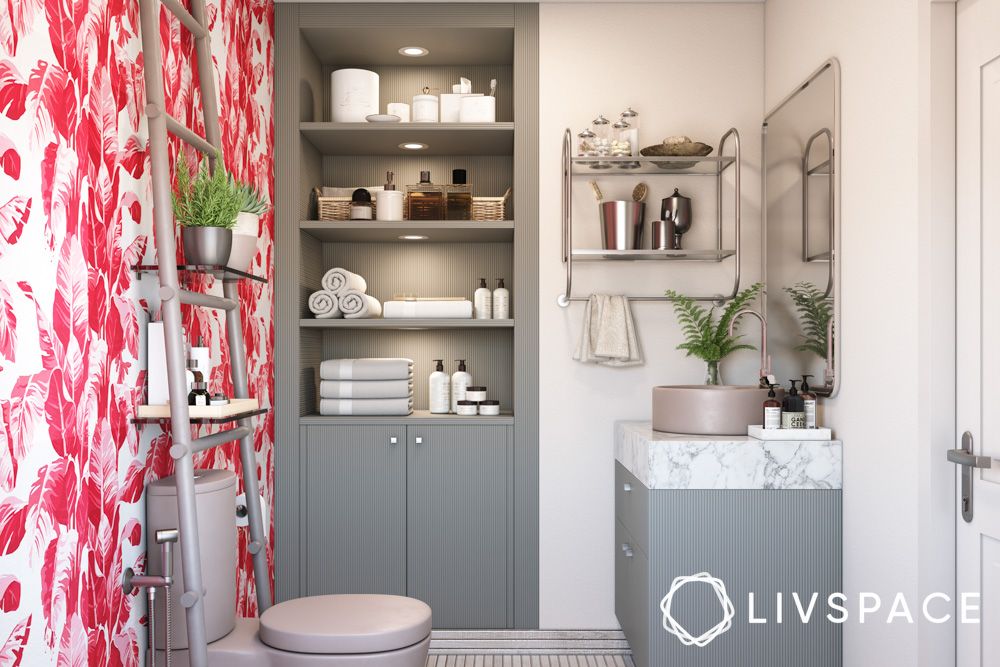 A bathroom isn't a very common place to see a tall unit, or so we might think. However, it's the perfect solution when you want ample storage space.
The best way to incorporate a tall unit in your bathroom is to ask your designer to create a niche and create a custom unit to save on space. Moreover, a mix of closed cabinetry and open shelves will give you a convenient and space-efficient design.
Planning to buy a wardrobe along with your bathroom cabinet? Use our wardrobe cost calculator to ascertain the perfect budget.
#9: Minimal Side Shelves That Don't Take Up Much Space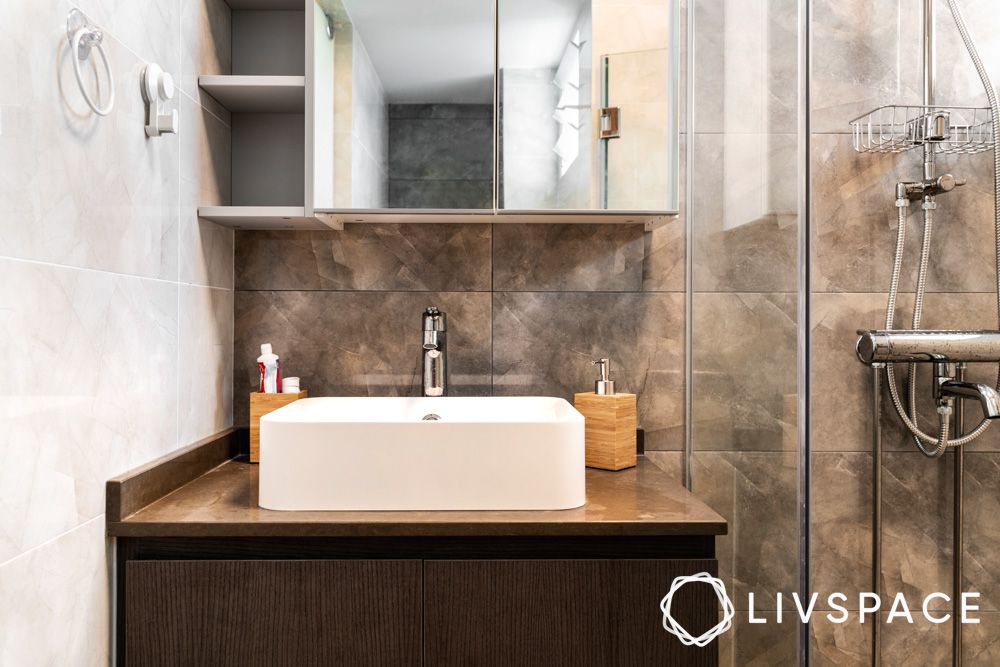 Contrary to popular belief, even the smallest of bathrooms have space for a cabinet. The trick here is to look for something small and minimal, like narrow shelves. Handleless cabinets with mirrors are some other hacks you can use to save space.
Also Read: 7 Practical and Easy Steps to Make Your Compact Bathroom Look Bigger
#10: The One With the Quirky Wallpaper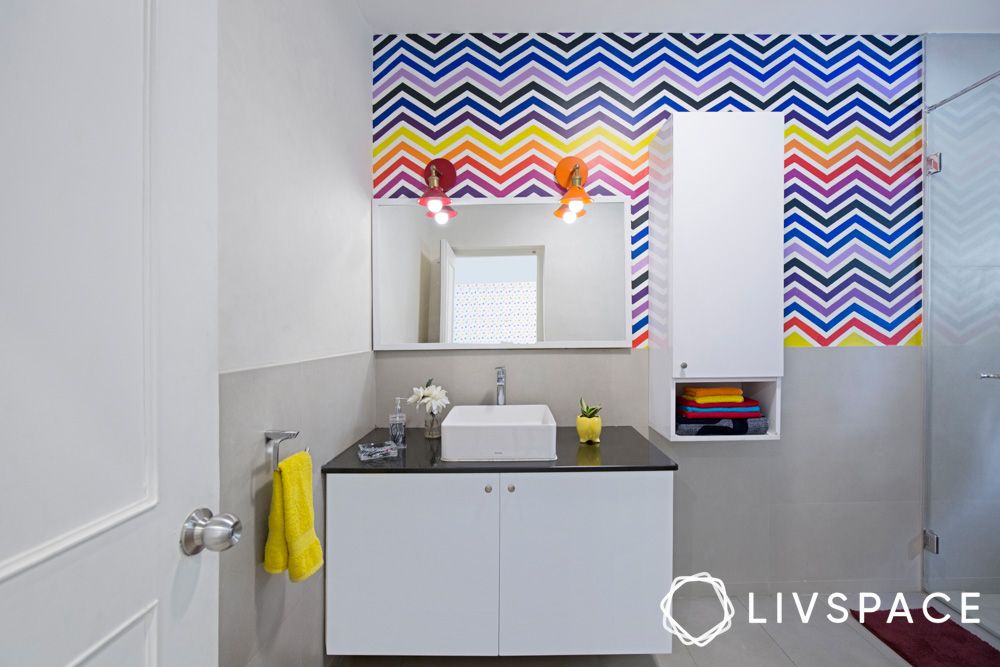 Another great bathroom cabinet design is to choose a wall-mounted, sleek cabinet, much like a tall unit. And while neutral colours like white will open up the space in your bathroom, add a colourful wallpaper to half your wall for a splash of vibrancy without looking bulky.
Check out wall paint designs for your home:
How Can Livspace Help You?
We hope you found our bathroom cabinet ideas useful! We offer both modular and custom units to ensure all your requirements are met. Book an online consultation with Livspace today. Have any thoughts or suggestions you'd like to share with us? We're all ears! Drop us a line at editor@livspace.com.
Please note that the designs showcased within the story are subject to availability and will vary based on the year the homes were designed in. Consult our designers for more details on the latest designs.
FAQs
1. What Type of Cabinets Are Good for Bathrooms?
Solid wood, MDF and plywood cabinets are good options for your bathroom.
2. What Colour Cabinets Are Popular in Bathrooms?
White is the most popular choice for cupboards in your bathroom.
3. What Style Mirrors Are the Best for Your Bathroom?
Pivot mirrors are good options as they allow you to adjust the mirror as per your needs.