On an average, a person spends 82 hours in the bathroom every year. For most of us, the bathroom isn't really a space to focus on decorating. But did you know, the bathroom is probably the best space to transform into a romantic and sexy space? Don't look at your bathroom only from a functional perspective; think of it as a space where your partner and you can unwind, relax and even get frisky! Here are our sexy bathroom decorating tips that are sure to make your shower room more intimate and inviting.
1. Colour it Pretty
Source: Kari Mc Cabe
Amongst the most important bathroom decorating tips is the colour. To liven up the mood, do away with insipid colours and bring in sensuous ones. This will not only help you relax but also set the right mood. Choose hues that strike a chord with your partner and you. Think of tiny tiles in shower areas and wooden planks or rugs in dry areas — that is a great way to add some texture too. Include some of your favourite flowers to get the evening rolling.
2. Theme it Up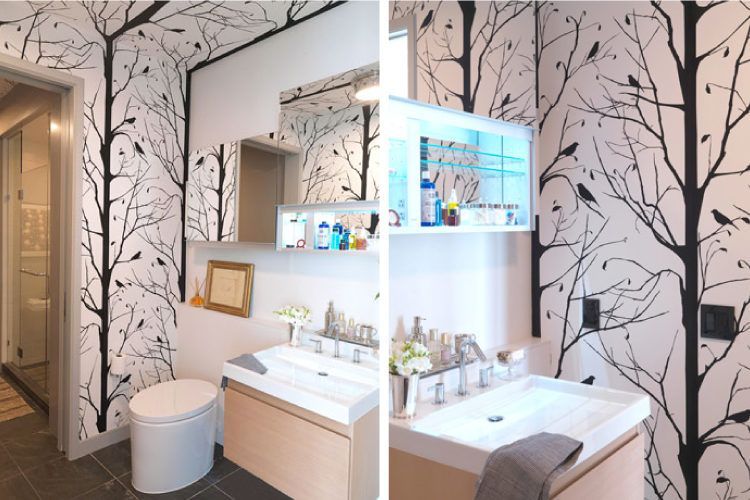 Source: Thomas Filicia
Has your partner recently been reminiscing a lot about your first date? Or the romantic getaway in the woods that you both took? Use that as a starting point to theme up your bathroom with relevant colours, prints, towels and accessories. We love this botanical-inspired wallpaper that immediately gives the bathroom a very whimsical vibe. In Indian bathrooms, remember to use bathroom wall stickers strictly in dry areas. If not, opt for printed or custom-made tiles instead.
3. Mirror Mirror on the Wall
Sources: One Small Room & Palmetto Cabinet Studio
An ornamental life-sized mirror serves two very important purposes. It creates an illusion of a larger space. But more importantly, it creates a very sensual dimension for some romance. If a floor-to-ceiling mirror frightens you from the maintenance perspective, not to worry — opt for a multitude of mirrors or go midway, and use a medium-sized one as a basin mirror design.
4. Mood Lighting for a Sexy Bathroom
When it comes to bathroom decorating tips, lighting it up right is always a winner! Nothing spells romance like a bit of mood lighting. For that special romantic date, deck up the whole bathroom with scented candles. You can also choose to install fairy lights at vantage points. Or better still, add a luxe crystal chandelier. Invest in some aphrodisiac aromas. The intent of the arrangement will not be lost on your partner.
5. Curtain Calls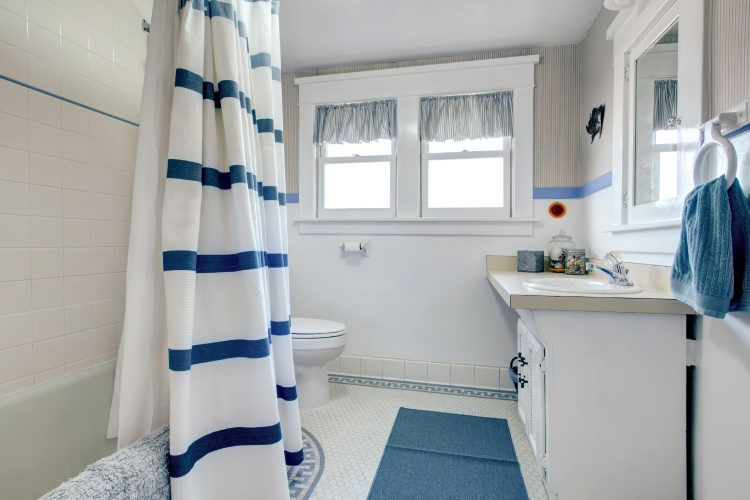 Bathroom decoration ideas are incomplete without curtain design. Less is more, and this is the best way to bring that into play. Nothing like a slight tease before you both take a tumble between the sheets. Place curtains around the bathtub to create a sexy bathroom. Entice your partner into the bathroom and set the mood with the interplay of light and shadows and some sensual music in the background.
6. Accent Chairs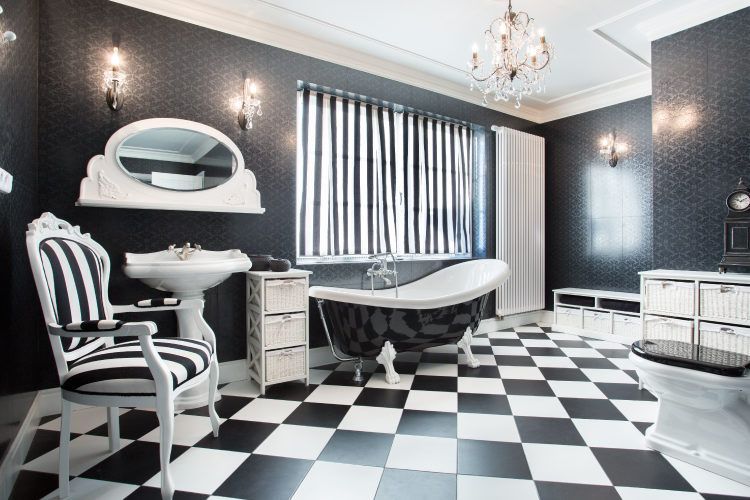 If you have floor space, add a rug and an accent chair. A cozy seating arrangement is a great way to soften a bathroom and one of the most important bathroom decorating tips. Not just that, it will also encourage more intimacy in the bathroom. Let her soak herself in the bathtub, while you keep her company. Top it off with some music and wine; with all that, could your evenings possibly get any better?
Don't be shy to make a few investments here and there — especially when it comes to decorating your bathroom. Spice up the ambiance through our sexy bathroom decorating tips and bring some romance into an otherwise boring area of your house. Go ahead and invoke the god of love!
Want to give your bathroom a makeover? Check out these modern bathroom remodelling ideas
Check out bathroom design ideas:
How Can Livspace Help You?
We hope you found our ideas useful! If you want more decor ideas, then look no further. Book an online consultation with Livspace today. Delivering safe home interiors has been our No. 1 priority. Click here to find out how interiors are being delivered following all safety protocols.
Keep the comments and suggestions coming in at editor@livspace.com