If you had to pick one space in your home that you want to modernise for sure, what would it be? We say your bathroom fits the bill perfectly. Clean layouts, straight lines and an uncluttered vibe that we associate with modern design are just what your bathroom needs. So remodelling with the best modern bathroom ideas can push your home from the 20th century to the current times! And it will certainly amp up the comfort and glam quotient associated with your bathroom.
So, what are the most important considerations for bathroom remodelling? We have listed them in order of importance for you here.
#1: Pick the Right Bathroom Layout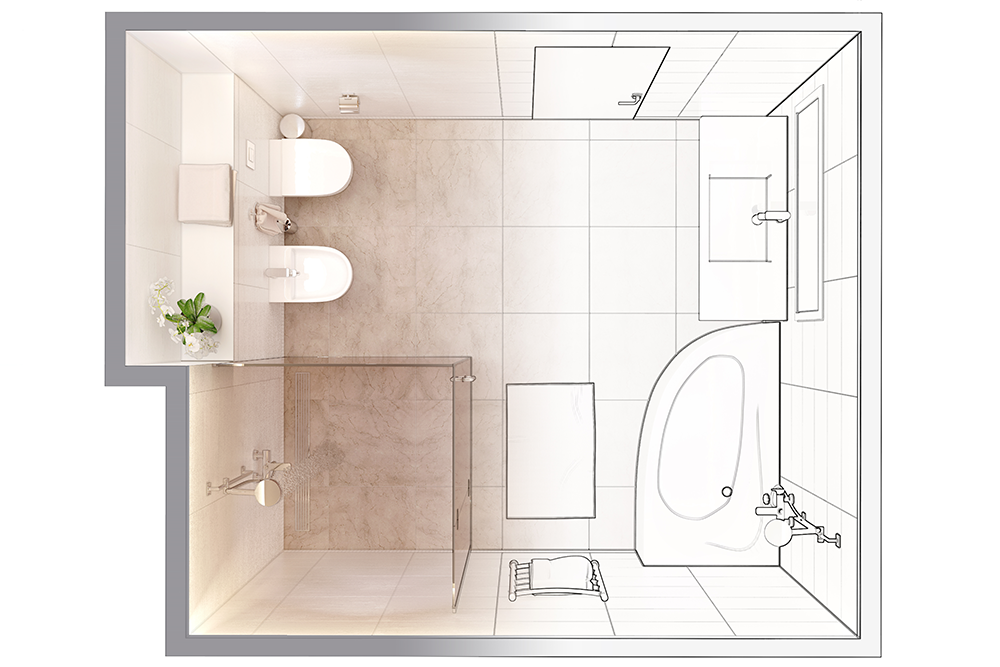 Did you know?
Then, how can you have a bathroom that is comfortable, relaxing and luxurious at the same time? The trick lies in getting the bathroom layout right! And with these contemporary bathroom design ideas you can easily pick the right layout for your bathroom. When you are remodelling, the first thing to do is to segregate wet and dry areas in the bathroom. Wet area is basically the bath zone where the shower or tub is located. It is best to do this physically either with a curtain or a partition. A shower screen is a perfect opportunity to give the bathroom a special touch. Separating the wet and dry area will help you avoid accidents, control humidity and enhance the design of your bathroom. It also helps to keep your bathroom clean and free of shabby footprints at all times.
PRO Tip
#2: Consider the Location of the Shower Carefully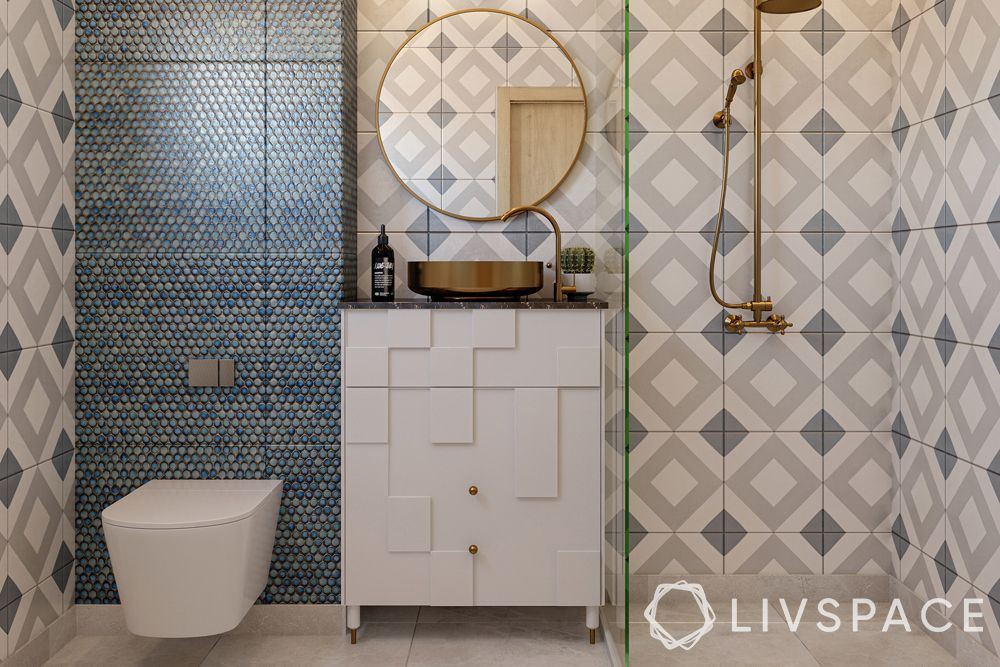 When renovating a bathroom you must take into account both design and functionality. In a small bathroom, you can opt for a discreet and functional shower. If your bathroom has a bath, you should evaluate the opportunities and limitations. In a small bathroom, you can opt for a 2 in 1, bath and shower within the same space. If you have more space, you can choose to segregate them.
PRO Tip

#3: Modern Bathroom Ideas for Tiles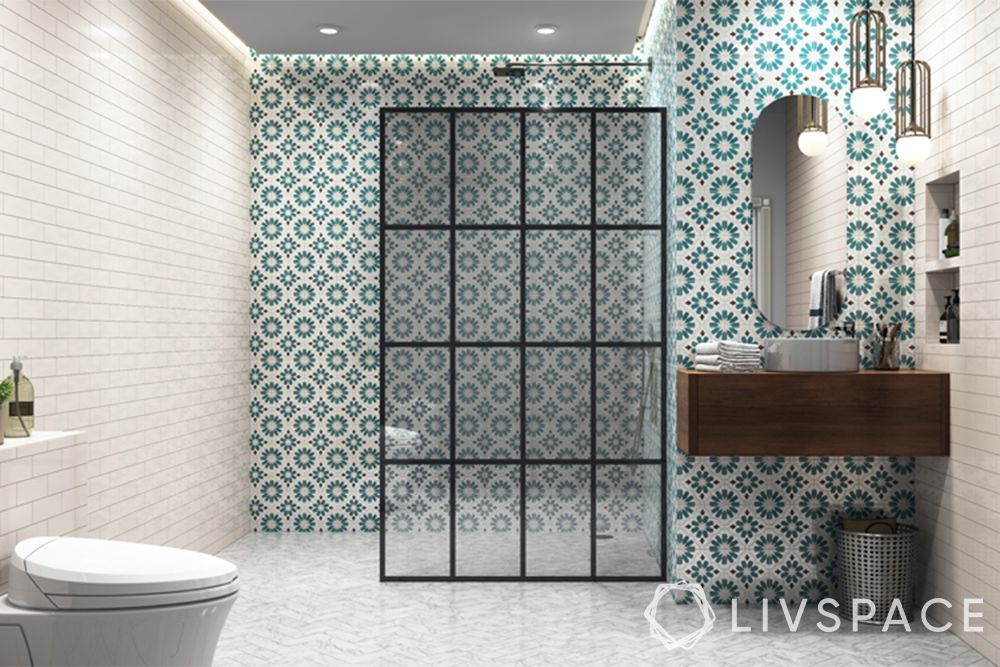 In your bathroom, changing the tiles can make all the difference. If your walls are light coloured, you can opt for colourful tiles or tiles with a bold pattern. Choose the pattern according to the size of your bathroom. If it is small, opt for simple textures to avoid the feeling of overcrowding. If you have more space you can play with different options and create combinations that are more striking. Changing the tiles can also help to draw attention to or away from a specific area of the bathroom. Think about this when searching for wash basin background tiles design ideas in India. In fact, you can use statement tiles to mark a zone in your bathroom like the bath area or vanity.
CHECK OUT: Bathroom Wall Tiles Design Ideas for some inspiration.
PRO Tip
For the bathroom floor, pick tiles with anti-skid coating. This will help prevent accidents in the bathroom particularly if you have elderly people at home.
#4: Make Use of Corners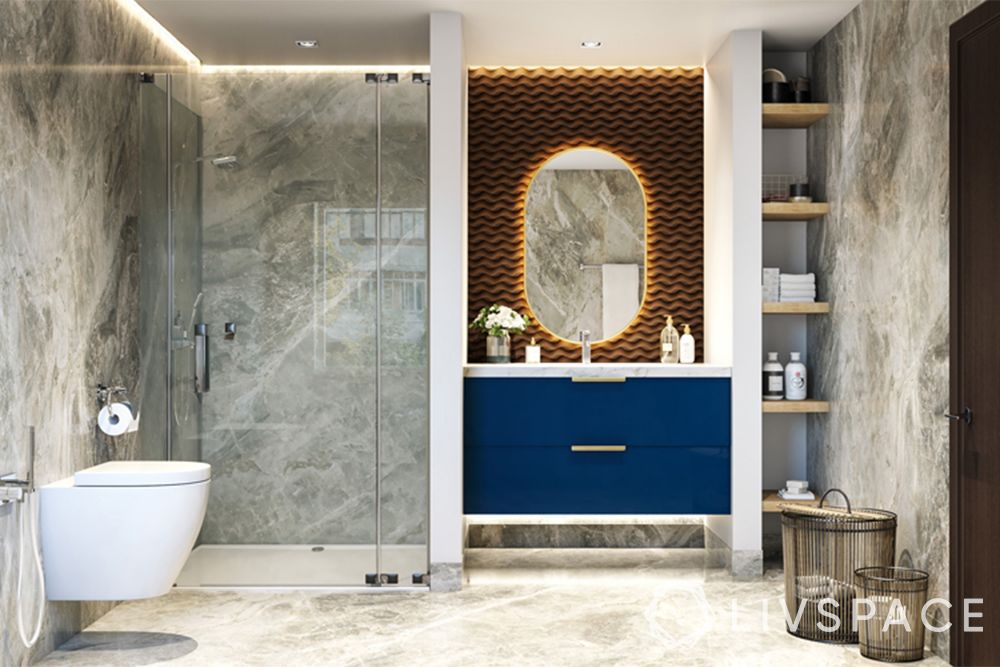 Just like catches win matches, corners can garner space. If you are using modern bathroom ideas to remodel, make sure you use the dead space in the corners in the best possible way. The ideal use of this space would be to build a corner stack or shelves to store bathroom essentials, you can also place a closed vanity unit made-to-fit the corner for optimum use of space. These storage ideas do not substantially affect bathroom renovation cost.
#5: Adding Sufficient Storage
Base Cabinets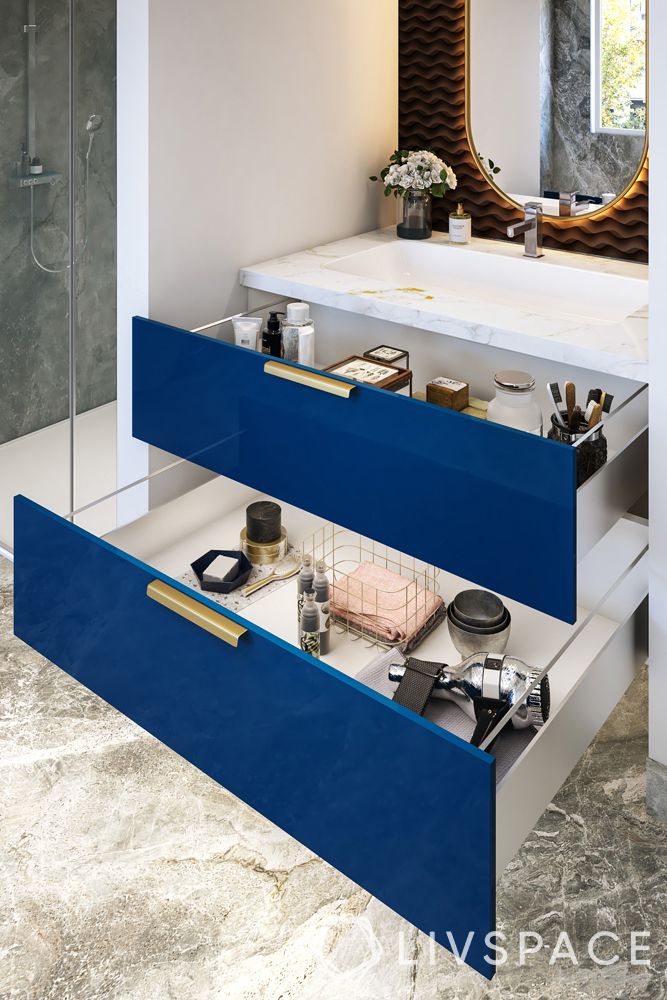 Under-basin drawers are the best way to add storage in a discreet and elegant way. Depending on the size, you can use them for different purposes. For a modern touch, you can opt for colourful drawers that add style to your bathroom.
Wall Cabinets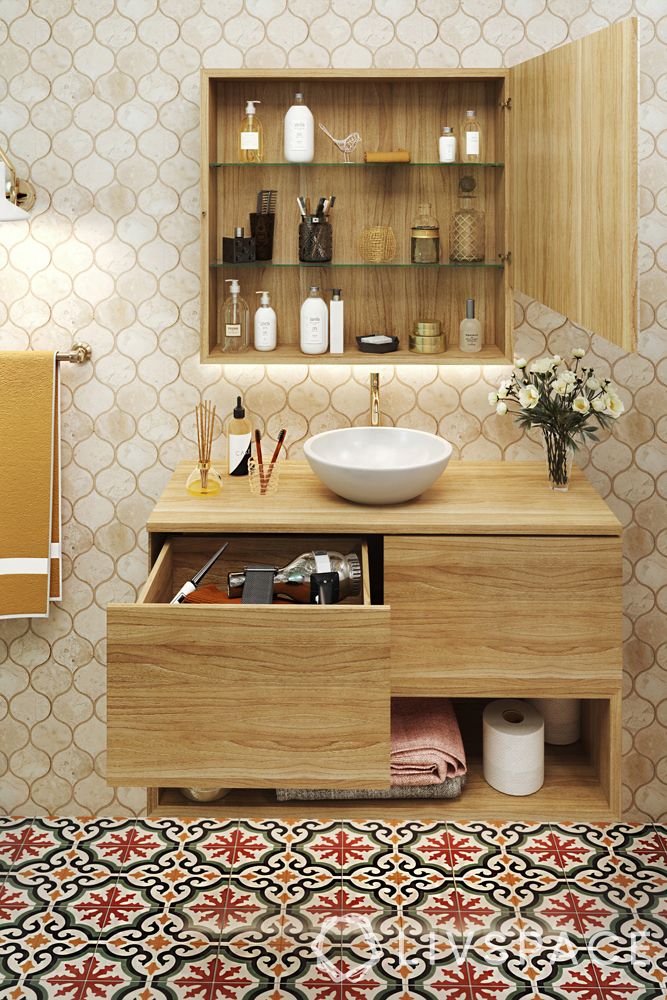 Another form of storage is wall cabinets. If you already have drawers, you can use the cabinets to store the things you use on a daily basis. Such units are often called bathroom vanity units. It is the perfect way to add storage without consuming floor space.
PRO Tip
#6: You Need Open Shelves for Display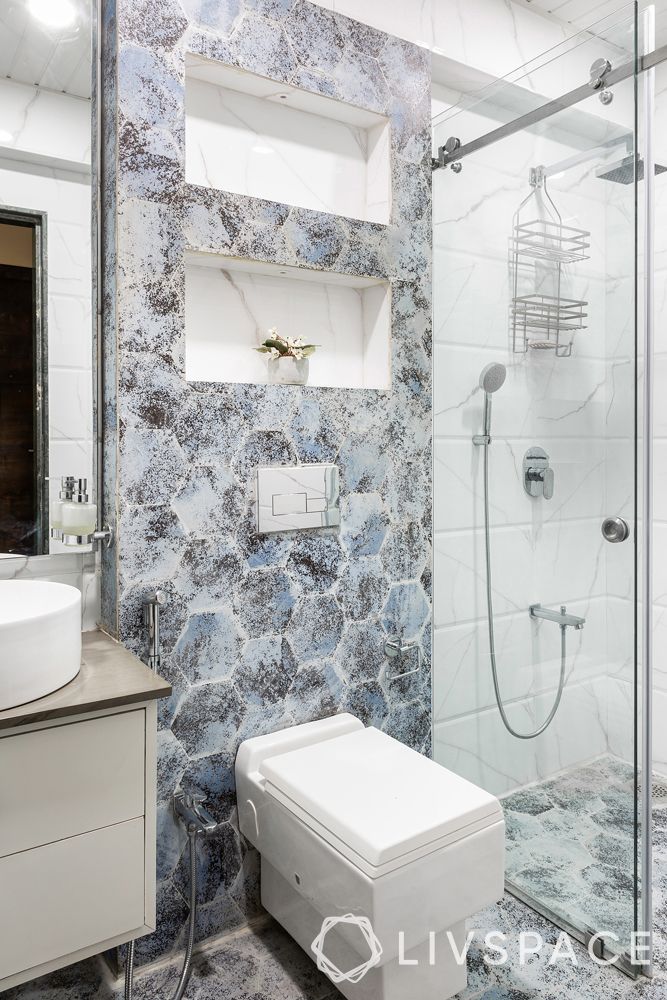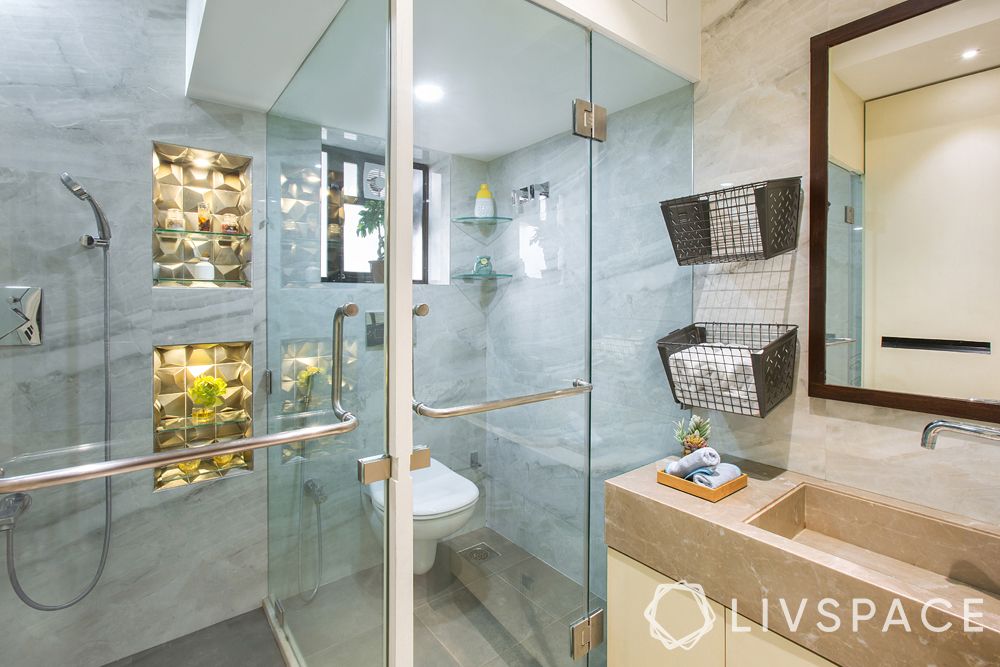 We already talked about having a small corner and storage, but have you thought about installing some shelves? Display shelves are one of the best ideas for a modern bathroom. You should see them as a potential source of decoration – think contour LED strip lights – but they will also be very useful for storing essentials like towers and bathrobes. You can place them where you need them most over the toilet, next to the shower or even next to the sink.
#7: Changing the Sinks/Sanitary Ware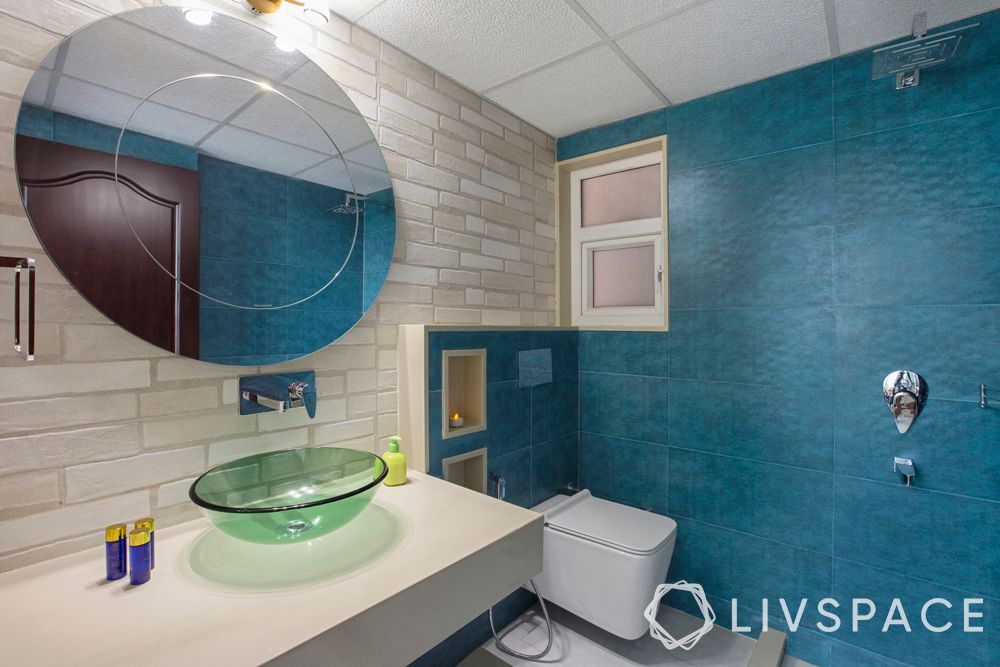 One of the easiest ways to use modern bathroom ideas is to change the wash basin and sanitary ware. It changes the look of the bathroom instantly! There are many contemporary options that can greatly improve the look of your bathroom. Some modern washroom ideas include see-through glass basins or granite stone basins.
#8: Modern Bathroom Ideas for Lighting
You may incur a high bathroom remodel cost to revamp the space completely. But without proper lighting, none of it would be of any use. Bathroom lighting involves a couple tricky questions. Why? This is because bathrooms are a functional space. If they are not well-lit, you might have trouble performing tasks like shaving or makeup. However, bathrooms are also a space we use to relax when we are in the shower or taking a bath. And glaring lights could ruin the mood for relaxation.
The optimal solution here is to have 3 different kinds of lighting in the bathroom. And these are:
Ambient Lighting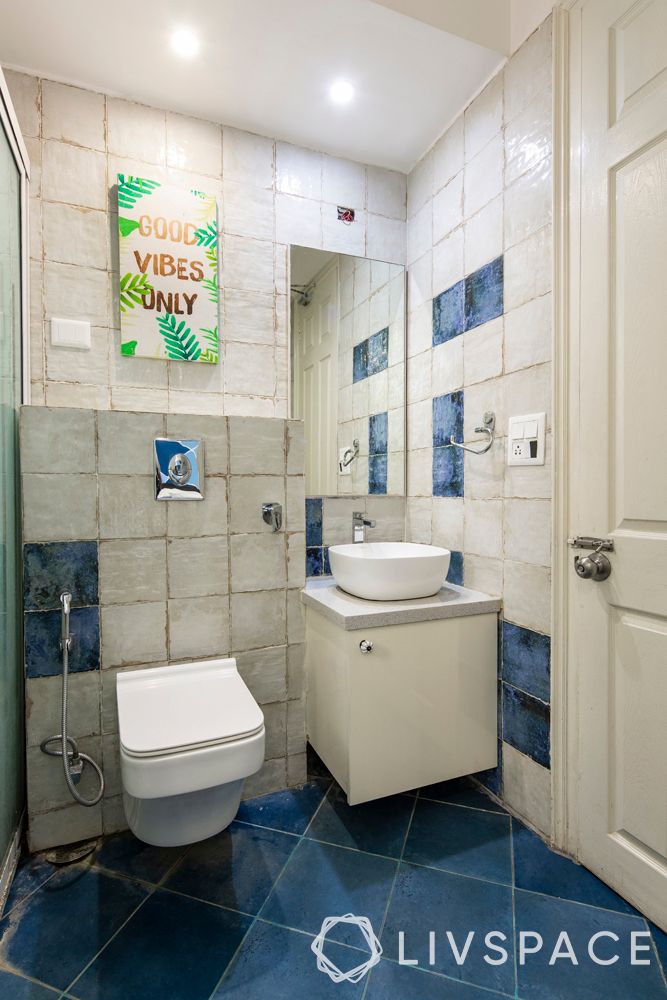 Ambient lights basically light up the entire bathroom without focusing on any particular area. You can use this generally if you are just popping into your bathroom.
Task Lighting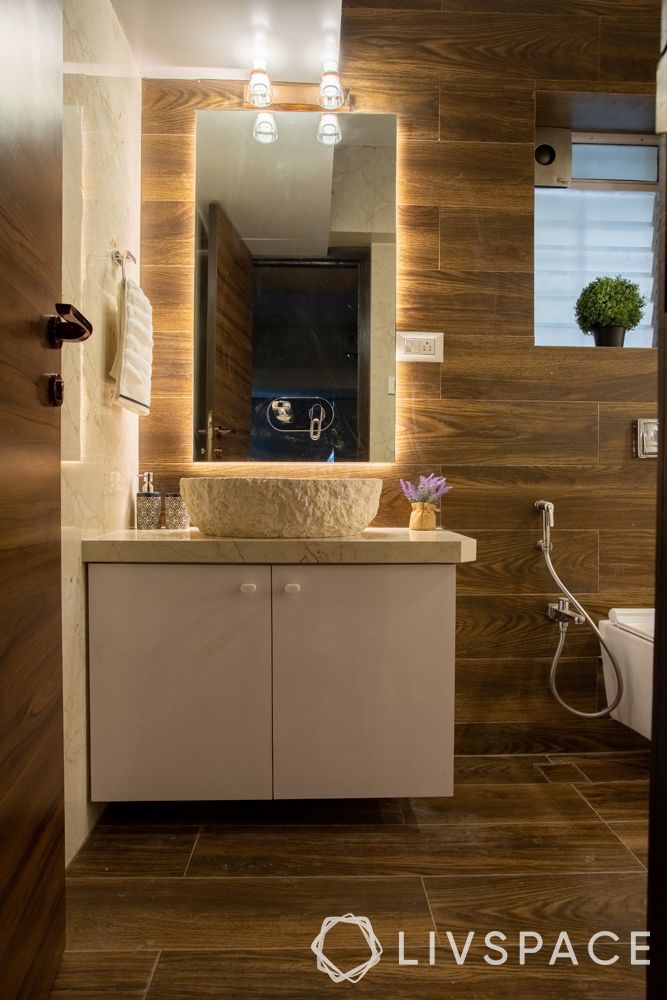 You can also dedicate light to spaces where specific tasks are performed. For example the mirror and the washbasin. Although the light in the mirror can be considered as a decorative light, you must admit that it is very useful for putting on make-up, combing your hair and getting ready.
Accent Lighting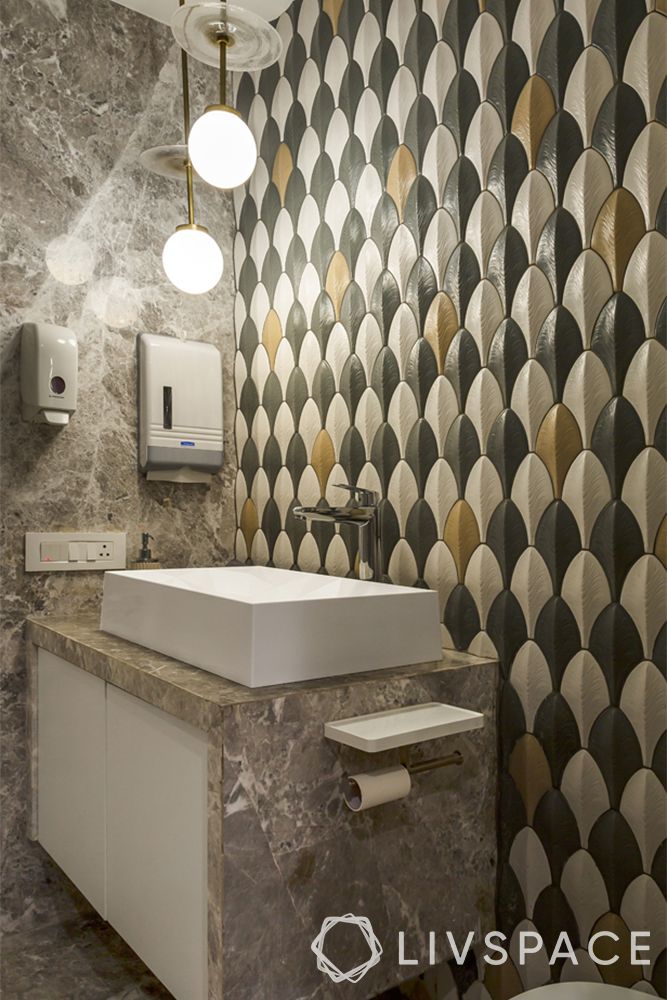 In this way, you can make a decorative statement, specifically highlighting one aspect of your modern bathroom design. Using this lighting method, you can bring forward important components of the décor, such as the pattern on the wall and the elegant sink. The pretty pendant light in itself is an accent.
PRO Tip
#9: Planters and Accessories for the Modern Bathroom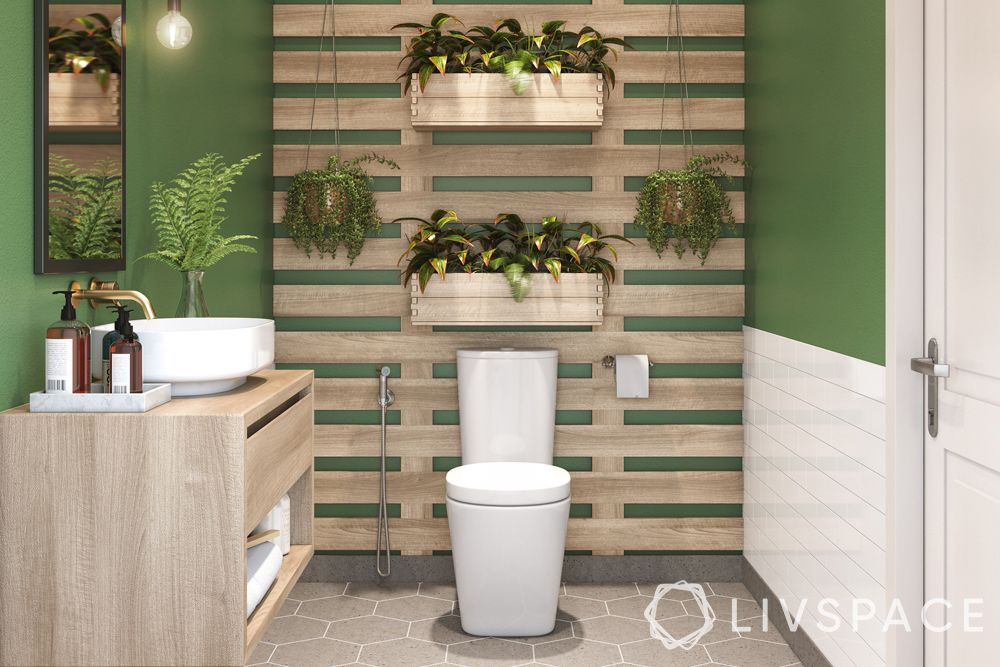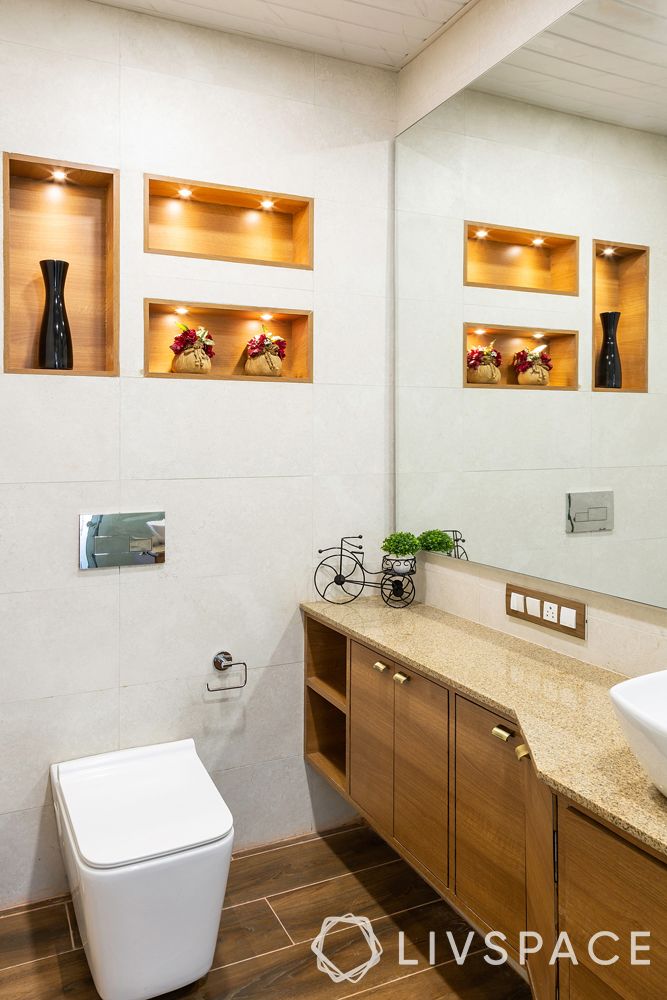 Add a touch of nature to your bathroom with some plants. When choosing them take into account the environmental conditions of the room. In bathrooms, you are confronted with a constant change of temperature and humidity. You should look for plants that are well adapted to these conditions. The easiest way to introduce them into your bathroom is in a pot and make them part of the decoration. If you are interested in highlighting them or have found larger plants, you can install specific hangers or shelves for this purpose. Plants will always bring life whatever space you place them in.
It is easy to look for modern bathroom ideas; the difficult thing is to maintain the practical sense to achieve a contemporary but functional design. Following our list of tips, you will be able to renovate this personal space to make it part of your home design. To learn more about possible problems check out How We Converted These Compact Bathrooms into Luxurious Spaces.
Have something to say? Reach out to us at editor@livspace.com