Everyone loves to keep their bathroom clean and organised. The modern bathroom with a worthy-to-flaunt aesthetic is also able to bring functionality to the space. Thus, every modern bathroom remodel is about ways in which you can apply those modern aesthetics to your bathroom. Here are some modern bathroom ideas you can implement when you remodel your bathroom. From structural considerations to modern bathroom decor ideas, we have it all listed below. Read on!
#1: Pick the Right Bathroom Layout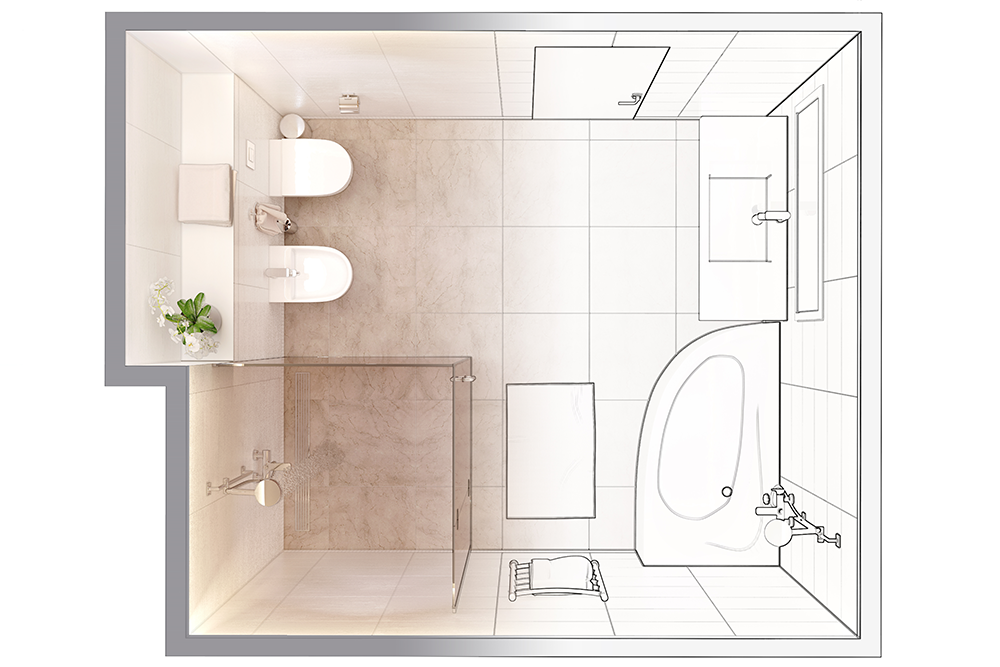 Did you know?
To make way for modern bathroom ideas, you need to pick a layout that suits you right. This will ensure your bathroom is luxurious as well as functional. Here are ideas to get it right. One of the bathroom remodel ideas that you should particularly consider is segregation of the wet and dry zones. The wet area is basically the bath zone where the shower or tub is located. It is best to do this either with a curtain or a partition. A shower screen is a perfect opportunity to give the bathroom a special touch. Separating the wet and dry areas will help you avoid accidents, control humidity and enhance the design of your bathroom. It also helps to keep your bathroom clean and free of shabby footprints at all times.
PRO Tip
#2: Consider the Location of the Shower Carefully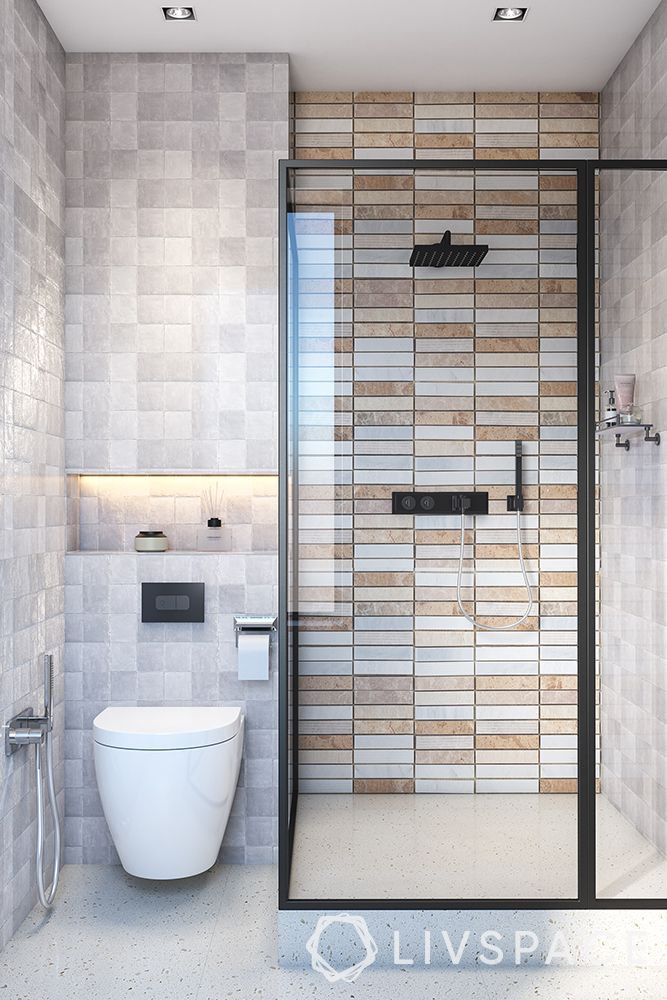 Include both design and functionality in your bathroom renovation ideas. For small bathroom remodel ideas, you can opt for a discreet and functional shower. If your bathroom has a bath, you should evaluate the opportunities and limitations. In a small bathroom, you can opt for a bath and shower within the same space. If you have more space, you can choose to segregate them.
PRO Tip
#3: Apply Modern Bathroom Ideas for Tiles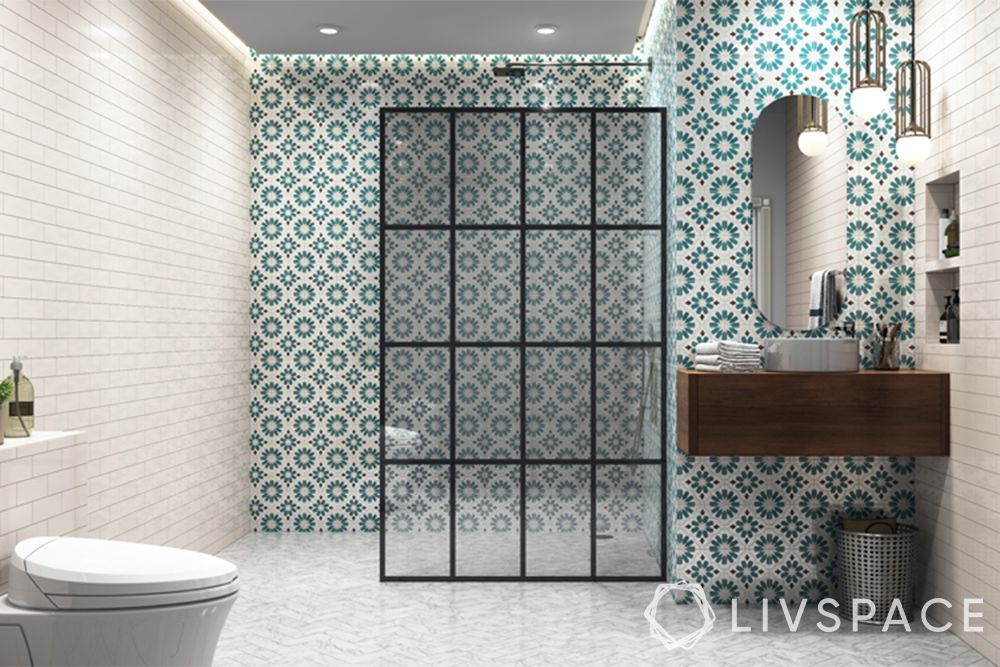 One of the bathroom remodel ideas that immediately catches attention is changing tiles. If your walls are light coloured, you can opt tiles with a bold pattern. Choose the pattern according to the size of your bathroom. If it is small, opt for simple textures to avoid the feeling of overcrowding. If you have more space you can play with different options and create combinations that are more striking. In fact, you can remodel your bathroom and change tiles in a certain area to highlight a certain zone in the bathroom, such as the washbasin or vanity.
CHECK OUT: Bathroom Wall Tiles Design Ideas for some inspiration.
PRO Tip
For the bathroom floor, pick tiles with anti-skid coating. This will help prevent accidents in the bathroom, particularly if you have elderly people at home.
#4: Pick Bathroom Renovation Ideas That Fully Utilise the Corners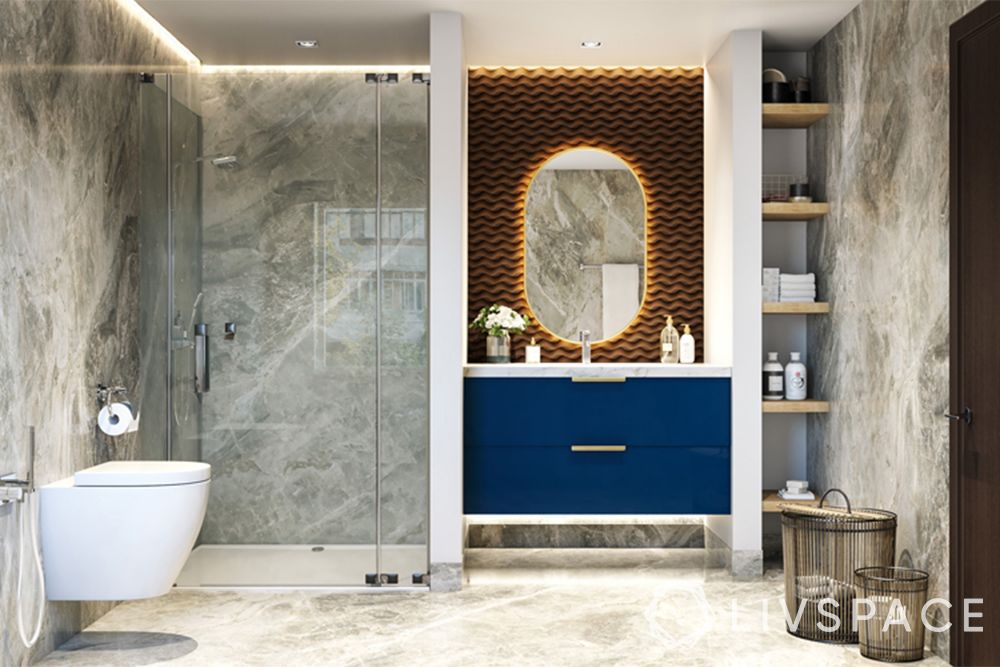 Get creative with how you use corner spaces to bring oodles of storage during a modern bathroom remodel. If you are using modern bathroom ideas to remodel, make sure you use the dead space in the corners in the best possible way. The ideal use of this space would be to build a corner stack or shelves to store bathroom essentials. You can also place a closed vanity unit made to fit the corner for optimum use of space. The best part? These modern bathroom makeovers for corner storage ideas do not substantially affect bathroom renovation cost.
#5: Add Sufficient Storage in Your Bathroom
There are quite a few ways a modern bathroom remodel can add more storage space to your bathroom.
Base Cabinets to Make Use of Dead Spaces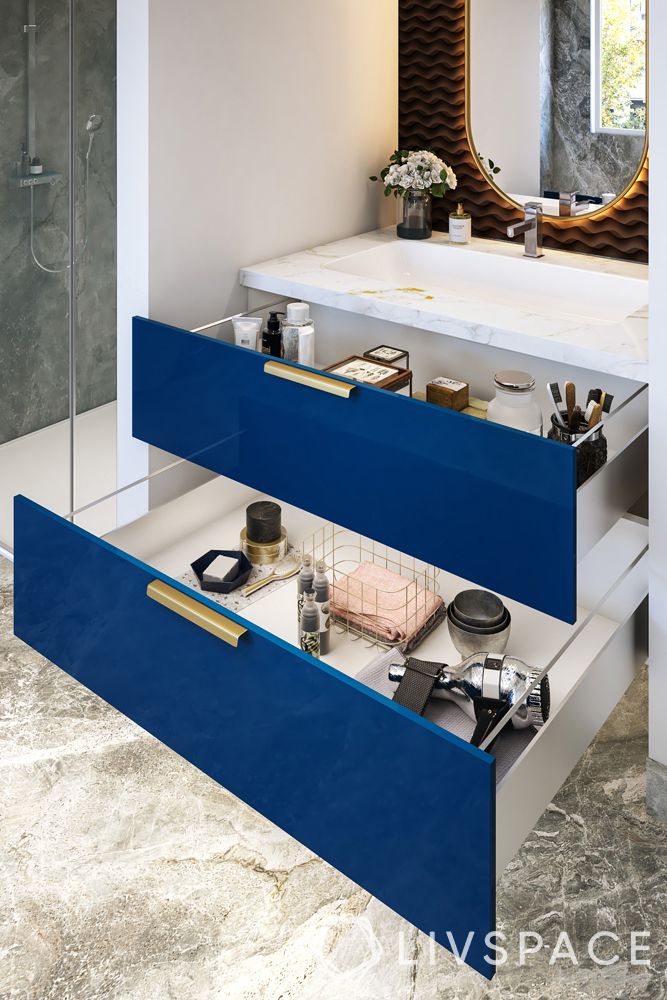 Under-basin drawers are the best way to add storage in a discreet and elegant way. Depending on the size, you can use them for different purposes. For a modern touch, you can opt for colourful drawers that add style to your bathroom.
Wall Cabinets for Extra Storage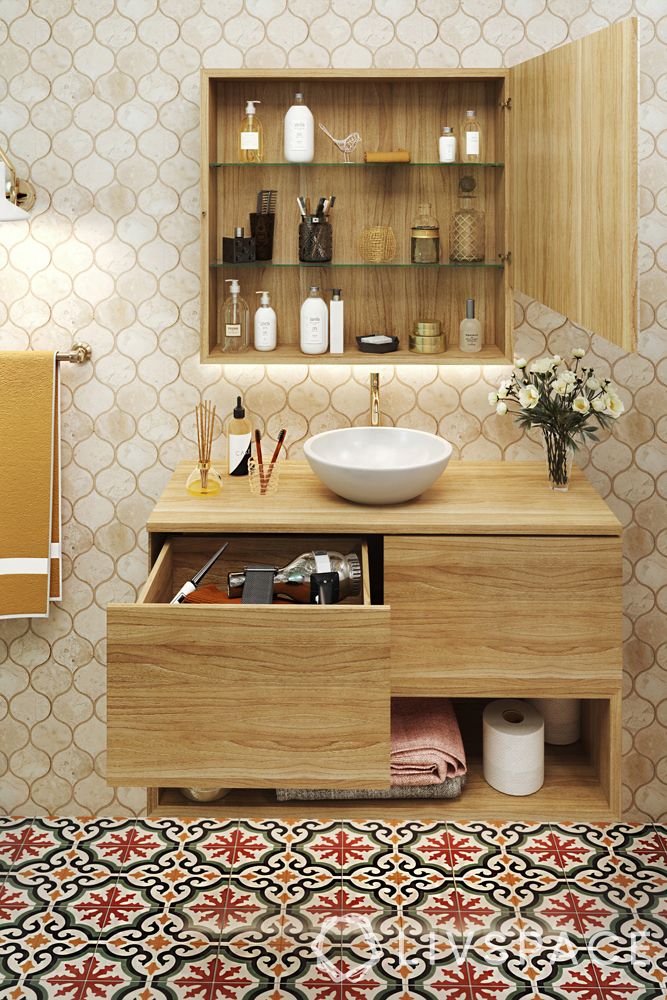 Another way to add storage is wall cabinets. You can use the cabinets to store the things you use on a daily basis. Modern bathroom ideas usually have sleek and custom-made designs. Such units are often called bathroom vanity units. It is the perfect way to add storage without consuming floor space.
PRO Tip
#6: Integrate Open Shelves Way as a Modern Bathroom Decor Idea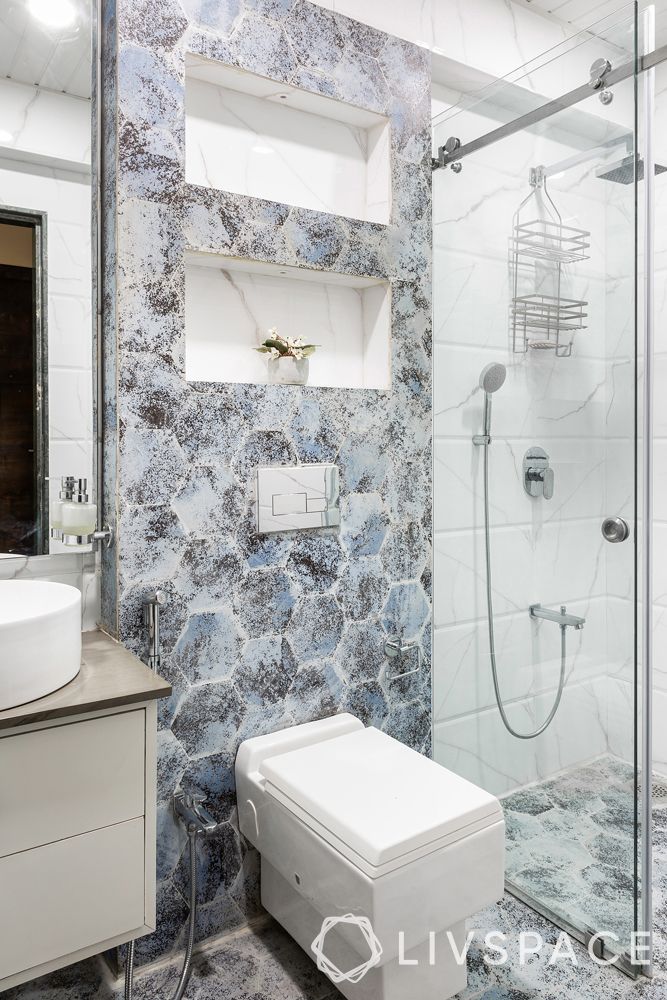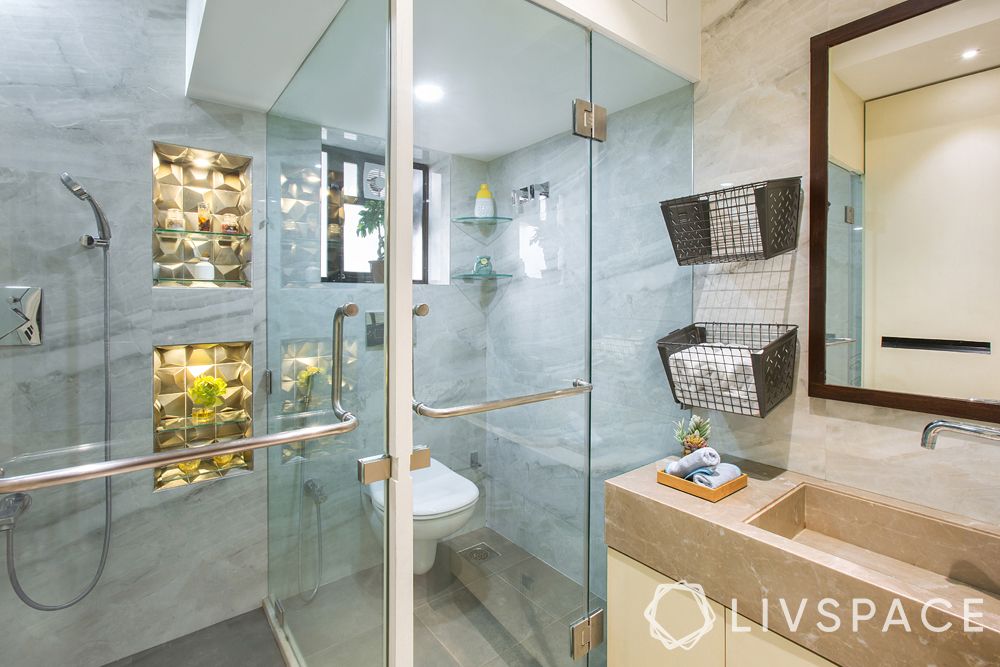 Display shelves are one of the best ideas for a modern bathroom. You should see them as a potential source of decoration — think contour LED strip lights — but they will also be very useful for storing essentials like towels and bathrobes. You can place them where you need them most over the toilet, next to the shower or even next to the sink.
#7: Upgrade the Sink/Sanitaryware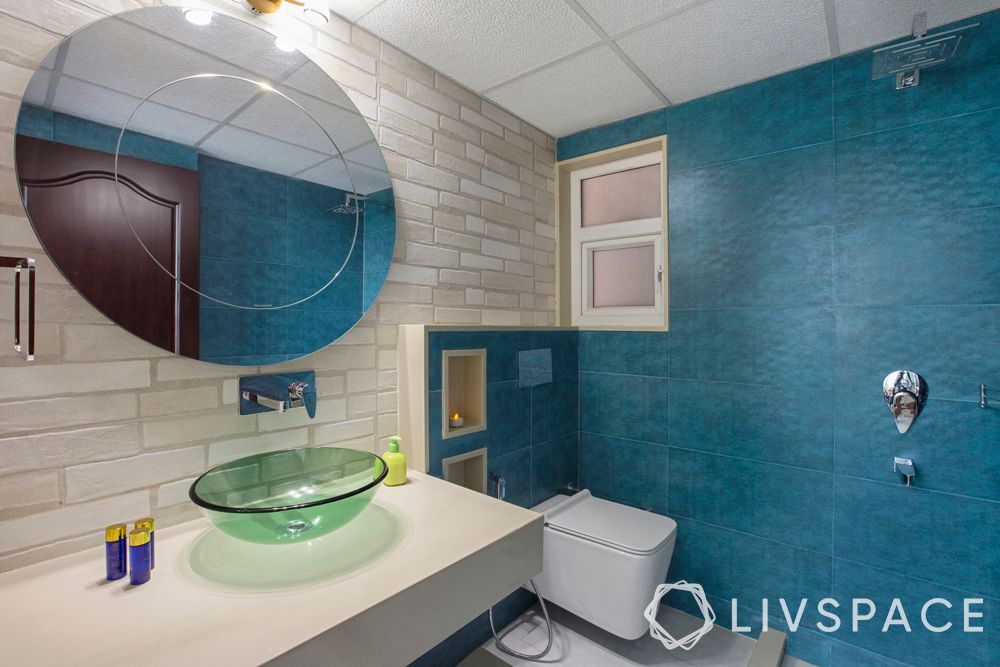 One of the easiest ways for your bathroom renovation ideas to shine is to change the washbasin and sanitaryware. It changes the look of the bathroom instantly and does not actually require a complete overhaul of the bathroom. There are many contemporary options that can greatly improve the look of your bathroom. For instance, this modern washroom has a newly installed see-through glass basin that looks striking against the blue tiles.
#8: Practise Modern Lighting Ideas in your Bathroom
No bathroom renovation ideas would work in a bathroom that isn't aptly lit. Bathroom lighting involves a couple tricky questions. Why? This is because bathrooms are a functional space. If they are not well lit, you might have trouble performing tasks like shaving or applying make-up. However, bathrooms are also a space we use to relax when we are in the shower or taking a bath. And glaring lights could ruin the mood for relaxation.
One way to optimally light up your bathroom is to use three different kinds of lighting in your washroom.
Ambient Lighting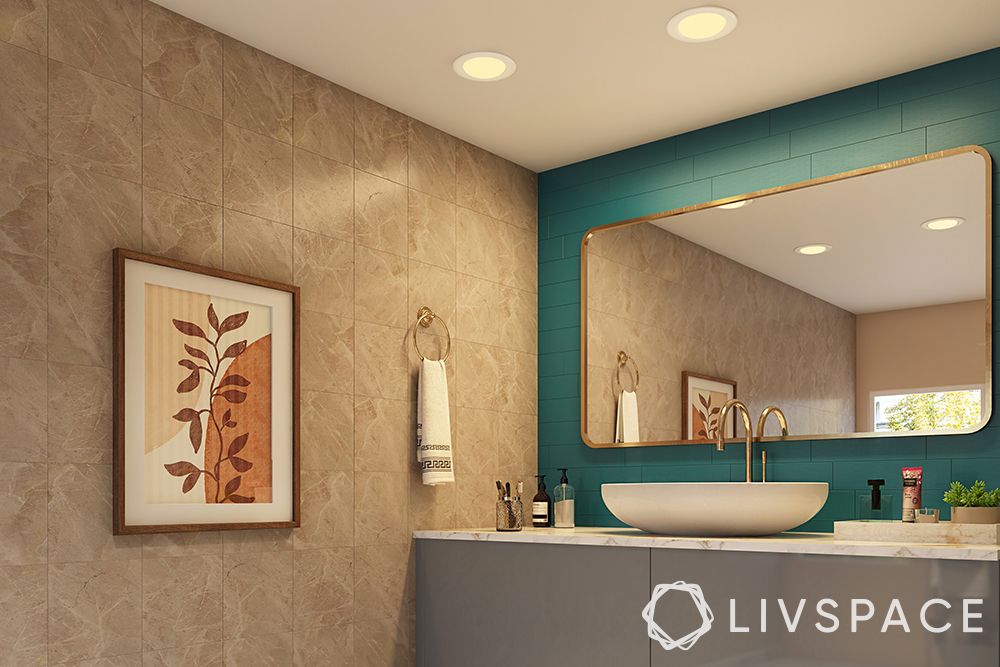 Ambient light creates even lighting in the entire area. They cannot be used a s focus lights. Hence, it is advisable to install them in the false ceiling to create an evenly lit bathroom.
Task Lighting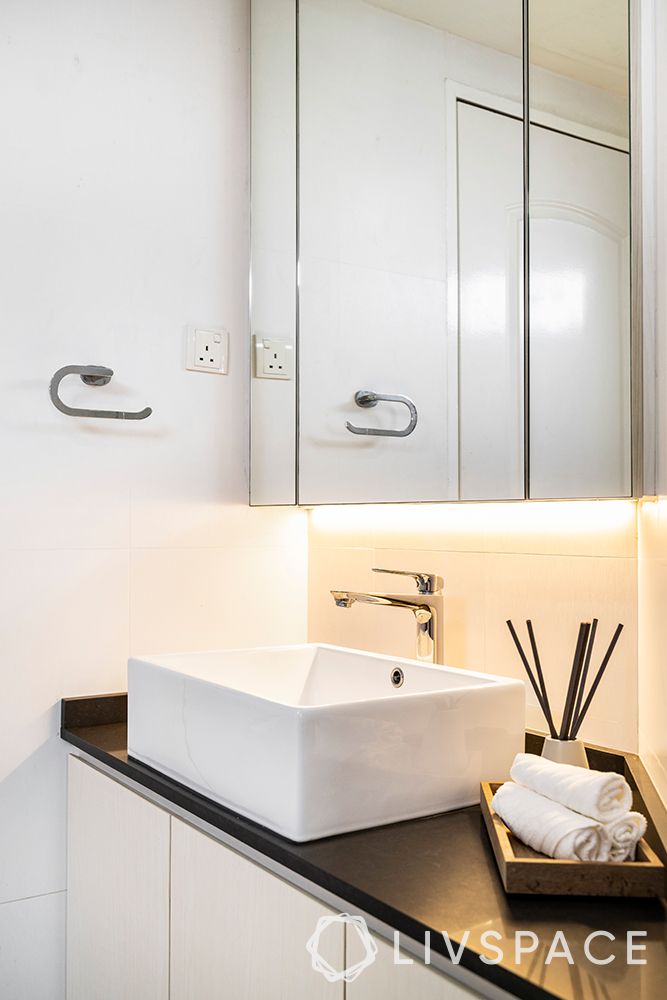 You can use task lighting in a dedicated space; for example, over the mirror and the washbasin. Although the light in the mirror can be considered as a decorative piece, it is very useful for putting on make-up, combing your hair and getting ready.
Accent Lighting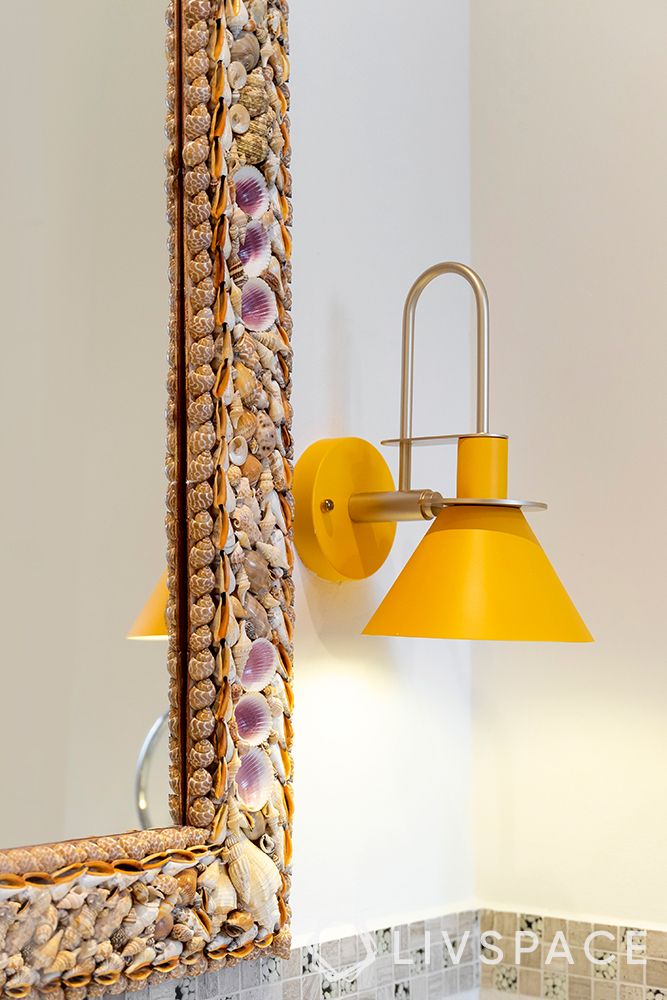 This lighting can easily create focused lighting so you can choose. Using this lighting method, you can bring forward important components of modern bathroom decor ideas, such as the pattern on the wall or an elegant sink. The pretty pendant light in itself is an accent.
PRO Tip
#9: Invest in Modern Bathroom Ideas for Planters in the Bathroom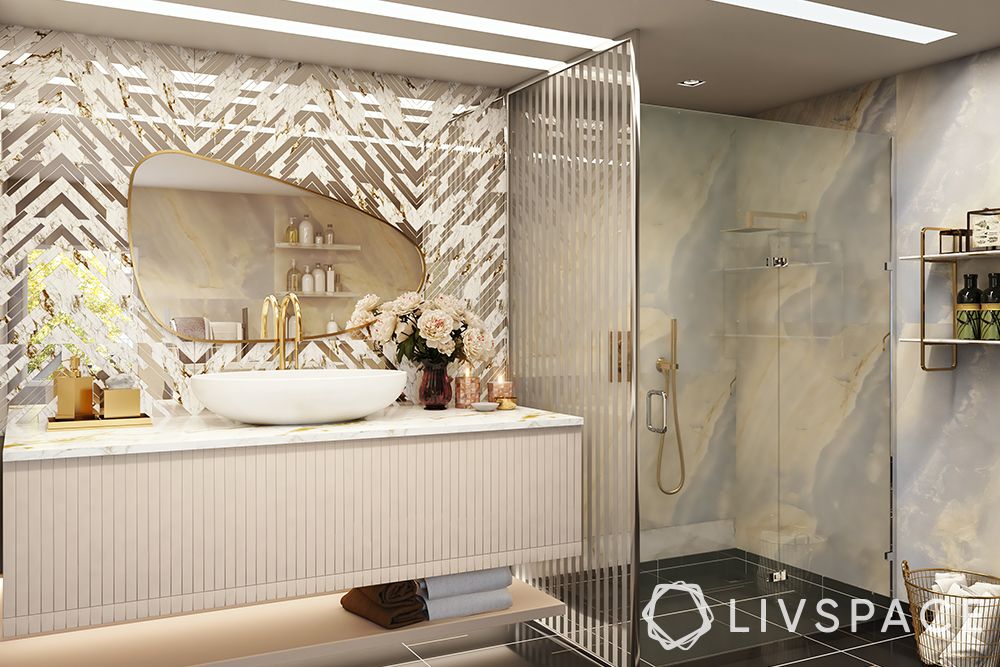 You can easily add plants as a decor element in your bathroom. In fact, you can also splurge for a plant wall when looking out for bathroom renovation ideas. In bathrooms, you are confronted with a constant change of temperature and humidity. You should look for plants that are well adapted to these conditions. Do not forget to add other decor elements such as tiny decorative perfume bottles or dispensers.
It is easy to look for modern bathroom ideas; the difficult thing is to maintain the practical aspects to achieve a contemporary but functional design. Want to change your bathroom to a luxurious haven? Read How We Converted These Compact Bathrooms into Luxurious Spaces.
How Can Livspace Help You?
We hope you found our ideas useful! If you want beautiful interiors for your home, then look no further. Book an online consultation with Livspace today.